Huma-i : Portable Air Quality Detection Device | Huma-i : The Most Reliable Portable Air Quality Monitor

Most Reliable . Portable . Personal
Air Quality Monitor, Huma-i Black (Hi-150)



 Invisible Critical Moleculars
The invisible killer who's coming to you quitely.
As climate change and increased industrial growth threatens the quality of the air, the clean air we take for granted is changing day by day.  The air we breathe is a complicated mixture that oftentimes contains harmful particulate matter so small, it goes undetected by most sensors.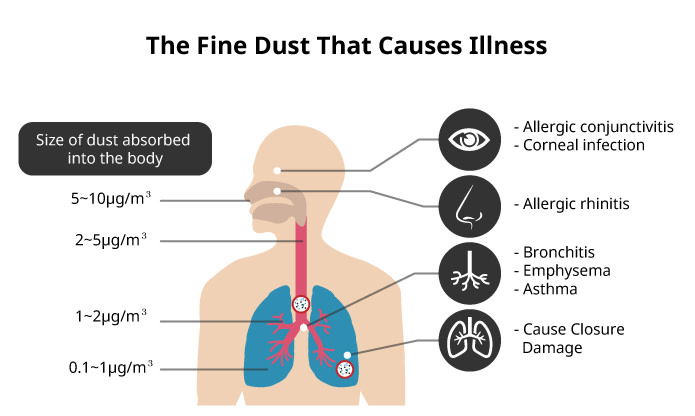 A Story About Huma-i
The air you're breathing is safe?
Huma-i has thought about the major concerns of the mothers over and over, especially moms with small children, whose immune system is a little bit weak. One of their concerns is, definitely, to bring up their kids with safety and health.
However, the number of annual death by air pollution, unfortunately, is increasing every year. According to WHO(World Health Organization), the number of death by indoor air pollution exceeds the number by outdoor air pollution.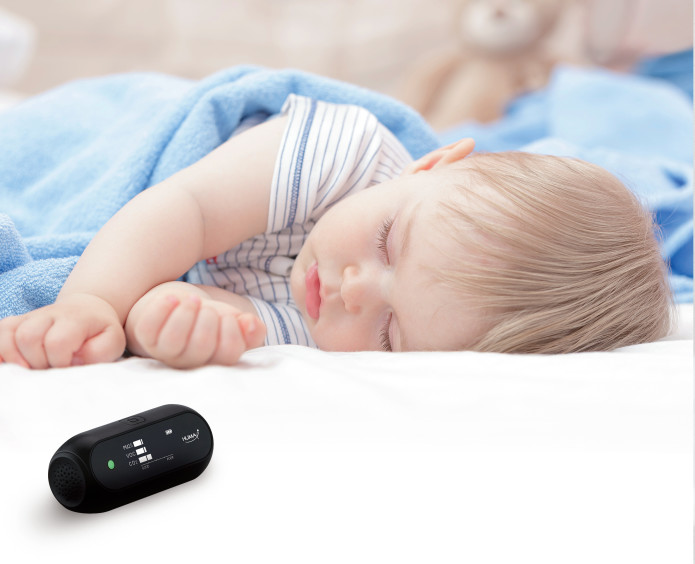 For my family
Healthy life from small interests.
Now staying indoor is not safe anymore. Here's solution by Huma-i. 
Huma-i let the moms to see the invisible murderer, air pollution, by measuring air quality anytime and anywhere immediately. Huma-i will help mom & baby, at least from the polluted air, to live in a safe and healthy condition.
So, we recommend that you take a small interest in finding healthy solutions from small, invisible hazards for your family and loved ones.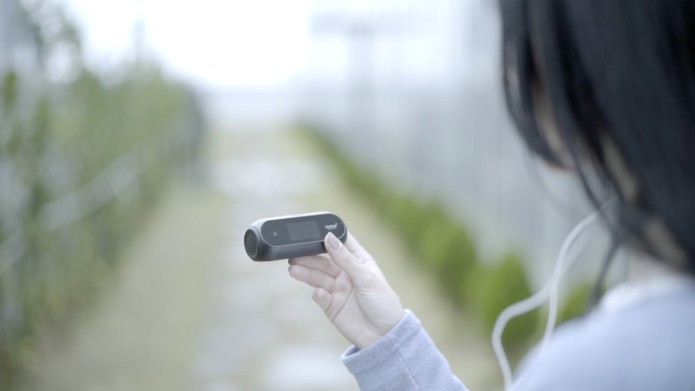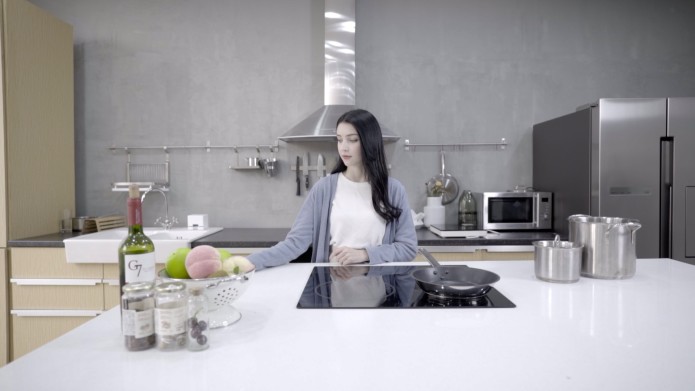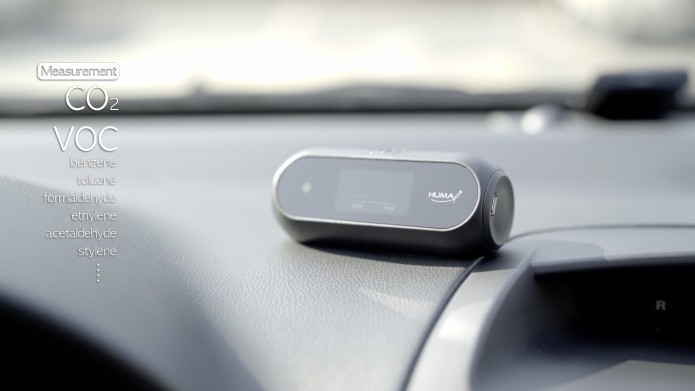 Anytime . Anywhere . Anyone
In real time, anyone can check the air quality comfortably anywhere.
Huma-i empowers you to know about the air you are breathing no matter where you are. 
Its patented, state of the art air quality sensors are housed in a highly portable, well finished device with a monitor so intuitive, any child can understand the readings.  Don't let your loved ones go unaware of the air whether it is at home, outdoors, or overseas.
# When you go out with your child


# When you were with your family



# When you ride a bike
​

# When you go jogging

# Indoor Space



 More About Huma-i
Small but superior features
​Huma-i offers high quality sensors developed in-house and produced in Korea, ensuring the most accurate air quality readings and a long service lifetime.  The product is the most portable, serious air quality monitor on the market which is no wonder why it is the market leader in South Korea.  This tested and highly demanded product is now upgraded with air quality measurements in addition to fine & ultra fine dust (CO2, VOC, Temperature, Humidity) for the US & international markets to ensure that all people across the globe can breathe with peace of mind, for themselves and their loved ones.
Accurate measurement and convenient portability
Carbon Dioxide and VOC measurement
Particulate Matter measurement (PM2.5 & PM10)
Temperature and Humidity measurement
Pocket-size

–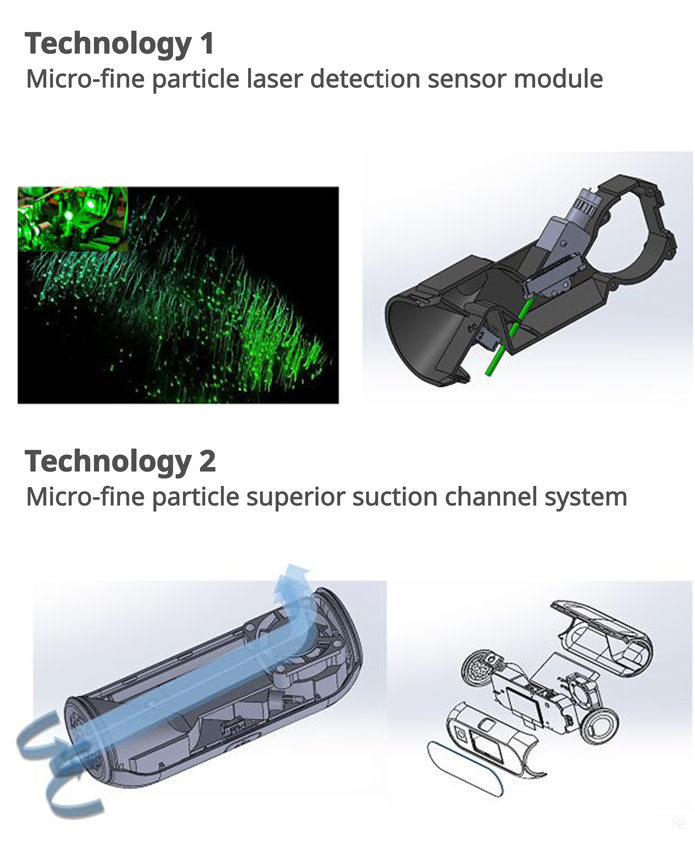 Details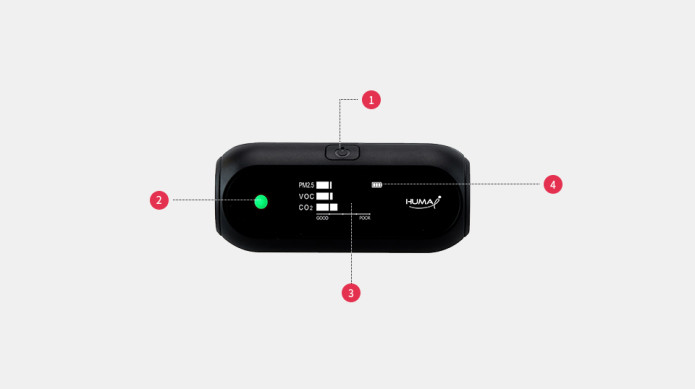 ① Power and mode selection button
Power Button
If you press the button for 1 second, it will be in power-on state. It automatically switches to power-off state when not in use for 10 minutes to protect battery life. The status LED will blink 1 minute before automatic power-off. At this time, if you press the button lightly, it will be switched on again for 10 minutes, and the mode will not change.
Mode Selection Button
Each time you press the mode select button, the display mode changes cyclically in the following order.
Integrated Display Mode (PM2.5 / VOC / CO2) => WHO Mode => PM Mode (PM2.5 / PM10) => VOC Mode => CO2 Mode => Temperature/Humidity Mode
② Status Light 
The status LED lets you know the status of CO2, VOC and fine dust/ultra-fine dust.

③ Display mode
Integrated display mode
It is shown in a step-by-step graph so that air quality can be judged easier than difficult figures.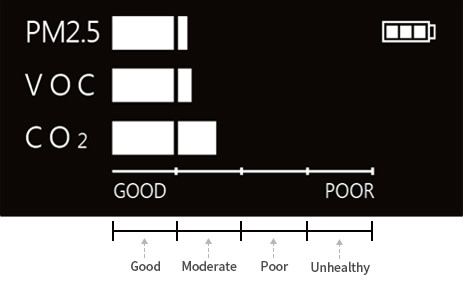 PM2.5, VOC and CO2 can be viewed in one screen. 
Graph with 4 steps shows the air quality – good, moderate, poor and unhealthy
WHO mode (Icon mode)
You can easily recognize the good and poor state of find dust by 4 kinds of icons.
In this mode, it automatically displays the worst between PM2.5 and PM10.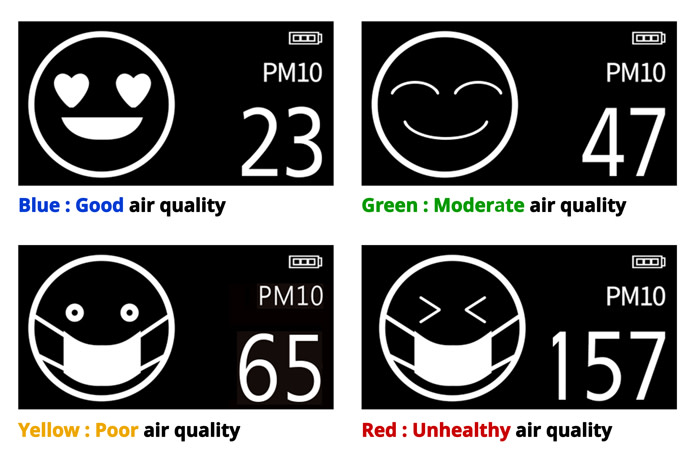 PM (Particulate Matter) display mode : Simultaneously displays PM2.5 and PM10 measurement values.
VOC (Volatile Organic Compound) display mode : VOC concentration is displayed together with the ppm unit figures.
CO2 display mode : CO2 concentration is displayed together with the ppm unit figures.
(* In case of CO2 and VOC, the value is displayed after 15 ~ 60 seconds at power-on, after which the value is updated in every second)
Temperature/Humidity mode : It shows temperature and humidity in one screen.
(* In case of temperature and humidity, the temperature/humidity sensor is inside of the product and may cause a deviation of 5 ~ 10%)
④ Battery Status Display
This icon displays remaining battery status.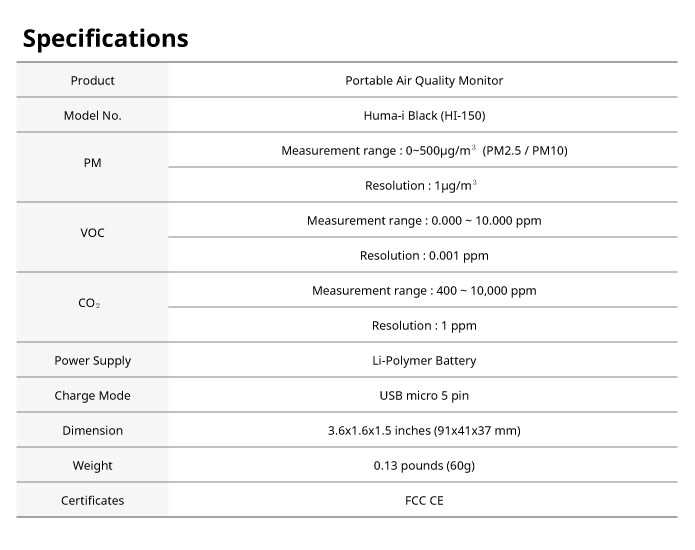 Demo Video : How to use this
Huma-i is perfect for
It will guide you to place with clean air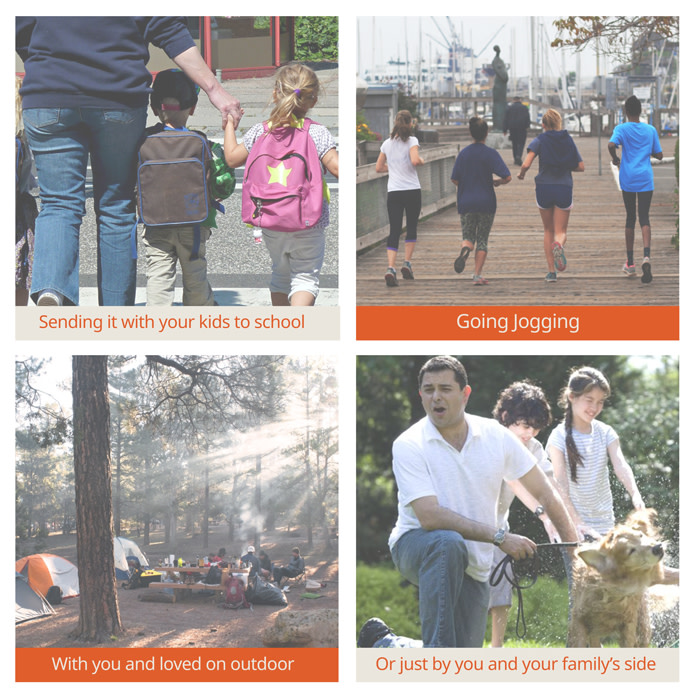 Useful Tips for your health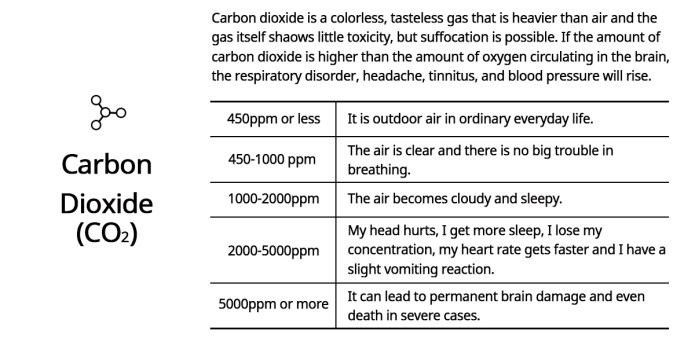 –
If you want more information about us, download the catalog below link!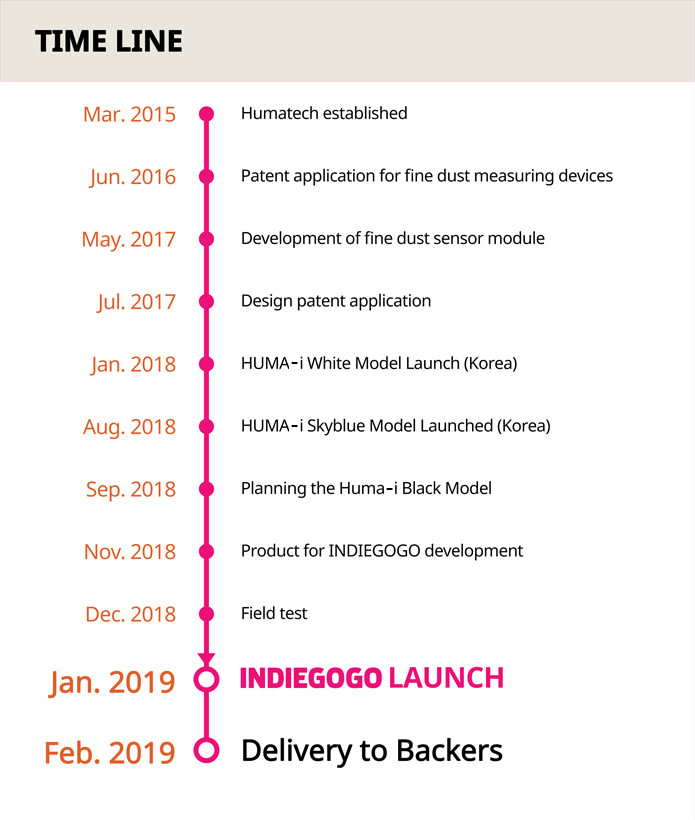 We are #1 Seller in South Korea
  Huma-i is a developed product that has sold off shelves in Korea in the 6 months it has been available to consumers. Much thought has been given to the concern of air quality on the population, especially infants and children, the most vulnerable of us. Huma-i lets mothers see the invisible murder, air pollution, by measuring air quality anytime and anywhere.
This version of Huma-i here on Indiegogo is the beginning of our international model that includes additional sensor readings aside from fine and ultra fine dust measurements. So place your order knowing that it will be fulfilled in time!