HumanCharger – Benefits of Sunlight On-Demand | World's First Bluetooth 5 Headset that will Recharge You! Yes, Human Charger!
Stop feeling tired!
Stimulate your brain with HumanCharger®
After more than 90,000 devices sold, we are upgrading our successful HumanCharger® Classic with Bluetooth capability, Integrated Sound and Microphone.
With the new HumanCharger® Wireless Headset you can get the benefits of the sunlight at the same time when
      ☎️  Talk on the phone or
      ▶️  Listen your favorite audio content
Benefits :
      ✅  Increased energy levels
      ✅  Improved mood
      ✅  Reduced effects of jet lag
      ✅  Increased mental alertness
      ✅  Fixed winter blues
Features – Audio:
State-of-the-art Qualcomm® Bluetooth® 5 aptX™ HD audio platform
SBC and AAC audio codec
Built-in microphone
iPhone and Android compatible
USB Type-C connection for charging
Features – Light:
☀️  Duration of light session: 12 mins
☀️  Average light intensity: > 10,000 lux (1 cm) / > 3.5 lumen
☀️  10 light sessions or 16 hrs of music on one charge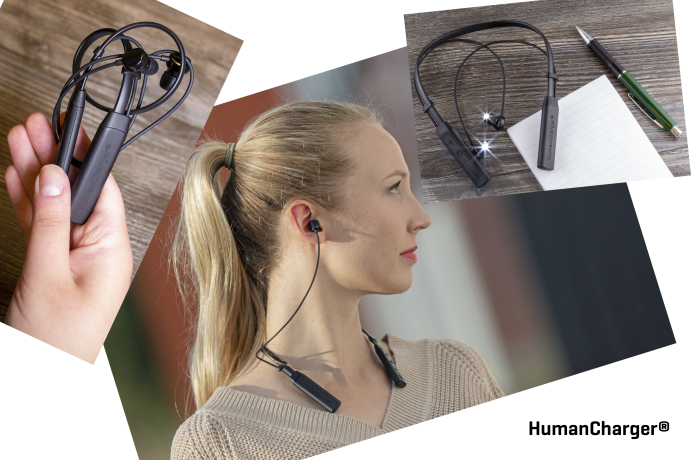 Rick Rubin, Music producer, tells about HumanCharger in Tim Ferriss' book Tribe of Mentors:
"…HumanCharger can also be used for other things like meditation, or if you have to be alert for a meeting, appointment or training session, you can wear it on the way."
Aubrey Marcus, Founder and CEO of Onnit, uses HumanCharger in the mornings.
Nick Littlehales, Sport sleep coach, writes that HumanCharger helps in jet-lag.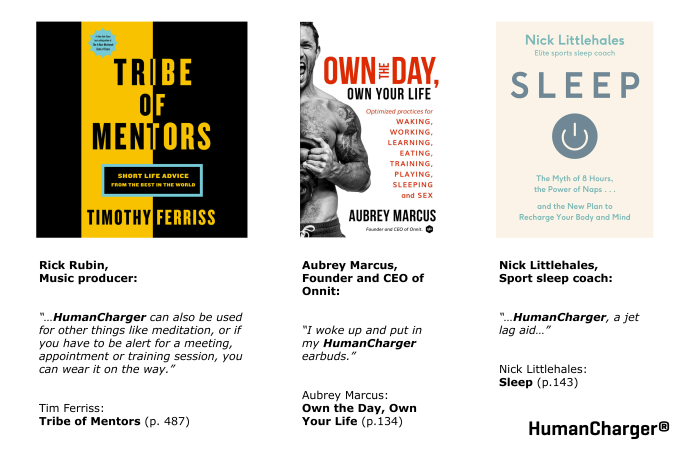 A London based HumanCharger user shared his experience with the device.
"I use it in a daily basis during the winter when it's not a lot of light here in London"
"…It's been a life-changer in terms of my travels!"
See the whole testimonial video here: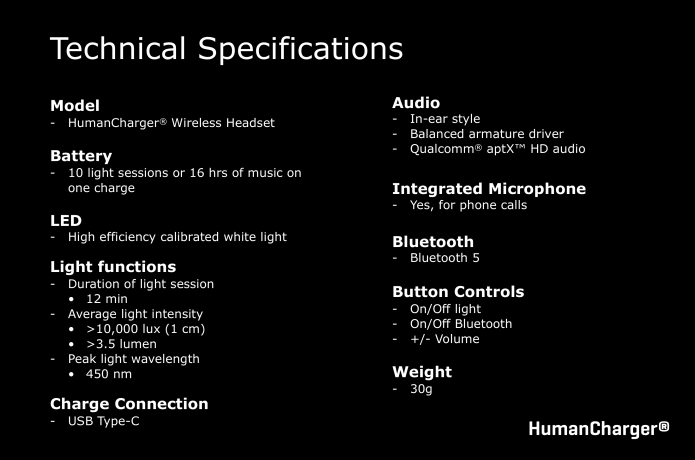 Check the video below to see a demonstration of HumanCharger® Wireless Headset easy to use basic operations.
HumanCharger® users say it best:
"…I am very thankful for your product!" – D.P. (Indiana, US)
"…HumanCharger worked wonders for me." – Jan (Europe)
"…is very useful with our shortening days." – J.S. (Alaska, US)
They are stay-at-home parents, time-zone-crossing professionals, hard working students, competing athletes, night-shift workers, office heroes…. and all perform better with HumanCharger®.
Here are some awesome testimonials we have received during last years: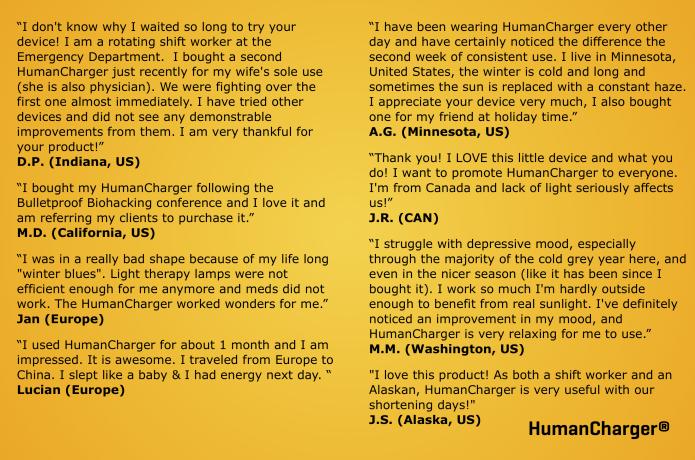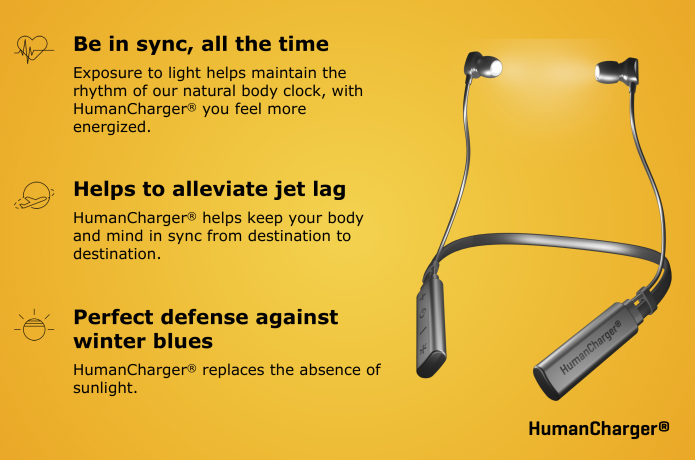 After more than 90,000 devices sold, we are upgrading our successful HumanCharger® Classic with Bluetooth/Wireless capability with Integrated Sound and Microphone.
The new device is called HumanCharger® Wireless Headset  – US Patent 9,258,642.
• Increase energy levels
• Improve mood
• Reduce effects of jet lag
• Increase mental alertness
• Fix winter blues

Sunlight is the source for a significant portion of our daily health. Not enough sunlight and our body and mind suffer the consequences. HumanCharger® provides a supplement to the nourishing rays of sun exactly when you need it.
HumanCharger® gives you a boost of energy, improves mood and increases mental alertness. It is a perfect defense against the blues.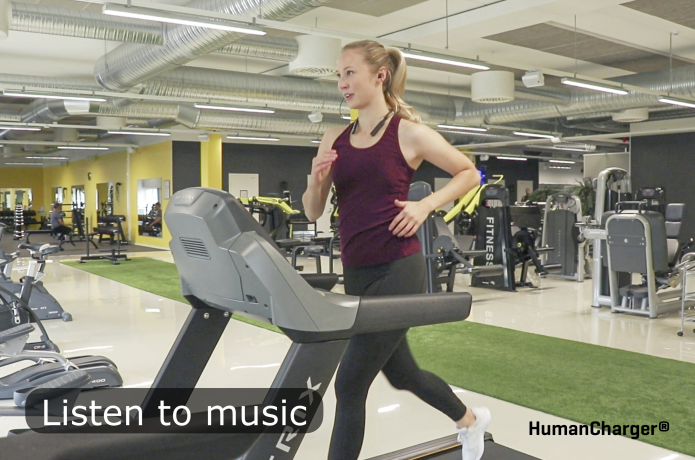 HumanCharger® alleviates the symptoms of jet lag by 50%. How would your time-zone crossing travel experience improve if you are back in business that much faster?
HumanCharger® keeps your body and mind in sync from destination to destination. Forget the brain fog and get back on track fast.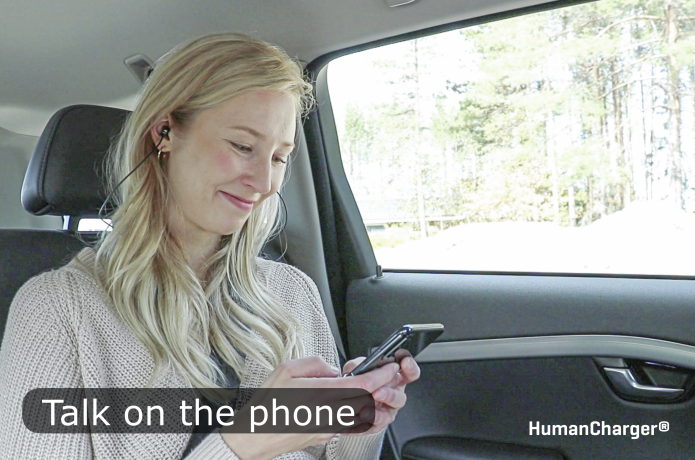 HumanCharger® integrates into your daily rhythm, workout regimen or while you work. Raise your work performance, jump-start your mind with the power of light and feel recharged all day.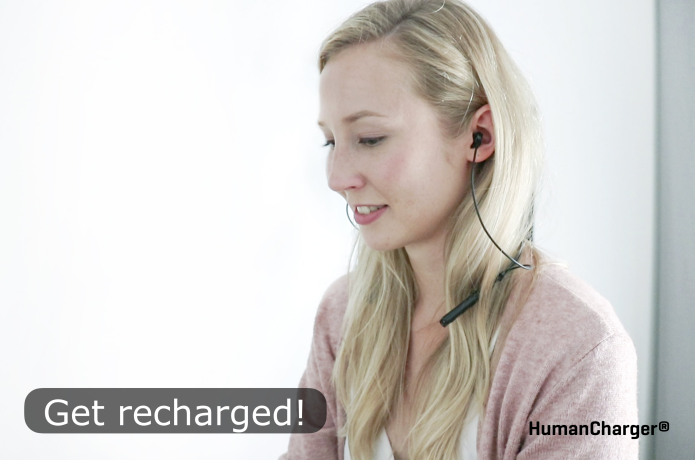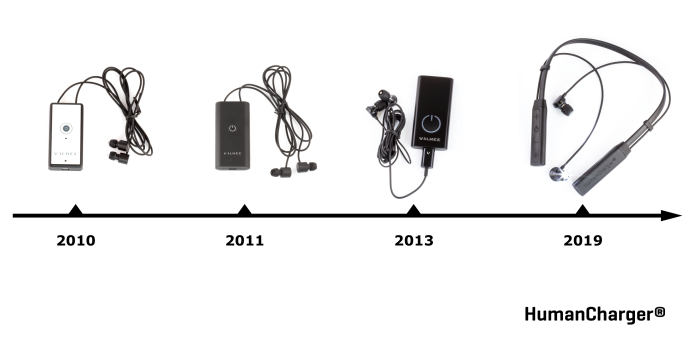 Our company was founded in 2007.  Our first commercial light therapy device came into market in 2010. The second generation device with the improved usability was introduced in 2011.
In 2013 we launched the third generation device. For this device, we improved design and ergonomics, and this device won the Red Dot Design Award in 2014.
People around the world have recognized the HumanCharger® as an innovative and unique solution for their well-being. Now we've made it even better! One of the most frequently asked questions about the HumanCharger® has been "Does it play music?" Finally we can answer "Yes it does!"
Now, in 2019, we can proudly present the brand new model:
HumanCharger® Wireless Headset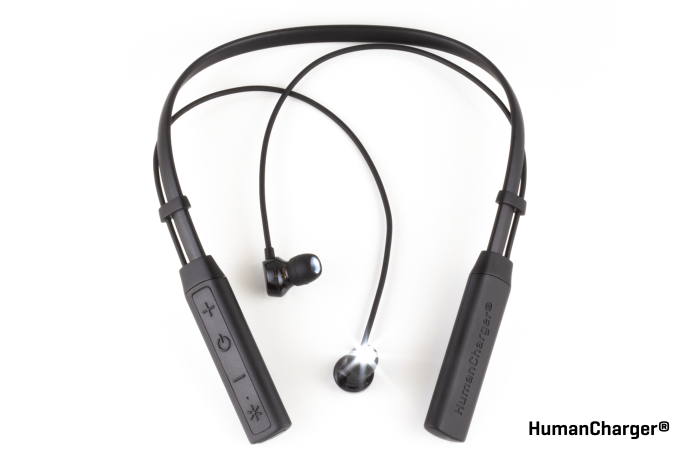 With a compact, ergonomic and stylish design, HumanCharger® Wireless Headset is the bright light device you can carry with you and use whenever, wherever.
Flexible neckband and adjustable cords are designed to provide lasting comfort.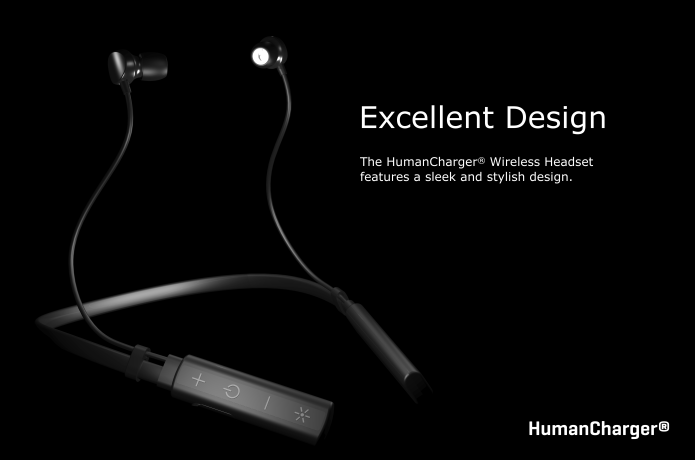 Wear the HumanCharger® Wireless Headset behind your neck. Insert earbuds snugly in to your ears. Control the device with the set of easy to use buttons on the right side of the neckband.
Use Bluetooth to connect the HumanCharger® Wireless Headset to your preferred audio source or phone.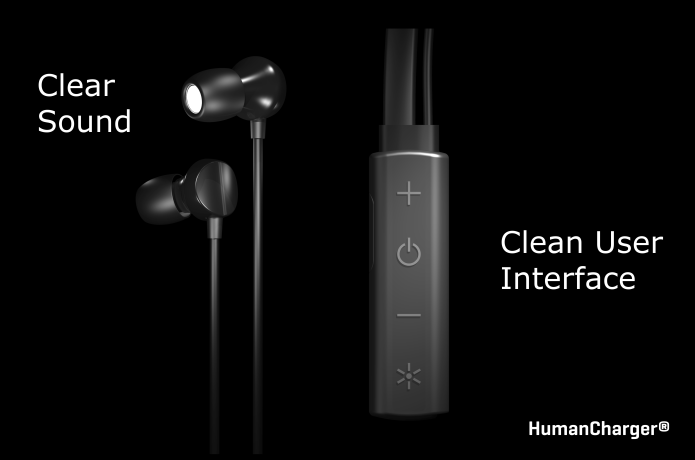 The earbuds are designed to be the most comfortable on the market, and fit perfectly in a variety of ear shapes.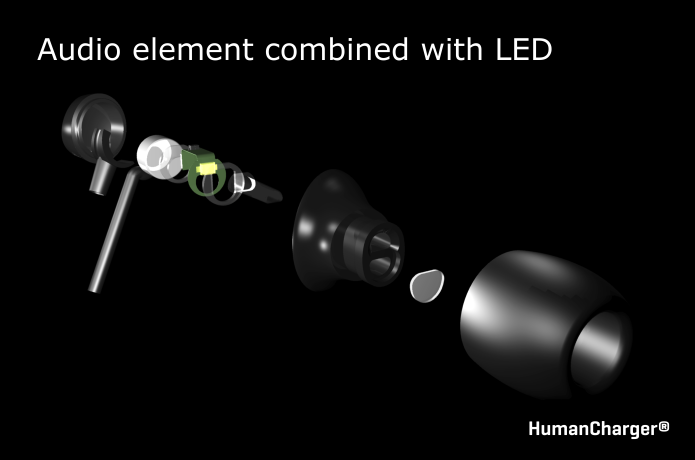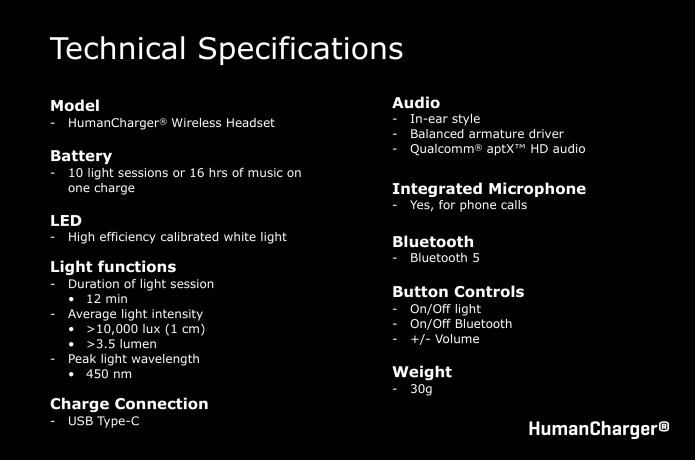 HumanCharger® Wireless Headset
Charging cable
Set of earbud fittings
Quick guide

Our return policy: 30 day money back guarantee, no questions asked.

This means that if you are not happy with the device (for whatever the reason), you can send it back to us within 30 days after receiving it, and we will refund you as soon as we get the device back.

Between 2008-2010, researchers at the University of Oulu, Finland, discovered that in addition to eyes, areas of the human brain are also sensitive to light. This sensitivity is due to the photoreceptor-proteins in the brain, which are similar to those found in the eyes, a discovery that had been made by researchers in the U.K. and the U.S. 10 years earlier.
University of Oulu researchers found that brain areas can be reached by light through ear canals, ear tissues and bones of skull. The skull of large mammals, including humans, lets light pass through naturally. In normal daylight and daytime conditions the brain is constantly being exposed to light.
Here are links to relevant published, peer-reviewed findings and doctoral dissertations:
 Effects of transcranial light on molecules regulating circadian rhythm (Doctoral Dissertation, Flyktman 2018)
 Transcranial bright light : the effect on human psychophysiology (Doctoral Dissertation, Jurvelin 2018)
 The distribution of melanopsin (OPN4) protein in the human brain (Nissilä et al. 2017)
Transcranial light alters melanopsin and monoamine production in mouse (Mus musculus) brain (Flyktman et al. 2017)
 Human brain reacts to transcranial extraocular light (Sun et al. 2016)
 Transcranial bright light and symptoms of jet lag: a randomized, placebo-controlled trial (Jurvelin et al. 2015)
 Transcranial light affects plasma monoamine levels and expression of brain encephalopsin in the mouse (Flyktman et al. 2015)
 Effects of bright light treatment on psychomotor speed in athletes (Tulppo et al. 2014)
 Transcranial bright light exposure via ear canals does not suppress nocturnal melatonin in healthy adults –a single-blind, sham-controlled, crossover trial (Jurvelin et al. 2014)
 Altered resting-state activity in seasonal affective disorder (Abou-Elseoud et al. 2014)
 Transcranial bright light treatment via ear canals in seasonal affective disorder: a randomized controlled double-blind dose-response study (Jurvelin et al. 2014)
 Stimulating brain tissue with bright light alters functional connectivity in brain at the resting state (Starck et al. 2012)
 Can transcranial brain-targeted bright light treatment via ear canals be effective in relieving symptoms in seasonal affective disorder? A pilot study (Timonen et al. 2012)
 Encephalopsin (OPN3) protein abundance in the adult mouse brain (Nissilä et al. 2012)
 Group-ICA model order highlights patterns of functional brain connectivity (Abou-Elseoud et al. 2011)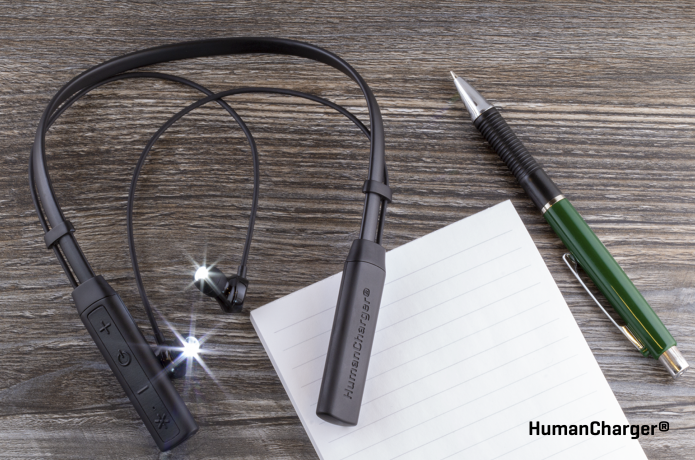 Here are more great reviews from HumanCharger® users:
"…helps me a lot in nightshift…" – T.T. (US)
"I am most definitely sleeping better." – A.B. (UK)
"It's been the BEST solution for my severe jet-lag symptoms…" – A.R. (US)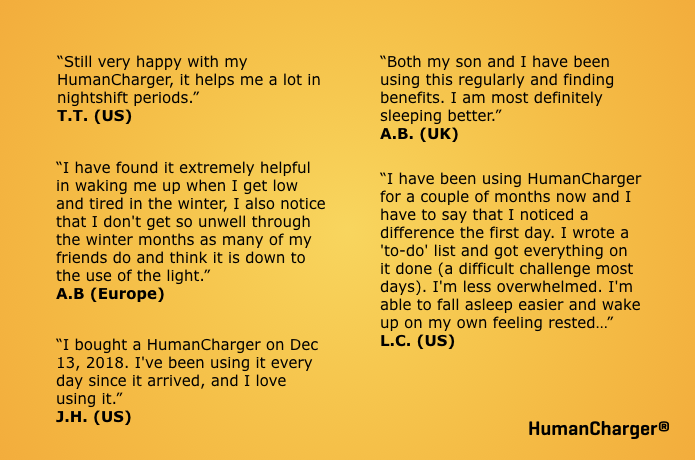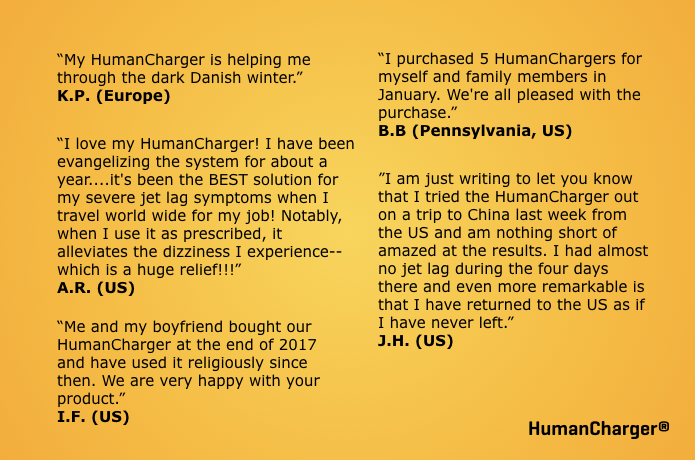 The fundamental issue of modern day life is the lack of sunshine as most of our daily routines keep us inside away from natural light. If you have a friend or loved one who could benefit from our devices, please share this campaign with them!
Share the HumanCharger® – Benefits of Sunlight On-Demand – campaign using Share Tools located in the toolbar next to the video at the top of the page.
You can also simply copy & paste the campaign URL above and share it any way you'd like.
Thank you!
Press Inquiries
For press inquiries about the HumanCharger® Wireless Headset, please contact us at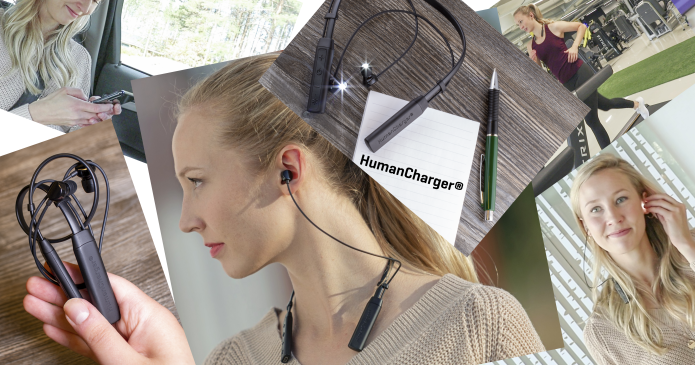 HumanCharger®
Human Charger