Hydrating Face Mask with HydrO18 Activated Water | The world's first skincare product with HydrO18™ Activated Water™ technology for ultimate hydration
"A little over a year ago, we were introduced to a small bio-tech firm (Dad and Son) with an amazing new skincare technology. I got goosebumps after hearing their presentation, knowing that this new technology was going to revolutionize the skincare industry, and because I knew we HAD to develop a product utilizing it." – Elizabeth Vervynck, Co-owner of Apriori Beauty

Who are we?
Apriori Beauty is a small beauty brand located in southern California. We are privately owned by two women (myself and my partner, Susan Twellman) along with a handful of friends & family investors. We started Apriori Beauty to provide skincare products that were safe and effective and also to provide a vehicle for success for anyone who wanted to share the products with people they knew. Apriori Beauty takes pride in developing and sharing products that provide practical skincare solutions for anyone with skin through the use of pure ingredients and innovation. 

I have personally been in the skincare/beauty business developing and marketing products for over 22 years and strongly believe that this new HydrO18™ Activated Water™ technology will revolutionize the industry. It is unlike anything I have ever seen before. We are so excited to be the first company to introduce a product with this technology in it. With your help, we will be able to get the word out to pre-launch and manufacture the first production of this innovative and exciting product. 
This is one of those innovations that in 20 years you'll be able to say you heard about it and used it first! With Celloxylin® Moisture Extreme, Hydrating Mask, now you can hydrate from the skin's surface in!

Our Goal
Our goal is to spread the word about this exciting and revolutionary technology, and to bring this amazing product to life by February 2018! Pre-sale purchases will put this product into contributor's hands first, at a price that is heavily discounted. These contributions will not only help Apriori Beauty manufacture the first-run production of this product, but it will also help us build brand awareness at the same time. We strongly believe that all skincare, health, and wellness consumers have the right to safe and effective products, and Apriori Beauty is here to make that happen! Launching a product following this philosophy and paired with this incredible technology, we know it will also help to put Apriori Beauty on the map, and YOU can help to make it happen! 

Why Activated Water™?
It's a little known fact that 60-80% of skin and personal care product formulas are made up of distilled water. It's always the first ingredient listed on the ingredient deck because it makes up the majority of the formula. Yet, the water in these products is a "silent" ingredient, adding little to no user benefit other than to mix the remaining ingredients together and to provide desired viscosity. Naturally, skin and water do not mix well due to the oils secreted by the skin. The polar properties of oil and water create an interaction that prevents water from being absorbed or utilized for hydration by the skin. Thus, the majority of skincare products currently on the market contain a small percentage of ingredients that are actually active in providing the user with targeted hydration benefits. So, what are you paying for?
HydrO18™ Activated Water™ technology treats the distilled water typically used in product manufacturing to change its compound structure to one that mimics that of oils. With this treatment, water is able to be mixed with the oils naturally produced by the skin in a manner that pushes water and its hydrating properties into the surface of the skin. For the first time ever, products manufactured with this water technology now have formulations with 70% active ingredients, 10 times more than those without this technology! With this contribution and pre-sale purchase, you can feel confident that you are buying a product that is working wholly for your skin's hydration and benefit. 
It's Clinically Proven!
As is done with any product or technological development, clinical studies were done over a period of several years with the HydrO18™ Activated Water™ technology. Study after study exemplified astounding results! 

In one study, participants were split into two groups.  Distilled water was applied to one group and HydrO18™ Activated Water™ to the other. Each type of water was applied topically to participants' skin and levels of hydration were monitored and recorded over time. As shown above, participants treated with HydrO18™ Activated Water™ saw significantly higher percentages of skin hydration than those treated with distilled water, and these results were sustained over a period of 8 hours. 

Key Ingredients
Aside from the HydrO18™ Activated Water™ technology, Apriori Beauty's Celloxylin Moisture Extreme, Hydrating Mask hosts a number of impressive ingredients. Key ingredients for hydration and anti-aging performance include:
Hyaluronic Acid
Kaolin clay
Shea Butter
Coconut Oil
Resveratrol
Apple Fruit Extract
Tremella Fuciformis (Mushroom) Extract
Goji Berry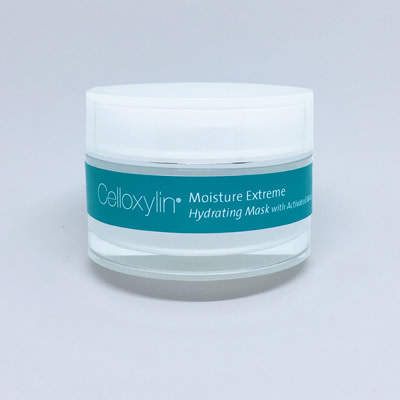 Usage
Use as needed for hydration. Apply an even layer to clean, dry skin. Apply to face, neck and decollete. Leave on for 10-15 minutes allowing product to absorb into the skin. Rinse off remaining product with water or wet towel, or massage remaining product into skin. Can also be left on overnight — wake up to extremely hydrated skin.
Celloxylin® Moisture Extreme, Hydrating Mask, 1.7 oz | 50 g
Testimonials
On October 28th 2017, a select number of people received a sample of Celloxylin Moisture Extreme, Hydrating Mask. After using it, here's what they had to say about it… 
"My skin is noticeably softer and more hydrated than ever.   I am very impressed with the Moisture Extreme Hydrating Mask. It's super moisturizing and my skin looks radiant.  The quality of this product is unbelievable! My skin feels flawless, after leaving the product on overnight.  The activated water is amazing!! I can't wait to share this life changing product!" -Natalie Walsh, California
"I was amazed at how my skin felt after using the hydrating mask! I applied to my face and lips, waited 15 minutes, then I rubbed it into my skin and slept with it on. Do you know how your skin feels when you stay in a hotel room? It feels dry, like all the moisture was sucked out of your skin overnight! That's the dry air blowing in the room. Well, when I woke up, I realized my face didn't feel like that at all! It was so soft and hydrated! I used it again after coming home from a long flight. Same results. I cannot wait to get my hands on this in February!" -Paula Yudelevit, Maryland
"I can't wait for the hydrating mask to launch. Loved it on my face! Yesterday, I applied it to where I receive chemotherapy. It took the pain away along with some of the redness and the site is not peeling. I am so impressed!" – Pam Poliakoff, California 
"I've used the new Apriori mask with 'active water', three times in the last week and it has made my face plumper.  As I age my skin has less elasticity and therefore looks thinner, gaunt and drawn down.  After this mask my skin is so soft and my face actually feels and looks more full.  Which by definition means younger!  Yeah!  Thank you for formulating this fine product!" – Laurie Ford-Ferreira, California 
"I love how the Celloxylin Moisture Extreme Hydrating Mask felt going on! It has a cooling sensation to it and I could feel it going into my skin. Very refreshing!! I almost feel like my skin was plumper. I used it in the morning the first time and washed it off to use my other steps. Second time I used it in the evening and left it on overnight. I have oily/combination skin; I could not believe how amazing my skin felt. I normally get really shiny midday and have to blot or reapply powder. I go all day and night without having to since I have been using the mask. Love it!!" -Lisa Adam, Nebraska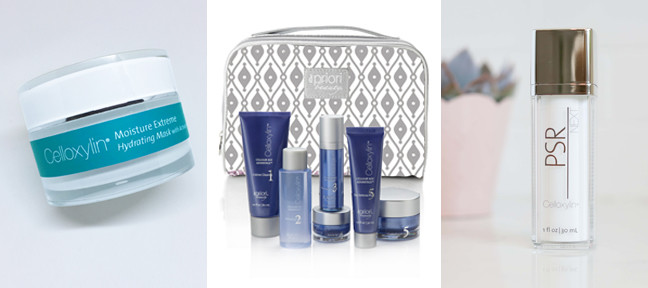 Refer your friends, earn FREE products! 
Now you can earn a FREE Celloxylin® Moisture Extreme, Hydrating Mask and More when you refer others to pre-order on Indiegogo too. Here's how:
Create or Login to your account at Indiegogo.com
Use the Share Tools to gain referral sales by January 5th, 2018:
• Accumulate $500 in referral sales = Free Moisture Extreme, Hydrating Mask (ships in February) — $65 value
 
• Accumulate $1,000 in referral sales = Free Moisture Extreme, Hydrating Mask & a Celloxylin In the Bag skincare set — $210 value
 
• Accumulate $1,500 in referral sales = Free Moisture Extreme, Hydrating Mask + Free Celloxylin set In the Bag skincare set + Free PSR Next [Precision Skin Rejuvenator] —$315 value
 
No purchase necessary! Simply create a free account at Indiegogo.com to use their Share Tools to gain referral sales!
Connect with Apriori Beauty!

 Like and follow us on Facebook

 Follow us on Instagram

Follow us on Twitter

 Follow us on Pinterest 

 Subscribe to our Beauty Blog