iClo – First Changeable Tri-Care Hygiene Device | Toothbrush / Face Cleanser / Peeling Exfoliate
Organize your hygiene kit all In One Device!


Help Us Reach $100,000 To Bring this Concept to LIFE!
Help us reach our goal for us to begin creating our shaver, whitener and anti-aging skincare kit! Once we reach our goal of $100,000 USD we will begin our production stage right away. The kit is completely compatible with the ICLO and the heads are interchangeable. At our goal the shaver will be up for rewards at 50% OFF!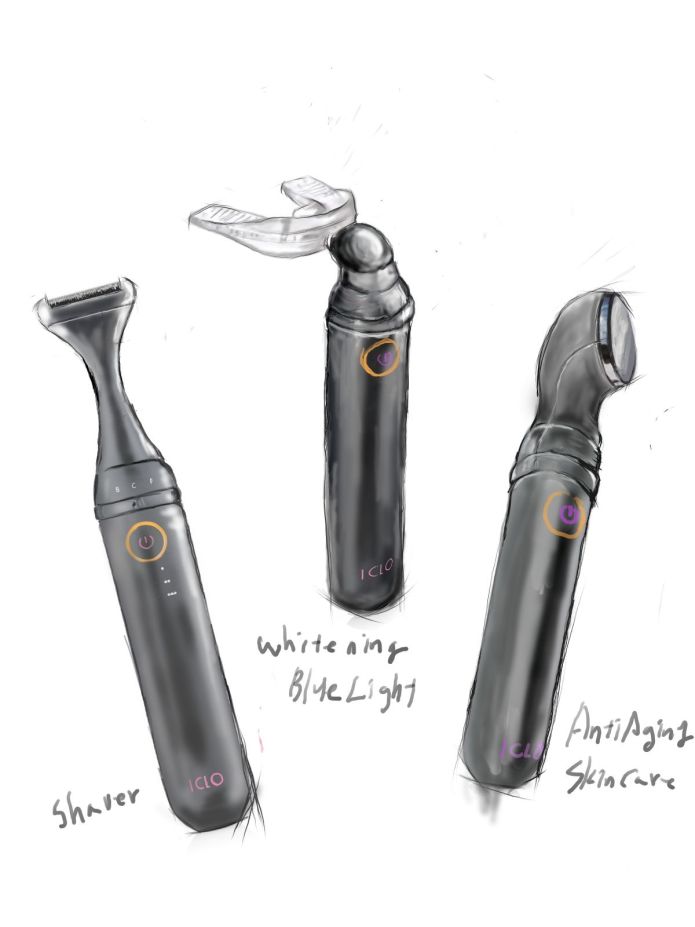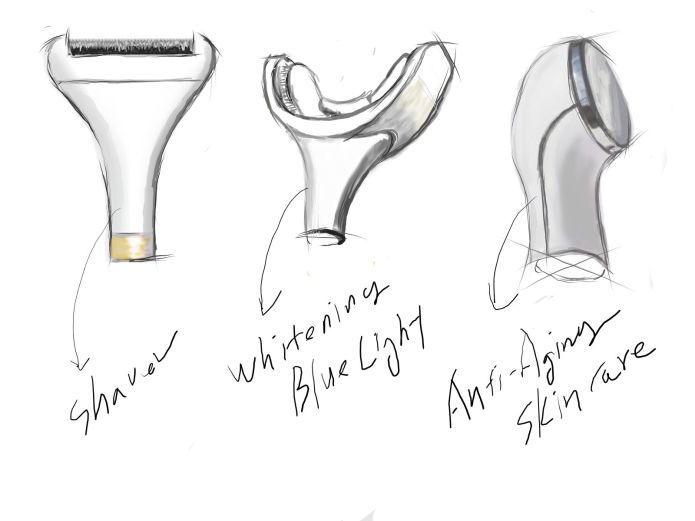 We are looking to start production on January 2021, a head with a compatible
Gillette razor blade will also be added. ( 3D Concept of the developing model)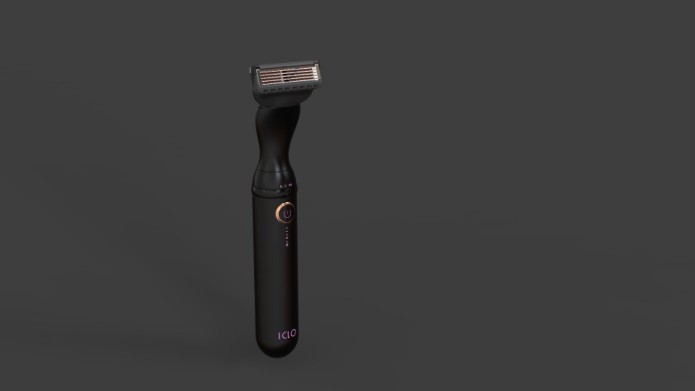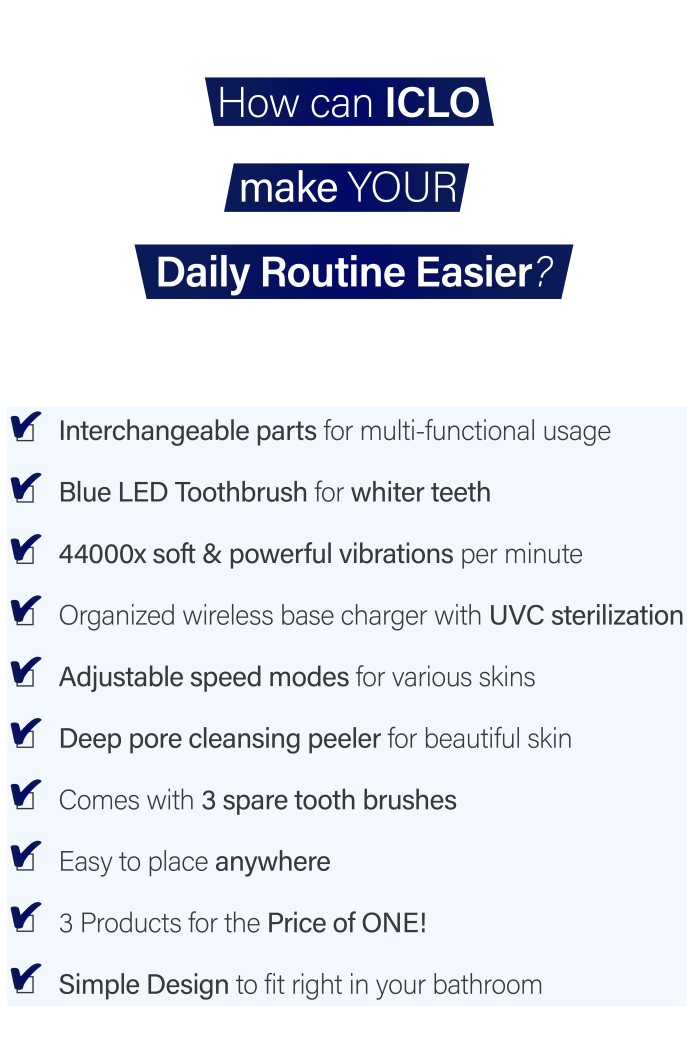 The Iclo is the world's first interchangeable all-purpose 3 in 1 care product which will save your nightly routine for some extra time to yourself. The Kit comes with 3 interchangeable heads which hold its own unique purpose. With all the products in one place you don't need to worry about finding each one on a busy day. 

The following images are a functioning Mock Up Model. Final model product may vary.


1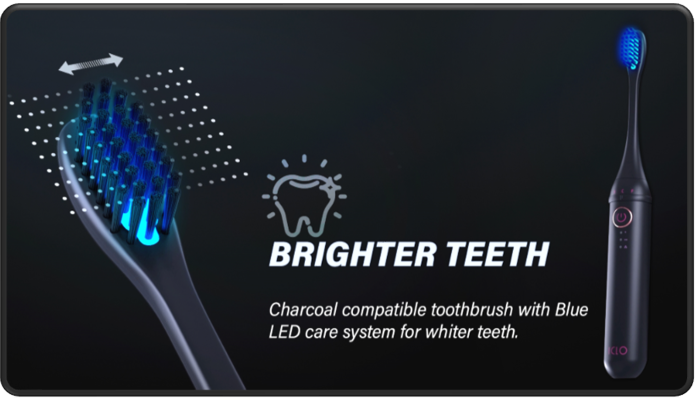 The Toothbrush: Start your routine with the electronic toothbrush with up to supersonic speeds of 44,000 movements per minute. Above the standard of most devices, the Iclo will guarantee you fresh and healthier teeth. The toothbrush also come with a blue LED whitening feature which turns on while brushing your teeth to insure you of whiter teeth! Optimal time usage of 3 min for the best results.
Leading Quality and Durability – The electric toothbrush head is made of genuine US Dupont steel caps for hygienic storage to maintain a dust-free toothbrush head.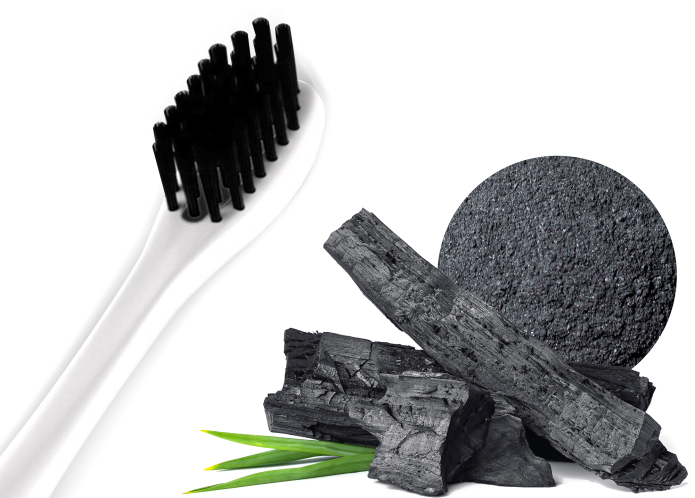 Charcoal Toothbrush – The charcoal brush is used in the toothbrush for brighter teeth. The fade in the charcoal will indicate when to change your brush.  Recommended to replace approximately every three months.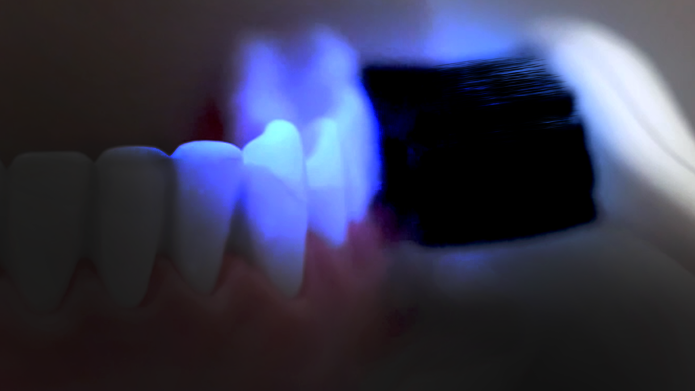 Blue LED Whitener- the Iclo toothbrush is completely LED whitening functional so you can do it all at once! To use simply change the mode to "B" and turn on your device.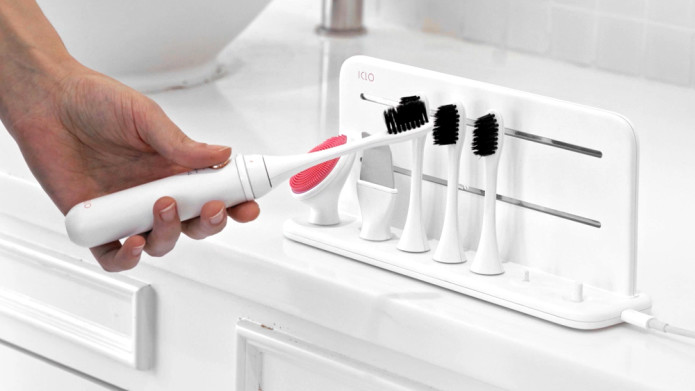 Iclo comes with four toothbrush heads, and each toothbrush head has a color band, so a family of four can use it together or you can use it alone for up to one year.
2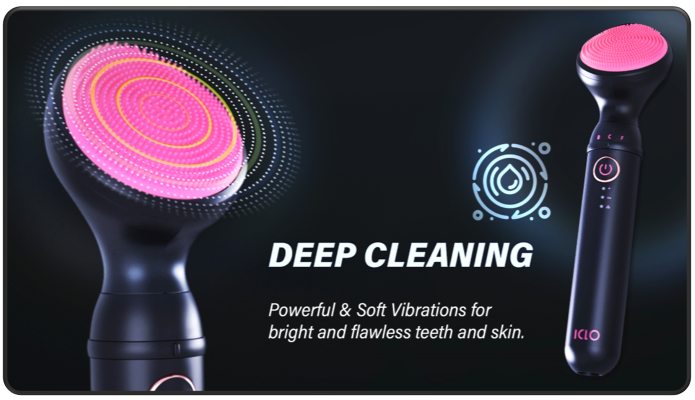 The Cleanser: Switch on the cleansing brush for a deep-pore wash. Much more effective than using your hands the cleanser will reach deep in your skin to rid of dry skin. A soothing massage to go along with your routine to start your day. Optimal time usage of 3 min. 

The soft non-toxic silicon base is safe and effective on your skin. Creating foams twice as much as washing with your hands, the cleansing brush gently washes and massages your face with ease. The more pressure on you face just gently apply cleansing foam on the brush and rotate gently on your skin.

3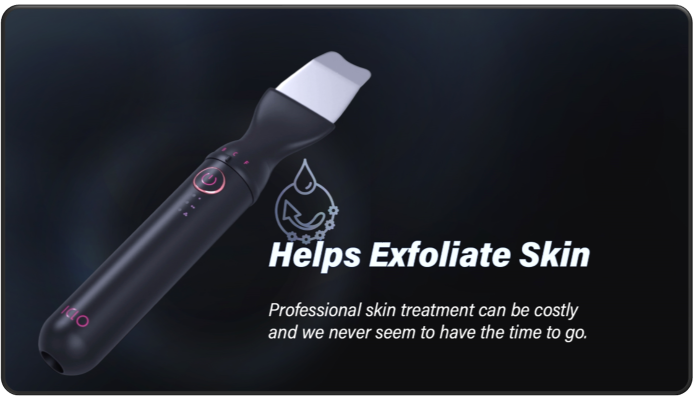 The Peeler: Finish off your routine with the peeler, to remove blackheads, whiteheads and acne. Use  professional skincare products right at your home! The peeler easily takes out acne with one push leading to a clear skin. With the supersonic speed to go along with the peeler, the process is fast and soothing all while clearing your skin. Optimal time usage of 3 min for the best results.
Switch onto the peeler to finish your routine! The peeler vibrates at a speed of 44,000 times per minute while thoroughly extracting any black heads or excess skin from your face.  
Easy home care at a low cost. Exfoliation of dead skin cells, sebum, and various wastes, for better absorption of the nutrients of cosmetics into the skin.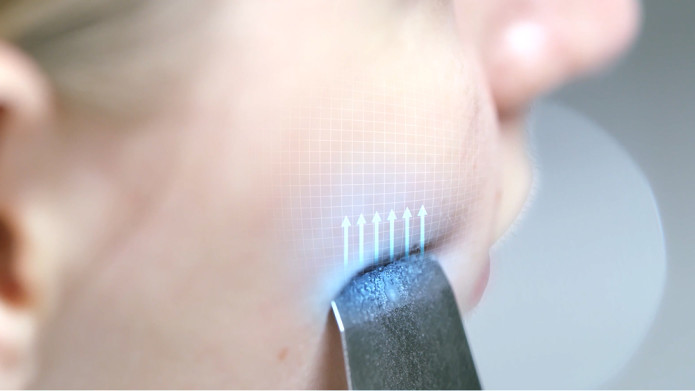 (Use it for a short period of time, approximately 3 minutes and using it for a long time may cause pigmentation and dermatitis on the skin. It is more effective if you use a steam towel after you open the pores.)
4



Tooth Brush Mode Types:

Normal
– Movement at 44,000 Times per minute. For effective cleaning between teeth and gums.
Soft
– Movement at 32,000 Times per minute. For sensitive teeth use the soft mode for a 
Pulse
-Movement at 32,000 Times in first minute than 37,200 Times for the next minute. This speed changes every minute to strengthen your teeth while giving it an effective massage.
Recommended Usage Time: 3 min
Deep-Pore Cleansing Brush:
Movement at 33,000 Times per Minute. Cleanse your face without touching your hands with the deep-pore brush. With twice the amount of foam your skin will feel smoother instantly.  
Recommended Usage Time: 3 min
Aqua Peeler:

Movement at 44,000  Times per minute, removing  dry dead skin cells.
For smooth skin use the peeler to exfoliate your face for better application for skin care products. You will feel refreshed with a clearer skin. 
Recommended Usage Time: 3 min
5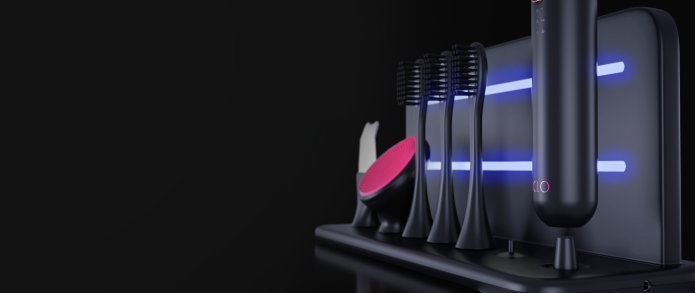 UVC Sterilizer Dock: The base holds a feature of sterilizing function when not in use for extra assurance that your device will stay clean. The UVC is set on a timer just enough to turn off by itself so you won't need to worry about wasting electricity.  

Activate the UVC Sterilizer with a click of a button. The light will indicate that the UVC feature is working. After the process is complete the UVC light will automatically turn off.

6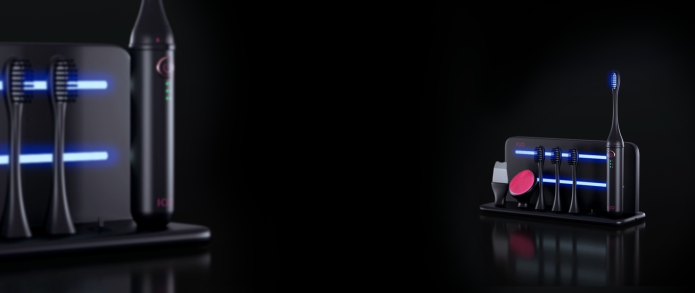 Wireless Rechargeable Base: The ICLO is cordless and charges when placed on the base. Which is connected by a USB port universal to any type of chargers with a USB port. With one full charge the brush is able to last for up to 20 days, so you can take it on the go for short trips even without the charger!
7

The Iclo is IPX7 Waterproof approved so you don't have to worry about your device not functioning in the water. You can even take it with you while taking a shower! Just be careful that the charging dock USB port does not get wet!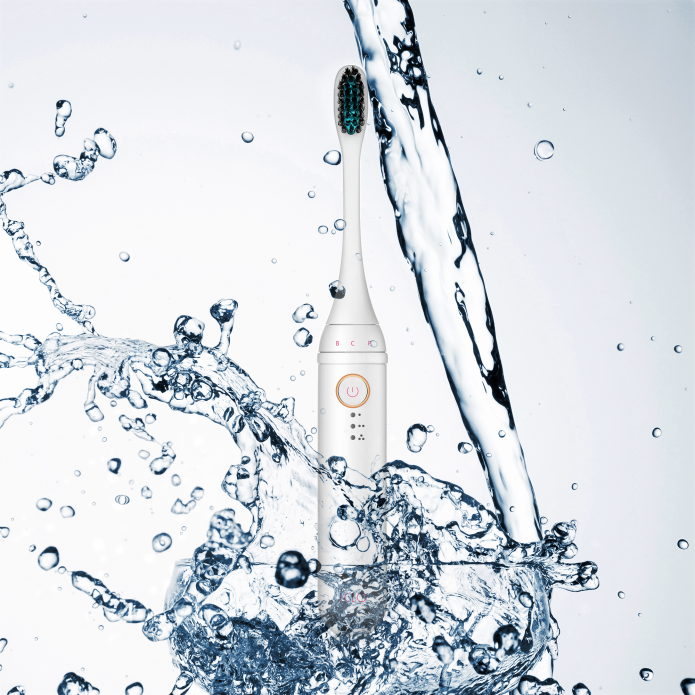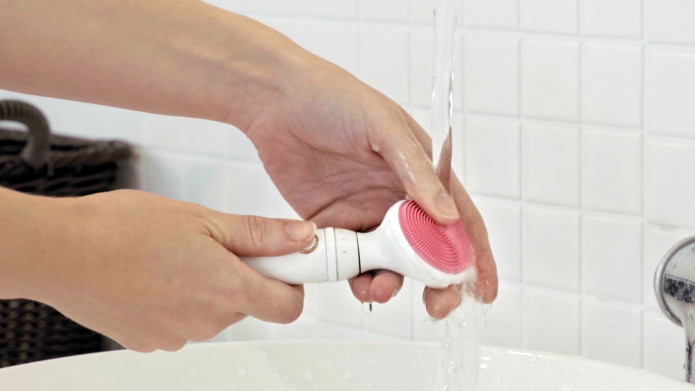 –Caution-

When using the peeling function for the first time, please start once a week and manage it two to three times a week.
The principle is to release wastes from the pores by transmitting sonic vibrations to water particles attached to the skin surface.
It's not irritating, but it's too tight, so please refrain from overusing it.



With its slim design, the ICLO comes in matte black and pearl white. 
Match your style interior or even your personal preference. With two styles to choose from you can make your bathroom look cleaner more organized and best of all a simple device to quickly help you have better skin and teeth.


Pearl White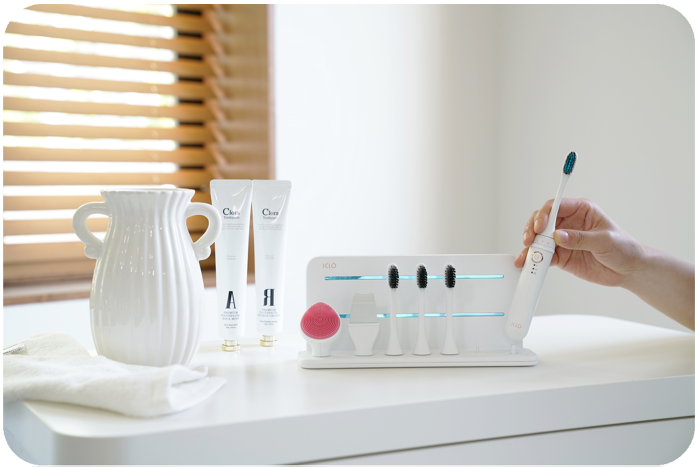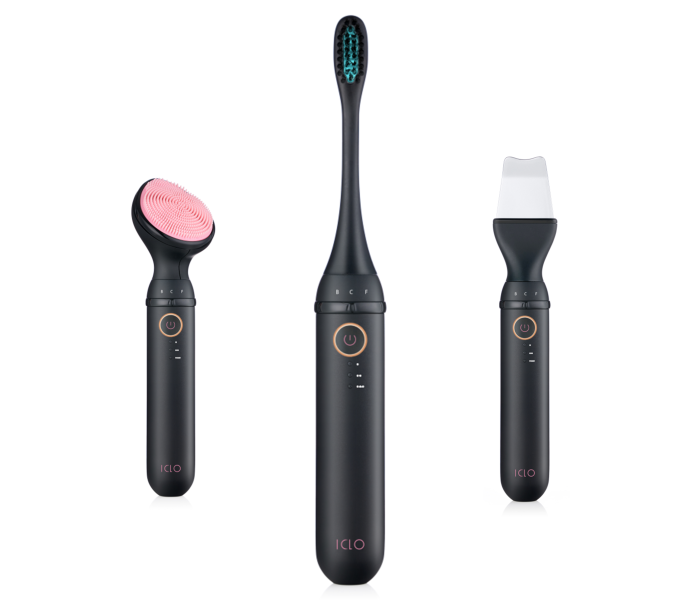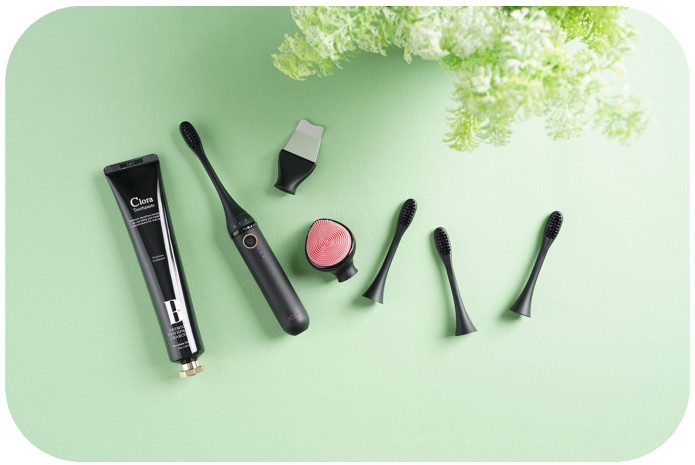 Matte Black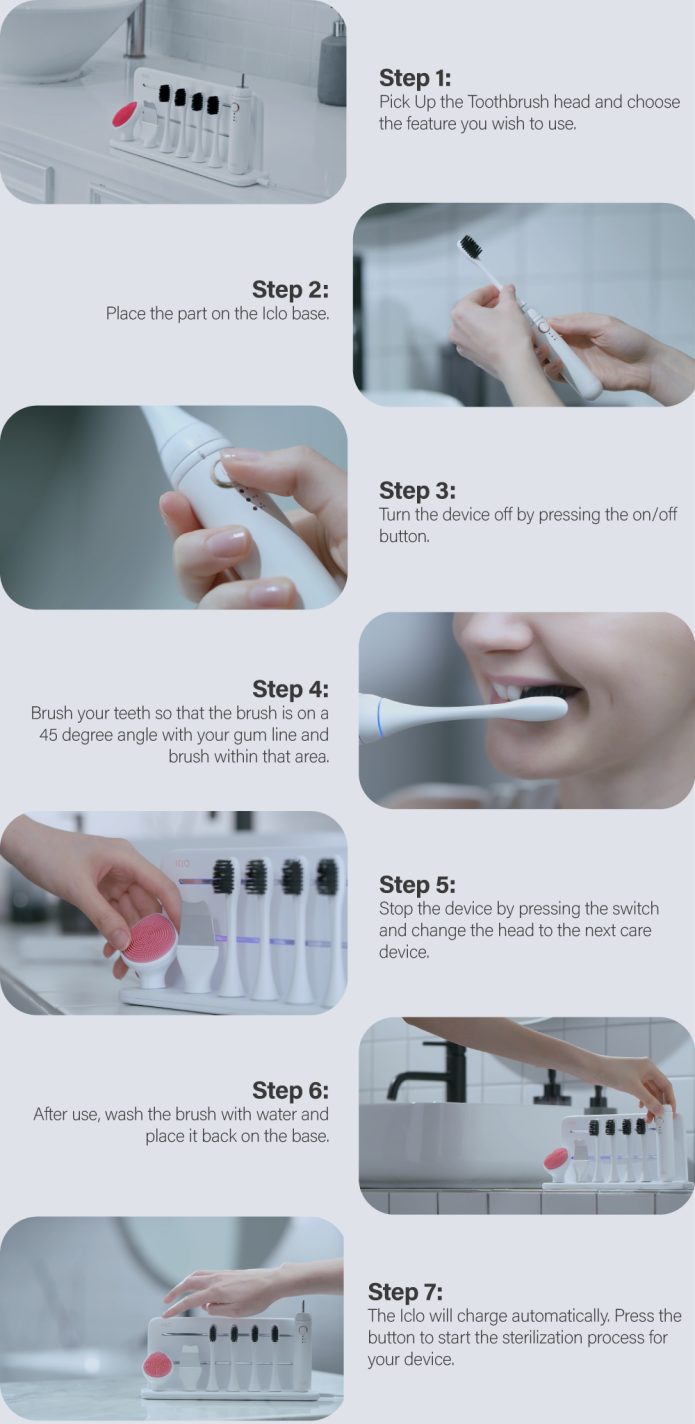 The I.Clo is the world's first interchangeable all-purpose 3 in 1 care product which will save your nightly routine for some extra time to yourself.





Compact packing design to save space.

Simple design. Comes with detailed manual.

Component Description
1 x Supersonic Main Device
4 x  Charcoal Toothbrush Head
1 x  Silicon Brush
1 x Metal Peeler
1 x UVC LED Sterilization Charge Stand
1 x C Type USB Charging Cable
1 x Warranty and User's Guide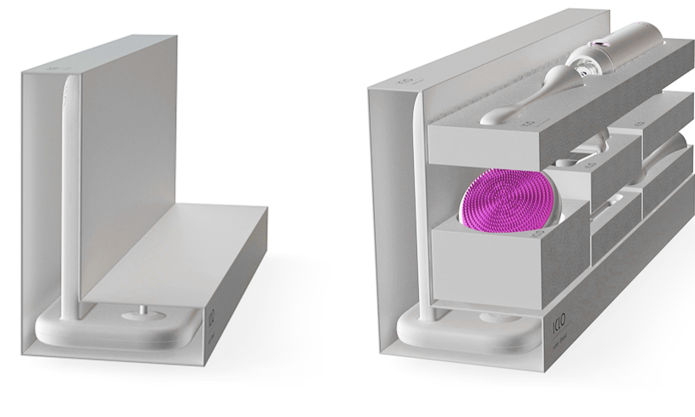 Black & White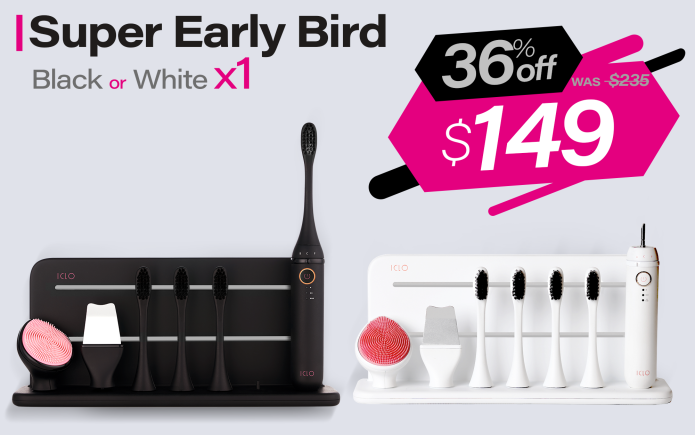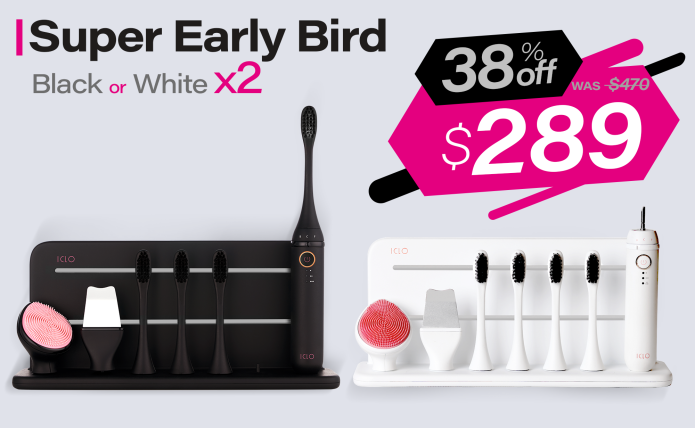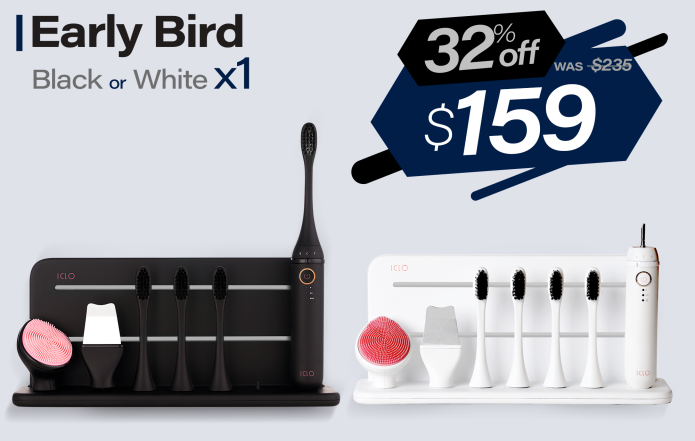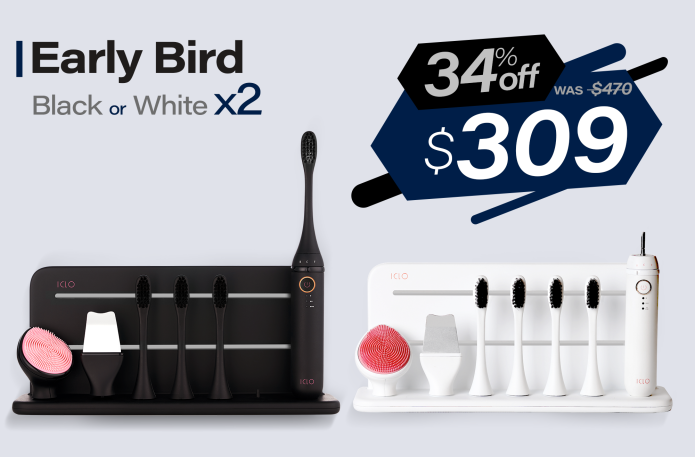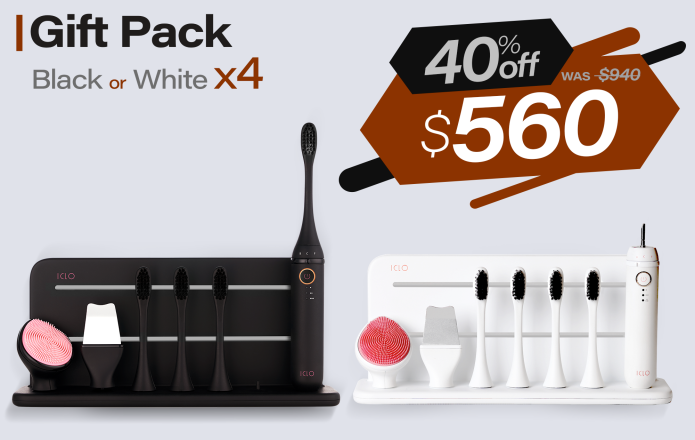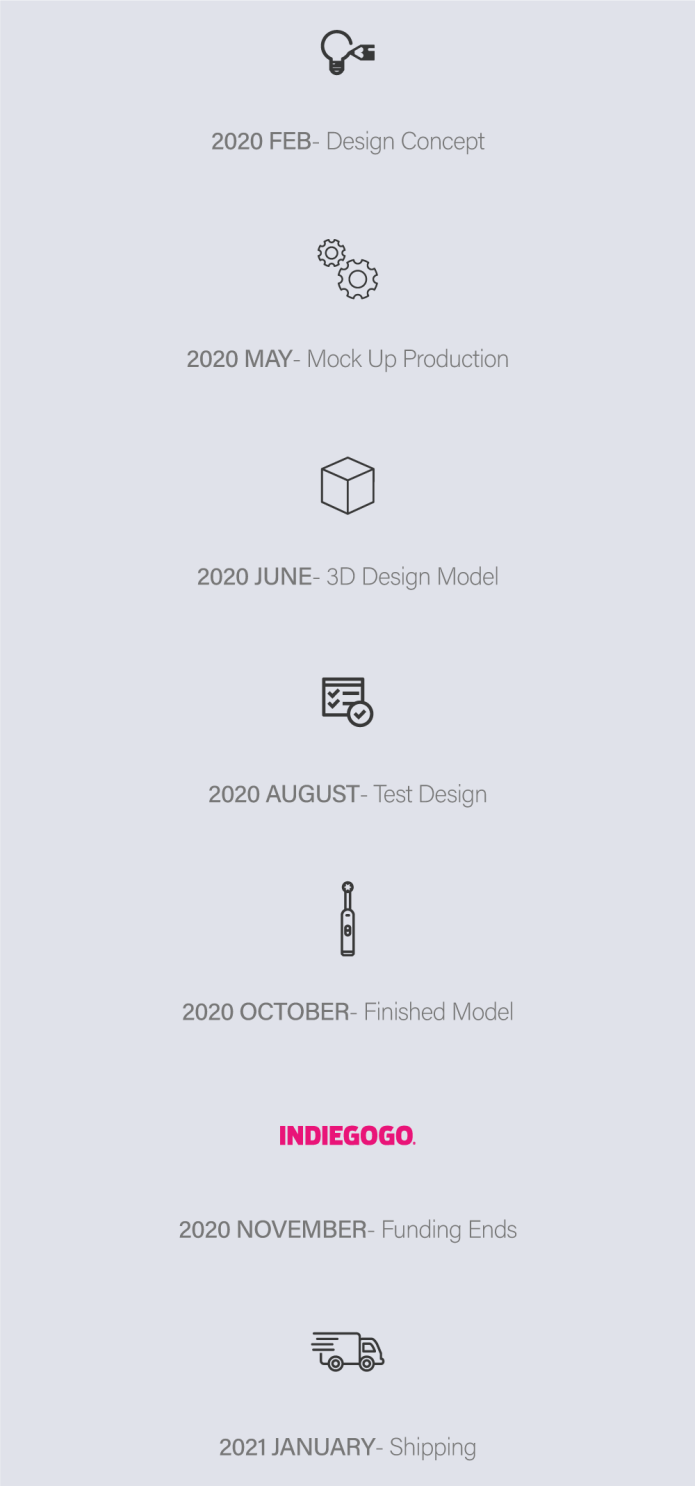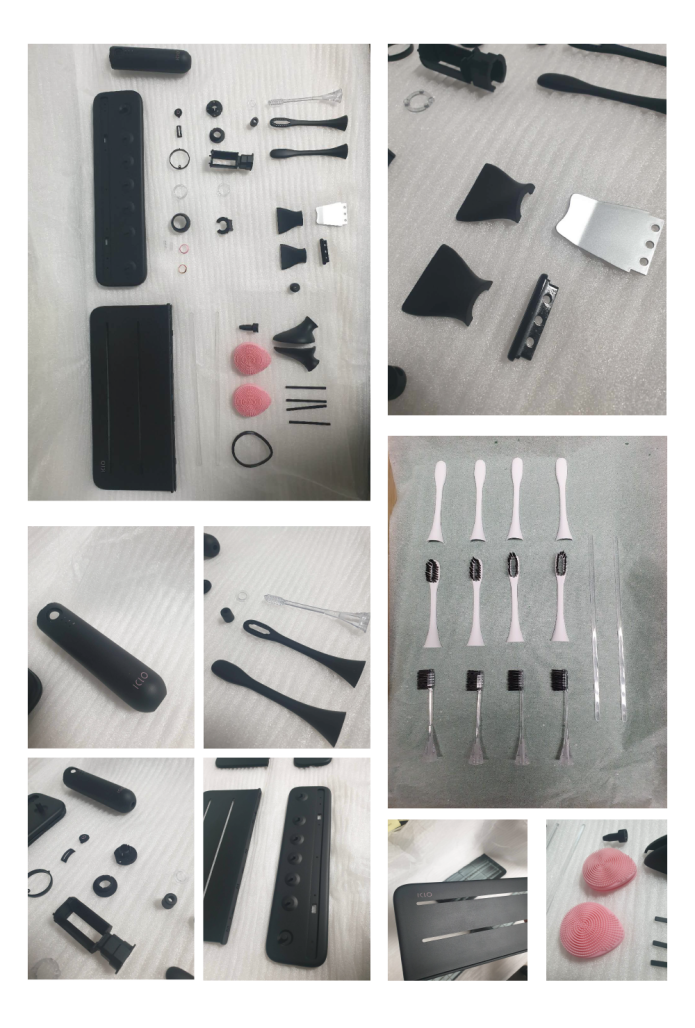 Check Our FAQ For More Information
*Detailed operation and usage after purchasing the product can be provided on the website at www.iclocorp.com and points can be accumulated when signing up as a member.