IGGI: Effortless Weight Loss & Calorie Cloaking | Build Healthy Portion Control Habits With This Science-Based Mindful Eating Bowl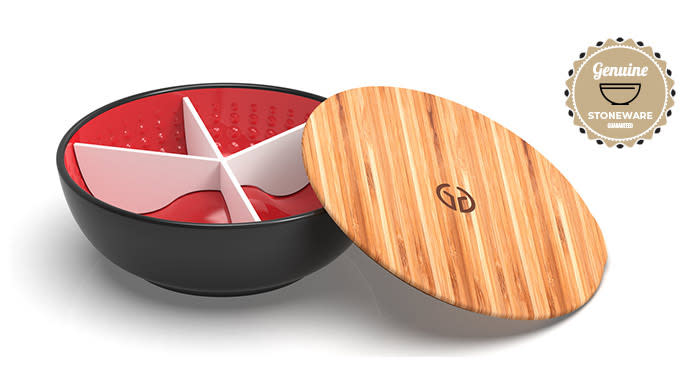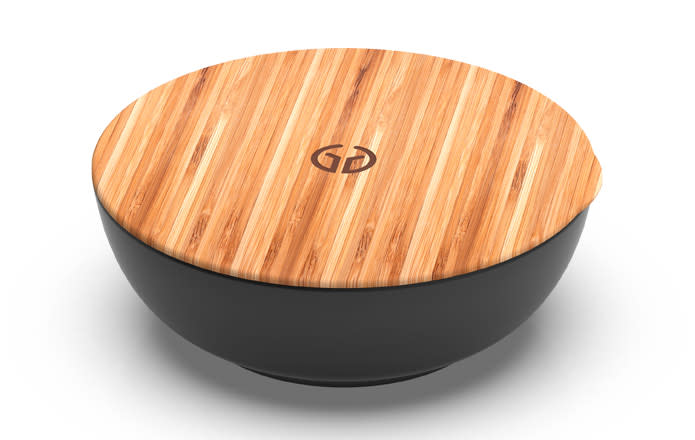 [Stoneware Bowl + Bamboo Lid + Kit | Microwave & Dishwasher Safe]
IGGI™️ Mindful Eating Bowl is a stunning portion control bowl that was thoughtfully conceived to make eating balanced meals easier than ever. According to clinical data obtained from the results of a trial using portion control, you are 3 times more likely to control your weight than going it alone.

You were indoctrinated to "clean your plate" since you were a kid, so no wonder when your animal brain forces you to pile it on, you go ahead and scoff it all down anyway!
IGGI Bowl removes that extra space so you can't serve too much. By the time you finish, you no longer need to go back for second helpings. IGGI Bowl has already helped tons of people from serial-dieters, to diabetics and bariatric patients lose up to a pound a week by removing ~500 calories per day which is *1 pound of weight loss per week.
(NOTE: Losing more than a pound a week is well-known to actually reduce overall weight loss and increase the chances you will abandon eating healthy by triggering "Starvation Mode".)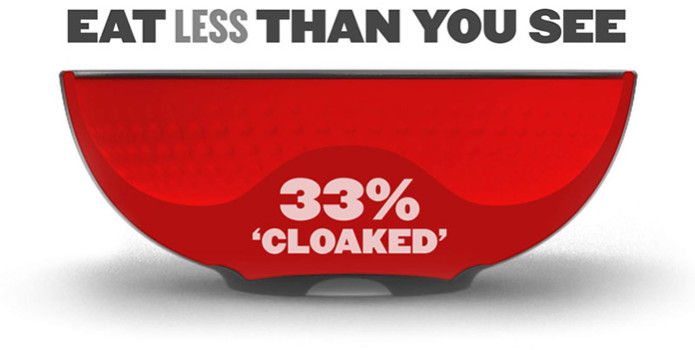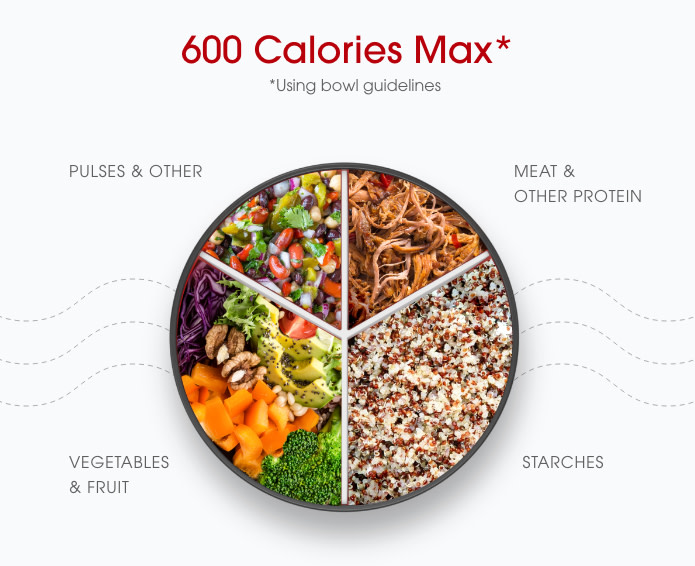 Katie used IGGI Bowl for a week in December 2020 and surprised herself.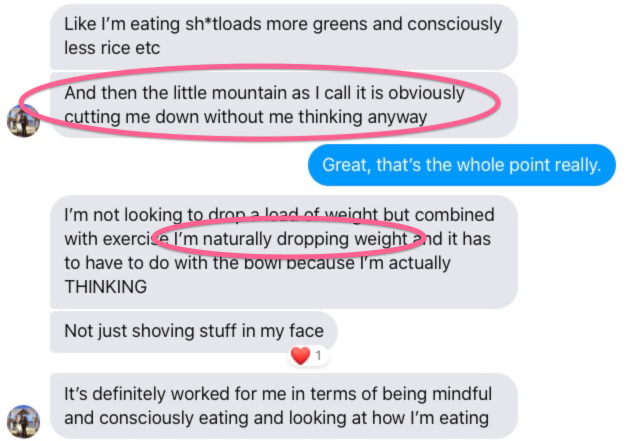 The portable, eco-friendly bowl uses food psychology and 'Calorie Cloaking' for effortless weight loss by tricking your brain into eating a third less than you normally would. Within a few weeks you will pay for the bowl as you reduce your daily intake and grocery shopping bills.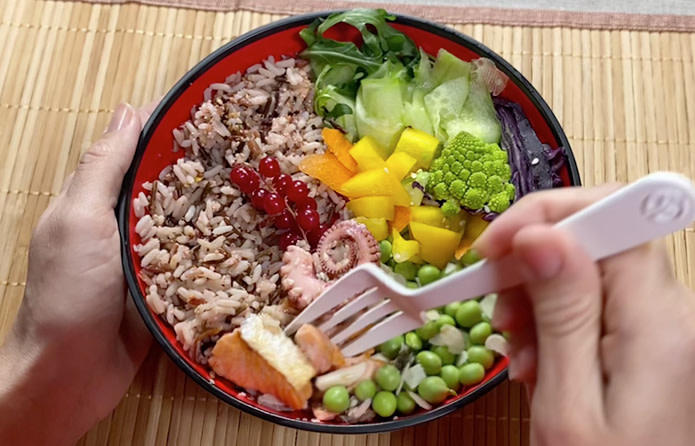 IGGI's beautiful, Japanese-inspired design makes eating a pleasure, and the unique false bottom causes your brain to see 33% more food than is actually there.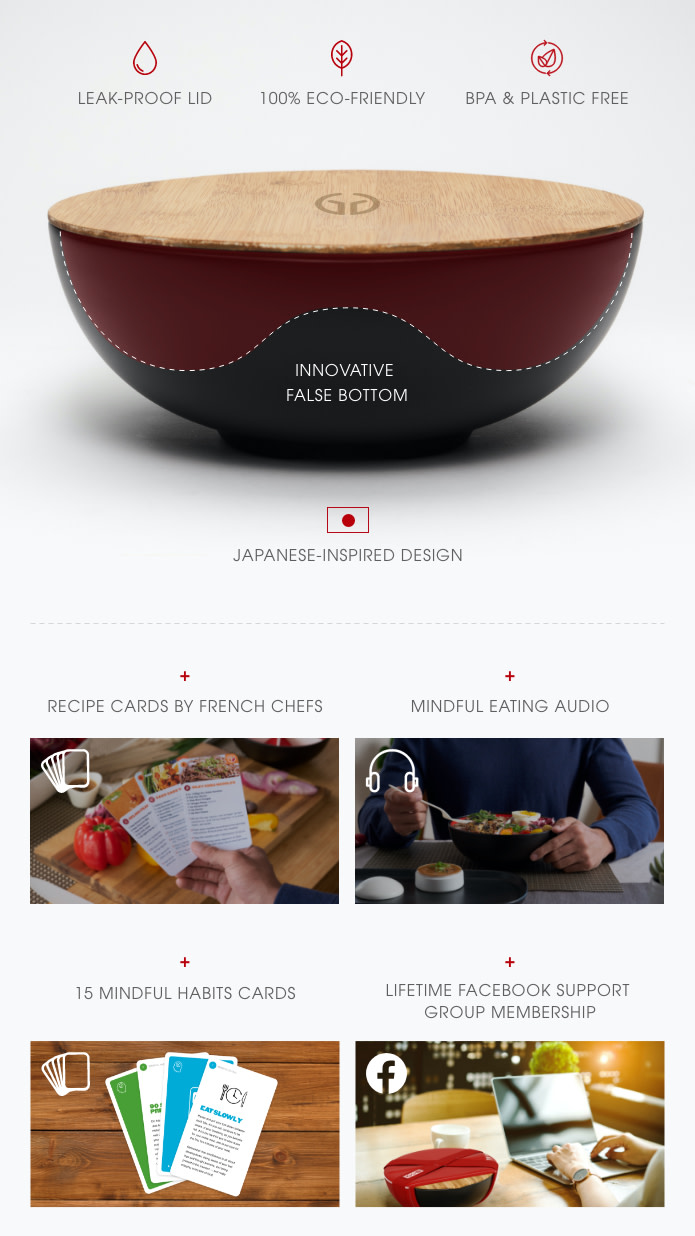 Consistency is key to meeting your health goals, which is why IGGI Bowl is supported by a system called Meal Mindfulness™️ that helps you build healthy habits around eating, like eating slower and learning if you're truly hungry.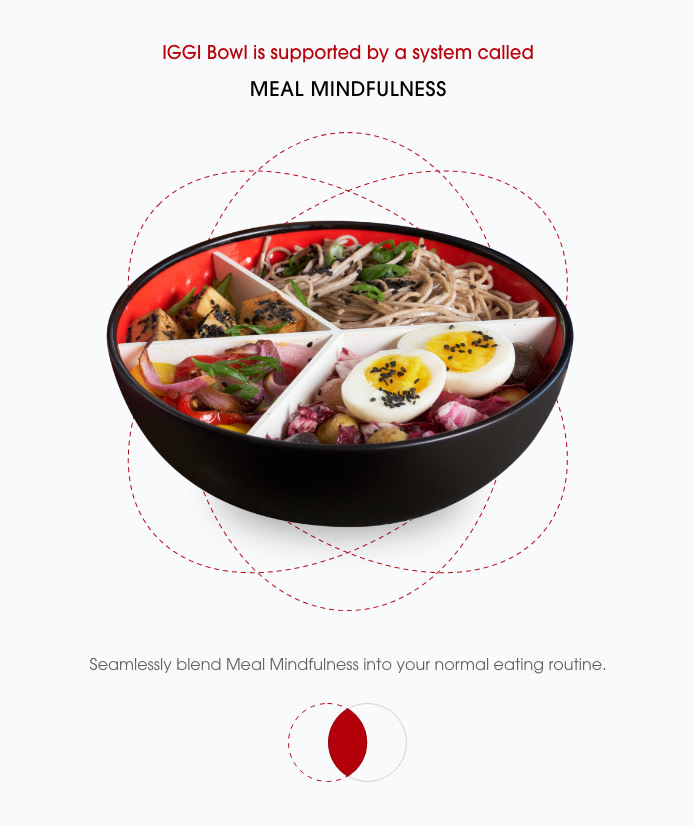 IGGI Bowl's complete Meal Mindfulness System blends into your normal eating routine seamlessly so you're able to build portion control habits through consistent use. 
It takes 66 days to solidify new habits, on average. IGGI will guide you through those first months until your new eating pattern transforms into permanent healthy eating habits!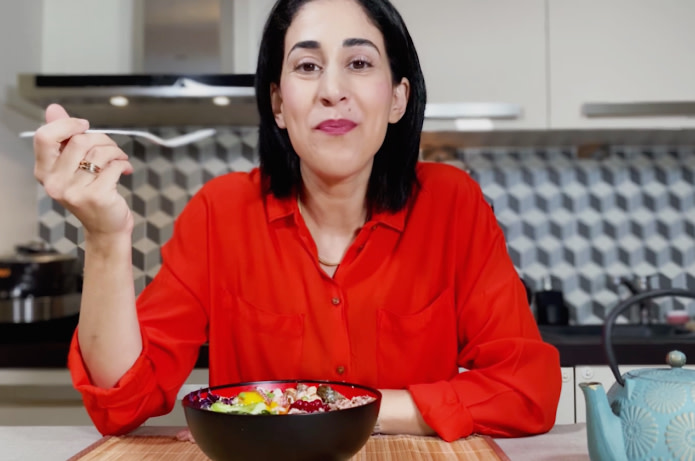 There's no calorie counting or painful meal prep. Simply fill the bowl and enjoy every bite!


IGGI Bowl is the most effective portion control system because it makes you eat less without even realizing it, using a method called Calorie Cloaking.

This works because hunger and eating are guided by the more primitive part of your brain, known as the 'animal brain' (or the amygdala). The animal brain does not want you eating less—it wants to store up fat for the winter!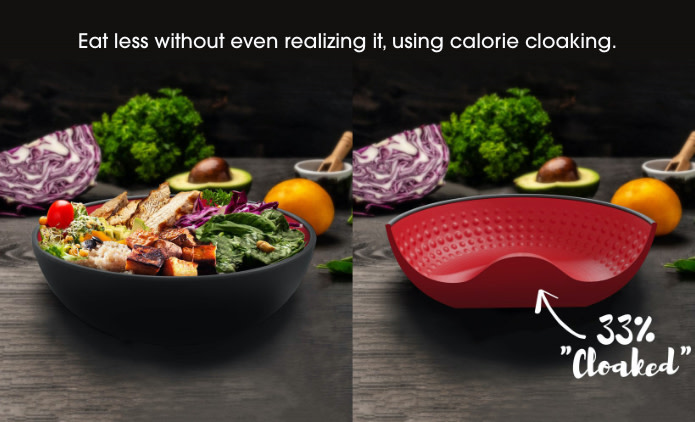 A study in the National Library of Medicine proved that how much your brain thinks you're eating, directly relates to how full you feel.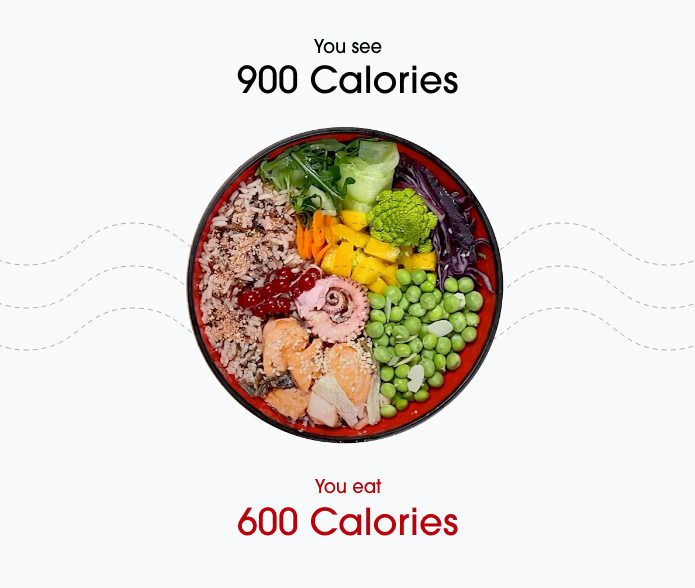 The study showed two groups of people the ingredients of their fruit smoothie—one group was shown a smaller portion, the other a larger portion. Both groups consumed the same amount of smoothie and rated expected satiety (e.g. fullness) before and then 3 hours after enjoying the smoothie. 
The group shown the larger portion of ingredients rated 'expected' fullness significantly higher and reported feeling less hunger and more fullness 3 hours later!

Every feature on IGGI Bowl was carefully chosen so you see more food than is actually there and feel more full as a result.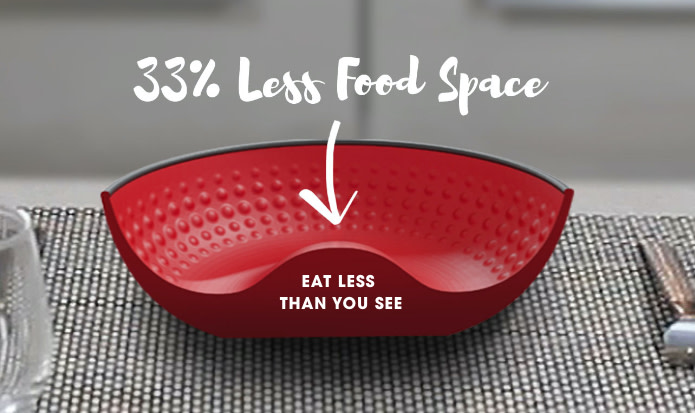 IGGI's false bottom removes 33% of space in the bowl. You see a satisfying full bowl of food, but due to the convex bottom, you eat a third less. It's Calorie Cloaking at work!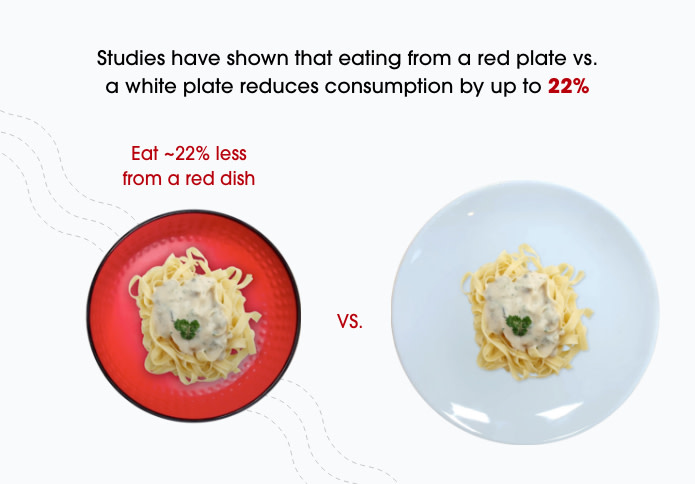 IGGI isn't red just because of Japanese influence—studies have shown that eating from a red plate vs. a white plate reduces consumption by up to 22%.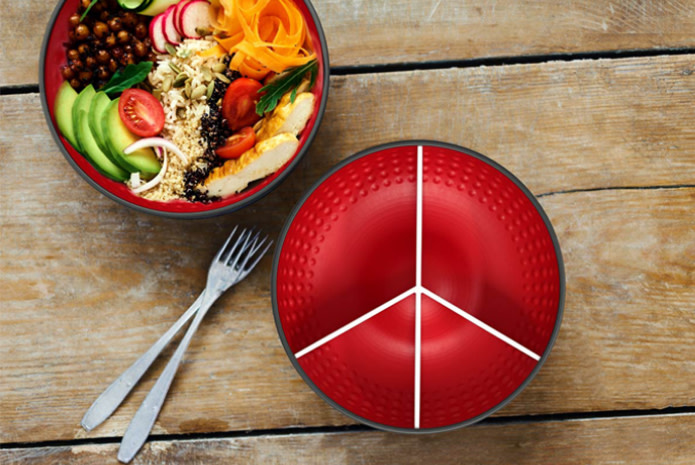 IGGI Bowl naturally has hard limits (the bowl rim), unlike portion control plates that can be piled high and still remain inside the portion dividers. The bowl never delivers more than 600 calories when you follow the IGGI guidelines or included recipes.

If you think IGGI Bowl looks awfully big, then we've accomplished our goal!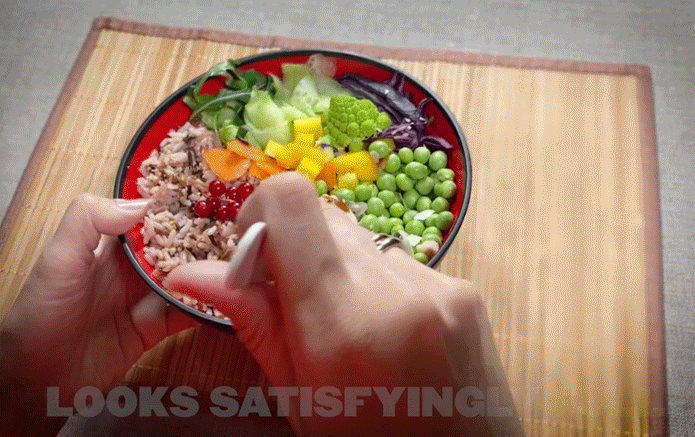 IGGI Bowl looks big so your brain sees more food than it's eating—you feel the same fullness as you would after eating over-portioned meals. The convex bottom keeps the bowl looking full but ensures no more than 400-600 calories fit inside. The bowl is 19.5cm/7.7in which is .5cm smaller than the universal bowl size of 20cm. 

A removable divider splits your meal into four segments: vegetables, proteins, carbs and legumes. IGGI Bowl's beaded walls hold the divider in place if you prefer your foods separated.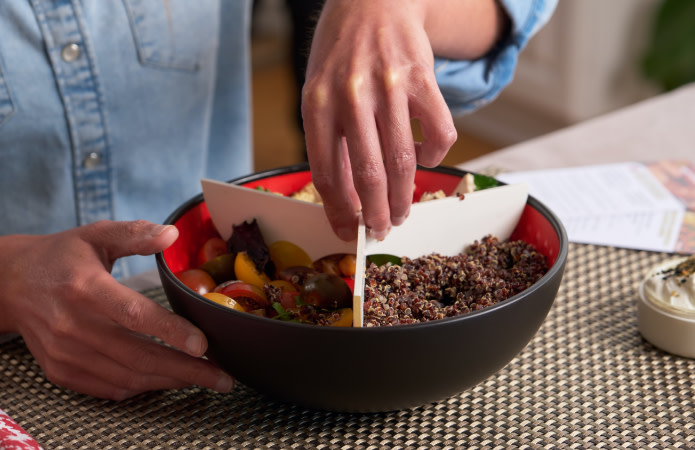 Simply remove the divider and you have a healthy meal in a classy wooden bowl!

Easily portion out food you want heated later or separate out foods that are more "sloppy" so
they don't affect other dry segments. Simply pop the segment you want heated in the
microwave at work, and then drop it back in the bowl to eat. The segments have (slightly) flat
bottoms so the stand-up by themselves in the microwave or the oven.
The food-grade silicone inserts are resistant up to 450°F (232°C), are easy to clean, and stay
relatively cool to touch.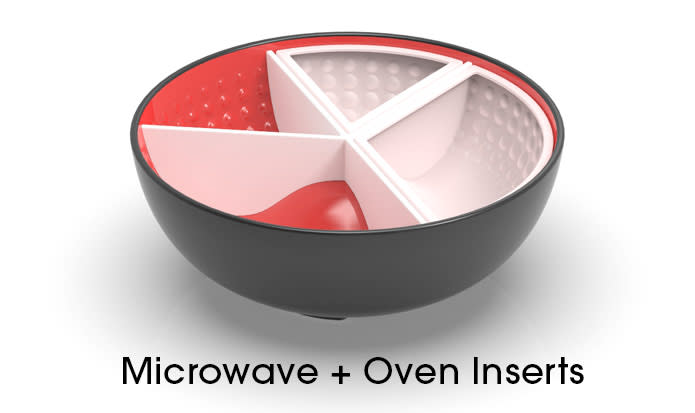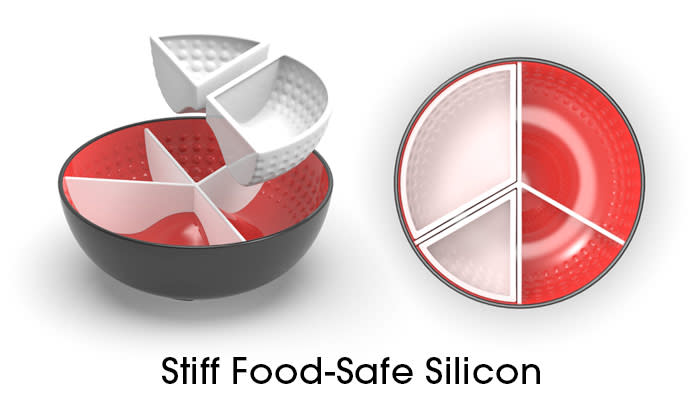 2 Pack: €6 (with 50% campaign discount) €12MSRP
*Segment Inserts are expected to be available as add-ons post-campaign

Your IGGI Bowl comes with 15 convenient recipe cards for each segment of the bowl designed by French Sustainable Cuisine Chefs!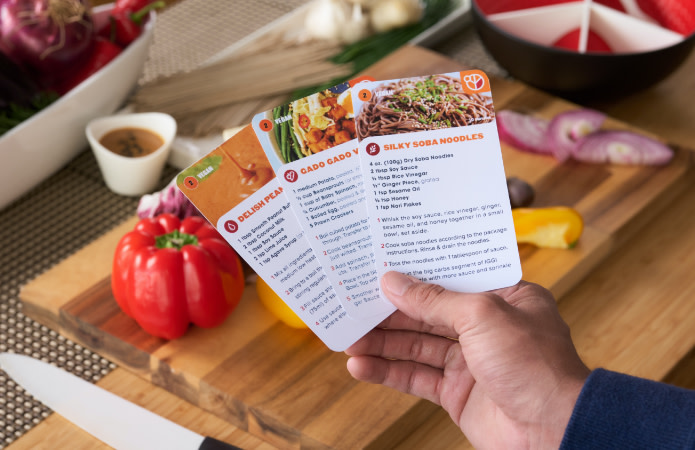 Choose 4 segment cards and a sauce mix and match for a complete IGGI Bowl meal, or supplement your own foods with IGGI Bowl segment recipes.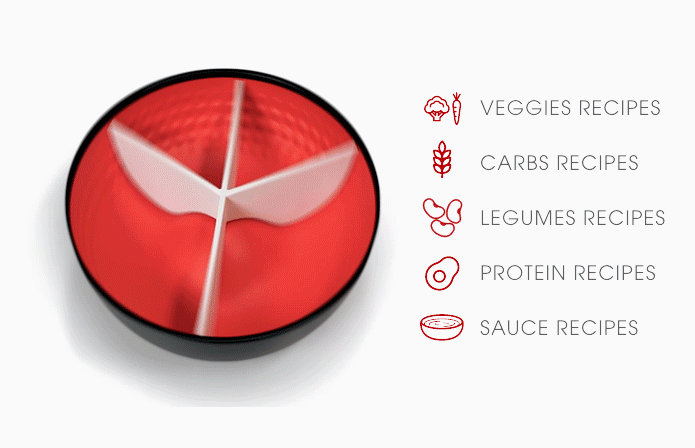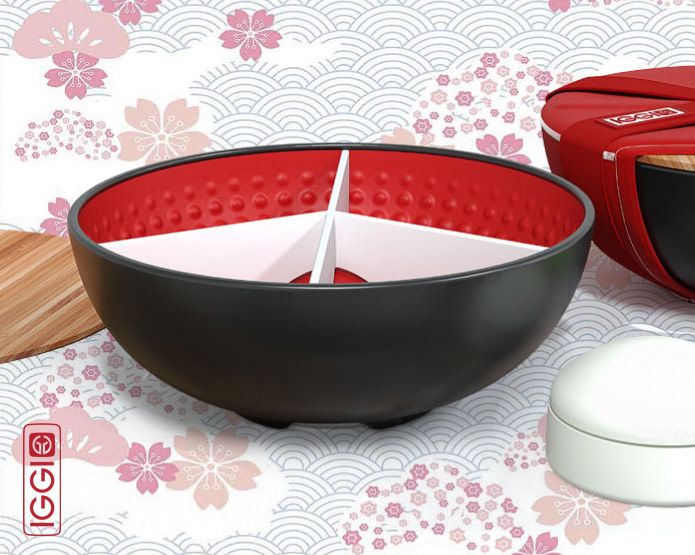 IGGI Bowl makes eating every meal a pleasurable experience. No more multicolored eating trays or Tupperware-like portion containers. IGGI lets you eat with the grown-ups again!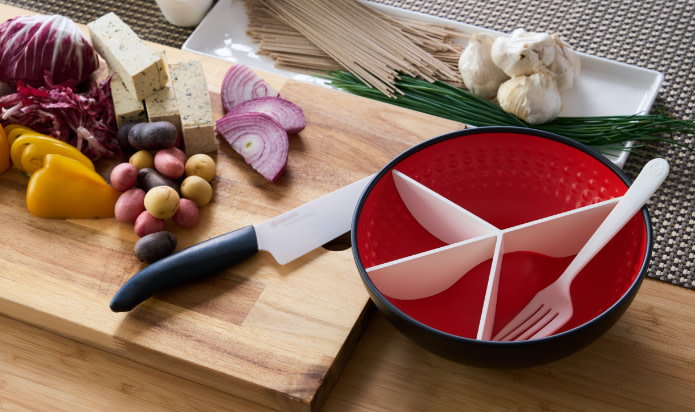 Our designers labored every curve and line of IGGI Bowl to bring you the world's first officially 'non-ugly' portion control bowl. The minimalist, Japanese-inspired design and Stoneware (ceramic) material gives you a sense of luxury with every bite. If only every bowl could be this beautiful *sigh*.

IGGI Bowl isn't just a bowl. It's a system called Meal Mindfulness that was developed with great care over 12 months in conjunction with nutrition experts, dietitians, mindful eating experts, sustainable chefs and product experts using food psychology.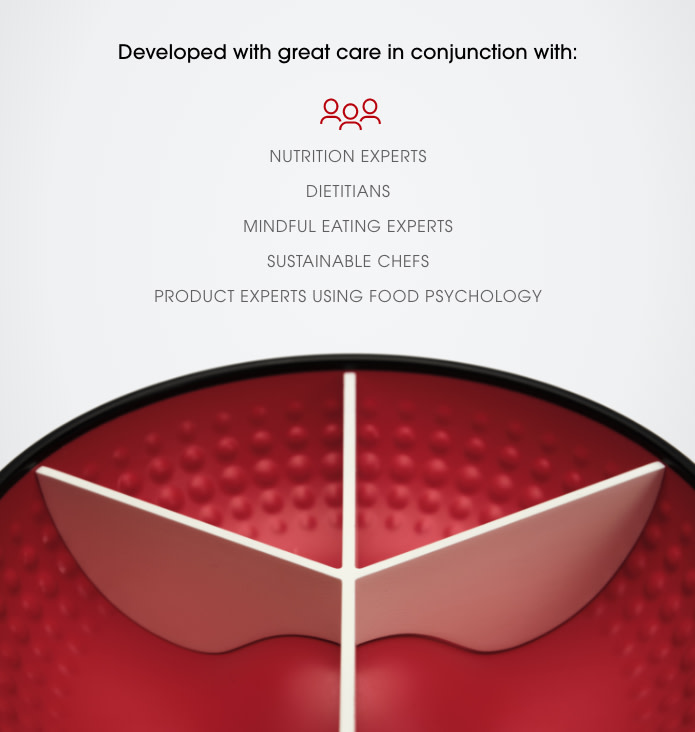 Meal Mindfulness helps you slow down your eating and naturally enjoy the health and stress-relieving benefits of trusted mindful eating techniques.
IGGI App: Our included app is free for life with IGGI Bowl instructions, healthy eating tips, recipes, mindful habit cards, and more!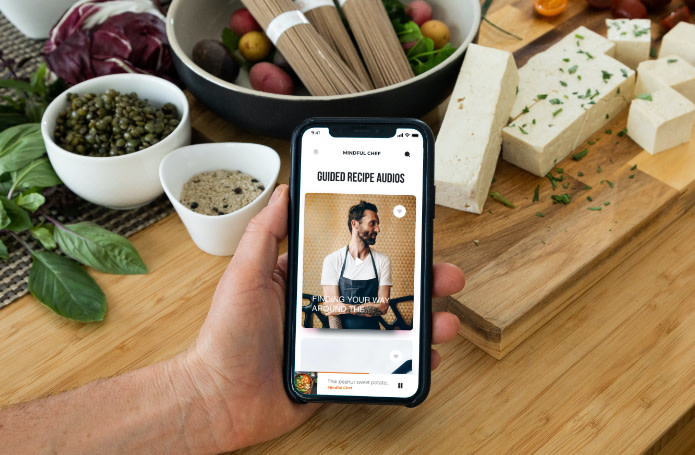 Mindful Eating Audio: Learn how to appreciate your meals by slowing your rhythm and allowing the satiation message to get to your brain before you overeat.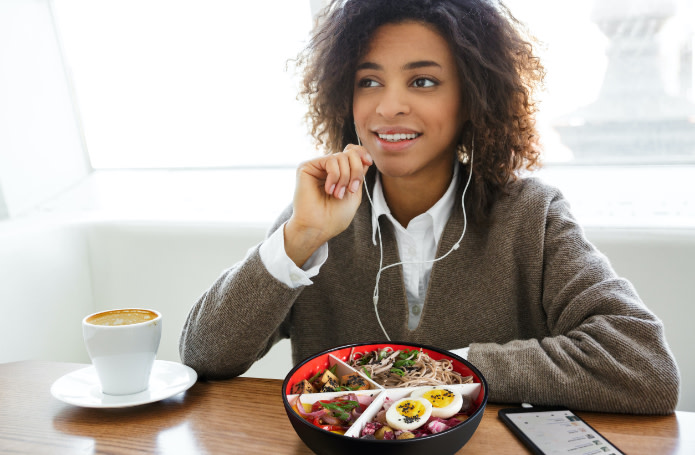 Mindful Habit Cards: Our cards offer expert tips that help you build healthy habits.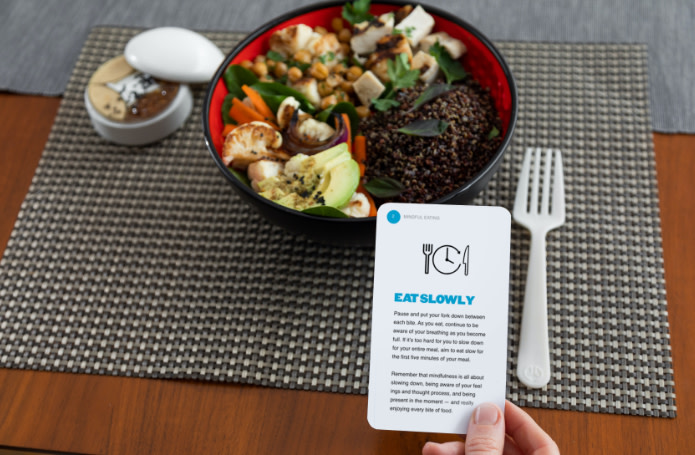 Meal Mindfulness Facebook Group: Enjoy mindful eating tips, mindfulness coaching, recipes, bowl tricks and tips, and community support!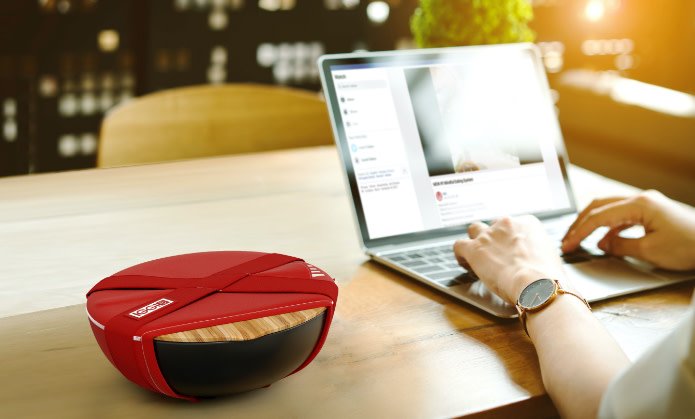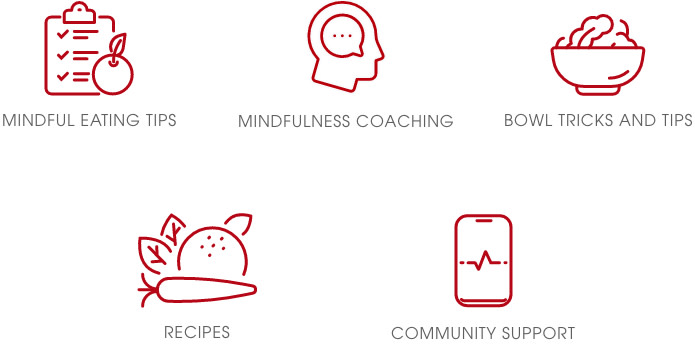 Pack your lunch or dinner in IGGI Bowl for healthy meals on the go!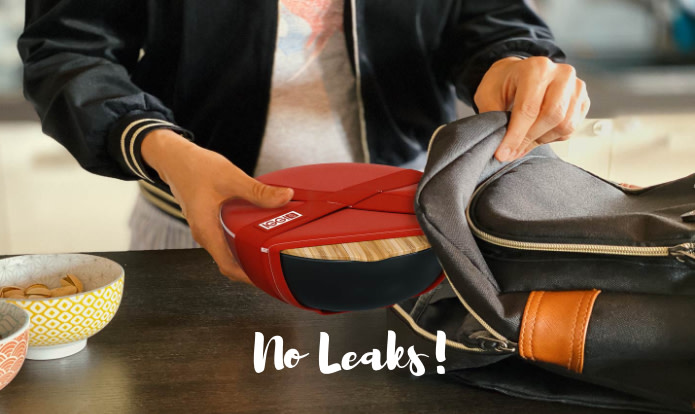 No more leaking lunch bags or spilled sauces. The bowl lid has a deep profile and hermetic seal that ensures no leaks in your bag.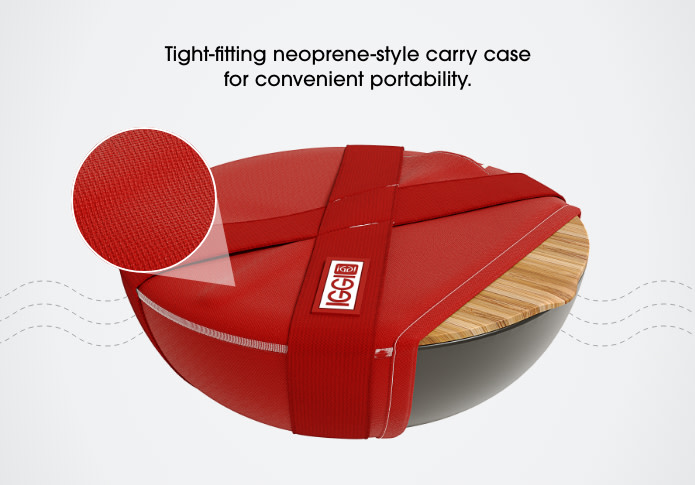 Plus, IGGI Bowl comes with a tight-fitting neoprene-style carry case that helps lock the bowl down for convenient portability.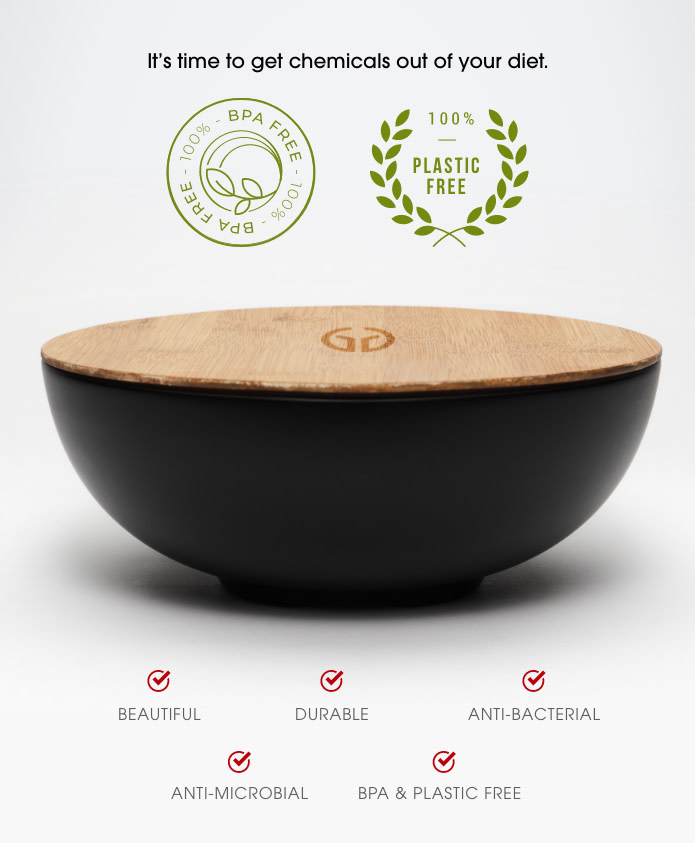 IGGI Bowl is crafted from genuine 100% Stoneware which is known for it's durability and beauty. The start-of-the-art glazing has no lead or nasty chemicals and is completely food-safe.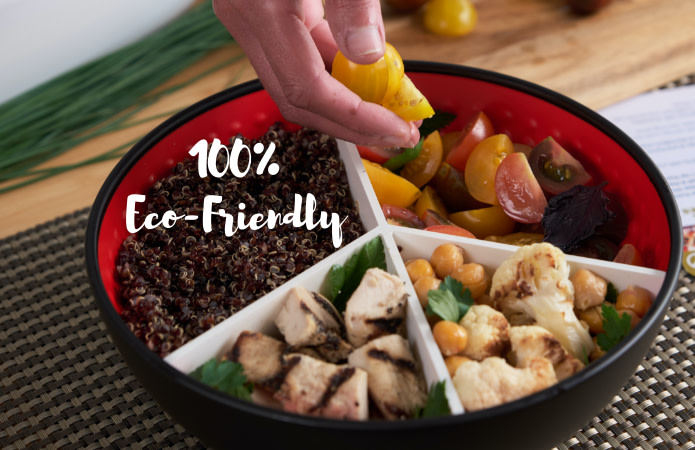 IGGI Bowl 100% Microwave & Dishwasher-safe.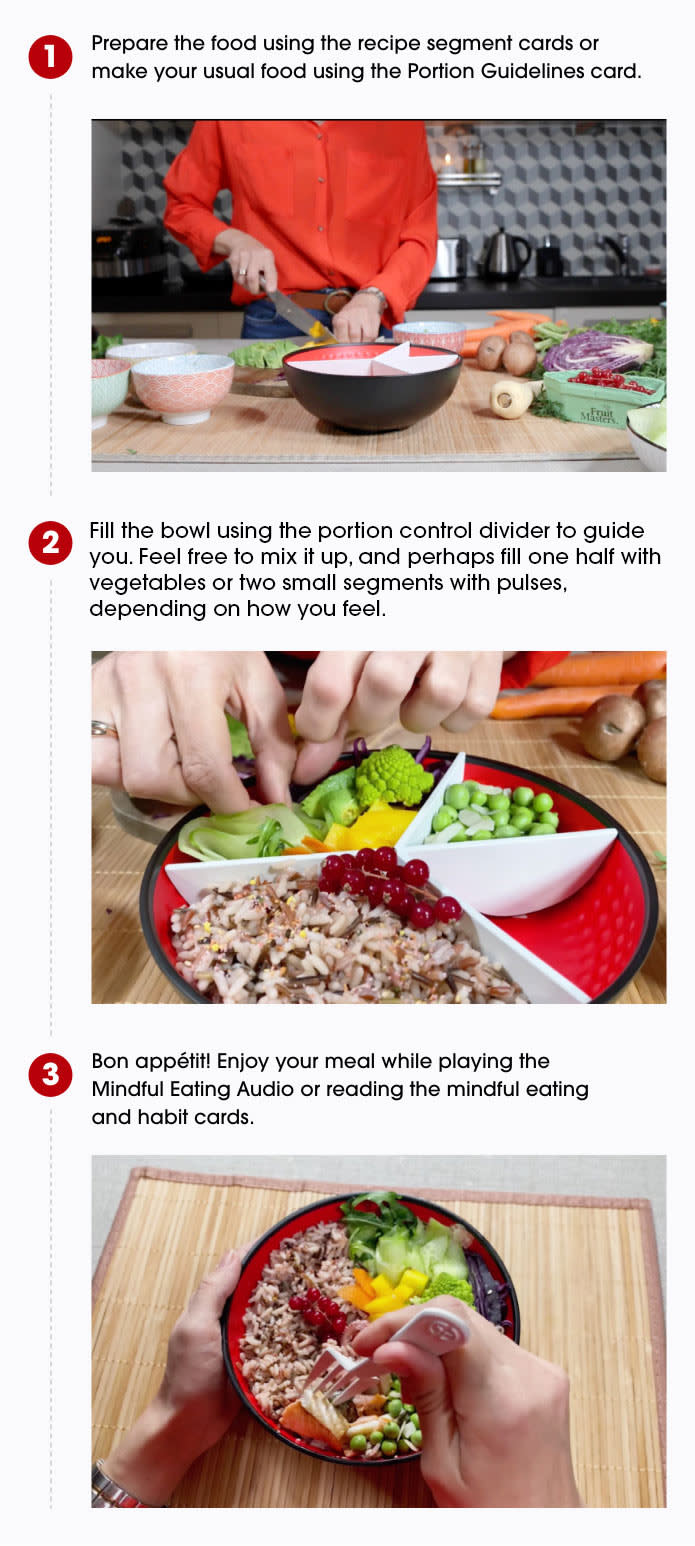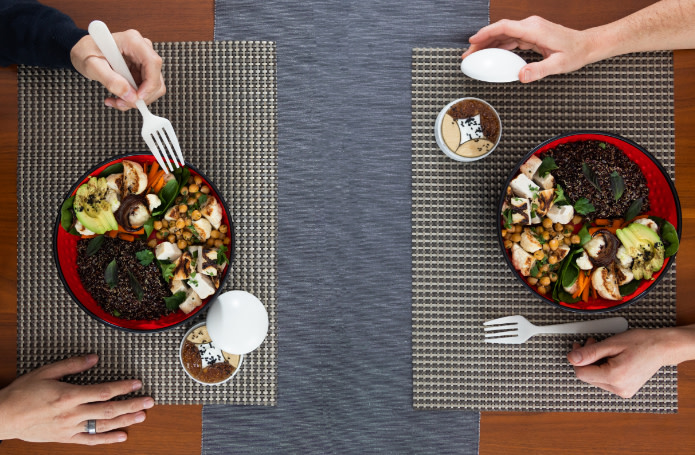 There's nothing to encourage healthy eating like an accountability partner. Get a pair of IGGI Bowls and enjoy mindful eating with your partner, friend or roommate.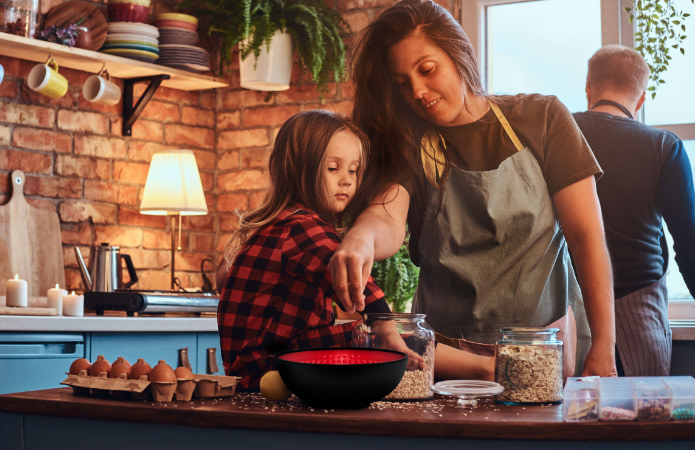 In 2010, a study revealed the average American eats 23% more calories than in 1970. 
Many of us overeat because it's all we've ever known. We never learned appropriate portion sizes and we're surrounded by excessive eating out in public. IGGI Bowl makes portion control fun and teachable for kids and teens. 
Make recipes together, challenge each other to try new segments and build healthy habits as a family.

Packing lunch gets old—fast. Especially when we're trying to be healthy.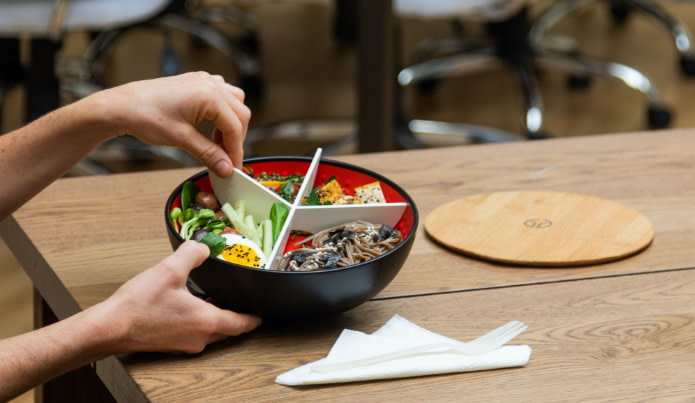 IGGI Bowl makes taking lunch to work or school painless. Just follow the included recipe cards and you can have a healthy, delicious and simple meal every day. 

IGGI Bowl is a non-intrusive, inexpensive and safe way to eat healthy and stay healthy.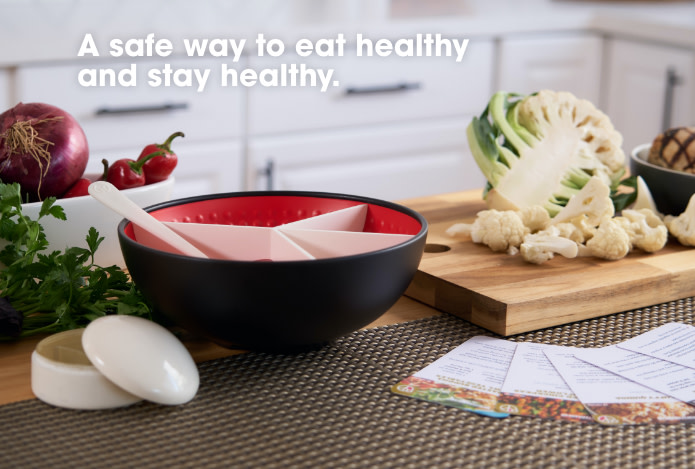 It's not an expensive weight loss program or ineffective green superfood powder. You simply replace your plates with IGGI Bowl and enjoy eating delicious food with the Meal Mindfulness system as your guide.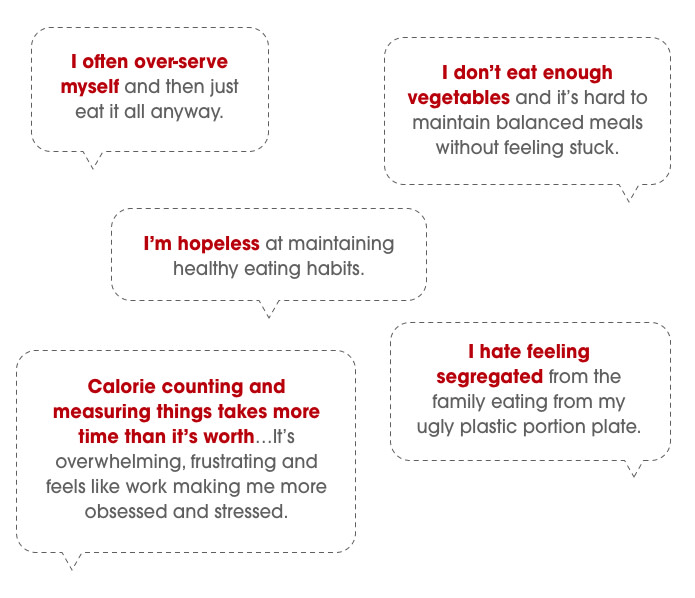 Sound familiar? Yeah. It does for me too. I'm Roderic—the founder of IGGI Bowl.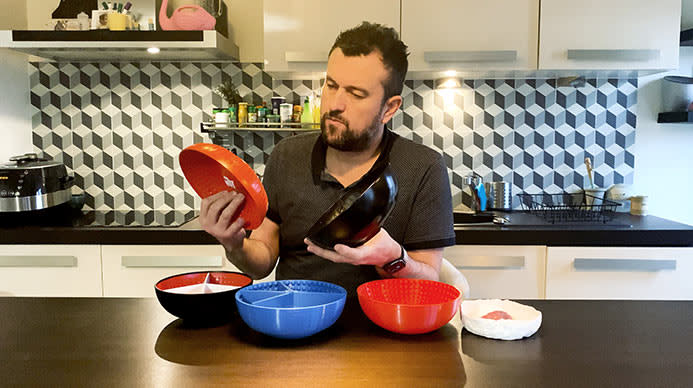 At 47 years old, I realized my health was heading downhill. My metabolism was slowing with age but my eating habits hadn't adapted. My doctor told me if I didn't lose significant weight, my liver problem would be "irreversible" in just 3 months, risking cirrhosis. I enjoy the odd glass of French wine, but it turns out, cirrhosis and cancer are now leading diseases due to 'overindulging' in processed and unhealthy foods.
It was all due to years of bad eating habits.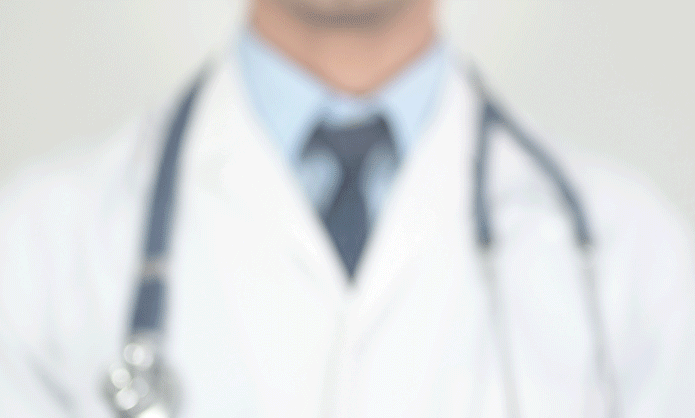 The outlook felt especially grim as an overweight father of two little girls, and I became determined to improve my health before it was too late. I didn't want to do any of the fad diets or take pills, I wanted to improve my health in a healthy way that was sustainable.
Portion control remains the most prescribed weight loss tool by health professionals to this day and it just makes sense, so that was my plan. However, I knew eating less was only part of the story. 
We're all controlled by 'internal scripts' and beliefs that prevent real change in our lives. "I'll never lose weight", "my bones are thick" and "I just can't stop eating". Years of beating ourselves up for overeating, emotional eating and just bad food choices don't disappear overnight because we read a blog about 'Ketosis'.
I knew I needed to find a way to solidify healthy eating habits over time and remove the stress that surrounds improving our health or losing weight. 
The idea for a mindful eating system was born.
[IMAGE ABOVE: We already have the factory & complete supply chain ready to go]
After endless research, interviews with average people and picking the brain of my best friend (a leading Australian public health dietician), I learned that intuitive eating and mindfulness is the remedy to an out of touch weight loss industry that still peddles fat-shaming to sell.
And that people aren't looking to lose weight and get healthy just to look good, but specifically to feel good, especially in these Pandemic times.
After further research, I soon discovered dozens of little-known food psychology studies using 'sensory perception manipulation' and learned that only about a third of our hunger is actually biological. The rest is lifelong ingrained bad habits and unguided emotional eating.
Suddenly, everything made sense! I realized the dreaded prospect of food deprivation might not be a given after all!
Encouraged by our own initial experiments with friends and family and all the scientific research, we painstakingly developed a system that helps people naturally eat less and eat better, but more importantly, eat consistently without even trying.
So, how did it go after using IGGI daily for 6 months?
I refuse to play the "before and after" game (that causes us all great psychological pain), but suffice to say, I finally 'feel good in my skin'. I reached my targets, but more importantly, I haven't relapsed for the first time ever. My habits have changed for the better. 
My doctor gave me the all-clear in November 2020 and my liver problem has reversed.
The IGGI Meal Mindfulness System works. The portion control bowl kit, guided audio, recipe, mindfulness and habit cards really are training wheels for mindful eating, balanced health and sustainable weight loss!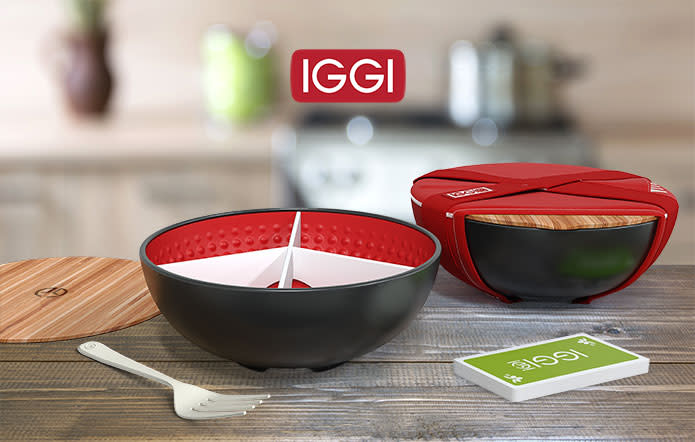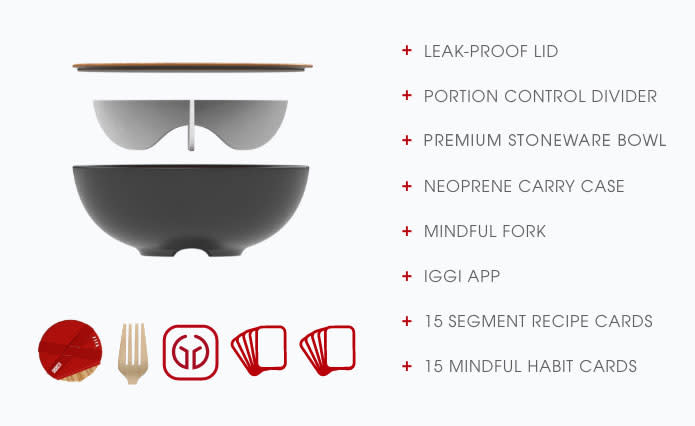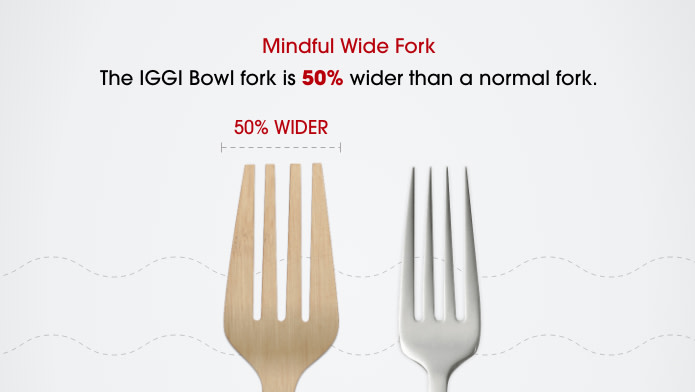 Recent studies show that "those who ate with big forks ate less than those who ate with small forks" (4.43 ounces vs 7.91 ounces on average to be precise). By taking more food in one go, you are more aware of how much you are eating and tend to eat less.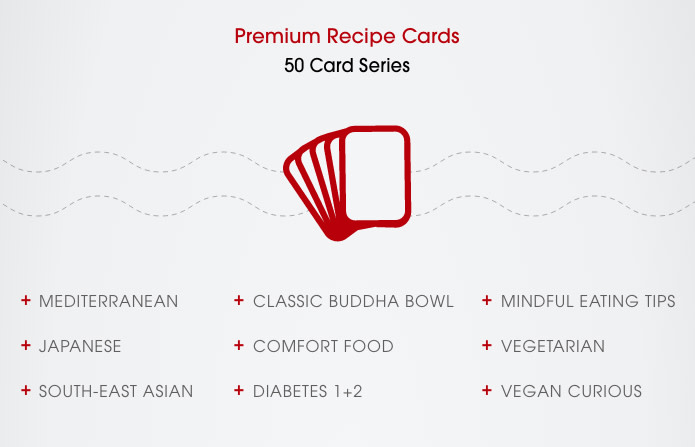 How much will shipping cost me? 
~$10 for a single pack bowl kit for US deliveries.
In order to offer the best possible rates, we are holding off on finalizing shipping rates until after the campaign. Due to the pandemic global shipping and fulfillment operations have been experiencing unprecedented demand, causing delays and fluctuations in rates. Now, the industry is swiftly recovering and rates are improving daily. 
We are working with industry-leading companies and experts who all agree that we will be able to offer the most competitive possible shipping costs by continuing to source options throughout the campaign and during production and manufacturing. Continuing to work on lowering the rates and then offering those rates after the campaign will allow us to give the best possible industry-standard rate, calculated as close as possible to the time of shipment based on the most accurate possible order quantity. 
How and when will I pay for the shipping fee?
Shipping, handling and other local fulfilment charges vary from country to country. We will collect these costs in our pledge manager (BackerKit) in the months following the campaign via a post-campaign email survey. You will have the opportunity to provide your shipping address, confirm your Perk selection, choose additional add-ons, make changes to your address if you moved, etc. at that time. 
Who pays taxes / VAT / customs duties?
Campaign backers are responsible for any taxes or customs duties levied by their own countries.  Because you, the backer, are responsible, please check your country's import duties before backing our campaign if you have questions or concerns. 
What countries will we ship too?
We are shipping worldwide!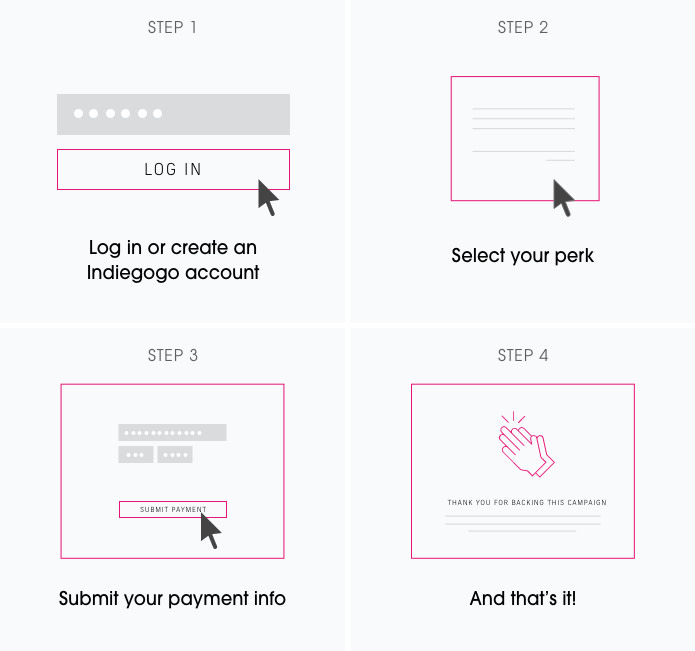 At the end of the campaign, we'll send you a survey to get your shipping information and deliver your IGGI Bowl when manufacturing is complete!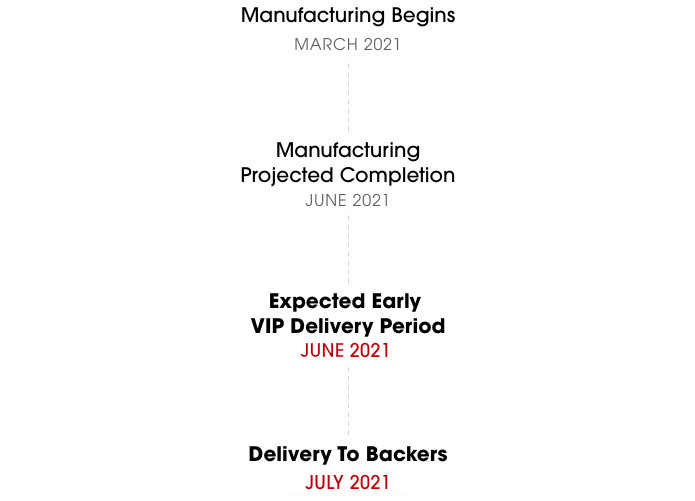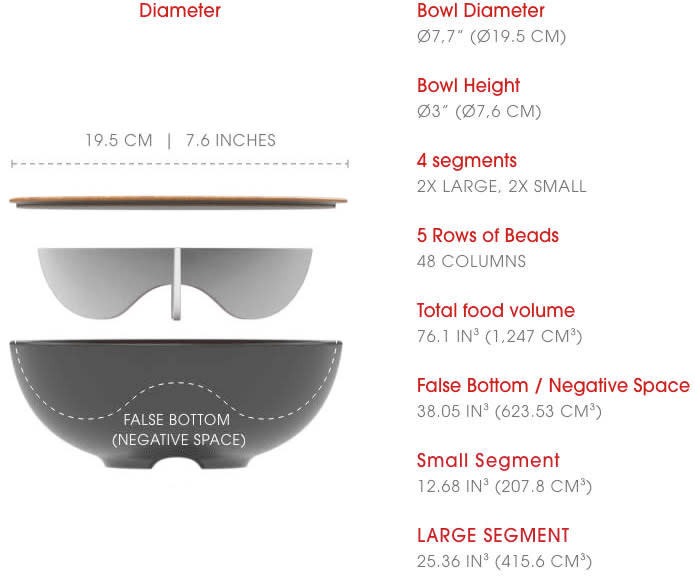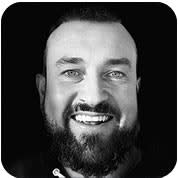 Roderic Andrews – Founder and IGGI Biggy
Australian designer and entrepreneur living in Paris for the past 20 years. Lifelong Japanophile, mindfulness enthusiast and Sencha tea drinker. He spent many years working and living in Japan as a designer and was once kicked out of Tokyo Disneyland when Michael Jackson decided to hire it for a day. Passionate about how we form habits and how product design can play a part in building better ones. Serial start-up founder including No. 2 rideshare app in the UK (Kabbee), Chefshout restaurant finder app and other language apps. Currently co-owner of a Parisian web agency and working full time as IGGI chief just outside Paris.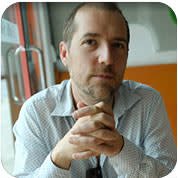 Victor Johnston – Sustainability and Operations Advisor
Victor is an established business leader with over 20 years international experience in the renewable energy and software sectors. He has demonstrated strengths in leading high growth organizations across multiple channels, with a focus on innovative and disruptive marketing strategies. More recently, he has driven the creation of several new software and hardware products, with key input into the creative direction and software architecture.
For the last 12 years, Victor has been focused on finding ecologically sound solutions to everyday problems, working exclusively for NASDAQ listed companies in Silicon Valley. As part of the renewable energy industry, he has worked to take solar energy mainstream, allowing everyday families to contribute to a better environment.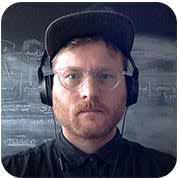 Frederick Brummer – Designer/Product Development​
Played in a punk band called "The Aliens". Found a macintosh on the street in Tokyo with Adobe suite still installed and taught himself Photoshop. Soon after he was hired by a top Japanese agency and worked on Toshiba, Tokyo Uni and Kellogs accounts for a number of years. Frederick wound up getting a job at Apple Japan as head of internal web design. He toured Japan and Europe playing Raves whilst still living in Tokyo. He's been working as a product designer in Vancouver, Canada for the past 10 years.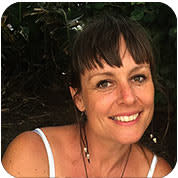 Louise van Herwerden – Advisory Board
Doctor Louise (Master Nutrition and Dietetics) has been working in Australian public health for the past 20 years and has coordinated a wide variety of public health nutrition projects, including for the Victorian Public Health Nutrition Unit, Department of Heath and Sentinel Site for Obesity Prevention, Deakin University. Since then Louise moved into health promotion coordination, guest lecturing at various university institutions and transitioned into academia permanently in 2013. Louise is currently working as part of the Monash University Evaluation Team for QCWA Country Kitchens Program.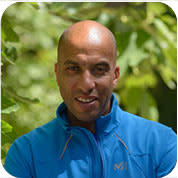 Marcus Reuben – Advisory Board
Marcus is a certified British personal trainer and nutrition maniac based in Paris where he has been a fixture in the health and fitness scene for 15 years. Multiple Ironman and triathlon veteran, he doesn't stop training throughout the year. You'll still catch him riding from Paris to Versailles on a cold February morning! He has always insisted on an even balance between exercise and healthy eating and champions portion control.

To free overeaters from endless dieting and guilt cycles so they can build life-long healthy eating habits and unshakeable well-being.