ILO: Accurately Track Cycle & Fertility. Period. | Personalized ovulation tracker accurately predicts fertile days with just 60 seconds of breathing.

Real-Time Fertility Detection With Just 60 Seconds of Normal Breathing

Based on your daily hormonal measurements, physiological changes, symptoms, and lifestyle, ILO's AI system identifies exactly where you are in your ovulation cycle.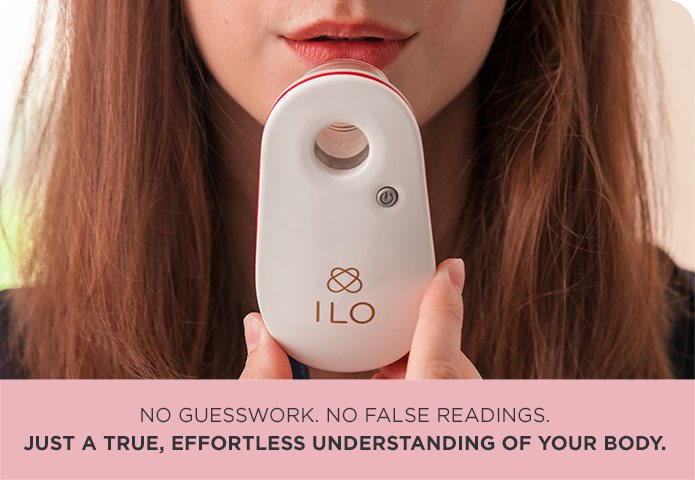 Know The Right Time For Conception.  (Seriously)


Your body releases different levels of CO2 during different stages of your fertility cycle. 
Based on the levels of CO2 you release while breathing for 60 seconds, ILO knows exactly where you are in your cycle and if you're ovulating.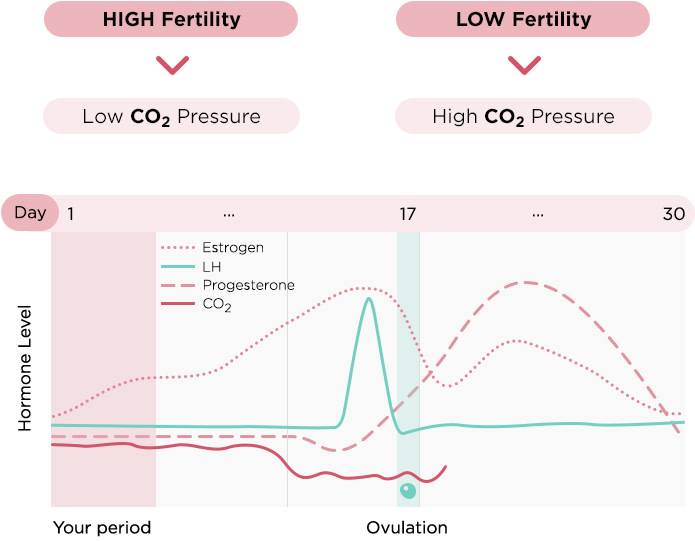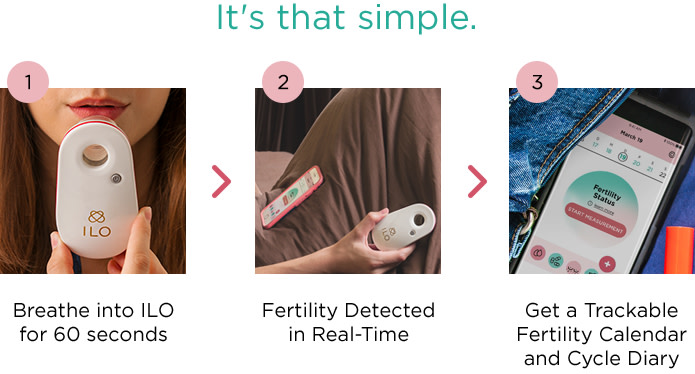 Getting Pregnant Can Be Hard. ILO Makes It Easier

Unlike other products, ILO provides personal guidance that's NOT based on a single, fixed regimen, but on where you're at right now.
ILO helps you understand 'the why' and 'the where' behind your fertility cycle and ovulation, linking your symptoms, your fertility window and your overall cycle.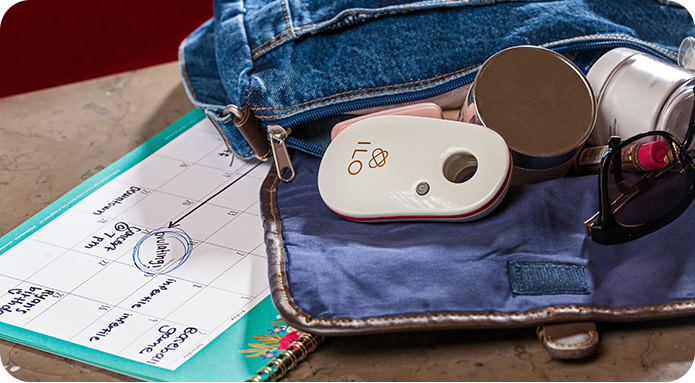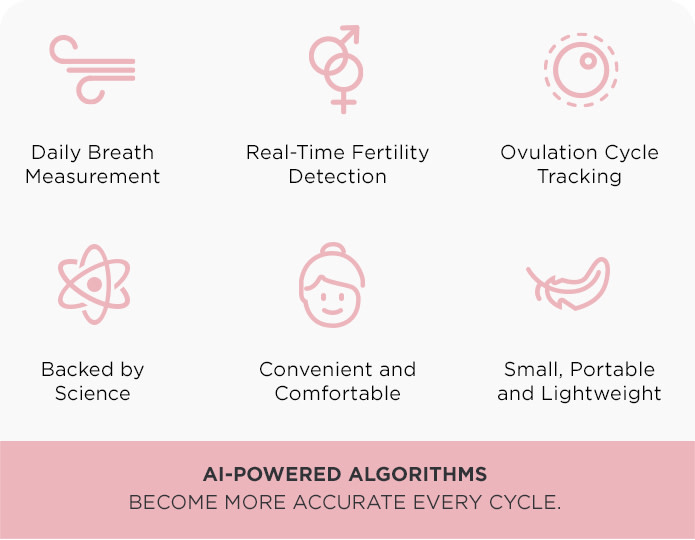 Every woman is different, which means that there's no "standard" cycle. There's even variation from cycle to cycle due to stress and other common factors.
ILO uses advanced AI technology to adapt to your personal data to give you more accurate results every cycle.
That's right: incredibly accurate data entirely based on what your body is saying. Even if your cycles are irregular.
Backed By Science, Proven By Births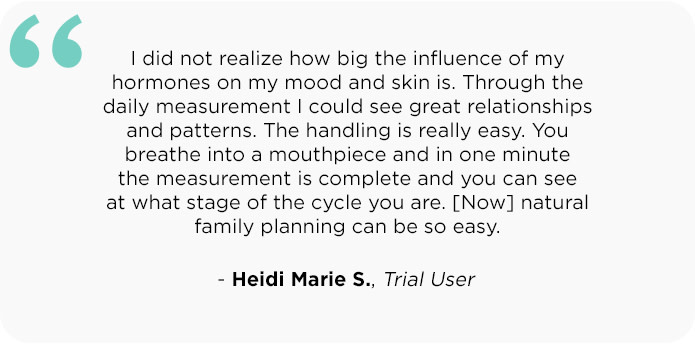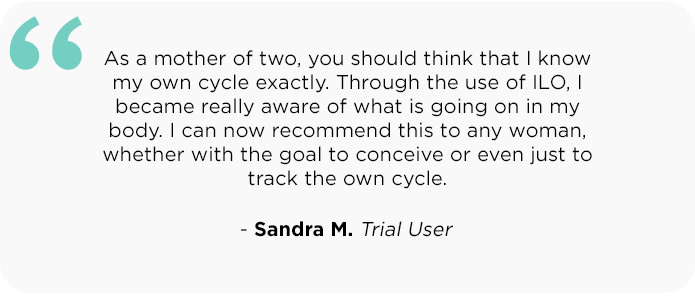 Our Method Really Is The Most Accurate

Hormone test stripes are only accurate at one time during the day: they can show a wrong result when performing the test outside of the morning window.
Temperature and pulse measurements are incredibly affected by illness and stress.
Heavily relying on past cycles to predict your fertility with temperature or mucus is just as inaccurate, as more than 60% of women have at least 6 days of variation cycle to cycle.
ILO is accurate, and ILO is honest about its accuracy.
Our competitors are only being partially honest with you. The numbers and data from their published clinical trials do not match the data they're using in their marketing. They're pulling only their best data, their best results. 
For example, top a brand you've heard of (and probably tried) claims they can predict 5-10 high fertile days before peak fertility for one third of all women. This sounds great! However, showing more than 6 days of a fertile window is too wide a window when trying to conceive, and this data doesn't really tell you anything, as 10 days is 1/3 of a month. Additionally, to produce these numbers, this brand is only giving you data from 89 women, despite the thousands of women they claim to have run trials with.
A different top brand you've heard of (and also probably tried) claims they have experience with thousands of cycles and that they ran a clinical trial for over one year. However, they only use 247 of those cycles and their data in advertising and communication. 
Another top brand tells you they offer a predication of 8 fertile days. However, scientifically, this does not make sense: the maximum sperm life is 5 days and the actual fertile day around Ovulation is 12-24 hours.  
We're not here to trick you into purchasing ILO. We're here because we saw a way to improve the way the world is trying to conceive. We're trying to make a difference. Our studies will be published soon. Please reach out to our team if you have questions, or you can see the science linked at the bottom of this page. 
Symptom Tracking And Identification 

With ILO, you can choose to document your symptoms (such as breast pain and headaches) so you can track and prepare for your cycle symptoms month over month.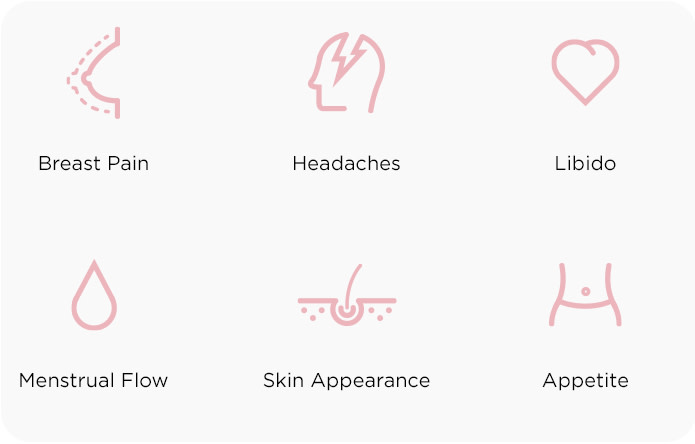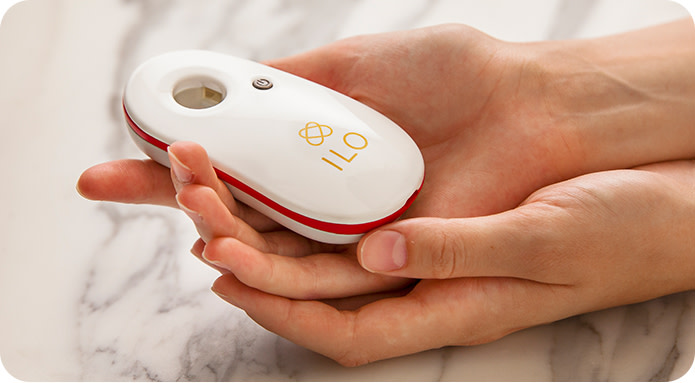 Increase Chances Of Pregnancy

Studies show you're almost 40% more likely to get pregnant when intercourse is timed to match your fertility window after tracking your cycle.
ILO knows your window.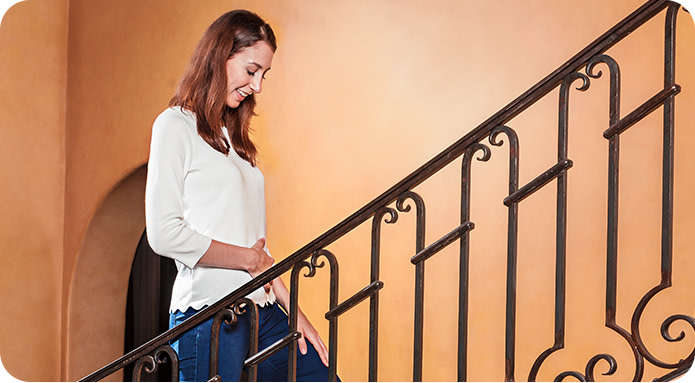 Reliable Guidance At Every Step

Whether you're trying now or you've already conceived, the ILO app contains a massive library on reproductive health and wellness from conception to birth.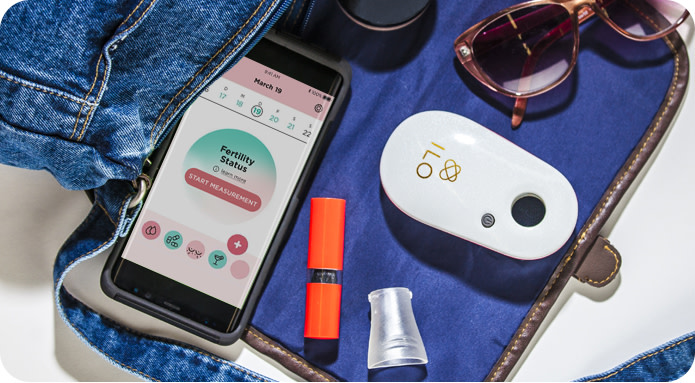 Make Family Planning Stress Free

We put extra effort into ensuring there was nothing complicated about ILO's app experience. Are you ovulating? Find out with a glance. ILO will be available for iOS and Android.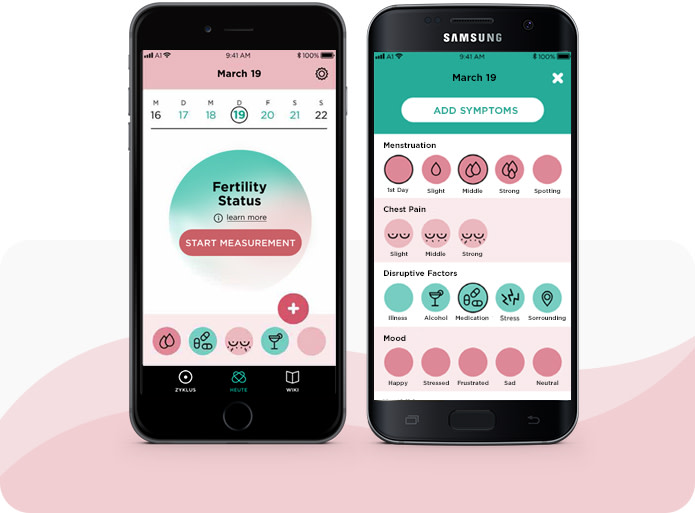 Recently Featured In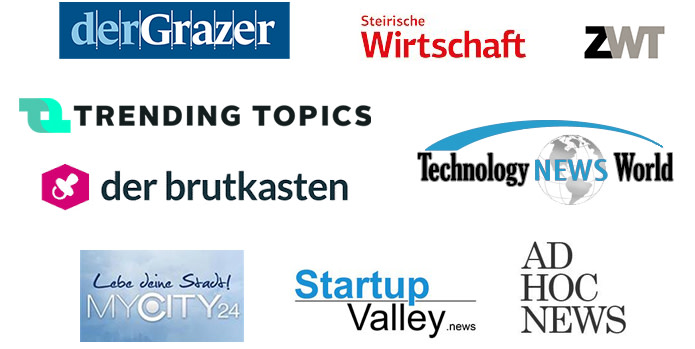 A Look Inside ILO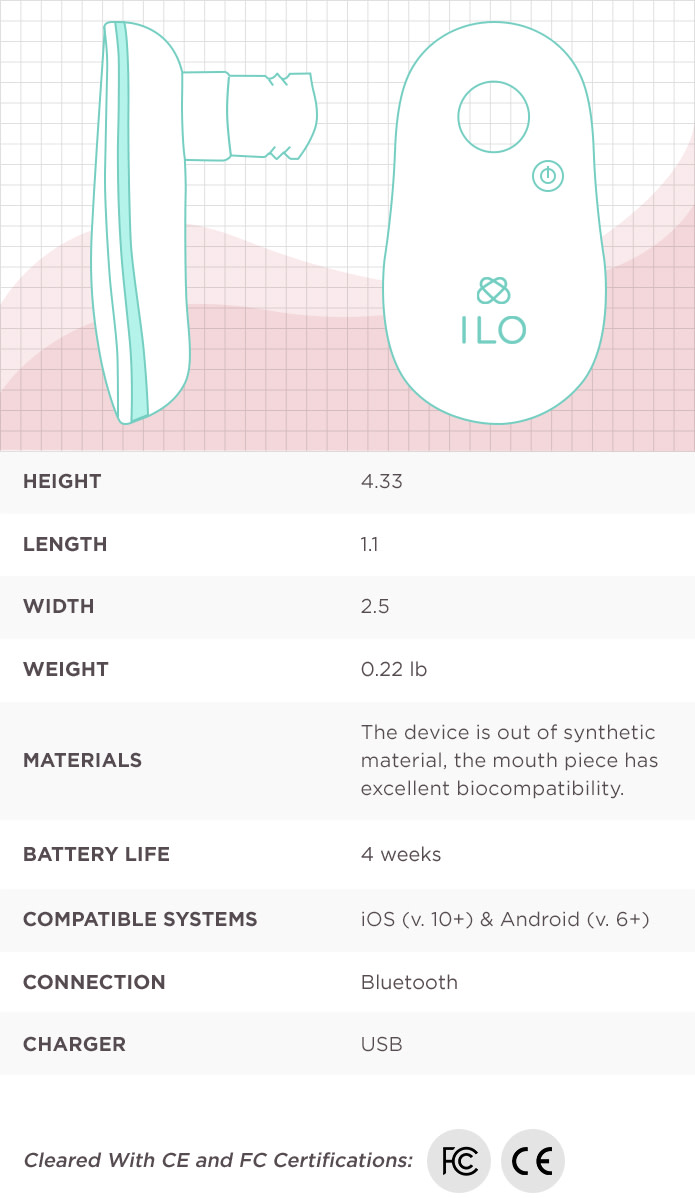 We Are Carbomed, We're The Team Bringing You ILO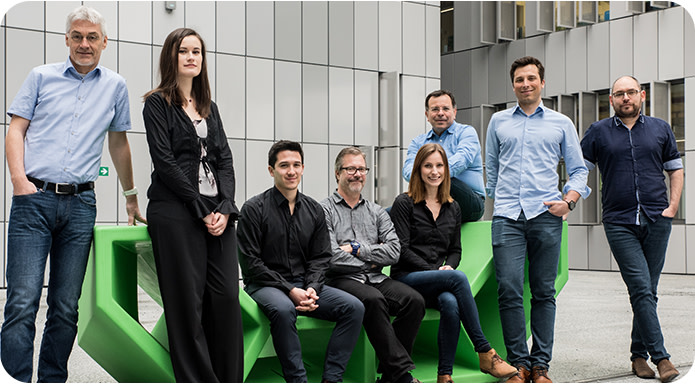 Proudly Partnered With


Helping You Conceive Starting In February 2019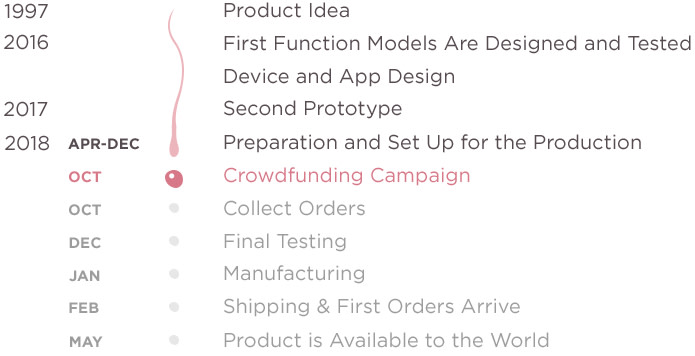 ILO: Ready For Production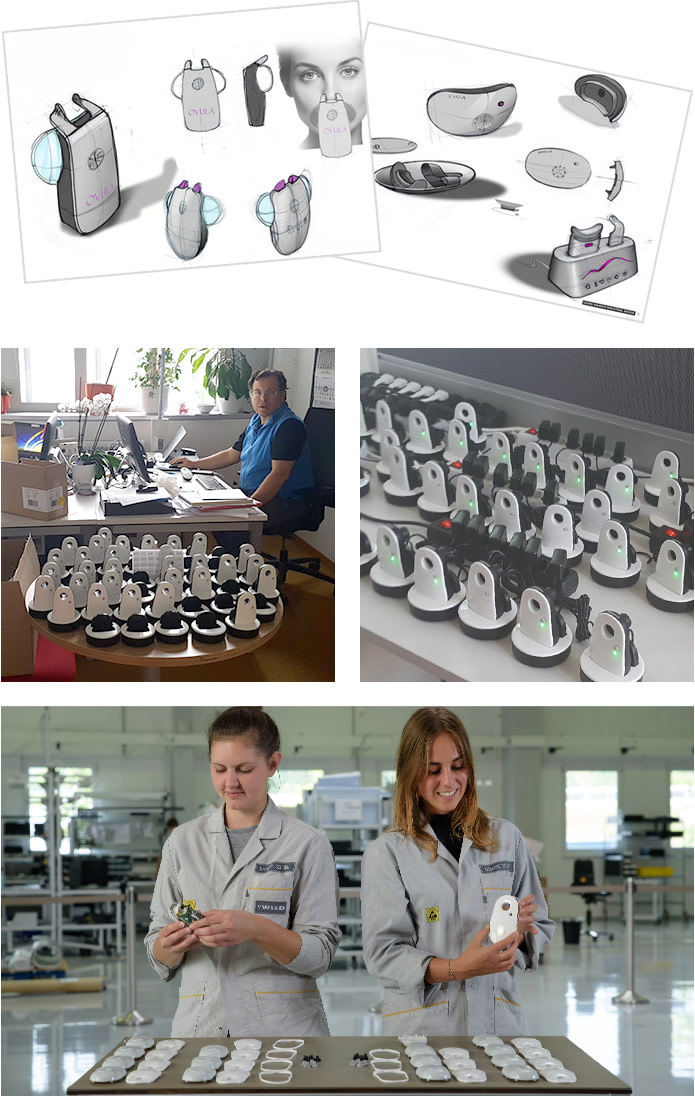 About ILO Shipping


We are able to ship worldwide. VAT and GST not included. Please see reward details for the shipping cost that applies to you.

We plan to ship the product in February 2019. We will keep you up to date on our progress and the expected delivery date of your order. Actual ship dates may vary. We will keep you notified of your product ship date

ILO will never be offered at these discounts again. By backing now you'll also be one over the very first to get and use ILO. By ordering now, you'll receive your product well before the rest of the world, which means you'll get a jump start on your path to conception.
More About The Science Behind ILO

If you'd like to learn more about the extensive research completed to support ILO's science, please see one of the studies below that show that the CO2 partial pressure is linked to the female cycle:
Phasic menstrual cycle effects on the control of breathing in healthy women: click here.
Journal for Fertility and Reproduction (only in German available): click here.
​

Share ILO With The World

Hit one of the buttons below and tag a friend, family member or coworker who needs this!