iMeow: Intelligent Water Fountain for Pet Care | Dual Power: Battery & AC | 360 Intelligent Reminder | All-Round Healthcare | Unique Life-Support

Meet iMeow, your exceptional intelligent water fountain for 24/7 pet care. No extra steps or complicated setup, iMeow can definitely make sure your fussy friends have a cozy daily routine of enough clean water.

 Most pet water fountains are powered by plugging into a wall power outlet, which is fine… unless there's no plug nearby or if the power goes out! Using extension cords can be a fire and trip hazard for both you and your fussy friends, and power out situations mean no water for pets.
Meet iMeow, your helpful dual-powered problem solver, which can run on rechargeable lithium-ion batteries and from a power outlet. This dual power system serves as a failsafe backup option if the batteries run out unexpectedly, ensuring your pets have enough water – clean, healthy & mineral-rich. With iMeow, you'll never worry about your unattended pets again.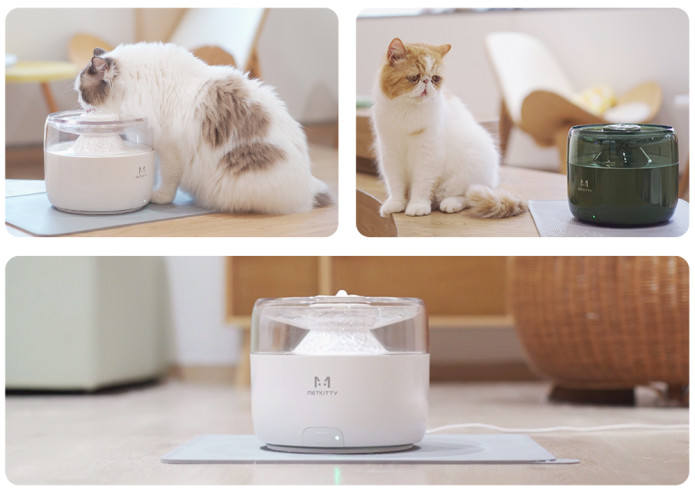 When it comes to the safest water fountains for pets, iMeow shines above the competition. It operates on safe 5-volt low voltage and is made with a V0 fireproof base, offering top-level protection to your lovely pets. It also includes a sensor that prevents the pump from running and being damaged if the water runs out. Durable, long-lasting, safe. iMeow is the pet water fountain you will actually use.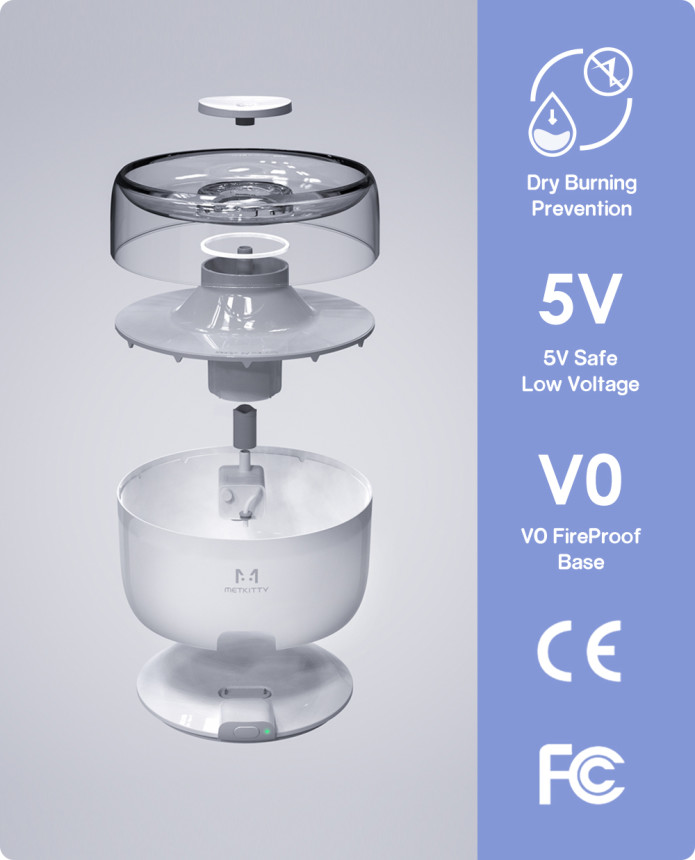 Ultra-long standby time in low battery mode gives you peace of mind, knowing your pet is safe and hydrated at home. When you are away from home, even when iMeow is in low battery mode, it still meets your pets' drinking demands for up to 10 days. Trusted and reliable, iMeow keeps what you value most, safe and sound.

Just like children, pets can't gauge the risks posed by electric appliances, cables, and outlets around the house. Worse, pets can sometimes cause their own electrical hazards by chewing through electrical cords. iMeow has taken care of everything so you don't have to worry.  Designed with anti-bite braided wires running low voltage and separate water and electrical systems, iMeow offers the ultimate protection for your furry friends.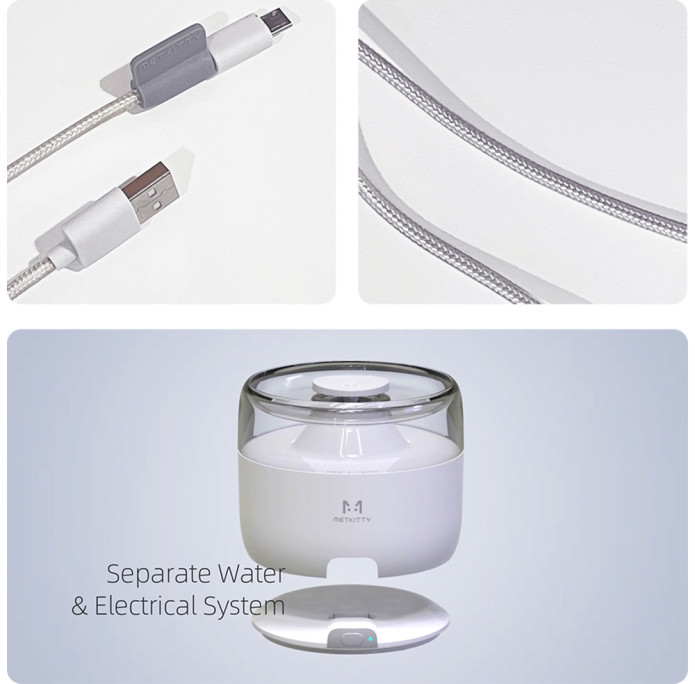 Designed with your pets' wellbeing in mind, iMeow offers a 360 Intelligent Reminder System with colored indicator lights that alert you when water level is low or when the filter core needs replacement.  No need to worry about the battery, you will know its real-time status based on iMeow's alerts. Just like a reliable house helper, it offers the highest-level of loving and convenient pet care.


Crafted of durable and easy to clean food-grade PC that meets FDA requirements, iMeow ensures pets enjoy clean uncontaminated water that is harmless, non-toxic and safe. Your pets' safety while enjoying fresh water is iMeow's top priority.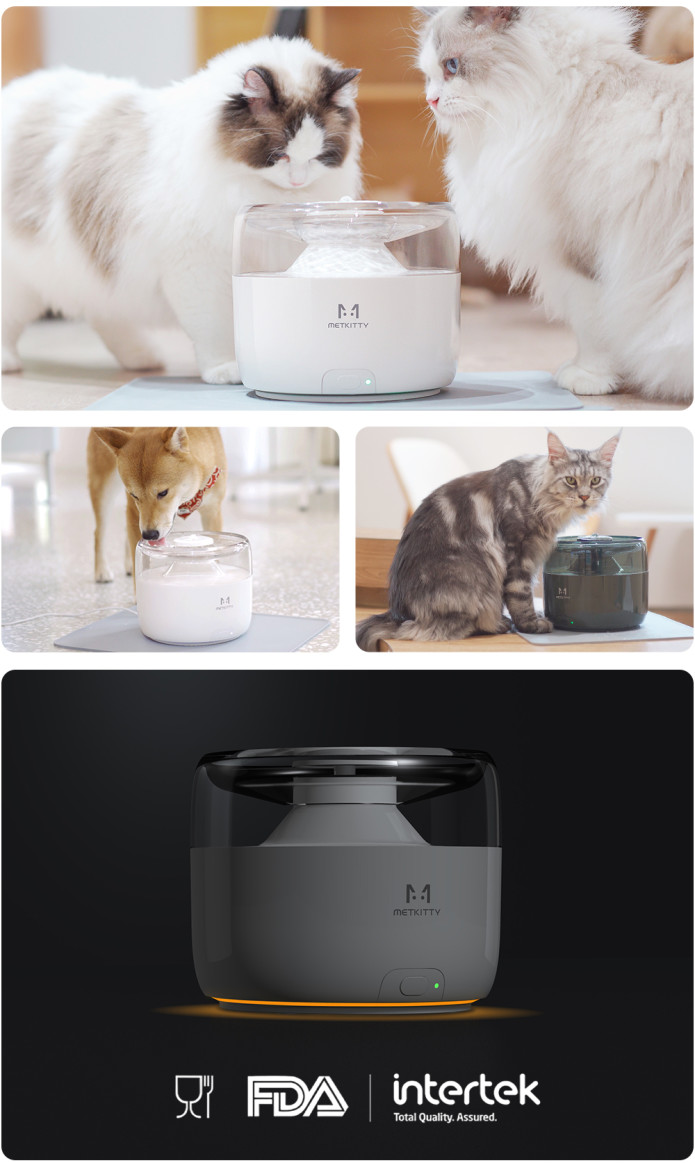 The only downside to a continuously flowing pet water dispenser is the noise it can make. But iMeow is different with its super quiet trickle. Featuring a ceramic core numerical control water pump for quiet running and longer service life, you won't even notice it's there as the adjustable flow delivers fresh water to your pets all day.

iMeow features a multilayer water purification system with 300%+ filter media, that filters out and helps completely eliminate or screen any and all harmful chemicals and impurities found in contaminated or unfiltered water.  Just like your car occasionally needs a service to ensure it's working like a well-oiled machine, iMeow needs a new filter every 30 days to ensure it's filtering at an optimum level. Cleaner water and higher purification efficiency… iMeow has your pets covered!


Hydration is key for dogs and cats, but drinking too much water can lead to acute water intoxication, which the ASPCA says can lead to serious health problems. With an advanced energy-efficient variable frequency system, iMeow saves you money in an environmentally conscious and pet-friendly way. You can adjust the amount of your pet's drinking water at the push of a button. The appropriate water consumption and your pet's health are guaranteed.


iMeow doesn't require a complicated setup. Simply tap and switch between modes for continuous or intermittent water fountains and your pets instantly have access to clean, fresh water. An upper refilling design makes it easy to top off the water without interrupting your pets' access to water.  

Just like their owners, cool cats and dogs deserve quality and style. iMeow's transparent streamlined design is practical and pleasing to the eye. Simple yet futuristic, iMeow elevates an everyday modern appliance beyond the realm of mere functionalism and perfectly combines beauty and technology.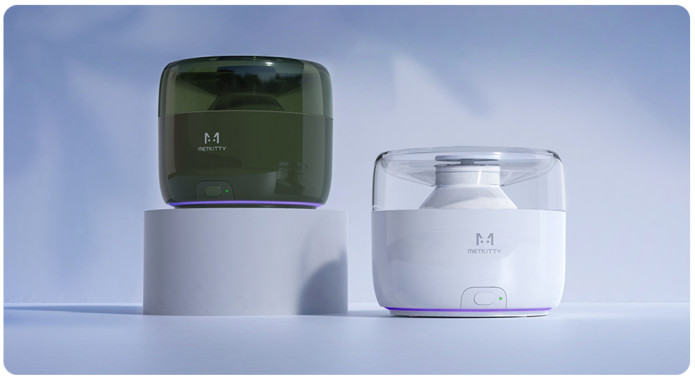 Got home and found your house in a mess because of your baby cat? Water's all over the ground? All the furniture stained? No worries! iMeow additional Spill-proof silicone pad may ease your pain. It also comes with a skidproof texture to take good care of your furry friend. No more messy surprises and after-work moaning. You and your favorite cat deserve a cleaner home!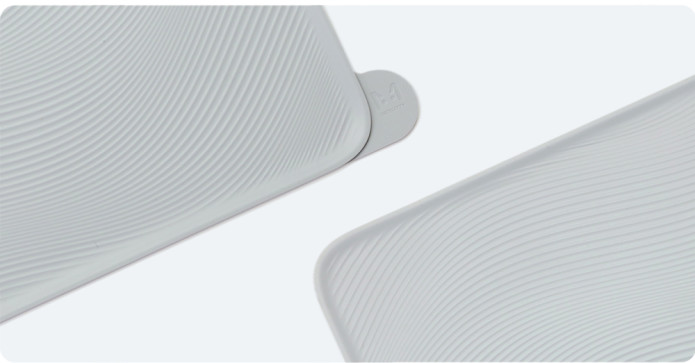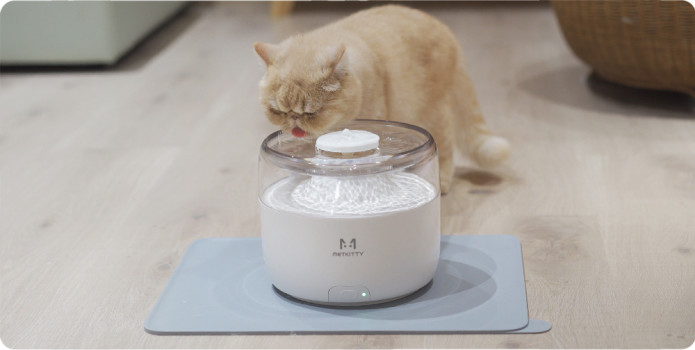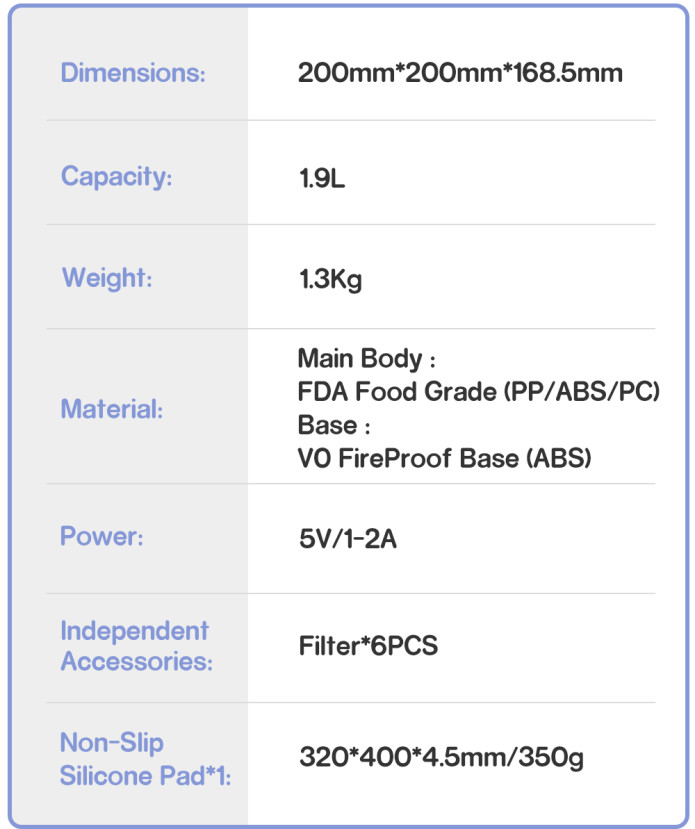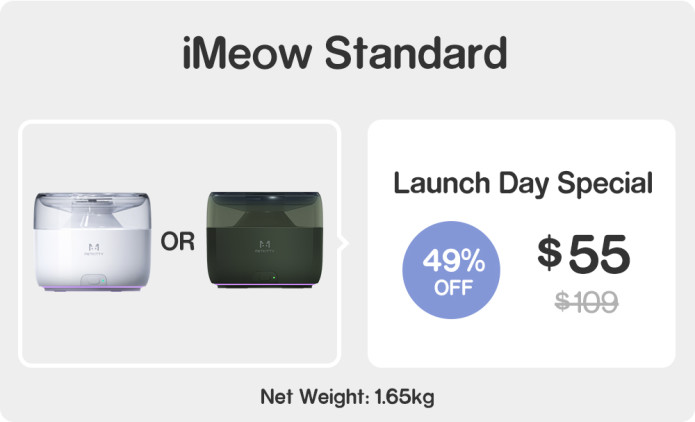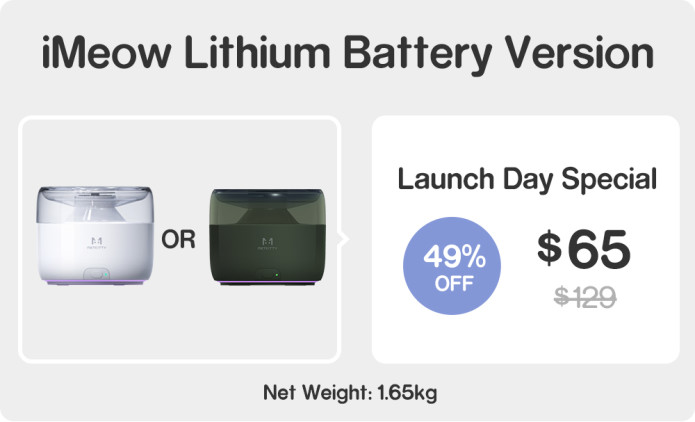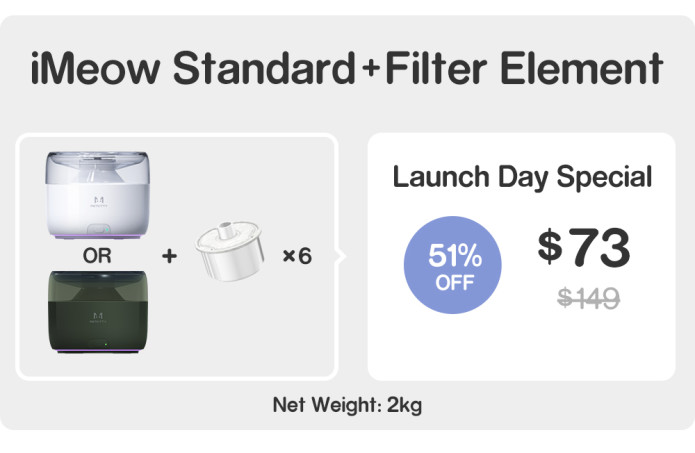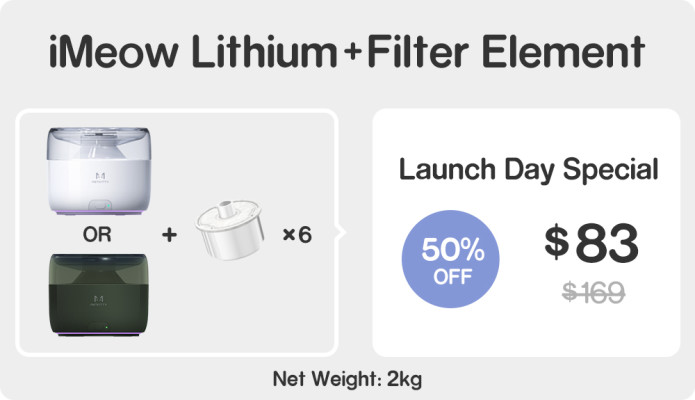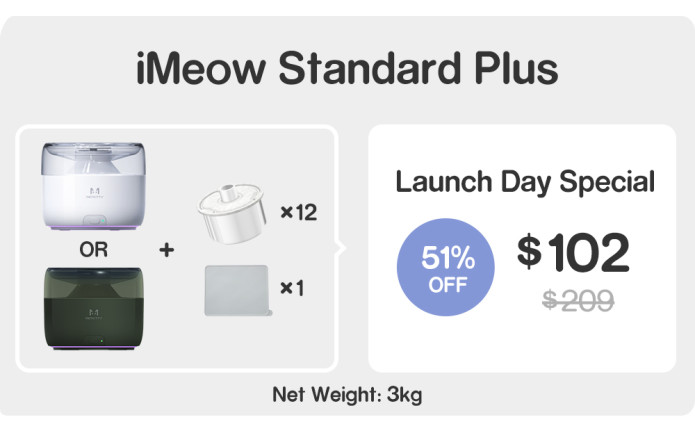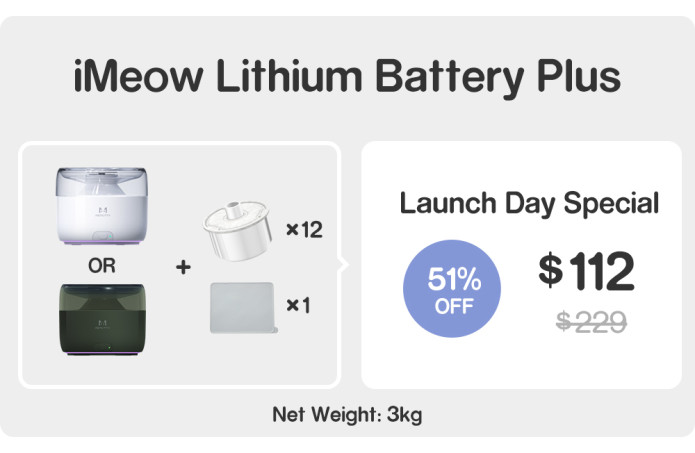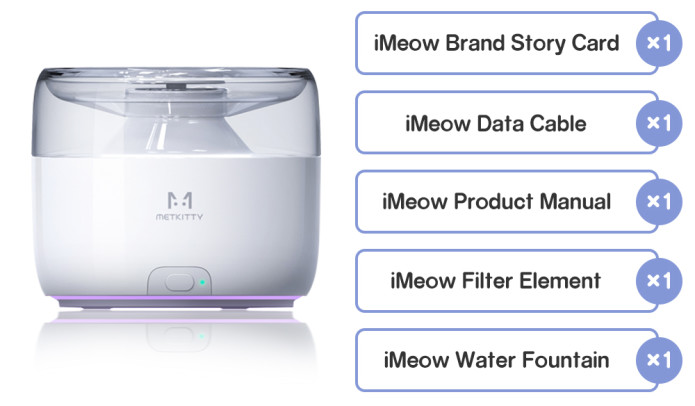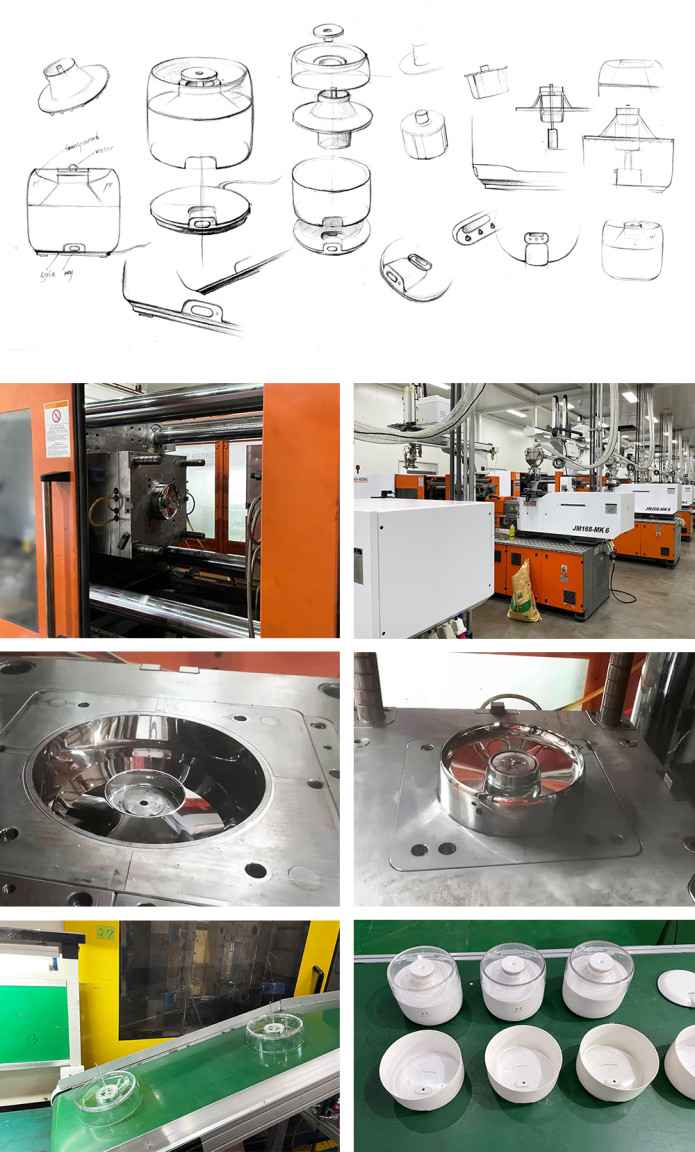 There is a planet called Pandora that is billions of light-years away from the earth.  On Pandora, cats and dogs live happy and free life. The most popular citizen is the Cat Lifestyle Expert -Meow Guru.
After hearing of trouble at hand, METKITTY followed Black W, the interstellar bandit who kidnapped Meow Guru to the earth and by chance, met Hugier, the lonely adventurer. The two embarked on a quest to save Meow Guru. Recognizing the need for help, Wugeegee, a proud crow also joined the team.
Together, the three explored the mountains and forests, crossed the barren desert, climbed snow-capped mountains, and busy cities. All the while, they felt Meow Guru's love and devotion for all pets guiding them. They gained inspiration from the vast galaxy; from majestic waterfalls – they realized the preciousness of clean water; and while trudging through the desert, the endless sand sparked thoughts about kitty litter.
Adventure is always on the move, and the story of METKITTY continues.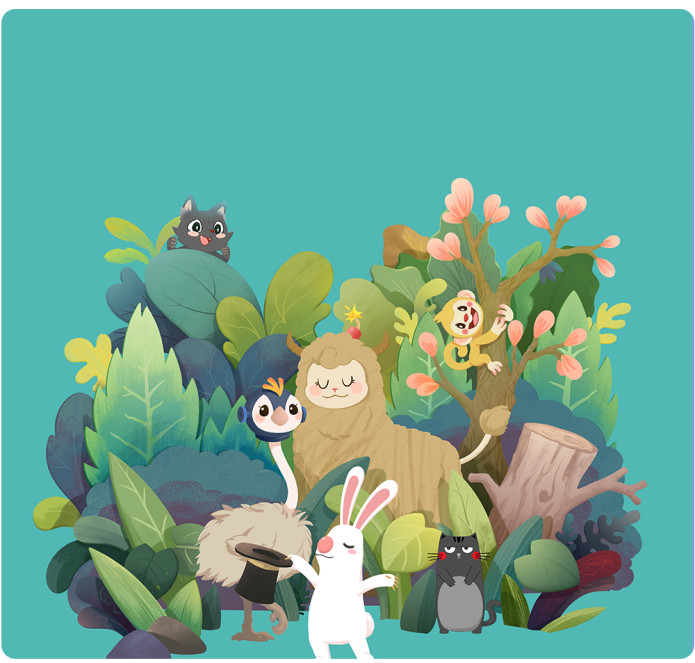 A good product never grows without a strong team. METKITTY team gathered a group of people who are engineers, material scientists, industrial designers, marketing experts, and product managers who strictly control the product quality. METKITTY integrates IP, technology, ingenuity, and quality, dedicated to providing young urban people with a platform to share knowledge, exchange stories, and experience wonderful products. It's like a perfect home for pet lovers.
METKITTY cares deeply about pets and owners. Because of that, our product concepts begin with deep questions that guide thoughtful research and development that inform our solutions. iMeow has taken shape and been perfected through this exploration…
We want to turn pet ownership into a simple process so that people can enjoy more good times and great memories with their pets. We hope that people can enjoy the peace of mind from knowing that their furry friends are growing up healthy and happy and that owners can deepen their relationship with their beloved pets.
"Love, bravery, discovery, and creation" are our core values. METKITTY upholds the spirit of exploration and craftsmanship, relying on excellent value, and constantly creates useful products with ultimate quality. METKITTY is dedicated to being a crucial part of the daily life of people and pets.

With our years of experience in R&D and production, we are very confident with our process and production schedule for iMeow. The pre-production prototypes are meant to be tested and refined. As we go into the production stage, there may continue to be minor adjustments made to the final product in order to deliver only the highest quality product to our consumers. We also know that hidden obstacles and challenges often occur. Because of that, we've made sure to account for some unforeseen problems that may occur in our schedule. If something does go wrong, we promise to keep our backers updated and communicate with them honestly about any issues and the way in which we are solving them. There might be some risks and challenges which are related to the COVID and current situation with the international shipping network. However, METKITTY team closely with those experienced and trusted partners in manufacturing, shipping, and delivery. We'll try our best to deliver high-quality and elegant products on time for your daily use further. To care more, to give back more to our beloved furry friends!