Infinity DIY: A Catstomizable Modular Cat Tree | Born for cats' nature, Infinity DIY Cat Tree offers infinite styling to explore with endless fun!
Just like humans, cats also need their own space to play, explore or relax. Overcoming the problems common to traditional cat trees, PETLIBRO now presents the most customizable modular cat tree — Infinity DIY Cat Tree! Designed with durable, human-quality materials, this cat tree can change to any shape your cats love with infinite possibilities. PETLIBRO aims to combine stylish home décor for you and the coolest playground for your cats!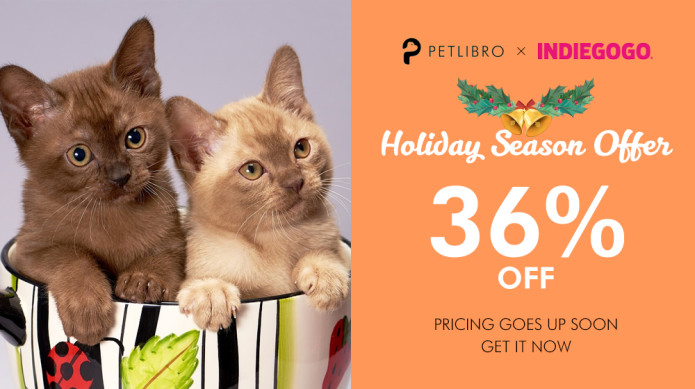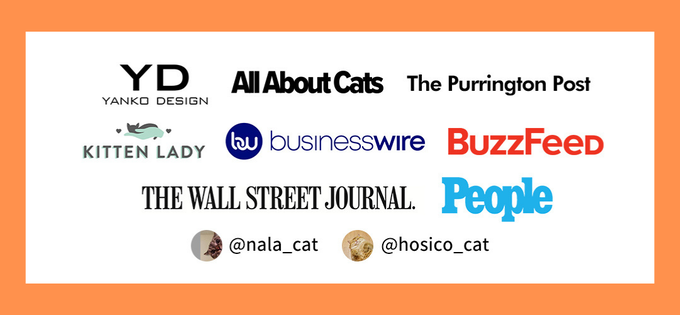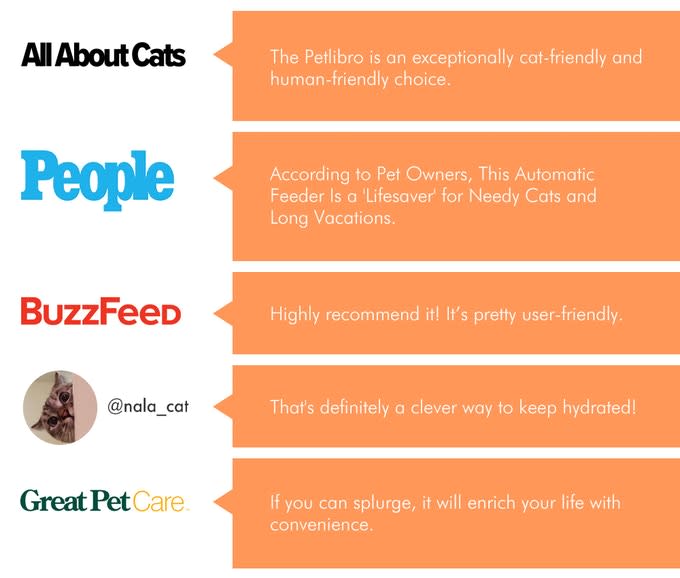 Hosico Cat Loves Infinity DIY 
Catz Club & Infinity DIY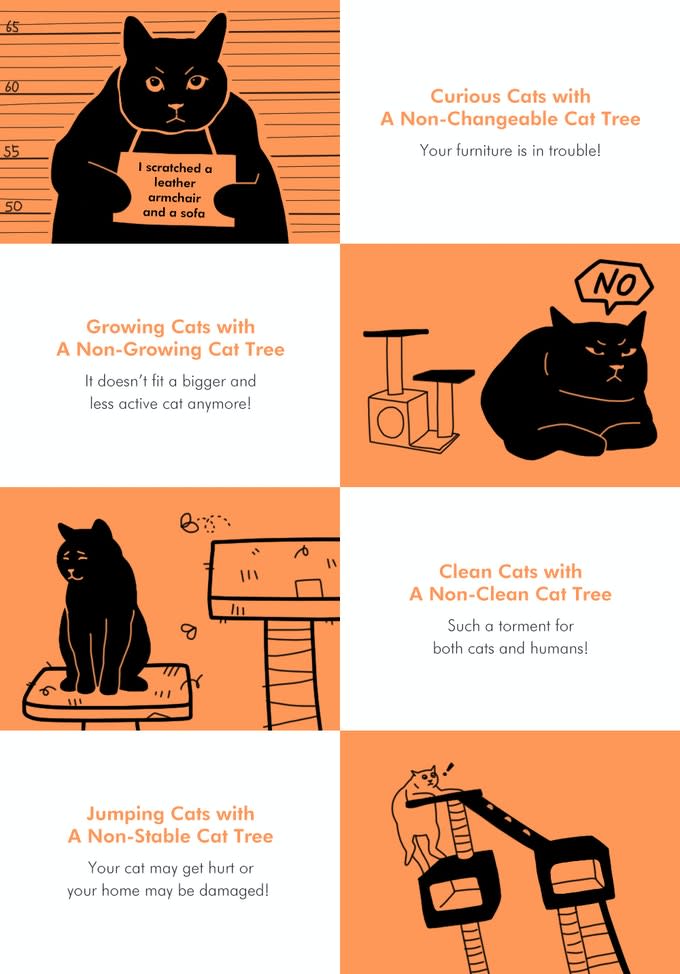 Stop choosing the wrong cat trees! Take a look at how Infinity DIY Cat Tree solves all these problems for you.

A Wonderland Of Never-Ending Fun
You can see from their inquisitive nature that cats are always seeking something fun and new. They are curious creatures so give them what they want! With your customization, PETLIBRO Infinity DIY Cat Tree can transform into so many different combinations, it gives your cats something new to explore every day!
A Life-Long Playground That Grows With Cats
Take a look at your cats. Can they jump higher now? Then simply add an additional level for a higher joy. Are they getting more relaxed and prone to naps? Then install a tranquil tunnel for them to chill out. Are they getting bored with this design? Take it apart and within minutes you can build an entirely new design! With PETLIBRO Infinity DIY Cat Tree, you can change it into anything your feline furriends desire!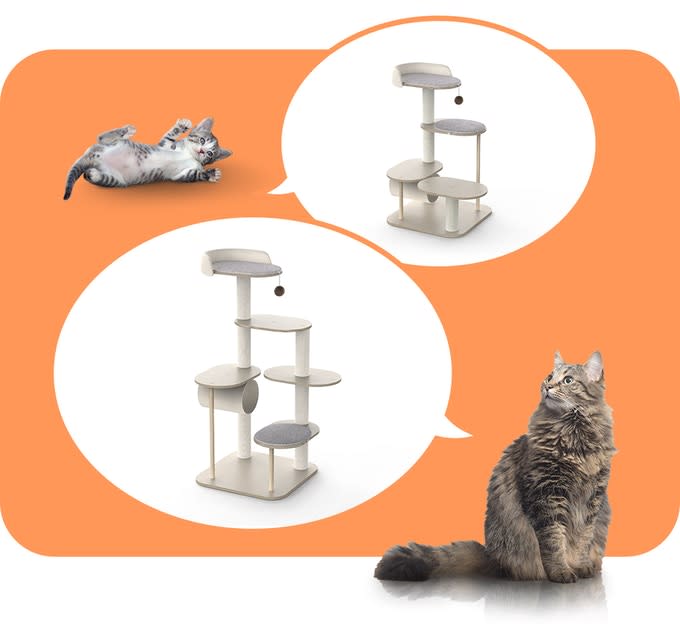 One Cat Tree Customized For Different Cats
Different cats have different demeanors. Is your cat a scratcher, a sleeper, or a ball chaser? If you are planning to adopt a new kitty, no worries, you can simply add a new component that this newcomer might like!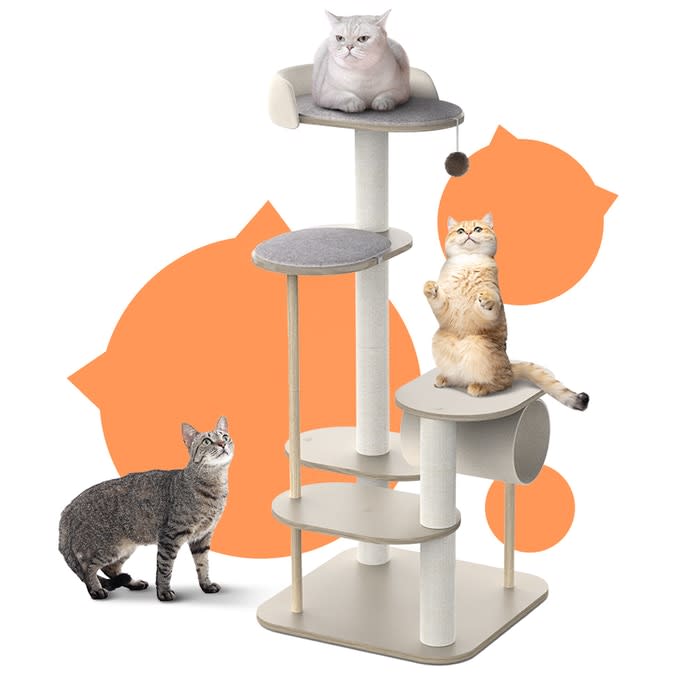 PETLIBRO provides various modules for customization and more are will come in the future. Scratching posts, platforms, fluff balls, tunnels… PETLIBRO Infinity DIY has something for every cat!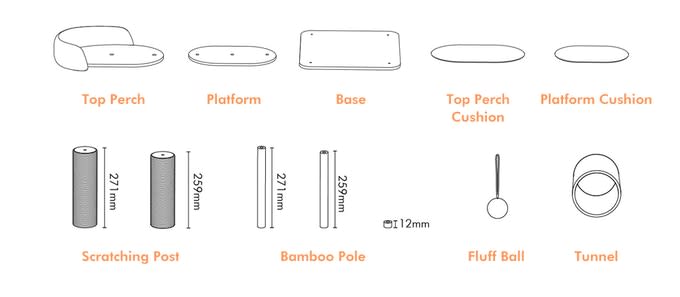 Featuring a robust rope-wrapped wood structure rather than a typical paper tube makes Infinity DIY more stable and comfortable for cats to rest upon and explore. The sofa-fabric cushions and fluffy balls along with the fully polished wood surfaces give your cats a luxury experience. It's so comfy in fact, that they are likely to prefer their cool new condo and stop taking your spot on the couch!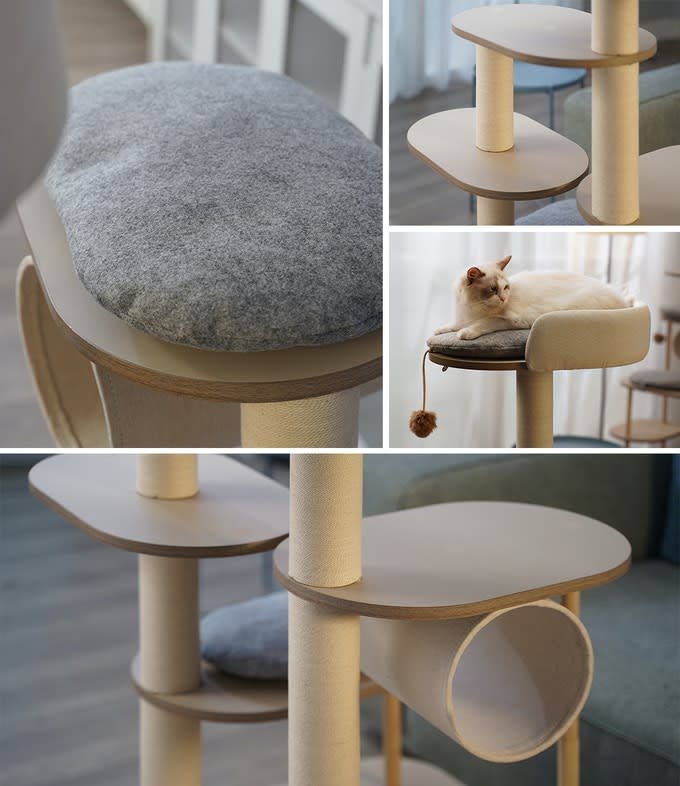 A Stable Base for All Naughty Kitties
These jumping furballs can tear your home down when they get fired up. For their safety and your neat home, it is important to have a stable cat tree, especially for a DIY cat tree that can grow vertically. PETLIBRO deeply understands this. That's why we thoroughly tested our design again and again before the final version was made, making sure each part can be assembled with a solid and reliable connection and that the base is solid enough to support cats playing on it (even if they are naughty little kitties sometimes).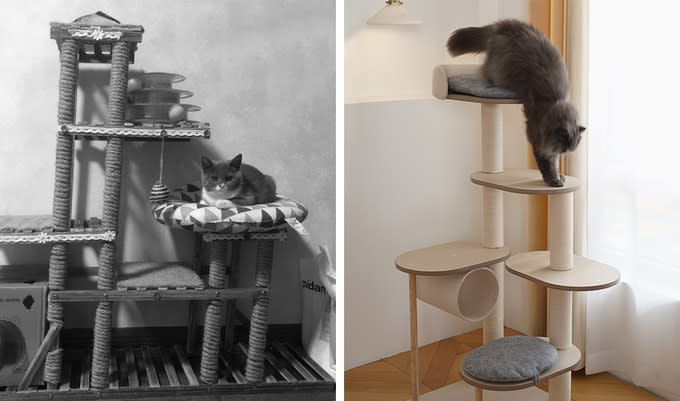 Safe Materials for Kitties and Humans
All materials of PETLIBRO Infinity DIY cat tree have passed the test of CARB Phase 2 (≤0.05ppm) for formaldehyde, which is above the standard of products in the market. You can assemble it right after unpacking, not worrying about any toxic substance. PETLIBRO offers invisible protection for your kitties and your home. 

Easy-Clean Solid Wood Surface
Maintaining cat trees can really be a headache for cat owners. You never know when you will find a coughed-up furball or other undesirable goodies left by your cat. With PETLIBRO Infinity DIY Cat Tree, these concerns can be swept away. In case something dirty gets on it, you can just wipe it clean with a damp tissue. As for cats, they greatly prefer clean wood boards to smelly old carpets.
Replaceable Modules In Case Of Damage
A happy energetic cat can do damage to any cat tree with its sharp claws. For a traditional cat tree, that means it's time to throw it away. PETLIBRO also thought this through for you. With PETLIBRO Infinity DIY Cat Tree, in case your naughty cats finish off a scratching pole or tear through a cushion, you can exchange the old one with a new one instantly instead of throwing away the whole tree.

As a brand that believes in constantly creating and innovating, PETLIBRO devotes itself to designing more modules for Infinity DIY Cat Tree to offer more possibilities. Due to the nature of the DIY assembly, this cat tree allows more modules to be added in the future. Boxes, stairs, slides, or anything that you can imagine is possible.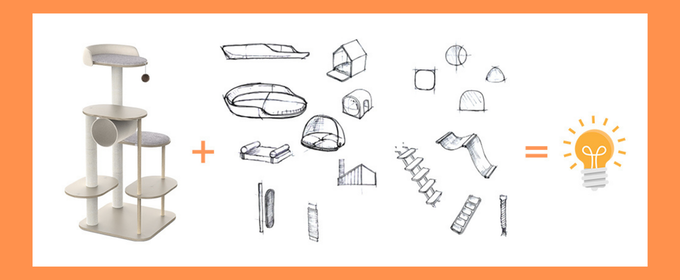 Don't get overwhelmed with all the DIY parts! The installation of PETLIBRO Infinity DIY Cat Tree is user-friendly and easy to do. Just a few twists and turns will result in a solidly built DIY cat tree in minutes. Everything you need to build is contained in the box.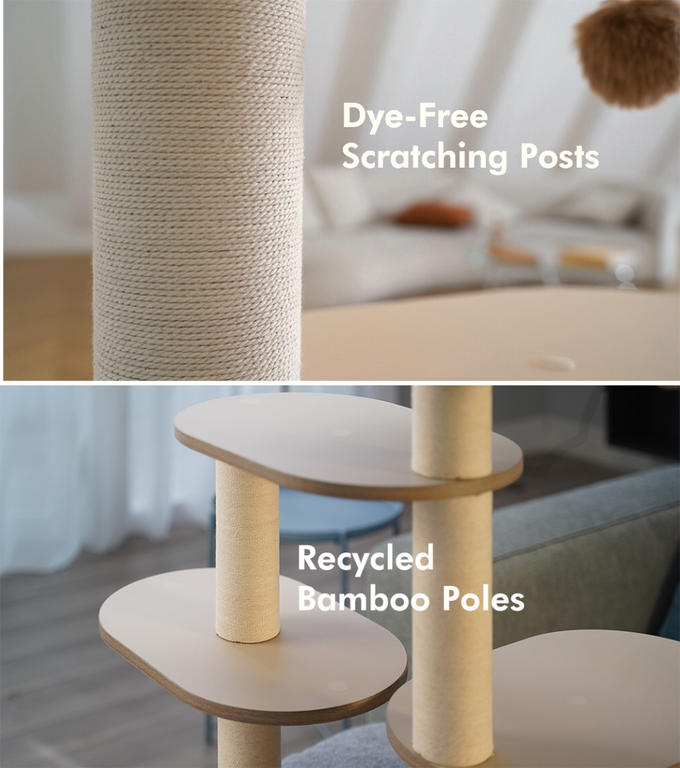 As always, PETLIBRO utilizes materials that are environmentally friendly. We make sure every part of our cat trees passes strict tests to achieve the PETLIBRO standard. With compact packaging, we plan to reduce carbon footprints with less packaging impact. Crafting with love,  we show respect for cats, humans, and the environment through our products in every detail.

Don't worry about the new cat tree not matching your home decoration style. PETLIBRO Infinity DIY Cat Tree is designed for modern taste, fitting in with contemporary home décor. A cat tree can be useful as well as attractive! When you take a selfie, live-stream, or welcome your friends to your home, this cat tree will only become a highlight.
*It is highly recommended to keep it indoors to secure a longer lifespan.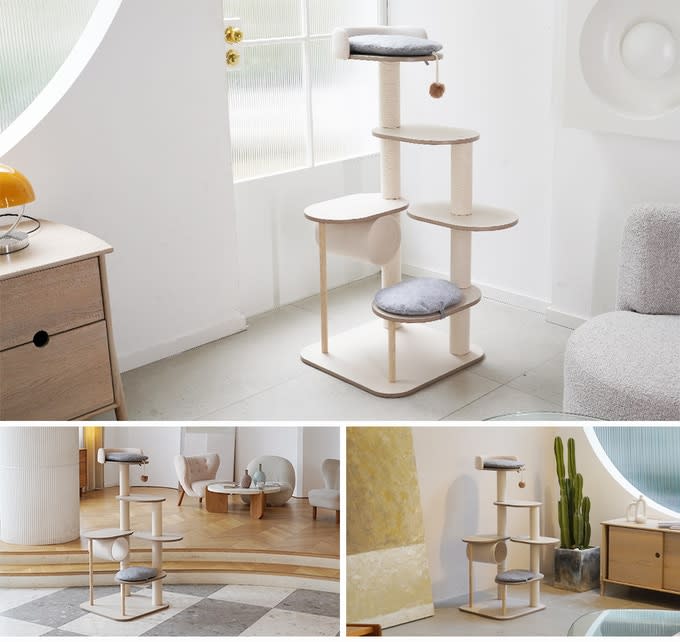 Do you need some more ideas to create a cat tree that your cat will go crazy for? Ask your friends or family! Spend time with them to find out more possibilities of building and interpretations of your cat's needs. They might know more about them than you! Enjoy this fun time together to build a wonderland for your kitty cats. Wait, where are the cats? They're supervising the build of this new playground for sure! "Stop looking and do it now, hooman!"
Don't forget to tag @petlibro on Instagram to tell us what designs your cats love the most.

For each sale, we will draw one dollar to donate to ASPCA, The American Society for the Prevention of Cruelty to Animals. We care about animals with real actions.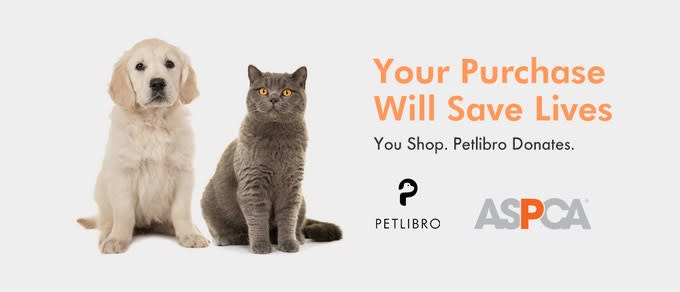 Founded in 2019, PETLIBRO has shipped 100,000+ pcs of pet product to the US, Japan, Canada, and Germany for pet owners, receiving thousands of positive feedbacks. 
As one of the best-selling brands on Amazon and Chewy, PETLIBRO is proven by users worldwide.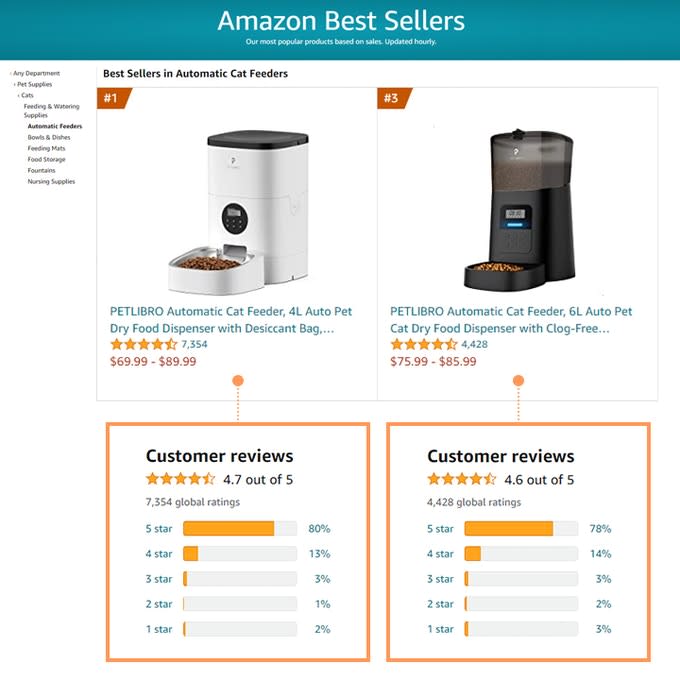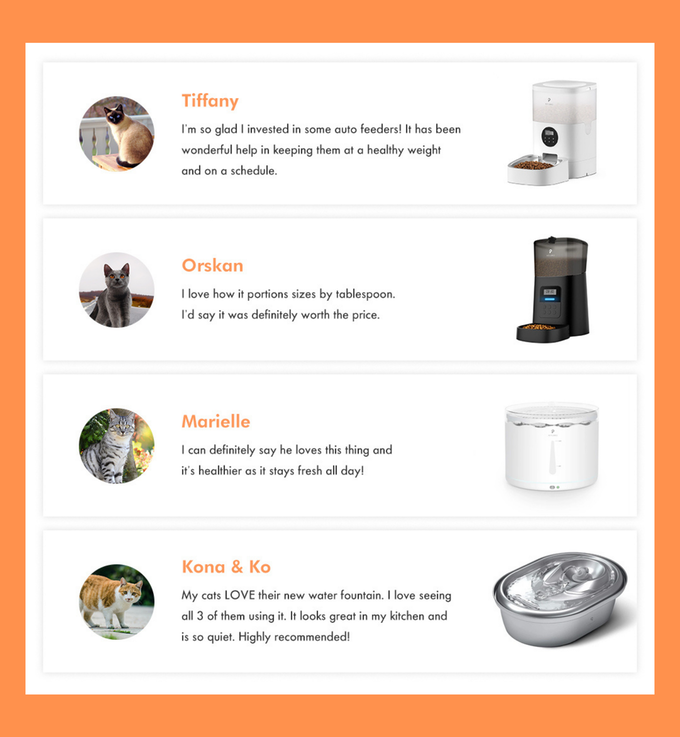 Petlibro has joined Chewy and received pet lovers' trust worldwide!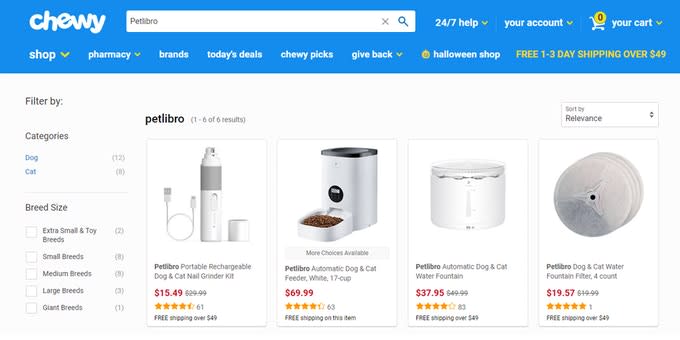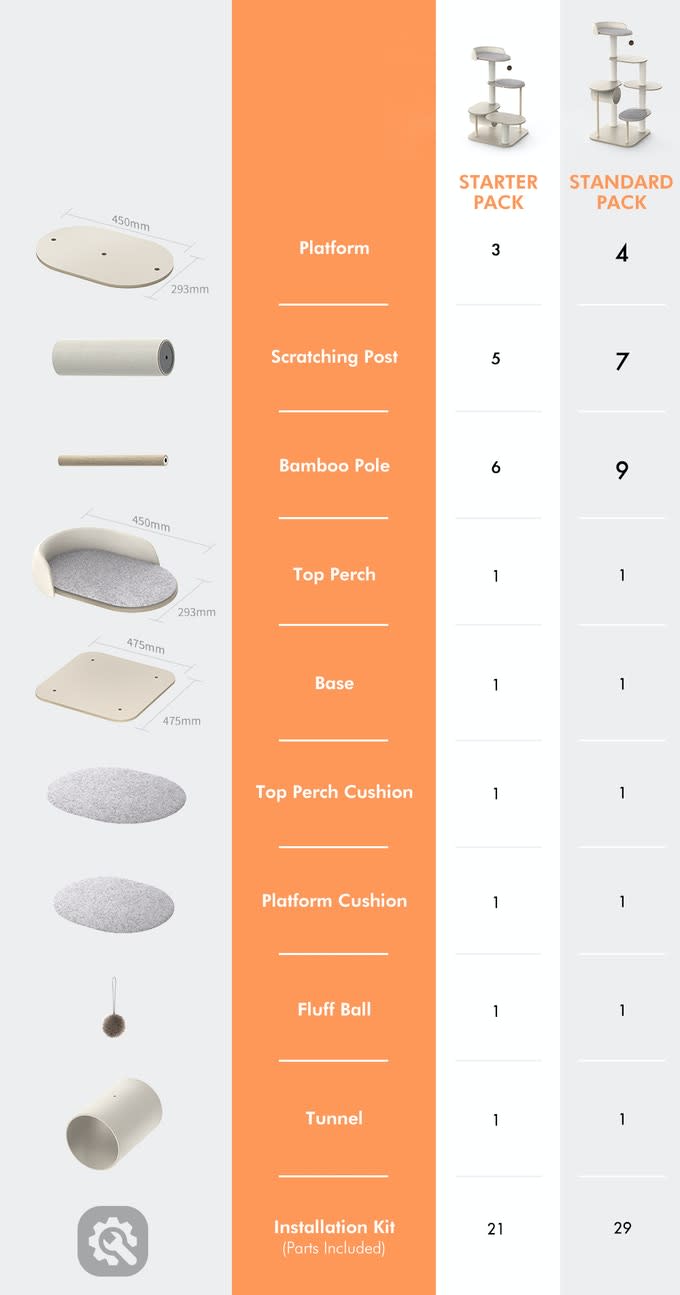 Maximum Height of Starter Pack: 930mm; Maximum Height of Standard Pack: 1228mm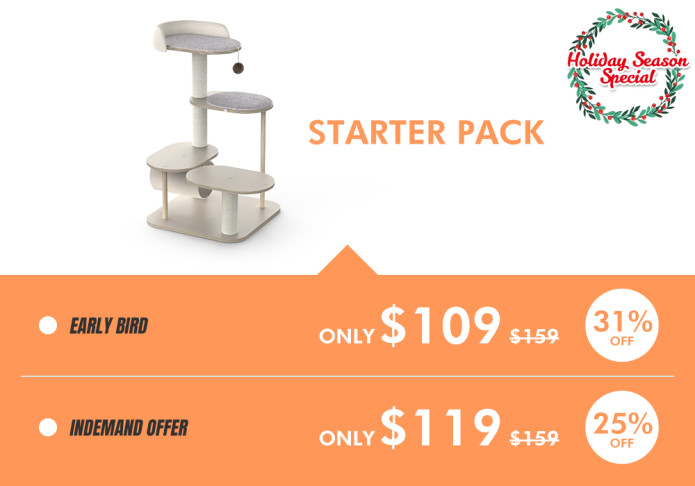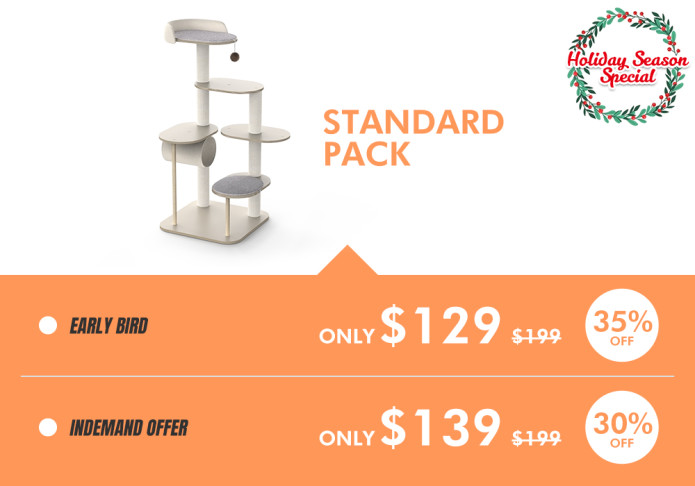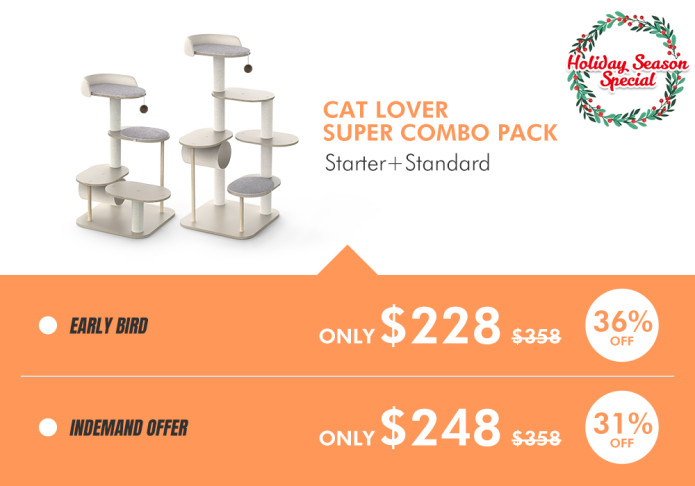 *Please note: If your kitty cats are into an even higher cat tree, then you could get more packs for more possibilities!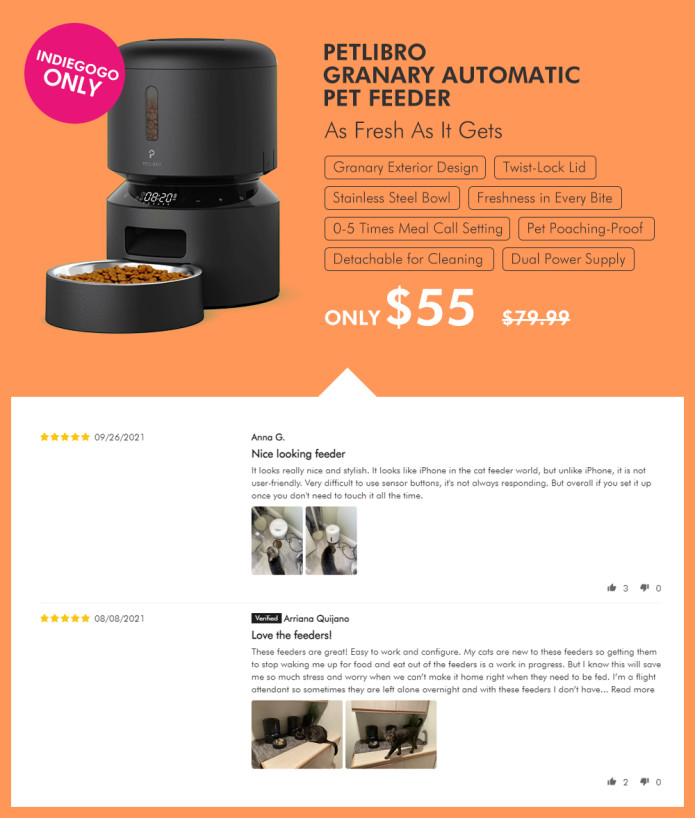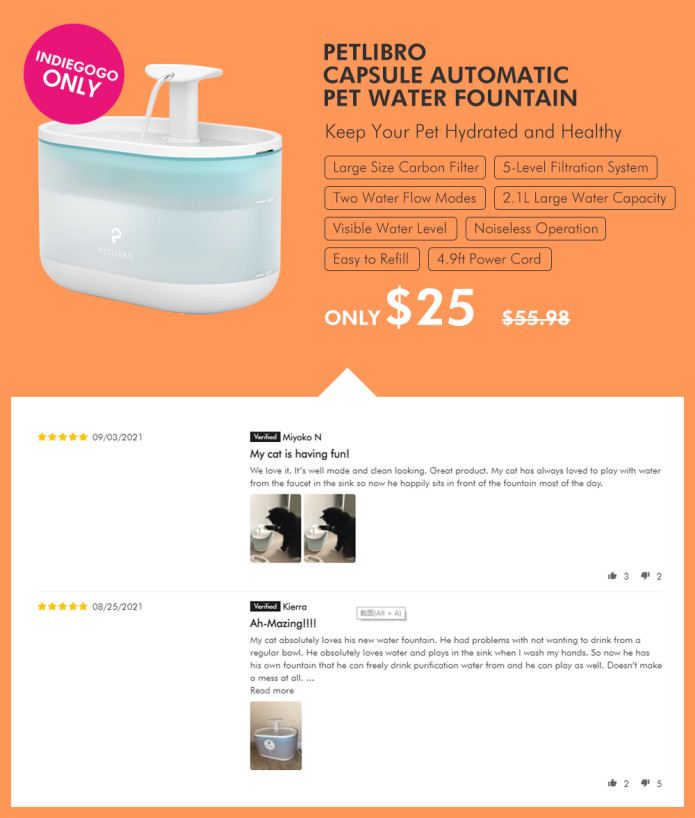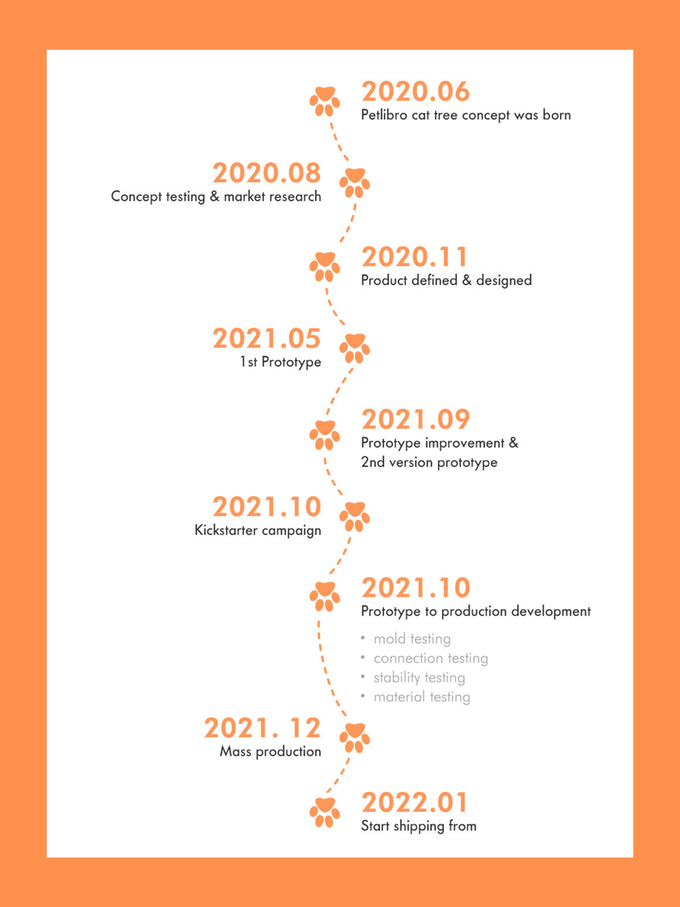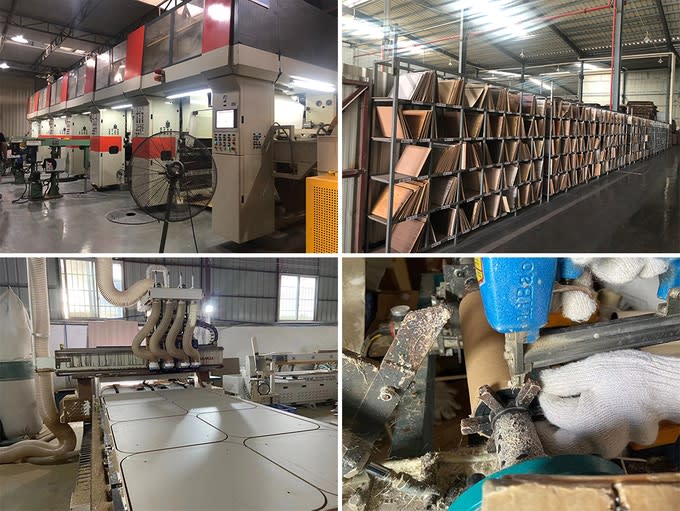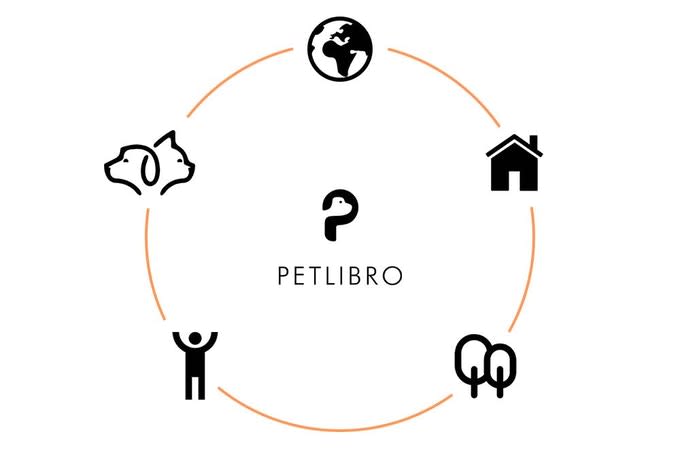 We have seen so many pet owners that have been suffering from traditional cat trees. Those trees can be very expensive but are often discarded quickly since cats are fickle and grow bored easily. That's why we wanted to design a customizable and modular cat tree that could grow with cats, actually fitting their needs and holding their interest. As PETLIBRO always does, we designed this new product with care for both cats and humans.


Our Story
PETLIBRO was founded in 2019 in CA., USA, in the belief that pet owners should be able to easily connect with their pets via trustable products. Since established, with our affection for pets and obsession with detail, we have designed products that pets and owners love and shipped them to homes in the US, Japan, Canada, and Germany.
Our Mission
We believe that pets deserve responsible, high-quality care and that their humans deserve an easier way to offer this to them. We offer seamless designs that allow human and animal habits to perfectly meld into one co-existing routine, creating a little more happiness for humans & pets every day.





*This campaign is managed and presented by NewWaves Lab.