IQ BAR: Delicious Brain Food To Go! | IQ Bars are optimized for sustained cognitive performance, energy, and health…and deliciousness.
Nutrition bars just got super-duper SMART.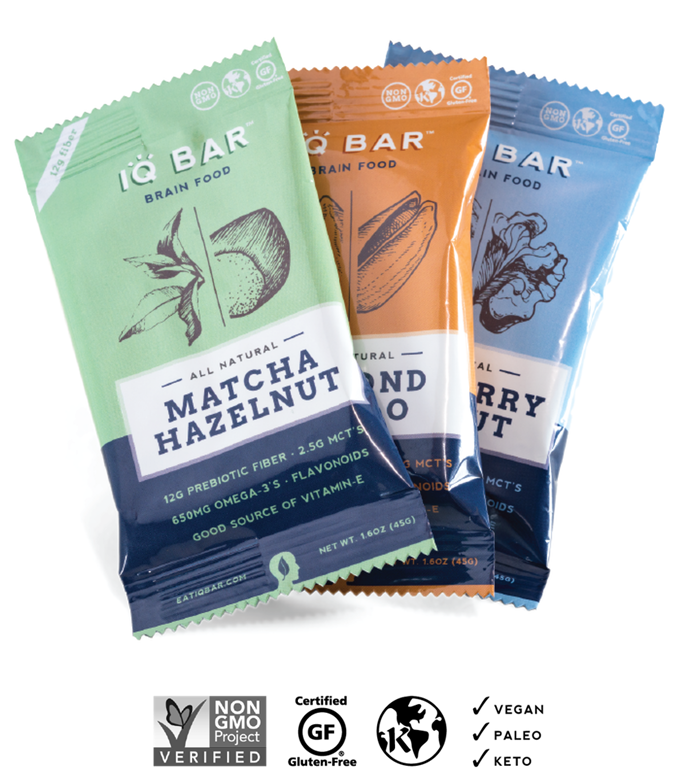 Let's hear from a few independent food critics…
Note: None of these people were paid to review IQ Bars – their reviews are purely objective.
1. Jeremy from "Hall of Paleo"
2. Kelli from "Losing Weight My Mission"
3. Randall from "That's So Primal"
The list goes on and on, but we think you get the point!
Why eat IQ Bars?!
IQ Bars are the first nutrition bars on the market optimized for the brain. Aside from tasting 10X better than other bars (objectively, of course), only IQ Bars center on these 3 pillars of awesomeness:

Sustained Mental Energy: IQ Bars flip the conventional bar's macro-nutritional profile on its head. They're HIGH in healthy fats and LOW in net carbs (total carbs – fiber). That means less blood sugar "roller coasters" and more "smooth sailing in the sun" mental energy.
Critical Brain Nutrients: IQ Bars are optimized around a unique mix of 5 brain-critical compounds: fiber, medium-chain-triglycerides (MCT's), omega-3's, flavonoids, and vitamin-E. These nutrients were chosen for their strong links to positive brain outcomes in scientific literature.
Whole Food Ingredients: You won't find words that start with "X" and sound like cleaning agents on our labels. We formulated only with ingredients an 8-year-old could find in a grocery store because Mother Nature got things right in the first place.
Ok, those are the SparkNotes. Let's dig a bit deeper…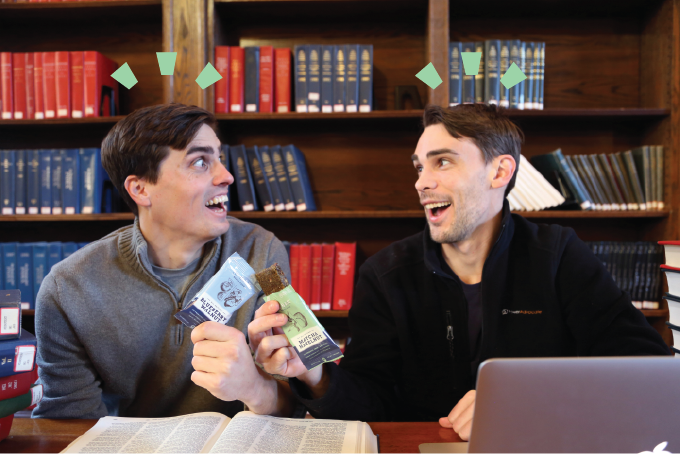 Healthy Fats + Low Net Carbs = Cognitive Stamina
Carbs are great…if you're climbing Mount Kilimanjaro. For the 99.999% of time you're NOT doing that, your brain and body operates more efficiently on smooth-burning healthy fats.
That's why IQ Bars are packed with healthy fats and contain just 8-9g of net carbs per bar. We also included 12g of fiber/bar to slow the absorption of those net carbs. Here's how our macro-nutritional profile stacks up with other bars: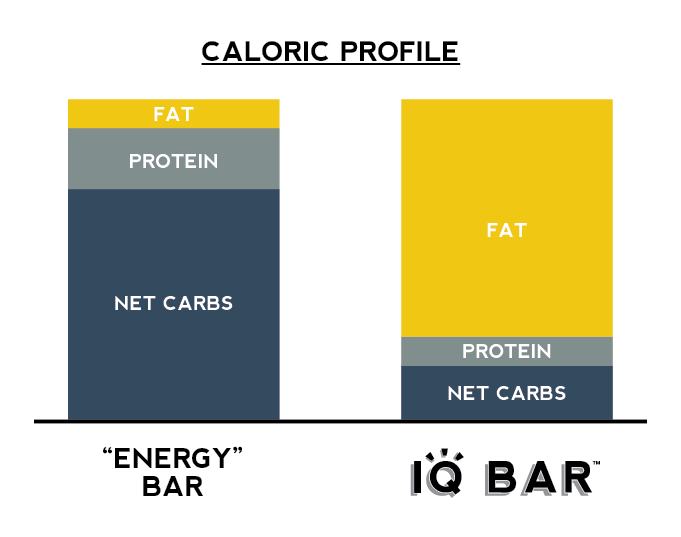 To make the comparison more real between carb-based energy (from the "other guys") and healthy-fat-based energy (from IQ Bars), let's chart out what your brain feels like throughout the day on both: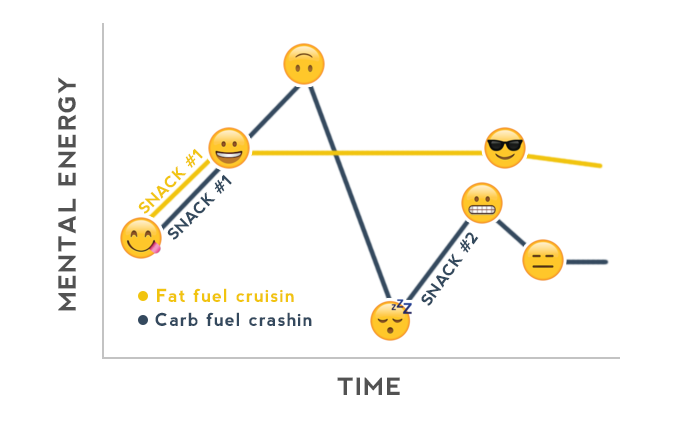 For more info and supporting research studies, check out the High-Fat/Low-Net-Carb section of our website.

The right nutrient mix = better cognitive performance
When deciding which compounds to optimize IQ Bars for, we considered only those those with substantial links to positive brain outcomes in scientific literature. Here are the 5 we ultimately selected:

What's special about these compounds is they've been shown to provide both overlapping brain benefits (e.g., all are anti-inflammatory in some way), as well as individualized benefits. In aggregate, studies have linked our 5 nutrients to positive outcomes in the following areas: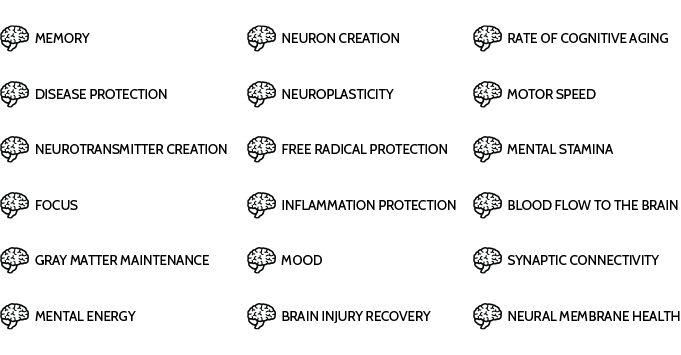 For more info and specific studies, check out the Critical Nutrients section of our website.

Real food only: better nutrition, better taste
Numerous studies have found whole foods to have superior nutritional value over their constituent parts, largely because nutrients in whole foods are typically more bioavailable (absorbable and useful) to us.
This is why – while many approach the "brain hacking" space with pills and tonics – we do so with REAL FOOD that has inputs you can actually pronounce. You won't find bizarre words like "Xanthan Gum" and "Erythritol" on our packaging because you should be able to understand, trust, and relate to the food you put in your body.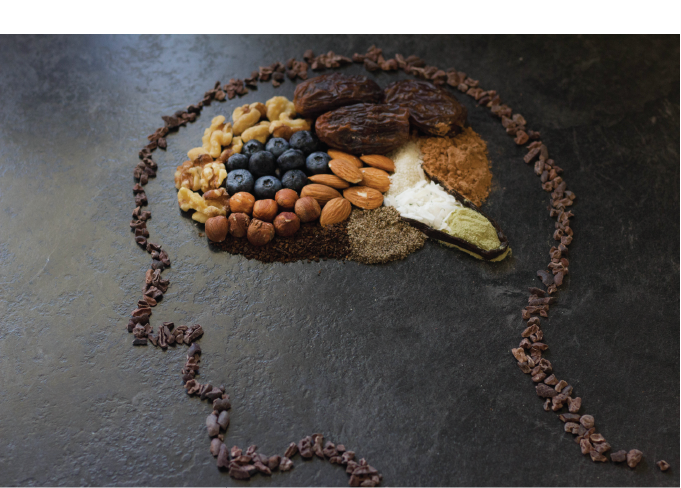 IQ Bars come in 3 delicious flavors, each with an uncompromising taste and nutritional profile.
Almond Cacao
Calling all chocolate lovers! With the Almond Cacao IQ Bar, we combined flavonoid-rich cacao, vitamin-E-packed almonds, and tons of other brain-boosting goodness into 45 grams. Feel free to satisfy those choco-cravings guilt-free…and feel smarter for it.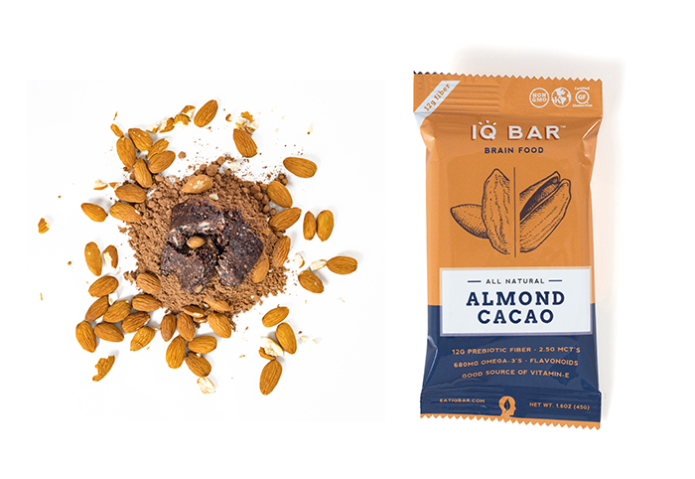 INGREDIENTS: Almonds,Walnuts, Coconut Flakes, Dates, Cacao Nibs, Cacao Powder, Chia Seeds, Chicory Root Fiber, Pink Himalayan Sea Salt
Blueberry Walnut
Blueberries and walnuts are not just delicious – they're often cited as leading all other fruits and nuts in brain benefits! So, we figured we'd combine them with a few other nutrient rock stars and see what you guys thought. If you're looking to load up on omega-3's in particular, this bar's got your name all over it.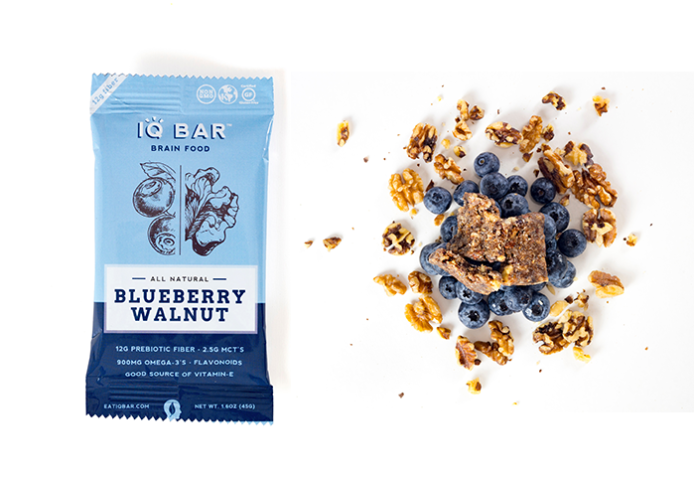 INGREDIENTS: Blueberries,Walnuts, Coconut Flakes, Sunflower Seeds, Almonds, Dates, Cacao Nibs, Cacao Powder, Chia Seeds, Chicory Root Fiber, Pink Himalayan Sea Salt
Matcha Hazelnut
Mmmm…Matcha. The delicious green leaf that has no patience for inflammation and free radicals. And let's not forget hazelnuts, a vitamin-E powerhouse. You simply won't find another bar on the market sporting this dynamic duo. We can't tell you how many people who "didn't like matcha" we've converted with this green goodness.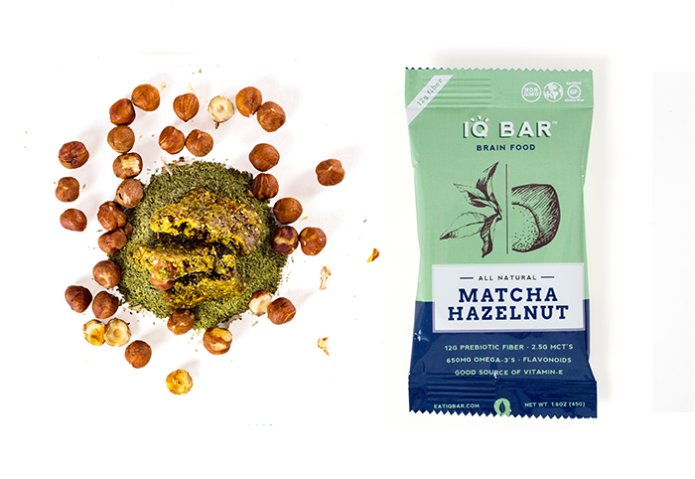 INGREDIENTS: Hazelnuts, Almonds,Walnuts, Coconut Flakes, Dates, Matcha, Cacao Nibs, Chia Seeds, Chicory Root Fiber, Pink Himalayan Sea Salt
Show me the labels already!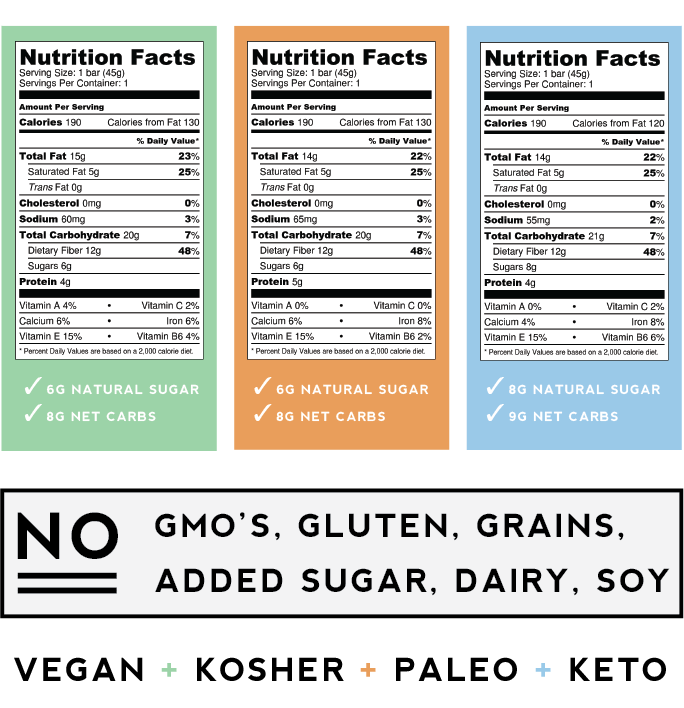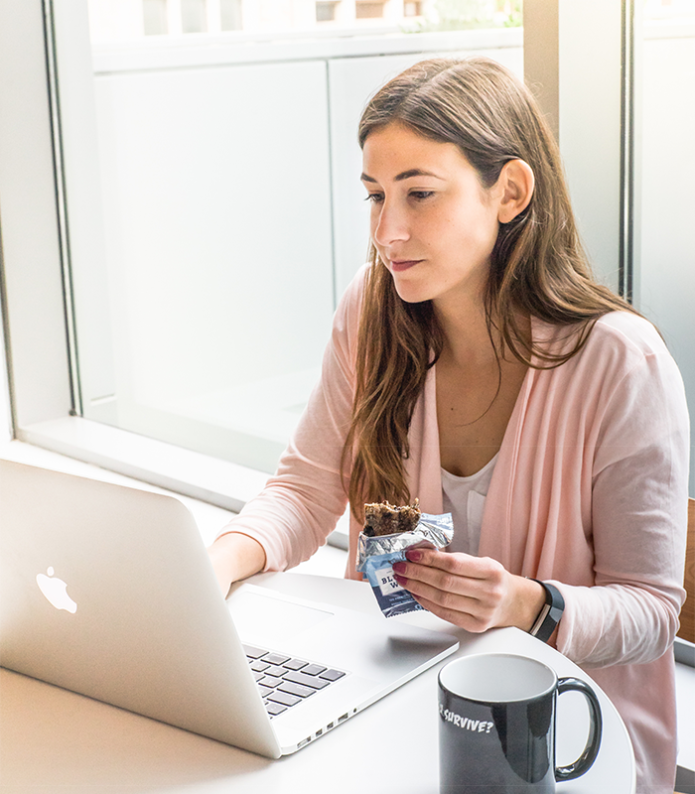 "How'd We Get Here?" by Will Nitze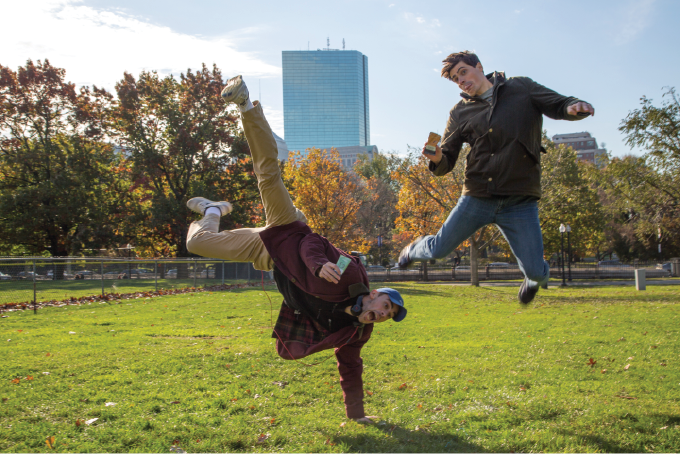 While studying psychology and neuroscience at Harvard, I became fascinated with the human brain. Then, upon entering the workforce, I began experiencing difficulties with my own brain. Mental fatigue and lack of clarity were daily struggles. In search of a quick-and-easy solution, I turned to sugary snacks and caffeinated drinks, yet this just made matters worse – adding sharp energy crashes to my list of cognitive issues.
Desperate for stability, I researched and self-tested every lifestyle alteration I could think of. Improved exercise and sleep failed to move the needle. Amphetamines and "nootropic" pills entailed unacceptable risk of dependency and adverse side effects. Eventually, I discovered and experimented with the high-fat/low-net-carb diet promoted by brain nutrition experts like Dr. David Perlmutter and Dr. Mark Hyman. Within weeks of trading bread and pasta for nuts and avocados, I achieved a remarkable rebound in my cognitive performance!
Astonished by the impact diet had on my mental acuity, I vowed to share my experience with millions of others struggling to stay sharp. I decided the best way to accomplish this goal was to create and democratize "brain food". Thus, I set out on a year-long mission to develop all-natural nutrition bars with ingredients shown to support both short-term cognitive function, and long-term brain health. Finally, in October of 2017, IQ Bar was born!
– Will Nitze, Founder