High Protein Flours & Top Chef Cookbook | Boost your health w/ our new flours & cookbook, so you can cook w/ crickets like award-winning chefs

Our new line up of cricket protein baking flours includes an All-Purpose, Gluten-Free and Paleo blend. These are targeted to specific dietary needs and can be used cup-for-cup in your favorite recipes. Plus, we have a 100% pure cricket powder too, which is great for the keto diet. The cricket flour adds a delightfully nutty flavor while delivering a tremendous boost of protein, fiber, calcium, omega 3's and B12.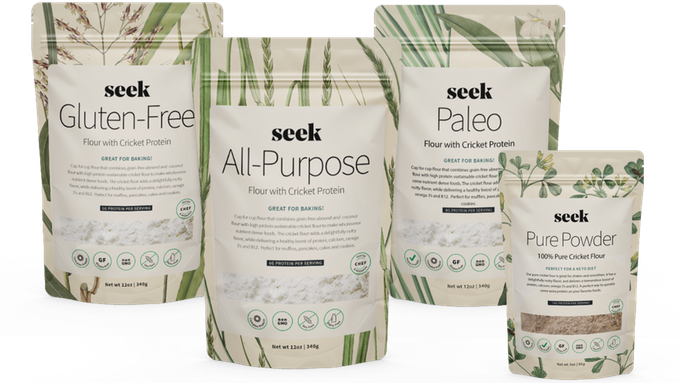 All-Purpose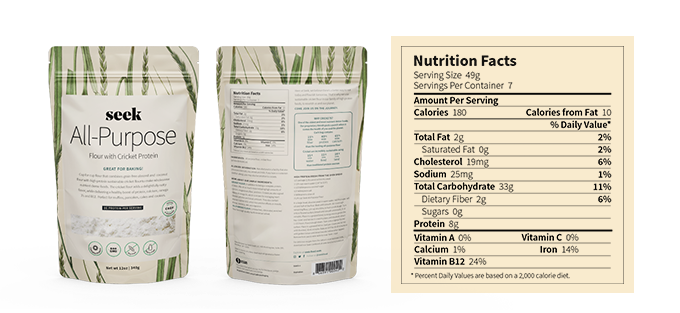 Each bag contains 40% more protein, 15% more fiber and 65% more calcium than the leading all-purpose flour. Ingredients: all-purpose flour, Seek cricket flour (acheta domesticus). 
Gluten-Free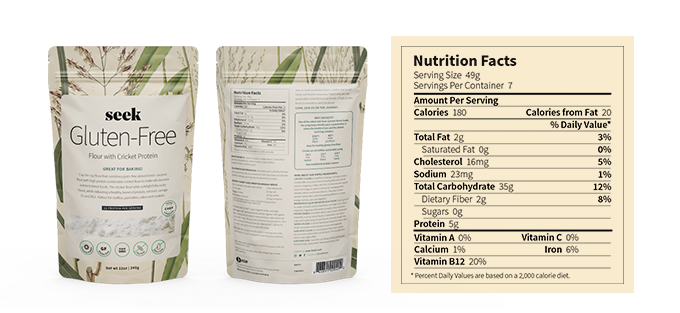 Each bag contains 40% more protein and 100% more fiber than the leading gluten-free flour. Ingredients: brown rice flour, potato starch, Seek cricket flour (acheta domesticus), white rice flour, tapioca flour, sorghum flour, xantham gum. 
Paleo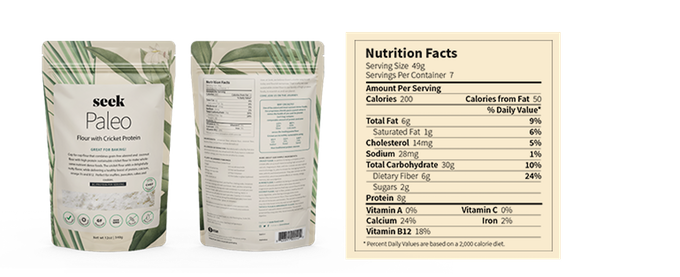 Each bag contains comparable amounts of protein and 15% more fiber and 80% more calcium than the leading paleo flour. Ingredients: arrowroot flour, almond flour, coconut flour, tapioca flour, Seek cricket flour (acheta domesticus). 
Pure Powder / Keto 
Delivers 14g of protein per serving, making this all natural pure powder great for shakes and smoothies or to add some extra nutrition to any meal! Ingredients: Seek cricket flour (acheta domesticus).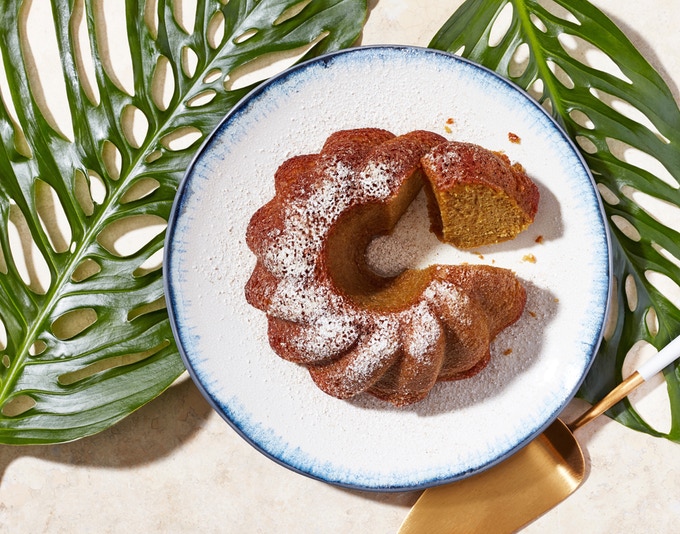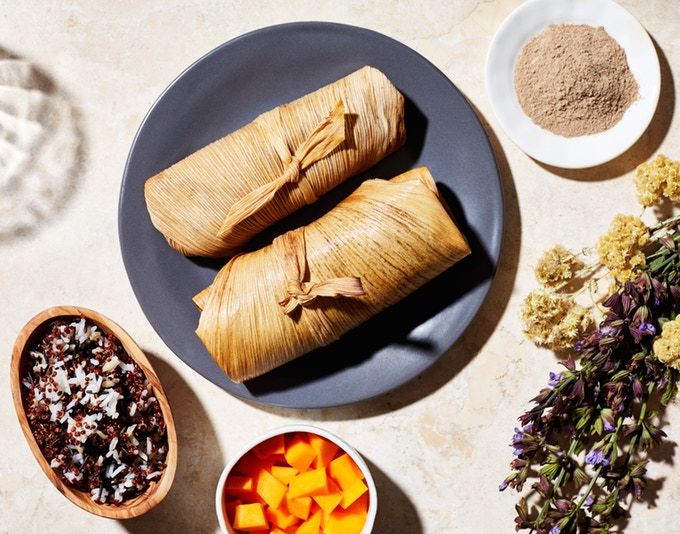 Our stellar line up of culinary professionals includes an accomplished group of James Beard Award Winners, Michelin Star Chefs and Cooking Show Contestants! Additionally, each chef brings their unique perspective to this effort – whether their interest stems from tradition such as with Mexican or Native American chefs or a commitment to sustainability and nutrition, we are beyond grateful for their thoughtful contributions.  


For "The Cricket Cookbook," each of the chefs will be creating an original recipe using one of our flours – the first ever cookbook of its kind! The recipes show both the versatility and deliciousness that crickets have to offer. You'll be able to cook and enjoy foods for breakfast, lunch, dinner, and dessert. This cookbook is great for anyone looking to eat healthy and sustainable foods or for those looking to broaden their culinary palate. Also, for all the parents out there looking to sneak some extra protein into your kid's meal, this cookbook is calling your name! In addition to an exciting introduction, there will be a full page photo of each recipe plus an interview with each of the contributing chefs so you can learn more about them and the inspiration behind their dish.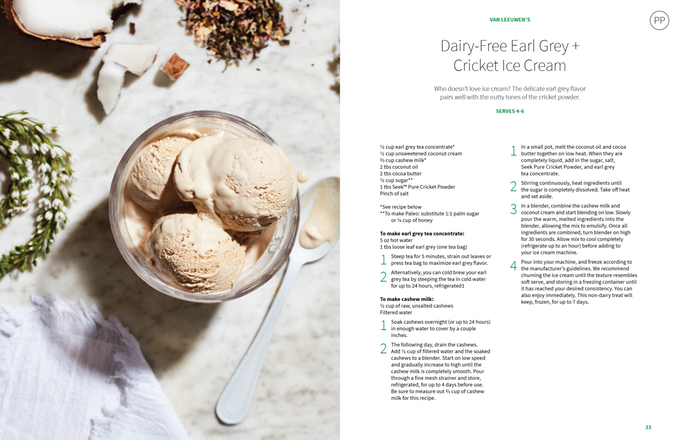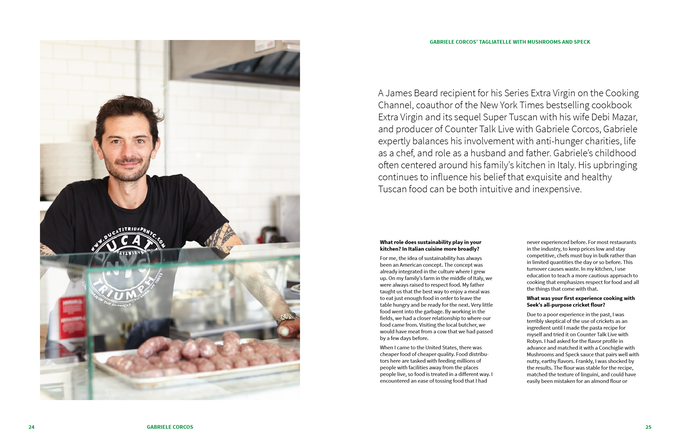 We want everyone who is curious and eager to learn more about cooking with crickets to be able to access this cookbook, so we are offering a digital version in addition to the beautiful printed copy.  
For the printed version, we are proud to be using a local eco-conscious printer as part of our commitment to sustainability. Everything from the paper to the ink in the entire book will be green-friendly materials. Plus, our printer's entire facility is run on 100% renewable energy.
Design is an important element of our brand, so you can expect a beautifully designed cookbook where the delicious dishes jump out of the pages! The talented team that will help make this all possible includes:
Photography by Ghazalle Badiozamani, who has shot for multiple cookbooks that have made their way to the NY Times Best Sellers List 
Food Styling by Erika Joyce, who previously worked in fine dining and at the Food Network
Design by Molly Cichy of Knockout!, a food and beverage industry branding and design studio in Brooklyn

Crickets are one of the oldest and most nutrient dense foods on the planet, and one of the most sustainable ones too. They also have a high bioavailability, meaning our bodies can actually absorb the great nutrients they offer.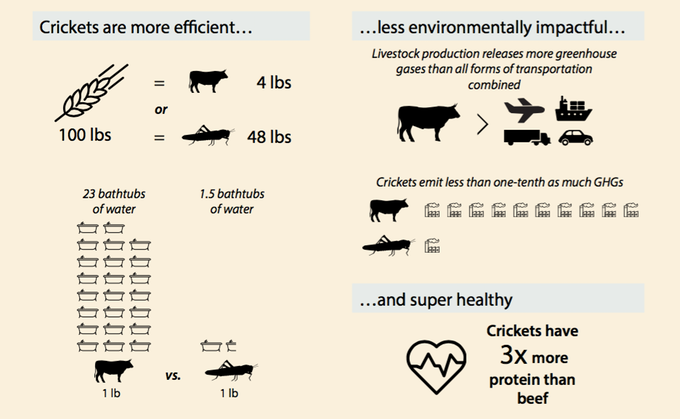 Cricket are high in the following nutrients:
PROTEIN | Crickets have 3x more protein than beef! They are also a complete protein, meaning they contain all the amino acids we need to stay strong and healthy, a rarity for a non-meat food. 
CALCIUM | Crickets have 1.5x more calcium than milk! We need calcium not only for strong and healthy bones, but to keep other parts of the body like our muscles and heart healthy too. 
IRON | Crickets have 15% more iron than spinach! Without enough iron, we lose energy, as it helps transport oxygen to our lungs and throughout our entire body. 
FIBER | Fiber can help lower cholesterol and prevent diabetes and heart disease. 
 OMEGA 3'S | Crickets have as much omega 3's as salmon! Omega 3's help us by known for managing heart disease, arthritis and blood pressure. 
B12 | B12 is a wonder nutrient as it has positive effects on moods, energy, memory, skin and digestion. 
MAGNESIUM | Magnesium helps to quiet the nervous system and prepare your mind and body for sleep. It also regulates muscle and nerve function, blood sugar levels, and blood pressure. 
Let's just put this out there – our global meat consumption is a major issue. Meat is not only linked to the leading cause of death in America, cardiovascular disease, but it also contributes more greenhouse gases than all transportation combined. Crickets are a smart alternative due to their abundance, efficiency and overall environmentally-friendly profile. Here are some of the statistics:
Crickets use 12x less feed than beef 
Crickets use 14x less land than beef 
Crickets release virtually no greenhouse gases 
Cricket use 15x less water than beef

The main rewards are:
Three new Flour blends (all-purpose, gluten-free, and paleo)
Pure protein powder 
"The Cricket Cookbook" (available in digital and printed forms)
However, we also offering these special goodies too:  
The Flour Sack Tote | Inspired by vintage flours sacks, we designed this nifty oversized tote! It is made of natural raw uncoated jute with cotton handles. The size is: 17 1/2″ W x 17″ H x 3″ D.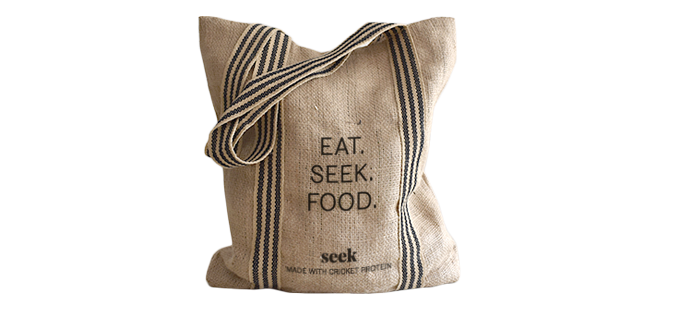 Private Chefs Dinners | This is a once in a lifetime experience to enjoy the culinary talents from one of our chef collaborators in the comfort of your own home! The amazing chefs who are ready to serve up some delicious food for you are: Carolina Santos-Neves, Gabe Kennedy, Malcolm Livingston, and Flannery Klette-Kolton / Lauren Gerie.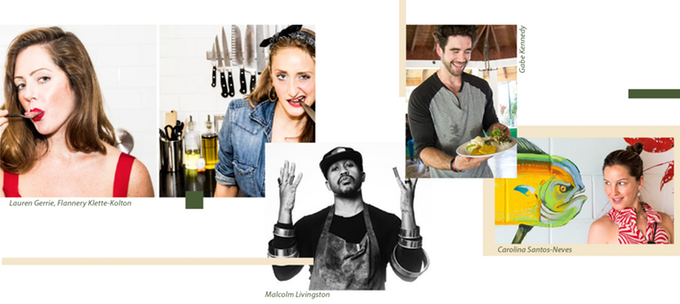 Seek is a culinary-driven line of healthy foods incorporating sustainable, protein-rich cricket flour. 
Seek was started to address some of the greatest health and environmental issues, and when we learned about the benefits of crickets after reading a United Nations report, we were hooked! Crickets are not only an ancient protein, and perhaps mankinds first food, but they bring with them a deep and rich culinary tradition. In addition to the undeniably strong nutrition and sustainability benefits, we want everyone to learn about and enjoy the deliciousness they offer too.
Since launching, we have happily fed customers from around the world our delicious Snack Bites and Granola, and we've learned a ton along the way. We kept hearing that people wanted to incorporate cricket protein into their center of the plate meals, not just snacks! We also believe in the power, knowledge and pure magic that comes from working with chefs. That is why we partnered with some of the most talented culinary masterminds from around the nation to bring you a brand new line of baking flours.
A lot of love and hard work went into what we are bringing you today, and we truly hope you enjoy what we've created!

We get a lot of questions about our packaging! We created these designs in-house to convey on a deeper level what the idea of Seek is all about, which is having a sense of curiosity and a respect for nature. The designs are all vintage botanical illustrations that we obsessively sourced of some of the ingredients that are in each of the flours. This is our subtle way of reminding people of food in its natural state and original form. For instance, on our Paleo version, you'll notice a beautiful flower in the top right. That is a flower from the arrowroot plant! So, even though it is the root which is used as the powder (hence its name), you still have these beautiful flowers growing on top. On the pure cricket powder version, we take it back a step further and show alfalfa wheat as that is what the crickets are fed on the farms we source them from, which is the same feed they can be found eating in the wild.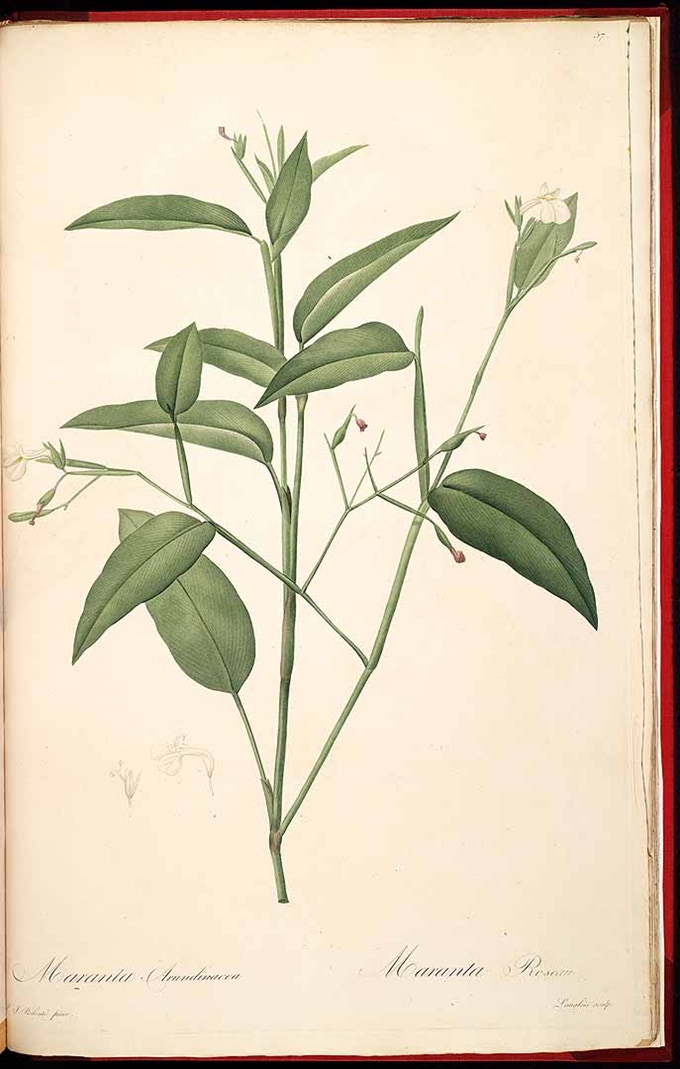 We have no small ambitions with Seek – we want to bring forth an eating revolution that will be led by a bold subset of the population. As one of our backers, you will be part of the change towards helping us eat and live better. The funds we are raising on Kickstarter will help us: 
Produce our four flours with a manufacturer so we can meet volume demands and quickly scale across the nation. We will also be spending the extra funds to ensure they are printed in 100% recyclable eco-pouches. Create a beautifully designed cookbook to educate, inspire and empower all of you at home. As we learned from our first shoot, making a cookbook is a true art and there is so much that goes into it. You need to prepare, bake and cook all the dishes, plus hire a studio, photographer, food stylist, source props and bring on a designer, recipe tester and copy editor. To provide the inside scoop, as casually cool as the photos look, each shot takes around 1 – 2 hours to get just right.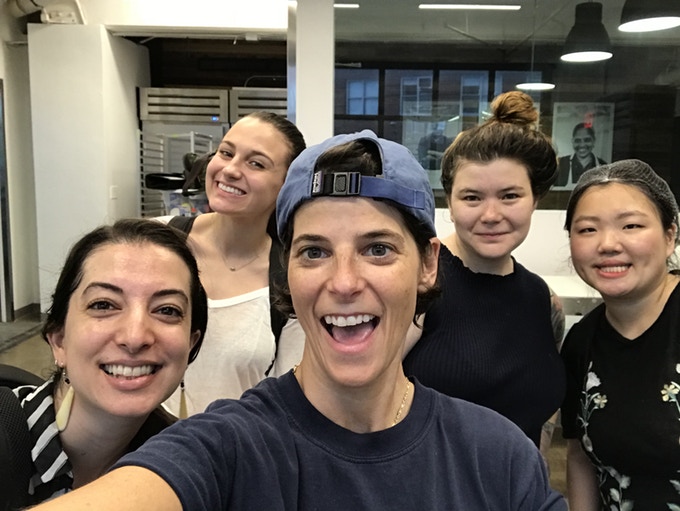 We are proud to be a member of 1% For The Planet, which means we will be giving 1% of all proceeds to food-focused non-profits close to our heart. Note, due to Kickstarter's policies, 100% of all funds raised on this platform will fund the exact project listed here, however, we will support our non-profit partners in the funds we raise outside of Kickstarter. We are proud to support: 
Edible Schoolyard NYC | Established in 2010, Edible Schoolyard NYC is a nonprofit organization committed to bringing Alice Waters' vision to New York City public schools. When Alice Waters, acclaimed restaurateur and food activist, created the Edible Schoolyard Project in Berkeley, California in 1995, she knew the best way to teach children the connections between food, health, and the environment was by integrating an edible education program into our schools' everyday curriculum.
Farms to Orphans | Ensures orphaned and underprivileged children in Africa have a sustainable source of nourishment and access to education. Farms to Orphans builds the agricultural infrastructure needed to farm insects, which are a traditional form of the diet, as well as provide the necessary training to empower a new generation of workers.
Little Herds | Based in Austin, Texas, Little Herds seeks to teach the next generation about insects as a resource efficient, nutritious and delicious food through experiential STEAM based programs; family friendly events; public advocacy outreach; and partnerships with educators, universities and other organizations.


Wow, as we've been busy working away, so pretty amazing media outlets have noticed!  


2016: The Seek brand launches its snack foods in connection with a NY Magazine feature story
2017: Seek extends its line up to include Cinnamon Almond Crunch granola and starts selling in select retailers across the country. Founder Robyn Shapiro also quits her job to start working full time on Seek.
Jan 2018: To deepen its culinary focus, Robyn decides to launch baking flours as a way to empower chefs to do what they do best – cook delicious tasting foods. Robyn experiments with countless flour variations before landing on the ideal version, which she brings to chef collaborator (and her next door neighbor) Flannery Klette Kolton.
Feb – June 2018: Robyn has dozens of meetings and calls with chefs across the world to build up the team! Robyn selects a cricket farm in Mexico to source the crickets from and Scott finds a co-packer to produce the flours! Meanwhile, the existing Seek product line continues to expands and sales begin in iconic grocer, Dean & Deluca.
July 2018: Seek launches its first Kickstarter!
August 2018: With fresh funding in hand (we hope!), Seek will initiate the flour production! The chefs who haven't yet done so, submit their recipes and the cookbook design and photography continues!  
September 2018: The cookbook is printed and all rewards ship!
2018 and beyond: Seek becomes a household name and people everywhere get to enjoy the delicious, nutritious and sustainable foods that come from crickets!
 

Our very modern day team is spread across coasts, but we have all come together to support the cricket protein movement!