Ita.fra: 1st Quality-Visible Water Filter Pitcher | Atombit™ Monitor | Charbone™ Filter System | UVC Disinfection | Service Life 150 Gallons Of Water

We will deliver the first 70 Ita.fra IMMEDIATELY.

Have you ever wondered about the quality of your drinking water at home, and getting purified water from grocery stores all the time might be that too troublesome?  Are you tired of finding the perfect filter for your tap water, or frustrated with how frequently you have to change the filters? Well, you don't have to search anymore!
Introducing Ita.fra, the world's first water-quality-visible pitcher with patented Charbone™ Filter technology. Not only does the Ita.fra detect water quality immediately, it uses UV light to filter and disinfect the harmful elements of your drinking water.  The filter has a service life of 150 Gallons of water, which is 2400 cups before replacing a new Charbone™.

Tap water is not always safe to drink, it can be
contaminated
flowing through the pipes that have been used for decades, a lot of
chemicals
could be left in the tap water during the process of water purification etc., which might cause
hair loss
,
dry skin
,
red eyes
and more. So to be able to drink clean water, a reliable water filter pitcher is exactly what we need.
Patented Atombit™ Monitor: detect and display the critical water quality index (COD, TOC, and Uv254) of your drinking water in real-time. See the water quality, rather than feeling or brand effect. It also functions as a reminder to replace the Charbone™ filter when the index turns to high.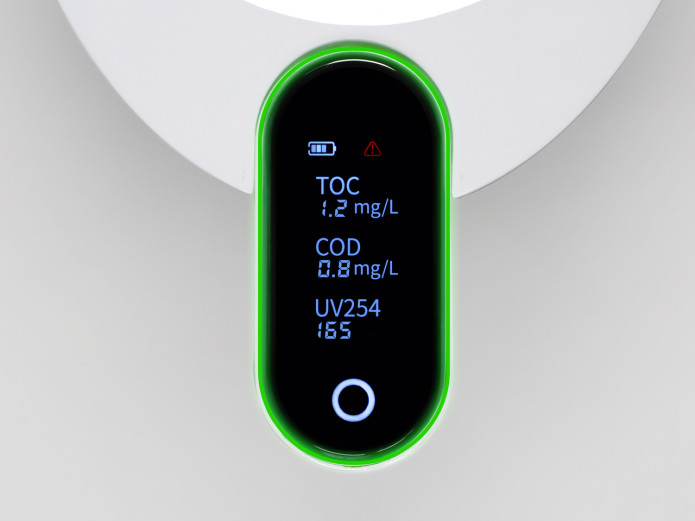 Ita.fra features a reading panel that shows COD (chemical oxygen demand — which should be within 0-1), TOC (total organic carbon — should be within 0-1), UV254 (measurement of the organic matter in water — should be within 0-120) of your drinking water, so you will know the exact quality of your water. Drink knowing it's the purest water possible.

CHARBONE™ is a modified active carbon impregnated with nano zero-valent iron and nano silver. Nano-scale zero-valent (nZVI) metal is a suitable material for groundwater and wastewater treatment applications. It can prevent the agglomeration of nanoparticles and increase their hydraulic conductivity. Thanks to its Lid-free design, filling in the pitcher is incredibly easy too! Charbone filtration allows you to efficiently remove bacteria and heavy metals, including Chlorine, Antibiotic, Pesticide, Microorganism, Trichmethane, Lead, Mercury, Arsenic, Cadmium, Chromium, Zine, Selenium and more!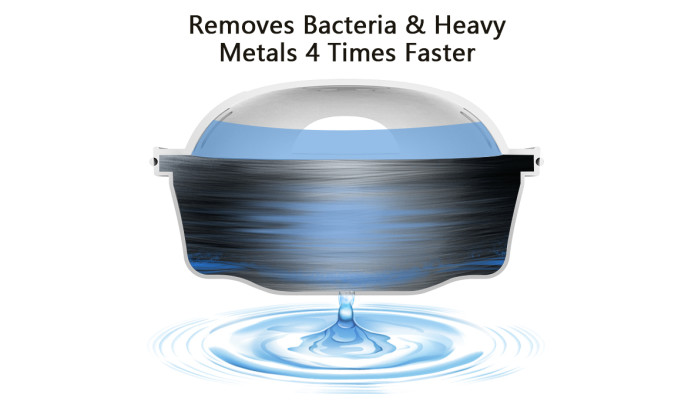 Thanks to the unique texture and surface chemistry of the filter, Charbone™ can last a long service life of 150 Gallons of water at a high flow rate of 0.8 liters per minute, three to four times faster than a standard AC filtration pitchers. Enjoy the filter-as-pour experience for 2400 cups before replacing a new Charbone™. Replacing the filter will only takes seconds!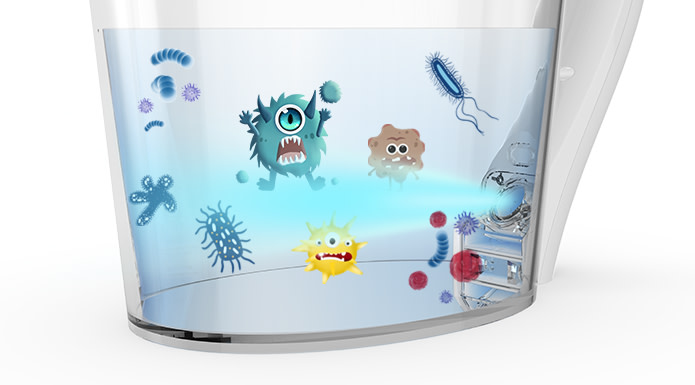 Chlorination is one of many methods that can be used to disinfect water. This method was first used over a century ago, and is still used today. It is a chemical disinfection method that uses various types of chlorine or chlorine-containing substances for the oxidation and disinfection of what will be the potable water source. Ita.fra's Charbone filter will filter out Chlorine, which makes the water taste better and it takes away the odor of the water as well. But when the chlorine is filtered out, microorganism and bacteria will come back again, so that's why you need UV disinfection as the last defence against microorganism and bacteria.
With a built-in UV light transmitter at the bottom of the handle, Ita.fra automatically releases invisible short-wavelength ultraviolet (UV-C) light every 10 seconds to kill or inactivate microorganisms in filtered water by destroying nucleic acids and disrupting their DNA, keeping your water clean for a week or even longer.

Unlike chemical approaches to water disinfection, UV provides rapid, effective inactivation of microorganisms through a physical process. When bacteria, viruses, and protozoa are exposed to the germicidal wavelengths of UV light, they are rendered incapable of reproducing and infecting. The UV light has demonstrated efficacy against pathogenic organisms, including those responsible for cholera, polio, typhoid, hepatitis, and other bacterial, viral, and parasitic diseases. In addition, UV light (either alone or in conjunction with hydrogen peroxide) can destroy chemical contaminants such as pesticides, industrial solvents, and pharmaceuticals through a process called UV-oxidation.

Features a Type-C cable, Ita.fra is incredibly easy to charge too! One single charge can last you for three weeks!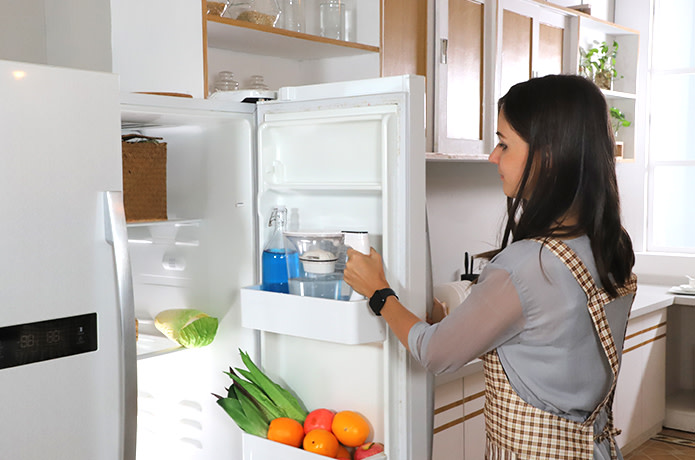 And that's not all, accelerated flow rate reduces the need for large reservoir tank; compact design for easy lifting and refrigerator storage; built with BPA-free material; replacing filter only takes few seconds; Two-year warranty for Ita.fra pitcher(except filter).This is truly the most convenient water filter pitcher you can find on the market!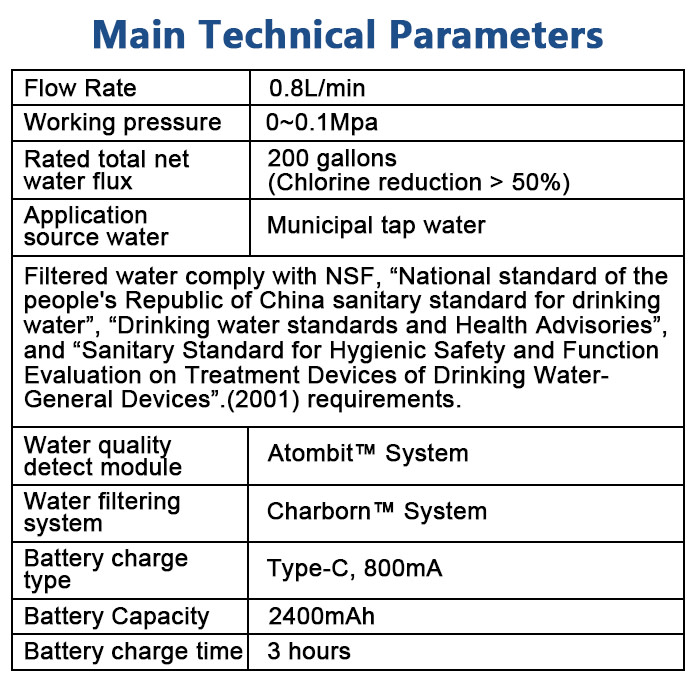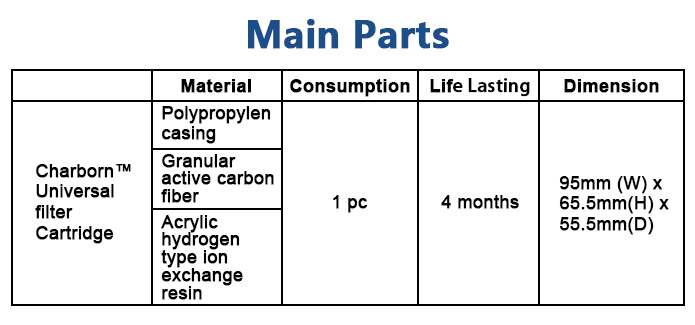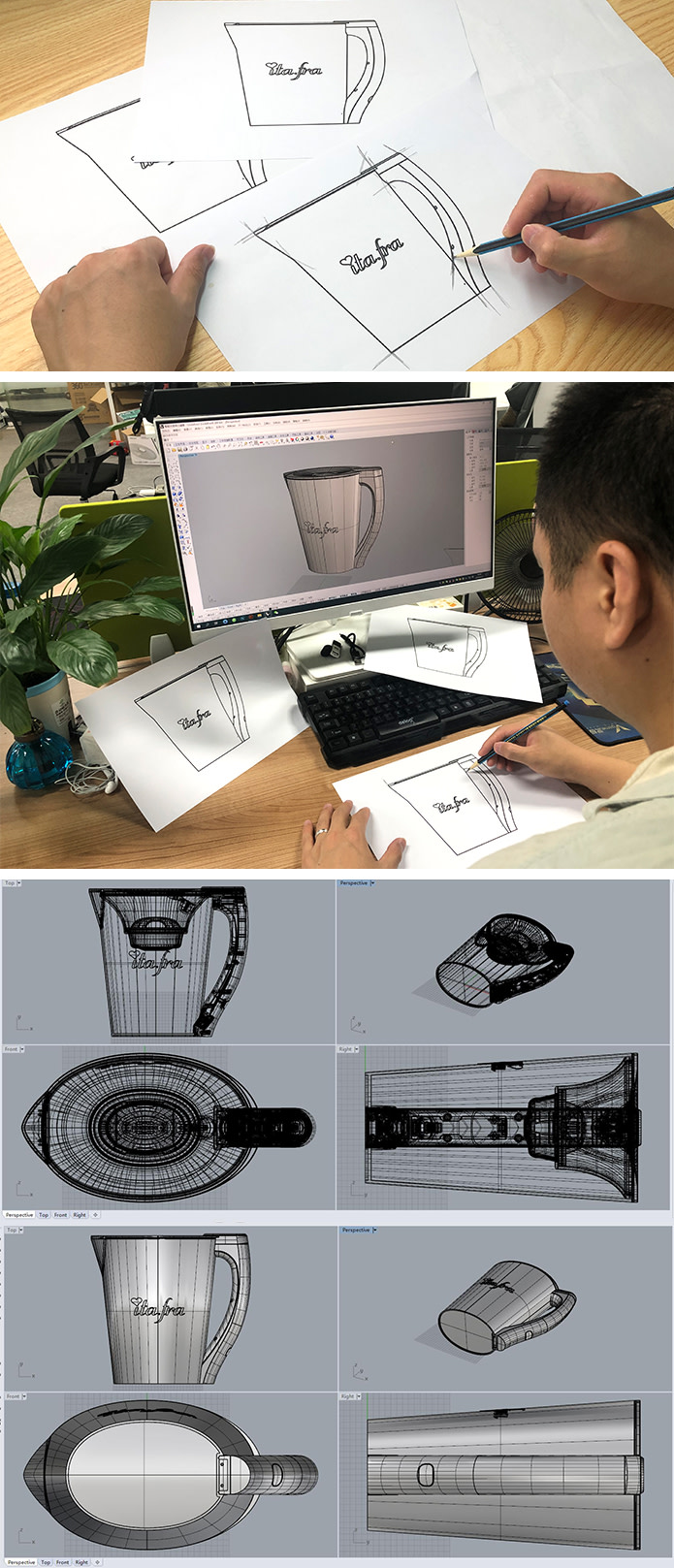 A three-year investigation by the Environmental Working Group (EWG) of the country's drinking water found that water flowing to about 85 percent of the population contains 316 contaminants – over 60 percent of these have no safety standards and are not regulated by the Environmental Protection Agency.
No wonder, then, that almost half of Americans who drink tap water at home say they filter or boil it first. That's according to Consumer Reports' 2019 Water Quality Survey, based on a nationally representative sample of 4,225 U.S. adults. The most prominent complaint people had about their drinking water was unpleasant tastes and smells. That's why we set out to create Ita.fra!

We have finished the trial production, and the Ita.fra is ready to ship, the first patch of Ita.fra will be shipped in April!

Itafra is a company team up the top experts of water filtration industry including water quality detect sensor, filter formulation and related.
Our vision is very simple, use our professional to  combine our advance technology to create useful products to solve the problem of user.
We are not only provide the solution on safe, health and good taste of water.
We also provide the solution to let users know what the quality of water they get by visible data.