K-Mometer: Cook Safely, Cook Perfectly, Have Fun! | A smart Wi-Fi thermometer that monitors food safety, quality, and can take the heat!
*** We have completed shipments to all our backers as of December 5th! Here are a couple of videos and pictures to show what we have shipped ***

What's in the K-Mometer Box?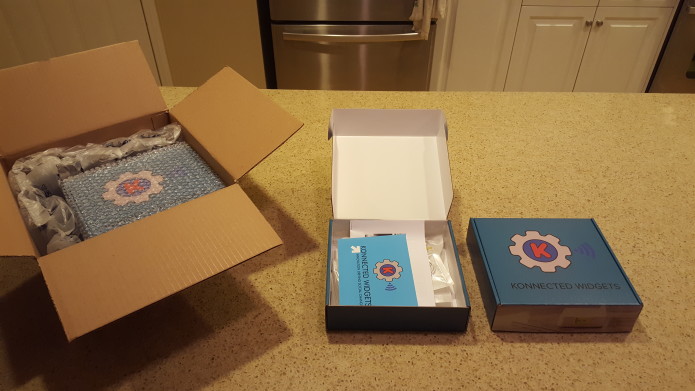 *** We're excited to announce that we have fulfilled K-Mometers for our early bird backers, just in time for Turkey Day, as promised and on schedule! Some have already received them and the rest are en route.  ***
Here are some pictures from the production line and shipping line. 😉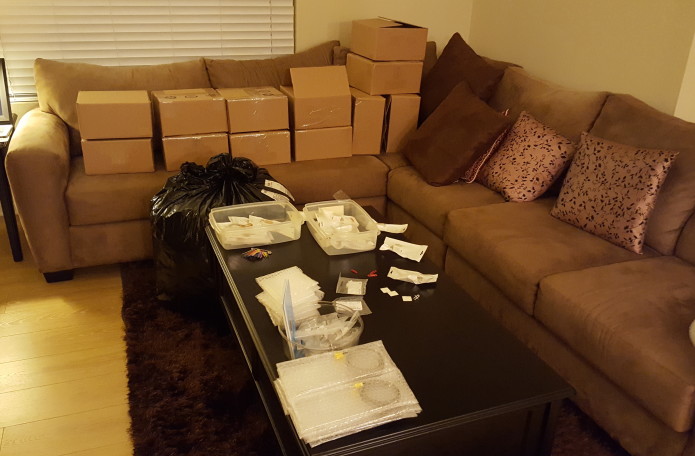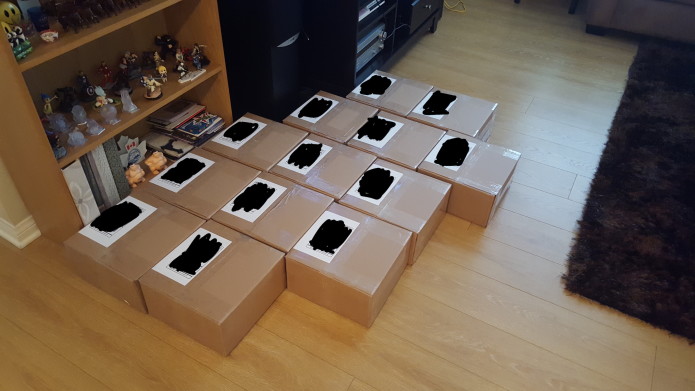 For those of you that need to cook a very large bird soon for Thanksgiving, this one's for you. Let's see how to cook the perfect turkey using the K-Mometer the first time, every time.
 
Want to see how to cook the perfect BBQ chicken with the K-Mometer? Check out this demonstration video:
What's the K-Mometer's accuracy? See our demo video as we perform the test using boiling water:
Check out our social media links and website:
Blog: https://konnectedwidgets.tumblr.com/
Facebook: https://www.facebook.com/konnectedwidgets
Twitter: https://www.twitter.com/KWidgets
Instagram: https://www.instagram.com/konnectallthewidgets/
Youtube Channel: https://www.youtube.com/watch?v=x8MJSry5MPs
Website: https://www.konnectedwidgets.com
What did we build?
A connected Wi-Fi thermometer that can take the heat! Competitor devices have issues such as:
Probe cabling that melts
Probes that stop working
Bad range
Random device disconnects
The K-Mometer is unique in its class because it uses an industry standard Type K thermocouple sensor and probe that is not only accurate, but can withstand extreme high-heat temperatures for extended periods of time. Need to cook a turkey for 7-8 hours? Smoke BBQ meats? No problem! You can also use it to make candy, like Marshmallows!
Our probe is made out of food grade (SS304) material which is food safe, and the probe cable is protected by a stainless steel sheath and stainless steel braid material, allowing you to monitor your food from start to finish. 
Check out this blog from Expression Food about using a thermometer for making the most beautiful meals: 
http://blog.expressionfood.com/thermometer-beautiful-meals/
Our Company and Product Vision
 
Please see the campaign gallery for more product and mobile app views. 
Use cases
Measure internal temperature of food such as roasts, grilled and smoked BBQ meats for safety and quality
​Use as a candy thermometer (e.g. Monitor marshmallow syrup temperature)
Check oven temperature accuracy (some ovens are 30 degrees off!)
Check grill temperature for smoking BBQ
Hardware features
Standard Wi-Fi (2.4GHz 802.11/b/g/n) with Wi-Fi Protected Setup (WPS) push button setup. Connect directly to your existing Wi-Fi access point. No external hub required!
Industry standard Type K Thermocouple sensor and probe. The included probe supports up to 400 degrees Celsius or 752 Fahrenheit (the sensor itself can support wider temperature ranges, from -270 degrees C to 1372 degrees C)
Industry standard Type K panel connector for easy interchange of thermocouple probe for different application requirements
Built-in rechargeable battery that lasts up to 18 hours on a single full charge (can use while charging with external USB battery)
On/Off power switch for extending battery life when not in use
LED status indicators for battery charging and Wi-Fi activity
Mobile app features
Simple user interface for setting temperature settings and viewing current temperature readings
Notification alerts when desired temperature readings have been achieved
Data logging and graph view
Secure login and authentication with personal user account
Achievements and rewards
Over-the-air firmware updates
Support for iOS and Android 

Why did we build it?
We want you to be able to not only cook perfectly, but cook safely. 
Food borne illness is still a very big public health challenge in the United States alone. The CDC estimates that EVERY year there are 48 million cases resulting in 128,000 hospitalizations, and out of that unfortunately 3000 fatalities. This is really too much of a social problem to ignore and we can reduce these numbers dramatically and save lives if more households in America had the K-Mometer. 
The only way to TRULY know if your food is safe to eat is if you cook it to the exact internal temperature recommended by the USDA. For example, that's 165 degrees Fahrenheit for turkey. Recent research has also shown that color and texture are not RELIABLE indicators of whether the food is truly done. If you don't have this information, chances are you can get very sick, and of course that's not a very good thing, especially if you have young children and/or seniors you're taking care of.

It has to be fun and affordable too!
We want to help solve real world challenges with our connected devices, like the K-Mometer. The devices shouldn't just be about the coolness factor. They should also address a real need. But how many times have you walked into Best Buy or Target or Walmart and said, "That looks like a cool gizmo but it's way too pricey for me" … you get that sticker shock right? Our goal is to make these devices affordable so that everyone can have access to them, not just if you're in the middle or upper class income range. The K-Mometer is only the first device in what we hope to be a pipeline of devices that will each help solve different challenges. 
Also, it should be fun to use. How many times have you used a gizmo for a few weeks and then it sits on the shelf? That's why we're also building a true rewards system into the mobile app. Collect points for using the K-Mometer on a regular basis and then redeem them for rewards later. 
So not only are you going to be ensuring that the food you cook tastes great, is safe, but you'll have fun doing it.  

When are we delivering it?
The K-Mometer will be ready to ship in the Fall of 2017. The first 250 units will be ready to ship in November, followed by product delivery to our next 1000 backers in December. It will make a great Thanksgiving and Christmas gift this holiday season. You might ask, why such a quick turnaround? The reason is because the product is ready for mass production, and with your support we will quickly get it to thousands of people in time for the Holiday 2017 season. 
What will the funds be used for? 
Build-out and delivery of backer K-Mometer units
Product certifications
Fine tuning of the mobile app experience
Product packaging
About the team
Over 12 years of experience in the IoT domain, and 17 years of combined experience in wireless networking and semiconductors
Held product management, marketing, sales, and applications engineering posts for reputable companies such as Cypress Semiconductor, Texas Instruments, ARM, and Samsung SmartThings
Risks and Challenges
We are confident in meeting our anticipated delivery dates. Any unforeseen circumstances will be communicated via this project page to our backers with complete transparency.
**We are aware that there have been several projects that have been non-communicative about their progress and when units would be shipped to backers after many delays. Our promise is to provide honest and crisp responses about project and shipment updates. Please feel free to leave any comments with your questions and concerns and we will do our best to answer them comprehensively and straightforwardly.**