KALEA: Turn kitchen waste into compost in only 48h | KALEA is a fully automatic kitchen composter which unites natural composting and unique technology
MAKE COMPOST NOT WASTE
KALEA is Hawaiian and means: filled with joy. We associate joy with the composting of organic waste. KALEA was founded to create something valuable and sustainable out of our daily food scraps. No matter where you live or how much space you have, KALEA turns your organic waste into nutrient-rich compost. In only 48 hours.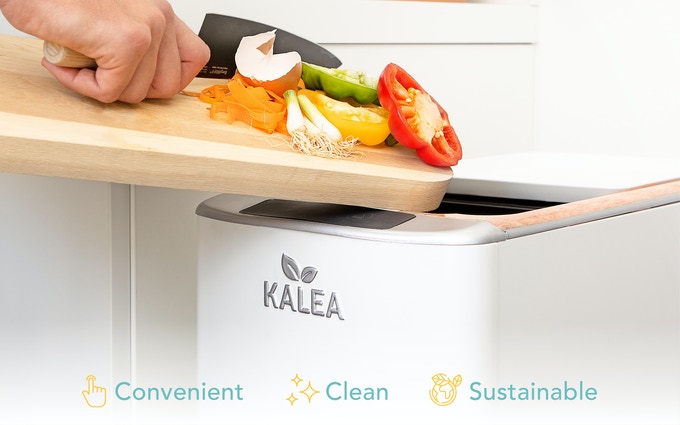 NATURE AND HIGH-TECH UNITED
Technology has made its way into every aspect of our daily life, but nobody really pays attention to the way we treat food scraps at home. Many households have no solution to dispose of food scraps in a convenient, clean, and sustainable way. This is also a global problem since organic waste accounts for up to 50% of the overall waste volume. Nature gave us the inspiration we needed to solve this problem. KALEA unites the natural composting process with smart technology to transform organic waste into nutrition-rich compost. We say: Don't waste your waste!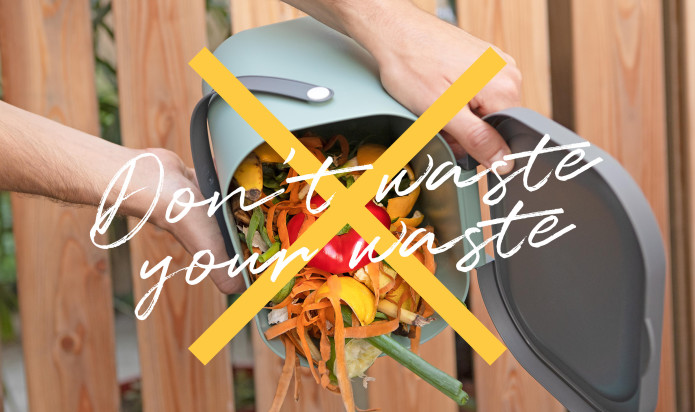 AS KNOWN FROM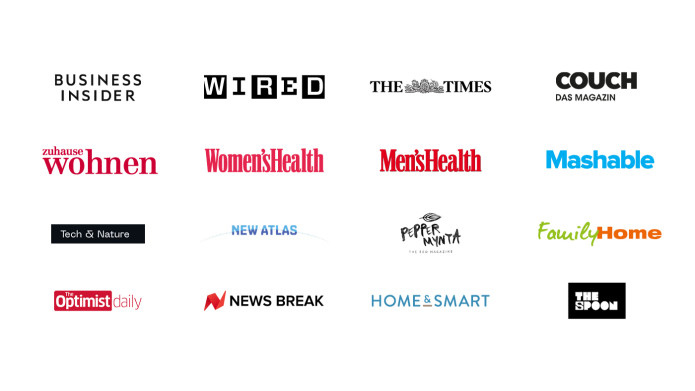 GOODBYE SMELLY GARBAGE!
If you experience any of these situations, you definitely need to upgrade your kitchen routine: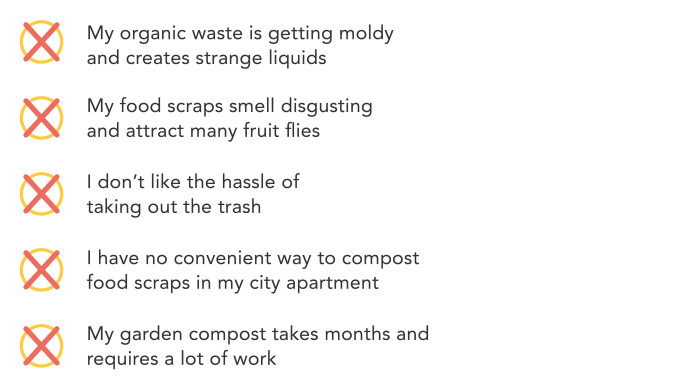 KALEA TAKES CARE OF ALL YOUR FOOD SCRAPS
What's on your chopping boards and plates? Share the leftovers with KALEA. It can handle any kind of organic waste.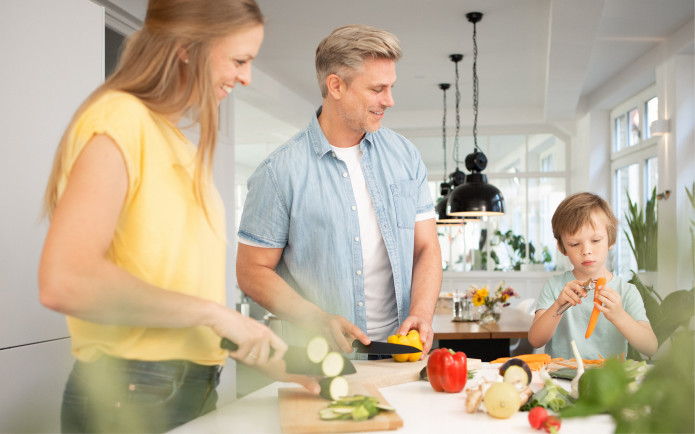 A COMPOST DREAM COMES TRUE
We knew there had to be a better solution. We wanted to create a smart device that was just as good as a compost pile, but faster, more comfortable to use, hygienic, and without any unpleasant odors. More than two years of research and testing led us to the perfect solution with our unique and patent-pending technology. 
We are the only ones who offer a complete solution. Other products promise to create "fertilizer" – but they really only just dry and grind up waste with no biological decomposition. This output can grow mold, is not nutritious to plants, and can actually be harmful. That's why only KALEA compost is king!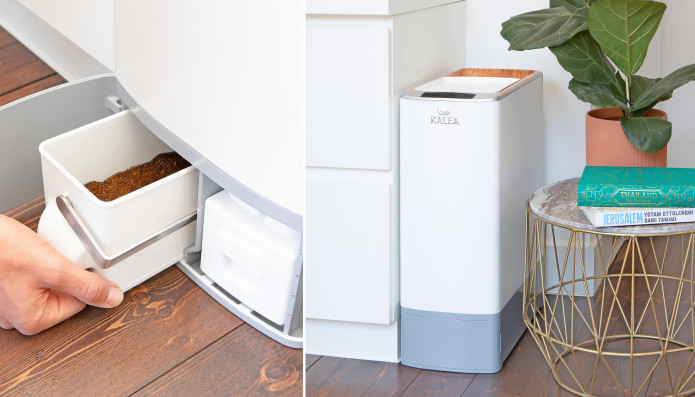 JUST THREE SIMPLE STEPS TO TRANSFORM YOUR FOOD SCRAPS INTO REAL COMPOST
There is no compost fairy. KALEA impresses with its own magic: an innovative, fully automatic technology with lots of sensors inside. Three simple steps and 48 hours is all it takes for your organic waste to turn into real nourishing compost.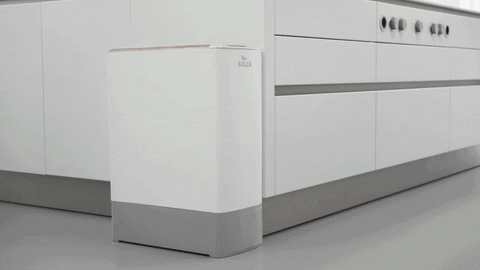 Step 1: Fill KALEA with your food scraps. Are you a real foodie? No worries, KALEA is designed to handle the weekly organic waste volume of a typical four-person family (appx. 2 cycles of 10 liters). Our robust shredding system processes and dries almost everything, even nutshells, and small bones! 
As a nice side effect, this leads to a volume reduction of 85%. When enough material accumulates, KALEA automatically processes it to the composting chamber. No odors or fruit flies — just your excitement for fresh compost.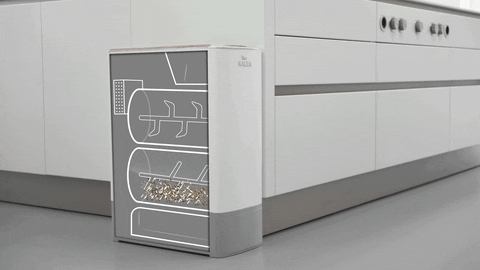 Step 2: The composting chamber of KALEA is full of sensors and has an intelligent control system. A perfect combination of temperature, humidity, and aeration wakes up the natural microorganisms inside the organic material and turns it into a land of milk and honey that accelerates the microorganisms' metabolism. KALEA substantially reduces composting time from several months to just 48 hours.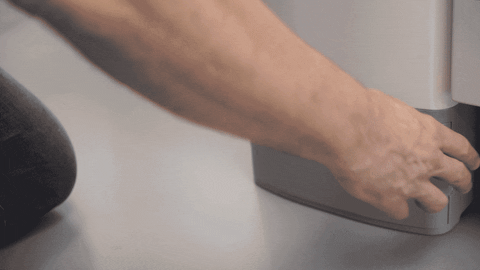 Step 3: The result? Ready-to-use compost for all your plants and flowers — indoor and outdoor. Your plants will love it since only compost contains such a full spectrum of essential plant nutrients. And if you don't need all your compost at once, no worries, your KALEA compost can be stored for up to two years.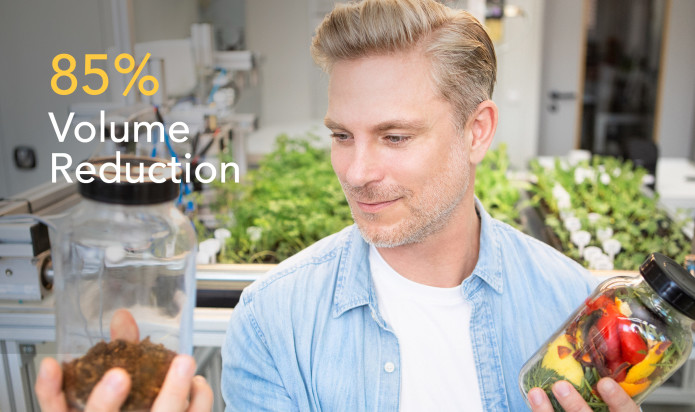 THE THING ABOUT COMPOSTING
Plants are living beings, and like us, they need nutrients to grow and stay healthy. So treating them with compost should be on your regular plant routine list. But be careful. In some cases, using dried organic waste (often referred to as "fertilizer") can also cause mold and inhibit plant growth. And no plant parent wants this. Right? KALEA compost is so rich in nutrients that it can be mixed in a 1:10 ratio. This means 1 part of KALEA compost with 10 parts of soil.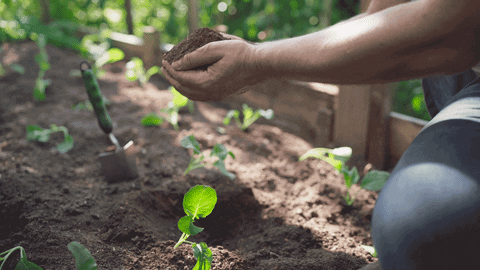 WHAT'S SO SPECIAL ABOUT REAL COMPOST?  
Garden compost is the most natural way to dispose of organic waste. If managed carefully, it leads to already matured compost. However, this takes a whole lot of time and especially cooked food shouldn't be treated this way since it attracts vermin. 
KALEA transforms the majority of compounds in your food scraps like sugar, starch, and proteins. These are broken down within 48h to fresh compost. If mixed with earth, fresh compost gives an immediate boost to your plants and realizes its nutritional potential.
Food waste dryers do only one thing: shredding and drying food. There is no biological decomposition process involved. The organic compounds in this waste are thus inaccessible to plants.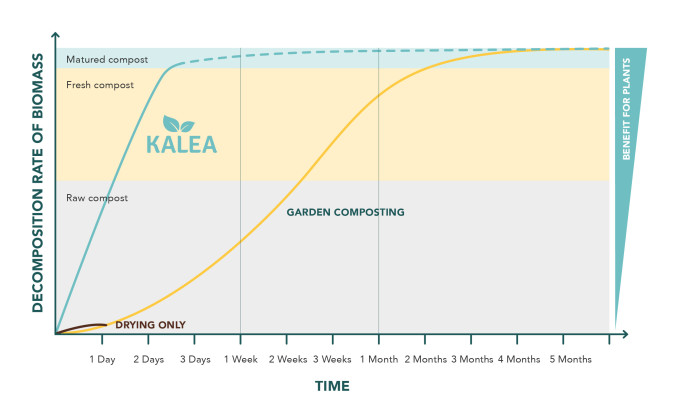 STEP 1: REMINERALIZATION
Your organic waste is a bit like a fresh and full shopping bag. In order for your plants to use the nutrients, the "bag" must first be unpacked. This unpacking is called remineralization.
During the remineralization process, organic molecules are converted into inorganic minerals. This conversion is done by omnipresent microorganisms such as bacteria and fungi, which are a natural part of our food.
STEP 2: COMPOSTING
During composting, the main components of organic waste (sugars, starch, proteins, fats, and at a later stage, cellulose) are broken down.
​The compost quality and the conversion time can be influenced by providing optimal metabolic conditions for the microorganisms over a certain period of time. These conditions include temperature, pH value, moisture, amount of oxygen, and surface area. The better the conditions are met, the faster high-quality compost is achieved.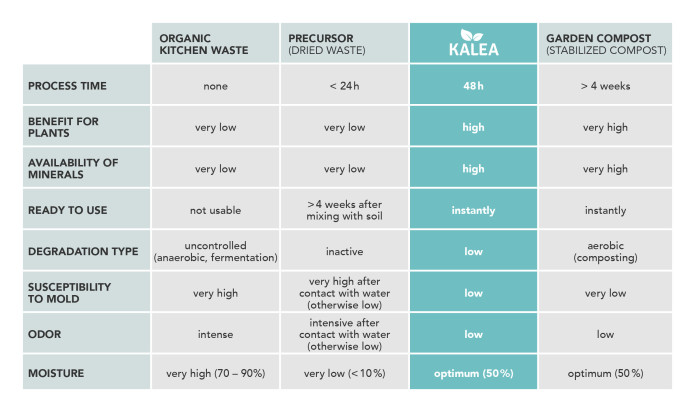 Combining the latest technology with the superpowers of natural microorganisms – that's the essence of KALEA. All of this happens inside our fully automatic kitchen composter in only 48 hours.
ORGANIC WASTE IN LANDFILLS DAMAGES OUR CLIMATE
Did you know that incorrectly disposed organic waste is not only a wasted resource but is also more dangerous for the climate than CO2? 
When organic waste is dumped in a landfill, it undergoes anaerobic decomposition (because of the lack of oxygen) and generates methane gas. Methane gas is a potent greenhouse gas — about 28 times more harmful than carbon dioxide at warming the earth, on a 100-year timescale, and more than 80 times more powerful over 20 years.
Due to a lack of convenient and clean waste disposal techniques, a significant amount of organic waste is sent to landfills – even in the most developed countries.
This is one of the main reasons why we want to revolutionize your daily organic waste routine.

CLIMATE PROTECTION: WE NEED TO SAVE OUR BOGS!
Bogs represent an important "carbon sink" – a place where CO2 is stored below ground and can't escape into the atmosphere and increase global warming. They only cover 3 % of the earth's surface but store about 30% of global CO2. One hectare of the bog with a 15-centimeter thick peat layer contains about as much carbon as a hundred-year-old forest in the same area. That's amazing! But bogs are in danger. In many places, they are extracted to produce peat, which is then used to enrich potting soil. The protection of bogs is an incredibly important part of climate protection, that is very close to our hearts at KALEA. Therefore we chose to support an NGO which is committed to the protection of bogs. Also, your homemade compost leads to bog protection. With KALEA you can always use peat-free soil because our compost airs the soil and provides it with enough nutrients. The mixing ratio is 1 to 10. 1 part KALEA compost and 10 parts peat-free potting soil.
YOU CAN USE YOUR COMPOST IN SO MANY WAYS
Give your indoor plants a green booster or nourish your veggies outside. There are so many ways to spread some compost love.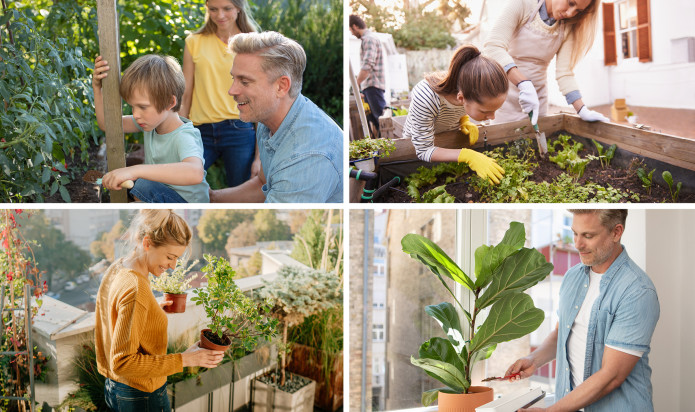 DESIGNED WITH LOVE IN GERMANY

KALEA was founded in 2017. Since day one, our mission has been to create a long-lasting product that combines our digital lifestyle with design and sustainability. Many steps have been mastered during this time including several prototypes, endless compost testing, and cooperation with leading research institutes.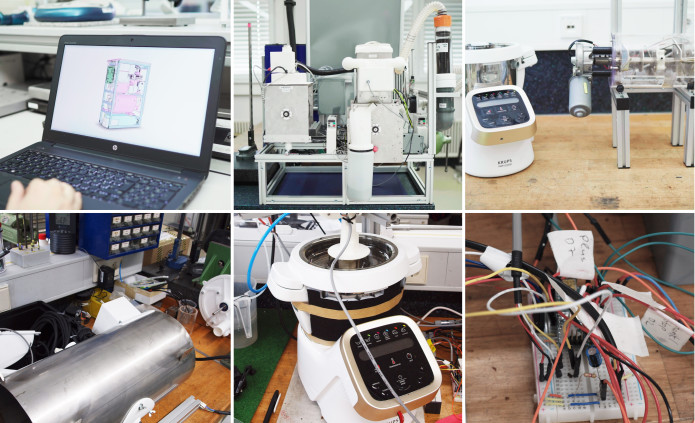 After many tests and trials, the 4th generation prototype was created. Here is an unedited glimpse of the magic behind the machine: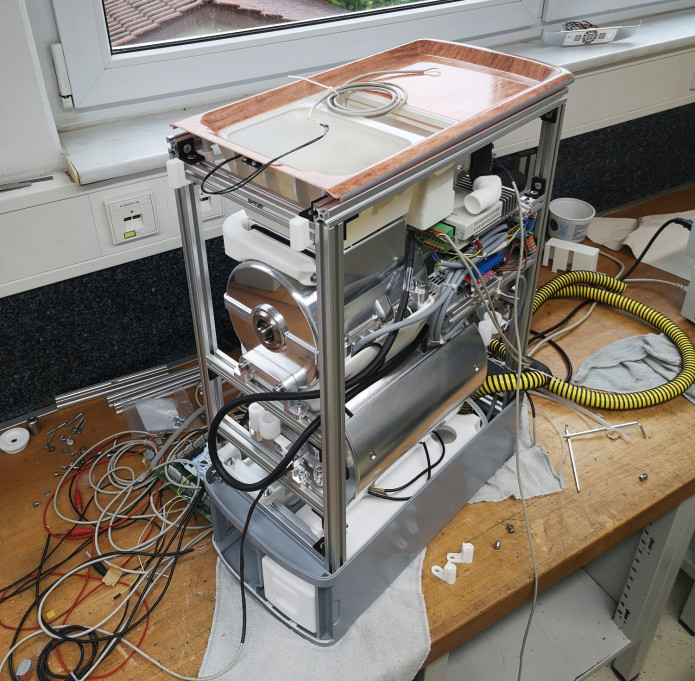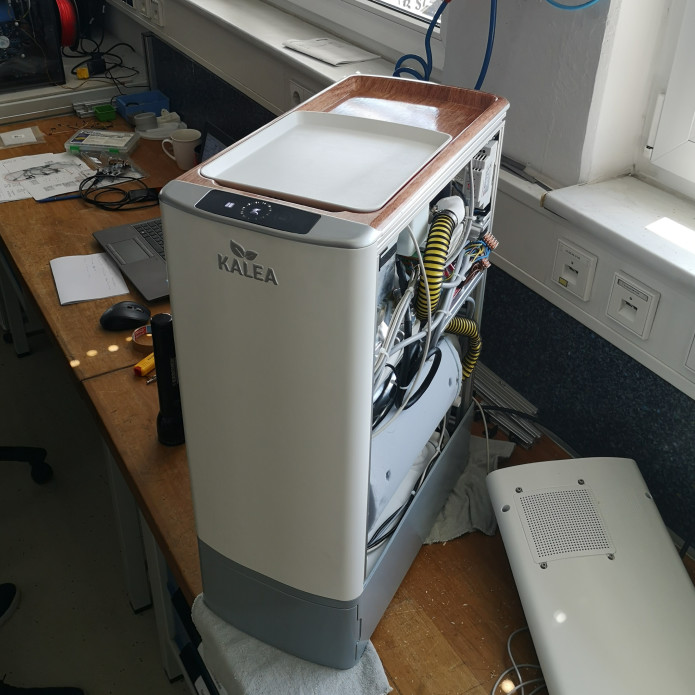 OUR DESIGN JOURNEY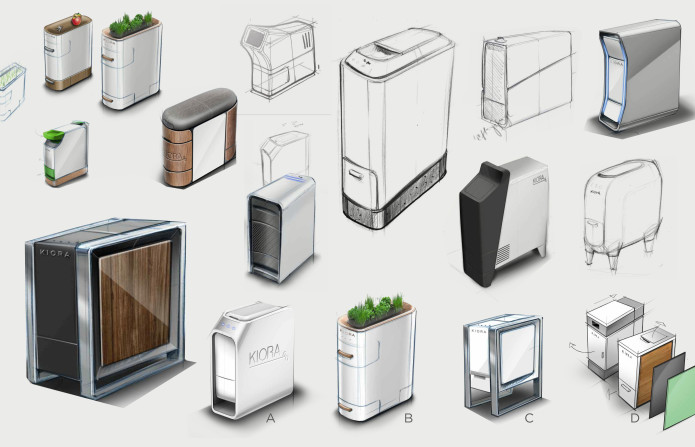 A smart home that feels completely natural – that's the challenge of digital devices today. We have created KALEA's design to integrate our kitchen composter stylishly and organically into everyday kitchen routines. Puristic, beautiful, practical, and easy to use.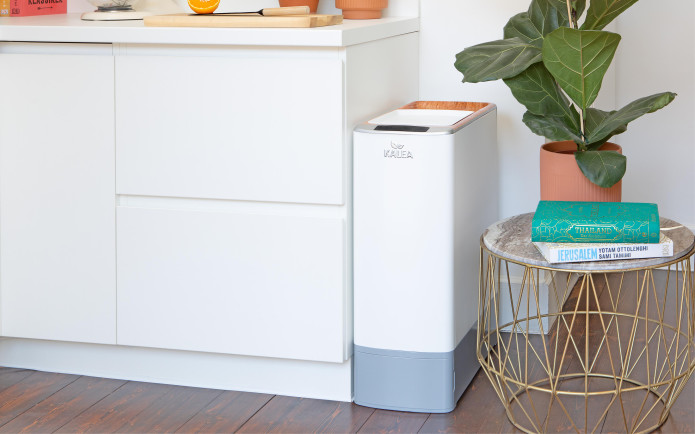 FULL CONTROL WITH YOUR KALEA APP
KALEA is as unique as your food scraps. Keep everything in focus and learn more:
Monitor and control your KALEA
Get tips on how to use your compost
Learn about (urban) gardening
Check your environmental achievements
Connect with the KALEA community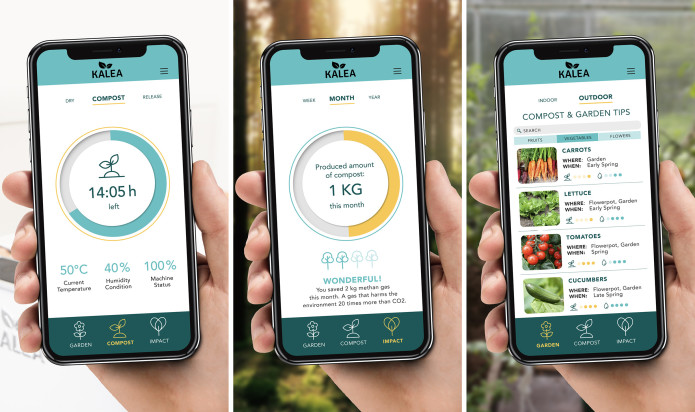 WHY IS KALEA SO UNIQUE?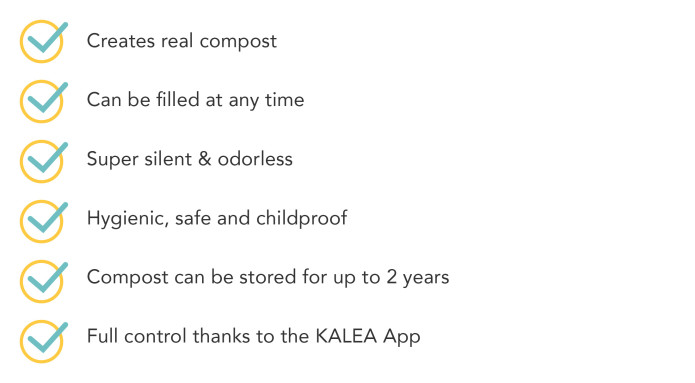 MAKE COMPOST NOT WASTE
We have been working towards this day for more than two years. Now that we have a fully functional prototype that completely meets our requirements, we are on our way to start serial production. With your help, we can save the world from incorrectly disposed organic waste by giving every household the power to create its own compost.
BY NOW WE HAVE:
Formed an awesome team in Stuttgart, Germany
Talked to hundreds of potential users and potential dealerships
Developed a unique concept to create real compost in just 48 hours
Built and tested 4 generations of prototypes
Processed hundreds of liters of organic waste into real compost
 
WITH YOUR HELP WE WILL:
Refine our engineering in a step called Design for Manufacture and Assembly (DFMA)
Create the tools required for mass production with our European manufacturing partner
Set up our first production run and finalize the assembly process
Run a test production of the Alpha Units
Ship KALEA and turn waste into something beautiful in your home
 
TIMELINE

SAY HI TO KALEA — MEET THE TEAM
We are a passionate team of material scientists, engineers, and hobby gardeners located in Stuttgart, Germany. Our mission is to develop innovative solutions that increase the convenience of handling food waste at home while improving sustainability.
What motivates us?