Kalmar Kakes:Moving Out & Into Our Own Cake Studio | Help Jackie & Anita move their custom cake studio into a new commercial space in Canton.
Who We Are
Jackie and Anita; we are the mother and daughter team who own and operate Kalmar Kakes, a custom cake design studio and sto. We are taking a big step out of our home kitchen and into our own storefront in Canton. For the last 4 years we have been baking out of our house, making specialty cakes, custom wedding cakes, and desserts. We now have too many order to fill and the time for us to take the next step and move into a our own professional bakery.
Getting a new place is a big step, but we are ready to take the leap. We have acquired the majority of our funding to relocate and operate our cake studio and bakery, but we need you to help us out.
We are asking you to lend us your support in making our bakery a reality. Your contribution will help us fund the storefront sign we need and remodeling fees.
In return, we promise you amazing cupcakes, cookies, cakepops or cakes.  Check out our list of pledge rewards.  Even the smallest contribution will help us reach our goal.  
We would love for you to help reach it and even exceed our goal! 
Thank you for your support in helping us open our new bakery.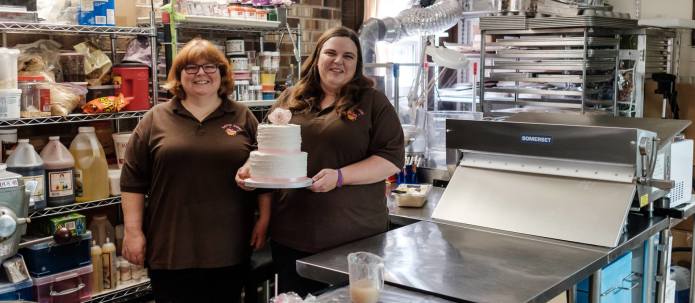 What We Need & What You Get
We have  built our business from scratch, with no outside investment, and we're elated that the opportunity to move into a commercial space has come to fruition. We hope this campaign will be a great way of raising extra funds needed to cover the custom storefront sign and the costs for fitting out the shop. In return for your help, Kalmar Kakes will share what we do best with you. Our amazing cakes, cupcakes, cakepops and cookies are the best way we can say thanks for your assistance.
First off. We need a storefront marquee sign. $3,000 of our campaign will go to cover that main expense.
The other $3,000 will cover the seating area remodel and the bathroom remodel.
By helping Kalmar Kakes out you will be showered with baked goods. In our from-scratch, always fresh cakes, cupcakes, cookies, and cakepops. By the way we make the best buttercream!
If we do not reach our full goal, all the funds that have been raised will all go to the purchase of our new custom storefront sign.
The Impact
Our number one goal is to involve our local community and all cake lovers in the start of something DELICIOUS.  By donating to our campaign, you make a contribution to our business, but your contribution is doing so much more.  
You are supporting:
A local family owned and operated small business.
High quality cakes, baked goods and desserts produced by hand, from scratch on a small scale.
The craft and art behind creating real, good, cakes & desserts!
Risks & Challenges
The money raised from our Indiegogo campaign will go towards acquiring the storefront sign and finishing the interior remodel for the shop. Our turnaround time for the sign is tight, but we are working with a local sign company to have it made.  We are confident we can hit our goal of opening the store in mid-July and have the sign up before the end of August. If we run into any delays it will not affect our ability for anyone to redeem their rewards when the shop does open.
We are ready to face all of risks and challenges that may cross our path while opening of our first store. We are excited to provide amazing cakes and baked goods to our clients and the Canton community.
Kalmar Kakes realizes that not everyone is able to make a contribution to our campaign.  We would greatly appreciate if you could help us spread the word! Please share our Indiegogo campaign with your friends on Facebook and any other social media sites. Jackie and Anita would both like to thank you so much for taking the time to read our campaign and we can't wait to make your cake dreams come true.