KEFIRKO – VEGGIE FERMENTER | Ferment mixed veggies, sauerkraut, kimchi, or any other vegetable in your kitchen!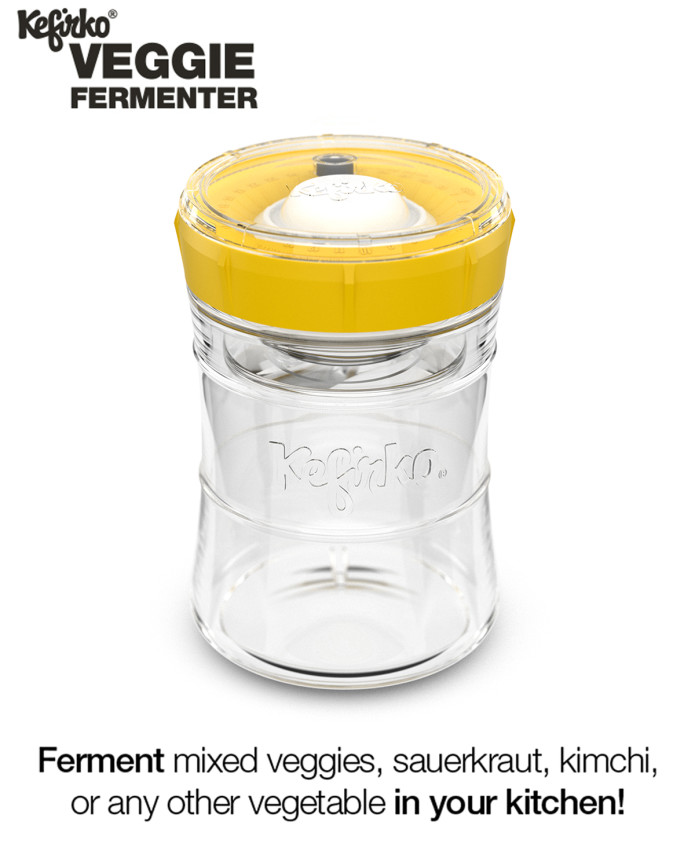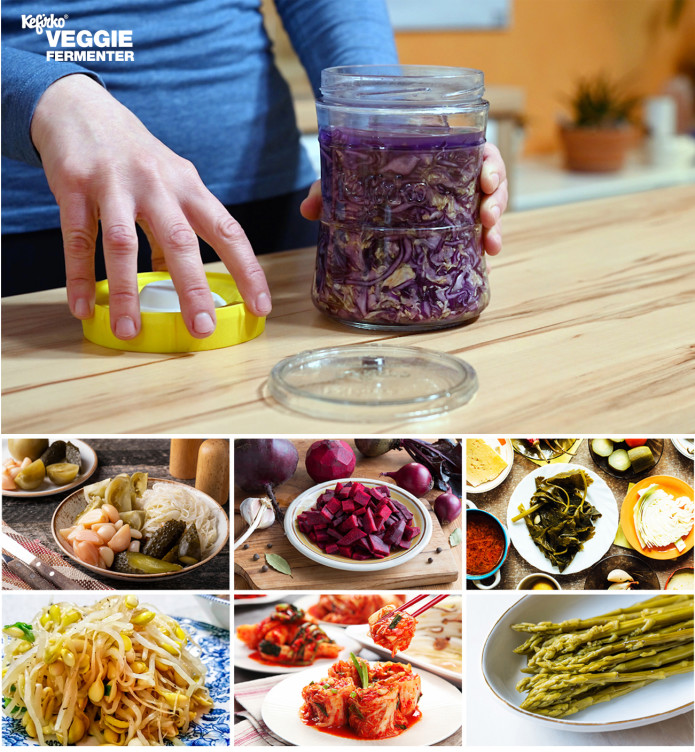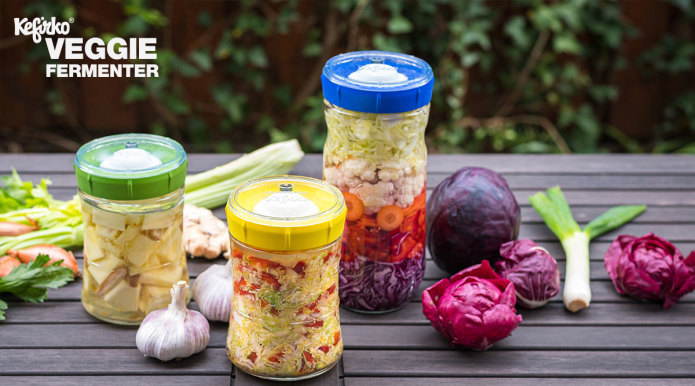 HOW IT WORKS
When we prepare fermented vegetables we need to follow some basic principles. This innovative fermenter is set out to provide you with the tools for traditional fermentation that you can easily master.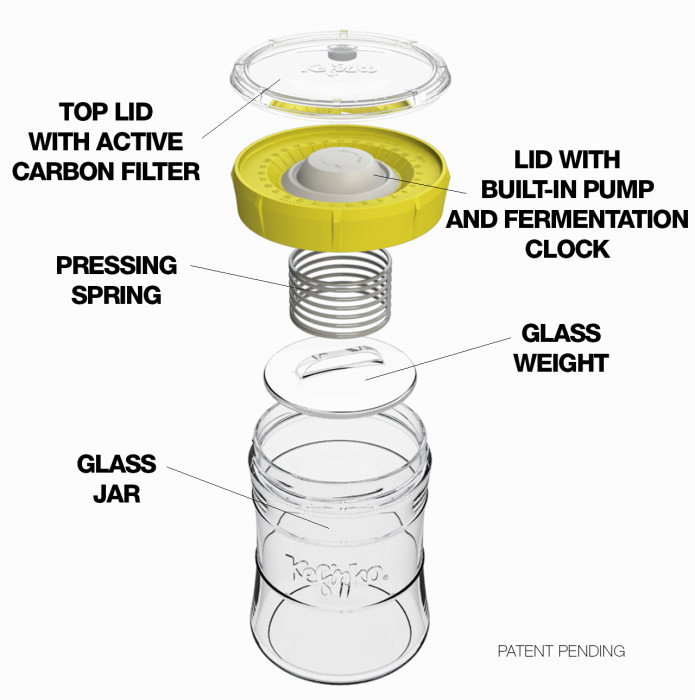 Glass weight with a pressing spring holds down the veggies to make sure all the air bubbles caught in the jar can flow up.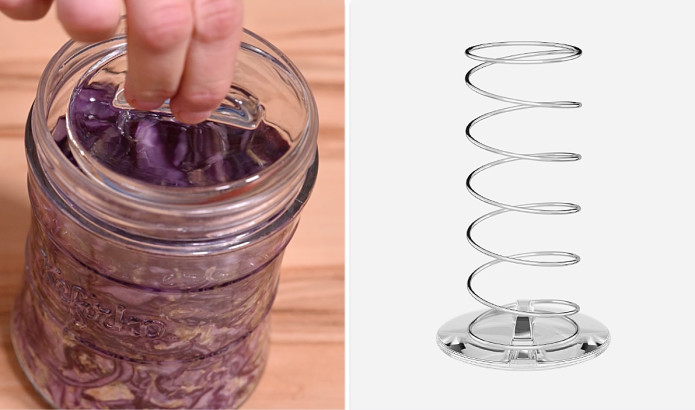 You can pump out the excess air in the jar. Oxygen-free environment helps the good bacteria to thrive.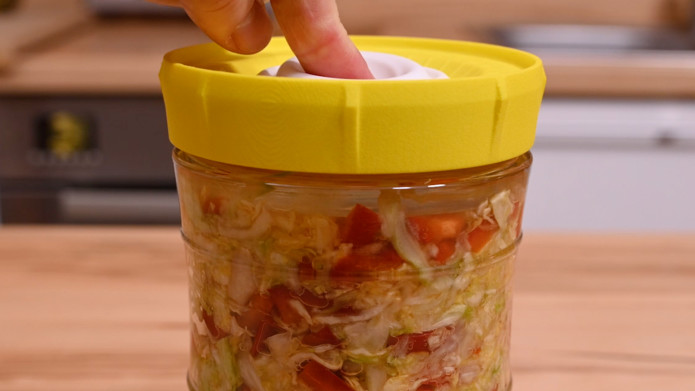 Mark the date of starting fermentation with built-in fermentation clock and let live organisms do their magic.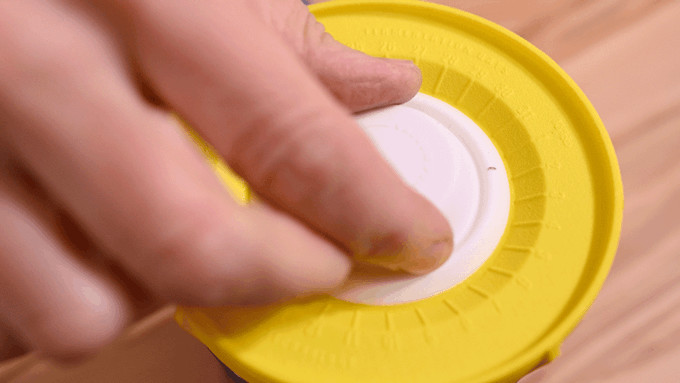 Veggie Fermenter keeps your ferment safe with the one way valve technology. This enables air to come out but not into your ferment.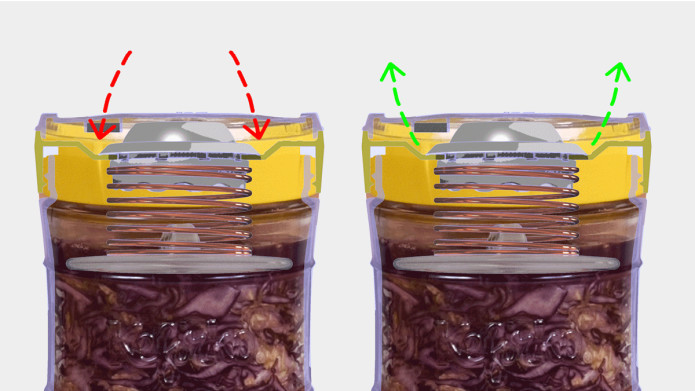 It forces the gas out once the pressure builds up. No risk of bottle explosion, no burping the jars needed!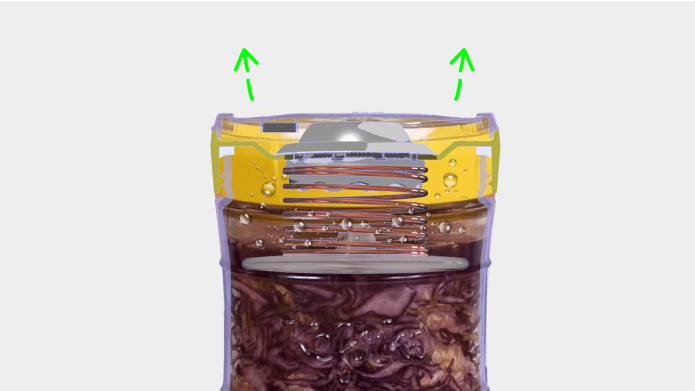 It catches bad smells that form during the fermentation and efficiently neutralises them with active carbon felt filter positioned on the top lid. 
With stackable top lids you can save space in your pantry by stacking the jars one on top of the other. Who doesn't need more space?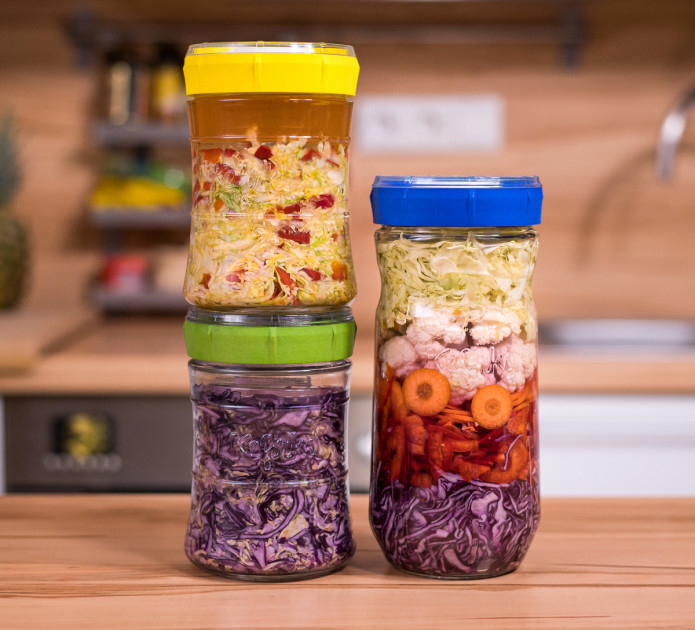 SUSTAINABLE
Preserve the vegetables when they are in season and you can't keep up with them. With fermentation you can store them in the fridge for months. Making small batches of ferment is convenient because you can actually put vegetables and fruits directly from the garden to the fermenting jar. This is an important step to self-sufficiency. You can actually make sure you are never without important nutrients, even when food is not in season or you don't have access to the stores, etc.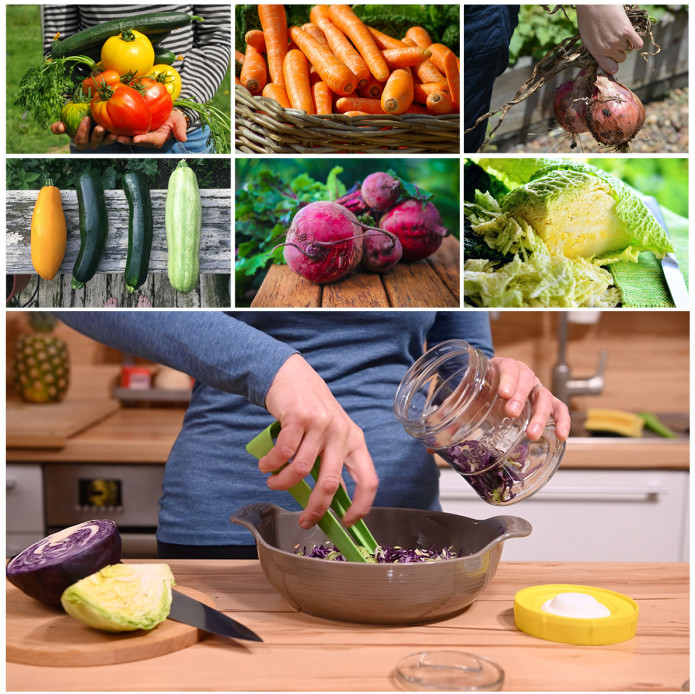 VEGGIE FERMENTER SIZES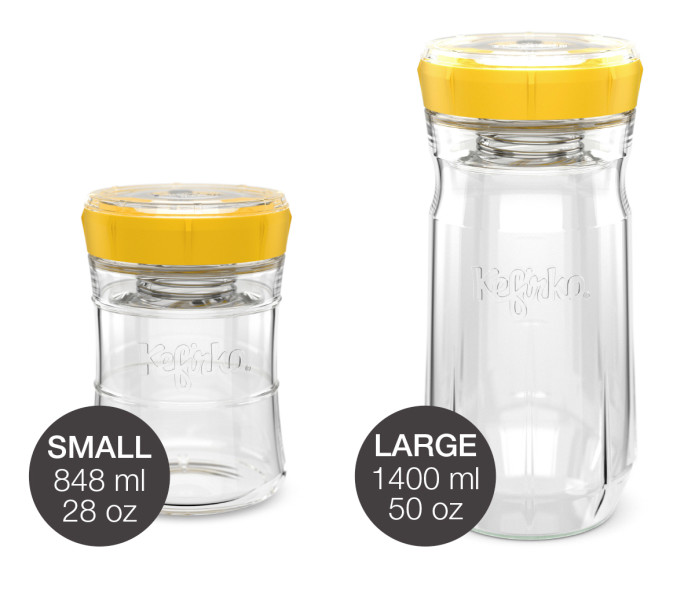 INCLUDES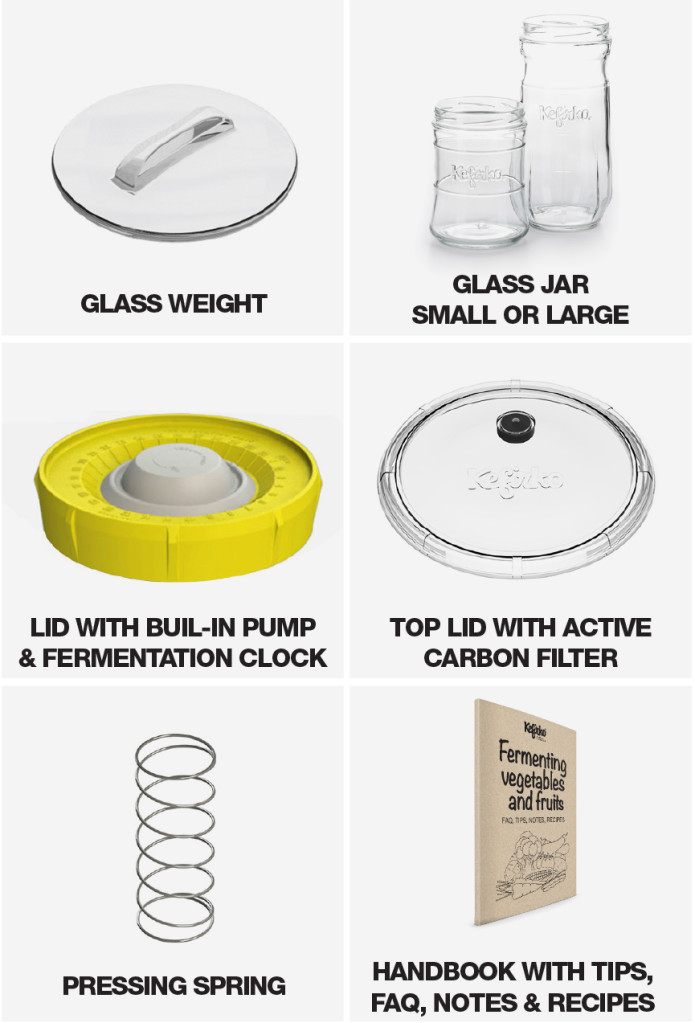 COLORS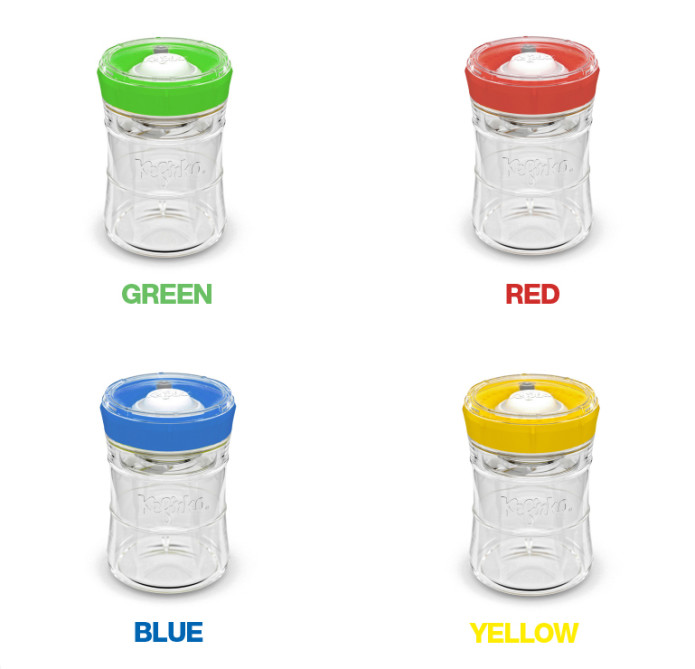 STRETCH GOAL: $55.000
Tongs & pounder hybrid
Kitchen tool for adding the vegetables and pressing them down in the jar. When we reach the $55k goal, every Kefirko Veggie Fermenter will include this item.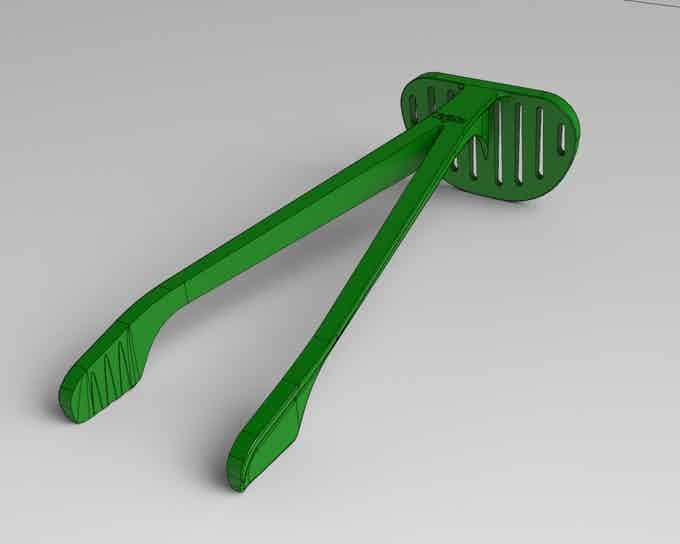 TIMEPLAN

WHY WE NEED YOU
Do you want to eat healthy food rich in good bacteria? Even more, do you want to eat food that is grown locally or in your own garden? And do you want to eat them all year long? With Kefirko Veggie Fermenter you are a step closer to being self-sufficient and to eating nutritious fermented foods that are prepared in your own home. To make this happen, you can play an integral role in the development. With your support we will be able to produce the molds that are needed to manufacture the final product. Join us on our second Indiegogo journey: support our campaign and spread the word!
Thank you, 
Kefirko Team

REVIEWS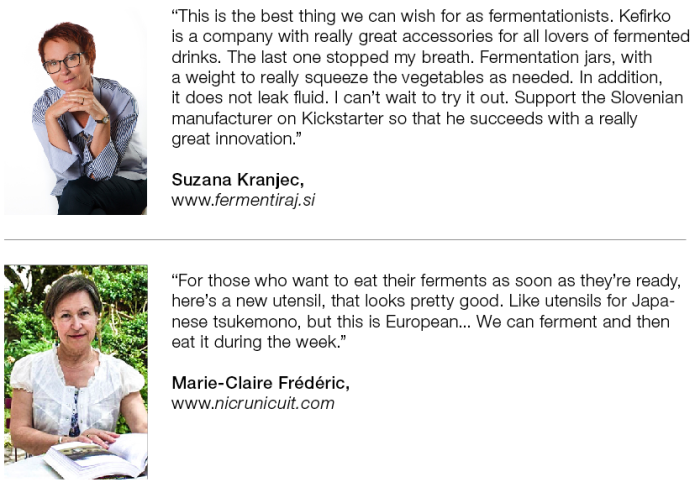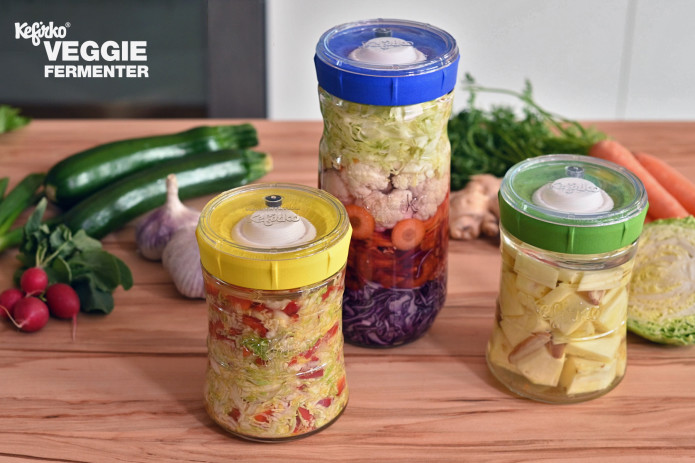 This project is promoted by Jellop, the ad tech power behind the best Kickstarters with 1,100+ successful Kickstarter projects with over $460M raised between them.