Kelp Jerky: The Superfood Snack from the Sea | Pre-order KELP JERKY by AKUA – a 100% vegan, protein snack made with kelp, mushrooms, & superfoods!
AKUA is a modern food brand on a mission to create food the right way: healthy, delicious, plant-based, and with a positive impact on the planet.
*ページ下部に日本語記事もあります!(Scroll down for JPN version)
We're on a mission to create a new wave of 100% vegan, seagreens and plant-based foods made from the most sustainable source of food on Earth: 100% ocean farmed latissima kelp, a superfood from the sea that has nourished civilizations for thousands of years. By backing us on IndieGogo InDemand, you're helping us bring this ancient, magical seagreen to the world this year. 
Ever found yourself looking for a high-protein snack? One without loads of sugar? And one that's plant-based? It's not easy! But we've got you!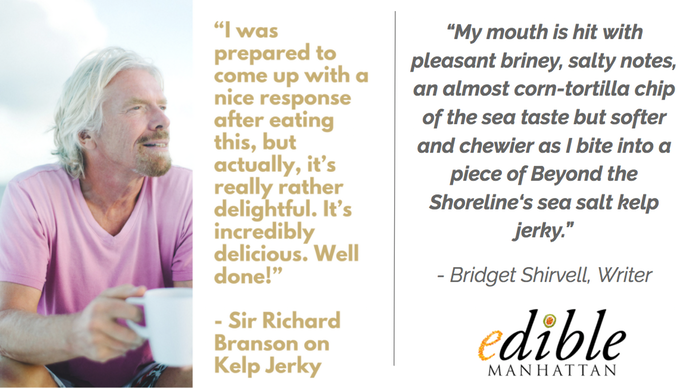 After a year of R&D, we're ready to launch our first product, Kelp Jerky to the world – a delicious, savory, vegan jerky in 3 flavors made with kelp, mushrooms, and superfoods – the only high-protein, high-fiber, plant-based snack on the market that's free from refined sugar, soy, and gluten. 
Our Kelp Jerky is packed with outrageously delicious flavors like our sea salt & sesame with hints of nori, our "High Thai'd" with turmeric and coconut, and our rosemary BBQ with a touch of maple, all layered on top of hints of umami mushroom and mineral-rich sugar kelp. Want to create your own flavor of Kelp Jerky? We've got a reward tier for that! We're super excited about creating new flavors with you!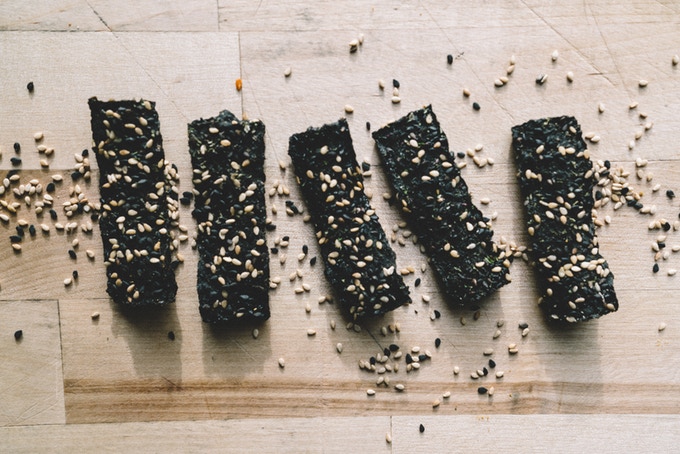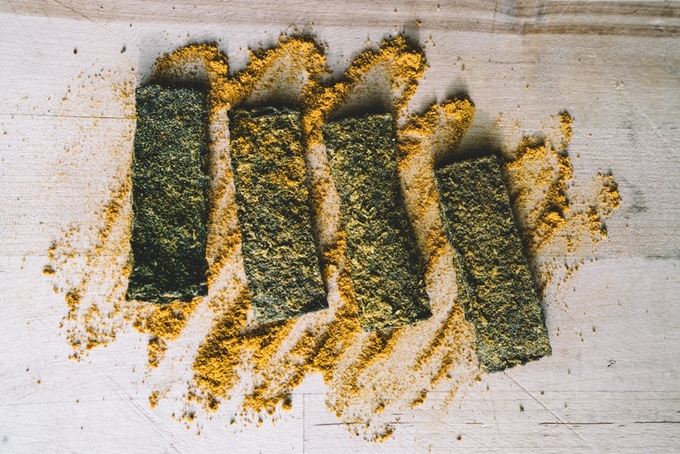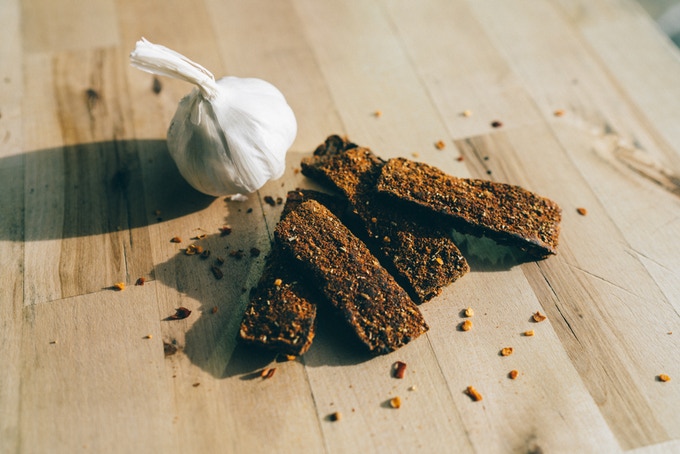 Put down the soy sticks and skip the protein bars with 10g of sugar. We've got you covered. Whether you're gearing up for a triathlon or just getting hangry on a road trip, with 8g of protein and less than 1g of made-in-the-USA organic maple tree sugar, Kelp Jerky, is going to be your new favorite snack. To date, we've received rave reviews!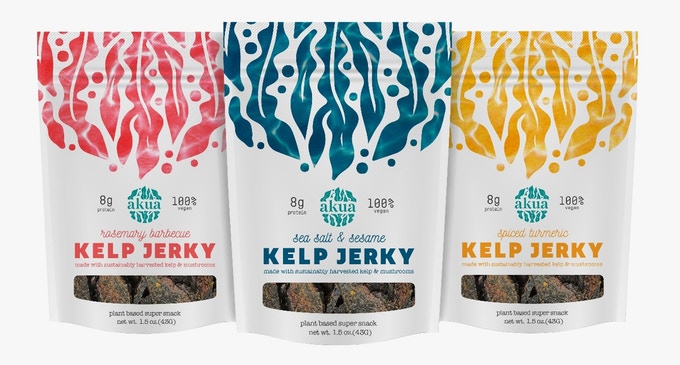 Kelp for Your Health 
We use Sugar Kelp (Saccharina latissima) (don't let the name freak you out – it has just 0.6g of natural plant sugars per 100g). It's also known as Sweet Kelp, Kombu Royale, Sea Belt, and Poor Man's Weather Glass. It's a delicate, delicious, and edible brown macroalgae. 
Kelp is full of vitamins, minerals, phytonutrients, amino acids, omega-3 fats and fiber, including zinc, magnesium, iron, potassium, copper, and calcium (10x more than milk!). 
Kelp supports your body's ability to absorb water and is a rich, natural source of iodine that helps to stimulate a healthy metabolism. 
Kelp is also one of the only foods that expands in your stomach, making you feel fuller, longer.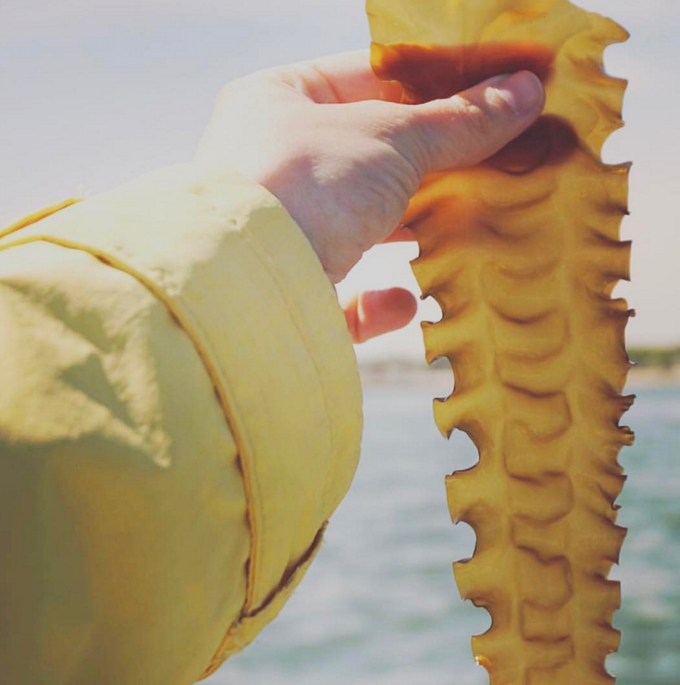 Kelp for the Planet's Health
We use ocean-farmed kelp, which is a zero-input crop, which requires no fresh water, fertilizer, or dry land on which to grow. We never wild-harvest kelp, which is detrimental to our ocean's ecosystems. Our kelp is sourced from our network of New England ocean farms, which function as storm-surge protectors and shoreline ecosystems for 150+ species. And did you know that seaweed soaks up 5x more carbon from the water than land based plants do from the air?
The benefits of kelp for both the human body as well as the long-term health of the planet are incredible. It is truly a food for a better future.
Help us Grow
We're a small, lean team on a big mission, which is why we're raising $25,000 in funds on Kickstarter today. 
The funds will help support our first fully scaled production run so we can move out of our little East Village kitchen. 
They will also go towards the purchase of recyclable packaging for our Kelp Jerky (which costs twice as much as regular packaging!)
And the funds will support our online shop so we can sell internationally to you from day one!
Stretch goals: If we can go past $25,000 in funding, this means we can expedite our launch this summer, sell in more stores across the country from day one, and support more farmers in the New England area to grow more Kelp for more Kelp Jerky! 
Today, the global plant-based meat market is projected to reach $5.2 billion by 2020. Projections include seaweeds accounting for at least 15% of that — $750 million in the next 2 years. We want to go bigger but we need your help!
Beyond Kelp Jerky, our future products will include kelp burgers, kelp sausages, kelp broth, kelp noodles, kelp dressings, and more. We want to grow AKUA into a household name for seagreens based products for decades to come.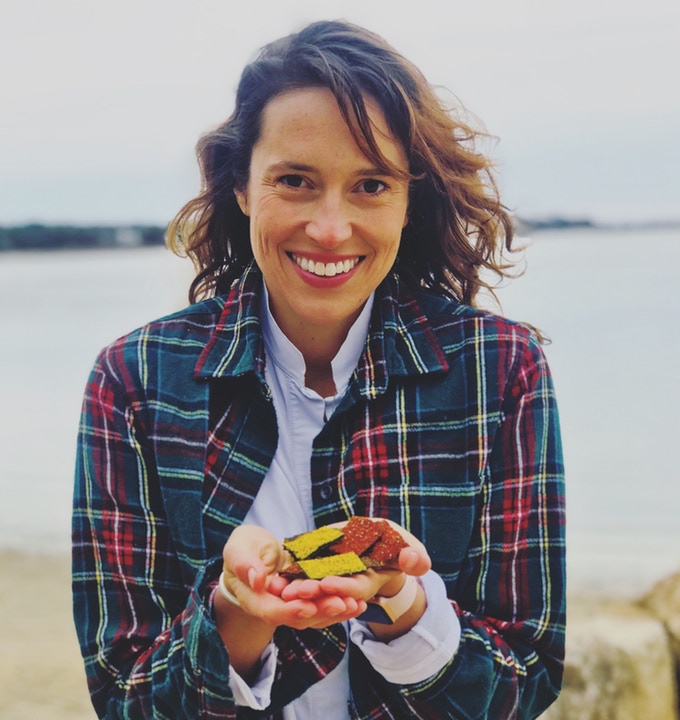 We hope you'll join our community of supporters as we explore the boundless potential of the ocean's seagreens that lie just beyond every shoreline in the world.
It's not always easy making the world a better place. But with your help and our kelp… we can do it together! #kelpjerkyiscoming! 
Your Rewards!
We will be thanking you via email and publicly but we also want you to have awesome rewards! So we are shipping you bags and bags of our brand new Kelp Jerky along with cool AKUA and artist-created swag. Check out the list below for a full rundown of our reward tiers! Want something from us that we're not offering? Let us know by emailing [email protected]!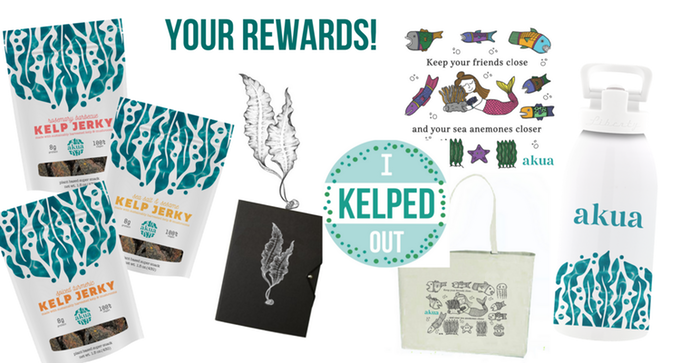 Questions? Email [email protected] or hit us up on Facebook, Instagram, or Twitter @lifeakua.
Credits
Loved our video? We do too! Shouting out a big thank you to our film editor Josh Robertson!
For Japanese translation:Checkout TOKYO based KST expert agent CINRA! 
ヘルシーで美味しいだけじゃない 地球に優しい食品ブランドAKUA
1年前、私たちはニューヨークのシェフ、Will Horowitzとチームを組みました。Willは口の中でとろけるような食感を生み出す魔法使いのような人気シェフです。 Willと私たちは、地球上で最もサステイナブルな素材、昆布を使って植物由来の新食品を開発しました。昆布は過去数千年間にわたって文明の進化を支えてきたスーパーフードです。
キックスターターを通じて、皆さんと一緒に、まるで古代魔法のような海からの贈り物を現代的にアップデート出来れば幸いです。 
ケルプ・ジャーキー(昆布ジャーキー)をあなたのポケットに 
糖分控えめで植物由来のプロティン・スナックを探したことはありませんか?なかなか見つからないですよね!だから自分たちで作っちゃいました! 
1年間のリサーチを経て、いよいよAKUAの最初の商品ケルプ・ジャーキーを世に送り出す準備ができました。美味しくて香ばしいビーガンのジャーキーです。昆布、マッシュルーム、スーパーフードだけを使用した植物由来の商品で、プロテインと食物繊維が豊富です。精糖や大豆、グルテンは使用していません。$20以上のご支援で、この春から夏にかけて、世界中の誰よりも早くケルプ・ジャーキーをお試しいただけます! 
ケルプ・ジャーキーには3種類のフレーバーがあります。海塩、胡麻&海苔フレーバー、ターメリックとココナッツ・フレーバー、ローズマリーBBQ&蜂蜜フレーバー。共通のベースとなる味はマッシュルームの旨味とミネラル豊富な樺太昆布のほのかな香りです。 オリジナル・フレーバーのケルプ・ジャーキーを作りたい人向けの報酬も用意しています! 皆さんと一緒に新しいフレーバーを作り出すことを楽しみにしています!
 糖分を10gも含んでいる大豆スティックやプロティン・バーのことはひとまず忘れて、代わりにプロティン8gとオーガニック砂糖1g以下のケルプ・ジャーキーを試してみて下さい!トライアスロンに向けて調整中でも、ロード・トリップで小腹が減った時にも、きっとケルプ・ジャーキーを気に入ってもらえると信じています。ケルプ・ジャーキーを試した人達からは絶賛の声が相次いでいます!  
昆布で体をもっと健康に 
昆布にはビタミン、ミネラル、植物栄養素 アミノ酸、オメガ3脂肪酸、さらに亜鉛やマグネシウム、鉄分、カリウム、銅、カルシウム(牛乳の10倍!)の繊維が豊富に含まれています。 
さらに!昆布は体の水分吸収を促進します。また、健全なメタボリズムを促進する天然のヨウ素源でもあります。 
さらにさらに!昆布は胃の中で水分を吸収してふくらむので満腹感を長く味わうことができます。 
昆布で地球をもっと健康に 
私たちが提携しているニューイングランド地方の海洋農場では環境に余計な負荷をかけずに昆布を育てています。淡水も肥料も陸地も不要です。
海洋農場の存在は高潮による被害の抑止力として機能するだけでなく、150種類以上の生物が棲む海岸のエコシステムとしても機能しています。 海藻が水中で濾過する二酸化炭素量は、陸地の植物が空気から濾過する二酸化炭素量の5倍に達することもあるってご存知でしたか? 
私たちの体にとっても、長期的な地球環境にとっても、昆布がもたらす好影響は驚くべきものです。昆布食品を通じてより良い未来を切り開きましょう!
支援のお願い 
私たちは小規模なチームですが、私たちが挑んでいるミッションは大規模なものです。キックスターターを活用して皆さんからご支援を頂き、$25,000の調達を目指しています。 
調達資金の使い道は以下の通りです。 
現在の拠点である小さなキッチンから移転して量産体制を確立。
リサイクル可能なパッケージの購入(通常のパッケージと比較してコストが2倍!)。 
オンラインストアを強化して世界中に通販できる体制を準備。 
$25,000以上を調達出来た場合には、今夏のローンチをより大規模なものにすることが出来ます。またニューイングランド地方の昆布農家をより手厚くサポートすることが出来ます。 
植物ミートの市場は2020年前までに52億ドルまで成長し、そのうち海藻は少なくとも15%を占めると予測されています。つまりこの2年間で750百万ドル規模の市場に成長するということです。皆さんにご支援頂いて、海藻市場を予測よりもさらに大きく成長させたいと思います! 
 ケルプ・ジャーキーだけではありません。将来はケルプ・バーガーやケルプ・ソーセージ、ケルプ・ブイヨン、ケルプ・ドレッシングなどを世に送り出してAKUAブランドを海藻ベース食品の代名詞として育てていきたいと考えています。 
世界中の海岸に眠っている海洋植物の無限の可能性を探るAKUAの冒険にご支援をお願いします。 
世界を良くすることは簡単ではありません。でも皆さんの支援と私たちの昆布があればひょっとするかもしれません…是非一緒に挑戦しましょう!#kelpjerkyiscoming! 
支援のお礼
Eメールでお礼をさせて頂きますが、それ以外にも素晴らしい報酬を手に入れて頂きたいと思います。報酬の詳細は下記をご確認ください。もし記載内容以外に、こんな報酬が欲しい!というものがある場合はEメールでご連絡下さい![email protected]
報酬
Pledge $5 以上: AKUAの海藻レシピ本 
Pledge$20以上(先着50名様): ケルプ・ジャーキー早割スペシャルセット *ケルプ・ジャーキー3種、 オリジナルスティッカー、AKUAの海藻レシピ本
Pledge $25以上: ケルプ・ジャーキー3種、AKUAの海藻レシピ本 
Pledge $49以上: ケルプ・ジャーキー3種×2セット、アーティストErwin Ongによるオリジナルトートバック、AKUAの海藻レシピ本、オリジナルスティッカー 
Pledge $99以上: ケルプ・ジャーキー3種×4セット、アーティストErwin Ongによるオリジナルトートバック、AKUAの海藻レシピ本 、オリジナルスティッカー
Pledge $125以上: ケルプ・ジャーキー3種×4セット、エコ・ボトル、アーティストErwin Ongによるオリジナルトートバック、AKUAの海藻レシピ本 、オリジナルスティッカー 
Pledge $199以上: ケルプ・ジャーキー3種×8セット、エコ・ボトル、アーティストErwin Ongによるオリジナルトートバック、AKUAの海藻レシピ本 、オリジナルスティッカー 
ここから先はさらにすごいことに!
Pledge $299以上: AKUA主催のサマー・パーティー@ニューヨークへのご招待、ケルプ・ジャーキー3種×8セット、エコ・ボトル、アーティストErwin Ongによるオリジナルトートバック、AKUAの海藻レシピ本 、オリジナルスティッカー 
ケルプの量がさらにヤバいことになってきました! 
Pledge $600以上:ケルプ・ジャーキー3ヶ月分(90袋)、エコ・ボトル、アーティストErwin Ongによるオリジナルトートバック、AKUAの海 藻レシピ本 、オリジナルスティッカー "
Pledge $1,000以上:ケルプ・ジャーキー6ヶ月分(180袋)、エコ・ボトル、アーティストErwin Ongによるオリジナルトートバック、AKUAの海藻レシピ本 、オリジナルスティッカー 
pledge $1,500以上:AKUAチームの誰かが海藻デザインのタトゥーを入れます!
pledge $3,000以上: あなた好みのケルプ・ジャーキーのオリジナルフレイバーを開発して3ヶ月分お送りします(90袋)、エコ・ボトル、アーティストErwin Ongによるオリジナルトートバック、AKUAの海藻レシピ本 、オリジナルスティッカー 
ご質問があれば気軽に連絡して下さい! 
Facebook, Instagram, or Twitter @lifeakua. 
Credits 
映像制作:Shouting out a big thank you to our film editor Josh Robertson! 
日本語翻訳:Checkout TOKYO based KST expert agent CINRA!