Kiki Torches – The Only Customizable Tiki Torch | Ignite the outdoors with Kiki Torches! Customize with different pictures, graphics, or logos!
Our Campaign is simple! 
It's a fun, new, fresh idea to a product that has been in the backyards of America for years!  
What are Kiki Torches?
Kiki Torches are the first fully customizable tiki torches!  Customize your Kiki Torches with pictures, graphics, logos or simply use solid patterns for everyday use! Make your outdoor spaces and special events come to life with Kiki Torches.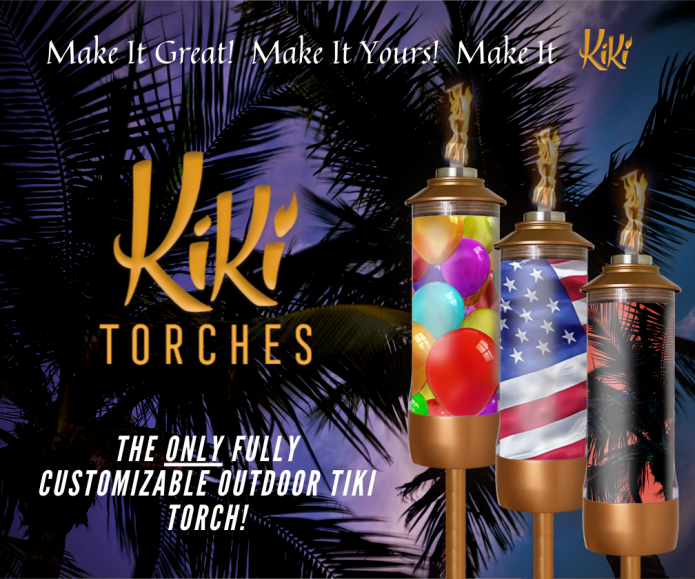 How does it work?
Simply print your images on an  8.5" by 11" sheet of paper (horizontal direction) or order special Kiki Image Inserts and wrap your paper around the cylinder. It's that easy! 
You can display ANYTHING you desire in your Kiki Torches!  
And….it's reusable! Easily swap images over & over & over again – simply change out the graphic!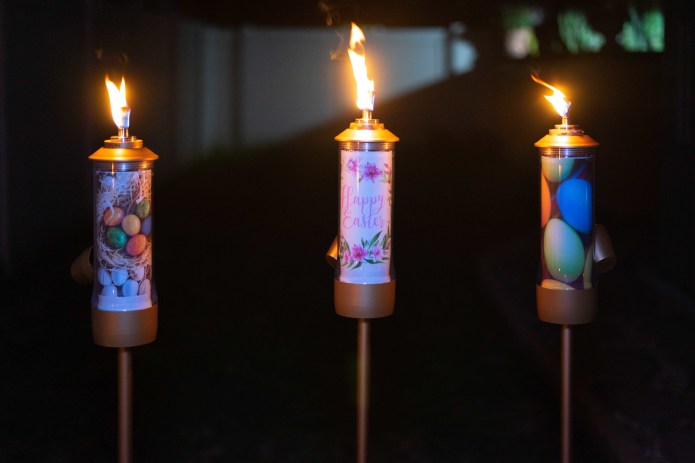 What is unique about Kiki Torches?
Our #1 unique selling feature is the ability to FULLY customize your Kiki Torches, but our 7 Fun Features truly sets our product apart as a whole!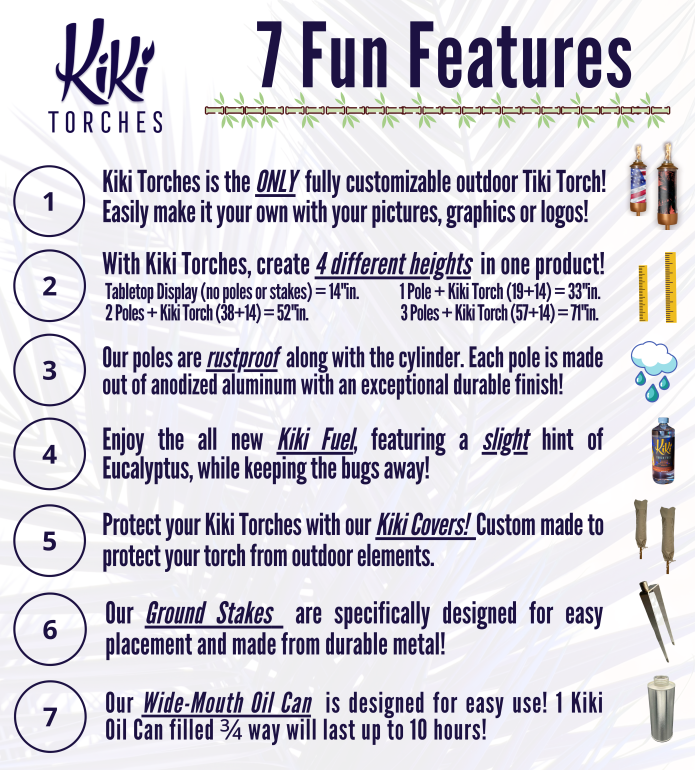 Kiki Fuel
Our Kiki Fuel contains bug repellent properties without the overwhelming smell of most bug spray products. With a light eucalyptus scent, our Kiki Fuel offers undeniable comfort in comparison to the competitor's offer. No nasty fuel smell!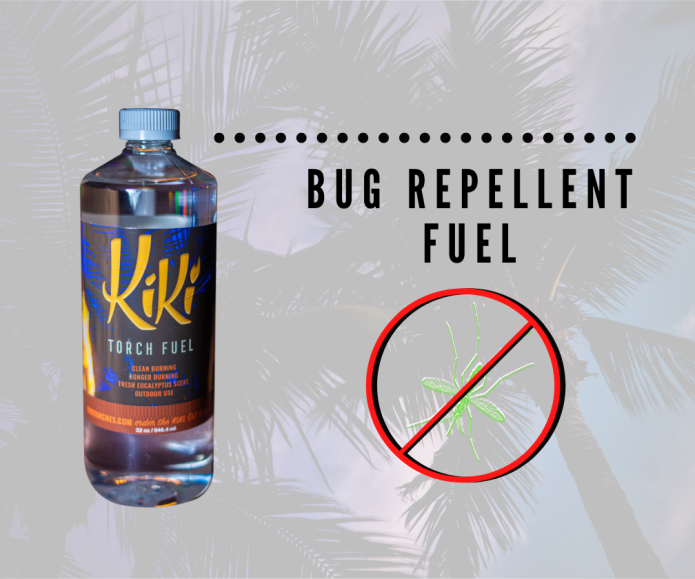 Why Kiki?
Kiki Torches adds the ability to PERSONALIZE your outdoor gatherings. They can also draw attention to a theme, a special cause, or even a corporate sponsor for a particular event. 
Kiki Torches brings your outdoor dinners, BBQs, celebrations, birthday parties, sports, weddings and other outdoor occasions to life!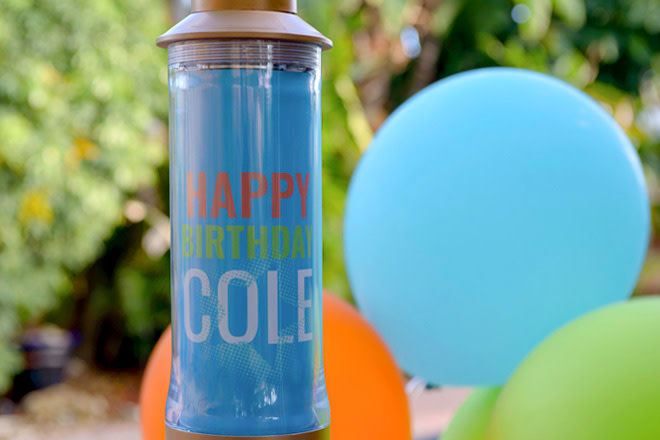 Create the paw-fect outdoor home addition with Kiki Torches! Easily insert or swap images of your pet or k9 companion for a one of a kind backyard accessory!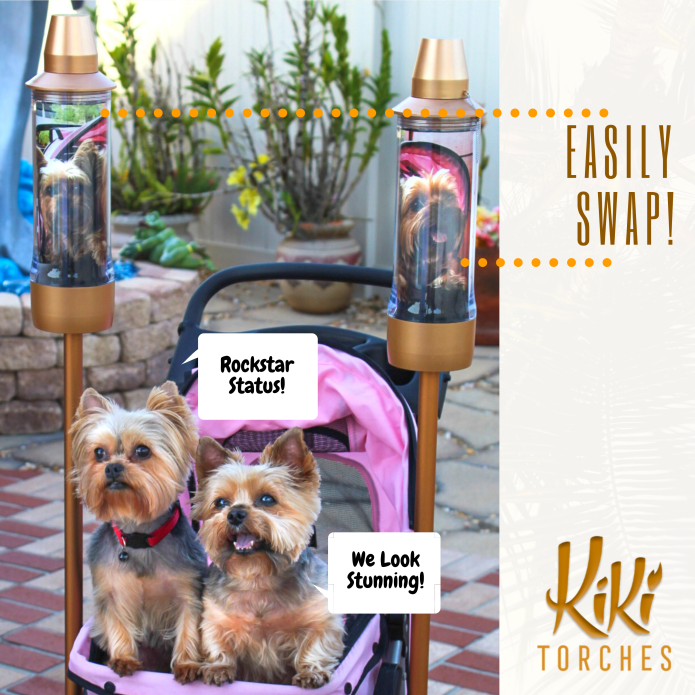 Match ANY exterior design, pattern or surface to complete your outdoor look!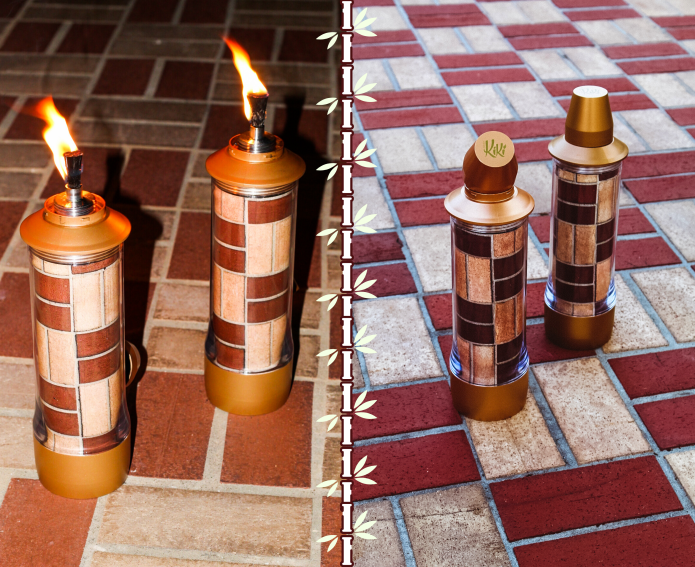 How this all began
My name is Gina Seneca, proud founder of Kiki Torches! The inspiration came to me after each time my husband and I threw away a set of tiki torches and shuffled off to the local home improvement store, where we were presented with the same old selection. There were certain features and functions I wanted in a tiki torch, but couldn't find anywhere. So, I decided to invent them myself, and thus Kiki Torches were born!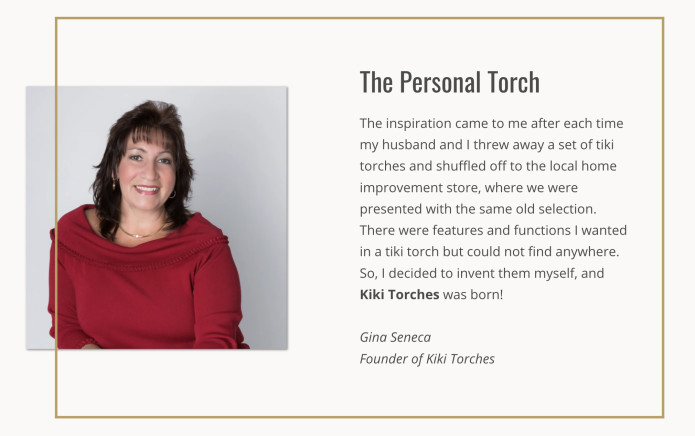 Kiki Torches provides such a beautiful ambiance to any outdoor time!  There is something so calming about the flickering flame of a torch. Kiki Torches illuminates outdoor spaces and sets the mood.!The ability to personalize your Kiki Torches takes the outdoor events, experience & entertaining to an all-new level!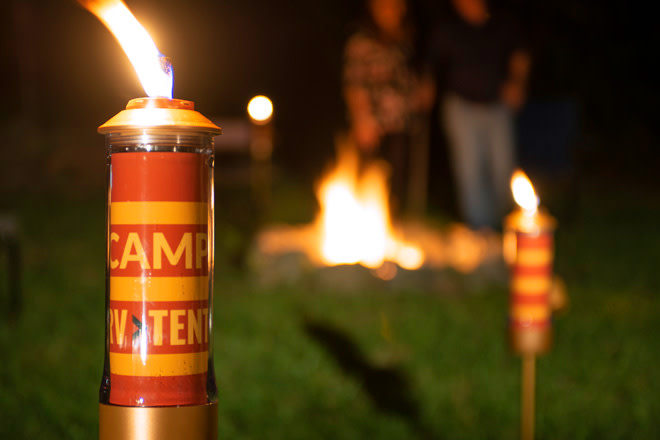 After a long career inside Corporate America, I wanted something more and was ready to take control of my life, my future and my finances.  After watching hours of the television show "Shark Tank", where entrepreneurs present their inventions to a panel of "sharks/investors" who can help make their invention a reality, I knew I could do it! If they could do it, why can't I? 
This campaign allows me to create the "All-American Dream" of owning my own business. Being no stranger to financial challenges, I'm longing for that slice of the American pie! A big portion of my motivation roots from seeking stability for not only myself and my family, but for my mother, who I currently care for full time.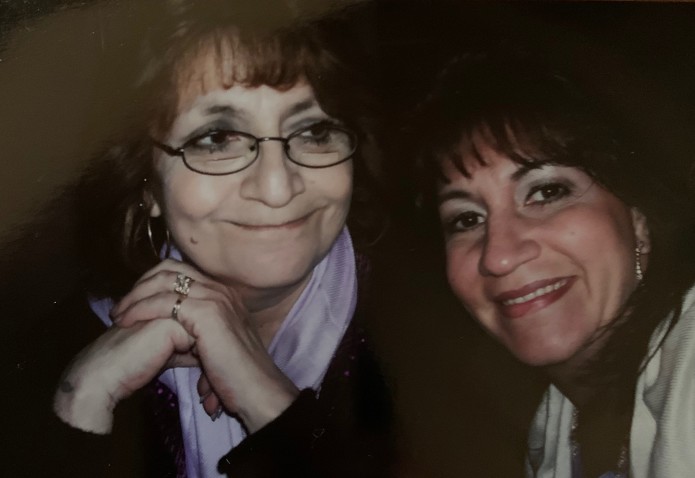 We are seeking those that can contribute or back Kiki Torches. This first-to-market invention is our first MVP, and it's a really great MVP!  Early adopters of Kiki Torches, will be able to provide feedback as we further develop and enhance the Kiki Torch experience.
We welcome your support in helping us share this incredible unique invention with everyone you know! Be sure to follow us on all of our social media platforms! Like, share & comment!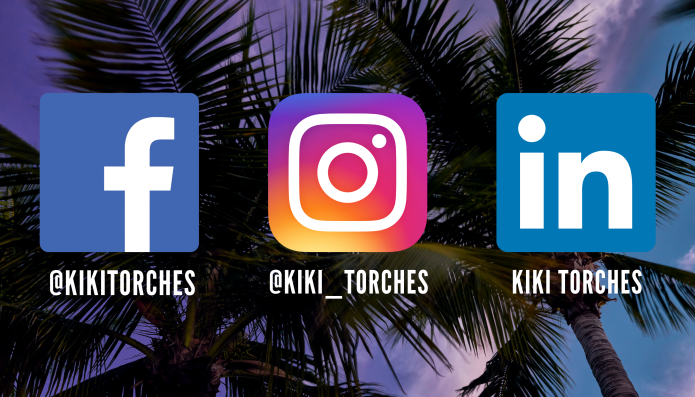 Kiki Torches Product Line
Single Kiki Torch
Kiki Torch Kit
Kiki Fuel
Kiki Covers
Kiki Images
Kiki Torch Kit
The Kiki Torch Kit incorporates an attractive suitcase-style storage box, holding the torch itself, Kiki Fuel & 3 Kiki Images (celebration-ready photos)! Our Kiki Torch Kits were designed so that when the weather is not torch-friendly, your Kiki Torches can be stored back in its box, keeping your Kiki Torches in perfect condition until your next use. Our kits make for the most UNIQUE  housewarming, anniversary or wedding gift idea!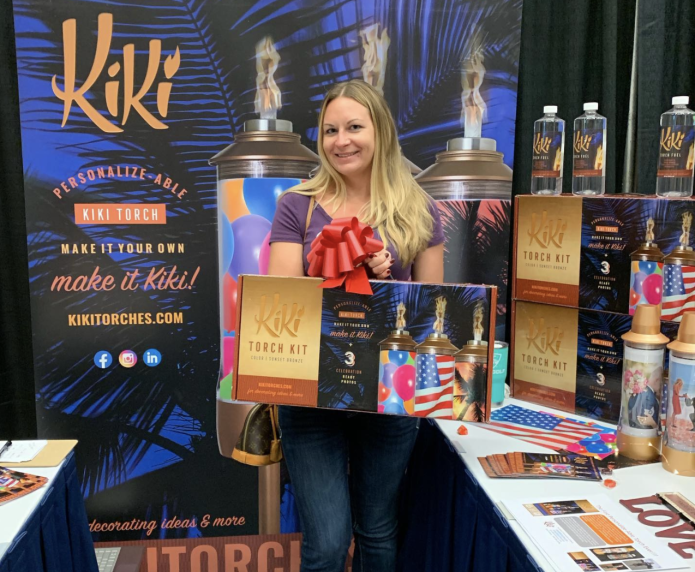 Due to high demand of the Kiki Torch Kits, we need additional boxes and Kiki Fuel! 
What We Need & What You Get
Our fundraising goal: $5,000
Here is the breakdown of the use of funds: 
Kiki Torch Kit Box Production = $2,500
Kiki Torch Fuel Production = $1,500
Kiki Torch Advertising = $1,000
We are offering unique perks that include:
A percentage off of your Kiki Torches!
Kiki Fuel!
Kiki Images: Selection of Celebrations ~ Sports ~ Beach/Sea Life ~ Everyday Patterns!
With YOUR support, we can bring Kiki Torches to the next level!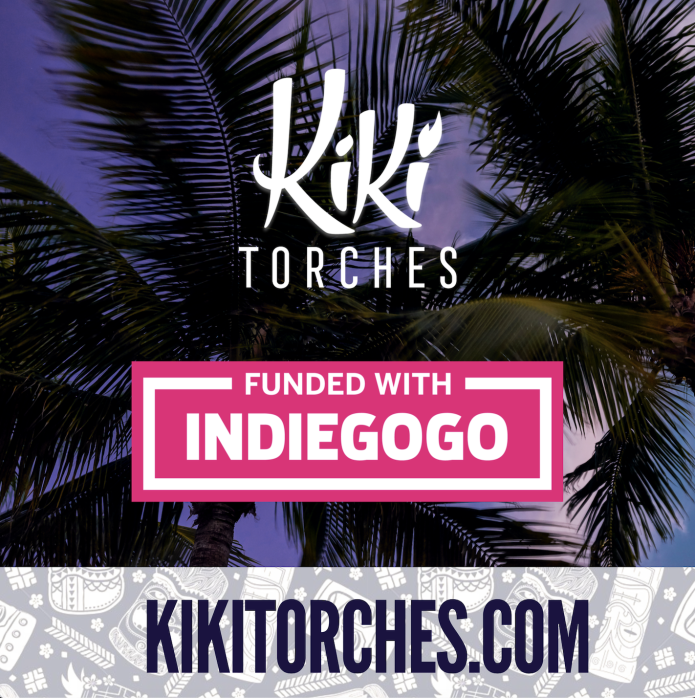 The Impact
Our campaign is about a "feel good" product that people can customize/personalize. Most people  value a choice or personalization in their lives!  We bring entertaining to a whole new level by allowing people to re-live fun old memories with photos or create new, fun memories with family and friends. Kiki Torches is a fun, new, fresh element to the outdoors.  
The development speed of Kiki Torches will decrease without funding. That's why I'm seeking your help! I'm determined to keep my foot on the gas and drive this winning invention past the finish line! No matter how big or small the gathering, Kiki Torches brings a personalized unique touch that other torches don't provide.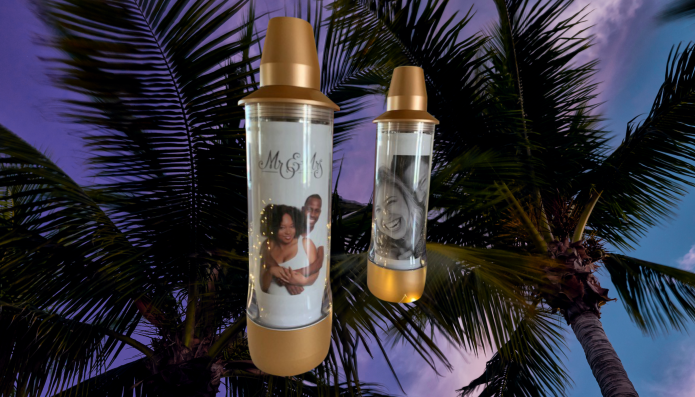 Customer Testimony
"I ordered 10 Kiki Torches for my Dad's Birthday Party. They were the hit of the party! The torches were staked around the back patio as a walk around photo gallery, depicting dozens of pictures representing different phases of my dad's life. The guests loved the lighted torches and they were a conversation piece for his life story. The Kiki Torches are super high quality and assemble very quickly. They were easy to customize with photos from our family album. Gina was also great to work with; providing tips on how to customize, assemble and store after the party. If you want a truly unique, customized experience for backyard entertainment, I highly recommend Kiki Torches!"  – Mike O'Donnell "Serial Entrepreneur"
Final Statement
I greatly appreciate you taking the time to browse through my product. Please reach out with any requests or questions! I'm looking forward to personally thanking each and every one of you for your support!