KnowSeafood: Natural, Sustainable, Trusted Seafood | KnowSeafood has removed the middlemen, now delivering the best
seafood from harvesters to your home.
KnowSeafood has global harvesters bringing us great seafood that we will deliver to you in October!
Our Story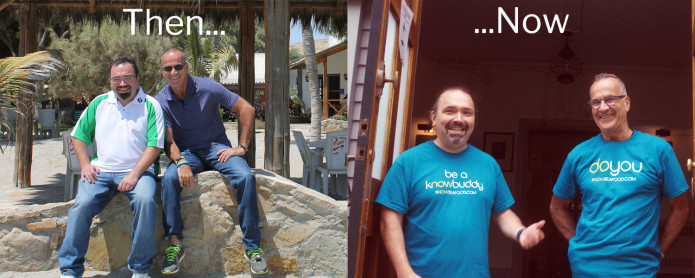 Hello! We are Dan McQuade and Paul Neves, and we founded KnowSeafood after having both worked in the seafood industry for decades. We KNOW what goes on when seafood gets pushed to the middlemen – supermarkets. Realistically, seafood goes through anywhere from four to seven middlemen before reaching your plate. Additives, antibiotics, rampant seafood fraud, unsustainable fishing, and food safety problems are widespread, and consumers are left unaware, and don't trust seafood even though they know it is healthier for them. 
It's time to get rid of the middlemen!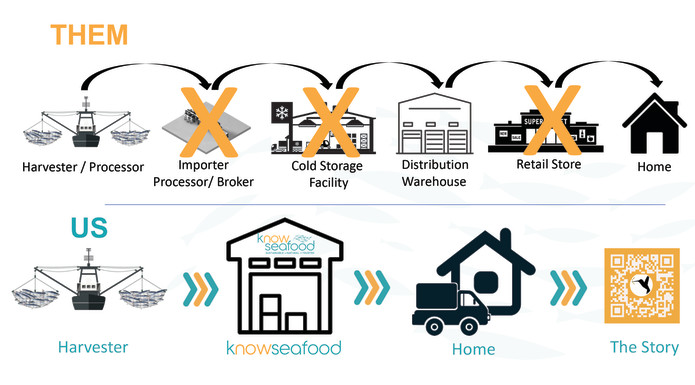 We want to solve your "fear of fish" by putting you first.

Connecting you to the people who actually harvest your seafood.
Finally, you can follow every piece of seafood we offer from when it leaves the water until you serve it for dinner. We're focusing on providing the ability to fully discover the people and their story behind your seafood. Join and support us so that we can bring you sustainable and natural seafood you can trust and enjoy, direct from the dock to your doorstep.
KnowSeafood, 
KnowWhy That Matters 

According to the USDA, "Overall, about 80-90% of U.S. consumers did not meet their seafood recommendations." 
When they dug into reasons why, they found that Americans' concerns about food safety, mislabeling of imported seafood products and unfamiliarity with preparation methods kept them from buying it.
"1-in-4 fish we sampled were mislabeled," found the New York Attorney General at her state's supermarkets.
"Not knowing what fish is on your plate may present a health risk," reported National Geographic
Rampant seafood fraud – about 1-in-5 servings of fish worldwide – causes many people to avoid it altogether rather than risk patronizing shady businesses, support unsustainable fishing, unfair-trade, and risk spending money for a dish destined to fail. 
KnowSeafood
Seafood with a Story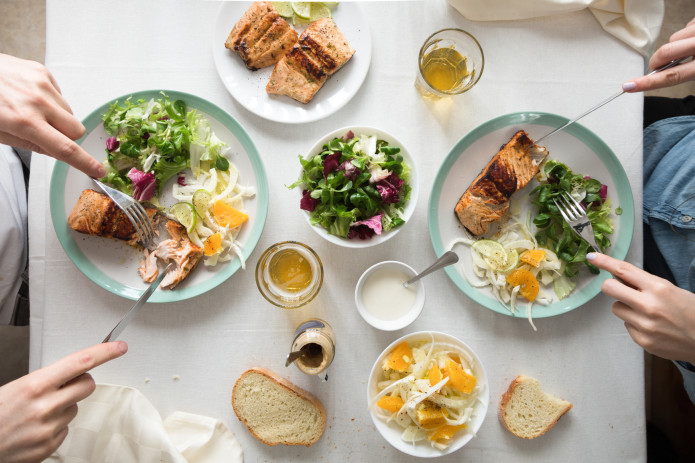 KnowSeafood skips the broken supply chain. We go straight from dock to door.
We are building trust through transparency and we use blockchain technology to share it, prove it, trust it.
Your seafood has a story.
Be part of the story.
We combat seafood fraud and seafood safety by working directly with the fishermen and with blockchain-backed technology, we share this information with you…even before you order. Follow KnowSeafood's journey from the dock to front door, and then use custom recipes or your own to cook it like a pro. The guaranteed quality, through verifiable tech-driven systems and high sustainability standards, takes the fear out of getting great natural seafood to your plate.
KnowSeafood boxes make it easy to discern your flipper from your shrimp and to be proud of your paella!
Our Solution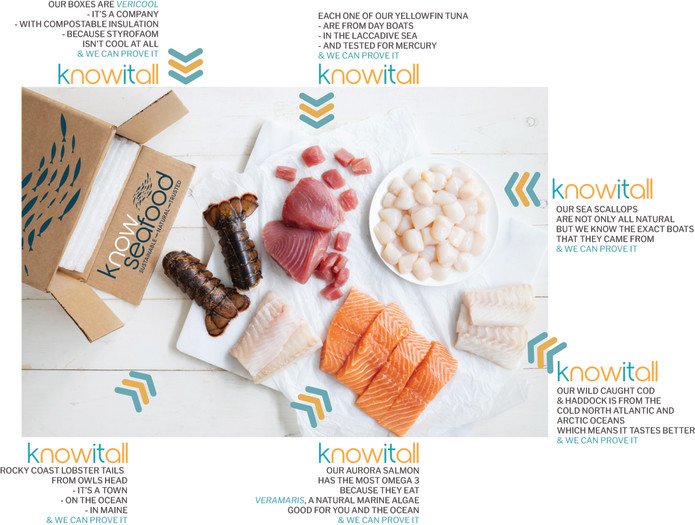 Frozen is Fresher
Buying fresh seafood isn't as fresh as you might think.
All KnowSeafood is harvested fresh, inspected, & graded. Our KnowSeafood is then filleted/processed and packed into individual portions. Next, we super blast freeze  our seafood at -40°c to -80°c (that's right, Celsius!) which locks in the natural taste and flavor! All of this is done within hours of being landed at the dock. 
The next time our KnowSeafood is thawed is when you are getting ready to prepare it and cook it! Thaw/Freeze, Thaw/Freeze etc. just destroys the quality of the seafood.
All of our KnowSeafood is only once frozen and that makes a big difference
Alas, why we have a happiness guarantee!
We have KnowSeafood shipped to us,
and then sent directly to you…
that's it, no middlemen!
We only offer seafood that is grown or managed in a sustainable manner, using environmentally friendly packaging, even shipping to you from our facility which is net zero carbon. This is a critical piece of our philosophy that supports our goal to reduce global challenges, such as climate change – one of the greatest threats to wild seafood, bio-diversity, and malnutrition.
We will pack KnowSeafood boxes with dry ice – which stays frozen through transit until it reaches your door.
We are so confident in our quality, KnowSeafood offers a happiness guarantee.
Now that you're a KnowBuddy, our expectation is that you trust and enjoy all of our seafood, every time you eat!
Here are our Perks 
Each perk box has complimentary shipping included!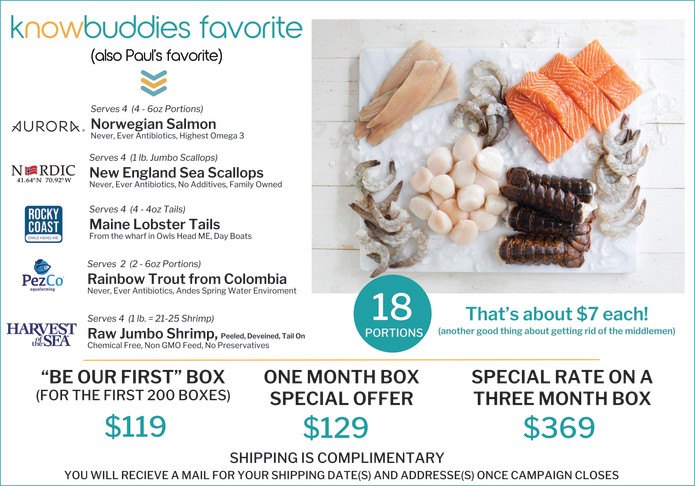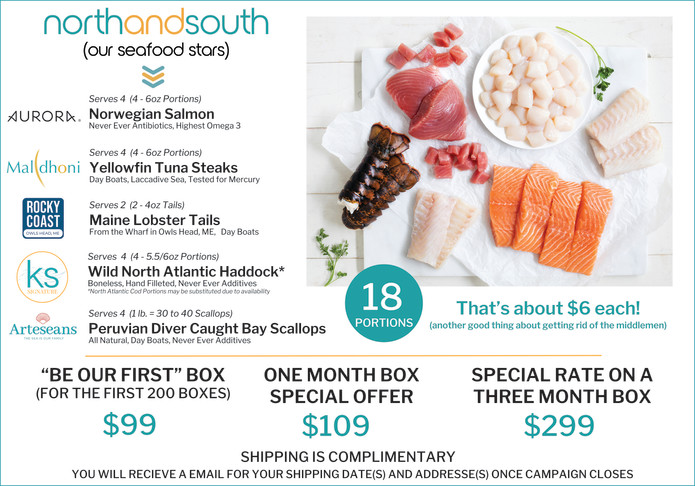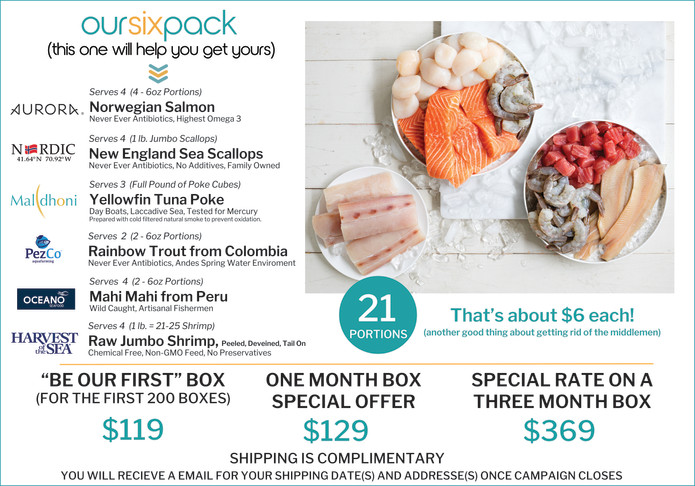 –
By redeeming one of our perks, you are not locked into an ongoing monthly subscription. After you receive your shipment(s), and we launch our site, then you can BeAKnowBuddy if you'd like! 
A KnowBuddy saves 5% and receives free shipping on every box that is over $99. A KnowBuddy that orders 12 times a year receives an additional 5% credit on that year's purchases.
You can choose from one of our 3 specially selected seafood favorite boxes listed here – don't worry, you will also be able to build your own box once our site launches!
So, for this campaign, choose a box, order it once, or get a special price on a 3-month subscription. 
Make It Easy!
KnowHow to prepare this awesome seafood as well. We will have our own recipes, recipes from Knowbuddies like you to share, and we will even have recipes from our curated rotating chef series boxes too! 
The chef's recipes are amazing! Here's one from author and chef Barton Seaver for the Aurora Salmon that's in every box!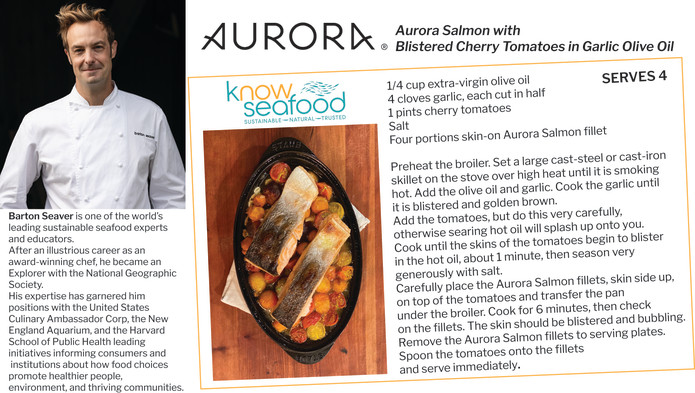 Our Aurora Salmon is fed an exceptionally rich, natural marine algae called Verarmaris. This diet innovation not only increases the amount of healthy Omega 3s in our Aurora Salmon, but it also helps conserve the natural biodiversity of our oceans and helps to combat global challenges like climate change and malnutrition.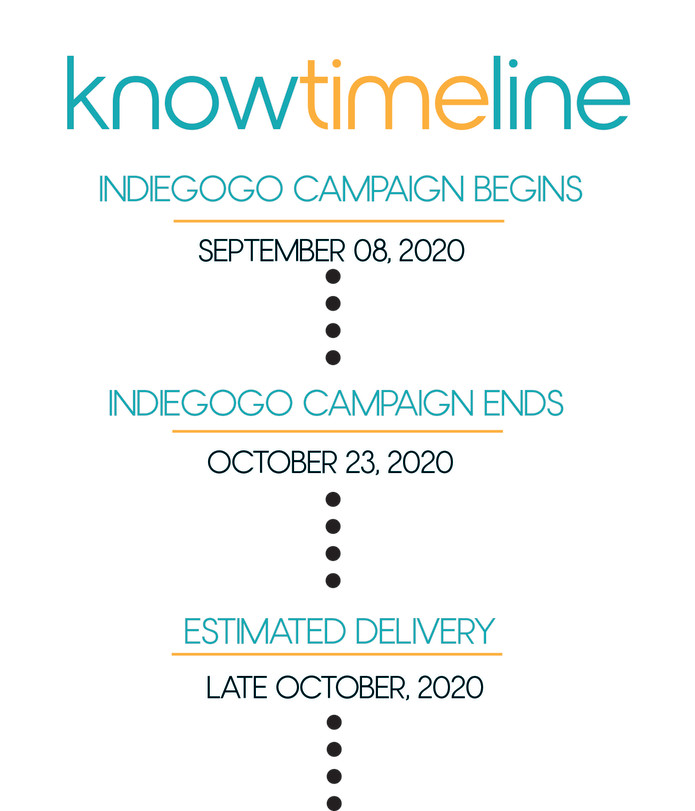 So, Join us!
KnowWhat you're eating, KnowWhere it came from, and KnowWhy that matters by joining us now to help us reel in our community of seafood-loving food-nerds. 
Let's change the way seafood should be bought and start enjoying seafood you can get excited about!
The KnowSeafood Team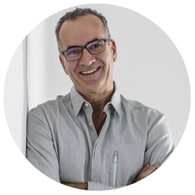 Daniel McQuade 
CEO/Co-Founder/Mis-fit 
I am a co-founder with one of my best friends in KnowSeafood. 
I'm also a husband, a dad to 3 great sons, one new grandson and a soon to be granddaughter. (Yay finally a girl!)
I was recently introduced a "mis-fit" at a global blockchain conference and had a chuckle but realized later it was spot on. I tend to see what's missing versus what's already there and then I try to understand why. This "mis-fit" condition has always made me want to challenge, to make things better, to do what's right, not who is right.
Even back in Mid 80s, myself and 2 partners were the first in the US to develop, breed and feed and market cattle that were the first allowed to be called "Natural Night Beef" by the USDA. I was fed up with the use of hormones and antibiotics and fatty beef.
I grew up on Buzzards Bay, near Cape Cod, love seafood, love sailing, fishing, lobstering…yes I was very fortunate. However, knowing how really great seafood can be, I became frustrated trying to change the seafood industry's culture for better/safer seafood. The middlemen's first question was always "how much"?  
Well, that's not putting you first. What was also missing was the trust in buying seafood.
So we decided to do it ourselves…and I couldn't be more excited launching KnowSeafood!
Join us, let's do this together!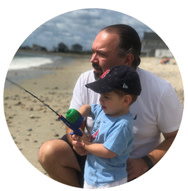 Paul Neves  
COO/Co-Founder
As founders of KnowSeafood, Dan and I are looking forward to sharing our knowledge of seafood with you.
My most important job is being a dad to my 2-year-old son, he is the reason for all that I do. I have found purpose in being a better husband, father, son, and person.
My family has been in the fishing industry for generations, so I really know what good seafood is. Having made many changes in my life over the past few years, one major change for me was my diet, to be healthy, to live a longer life for my family and myself. We will be very selective in our seafood choices at KnowSeafood, not only for you and your family, but for ours as well. I have "lived" seafood my whole life and sharing my knowledge, my experience about seafood with you is part of my family's legacy, ensuring the safety and sustainability of our oceans for generations to come.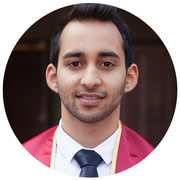 Sahil Sachdev
CTO / CSO (Chief Smile Officer)
Hi Everyone! I am highly curious and passionate entrepreneur and crypto-enthusiast. My strengths and experience lie in leveraging technology to develop innovative products and "better for you" life changing solutions. As CTO for KnowSeafood, I strive to bring the vision of KnowSeafood to life including allowing our customers to trace the journey of their seafood right from sea to home (using blockchain)! From water skiing in Mauritius, to surfing in Santa Monica, and traveling around the world for swim competitions since the age of 6, I have always loved the water. I am excited to share my love of the ocean with all of you through seafood!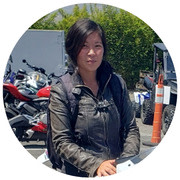 Beth Clarke
Director of Brand Strategy / CCO (Chief Calm Officer)
I am a hospitality-professional-turned-marketer who is passionate about how great storytelling and targeted messaging can create business changing content. As the KnowSeafood Brand Strategist, I am responsible for implementing the great stories about our seafood, and the stories from the people and parts of the world it comes from. Being a seafood lover, just like you, it has been really rewarding to understand what makes seafood great and surprisingly it's truly very simple. Put the customer (you) first and do what's right for them! When I'm not working with KnowSeafood, you can find me calm and happy spending time with my dogs and taking awesome canyon rides on my motorcycle! (Dan keeps asking me when am I going to give that up!).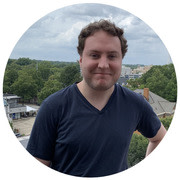 Jared Gosselin
Platform & Blockchain Manager / CST (Chief Seafood Tester)
I was a picky eater growing up and after learning a little about the typical food supply chain, I'm starting to think it's best I pick up those picky habits again! I was shocked to learn about the journey that seafood takes to get to the table, and so I jumped at the opportunity to work with KnowSeafood. Being a part of the process that will help connect you with our wonderful seafood suppliers has been fun and educational. We at KnowSeafood, and with our friends in the beef and poultry industry, hope that together we can offer you food that is trusted and delicious!
Frequently Asked Questions
How will my seafood arrive? 
After landing at docks, our seafood is then filleted/processed, and then packed individual portions and then super flash frozen.  This ensures the flavor and quality of our seafood. Once delivered to our KnowSeafood facility, these portions are hand selected, packed, labeled,  put into your box, and shipped directly to you. We never use Styrofoam, only compostable materials to insulate and filled with enough dry ice to make sure it gets to your home frozen like the moment it left our facility. Once your box arrives, you will be able to take the portions out and place them directly into your freezer. 
Will my seafood be frozen upon arrival? 
All of our boxes are packaged with a specific amount of dry ice. This amount is carefully calculated based on your geographic location and the amount of seafood in the box. The dry ice may be completely evaporated by the time the box arrives at your house, but your meat should still be frozen. 
Can I specify a delivery date for my box? 
Yes, we will send you a notification, once our campaign has ended, of what week we will start sending out our Indiegogo Perk Boxes. You will then be able to select which week/day and also the address(es) wherein your box(es) will be delivered. 
Does somebody need to be at home to accept delivery? 
No. Our boxes do not require a signature upon delivery, however, we do recommend that you bring your box inside as soon as you can to ensure maximum freezing and high quality. Please let us know if you have any special requests for delivery. 
Do I always have to order a box that has been created? 
You're in charge! We have some of our favorite seafood that we mixed up into different boxes, and we also have a curated rotating chef series box too! You will always know what's in the box! The chef's recipes are amazing! 
But best of all, you can Build Your Own Box! 
You can "catch" which seafood you love the most or go wild – throw in something new! Check in frequently because we have some limited seasonal seafood as well. 
Other Questions? 
We'd love to help! Here are some other FAQs
Just send us a note and we'll respond asap. 
Risks and challenges 
We have already ordered all of the seafood for this campaign. In fact, most of it is on the water being shipped now! So, this is happening! Should this Indiegogo campaign grow into something viral, we know what our capacity is, and we will insure that your orders go first. We have very excited global partners and they also understand that they need to be flexible. We have worked with them in great detail and are confident we will be able to fulfill all demands for our seafood items. 
Risk of fulfilling our orders: We are doing it ourselves right from New Bedford, Mass. And we have good confidence we can deliver, even if we are sending out tens of thousands of boxes.