KOPI Deva – a single dose coffee grinder | A zero waste coffee grinder – engineered to the precision of a Formula race car. Literally.


Introducing the KOPI Deva
The KOPI Deva is a single dose grinder for home baristas that is suitable for any brew method. The Deva's specially designed short grind path drastically reduces grind retention, and gives you the freshest possible coffee, utilising every bean.
The stepless grind adjustment lets you finely tune your flavours. Sitting at the forefront of espresso experimentation, the Deva also allows you to change the speed of the burrs (200-1000 RPM) for even more control over the grinds, so you can maximise the taste of your favourite coffee. The KOPI Deva is currently the only grinder with adjustable RPM priced below £1100.
The key to good coffee is consistency. The Deva uses the same 64mm flat burrs found in high end, commercial coffee grinders, letting you grind fresh coffee beans into evenly sized particles. Our goal is to bring the results of commercial grade equipment into a single dose design, to give home baristas ultimate control of flavours and textures.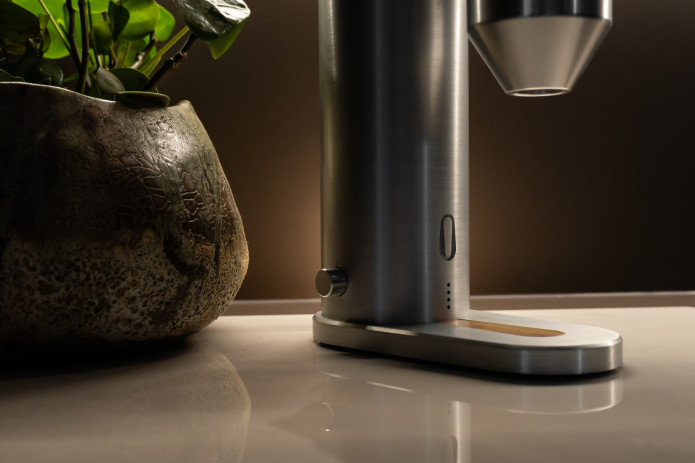 About the Founder
Brandon Wong is a motorsport engineer who has travelled the world, optimising the performance of Formula race cars. His attention to detail is essential on track, where a thousandth of a second defines the difference between winning and losing.
Like most Australians living abroad, Brandon missed the specialty coffee culture that his home country is famous for. When looking to perfect his coffee setup at home, Brandon realised that there was a large gap between "domestic" and "commercial" equipment, both in terms of price and quality. This sparked the idea to design and manufacture a coffee grinder that would bring a no compromise experience to the home.
The combination of Brandon's engineering expertise and his love of great coffee was the start of KOPI Concepts and the Deva single dose grinder.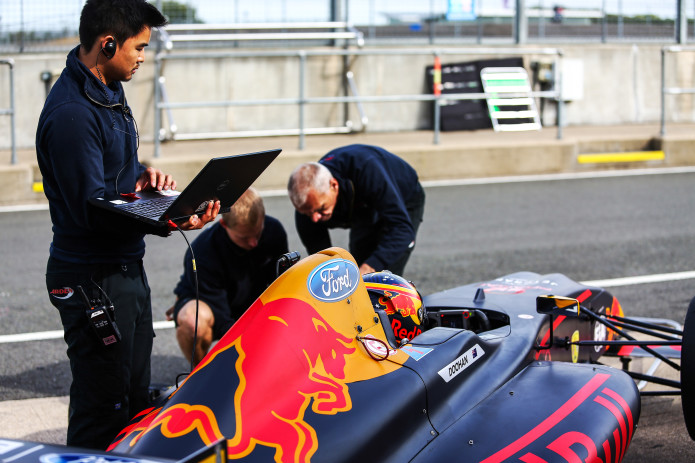 Single Dosing – Addressing Coffee Waste
6 million tonnes of coffee grounds end up in landfill each year. Not only is this a waste of a precious resource, but it is also a waste of money.
A single dose coffee grinder means you are grinding the coffee that you need, right before brewing. Not only are you maximising flavour by doing this, it also means that there is no coffee wasted in the process. It gives you the flexibility to switch between coffee beans and brew methods with minimal fuss.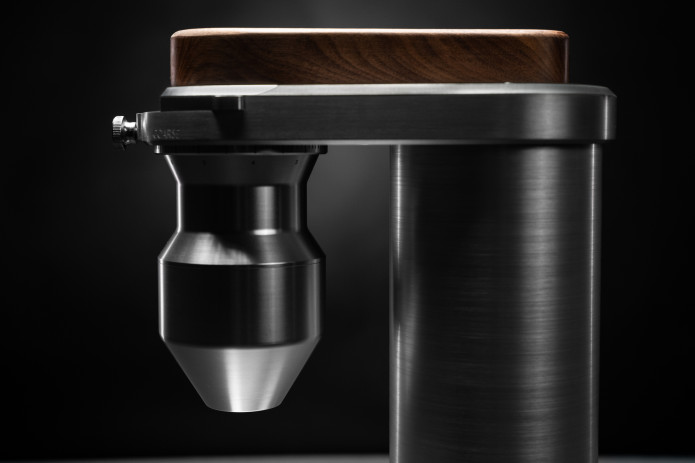 Zero Retention –  Zero Waste
The "optimal" grind setting will change with humidity within the coffee bean. In a cafe setting, baristas can purge up to 12g of coffee before pulling an espresso shot, all in the pursuit of the perfect flavour. At KOPI Concepts, we aim to reduce waste with the Deva and its specially designed short grind path. We provide you with a spray bottle so you can use the Ross Droplet Technique (RDT) to keep dreaded static at bay, which minimises retention.
Repeated testing shows grind output to be within 0.2g of the input. Virtually nothing is wasted in the process, and there is no need to purge coffee while dialling in. This means you are getting the freshest possible coffee for your cup, whichever brewing method you choose. Our patent pending design creates a small pressure difference between the burr chamber and the exit chute, encouraging air flow through the grind path to help the pursuit of zero retention.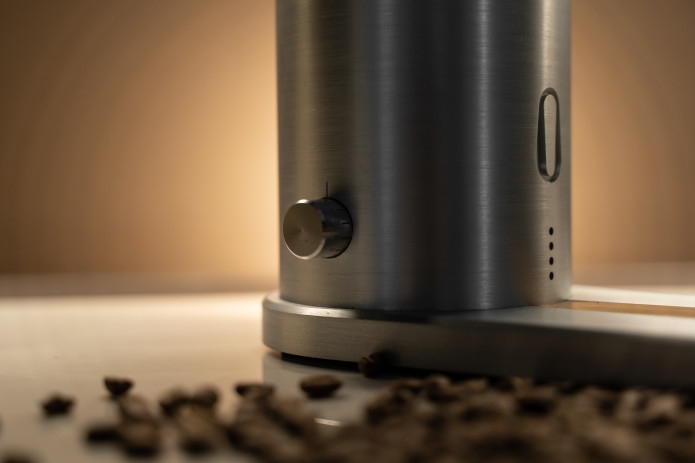 Variable Burr Speed 
Most commercial coffee grinder burrs spin in excess of 1000 RPM. While this has both pros and cons, we have found that a slower burr speed helps with all aspects of single dosing. Not only does this minimise static in the process, but it also changes the particle distribution, letting you reach the full potential of your beans.
The KOPI Deva allows you to easily change the speed of the burrs between 200 – 1000 RPM, so you can perfectly dial in your favourite coffee and maximise taste. Combined with use of the Ross Droplet Technique (RDT), our testing showed retention repeatedly under 0.2 g and less clumps visible in the basket. One theory also suggests that lower burr speeds minimise the change in temperature of the beans as they are being ground, which retains more of the intended flavours.

Stepless Grind Adjustment 
Different coffees and brew methods require different grind settings. The Deva's stepless grind adjustment allows you to finely tune the flavours of your favourite coffee, however you brew. Clearly indicated markers show the position of the 64mm flat burrs. Each marker represents 10 microns between the burrs to help you achieve a perfectly extracted coffee.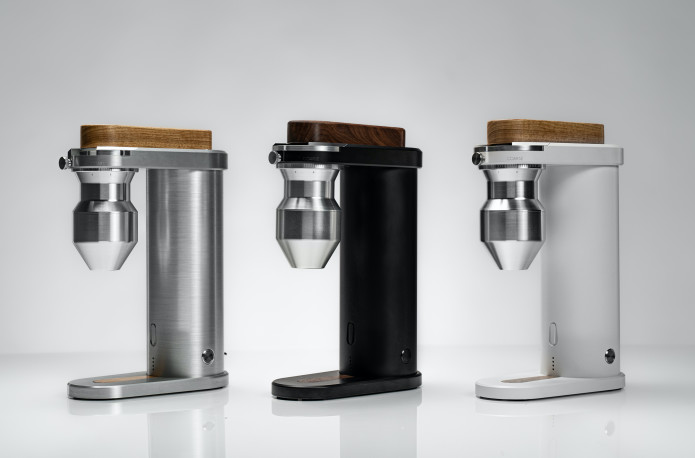 64mm Flat Burrs
The KOPI Deva uses the same hardened 64mm steel burrs found in many commercial coffee grinders. Compared to conical burrs, flat burrs provide a more uniform particle distribution, which allows the barista to extract more of the coffee without worrying about bitter, dry flavours from the coffee fines. Flat burrs have also been shown to unlock higher extraction percentages compared to their conical counterparts, allowing baristas to explore new avenues of flavours and textures.
The DEVA uses patent pending technology to achieve parallel burr alignment, and can be dismantled and reassembled without losing your grind setting. The double bearing design and machining tolerances of 0.012mm all play a part in the perfect alignment of the burr set.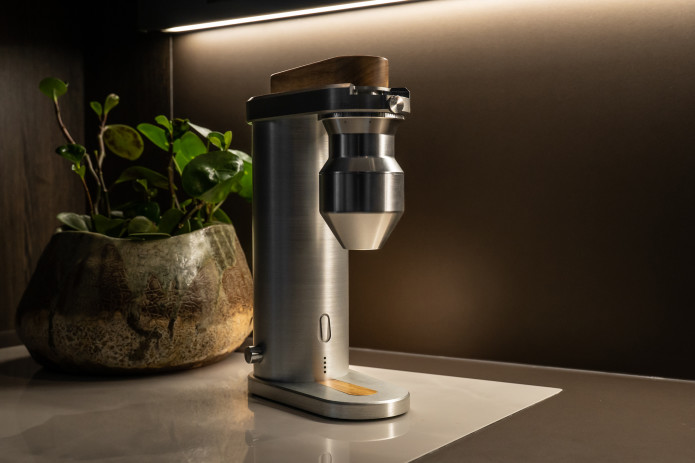 Battery Powered 
No messy cords on your countertops. The KOPI Deva houses a 5000 mAh battery, which can grind up to 3kg of beans on a single charge. That's 40 days if you make 4 double shot espressos every day! And when it runs out, it takes 2 hours to charge, using the supplied charger. The battery level is indicated by the 4 LEDs on the front panel.
An intelligent battery management system incorporates over charge protection, and limits the maximum current delivered to the motor, to ensure maximum battery performance is maintained throughout the lifetime of the product. The battery charger works anywhere in the world (100-240V).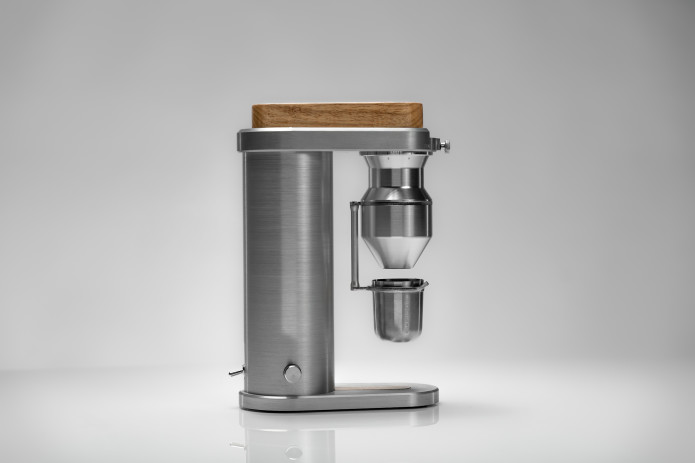 Energy Efficient Brushless DC Motor 
The majority of the coffee grinders on the market are powered by AC motors, where motor speed is linked to the frequency of your mains power. Most countries use either a mains frequency of 50 or 60 Hz which will result in a different motor speed. This means that dosing and grind quality will change from country to country. The KOPI Deva runs independently of mains frequency, using a brushless DC motor, and PID technology to provide consistent speeds. You will get consistent results from grind to grind, wherever you are in the world.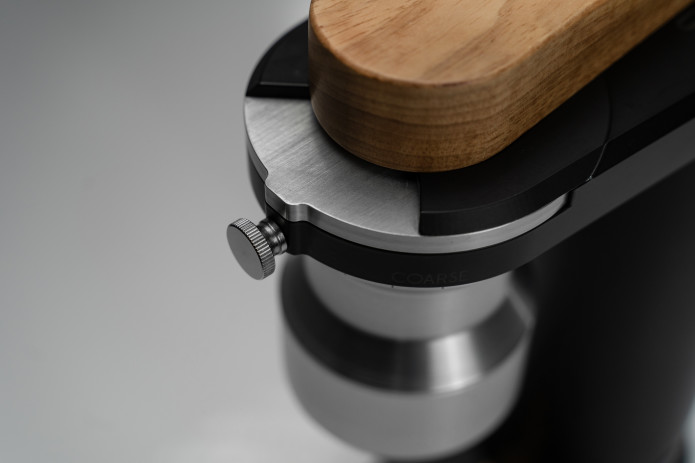 Thoughtful Design
The KOPI Deva has been designed to last a lifetime. All parts have been CNC machined to exacting tolerances to ensure a premium user experience. This machining method also minimises waste material in the manufacturing process by recycling metal swarf. We have chosen to use Aerospace grade 6081-T6 aluminium and SAE 304 Stainless Steel for their durability and ability to be recycled. Sustainably sourced walnut or oak accents are finished with a food safe wax, without aerosols. Product packaging is easy to separate and recycle as well.
We have scrutinised every detail of the KOPI Deva to ensure a smooth workflow over the lifetime of the product. The funnel is easily removed without tools, exposing the burr set, allowing for easy routine cleaning.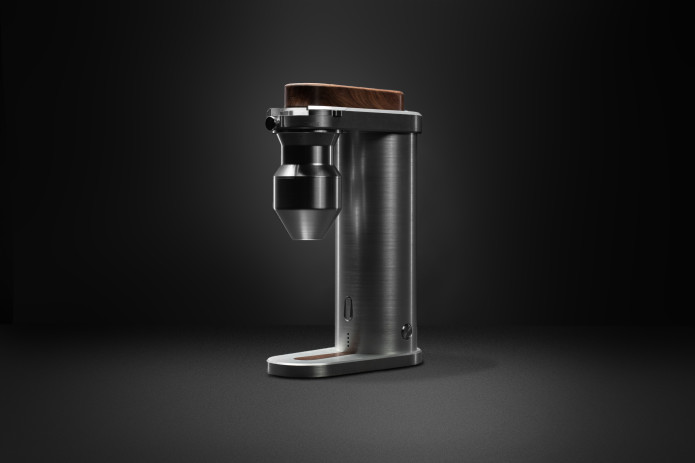 Specifications 
Burr Size: 64mm Flat Burrs
Grind Setting Range: 0-2.5 mm vertical spacing between the burrs. Suitable for French Press to Espresso.
Typical Retention: <0.2g (with Ross Droplet Technique (RDT) applied)
Dimensions (H x W x D): 330 X 230 X 115mm
Weight: 5.4 kg
Burr Speed: 200 to 1000 RPM
Materials: 6081-T6 Aluminium and 304 Stainless Steel
Bean Capacity: Up to 30g can be loaded in the funnel a time. Additional beans can be loaded continuously if a larger quantity is needed.
Battery: 3s LiPo 5000 mAh, 11.1v
Battery Life: up to 3kg of beans on a single charge. Battery is recharged in 2 hours.
Motor: Brushless DC Motor, limited to 1000W.
Warranty: 1 year limited warranty against manufacturer defects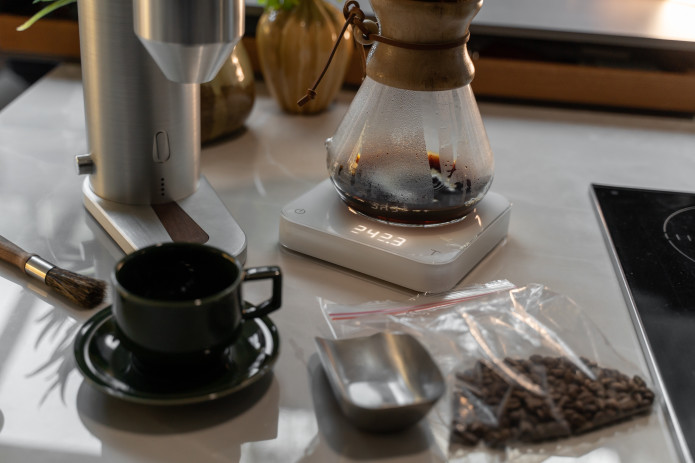 Perks 
KOPI Deva Single Dose Grinder
– KOPI Deva Single Dose Grinder (your choice of Walnut or Oak accents)
– Battery Charger
– RDT Spray Bottle 
– Cleaning Brush (with matching Walnut or Oak accents)
– Dosing Cup
– Dosing Cup holder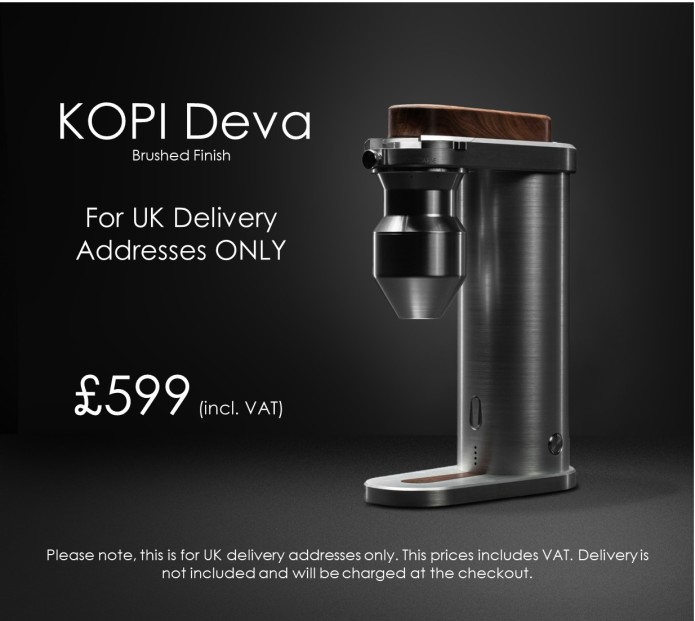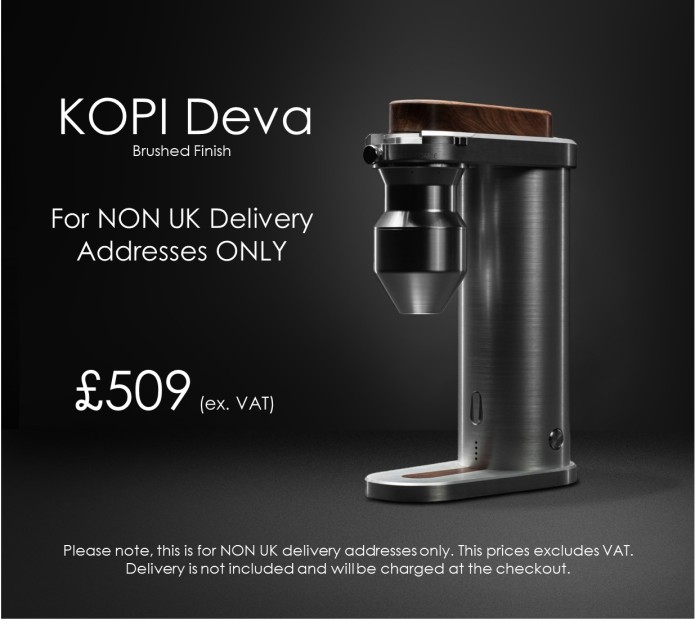 About our pricing for UK and non-UK backers
You will notice that we are offering the KOPI Deva at two different prices: one for UK customers, £599 including VAT, and one for rest of world, £509 excluding VAT and including an export service fee.
It works like this: if you live in the UK, you pay £599 + delivery on Indiegogo. We will notify you when your KOPI Deva ships, and there will be no more fees to pay. 
If you live outside the UK, you pay £509 + delivery on Indiegogo. We'll send your KOPI Deva to you with the delivery company. The delivery company will contact you when they are ready to deliver, and ask you to pay import taxes before they release the parcel to you. 
All in all, non-UK backers pay VAT and import taxes (at the rates that apply in the country they are shipping to) separately through the delivery company when their KOPI Deva is ready to be delivered, while UK-based backers pay UK VAT directly on Indiegogo.
We've opted for this model to avoid non-UK based backers having to pay both UK VAT and import taxes in the country they're shipping to. 
Please note that UK-based backers who purchase at the non-UK price will be contacted and asked to pay VAT before their rewards can be shipped.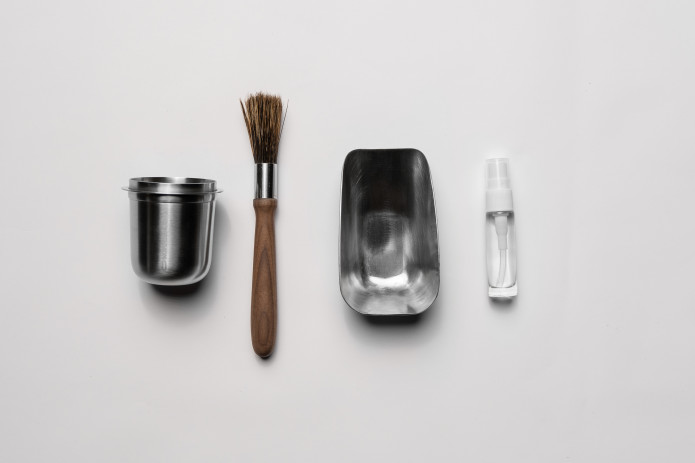 Add-ons
If you buy a KOPI Deva, you have the following upgrade options:  
– KOPI Concepts Espresso Kit 
– Powder coating (matte black OR white) 
– SSP burrs (High Uniformity (Red Speed) OR Multipurpose (Red Speed OR Silver Knight))
– Travel Kit 
KOPI Concepts Espresso Kit 
KOPI Concepts Espresso Kit includes:   
– KOPI Concepts tamping station (your choice of Walnut or Oak) 
– Dosing Funnel that fits seamlessly to your 58mm portafilter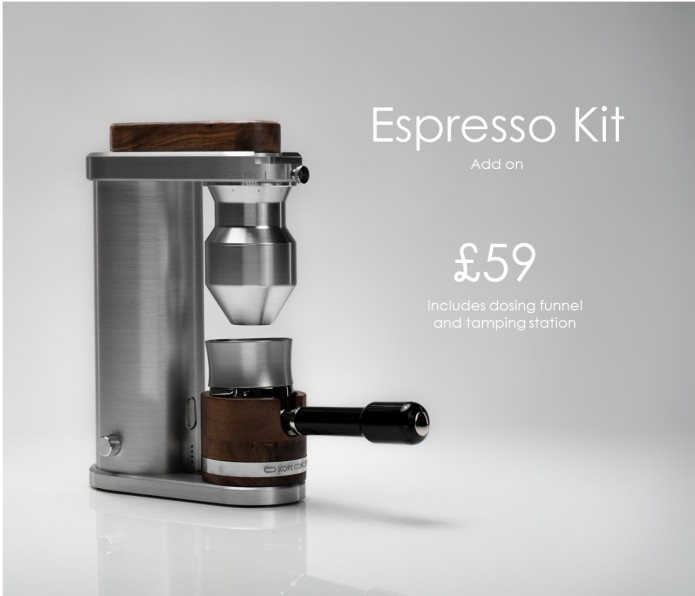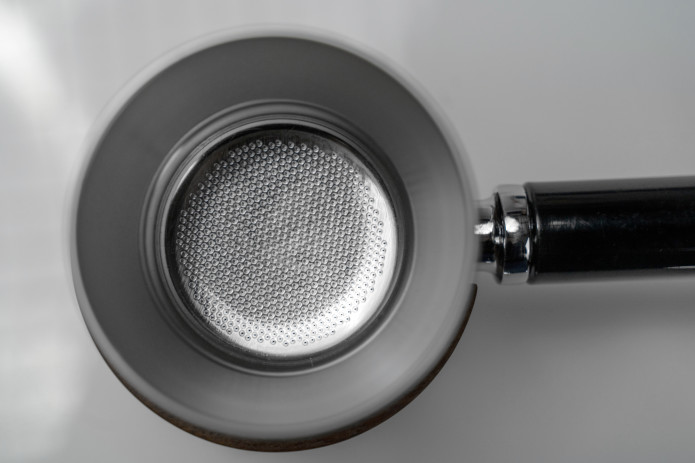 Powder Coating 
The KOPI Deva comes in anodised aluminium as a standard. You can choose to customise you Deva with matte black or white powder coating. 
Powder coating creates a long lasting and durable finish that is both protective and decorative. The process does not generate harmful solvents or airborne pollutants, making it a more sustainable practice compared to liquid coatings.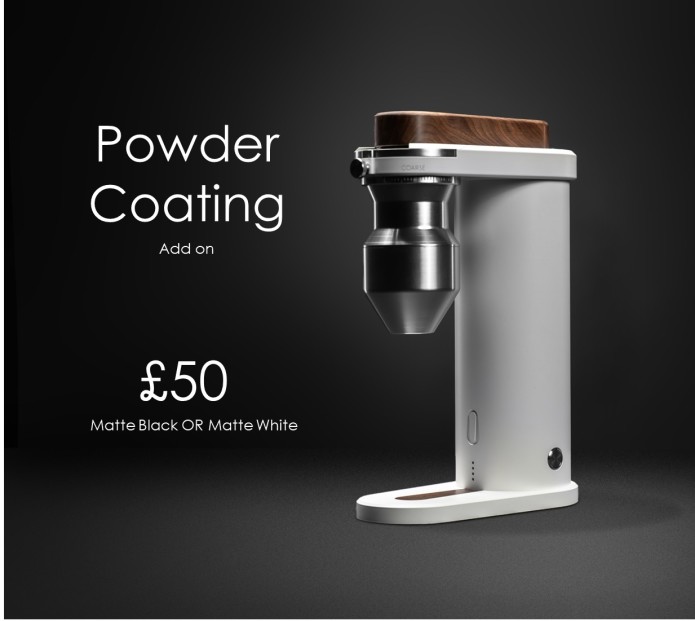 SSP Burrs
We are offering SSP burrs as an add on when you purchase a KOPI Deva! Our full test results are available on our website.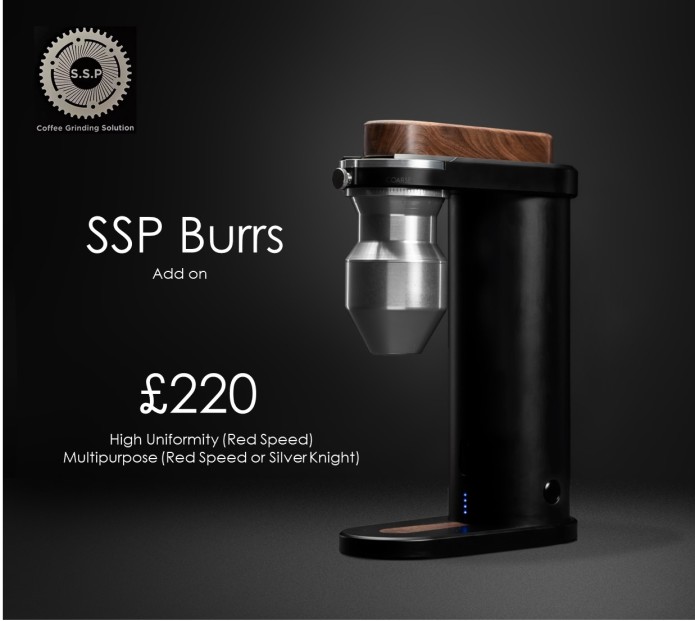 Travel Kit 
Designed with coffee competition, exhibitions and origin trips in mind, this Add on makes is possible to effortlessly transport your Deva from A to B, and brew great coffee anywhere you go.
The Travel Kit includes: 
– KOPI Concepts Peli Case
– Espresso Kit
– Tool Kit  
– Multi Country Charging Adapter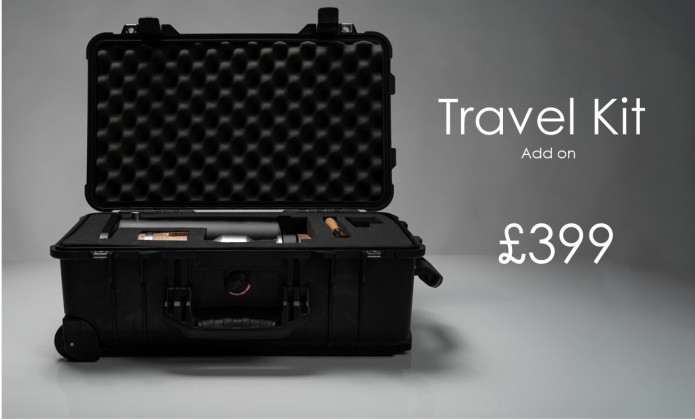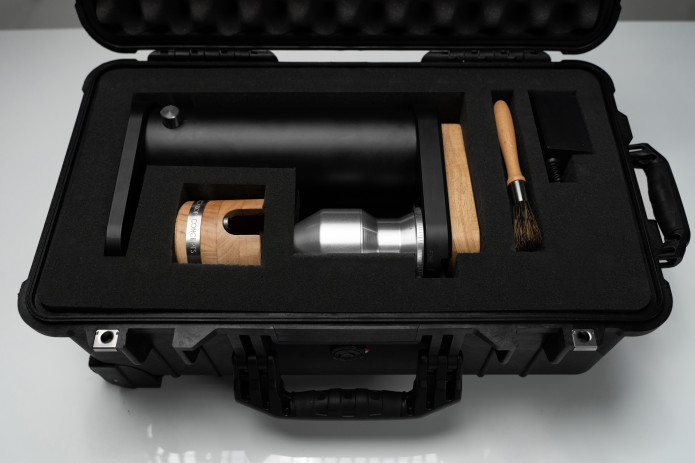 Timeline 
November 2019 – January 2020: Market Research.
January – April 2020: Concept development, User Experience development, proof of concept.
April – July 2020: Prototype 1, Research and Development, Further User Experience Development.
July – November 2020: Prototype 2, Powertrain optimisation, Further Research and Development.
November 2020 – January 2021: Final Prototype, Introduction of KOPI Concepts to the World! Engineering and Production Planning.
Kickstarter Campaign; Production Round 1:
May – July 2021: Kickstarter Campaign.
August 2021: Production Scheduling
September – October 2021: Manufacturing 
November – December 2021: Assembly, quality control and packaging
January 2022 : KOPI Deva is delivered!
Indigogo InDemand; Production Round 2:
December 2021: Indiegogo InDemand Campaign launch 
January 2022: Production Scheduling
February 2022: Manufacturing will begin
March – April 2022: Assembly, quality control and packaging
May 2022 : KOPI Deva is delivered!
Reviews and Testimonials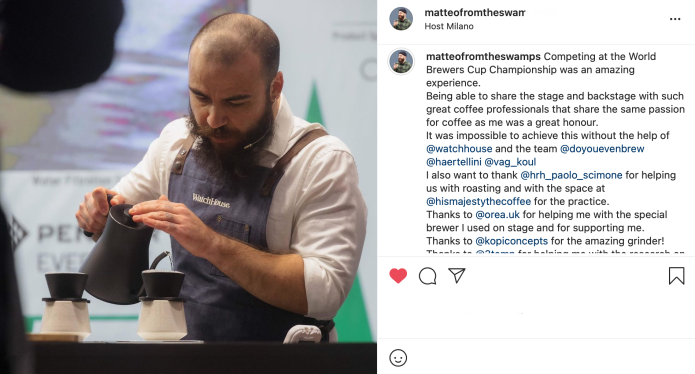 "For the World Brewers Cup Championship I was looking for a grinder to better satisfy my needs. A great particle size distribution and something easy to use. In the KOPI Deva I found everything I needed. The particle size distribution that this grinder can create is outstanding, not only because of the quality of the burrs you can use with it but also for the burrs speed. The ability to control the burrs RPM gave me an edge on the grinding. With the same grind setting and just changing the RPM, the distribution changes, affecting the quality of the beverage, giving me another level of grinding control. Furthermore, the fact that this grinder is battery powered, gave me the possibility to use it anywhere I wanted without the concern of finding a socket. The KOPI Deva definitely gave me a massive help on the world stage."
Matteo D'Ottavio, UK Brewers Cup Champion 2020, finishing 10th in World Brewers Cup 2021.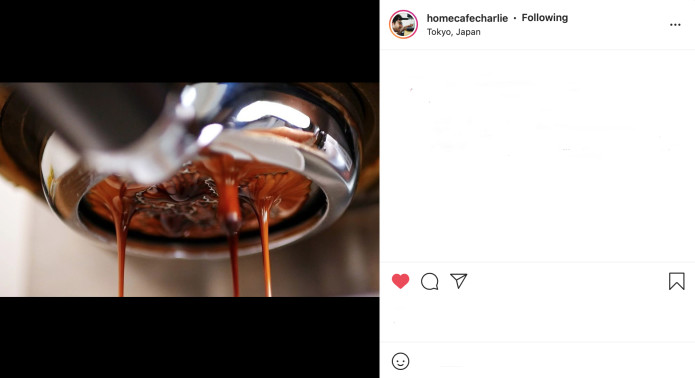 Unsponsored Review from Coffee Expert and YouTuber Home Café by Charlie @homecafecharlie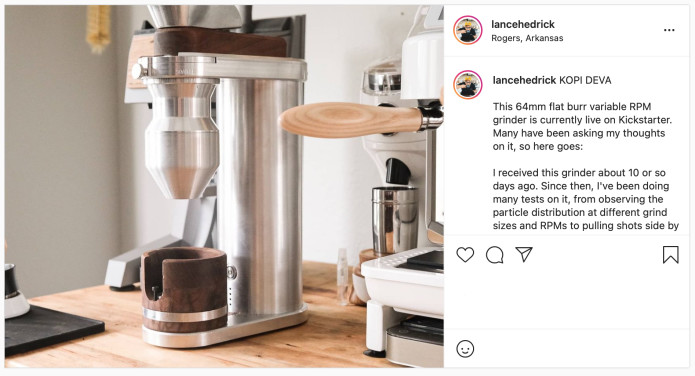 Unsponsored Review from Coffee Expert and YouTuber Lance Hedrick @lancehedrick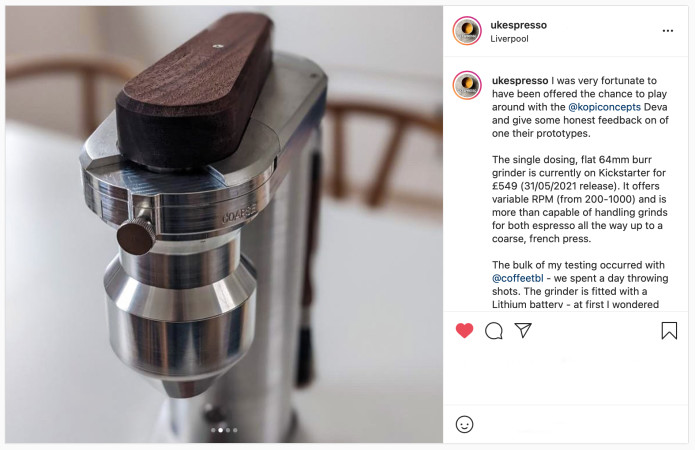 Unsponsored Review by espresso expert Liam from @ukespresso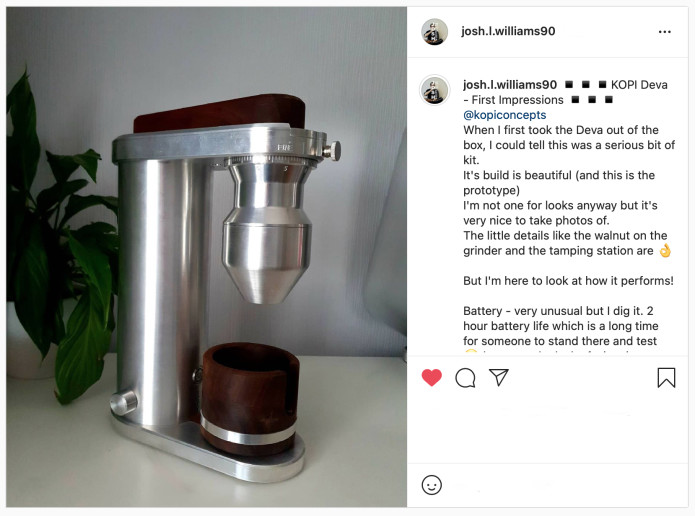 Unsponsored Review from Barista Trainer and Founder of International Coffee Experiences, Josh L Williams @josh.l.williams

Risks and challenges
Prior to this Indiegogo Campaign, we have created 5 prototypes, each with improvements in workflow, reliability and performance. We have tested our final prototype in a small cafe environment, and have sent it to be reviewed by people in the coffee industry. The feedback we have received has been very helpful in developing the prototype into a final production model.
Our first crowdfunding campaign on Kickstarter enabled us to produce at scale with the first units currently in production, estimated to ship in January 2022. 
Moving forward to bring the KOPI Deva to a larger audiences, we are working with manufacturing partners that are able to produce our machined components and electronics at an excellent quality. It is key to our production that we can order in bulk to keep productions costs reasonable. A successful Indiegogo campaign will allow us to mitigate this risk, making it possible to continue manufacturing with our established partners. 
We are a UK based company, and the effects of Brexit could challenge our distribution channels. We continuously monitor international trade agreements and VAT regulations to make sure we can deliver where promised. The production of our Kickstarter orders faced significant external challenges, above what was originally predicted (raw material and microchip shortage / fuel crises and pandemic-related shipping delays), but we have managed to keep our production on track with only minor delays, meaning that our Kickstarter units will ship 1 month later than planned. We have accounted for similar challenges with our Indiegogo campaign, and built it into our May delivery timeline. 
We have been fully transparent with our Kickstarter backers, as you can see from the continuous updates on our funding page. We promise to continue to do so with our fundraising, and will provide our supporters with regular updates as we move from milestone to milestone. We will keep you informed and you are welcomed to ask us questions, to which we will responded as soon as we possibly can. We feel transparency will play a key role in our success.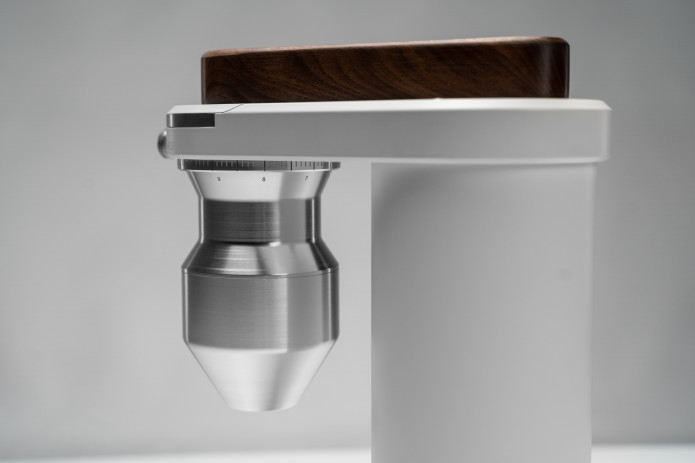 Sustainability
The KOPI Deva is designed to last a lifetime. Components are made from aerospace grade T6-6061 aluminium and SAE 303 Stainless Steel. The BLDC motor doesn't use brushes like conventional DC motors, which eliminates serviced components in the motor. The lithium polymer battery is protected by a battery management system that prevents overcharging, and over discharge, optimising performance over the lifetime of the battery, which can be replaced if the need arises.
The wood accents used in the KOPI Deva has been sustainably sourced. The aluminium and stainless steel components used in the KOPI Deva can be recycled infinitely.
Our packaging is 100% recyclable.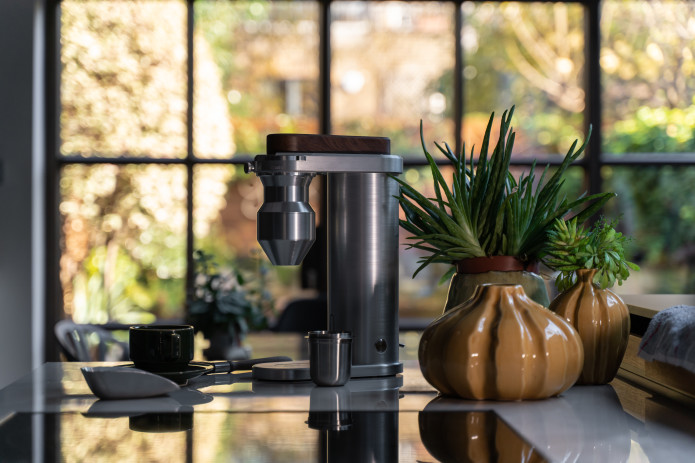 KOPI Deva Crowdfunding video produced by Airview Productions
KOPI Concepts Logo designed by Nayonika Ghosh