La Patria Cafe: Help Bring Latin Flavors to Life! | La Patria Café is opening a restaurant in Syracuse, serving traditional and nuevo latino dishes!
Short Summary
My name is Clara Cedeño and I am the founder and owner of La Patria Café, a new Latin American and Latin Caribbean restaurant in Syracuse, NY.  I was born and raised in New York City.  My family is from Dominican Republic and I'm first generation American.  Because of my family, I have a great love and appreciation for our traditions, our food, and values.  Because I am American, I have a love for the country I was born in.  As a Dominican-American, I have embraced all that I am and hence the name of my restaurant.  It is my way of merging my two worlds together. 

I moved to Syracuse in 2012 and about three years after the move, I found myself having an existentialist crisis of sorts.  The passion for my career in the technology industry was waning and I was still feeling disconnected from Syracuse.  When I enrolled in the online MBA program at Syracuse University, I thought this would be a way to reawaken my passion for what I was doing.  But that didn't happen.  And so, I kept asking myself, "What am I going to do when I grow up?"  A scary thought for someone who had been working in the same field for thirteen years!  But if there's one thing I know about myself is that I don't believe in doing anything in life unless I have a strong passion for it.  When I came across the space that I would later purchase for the restaurant, I knew I had to do this.  I saw great opportunity to bring authentic and traditional Latin flavors to a city that is going through a cultural evolution.  When I realized how receptive people were to the food (through private and public tastings), my resolve to open my own business grew.  In January 2018, I resigned, cashed out my options, and started pursuing my dream.   I was and continue to be ALL IN!
I have personally invested approximately $215,000 of my own money.  These funds have gone towards the building purchase in which the restaurant is housed, payment of materials, furniture, and labor that were used in the initial rehabbing of the space, and other expenses that went into marketing activities and payroll during the 5-month soft opening.  The business was able to secure a private business loan earlier in this year. Those additional funds are being utilized for the professional and licensed construction work (you know, the stuff I can't do) and deposits for the kitchen hood and fire suppression equipment.   Construction has started and is underway!  Very exciting times we find ourselves in. 
La Patria Café is in need of funding support in order to secure kitchen equipment.  This is HUGE for the business because with the proper commercial kitchen equipment, we will be able to expand menu offerings, restaurant hours, and meet customer demands with efficiency.   We have so many customers who are excited about the food, service, and ambience of La Patria Café but the kitchen constraint has kept us from being able to open weekday evenings and weekends.  That constraint has also kept us from making the impact we are looking to have on Syracuse and within our immediate community.
What We Need & What You Get
I am seeking to raise $49,706.49 in campaign funds.  Below is the list of the equipment your contribution will help us secure.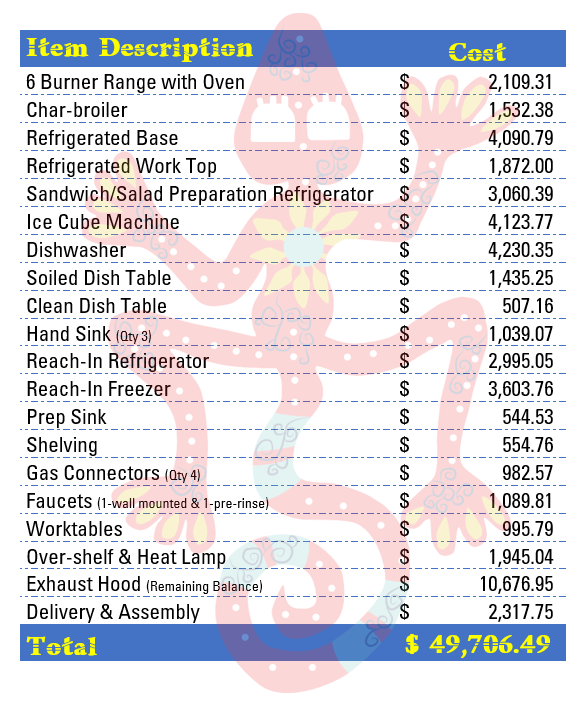 The Perks!
I am truly excited to offer some great perks.  Being aware that there will be varying contribution amounts, the perks will vary as well.  From personalized thank you notes to La Patria Café gift cards to awesome packages that include some cool gear – no matter the choice, a smile is sure to come across your face upon receiving your perk!
Regular updates will be provided throughout the duration of the campaign so you are in the know every step of the way.  And if we don't meet our campaign goal (which we hope we will) by the end of the thirty days, all contributed funds will be used to purchase as much of the items listed above as possible.  
The Impact
I know you may not know me…. It's a risk.  But I tell you that, ever since I purchased the property and left my job, I have been "all-in".  The impact that your contribution would make goes beyond helping me to fulfill my dream.  Your contribution would resonate in the long term as it allows me to;
Create jobs
Create a fun and heart-warming dining experience
Bring cultural awareness through food
Be part of a growing community of small businesses and women entrepreneurs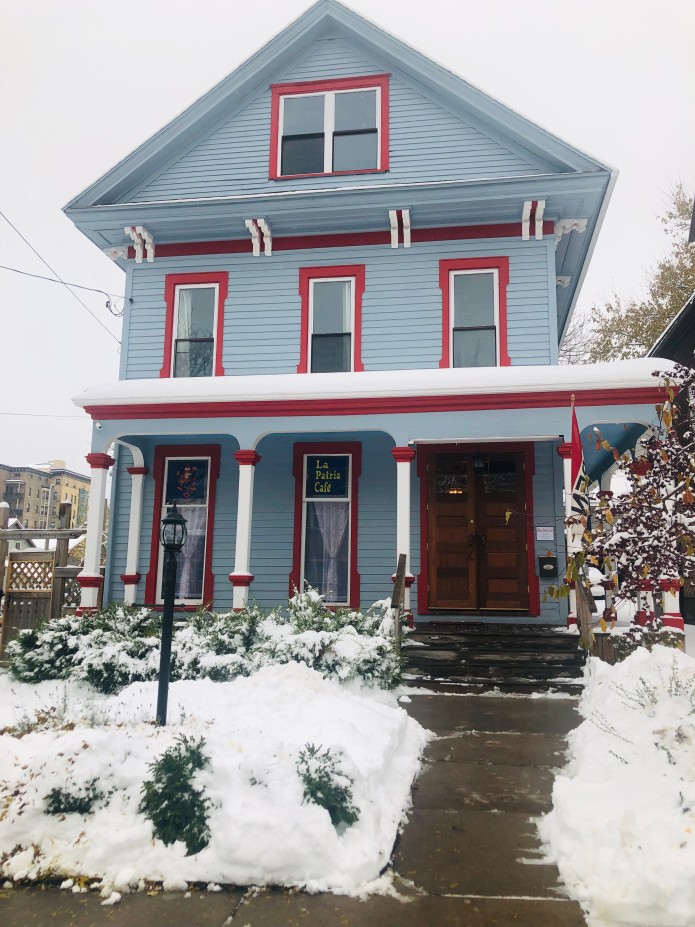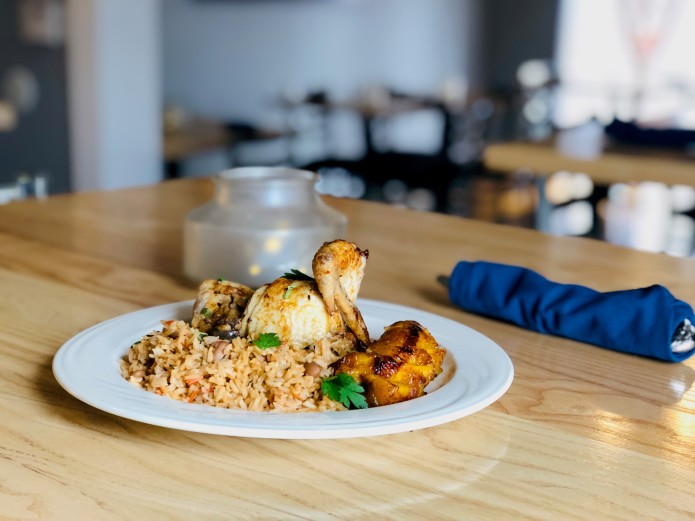 Risks and Challenges
Every business is difficult and the restaurant industry is one of, if not, the hardest to break into and be successful.  When I wrote my business plan, as excited as I was to follow my dream, I knew I would need to fully consider the risks and challenges inherit in the industry. 
Some of the major challenges that I had anticipated – then actually faced VERY early on – were zoning and landmark preservation board requirements. 
Landmark Preservation:
The structure is historically designated.  Knowing that the board would frown upon the idea of installing a hood system with duct work running up the side of the house, three months prior to formally presenting my plans I asked to be on the agenda to discuss high-level ideas and get their input.  I understood that creating dialogue would be helpful in avoiding any surprises on both sides.  When the time came, we received a unanimous approval to move forward with the work.  This was a pre-cursor to what we had to face with the Zoning department.
Zoning:
Again, it was about creating dialogue with the City. While the structure had previously been given legal permission to use the space as a restaurant, that was only for the first floor and therefore, I had to go before the board of appeals and plead the case for extending the use to the second floor as well as allowing for the changes needed (hood system and bar installs, etc.) in order to function as a proper establishment.  Again, due to the meetings held months before with the various City departments, there were no surprises and we received unanimous approval to move forward.
Other challenges:
And then to my surprise….. the construction permits took SEVEN MONTHS!  The time it took the City to review my submission was beyond the standard.  I kept at it everyday, every week, and every month – staying in contact and following up.  And as those months went by, I found myself realizing that I couldn't just stay closed waiting and doing nothing.  That's what prompted the soft opening.  It was difficult and the money was going fast, but the experience was invaluable and we are better for it.  I used a moment that I thought would end my dream before I got to see it realized to the restaurant's benefit.  It wasn't going to be easy because we didn't have the equipment for a full menu so we came up with a limited menu, tested weekly specials, and between the Chef, my daughter, my step-son, and me, La Patria Café came alive and people loved it!  And then a few didn't…..the valuable feedback allowed us to tweak certain items, cooking processes (given there was not fire power to speak of) and overall service procedures.   We even managed to pull off a special reservations-only Saturday service!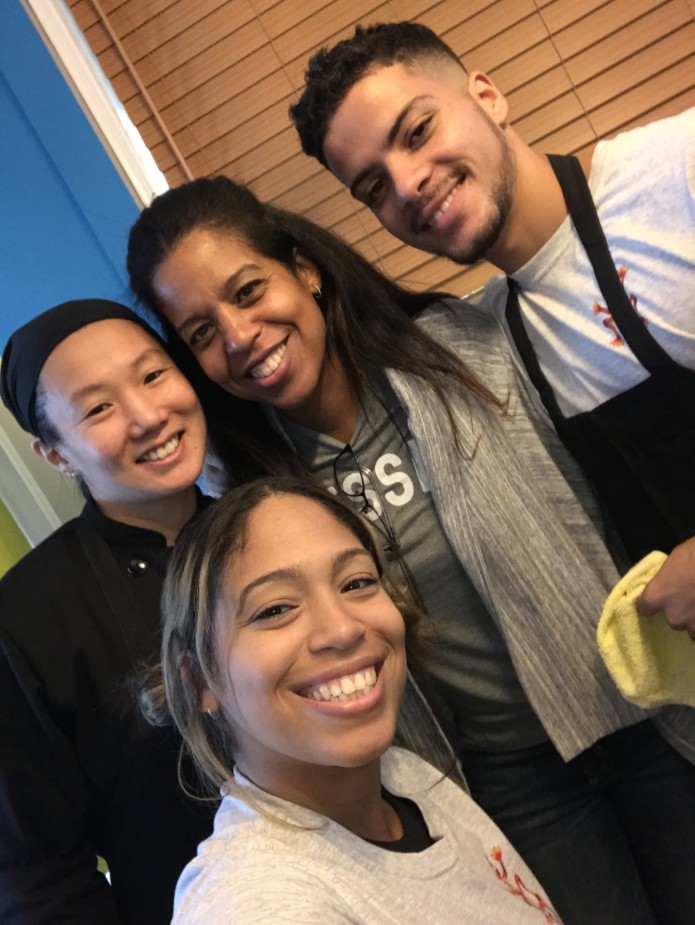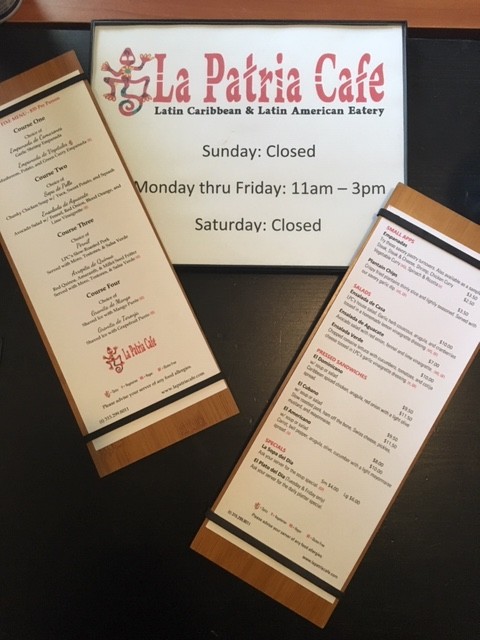 Getting people to walk through the door is always going to be an ongoing issue.  Particularly, getting your target market through the door.  When we were open for those first five months, we tested varying ways to get the market's attention.  Social media, networking, radio, and newspaper articles have all proven to be effective.  We were only serving during a limited window of hours (M-F, 11am-3pm) and we are not situated in the downtown area which makes us a destination of sorts.  And yet, we got people through the door.  Our focused marketing efforts paid off.  The partnerships we have built with our small business neighbors has helped greatly.
As an individual, I am aware that having a MBA degree isn't always enough particularly when you're entering an industry that you have very limited and outdated experience in.  However, the degree has given me the tools to ensure that the business decisions being made day-in and day-out are well thought-out and that I am tapping into resources that I would otherwise may have ignored.  But that still isn't enough!  I knew that as well.  So I made certain to align myself with mentors who own restaurants and even worked weekends for one of my mentors.  It was great!  Working as a hostess, as a bar back, as a runner, and as kitchen help gave me a unique perspective to each of the positions within a restaurant and has given me a point of reference to work off of as I further develop our processes for La Patria Café when we reopen.
What am I trying to say by telling you all of this?  I am determined to learn and uncover as much as possible and make the "you don't know what you don't know" just that much smaller.
Other Ways You Can Help
Please spread the word by sharing with your network of friends.  The more the merrier!  You can use the Indiegogo share tools to get this out there!
Truly appreciate the love and support!!!