LaVie 2GO, premium water, everywhere | Stylish and innovative nomade water purifier. Simply get premium water anywhere, from the tap !

You might drink bottled water for many reasons, but the most frequent reason we hear is that tap water has a chlorine scent and a funny taste.
We understand that.
…but plastic bottles are no longer a solution!

Bottled water consumption enhances the plastic waste issue worldwide and has in addition a dramatic CO2 footprint that contributes to climate change. On top of that, mineral water bottles are extremely expensive and not that convenient: carrying heavy water packs and dealing with those cumbersome empty plastic bottles has never been a pleasure for anyone!
We developed LaVie 2GO for all these reasons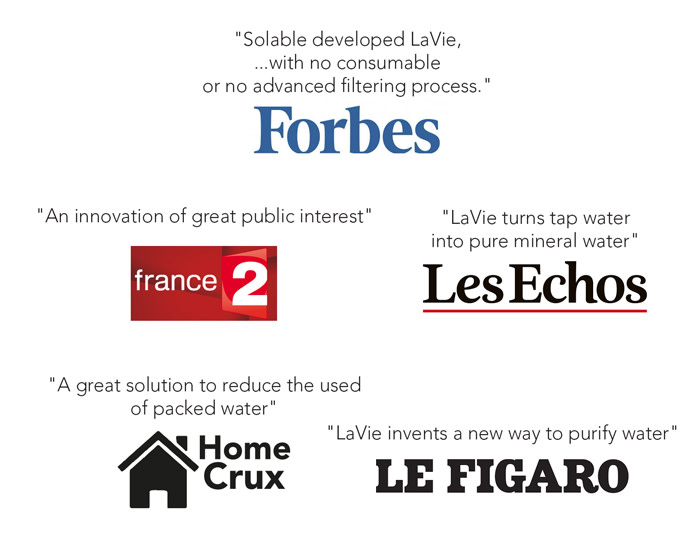 LaVie 2GO is a premium tap water purifier that requires neither consumables nor maintenance
Our patented process starts with chlorine photolysis induced by a specific 365 nm led-emitted light.
When chlorine molecules undergo photolysis, they give rise to strong reactive oxygen species : ozone, free radicals, peroxide…
These are among the most powerful water decontaminating reagents and take care of chlorine byproducts, traces of medicines, pesticides and the associated smell and taste.
Certified laboratory tests are available here for download : https://www.lavie.bio/press


In 2018, a thousand households in 41 countries have adopted premium quality water with LaVie
We launched LaVie last year, and 1000 households are now satisfied with their tap water, turned into excellent drinking water, equal or superior to the bottled water they used to buy at the grocery store.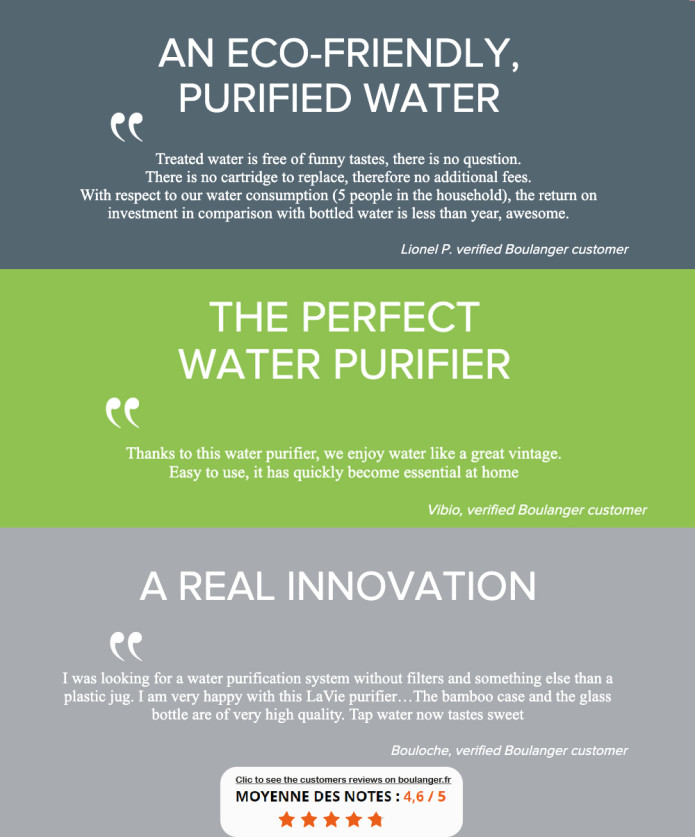 But you'd better read comments from our Kickstarter backers or customers at the Boulanger retailer, this is a never ending five stars love story!
LaVie 2GO is a newly designed device with the same powerful action as our previous model, but in a portable format. It consists in a 550ml borosilicate ultra-transparent glass bottle that fits in an anodized aluminum tube that houses the automated light cleaning mechanism.
Purer water for everyone, everywhere


The device is USB-C QC 3.0 compatible, delivered with the corresponding charger, however any QC 3.0 12V 1,5A adapter will power it.
You can use QC 3.0 car adapters, power banks, Apple usb-c chargers (at least 18w, 12V-1,5A) and soon! You can therefore use LaVie 2GO just as easily at home or at the office, hotels, at your favorite sport club, in your car… Well, anywhere!
6 stylish colors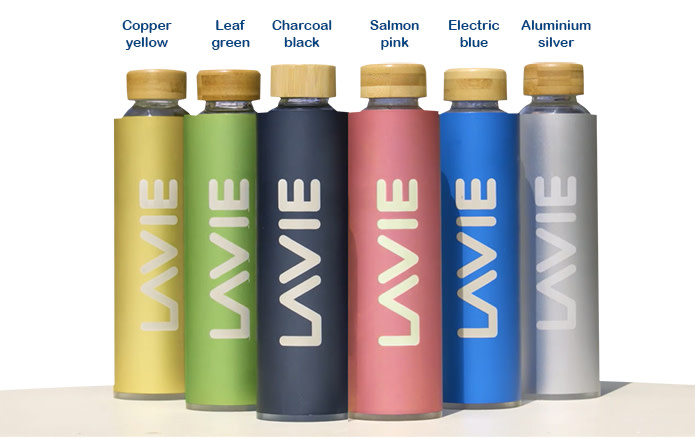 The ultra-light anodized aluminum case is available in six stylish colors that will appeal to just about anyone. This is an exclusive feature, only available during this campaign !
Roadmap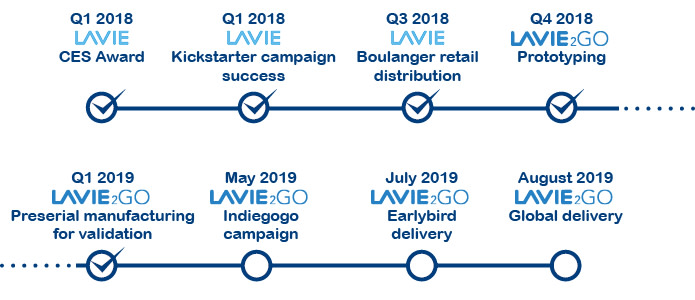 Just make sure to share it with a public post so we can verify later on



Solable is a 4-year-old "tech for good" startup, aiming to bring simple and efficient sustainable solutions to reduce our environmental footprint.
We received 3 CES awards in the last three years, all in the sustainable technologies category.

Now, our goal is to promote LaVie worldwide, and have a massive impact on the plastic bottles market with your help. This is why we are now launching LaVie 2GO, an affordable and nomad application of our core patented technology for purifying tap water. What we offer is a long lasting device, that requires neither maintenance nor consumables.
About 2 billion people in the world survive without safe drinking water.
Last year, we promised to deliver free LaVie SUN systems in a developing country as a one backer/one gift deal, and you will get the opportunity to witness the operation during this new campaign.
This year, we decided to use 1% of the campaign's contributions to bring LaVie SUN to developing countries.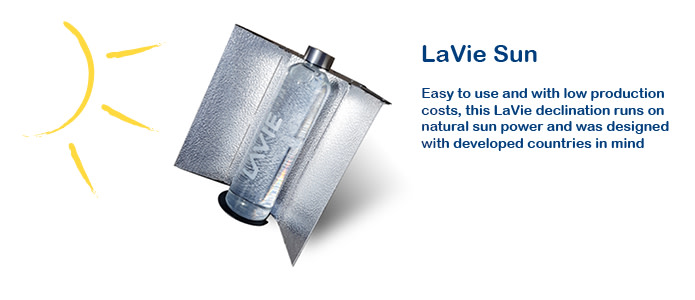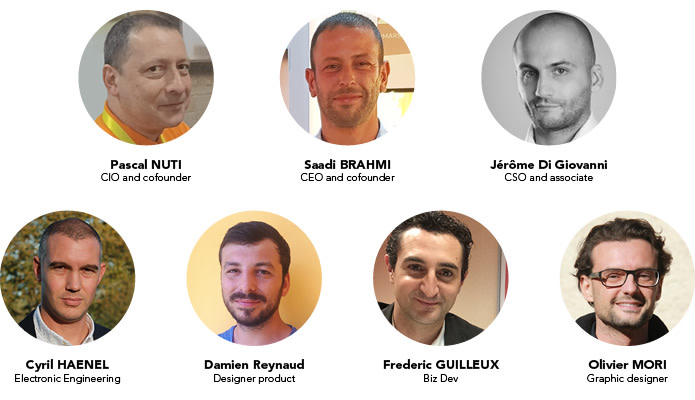 Risks & Challenges
We have a detailed storytelling about how we want to reduce human footprint on the environment, way too long to tell here. Be sure that we want to grow and make our sustainable water and energy solutions available to everyone. The skill set in our team ranges from industry, materials and electronics to biology and we have solid patented technologies up our sleeve.
We want our new backers to be as satisfied as the Kickstarter community, continue our five-stars rating story, and grow the LaVie community to support our eco-minded initiatives worldwide !
There is virtually no risk apart from potential delays in delivery, and our backers will receive their water purification system as always! This year we have even improved our timing by ordering parts way ahead of launch.