LIGHT Search Engine – Health Research | Social Highlighting — LIGHTING Up the Best of the Internet
LIGHT – Social Highlighting
My name is Steve Scott. I am the founder of LIGHT and Carbogenetics
Currently there are many users of LIGHT and a lot of people find it beneficial. LIGHT is a social search engine designed to allow people to find the best parts of the internet. The focus on this project is to make this tool into a premiere research tool for health and wellness. And also to introduce the social aspect which really gives the tool it's power. Collectively finding the best research and organizing it to make it much more useful and easy to find.
Here is how the LIGHT search engine currently works
Funding Level 1: Convert Ray Peat Newsletters to Digital (Total Backed: $2,000)
There is approximately 35 years of newsletters which have not been put in digital format. Each newsletter is on average 6 pages. It is estimated to about around 1,200 pages. So we will convert each newsletter to text and triple check the content. Each newsletter will be delivered back to Ray Peat in HTML and PDF format. Also each article will be indexed into the LIGHT search engine. Dr Ray Peat will be sending me the newsletters.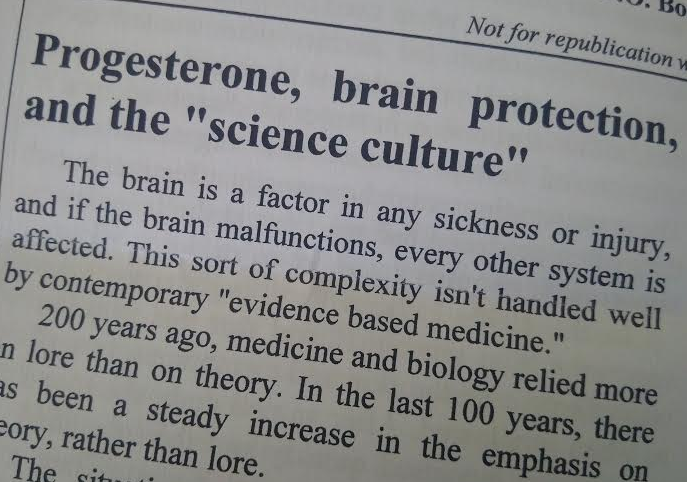 Funding Level 2: Bud Weiss Interviews with Ray Peat (Total Backed: $7,000)
Over many years Bud Weiss has conducted approximately 40 hours of interviews with Ray Peat. Once he is done editing them he will post on Youtube and send to me for transcribing. Each word will be time-stamped and indexed to the search engine to find easily.
These interviews are chock full of great information about CO2 and other health related information that have not been made public before.
Funding Level 3: Generative Energy Podcasts by Danny Roddy (Total Backed: $10,000)
There are approximately 31 hours of podcast material which will be transcribed, triple checked, and time-stamped. It will then be indexed to the LIGHT search engine to make it easy to find. 
These interviews are a great source of health and physiological information including interviews with Ray Peat, Georgi, Karen Mcc and more.  
Funding Level 4: Giving Back to Ray Peat (Total Backed: $12,000)
For all the work Dr Peat has done and the graciousness in which he makes his work available to everyone, I want to give back to him. We will give him a CO2 Breathing Machine, CO2 Therapy Bath, Capnometer and a Red Light Man device. 
Funding Level 5: Improve LIGHT Features (Total Backed: $17,000)
Currently you can highlight material as you are reading it. The new features will allow you to highlight multiple parts of the page at the same time and have it indexed into the search engine all at once. We will also be adding better sharing features for highlights, text, audio and videos. It will allow you to choose the text font, background image and more when sharing.
We come across so much health information each day that it's hard to find and organize the best we come across. You will be able to find and organize your own highlights as well as those from others. You can create groups of like minded individuals as well as create projects within groups to help find the best information from a collectively united group of people.
Funding Level 6: LIGHT RESEARCH (Total Backed: $27,000)
LIGHT RESEARCH is a social research engine allowing users to create Statements and provide studies that support or do not support the statement. Users will be enabled to vote if the study supports or does not support. Additionally comments will be allowed under each study to discuss. All studies will be classified by type of study and if animal or human.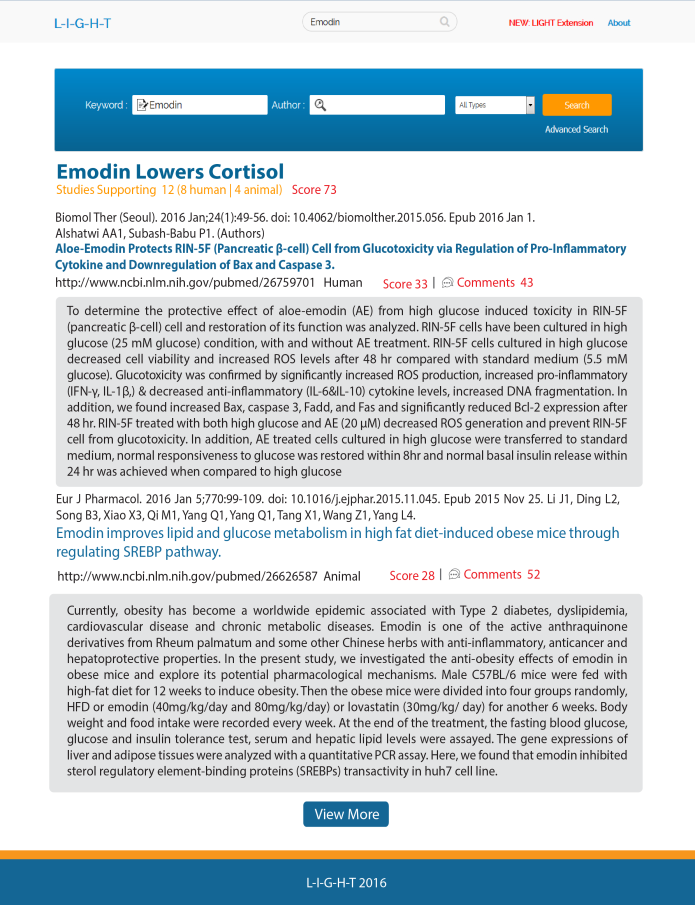 This will allow people to search for virtually any topic and see what research has been done on it and find it all in one place.  You can also see which statements are supported by individual studies and also see what other studies the authors have conducted.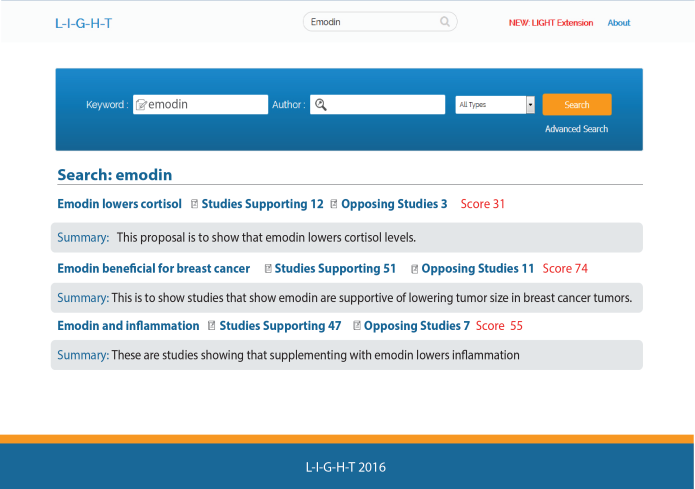 In the search above you can see all studies regarding "emodin". You can filter between human and animal studies as well. 
Funding Level 7: LIGHT SOCIAL (Total Backed: $47,000)
Level 7 is what brings it all together. People will be able to create pages and groups. With your user account you will be able to create your own profile page. You will be able to comment on studies, create your own highlights associated with your account, mark if a study supports the statement or does not.
Additionally you'll be able to create Groups. Groups allows like minded individuals to come together and find information together. You will also be able to create projects around certain topics. All information highlighted by Groups and Individuals is publicly available to search. The advantage is that you are able to filter by Users and Groups. So if you want to follow a group or individual and see what they are highlighting you are able to.
Levels of Financing
All levels of financing will produce something unique valuable. No matter how much is financed, part of the project will be completed and you will find it tremendously valuable. 
If more money is raised than the $47,000 then that money will go into transcribing, time-stamping every word, and indexing other popular health podcasts. Every $ raised will add valuable to an already valuable search platform. Health blogger and research Danny Roddy has said:
Steven Scott's Ray Peat search engine is pretty phenomenal. The ability to search Ray's audio interviews for interesting keywords is one of the most useful research tools I've come across.
Bud Weiss, founder of Buteyko New York City has said:
"Wow. I'm absolutely overwhelmed both by your incredible dedication to bringing this work forward and making it so much more researchable and to your extraordinary generosity. You deserve so much recognition for doing this and making research and teaching with this a kind of dream all of us who are serious about it would wish for and here you are doing it. There are just no adequate thanks for all of this. WOW" ​
Our Experience
Myself and my team of engineers have great experience in search. In 2009 we created a search engine for PPC ads which had tremendous amount of data. I had the person who developed the current search infrastructure for Facebook and Twitter on my team helping us out as there was a tremendous amount of data across dozens of servers. 
What Backers Receive

You can learn more about each individual product here:
Support LIGHT today and receive extraordinary products to help your health. Help create a revolution in the we organize health research to make it easily accessible and organized for all to create new connections and knowledge.