Lightning One: Cleaner Laundry in Half the Time | 2-in-1 compact washer & dryer that fits in tiny spaces and completes your laundry in 30 minutes.

Washer/dryer technology has been the same for 60+ years. This is home laundry reimagined.


The world's fastest combo laundry machine.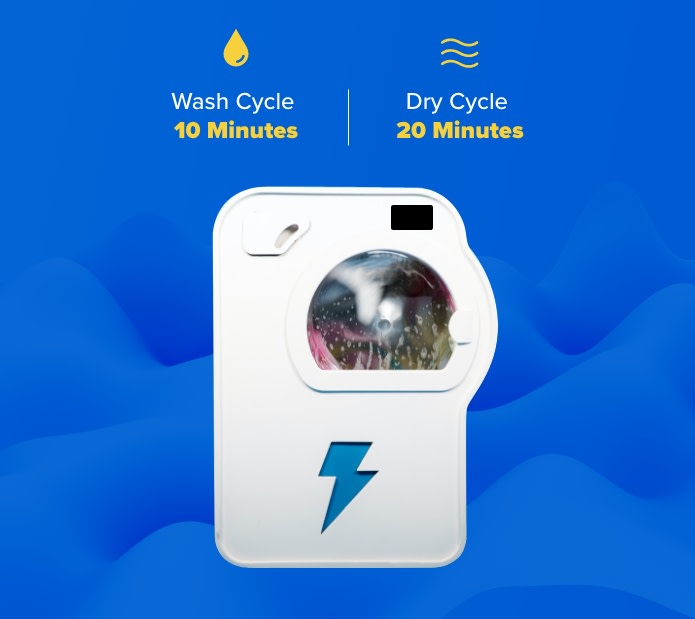 Lightning One uses revolutionary, high torque, high spin-speed technology to complete full loads in a fraction of the time of traditional machines.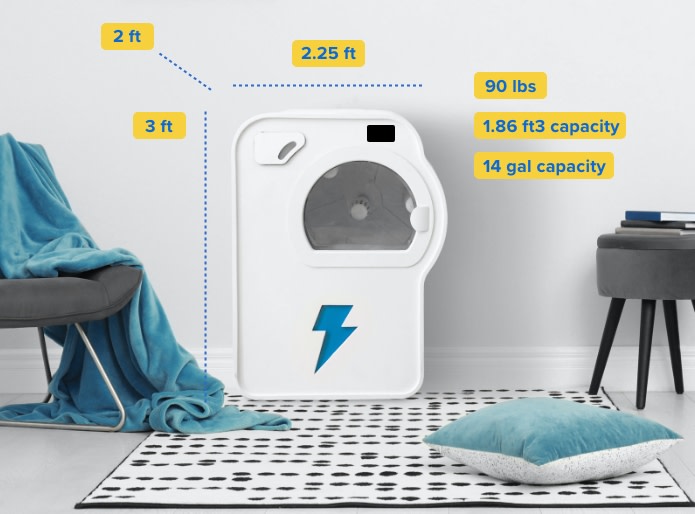 No need to switch over the laundry, Lightning One makes it a one-step process. Pop your clothes into the drum and set it to 'Wash & Dry'. In 30 minutes, your clothes are ready to fold!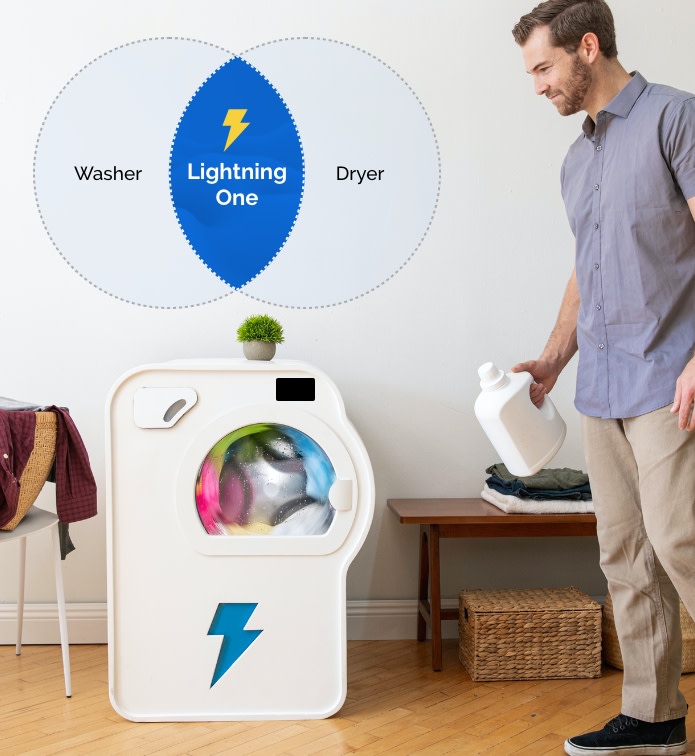 We created Lightning One so you can spend less time doing laundry and more time on what matters.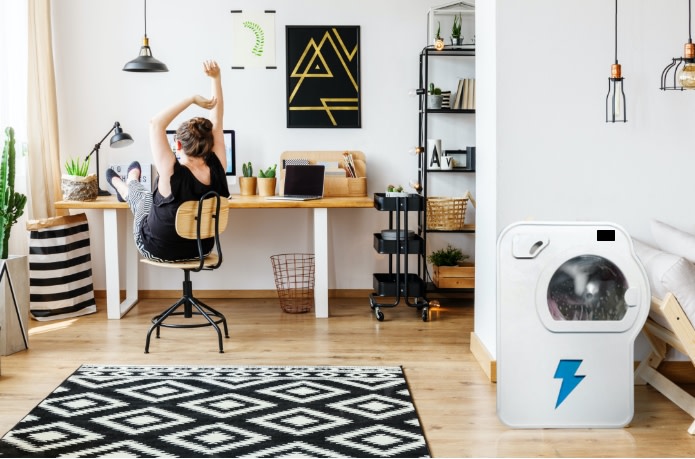 Lightning One cleans the dirtiest clothes in far less time. Detergent Osmosis® tech injects water and detergent into the center of the drum and then pulls that fluid outward through centrifugal force.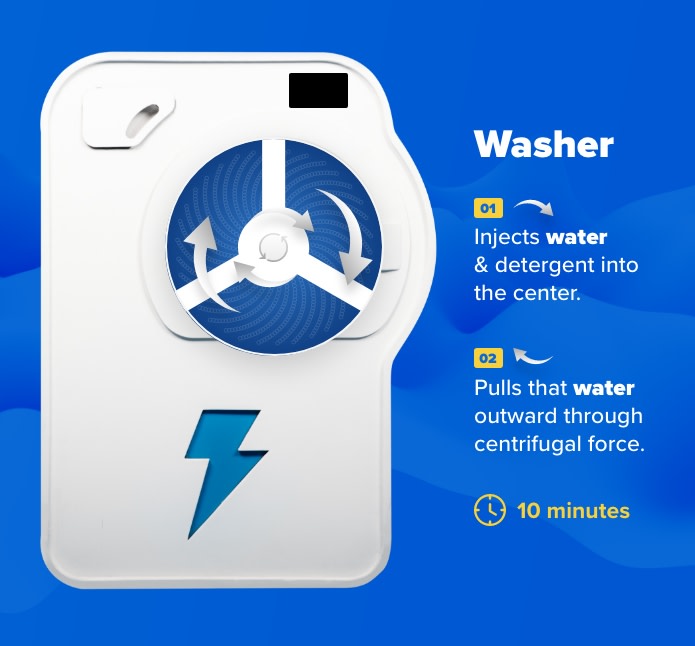 Lightning One does not use any more heat than your standard washing machine or dryer.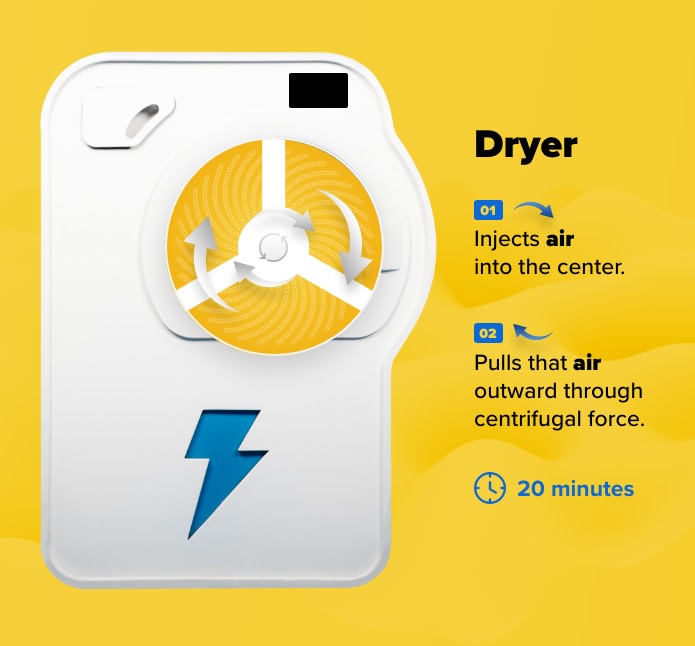 You're probably wondering how many clothes Lightning One can handle since it's so compact. To give you an idea: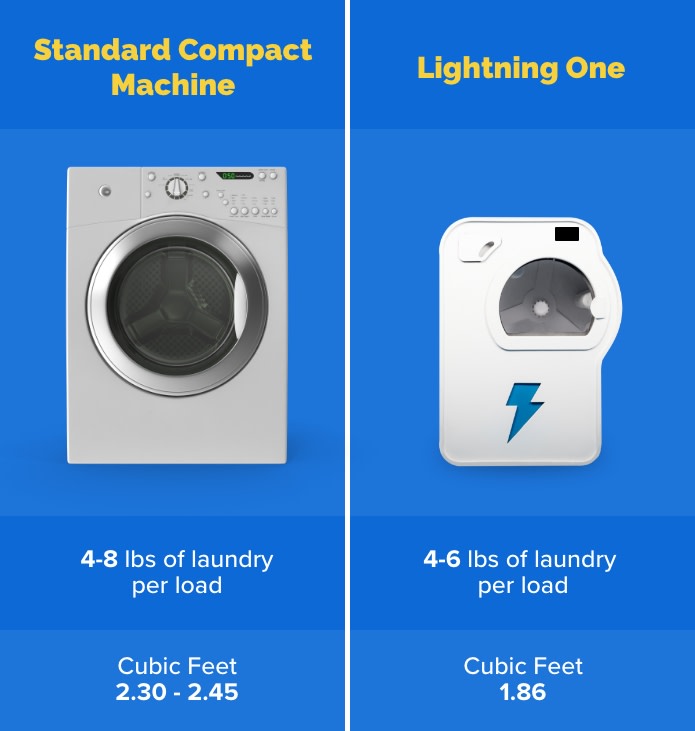 Standard compact washing machines are 2.30-2.45 cubic feet, on average, and can handle 4-8lbs of laundry per load.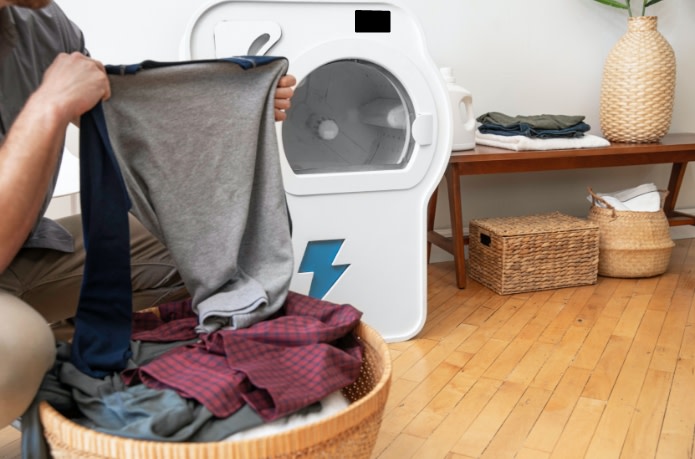 Lightning One has 1.86 ​cubic feet capacity, meaning it can handle 4-6lbs of laundry per load. Whether you're a household of 1-2 or 4-5, Lightning One's 30 minute cycles make laundry a snap.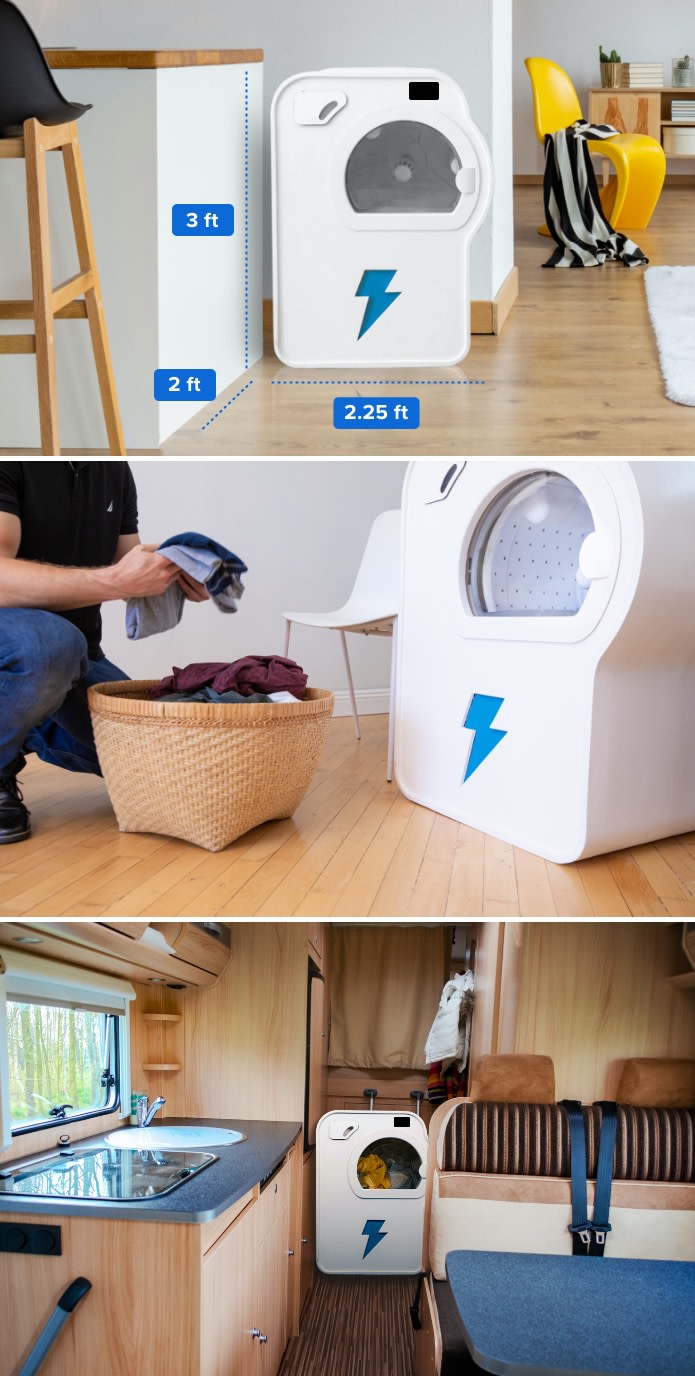 Lightning One is perfect for apartments, tiny homes and even some RVs and boats. At 2 ft. deep, 2.25 ft. wide and 3 ft. tall, it takes up less than half the space of traditional washer and dryers that are separate.

How often do you use every button on a washing machine or dryer? You use the same 1 or 2 settings every load! 
That's why we made Lightning One with a simple, intuitive touch interface. Plus, it's gentle on clothes so you never have to worry about the setting being too harsh.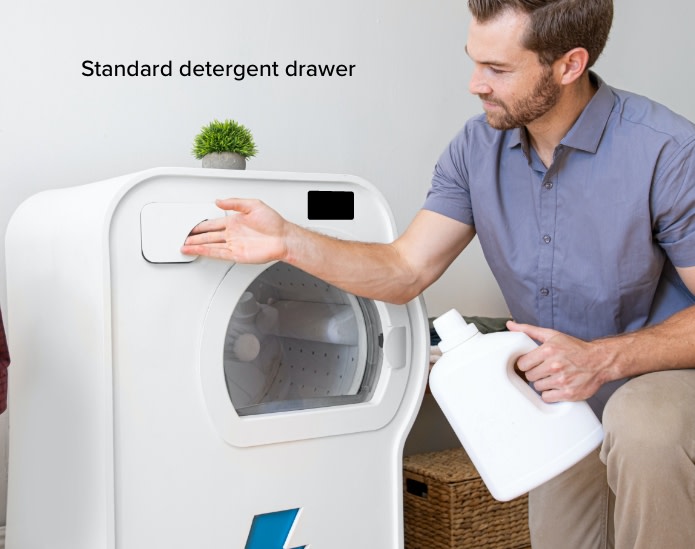 Lightning One has a standard detergent drawer with separate sections for detergent and softener.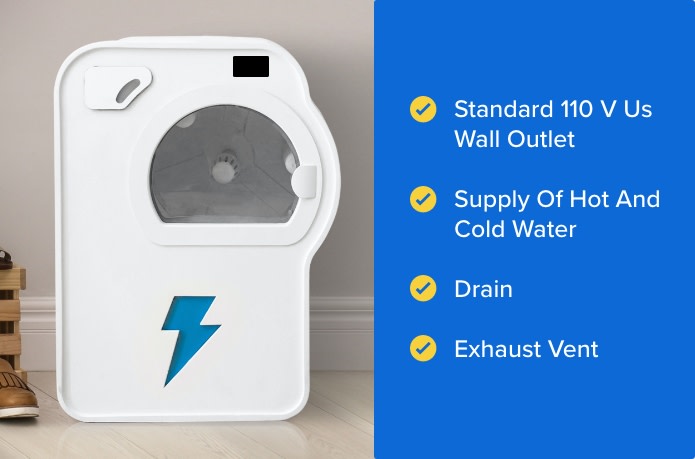 Traditional machines need yearly repairs. Lightning One was designed for minimal maintenance.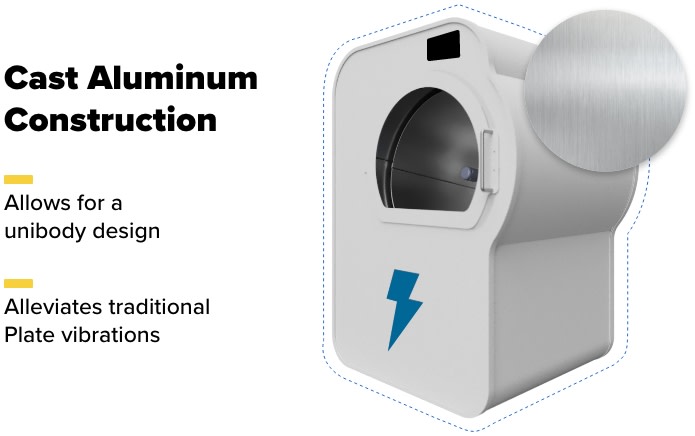 Its cast aluminum construction allows for a unibody design that alleviates traditional plate vibrations. This eliminates loud noises and potential damage to floors, walls and the machine itself.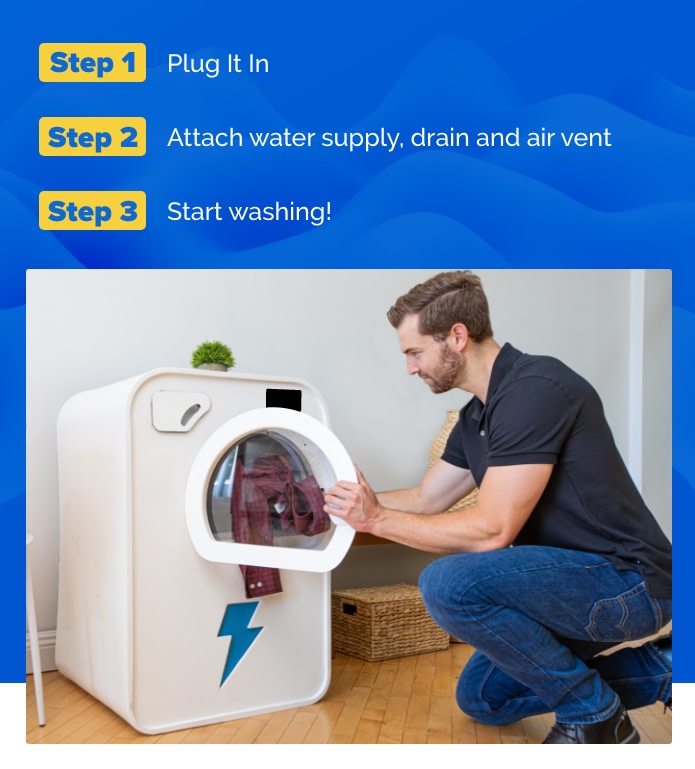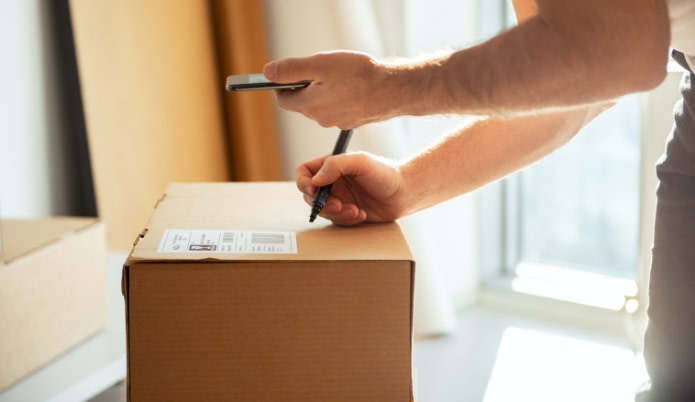 Your Lightning One comes with a 1-year warranty on all parts and labor required to fix your machine, or we'll replace it. You can return your Lightning One within 30 days after delivery for a full refund. Lightning One ships to the US and Canada for $218 per unit.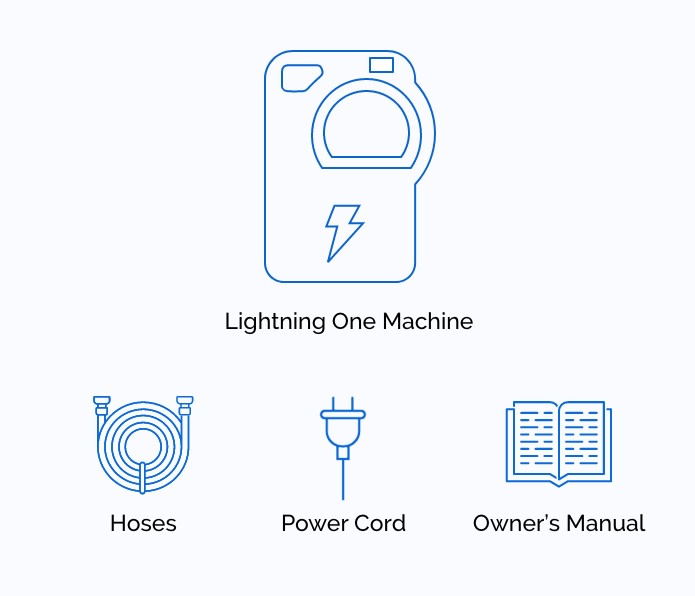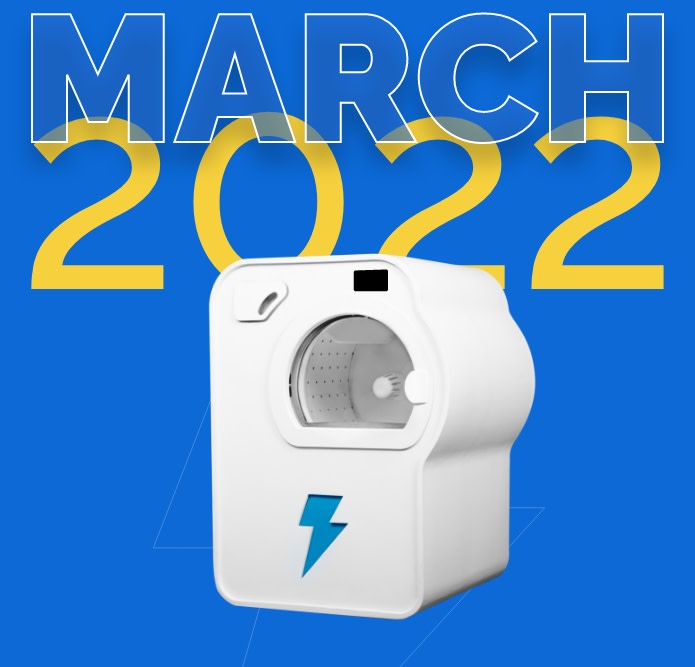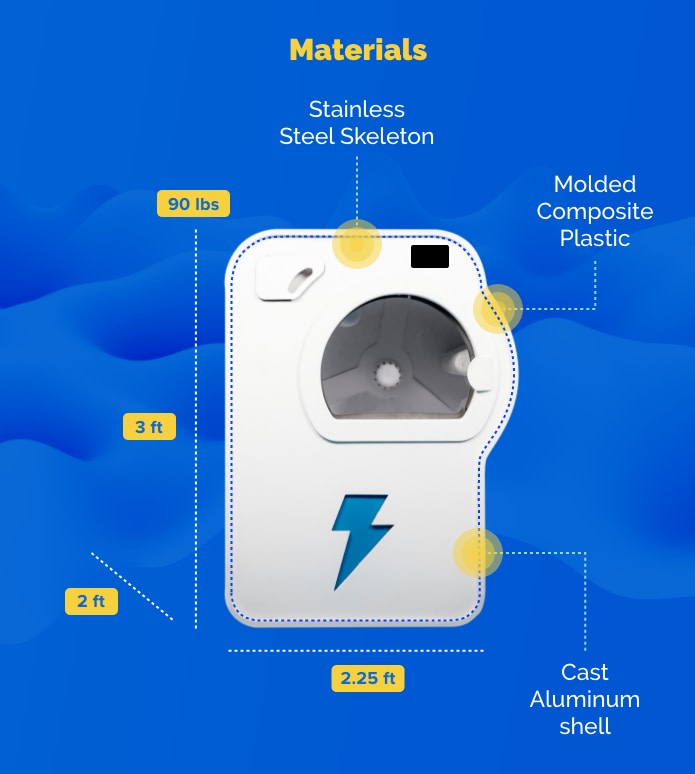 At Lightning Clean, we believe doing laundry should never be a burden. Technology has allowed life to become simpler and more efficient from lightbulbs to phones and even refrigerators!
Somehow, though, American households are still continuously robbed of 90-minute blocks of precious time for every single load of washing and drying. Thus, the Lightning Clean team has dedicated ourselves to pushing the boundaries and finally making laundry hassle-free!