LISSE Discover – Contactless Wine Decanter | Designed to track and explore breathing curve in a glass of wine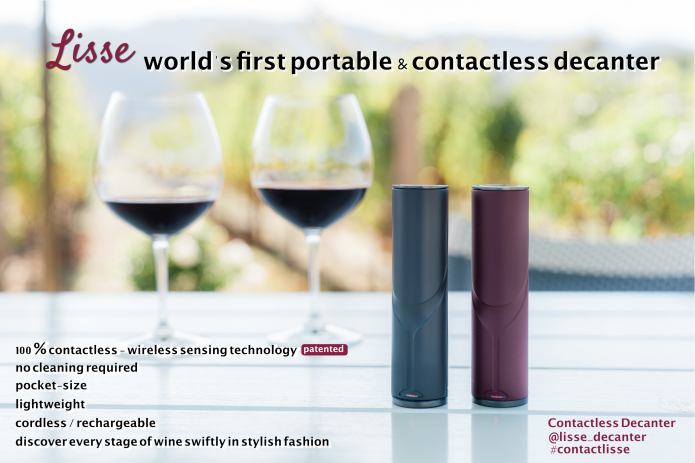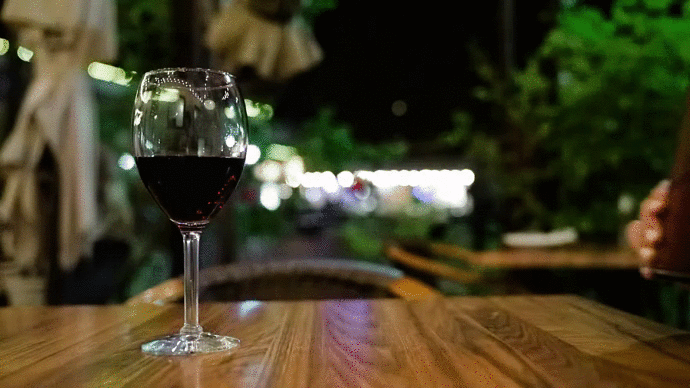 Want to help us? Share on social media. #contactlisee #lissethedecanter
Lisse is designed to decant and explore different stages of wine in stylish and elegant fashion. With novel wireless sensing computing technology, Lisse reduces the barrier between oxygen and tannins without contacting wine, breaking down and mellow harsh texture of tannins. This would elevate the aromas and soften mouthfeel of the wine.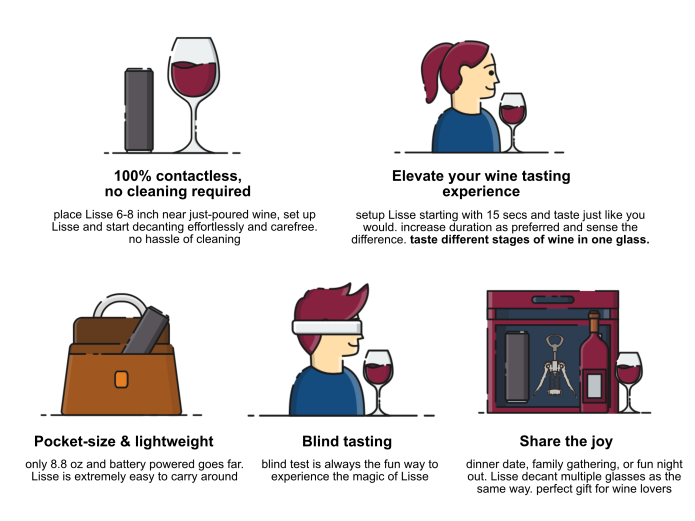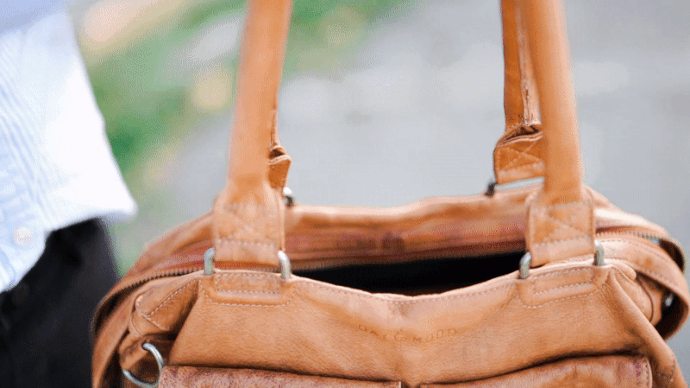 Lisse's compact size and battery power source allow you to decant the wine wherever you travel. Let you have different experience with different wines wherever you want.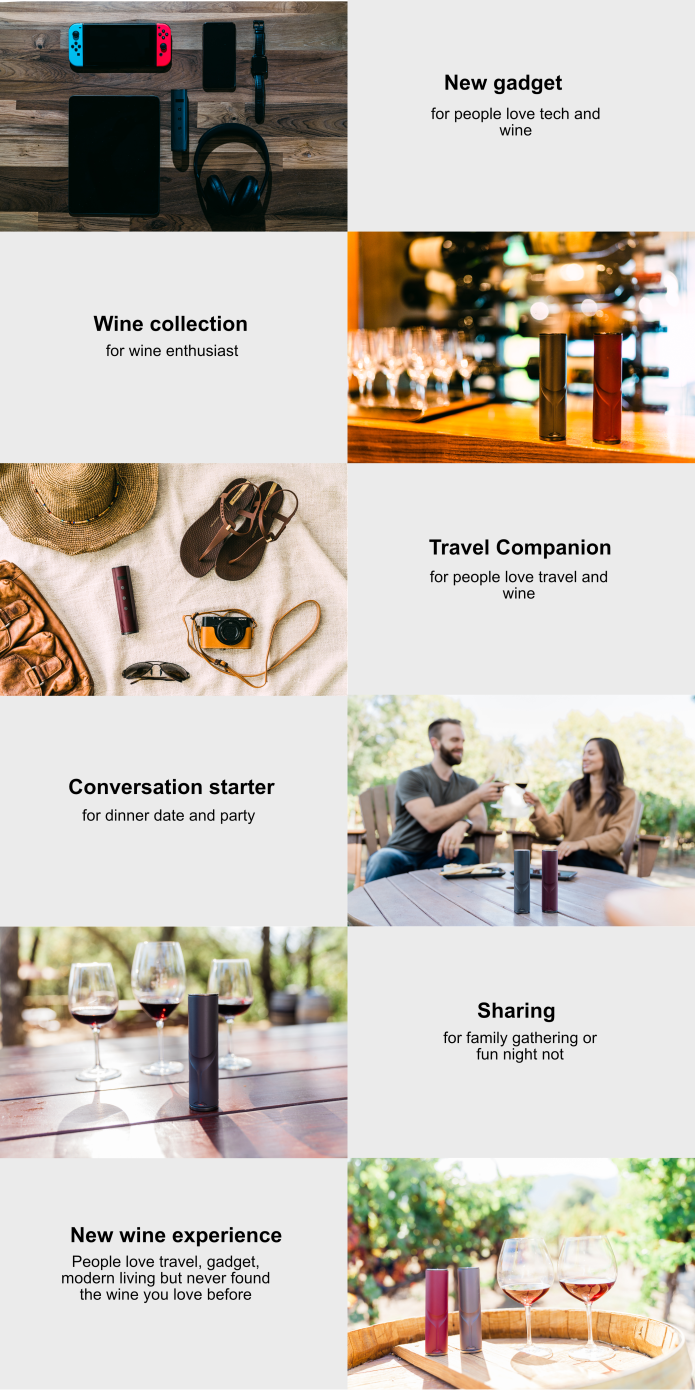 Lisse gives you the chance to don't miss any taste of wine – start with 15 secs and sip, repeat the process,  you get to taste different decanting time in one same single pour. Beside that, Lisse has some more difference than traditional wine decanter.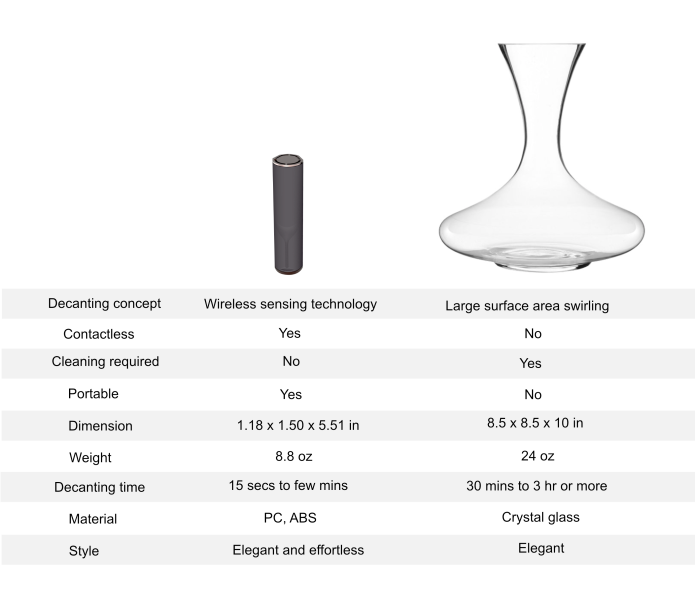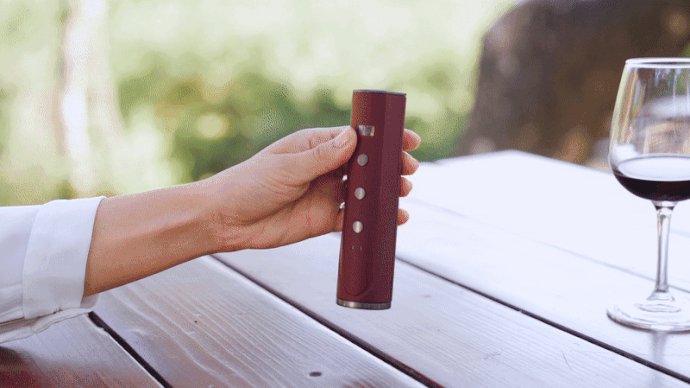 Using radio sensing technology with edge computing, the fundamental of Lisse is "Heterogenous Integrated Electron Paramagnetic Resonance, HI-EPR. There are two key components, "Molecular Magnetic Dipole Array, MMDA" and "Spintronic Processor Unit, SPU".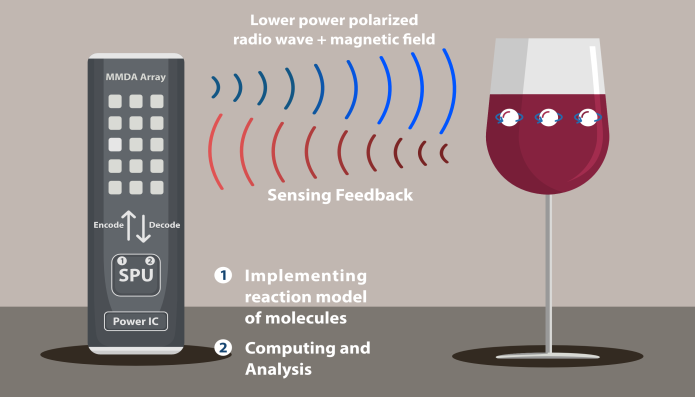 The function of MMDA is to generate multi radio waves as well as static magnetic field to stimulates and activates oxygen on the surface. It increases the reaction rate between oxygen and tannins. MMDA simultaneously senses the feedback from the spin response of molecular. After decoding, the information goes to SPU for implementing physical and chemical model of molecular and generating bit stream back. By encoding, the response  goes back to MMDA. The whole loop continues until reaching the final state.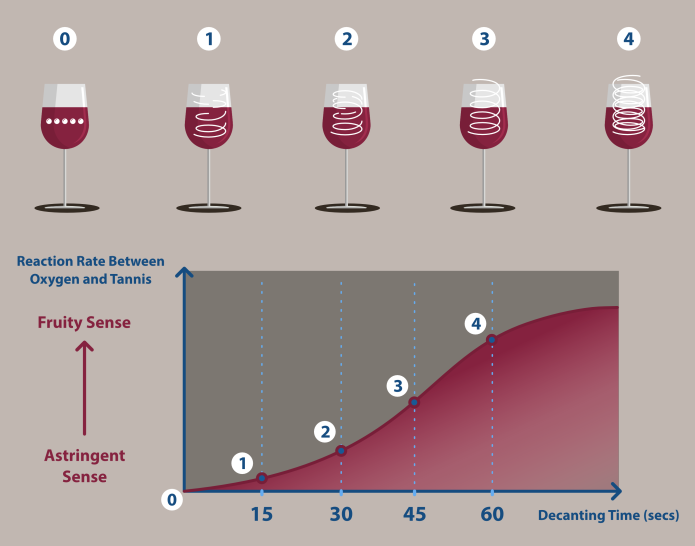 Take Cabernet Sauvignon as an example, the aromas and flavor of wine is changing with different decanting time (15sec, 30sec, 45 sec, 60 sec). In the oxidation process, the reaction between oxygen and tannins is in quantized factor. The mouthfeel of wine is different as the individual stage achieved. We wine lovers won't miss the unique aromas and flavor in each decanting.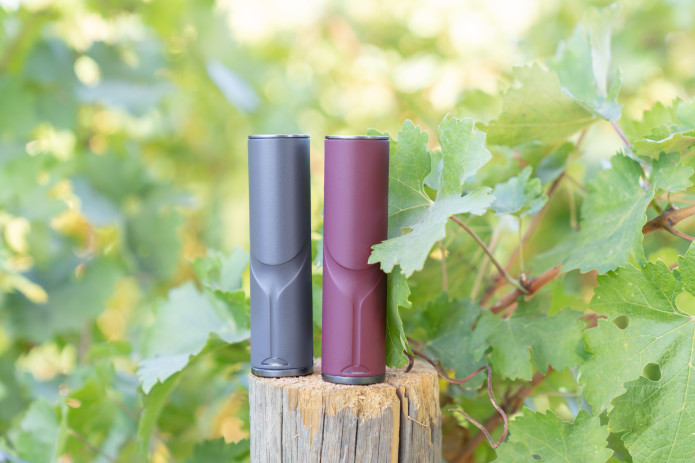 Lisse is beautiful, well designed, and effective decanter. Our team put our love into it and crafted its minimalistic structure and embodied the wine glass shape in the front. Lisse means "smooth" in French, we want you to have different experience of decanting and softening your wine.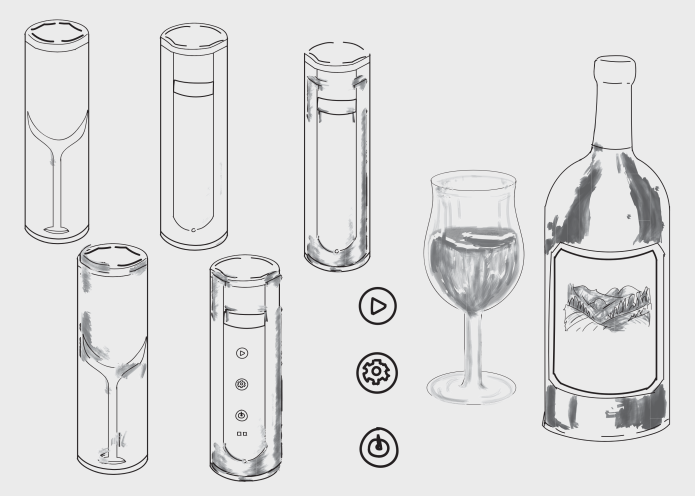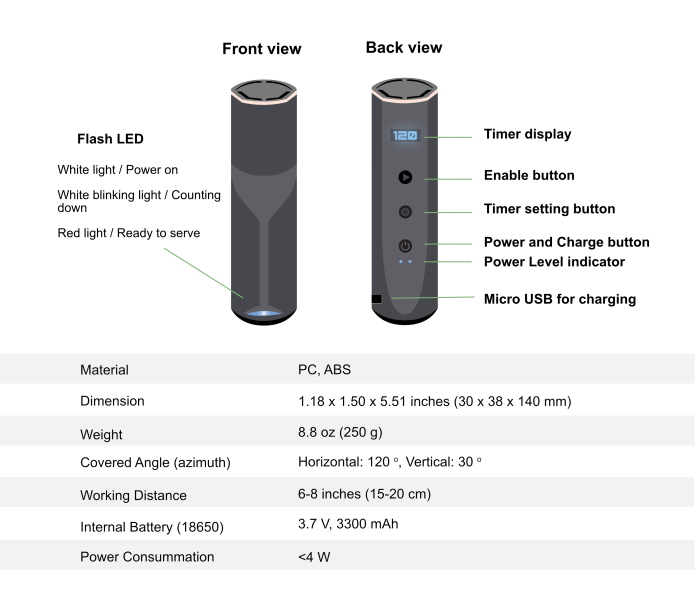 Lisse takes low energy and charges through Micro-USB port. The battery of Lisse is at 3.7V,  3300 mAh which allows over a thousand times decanting via one charge. Power consumption is rated below 4 Watts. Lisse is energy efficient and easy to use.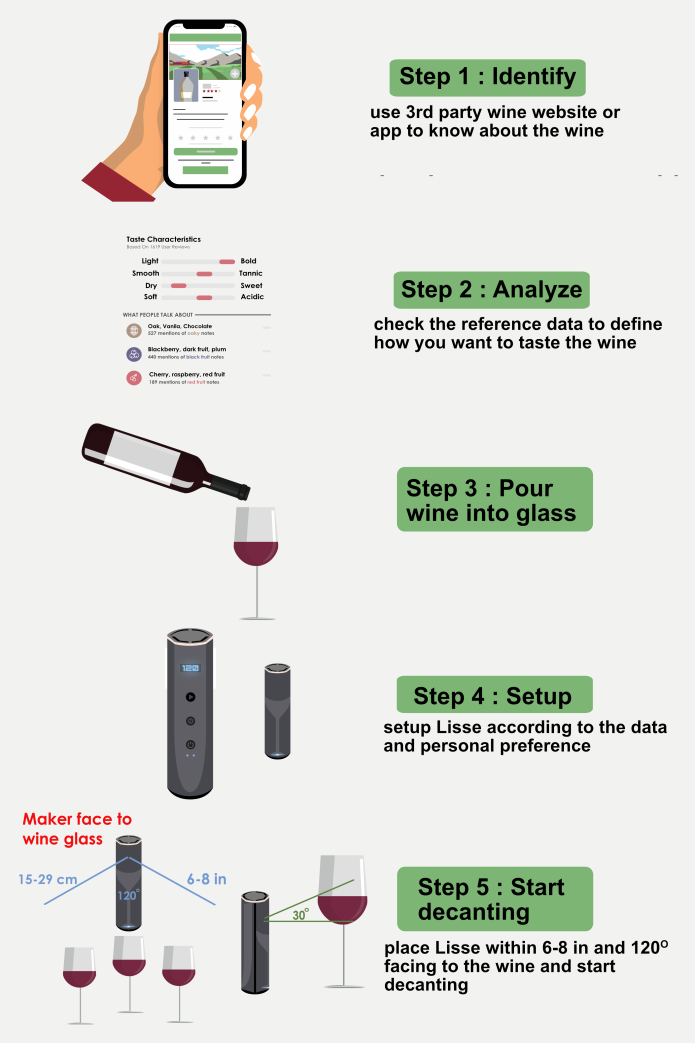 This is a table of decanting times for different types of wine. The following advise is tailored to reach the stage most people like by regular drinking habits. Since every wine is different, this is just a suggestion, we recommend you check the 3rd party wine website or app to know more about the wine you are going to decant. Also, each person has different drinking preference, that's the fun part of Lisse that you can taste the different stages of wine in one glass.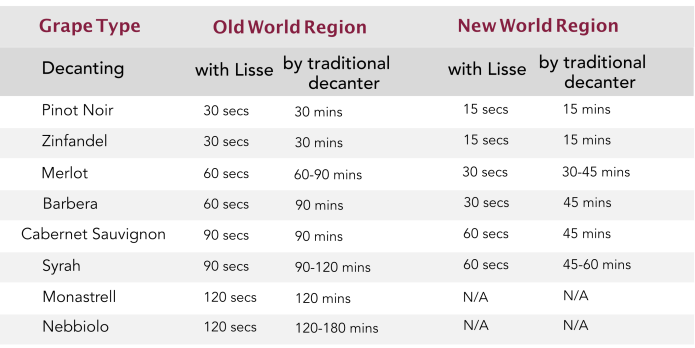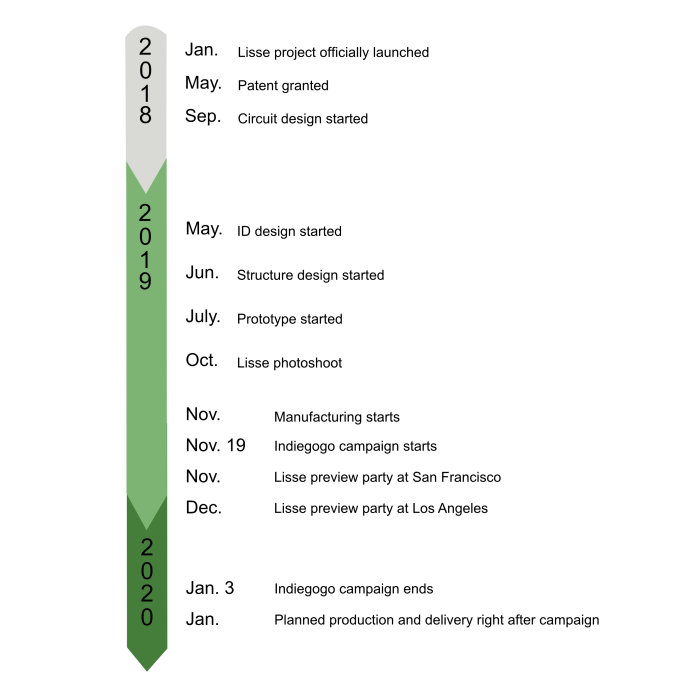 We have already started the first batch of Lisse. Here is the sneak peak of manufacturing process.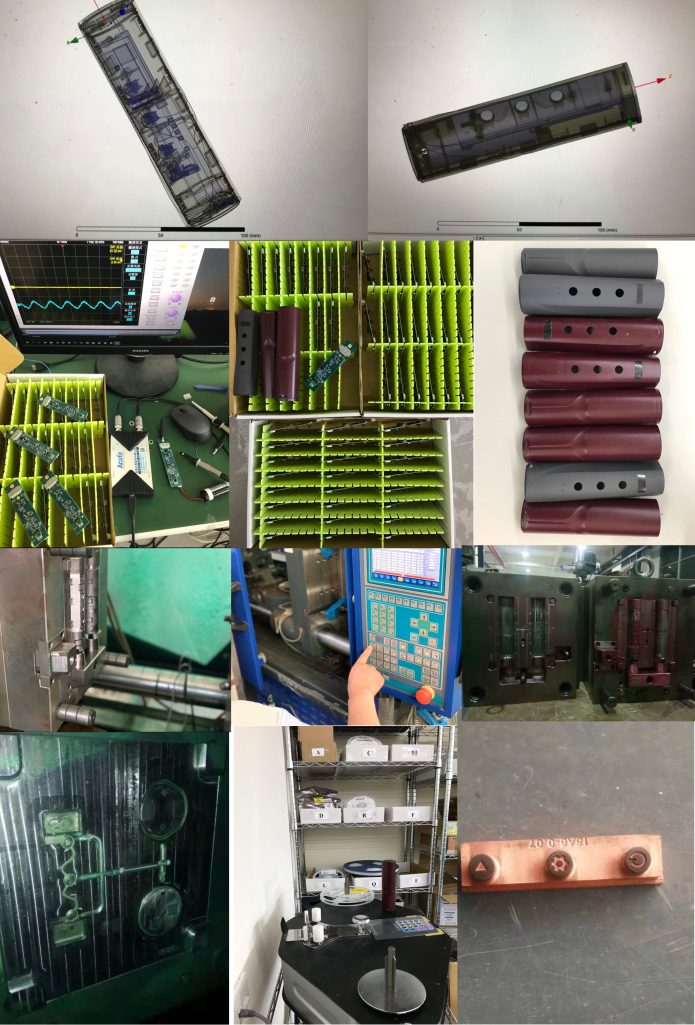 Look at the package design of Lisse! Can't wait!

The Founder & The Team 
A small group of four wine enthusiasts with knowledge of bio-sensing and quantum computing technology build the world's first quantum sensing computing wine decanter. We believe the joy of wine tasting starts from the decanting. Give you the chance don't miss any  taste of wine.
Our Belief & Philosophy
We are fascinated by red wines and realize there's no right and wrong as tasting goes. Lisse is a breakthrough technology we have to elevate your wine tasting experience to next level. With Lisse, you will discover all hidden wine flavors you never known in a stylish and elegant fashion.