Los Angeles Bun Company | Neighborhood Baked Buns Celebrating The Flavors Of Los Angeles
STRETCH GOAL #2: WOW thank you all so much! My next stretch goal is $3,250; commercial kitchens are expensive, holy moly! Everyone'll get a LABC sticker!
STRETCH GOAL: If I hit $2,500, I will be able to rent space in a commercial kitchen which will help me sell at a  much wider variety of events and markets. Also, everyone who pledges will receive an LABC car magnet! 
What's the deal?
I got the idea for Los Angeles Bun Company after having an incredible Filipino breakfast with a friend at L.A. Rose Cafe. The owner sat and chatted with us about a late night snack he'd make as a boy in the Philippines – a sardine bun with pandesal dough. His description was scrumptious, and I immediately tried to create it at home. As I baked, I thought about how wonderful it is that almost every culture has their own version of a bun or dumpling.
I am so lucky to live in a such a diverse and vibrant city with an amazing food culture. Where else can you get a greasy spoon breakfast (hi, Armon's!), legit al pastor for lunch (what's up, Tacos Arizas!), and Korean BBQ for dinner (shout out to Park's!) 
I want to share and celebrate the flavors that make this city great. I want to put my own spin on the diverse tastes of Los Angeles.  
I plan to sell my baked buns at Farmer's Markets, pop-ups, and from home.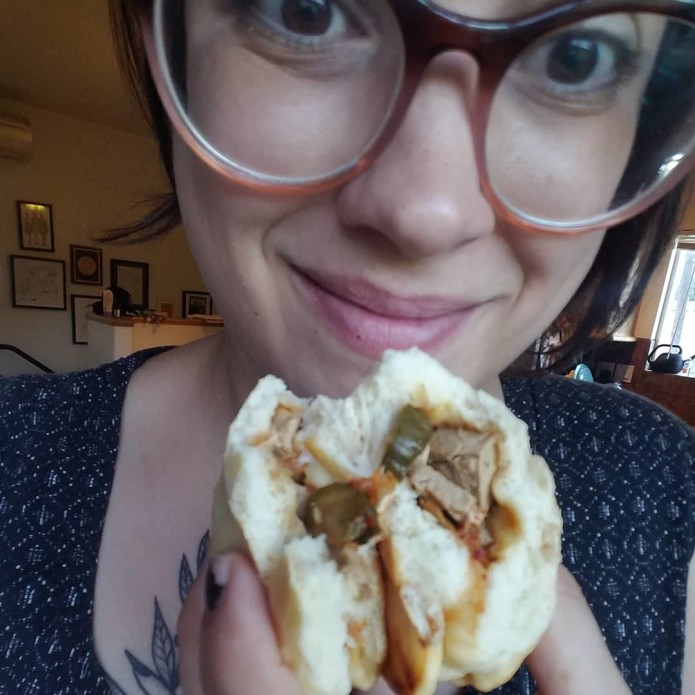 bun with kimchi, marinated tofu, and homemade pickles
My Buns, Hun
Each set of buns will have one sweet and one savory. For my initial launch, I am planning Ube Halaya // Chicken Adobo,  Arroz Con Leche // Carne Asada, and French Toast// Bacon Egg N Cheese sets, with many ideas for future flavors (lots of exciting, yummy research to do…) Heads up that flavors may change due to recipe testing and imagination.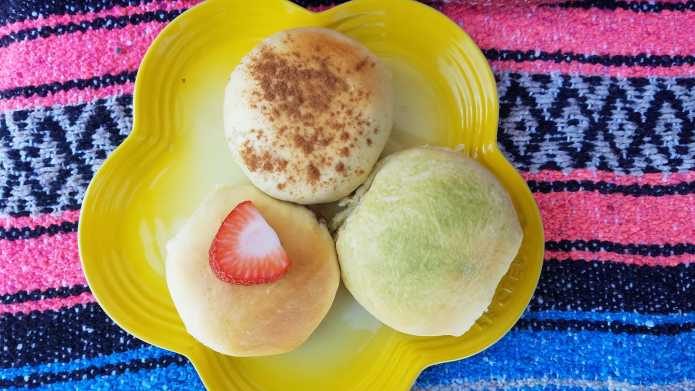 A sweet flight
Where will this money go?
All money raised will go toward a cottage food license, graphic design, farmer's market table, ingredients, marketing, and IndieGoGo Perk fulfillment. Any extra money raised will go towards ingredient costs, commericial kicthen rental, and maybe some more cool perks for y'all. Out of state? No worries, lots of cool rewards for you!
Approximate cost breakdown:
Cottage Food License – $118
Farmer's Market License – $215

Graphic Design – $250

Marketing – $200
Packaging – $150
Specialty Supplies – $100
Ingredients – $100+
Backer prizes include baked goods, dinner parties, tote bags, and… poetry?! Look, I'm really mining my talents, here.
Who, Me?
Anyone who knows me knows that two of my biggest loves are FOOD and LOS ANGELES. What a dream to be able to marry the two. I have a lot of experience both cooking and recipe testing for my food budgeting and meal planning company, Busy & Broke. I also have many years of retail selling under my belt, not least in thanks to almost 9 years managing Secret Headquarters. I believe these experiences and loves combined will make one successful, delectable company.
My current team consists of Me, Myself, and I, which is why I need YOU! I really appreciate you even reading this far, to be honest. If you decide to donate as well, then heck, you're a goshdarn angel.