Lost and Found Coffee | Mobile coffee cart that delivers handcrafted drinks to any event, function, meeting, or celebration.
What will the cart look like?
We are still working on the final plans with our carpenter but the design will be inspired by other carts that we've seen having success in other cities. Here are two examples that I keep coming back to: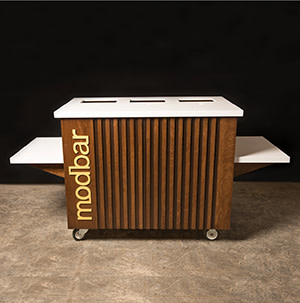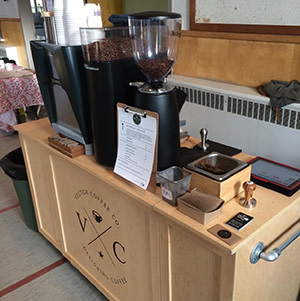 The Company
The idea for Lost and Found was born out of two of my loves: the first being the city of Indianapolis and the second, delicious coffee. Despite great coffee shops opening in Indy and the surrounding areas, who are continually expanding on quality and service, I noticed that almost every time I would go to a wedding, networking event, conference, or in-office meeting, that the taste of the coffee was almost always terrible — embarrassingly so. Serving great coffee at your event shouldn't be so daunting. Lost and Found aims to simplify that process by providing locally roasted, ground to order, custom gourmet coffee orders using a fully mobile cart.
Most of our competitors' ideas of "catered coffee" is brewing an hour or more before being served and then delivering the final product to the event in cardboard boxes. So what, you may ask. The coffee ends up cold within 30 minutes of arrival and taste like the cardboard box it came in.
L&F will only serve fresh-roasted coffee brewed on-site, not at a home kitchen and brought to your event. Minutes after espresso is brewed, the flavor compounds begin breaking down, degrading flavor, and the sediment in drip coffee settles which disintegrates the full taste that you have come to expect. These two problems will be solved by L&F's mobile cart by brewing each coffee fresh to order, never letting coffee spoil on the counter before being served.
The Founder
The earliest memory I have of drinking espresso is in the back of a minivan on the way to gymnastics practice in 2010. I hated coffee at the time but was perpetually tired because I never went to bed early enough. The people I carpooled with would swing by a Starbucks on the way to the gym, and one day I decided to begin ordering espressos as a quick pick-me-up. I remember thinking it was disgusting but being enamored with its mystery and strength, not to mention the effect it had on my energy! I was hooked.
My introduction to brewed coffee came when I stumbled across a black and white video in 2011 of someone walking the viewer through making a french press coffee in detail. Up to this point I had never understood brewing ratios or that there was more than one way to brew coffee at all. I was a senior in high school and never looked at coffee the same again. I took that interest with me to college where I brewed french presses daily in my dorm and continued to study coffee origins and brew methods. Throughout my time at Indiana University, I experimented with different pour over methods and fell in love with creating an accessible experience for people who had never tasted the fullness of coffee that I was discovering.
Over the last seven years of brewing coffee for hundreds of people at home, I've also grown to love educating people on what goes into coffee and how to make it themselves. Many think that specialty coffee is hard to get into and requires a massive vocabulary base, pallet maturity, and an understanding geography, but, in my experience, a great tasting cup of coffee or espresso speaks for itself and even the most novice coffee drinker can taste the difference between a well-made cup of coffee and one made with no care. Initiating someone into specialty coffee is a life passion for me and bringing that experience to a wedding, office, or event is the obvious next step.
The Need
The funds raised on this Indiegogo campaign will be pushed right into the payments for all of the equipment needed to get the first mobile coffee cart up and running. The $7,500 goal encompasses the cost for a commercial espresso machine, two coffee grinders, all accessories like scales, milk pitchers, refrigeration, a point of sale device, the lumber for constructing the cart, and all of the other small pieces that go into providing delicious coffee at fast-paced events! 
By utilizing Indiegogo's flexible funding option, I will be able to immediately withdraw donations as they come into the account so no time will be wasted in getting the cart up and running.
The Timeline
My goal is to have all of the funds raised by May 10th and have the cart ready for business by June 1st. I've been reaching to out venues, companies, wedding planners, and other event planners over the past couple months and have received tons of positive feedback and many that are ready for this style of a coffee cart to be available in Indianapolis. The city is ready for cafe-quality coffee at its events, so let's give it what it wants!
Other Ways You Can Help
Can't contribute but still want to help? 
It would mean so much for you to share this campaign with your coffee-loving friends, family, and co-workers! Helping to get the word out about Lost and Found Coffee is just as beneficial as a monetary donation.
Check out our website, lostandfound.coffee, to learn more about the services we provide!
Thank You 
This campaign would not have been possible without the following people:
Mark Woolsey for drawing our amazing logo
Connor Hitchcock at Hoosier Proud for printing our shirts
Jordan Viehe for creating the promo video
My wife Shelby Mandla for her amazing support
And lastly, all of my friends and family that have listened to me talk about this idea for months.
I can't thank you all enough.