Lubrano on the Road | Help us launch the Lubrano Italian food truck and spread authentic Italian cuisine and hospitality!
The Lubrano Story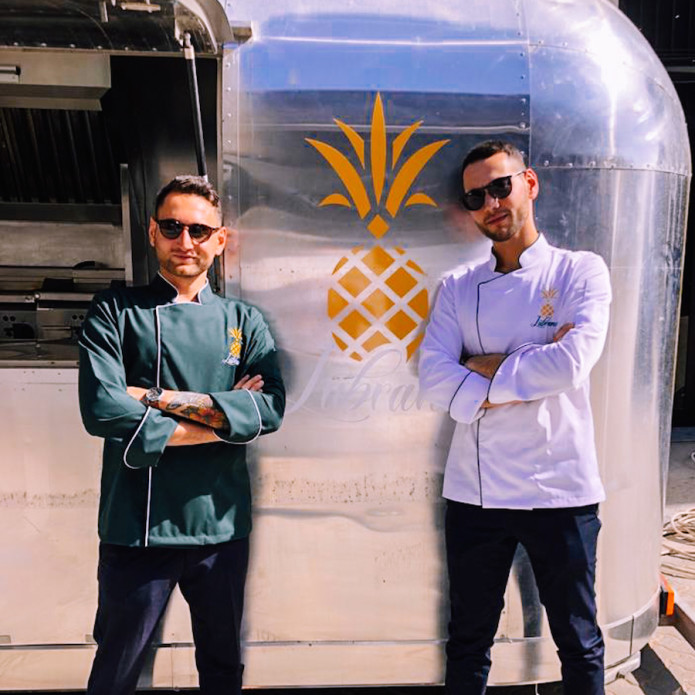 We are Mattia and Gianpaolo Lubrano, inseparable brothers since birth. We had our first break in the hospitality business working at our uncle's restaurant when we were teenagers. Over the years, we spent a lot of time working in London and Dubai. We wanted to immerse ourselves in the hospitality industry to see the possibilities of launching our own food truck in Italy. It was our childhood dream.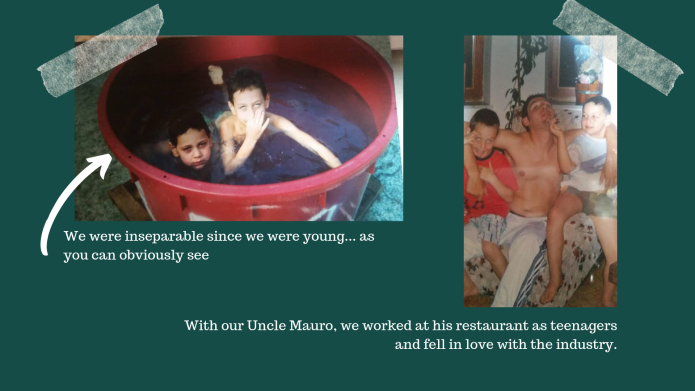 In 2018, we decided to take our first big step conceptualizing the Lubrano hospitality business starting with our food truck.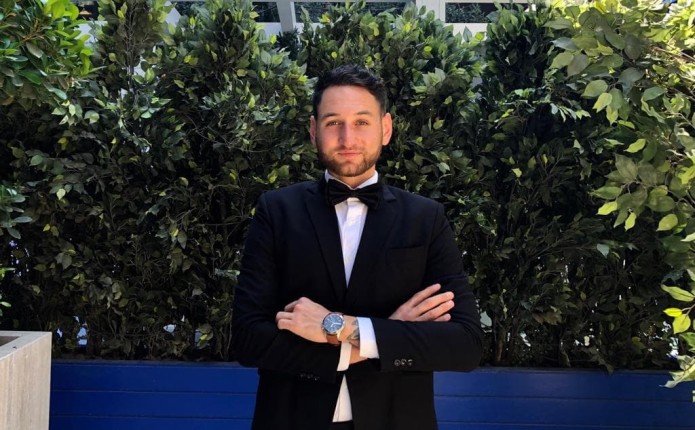 Mattia is a hospitality and tourism fanatic who's worked at Scalini, an iconic Italian restaurant and Gaucho restaurant in London. Mattia used his passion for the industry to travel and embrace the spirit of different cultures.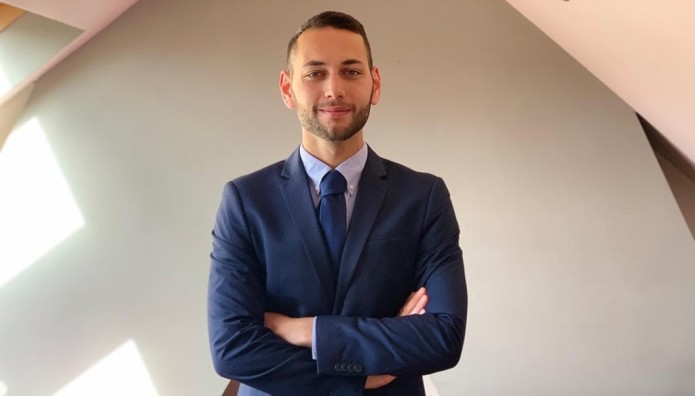 Gianpaolo attended a catering school in Italy and completed a sequence of training and masterclasses between Italy and London.  He led the bar of the iconic Gaucho restaurant in Broadgate and after two years, moved to the historic Savoy hotel as a bartender.
What We Need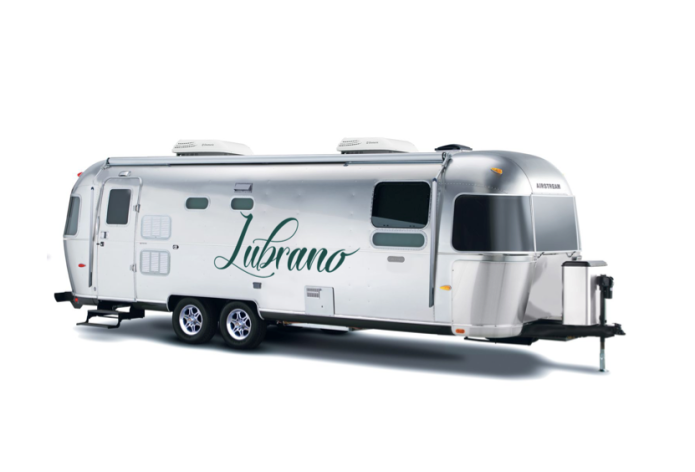 We need your support to help fund the business. We are aiming to raise $30,000 which will go to: 
Funding and design for our food truck
Marketing and events
Central kitchen
Research and development for new signature dishes
The Idea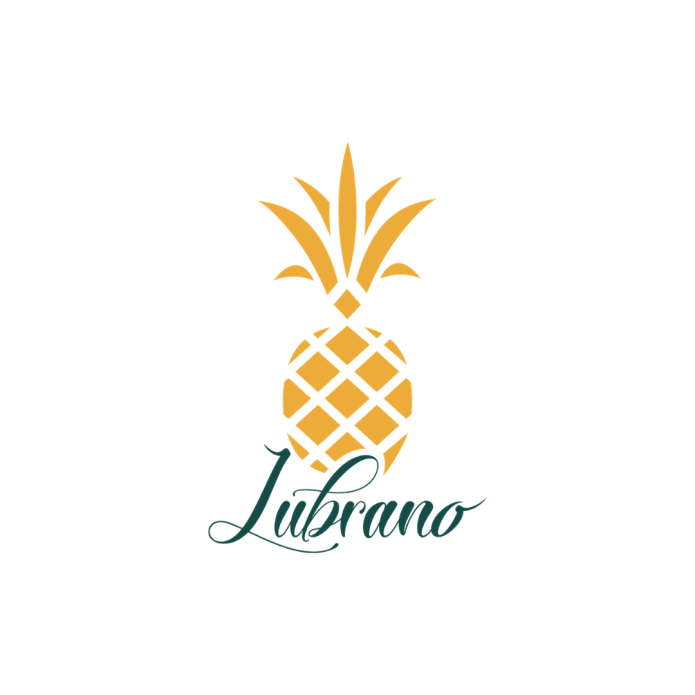 Hospitality for us means home, familiarity, and warmth.
The company is represented by the pineapple, an exotic fruit that transmits warmth and welcomes people.
Genuine quality food and hospitable service will be delivered to all our clients making every Lubrano experience magical.
We brainstormed on how to best share our concept in as many locations as possible, leading us to the creation of Lubrano on the road and soon Lubrano at home.
Timeline
Here's a look at what we've accomplished so far in the past year and where we're at right now.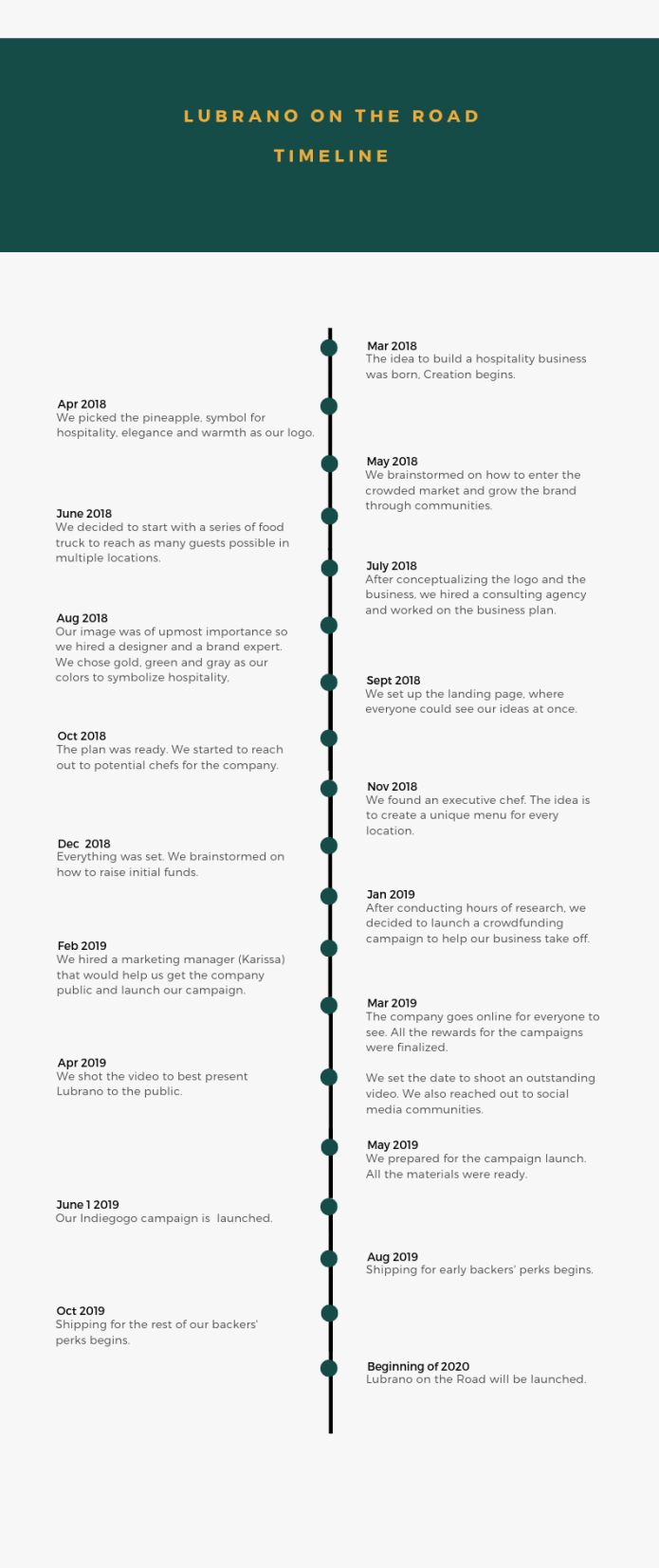 Other Ways You Can Help
We need every help we can get. You can support us by pledging even a small amount. We would also graciously accept any help in spreading the word out about our campaign. 
Share this link on any social media channels you use.
Tell your local friends and family that we'll be opening soon.
Like and share our social media pages: Twitter, Facebook, Youtube, and Instagram. 
Referrals to influencers, publications, and media outlets.
We thank you in advance for all your help!
Perk Details
Aside from helping us get one step closer to our lifelong dream, we've prepared some personalized rewards for you to show our gratitude. 
You can always donate without claiming a reward – that is, if you are simply generous and we are also happy to accommodate any kind of help we can get. 
If you need us to ship you an item, please select the (Shipped) option when choosing your perk. You may also pick up an item in Vicenza, Italy. We will use Amazon as our shipping provider and shipping rates vary depending on delivery location.
Now, let's look at our amazing perks!
Lubrano Sticker – $10
Get the Lubrano logo sticker. It will look great on your laptop, bottle, fridge or wherever you think you can stick it!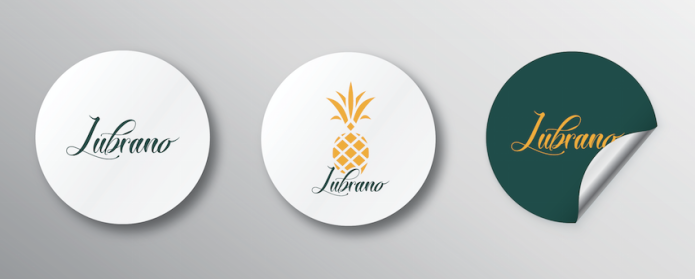 Thank You Card – $15
For a $15 contribution, you will receive one thank you card specially designed by Lubrano in appreciation of your support.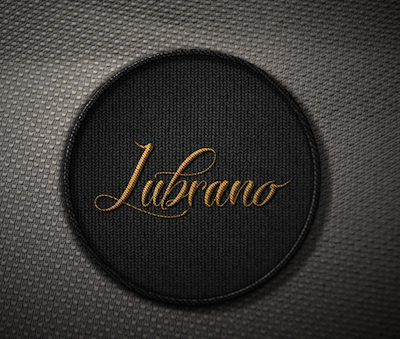 Wine or Rock Glass – $20
Choose your glass and we will send it over to your apartment so you can chill and have a good time. Feel free to take as many as you want.  Pick up and delivery available.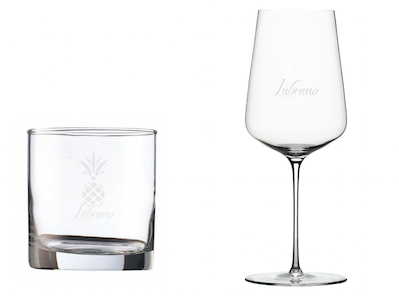 Lubrano T-Shirt – $30
Get our Lubrano t-shirt available in our signature color! You can use it whenever, wherever! Don't forget to take a picture when you wear it and tag us on Instagram or Facebook so we can reward you for being a fan.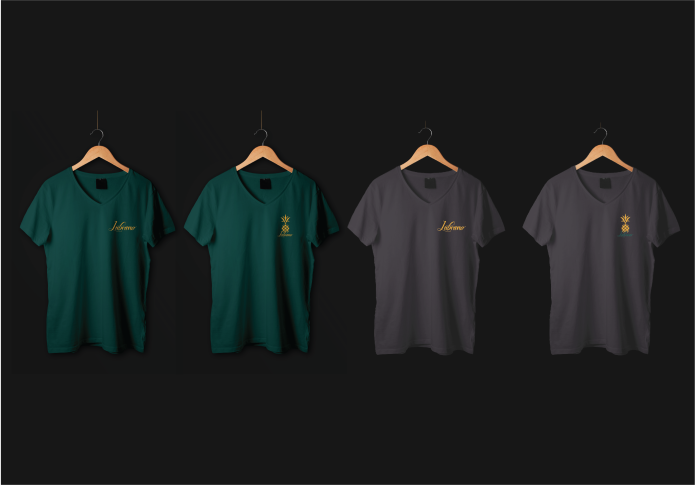 Snapback Hat – $30
Choose your style! Side logo or circle path side logo in gray or green colors.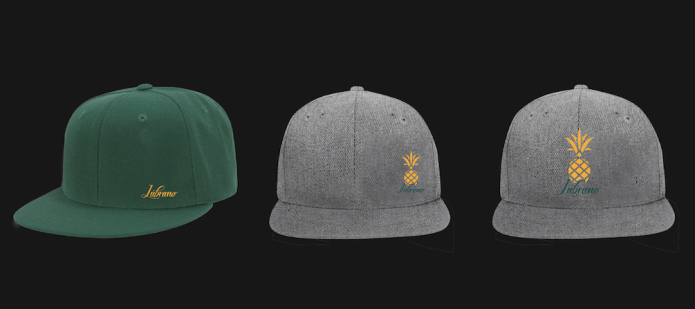 Lubrano's Opening Party: All Inclusive  – $40
Mmm, party is on! This voucher allows you to participate in our opening, all inclusive!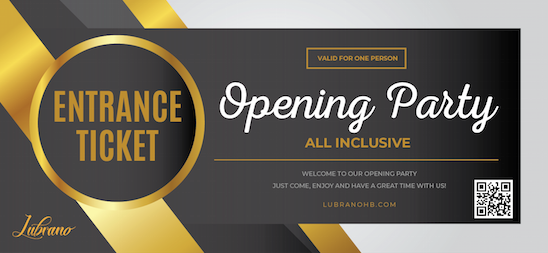 Lubrano Chef Uniform with Personalized Name Print – $50
We know that cooking can be messy but don't fret! Have our chef's jacket printed with your name on it and look 100% like a real Lubrano's chef. Available in full white or full green.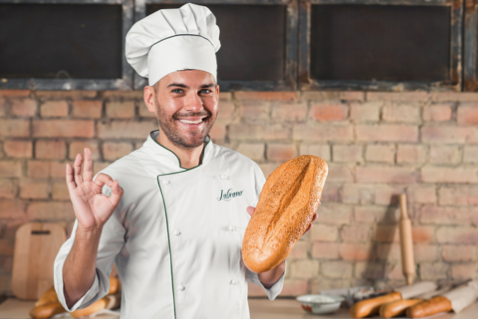 Lubrano's Luxury Dining Set: 2 Starter Plates, 2 Main Plates, 2 Soup Plates  – $60
Once you're done in the kitchen, it's time for your masterpiece to be presented in excellent plates. Choose your style and color. On to the next dish!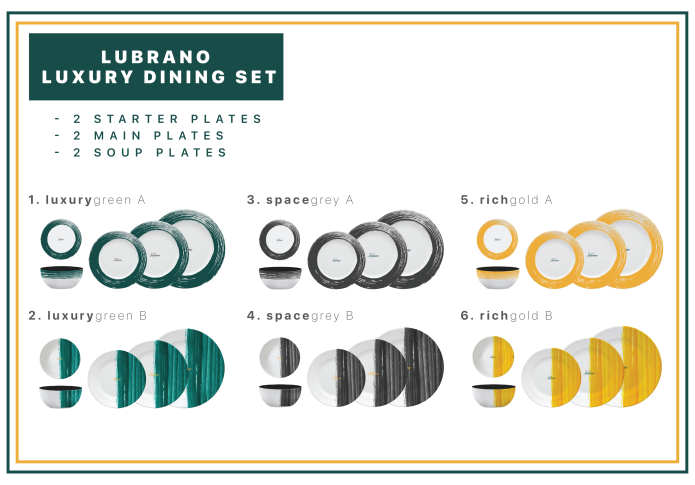 Lubrano's Full Table Set: 4 Wine Glasses, 4 Rock Glasses, 4 Starter Plates, 4 Main Plates, 4 Soup Plates –  $150
All in 1! Invite everyone and have a feast. When you cook, you know which dining set to use. Choose the style and color of the plates that you want.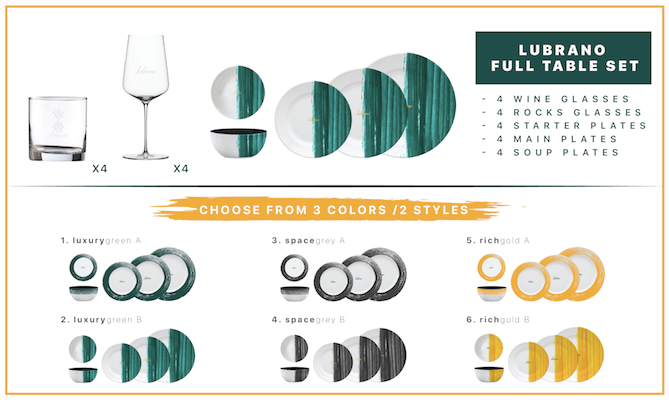 Lubrano's 1 Year Membership –  $250
Here you go! You're in for a real treat with our Lubrano membership. Wherever we are – you will get free personal meals for 1 year. Plus you will also get an additional 25% discount with our Lubrano at home product line. Membership is non-transferable.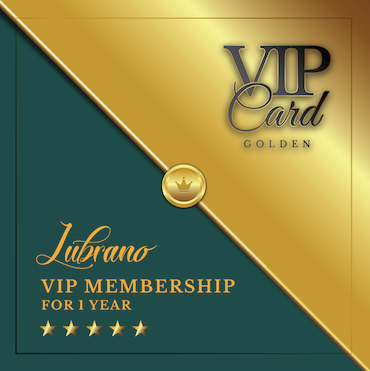 Lubrano's Personalized Home Dining Experience  –  $300
Inviting friends and family at home has never been this easy. Invite up to 10 friends and we will send one of our chefs to cook for you!
        ​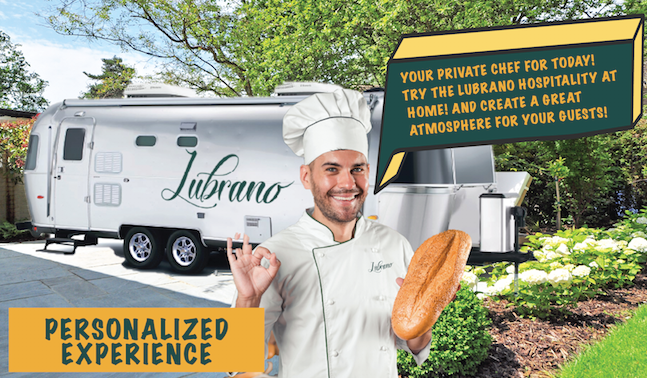 Lubrano's Work Experience  –  $400
There is something new to learn every day. Why not get involved? Come and visit our world – get to know our cuisine, shops, and team. You will be hands-on and immersed in a full culinary experience for two days with the Lubrano team.