LuluPet: Cat Health Monitoring Made Simple | Smart litter box that detects symptoms of Top 7 common cat illnesses using AI recognition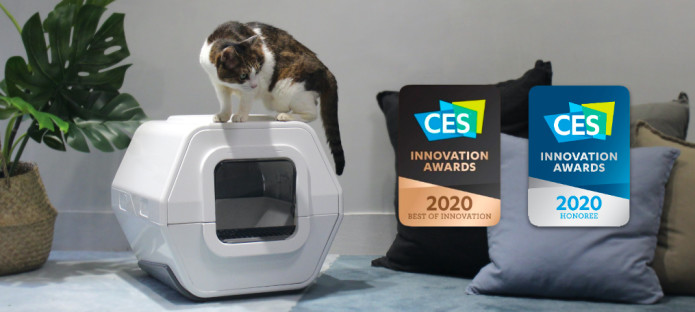 LuluPet is the first smart cat litter box using excretory image recognition to monitor your cat's health through their potty habits with 95% accuracy. You get real-time alerts from the LuluPet App so you know if there's an irregularity in your pet's loo time as soon as possible.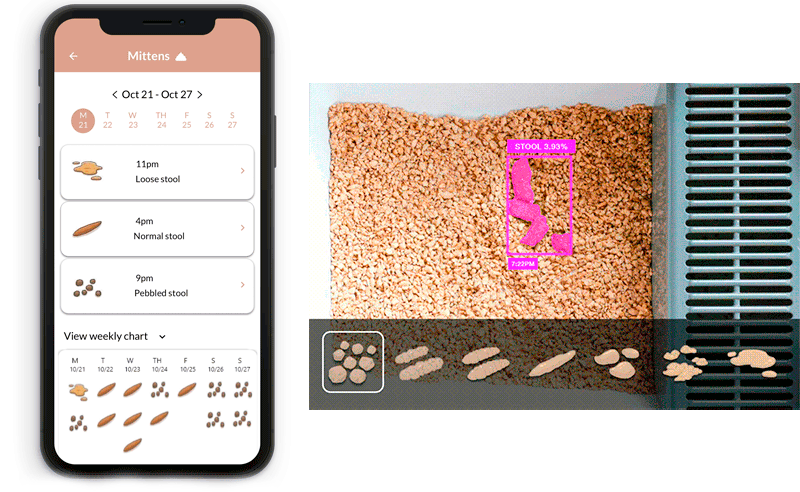 No more excessive vet visits and constant worries—LuluPet lets you rest assured your cat is healthy and happy.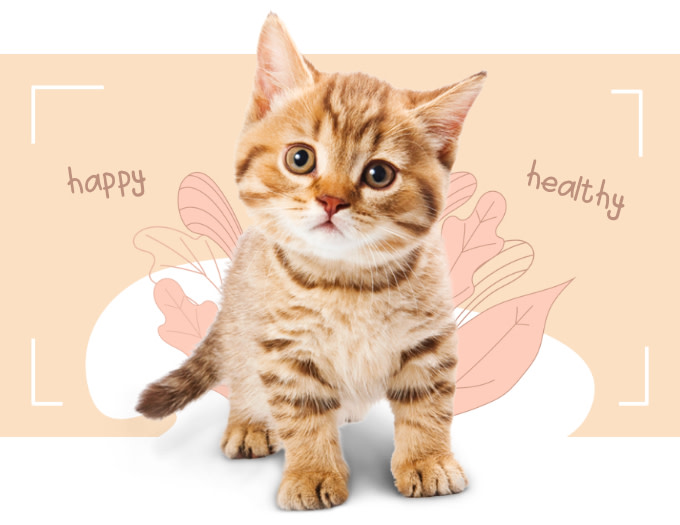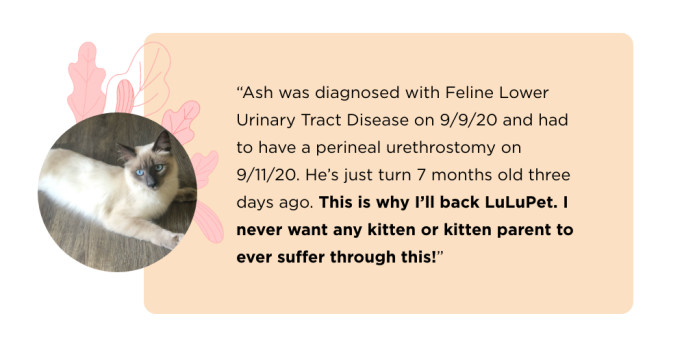 And no, we're not talking about your favorite coffee mug that mysteriously shattered. Your furry friend could be in pain and struggling with health problems and you'd never know it—at least not until it's too late.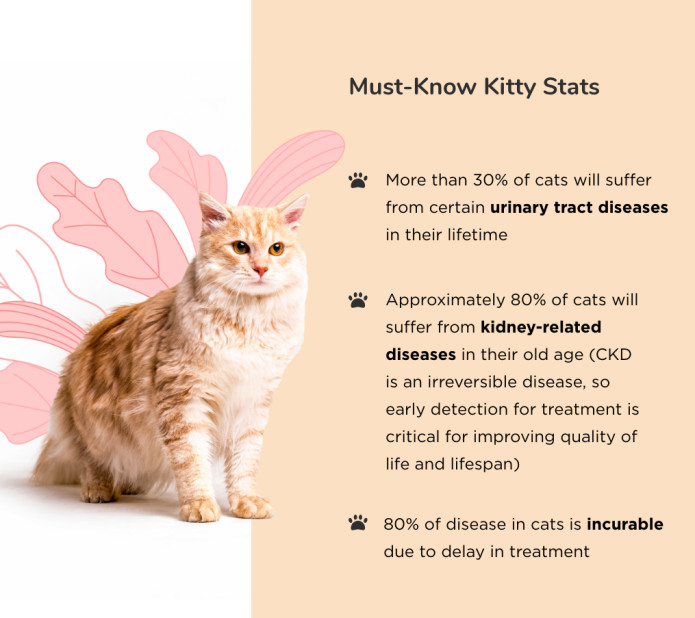 Cats have a deeply-rooted natural instinct to hide their pain, making it difficult to spot the signs of illnesses like kidney disease, heart disease and urinary tract problems early on. Lulupet gives you more control over your cat's wellbeing by alerting you of potential issues the moment it detects an irregularity. Early treatment can help prevent a minor health issue from developing into an irreversible condition.

Stool and urine analysis has become the most straightforward way of detecting a wide range of feline diseases. Our super smart kitty commode uses artificial intelligence to monitor and analyze your cat's health through stool image, weight change and excretory behaviors.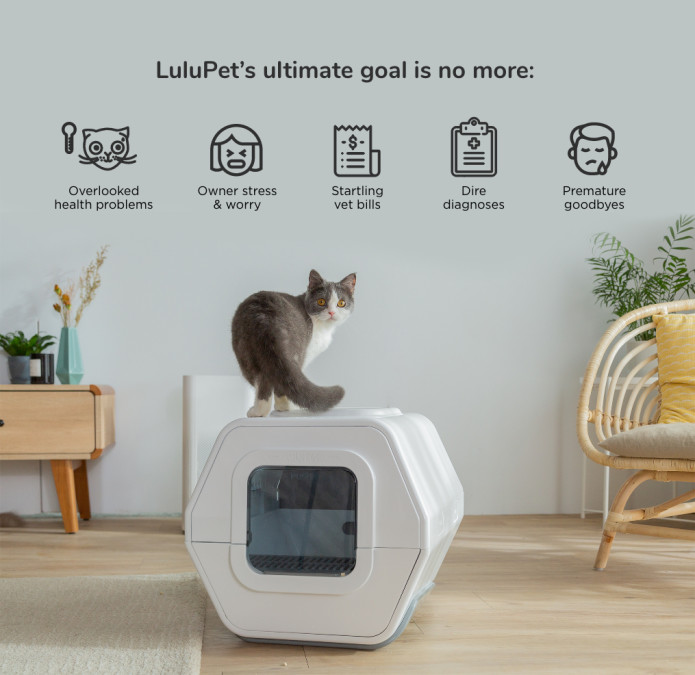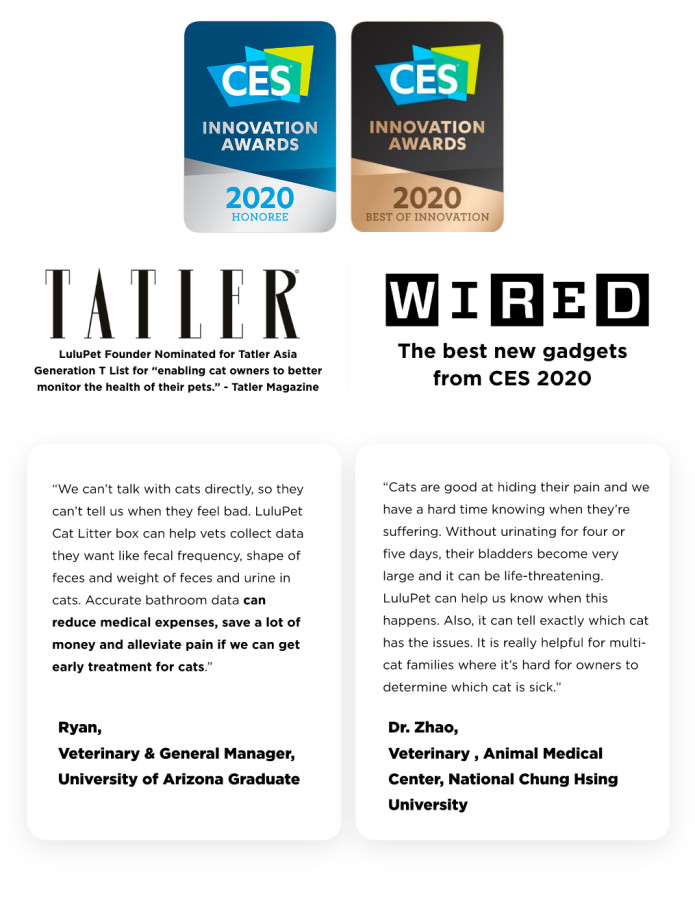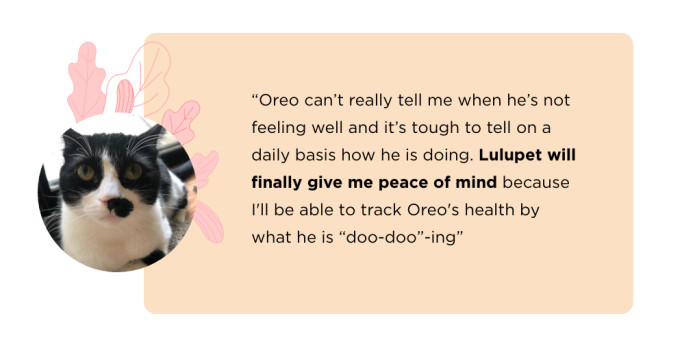 Our Marketing Director, Marina, wouldn't be able to get by without LuluPet monitoring her cat's health. 
Her munchkin cat suffers from chronic kidney disease and her vet needs to know the cat's daily water intake and urine amount. Marina has a full-time job and it's extremely difficult to track her cat's water intake and urine amount, but with help from the LuluPet App, she can track her cat's potty behavior and send a report to her vet.

Other "smart" cat litter boxes and traditional weight-based sensors have difficulty telling whether a pet has pooped or urinated.
LuluPet uses AI image recognition to help identify urinary tract problems and a built-in camera, infrared sensor, and AI chips to analyze different types of feces. It distinguishes feces using the Bristol Stool Scale and combines with medical data from pet hospitals to identify symptoms of cat diseases.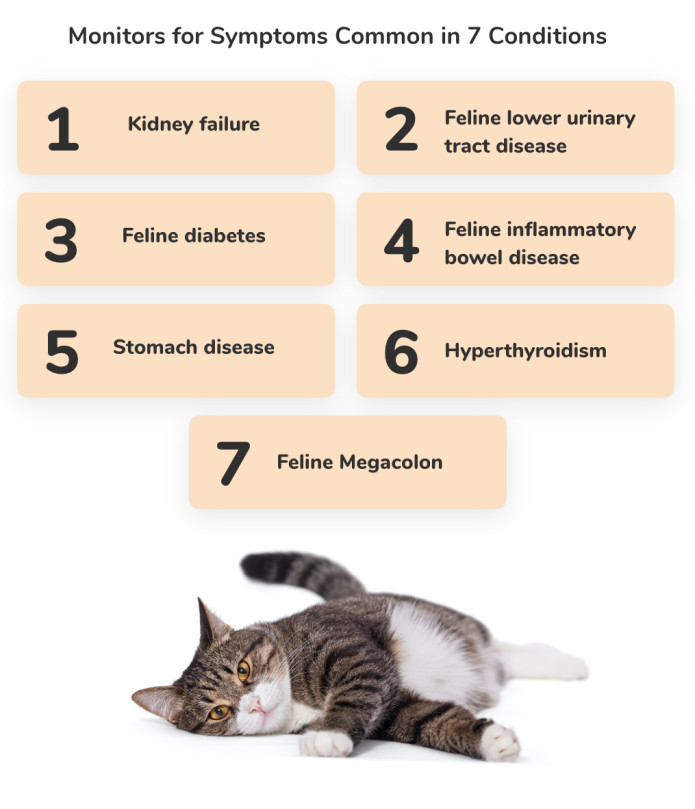 Unfortunately LuluPet has a sad story behind it.
I'm James, the founder of LuluPet, and I lost my first kitty to preventable illness. 
His name was Garlic and he was the landlord's cat at my college apartment. I grew to love him like he was mine, but after 2 years of living together, Garlic had a hematuria (blood in urine) and we learned he had acute kidney failure. I was devastated by the news, but not as devastated as the owners—Garlic's only hope was a $3,000 surgery. It was a shocking amount, but they proceeded with the operation because Garlic was family.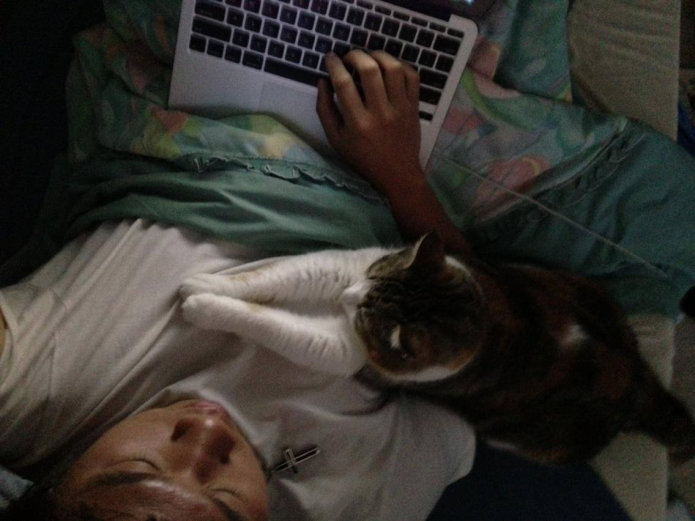 Unfortunately, Garlic didn't survive the surgery. The first cat I ever loved died so unexpectedly.
When I graduated, I adopted another cat that I named Tomato. Eventually, I learned that she too had urinary tract infection problems and hematuria. Once I found out, I was so stressed—all I could think about was losing Garlic so suddenly. I didn't want to endure another premature goodbye or watch my pet suffer unnecessarily and that's when I decided enough was enough.
I gave up my job in Silicon Valley and founded LuluPet to solve the concerns of cat owners and protect the health of cats with excretory recognition technology.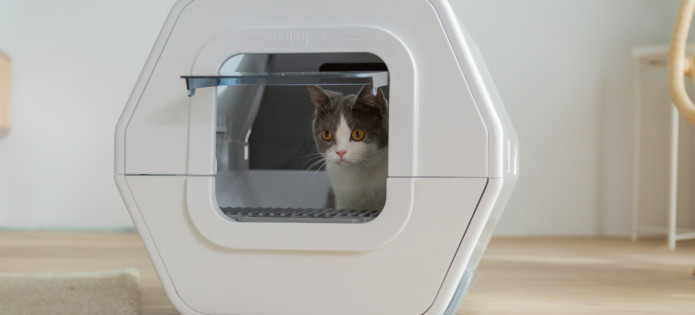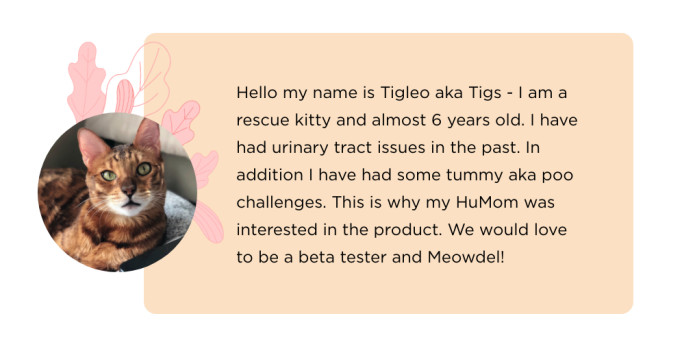 LuluPet cooperates with multiple animal hospitals in Taiwan, USA and Japan to develop an in-depth, cat pathology database with clinical data from more than 6,000 cats.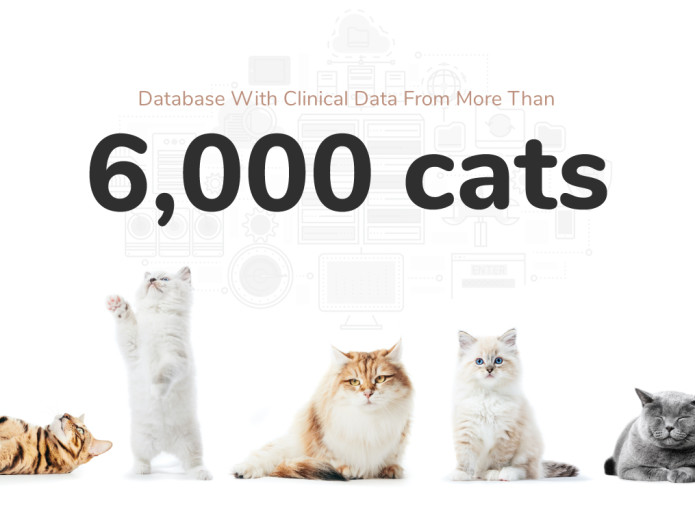 Once you enter the age, breed and basic lifestyle information for your cat, the LuluPet App automatically cross-references your cat's data with tens of thousands of pieces of pathological data to understand if your cat's health status is within the normal range. It even compares the daily image of your cat's feces to the database—talk about an invasion of privacy!

Health data varies for different breeds depending on cat age, but our AI Autonomous Learning Mechanism gives a custom data model for each cat so they get a report uniquely tailored to their situation.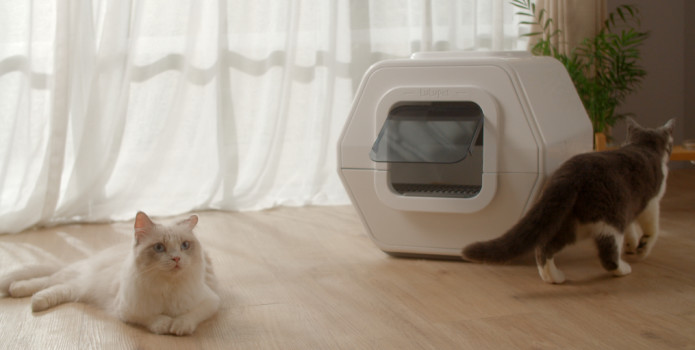 LuluPet keeps a complete record on your cat's daily toilet schedule and overall health, giving you an extensive health monitoring system.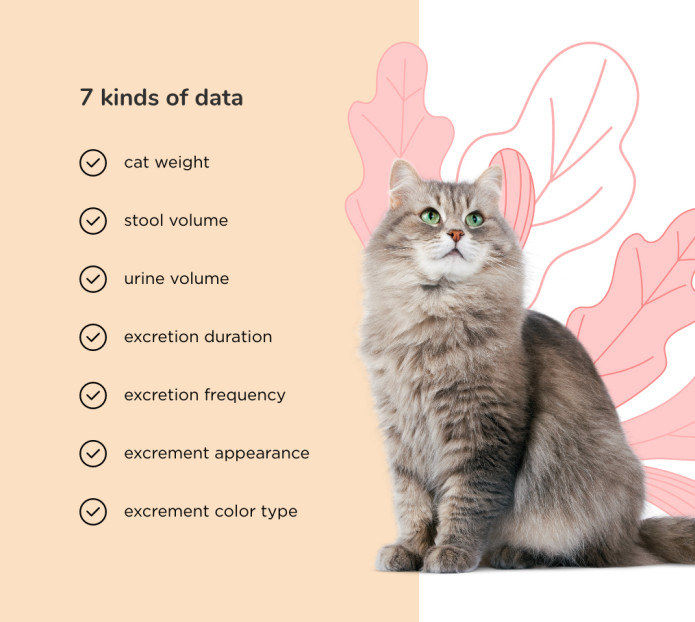 Aside from being sick, cats can also show abnormalities when facing environmental and dietary changes. LuluPet helps you observe and take care of your pet during times of change, as well.

LuluPet gives you the most accurate updates by combining AI feces image recognition with a health data calculation model for cats. Once the app has your cat's info, it cross-analyzes with our database containing info from thousands of cats around the world. In addition, you can learn about common cat illnesses and their symptoms right in the LuluPet app.

When the data is abnormal, you get a push notification so you never miss the crucial moment to take your baby to the vet.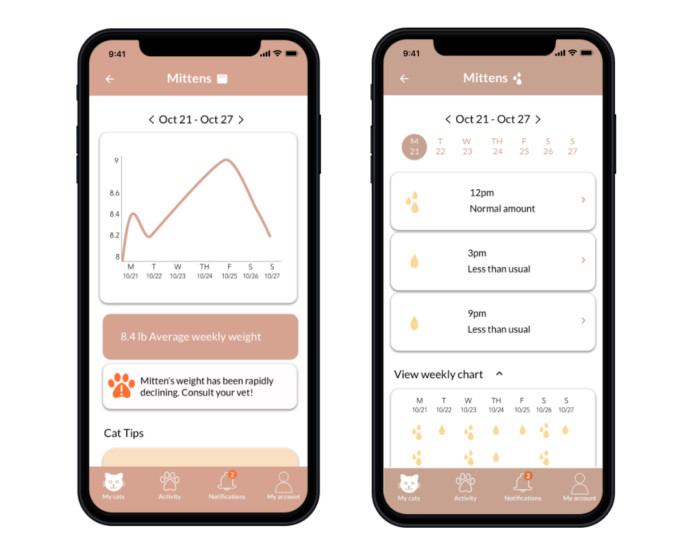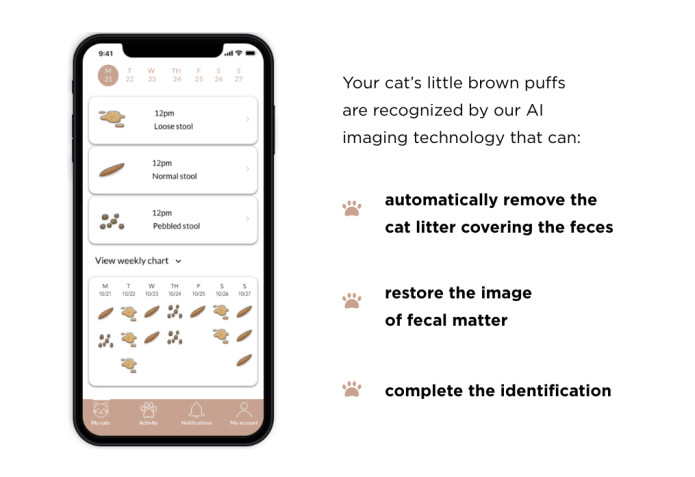 In the off chance that there's an unrecognizable condition, each cat's excretion behavior is also stored in a video for your own review.

When something's off with your cat, vet visits typically start with questions that owners don't know answers to, leaving your vet left to run expensive tests until they get answers. That's not the case with LuluPet owners.
LuluPet's easy-to-use app doesn't just keep you informed—it helps your veterinarian get answers and better understand your cat's behavior. The 24-hour stats and cross-references with our Cat Pathology Database give your veterinarian invaluable insight to consider alongside their own findings.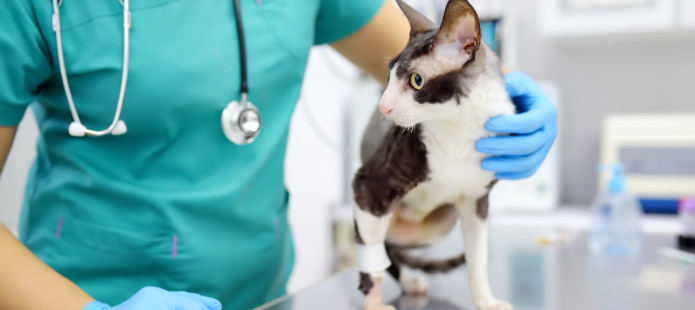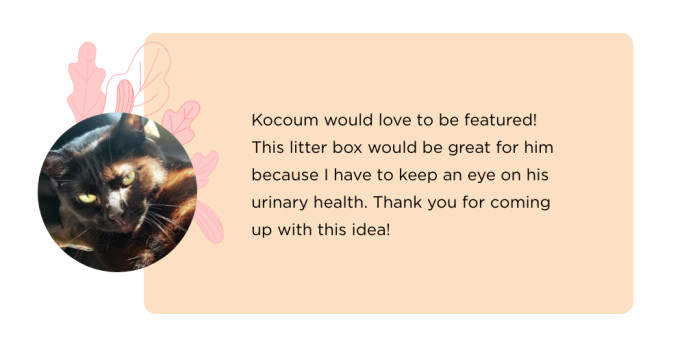 LuluPet identifies up to 15 individual cats by memorizing faces, fur colors and different recorded data per cat, like weight. This way, every cat's toilet schedule is recorded individually, without each cat needing a special collar or attachment for identification.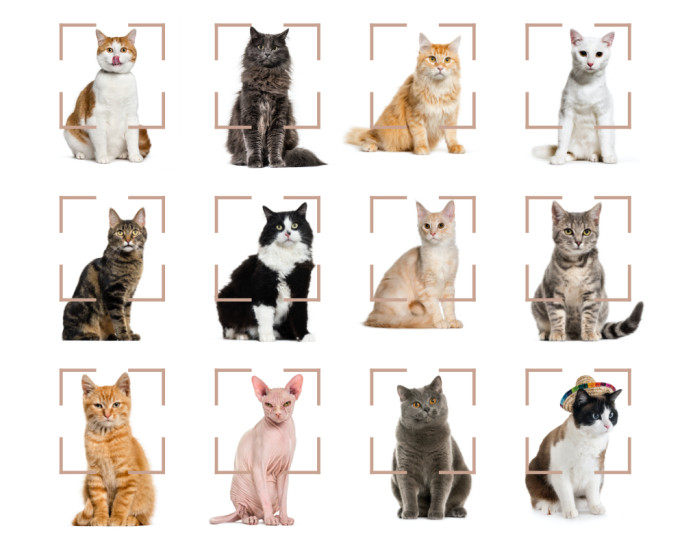 If you have two similar looking kitties, no problem! LuluPet uses their weight difference to determine who's who—as long as it's more than 0.11 lbs (50 grams), they can be distinguished!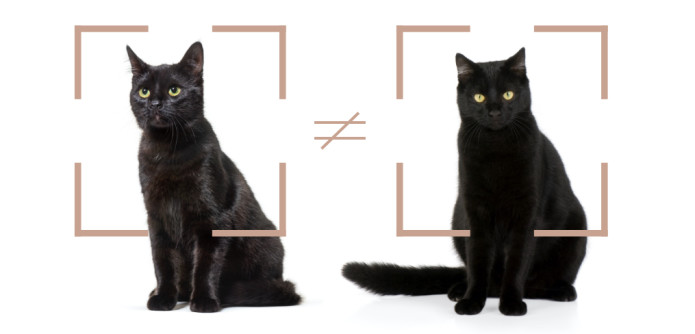 Your cat is sure to reach potty purrvana with one of LuluPet's conversion options. 
LuluPet developed parts that are easy to assemble and customize so every cat gets its purrfect setup—whether that's an open-air litter box, semi-closed or closed!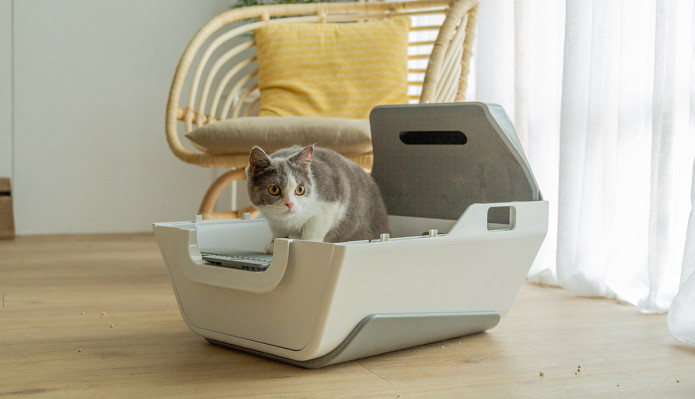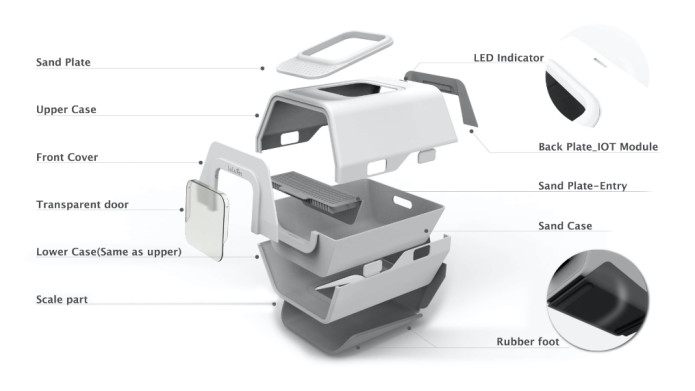 Our litter box has a double-door design including a front entry and top exit.
The top exit helps reduce fallen litter when cats finish their business and the front entry is ideal for kittens and senior cats who are unable to jump constantly.


Scented, unscented, clumping, not clumping—your kitty has preferences and LuluPet works with them all.


Cleaning a litter box has never been easier with our handy, pull-out drawer design! No need to disassemble or practically climb inside, just pull out the drawer and scoop or empty.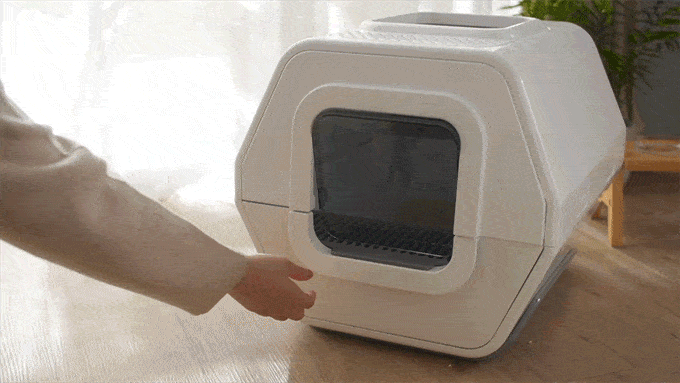 Cats with "more to love" will enjoy taking care of business in LuluPet. The hexagonal shape creates the most internal space for your cat while keeping it manageable for every size household.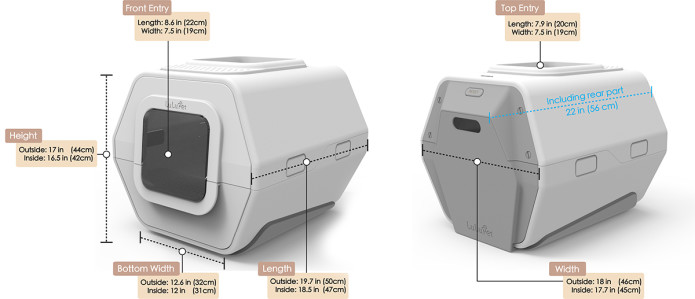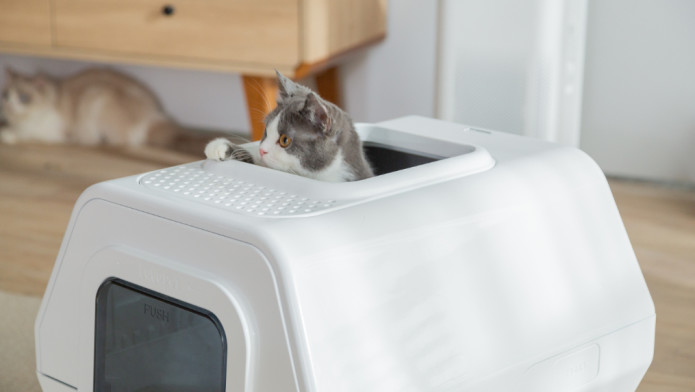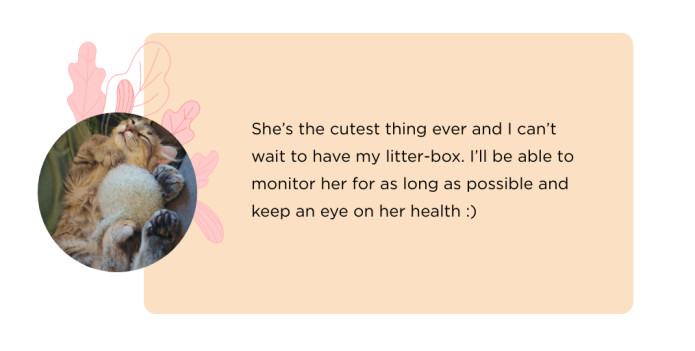 When it comes to investing in a tech-enhanced litter box, your options fall under two categories: self-cleaning and health-monitoring litter boxes. 
Self-cleaning litter boxes cost upwards of $400 and provide convenience in your daily life, but at what cost? That $400+ choice for convenience can quickly turn into thousands in vet bills if your cat has a health issue that goes undetected.
LuluPet, on the other hand, puts your cat's health and your best interests first. Knowing your cat's health status at all times improves your cat's quality of life and saves you money on astronomical vet bills that come with overlooked health issues. And with the Easy-Clean Drawer, scooping is almost a pleasure!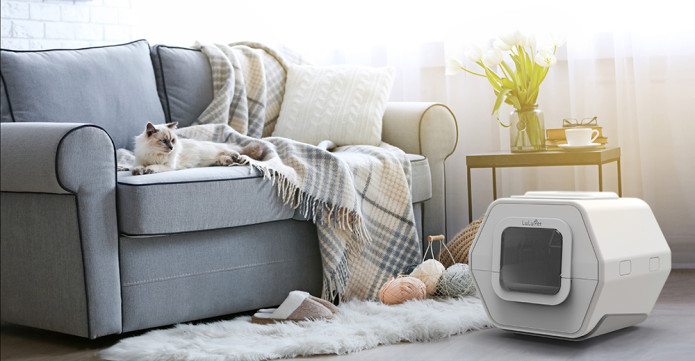 You simply install the LuluPet App and type in the name, fur color, breed, age, weight and other lifestyle details, and LuluPet does the rest!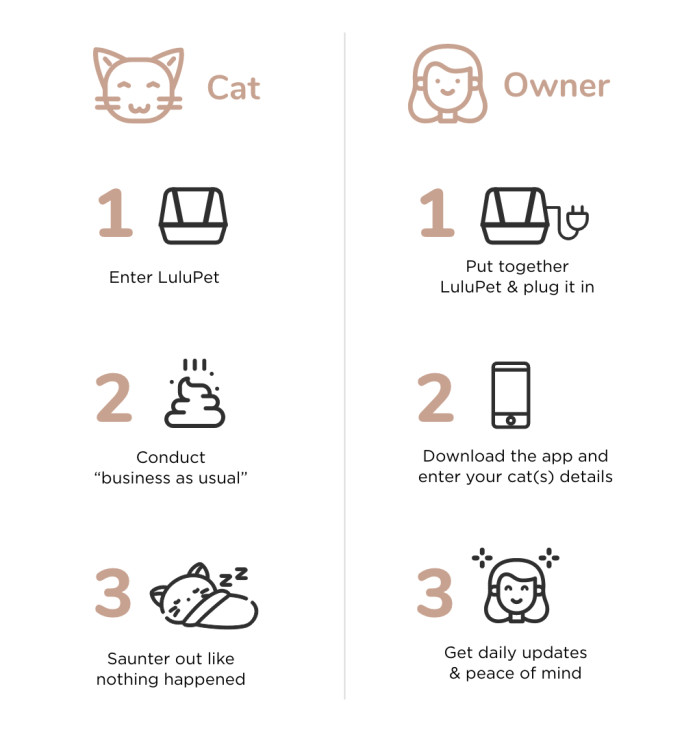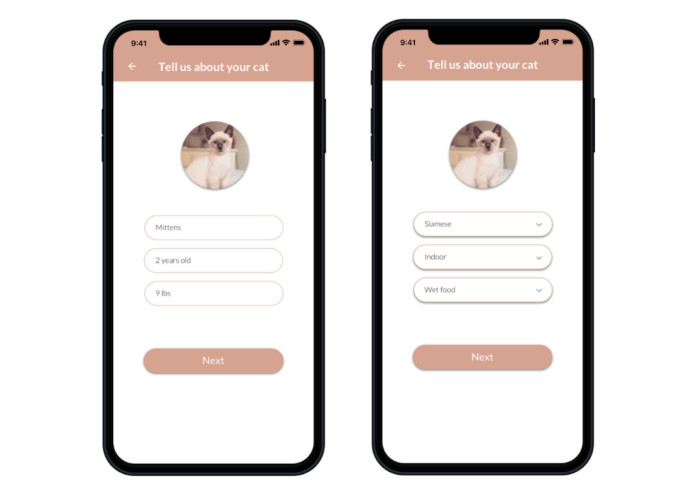 LuluPet helps you stay in-the-know and best positioned to care for your kitty. You can connect it with your Google Home or Amazon Alexa and get daily updates on your cat's health without even pressing a button!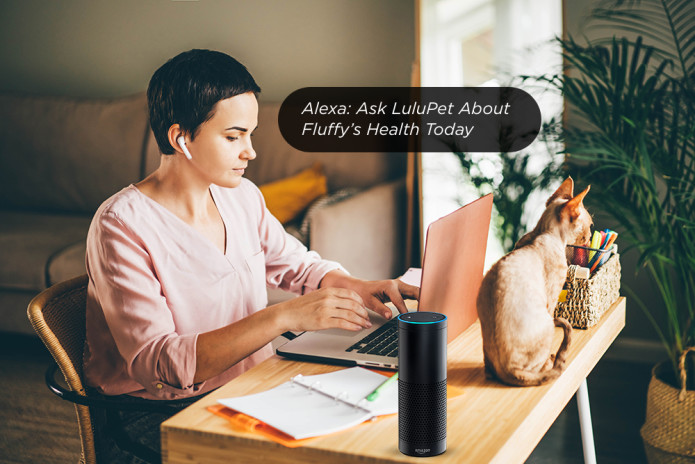 LuluPet is designed to be the easiest, most pleasant litter box experience for both cats and owners.

Lulupet works for kittens, senior cats and every feline in between.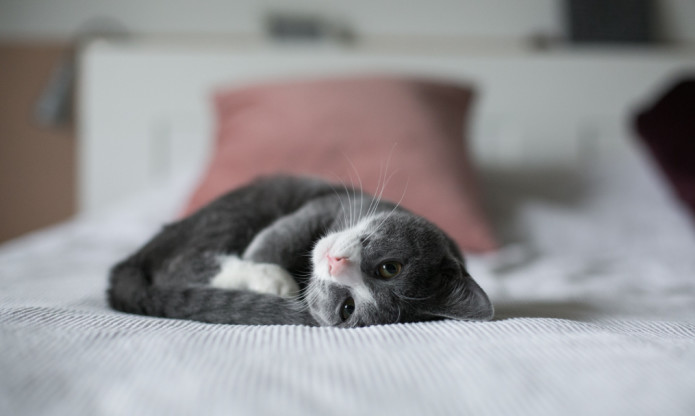 LuluPet is ideal for keeping healthy cats healthy and staying on top of health for cats with known issues.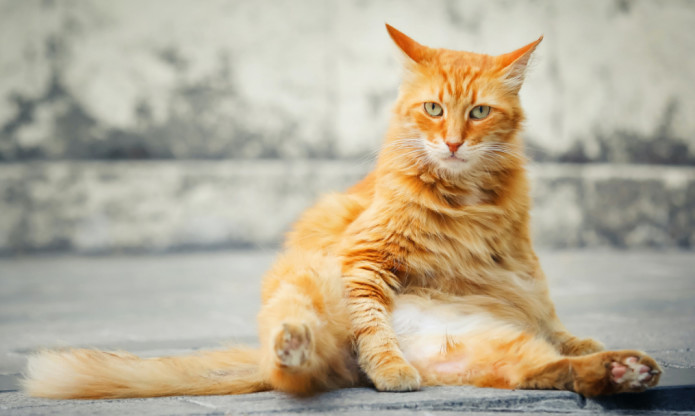 LuluPet was designed to fit perfectly into any size home without disrupting you or your kitty's routine. It's silent and compact with a sleek, minimalist design.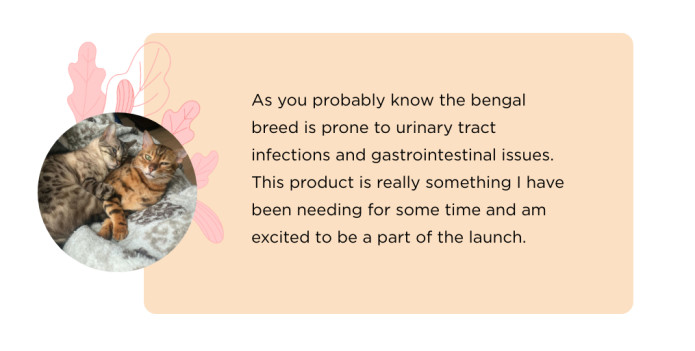 We want you to have as long as possible with your cat. Plain and simple. And not only that, but we want your time together to be healthy and stress-free.
You see, every day is Caturday with the LuluPet team. We've experienced the preventable loss of our best friends first-hand and made it our mission to spare as many pet owners as possible from a premature goodbye.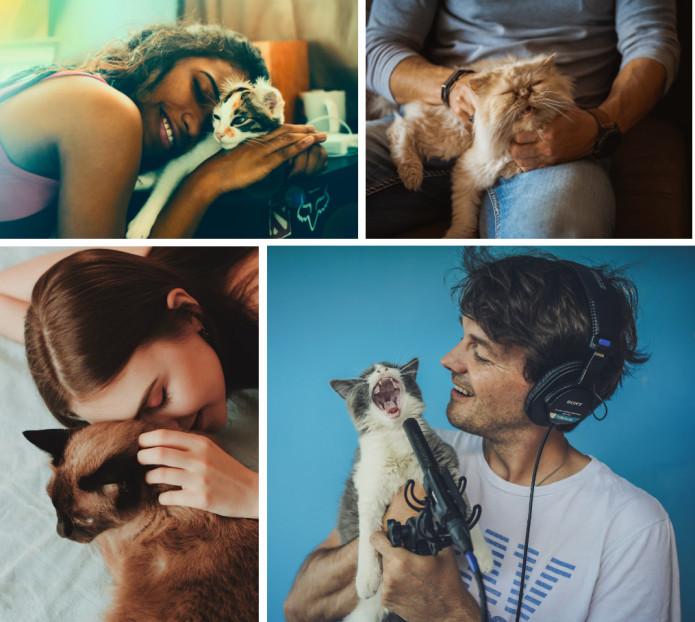 LuluPet AI Cat Litter Box is our solution for keeping your best friends furever happy and healthy. And in the off chance your kitty has problems in the potty, you're best-positioned to get them immediate care without the burden of emergency vet room bills.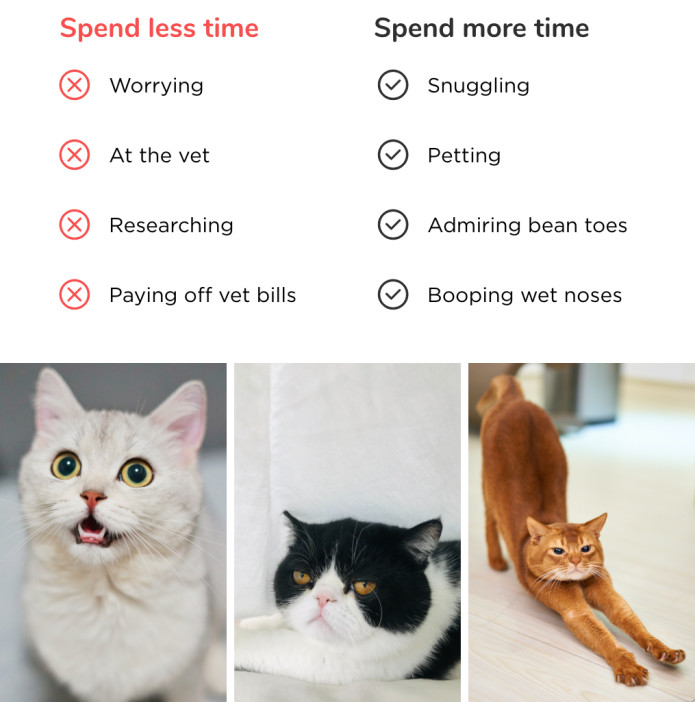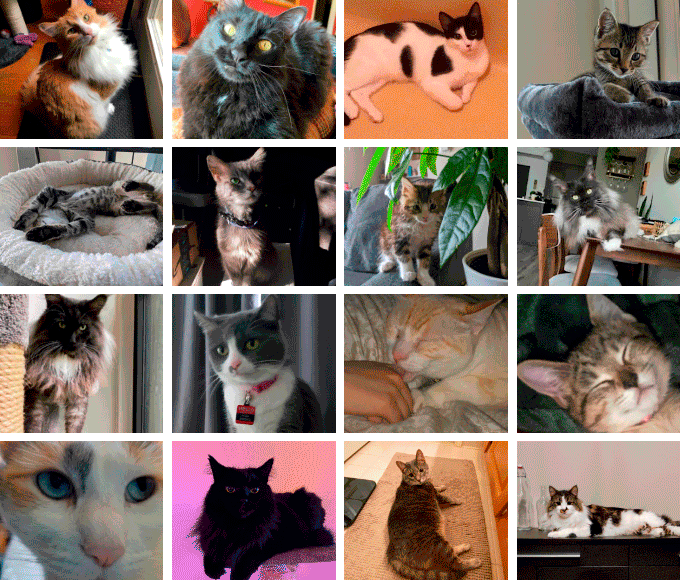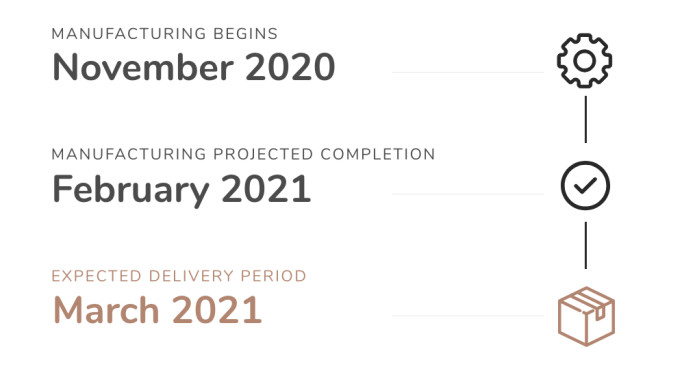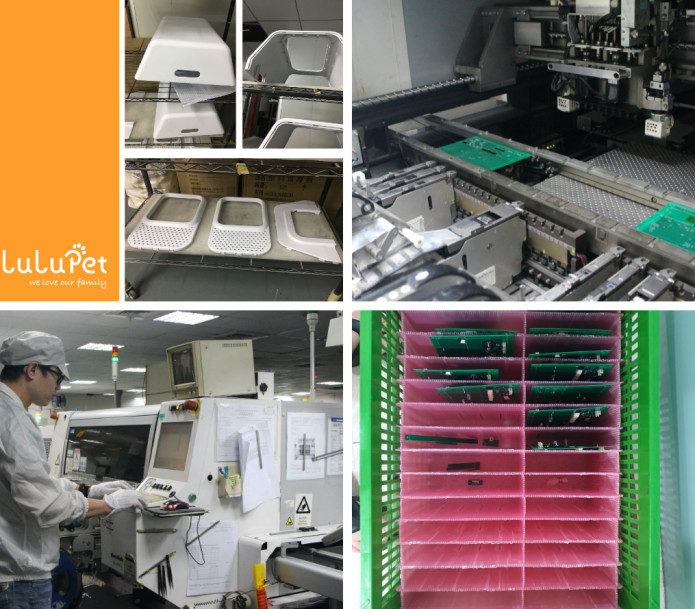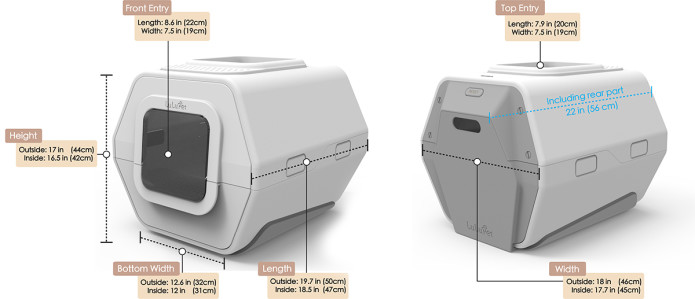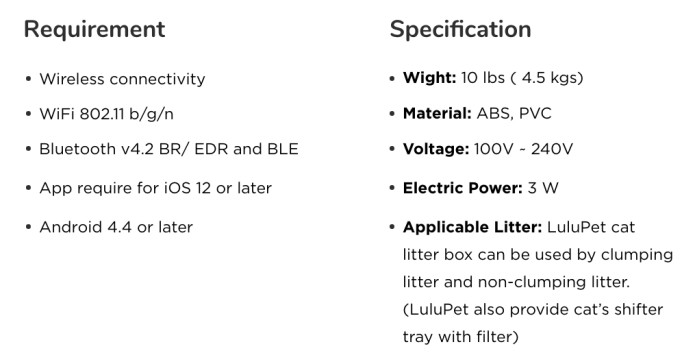 LuluPet focus on AI in medical imaging and IoT data analytics, the first product – LuluPet AI Smart Cat Litter Box can monitor and analyze the cat's health data through cat's stool images, weight change, and excretory behaviors, notifying the owner of any abnormal activities; also LuluPet can be your smart home partner that connects with your Google Home/ Amazon Alexa telling how's your cat today.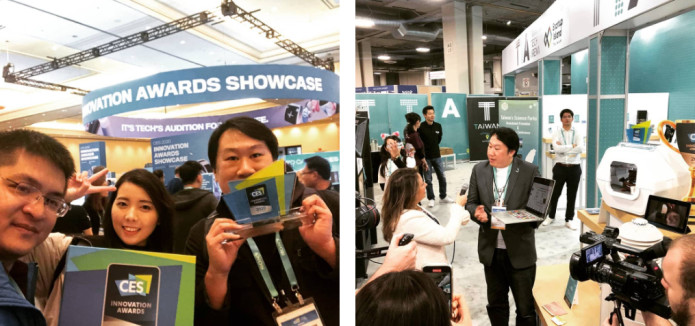 LuluPet's team members are all crazy cat people. Our core team members are experts who worked at Qualcomm, Cisco, Facebook, and Industrial Technology Research Institute in Taiwan. Some of us had lost our beloved cats because we did not foresee the illness harming our cats. Therefore, our innovative team based on kitty's nature and comes up with IOT smart litter box after hours of discussion and brainstorming.
​We are a group of passionate cat lovers who believed in innovation and hoped to create products that we can feel proud of.​

Our team dedicated all of our effort to build LuluPet, and our goal is to make fur babies our family for a lifetime.







MEDICAL DISCLAIMER:
All data provided by Lulupet Cat Litter Box, such as cat weights, excretory image, excretory weight are for informational purposes only.The Content is not intended to be a substitute for professional veterinarian advice, diagnosis, or treatment. Always seek the advice of your veterinarian with any questions you may have regarding a medical condition of your cat. Never disregard professional advice or delay in seeking it because of something Lulupet Cat Litter Box says.