LuMi, the Magical Plush Nightlight | Irresistibly soft and versatile plush nightlight that calms and comfort kids

Update: Production of LuMi has been completed!! We have started shipping!
Note: Product will ship from Hong Kong and is currently estimated to take 10-14 days to ship to USA & Europe. However, due to ongoing global shipping delays, we cannot guarantee that your order will be delivered in time for Christmas.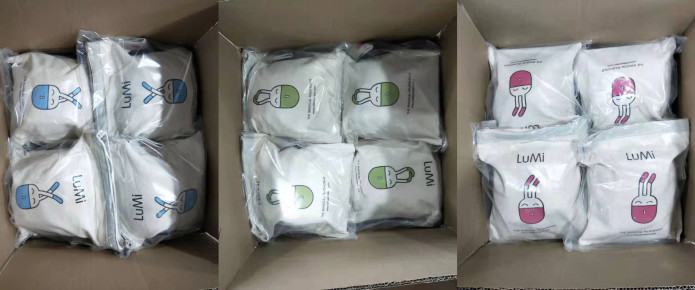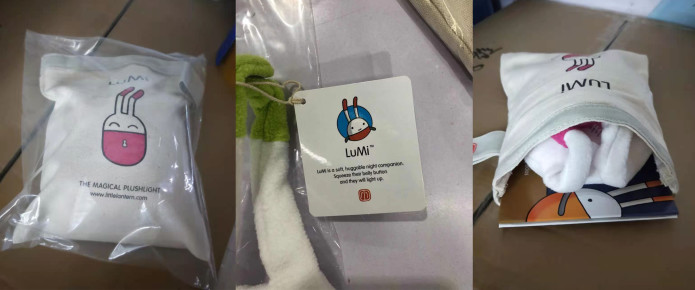 LuMi production has been completed and everything has been packed. Each LuMi comes with a storybook and carry bag.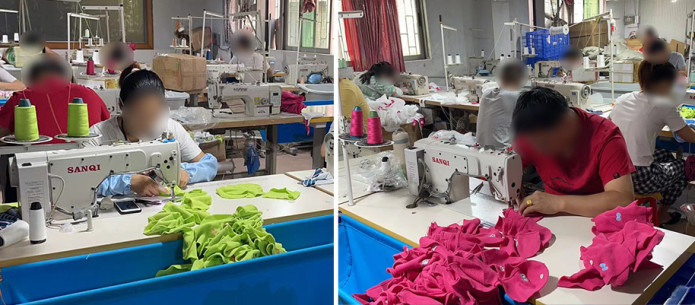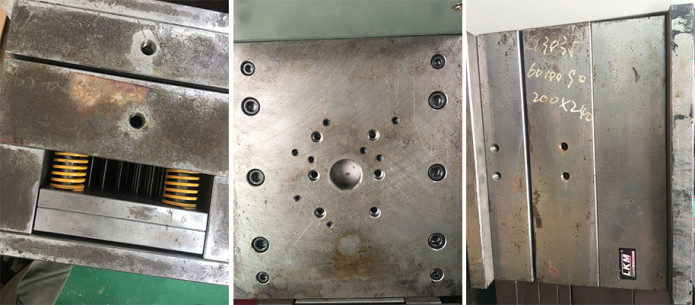 Check out pictures of LuMi in production. The tool for injection molding of the light module is ready and the seamsters are busy sewing the jackets for the LuMi plush.

Every LuMi comes with a carry bag and storybook about the origins of LuMi. This is a limited edition offer only available to Indiegogo backers.
Meet LuMi, the irresistibly soft and versatile nightlight that calms and comfort kids
LuMi is soft plush doll that is also a nightlight. It is designed to be a sleep companion for kids that are anxious to be alone in the dark. It is soft, hug-able and lights up with a gentle squeeze of their belly button.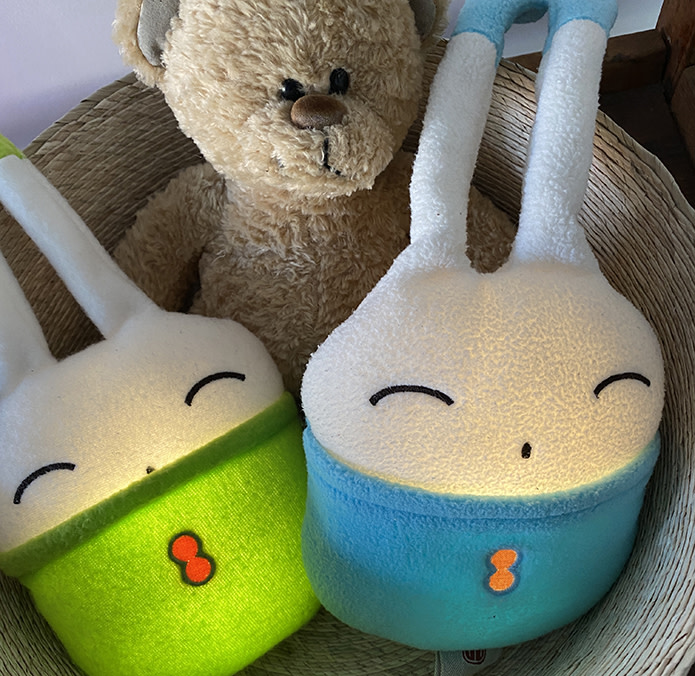 Sleep companion

LuMi is a perfect sleep companion for children who are anxious about sleeping alone in the dark. Press their belly button and they will light up. LuMi has an automatic timer that switches off after 30 minutes.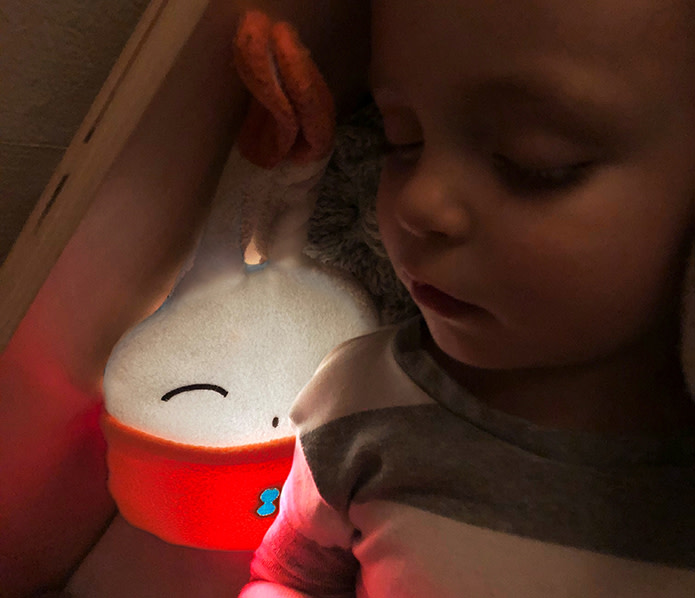 Calming & Comforting

The warm & gentle light is designed to calm rather than stimulate. The breathing mode creates a gentle pulsing rhythm to help kids calm down and fall asleep.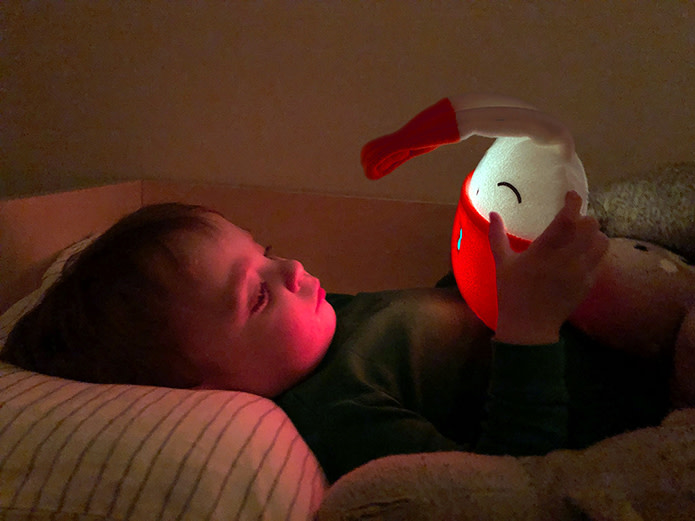 Soft & hug-able

LuMi is made from soft plush fabric that is hypo-allergenic and machine washable. it is completely soft and cuddly; there are no hard plastic parts that stick out.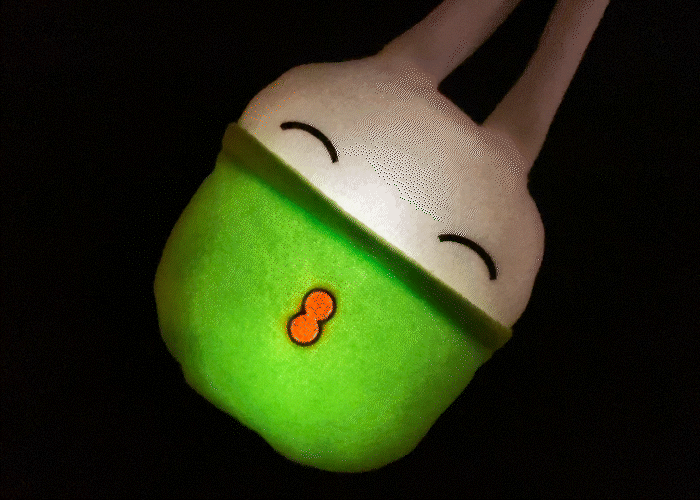 Hang it anywhere

The versatile velcro ears enable you to hang LuMi almost anywhere. Safely fasten LuMi outside of the sleep environment if your child is under one year of age as per pediatric guidelines.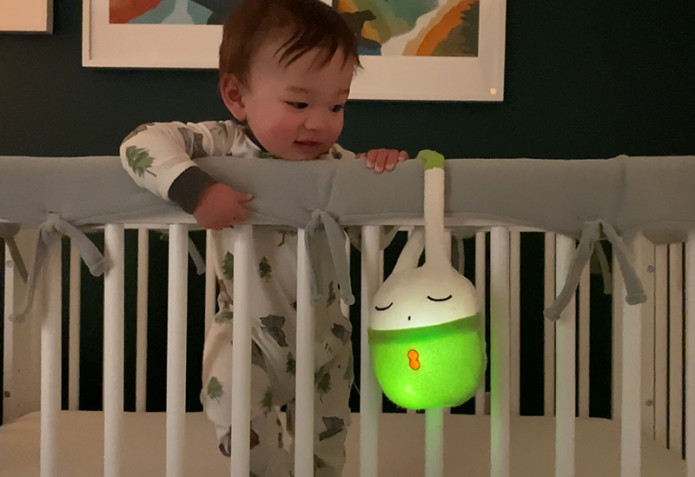 Safe for all ages

LuMi is designed with the safety of infants and children in mind. Parents can feel safe with LuMi in a nursery or child's bedroom, as every single LuMi has been crafted with the highest-quality non-toxic materials that are BPA-free and PVC-free.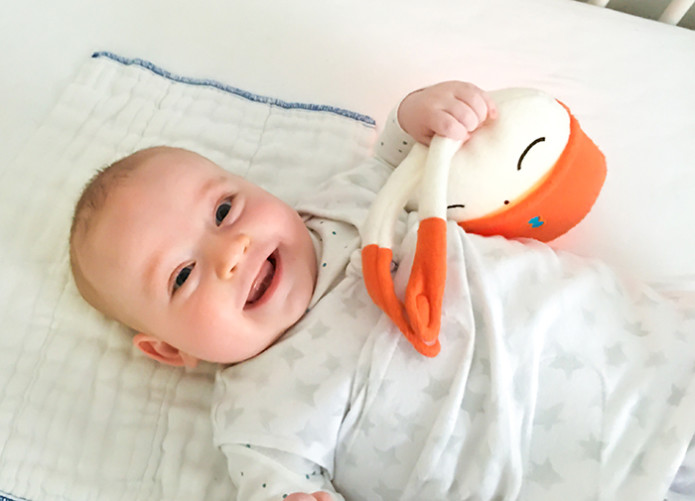 For parents too!

LuMi is also designed to help parents with their nightly rituals. Whether it's changing diapers, feeding or checking up on your baby. LuMi's light is gentle enough to not wake up your child.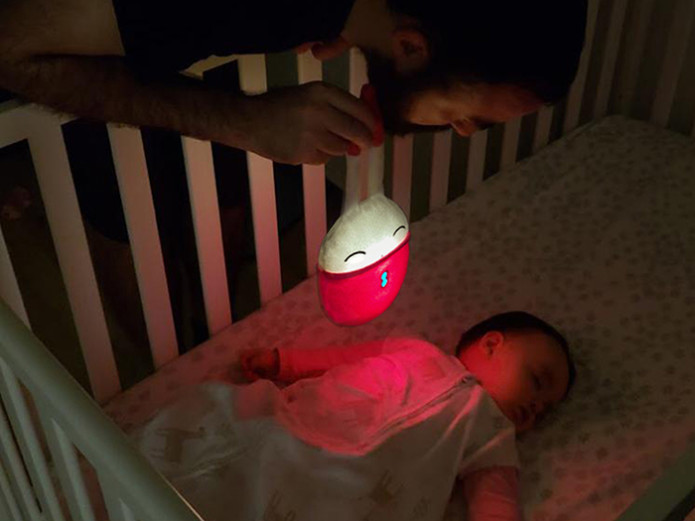 Comes with Storybook

LuMi comes with an engaging storybook about their birth and antics. It provides the perfect opportunity for bedtime bonding.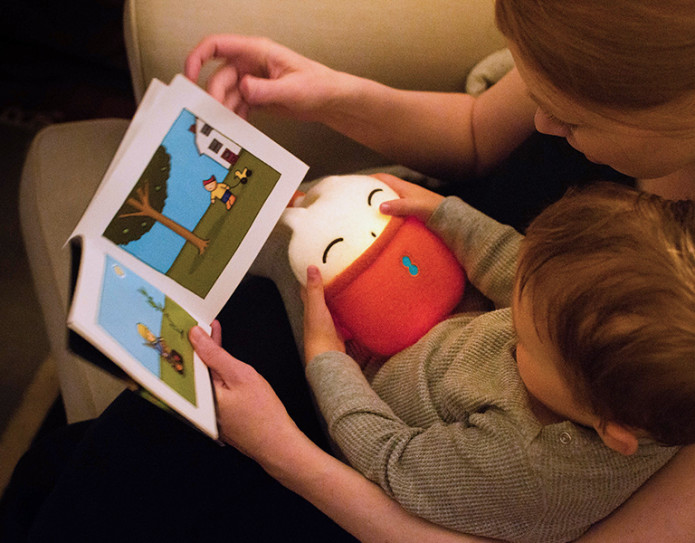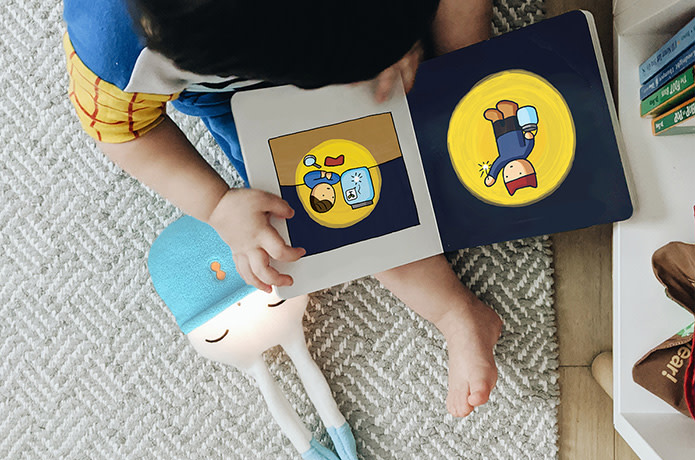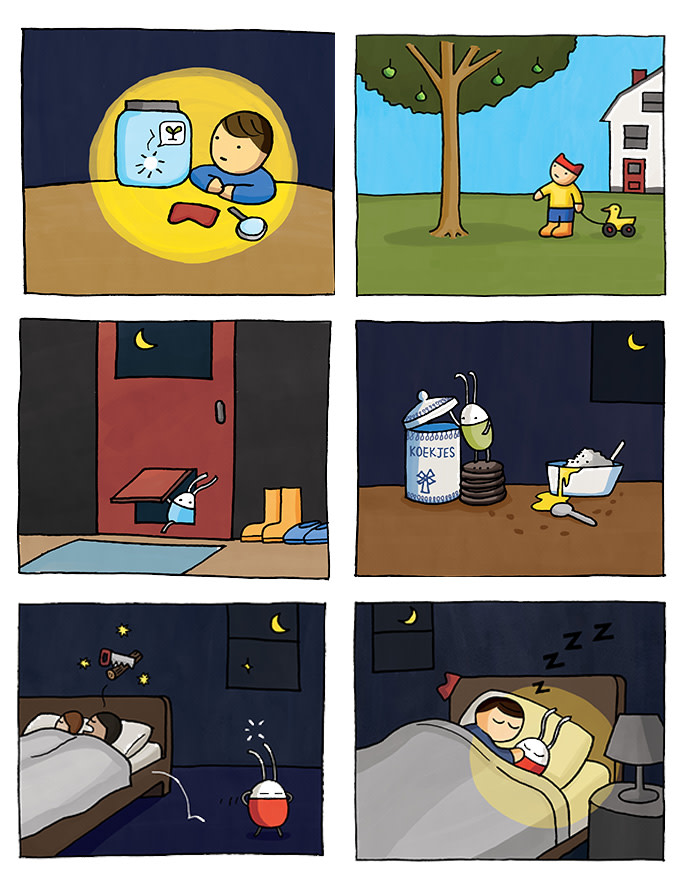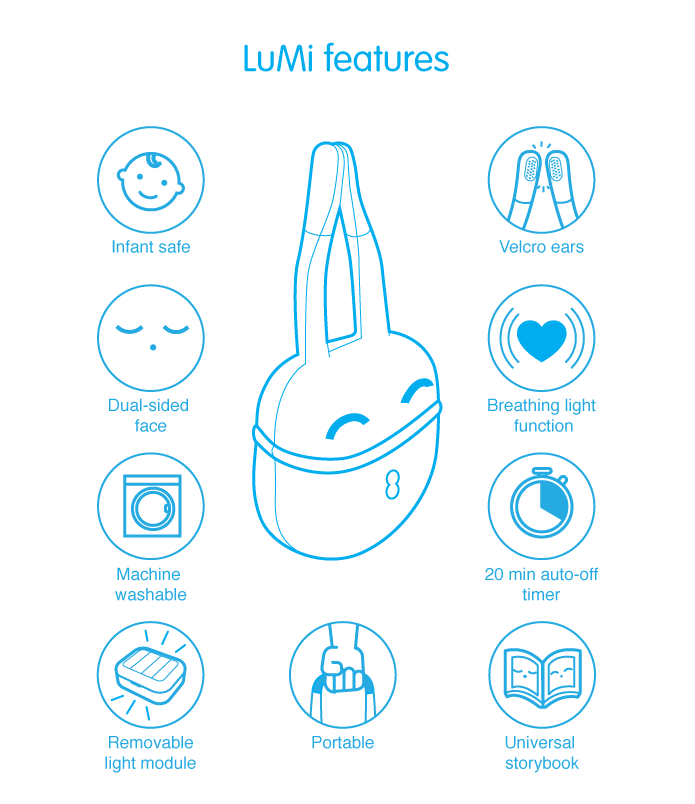 Safe for all ages
LuMi is tested independently to meet official safety standards for use with infants and kids.
Velcro ears
LuMi's easy-release velcro snap ears enable you to hang or place them just about anywhere, keeping your hands free to carry everything you need. 
Auto-off timer
LuMi turns itself off after 30 minutes.
Dual-sided
LuMi has two sides and two facial expressions. One side is brighter than the other to suit your  preference.
Breathing light mode
LuMi's light module has 2 settings: regular and breathing light mode. When set to breathing  mode, the intensity of the light gradually changes to help calm and soothe
Machine washable
LuMi can be washed at the 40°C/warm wash program. Just be sure to remove the light module before you wash! It's easy.
Universal storybook
LuMi comes with an universally engaging storybook that is perfect for bedtime bonding.
Portable
Play with LuMi at home, or take LuMi on overnight adventures, LuMi is portable and travels light in its cloth travel bag.

Comes in 3 colors

We know babies prefer bright colors, and are attracted to simple faces. Each LuMi has two facial expressions: Happy & sleepy. Choose from three different colors: Pear, Blueberry, and Raspberry.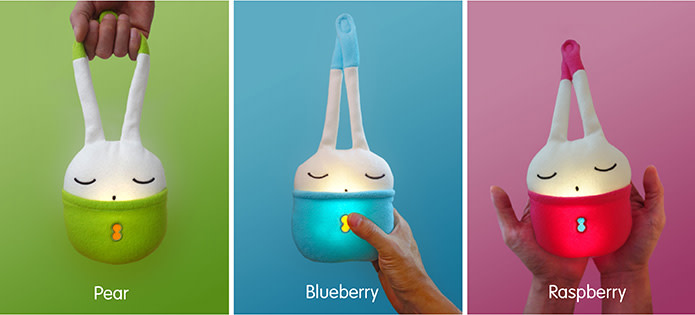 Successfully tested by real parents & kids
LuMi has been successfully tested by real parents and children across the world, and has proven themselves to be a valuable and beloved companion.  Don't take our word for it. Read their testimonials: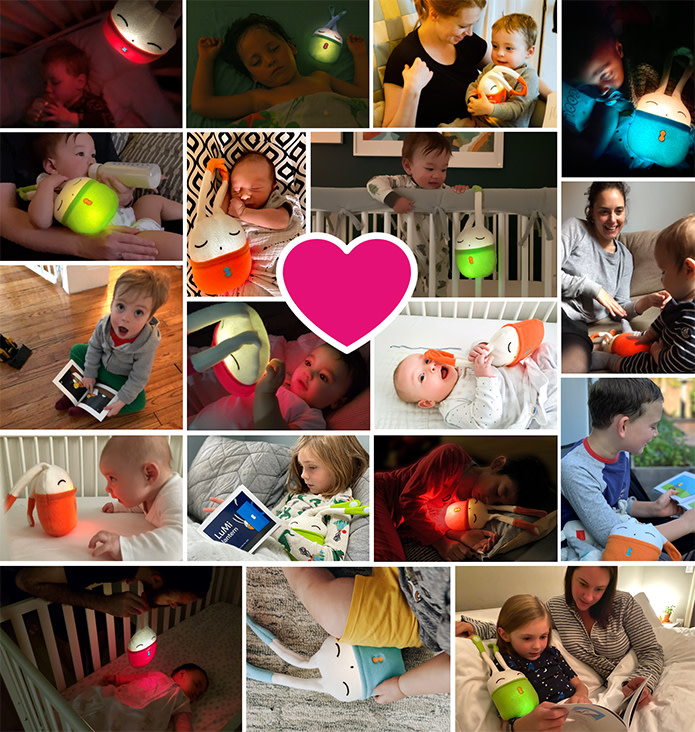 "This is perfect for middle-of-the-night feedings and diaper changes. Most of all, I love how it transformed into part of my son's bedtime ritual. It's really so much more than a light."
– Colleen, USA
"L. has been always using his little LuMi, every single night since we got it. I wonder what we would have done without it… lullabies before falling sleep at night, midnight breastfeeding, wake-ups, bad dreams, and early mornings…" 
– Jon & Mar, the Netherlands
"Having the ears with the velcro makes LuMi so versatile! We can set it on a shelf, we can use it to distract him from tossing and turning while we attempt to change his diaper. Or we'll hang it on a doorknob if we need to."
– Phi, USA
" LuMi's light is exactly the right amount to see without waking her up."  
– Vanessa, Mexico
"Ever since he's gotten his LuMi, E. hasn't been turning the lights on throughout the house. It's been great for the electric bill!⁠" 
– Rukiya, USA
"My wife and I used this light for both of our babies. At first I thought, "do we really need this?". After one night with a newborn I was like, "We definitely need this." 
– Scott, USA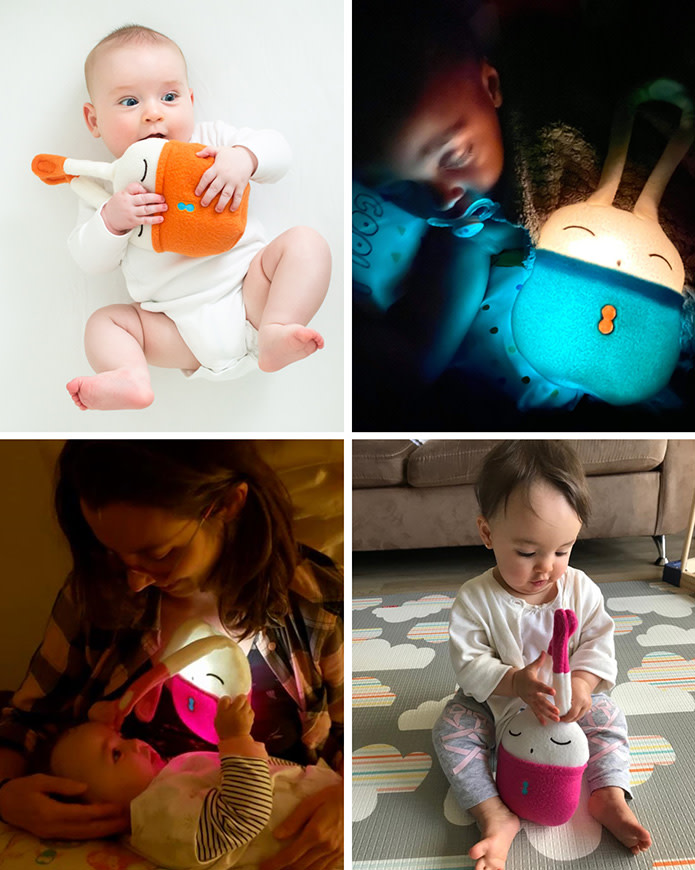 Designed and developed by experts

We have performed extensive research over the years, and have received invaluable input from parents, pediatric nurses, pediatricians, engineers, expert designers and kids along the way to carefully transform LuMi into a companion that is safe and suitable for babies and growing children.

What does LuMi come with ?

Every LuMi is carefully handcrafted and comes with a universal story book about the life and antics of LuMi and a fabric travel bag.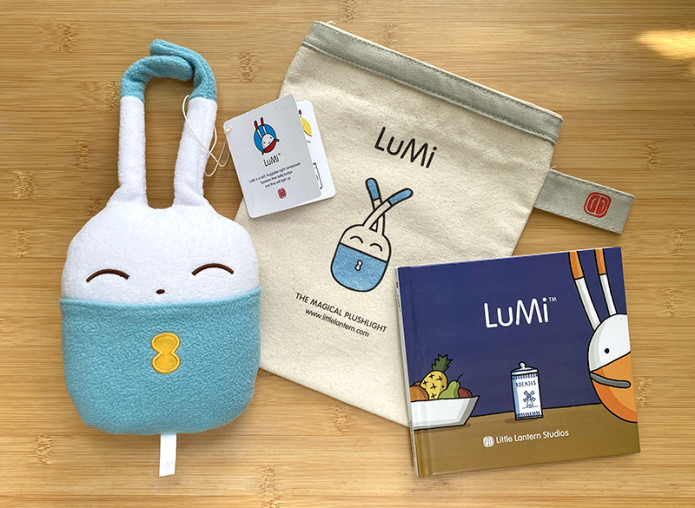 Development & delivery timeline



Shipping & Taxes

We are shipping to the US for FREE! We do ship worldwide. Please contact us at [email protected]  to get a shipping quote specifically for your country. For bulk orders, please contact us.
Be aware that taxes and VAT are not included for countries outside the USA. It will be the responsibility of the backer to pay these taxes and VAT when LuMi is delivered. In most EU countries the VAT is between 20%-27%
Our team
At Little Lantern Studios, our mission is to design and make products that are useful and delightful for parents and kids. Our products are designed to help parents take care of kids and help kids learn, develop and grow, with emphasis on balancing physical and digital engagement. We cater for different life stages from healthy & thriving to sickness and recovery. We look to support children and parents at every step.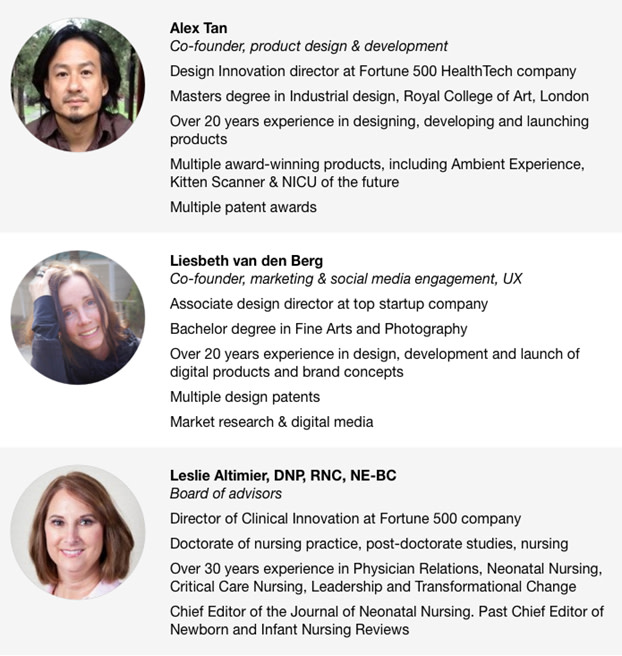 Refund policy 
Cancel for free at anytime within the next 30 days. We recommend early backers to reserve their perks before they are all gone, as cancellations will always remain an option if you change your mind.  All units come with a warranty. This campaign is a pre-order for LuMi so the funds raised through Indiegogo will be used to test and manufacture the product for our backers. In accordance with the Indiegogo terms of use, we will not offer refunds or returns for items that are not defective once the Indiegogo campaign is over.
Warranty
LuMi comes with a standard 1 year warranty against defects.
Risks and challenges
Like all new projects, there are always risks and challenges. We know from experience it takes a lot of planning, hard work and perseverance to successfully launch a new product.
The team is confident we have taken the right steps to mitigate risks such as shipment delays, product defects or supplier reliability. Over the past year we have been prototyping, testing and refining to make sure the final product we deliver to our backers far exceeds expectations. The team at Little Lantern Studios  will update you regularly on progress. If there are any issues, we promise to communicate with you every step of the way!
Thank you for supporting us!
Your support will enable us to  manufacture LuMi so that they can become a companion to all new families navigating the wonderful world of parenthood.
P.S.
We asked field tester Ollie to give us all his feedback on LuMi: the good, the bad, and the ugly. His mom said he was very worried, because he couldn't think of anything bad or ugly. This is his report. <3