LumiCube: An LED cube kit for the Raspberry Pi | The perfect playground for hundreds of creations
** UPDATE: We are no longer selling the Advanced Kit **
Apologies but we have now placed an order for a batch of screens. We would have liked to have purchased extra screens to account for new orders but with the component shortage and all the inflated prices at the moment it just doesn't make sense. We will be making extra Starter Kits so those will remain on Indiegogo.
We created the LumiCube to allow people interested in technology to focus on creating and experimenting, and bring their ideas to life. Let us tell you a bit about it…
WHAT IS IT?
We think of the LumiCube as the ultimate Raspberry Pi kit. Perfect for beginners and enthusiasts alike. It takes the Raspberry Pi, a powerful mini computer, and combines it with a whole range of electronics and sensors, from a speaker to an accelerometer all in a 10cm cube – the perfect playground for your creations.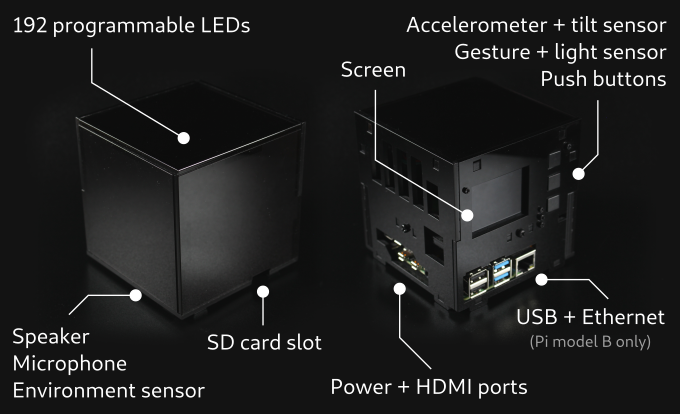 WHAT CAN IT DO?
Most of your day-to-day devices, like your phone, alarm clock, and voice activated home assistant all have the same basic electronic components. So we thought why not put them all together with a mini computer and make it completely programmable. That way you can build whatever you want, exactly the way you want it.
With so much at your fingertips, let your imagination take the lead.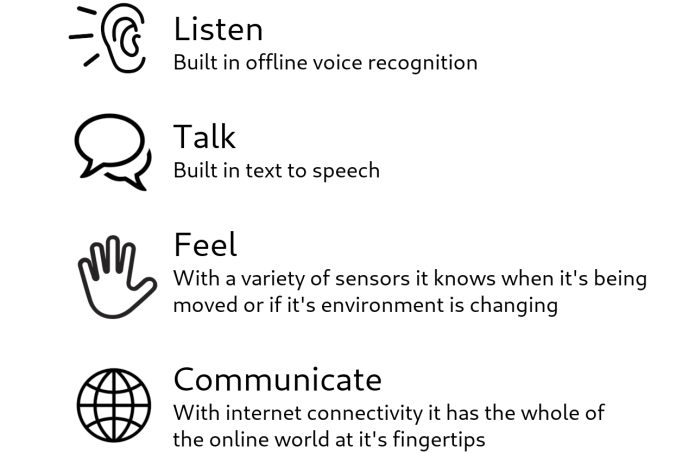 WHO IS IT FOR?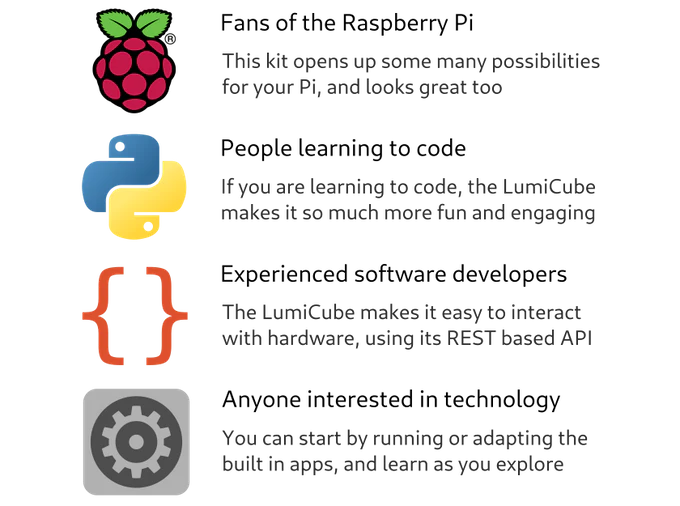 LEVEL UP YOUR ROOM
Keep updated with important events thanks to its built in WiFi. Unlike other tickers you can connect to any feed you want. Whether you're on Discord or Mastodon, or investing in the most niche of cryptocurrencies, get the updates you care about.
Or if humans are your thing, use it to message your loved ones!
MAKE SOMETHING INTERACTIVE
If you choose the the advanced kit you can use light levels, hand gestures or buttons to control the cube. You will also be able to make it react to movement or rotation, to give your projects an exciting interactive element.
PERFECT FOR YOUR DESK
Whether lit up, or just sitting quietly, the LumiCube is small enough to sit on your desk, and look great whilst doing it. Use it to notify you of important events, automate routine tasks, or help you focus by providing some background sounds.
AWARE OF ITS ENVIRONMENT
The advanced kit features an environmental sensor, so you can monitor your home or office environment. Plus it automatically records the values of all its sensors over time, so you can look back at the temperature, humidity and air pressure variations of your space.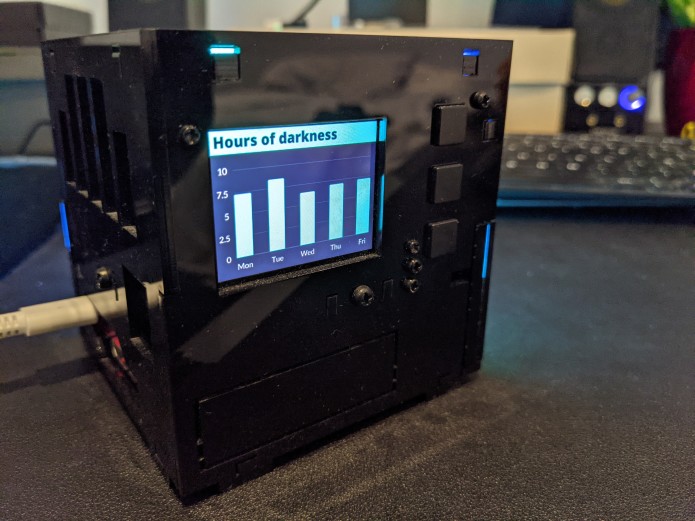 MAKE PROGRAMMING FUN AGAIN
Every part of the LumiCube is programmable, using our browser based coding environment. We've worked hard to remove any complexity, so you can achieve real results with just a few lines of code. Sometimes modern technology can feel overwhelmingly complicated – with the LumiCube we set out to make programming fun again!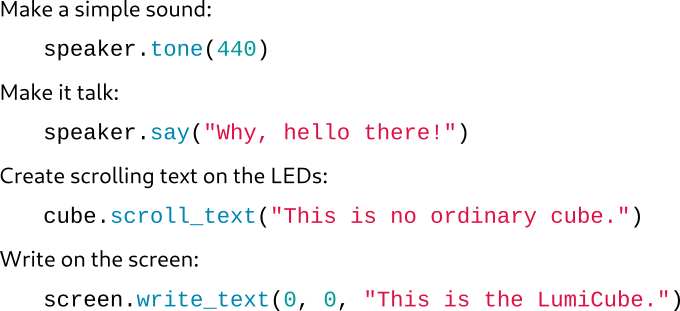 WE GAVE IT TO SOME FRIENDS…
… and despite some of them not knowing Python, within minutes they had it displaying an abusive message. Then they ran the rain animation and decided it was more fun to rain fire, so changed the colour to red. After that they modified the autumn tree scene, and changed the colours to white and grey for a winter tree, and made it drop leaves when it was shaken. During this time they also managed to Rickroll each other. So we think it's fair to say it's pretty easy and fun to get started.
WELCOME TO INTERACTIVE CODING 
Coding for electronics used to be a mysterious process, but the LumiCube comes with a dashboard so you can see what matters all in one place, all to support your creative exploration.
View the state of your cube in real-time – no more guessing, as you can see every value, and plot them on a graph.

WANT TO LEARN PYTHON?
You don't have to be a Python expert to use the LumiCube – in fact we think it's a great way to learn. Unlike learning programming on a blank computer terminal, the LumiCube gives you some fun projects to play around with straight away. All of those built in apps are just code that you can modify and play around with. Plus we include a project booklet to introduce the basics of Python and guide you through some of the built in apps.
NO CODING NEEDED: LOADS OF BUILT IN APPS
Just select one and click run. You can still see the code and tweak it in any way you want.
COMMUNITY OF LUMICUBERS
Share your projects with your friends, or take inspiration by running super cool projects by LumiCubers worldwide.
Collaborate to make something beyond the reach of one person (unless you're the guy from StuffMadeHere!)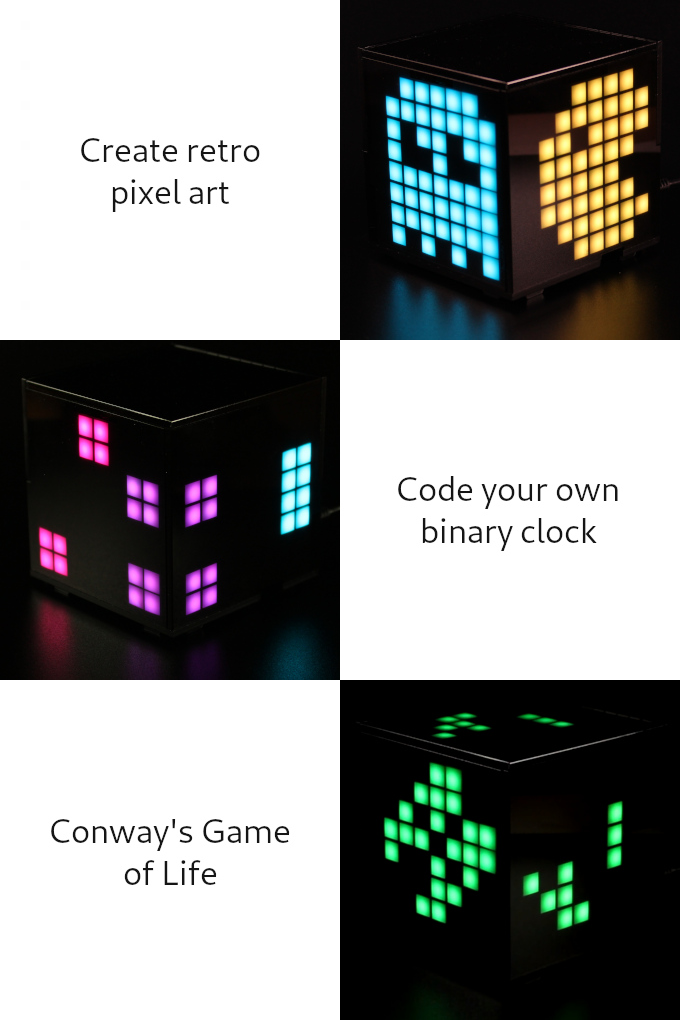 SO MANY POSSIBILITIES
 The LumiCube has dozens of inputs and outputs, which can be combined in any way you want: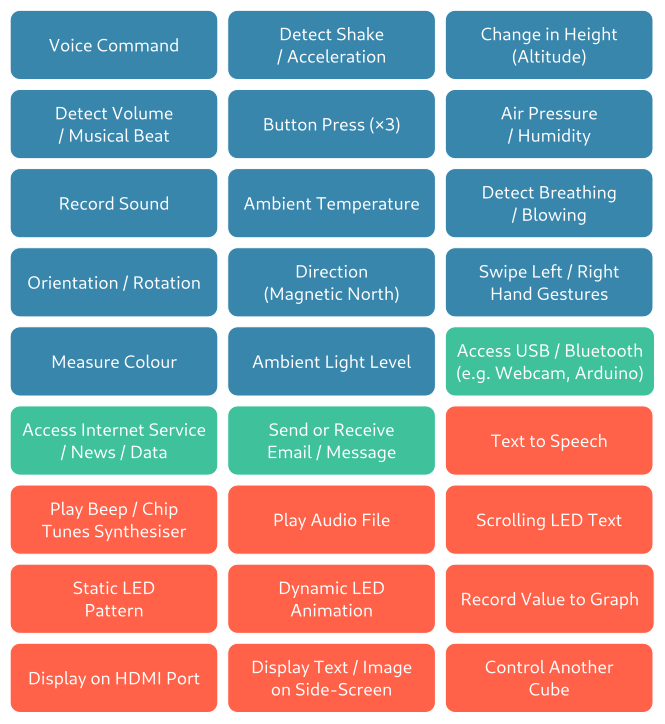 WHAT WILL YOU CREATE?
Maybe a musical cube that reacts to the beat?

MORE THAN WE CAN FIT ON THIS PAGE
All our software is open source.
REST end-points for all the electronics, so you can use any language you like from any machine!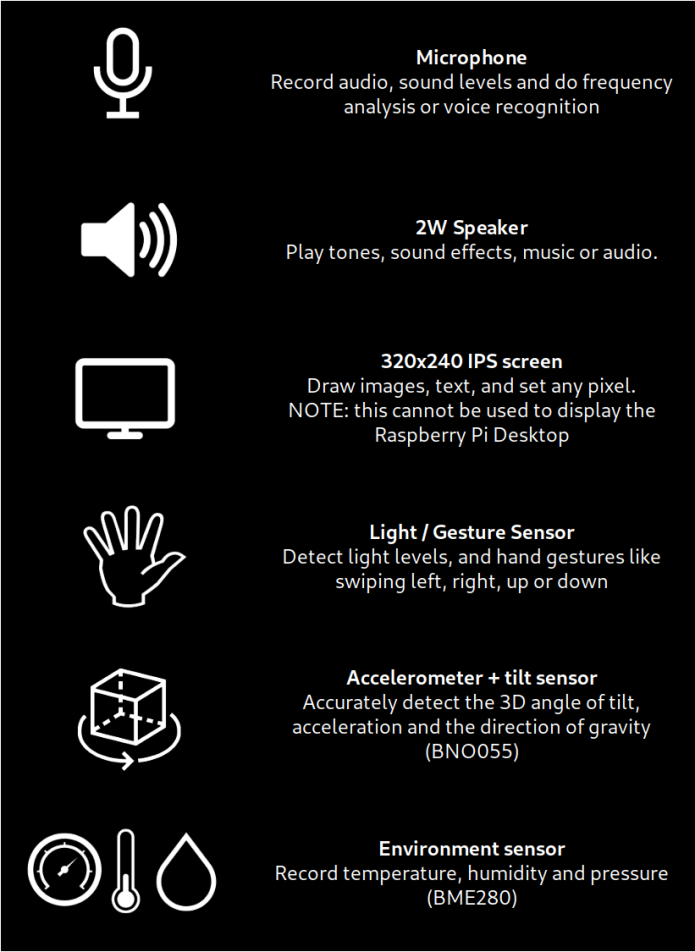 SHIPPING
We are planning to ship from two warehouses. One based in the EU/UK and one in the US. This means if you are in the UK, EU or the US you won't have to pay any customs or duties. If you are outside these areas you may owe duty and taxes based on your local regulations.
PLUG & PLAY ELECTRONICS
Our journey began with creating plug-and-play electronics modules. We felt creating your own electronics projects was too frustrating. From cryptic datasheets, and fragile bread-boarding, to fruitless searching for drivers on the internet. 
So we created a system of electronic modules that could be just plugged together, starting with modules for LEDs, buttons, screens and a range of sensors. We then thought: why not put it all together in a nice case? And so the LumiCube was born. The perfect platform for loads of interesting projects.
For us, the LumiCube is just the beginning. We hope to soon start selling the modules separately so that other people can just as easily create their own electronics projects. Want to add servo motors to your project? Just plug in the servo module. Want to detect distances? Plug in the distance sensor.
OUR MISSION
We are two friends on a mission to bring the joy of tinkering with technology to as wide an audience as possible. We are developing an environment where anyone can create their own electronics and it's super simple to program. A system that is simple enough for teenagers to create the robots they always imagined, but advanced enough for researchers to use to automate lab work.
 Pros at work!