MAGA: Make America Grate Again! | It's finally time to make America grate again, and only you can help!
Okay.  So I know what you're thinking.
"I have too many amazingly niche kitchen items already"
Well, I'm going to bet you don't have this one. If you do, let me know because there may be an evil version of myself who beat myself to market that I need to have a word with.
A little history. I came up with the idea of this cheese grater a while ago, and since I was very busy with life/making excuses I didn't do anything about it. However, I finally got down to designing it, and shared the concept with some friends who thought it was the best thing since grated cheese.  Since we were all in agreement that it was world-changing, I decided to bring it to the magical world of crowdfunding.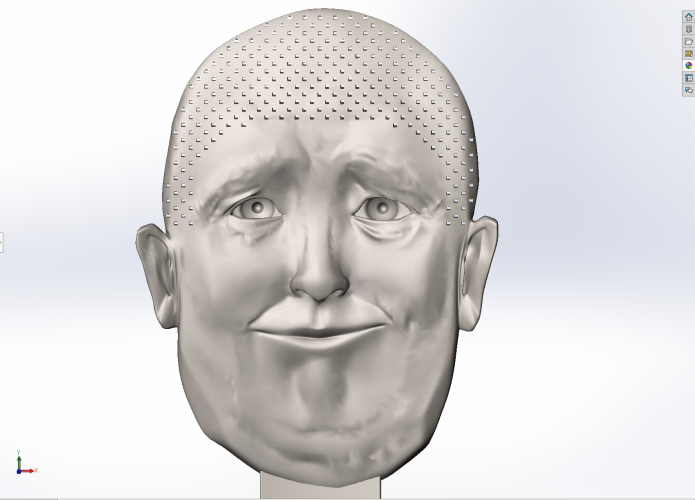 I've back exactly 67 crowdfunding campaigns run by other companies and individuals, which I'd say a good 75% of them failed, so I feel like I've learned what not to do through osmosis from those campaigns. I promise to you, if you support this campaign, I will make sure each and every one of you gets what you pledge for in the time stated to the best of my ability, and I will keep in touch at least on a weekly basis, if not daily.  I will do everything within my power to make sure your kitchen looks good. Like REAL good.  If there's no new news I'll even get on to send messages to tell you happy birthday or don't date Jared cause he's not good for you. Feel free to personally message me at any time, and I'll do my best to get back to you asap.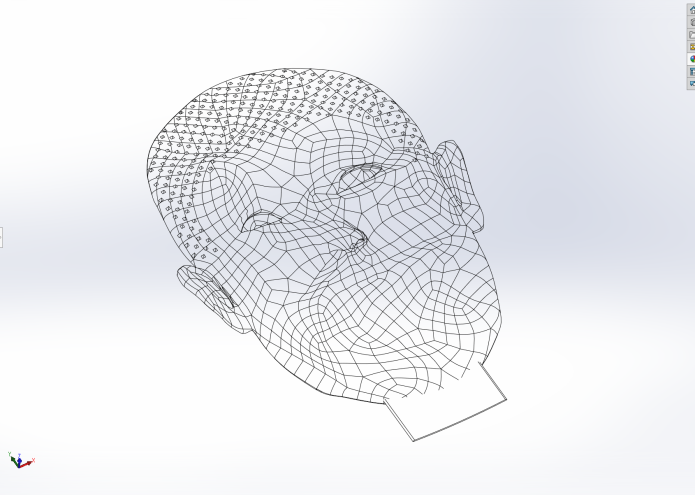 Let's make America (natch, the world) grate again!  I've included pictures of my designs throughout this section to show that it's well on the road to being ready for production and just needs people like you to believe in it!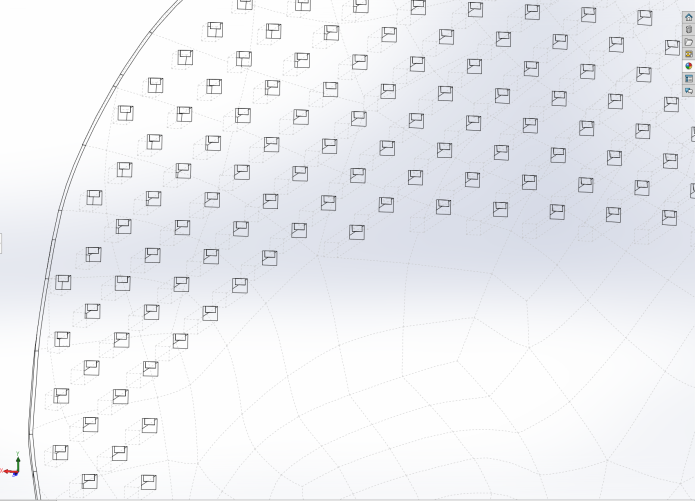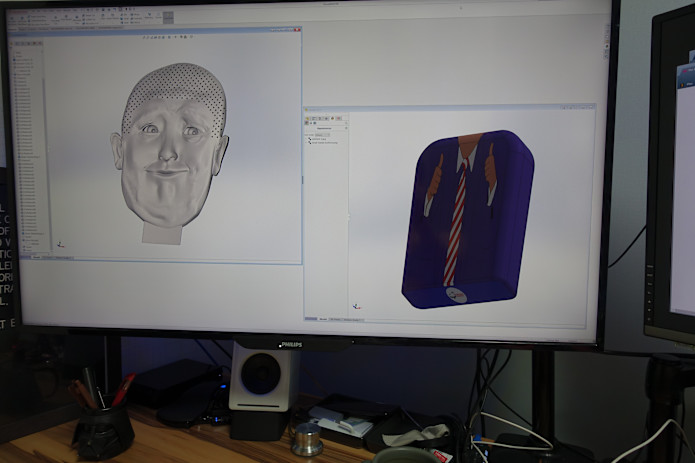 Technical Specs
My Photoshopping skills are meager at best, but here is a breakdown of the features of this incredible cheese grater.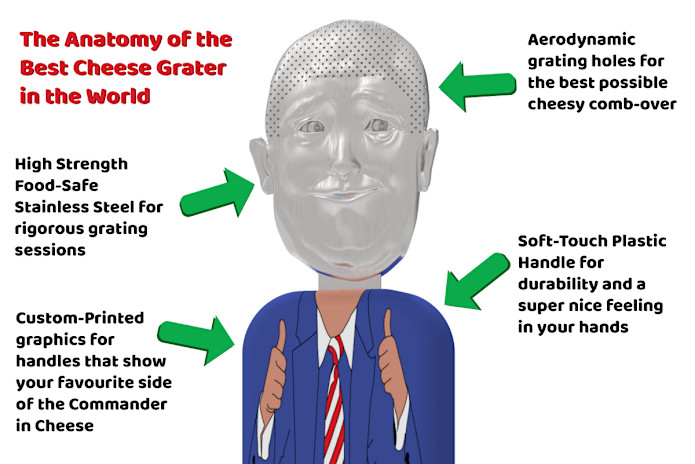 Timeline
As I said, I've supported exactly 67 Kickstarter and Indiegogo campaigns, many of which have failed spectacularly, so I definitely learned what NOT to do from their mistakes.  I've made my timeline realistic so I can fulfill it without letting everyone down. I will however, try to get graters out sooner than this timeline. Right now they have been modeled into CAD-ready files, and just need to have molds created for them and then parts made and assembled, which I need your help to do.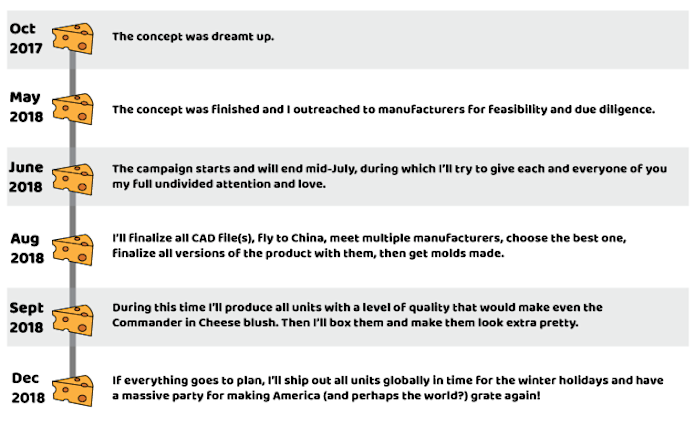 Perks
Perks are fun. Everyone likes perks. Here are the ones for I've got cooked up for this campaign.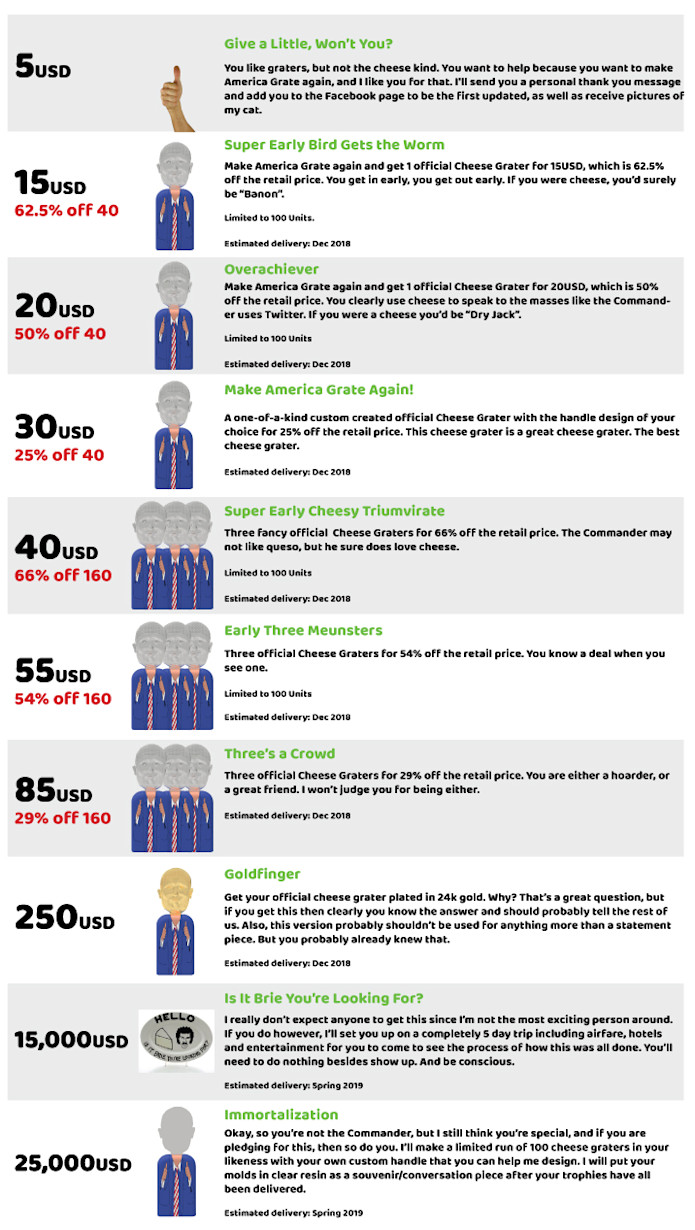 Stretch Goals
Making America, nay, the world, grate again isn't a small task. That's why I've planned multiple stretch goals to help encourage everyone to join in. The further we get, the more design choices you all have to choose from, so it's definitely a win-win. Unless you are cheese.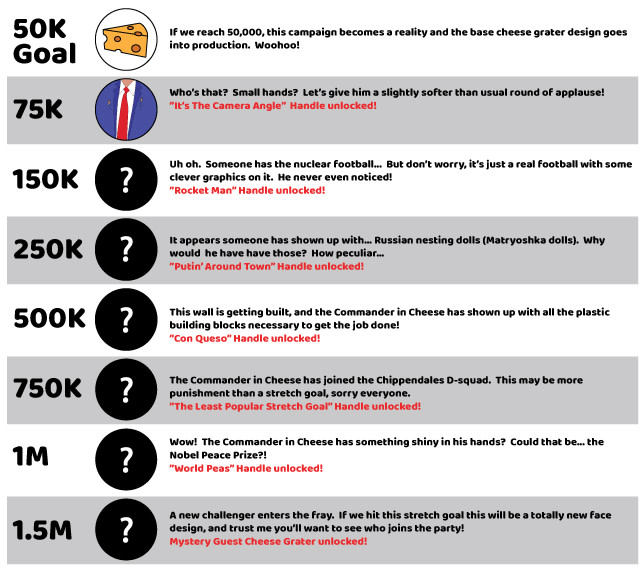 Help Make America Even More Grater
Even if you don't believe in queso, commanders in cheese, or grating, please help support this campaign. This can be done in many ways, such as:
Share this campaign everywhere you can. Facebook, Twitter, Instagram, old-school flyers on telephone poles are all acceptable methods. The shortlink is: 
Practice your cheese grating skills. The Commander in Cheese's hairdo isn't a ham-fisted job, so you should be ready to create a perfect cheese-over when you are finally called upon to do so.
here are some ideas for hairdo's:

Buy one for each of your family members. Buy one for your friends if you have any (I'll be your friend). Buy one so your first one isn't lonely. The Commander needs someone to boast to while you're at work.
Follow me at https://www.facebook.com/REALresidentgenius/ for up-to-the-moment updates. I will be updating this page often.
 

Risks & Challenges
I already have almost everything designed and ready to go and I've spoken to a handful of manufacturers who are ready to create the best cheese grater ever.  If I had to say there were any risks or challenges, they'd be:
The main risk is that this never gets funded and America grates as sadly and uninspired as they ever have.
If it gets funded, the main risk will be getting all of the products made and shipped on a timely basis if the demand is very high. However, I've got the designs pretty much ready to go and it's not really rocket science, so I'm very confident that I have workable timelines and that I can help make happy holidays around the globe.

The Team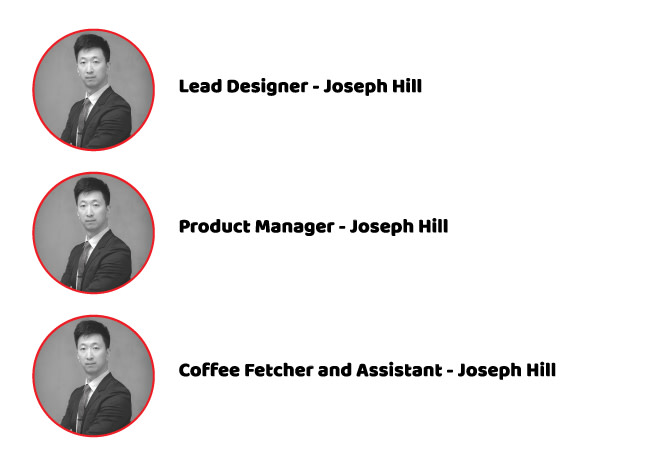 Hi, if you've made it down this far and are still reading, you probably want to know a little bit more about me. I'm a New Yorker currently living in South Korea, working, dreaming, doing things like this.  
I'm an engineer, tech/science nerd and entrepreneur by day. By nite, I'm the same thing, only really tired. I always dreamt of being either a professional magician or guitar player, but I have a hand condition called "Handius Presidentiaitis" where they're much too small for either profession, so my life has currently lead me here, to you. 
So hi, let's be friends and make something fun.

FAQ
What is a FAQ? It's a frequently asked question, so feel free to ask questions. If none are asked throughout this campaign, this area may be filled with random FAQ's, such as:
Q: What keeps you awake at nite?
A: Knowing that bananas as we know them can't naturally reproduce. They are monstrosities created by farmers to infiltrate societies and topple regimes and who knows what else.