Make Coffee Smarter with Mastermind's Kōld Brewer | It's the Ultimate Cold Brewing System: Functional; Convenient; Portable; Premium; Lifestyle-Aligned.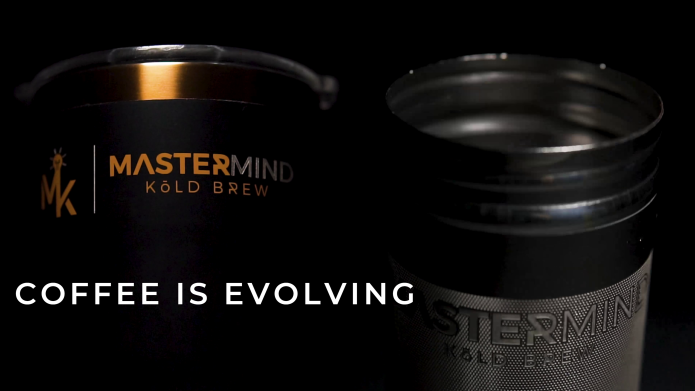 Our Cold Brew REALLY IS better than regular coffee: Cold Brew is 70% Less Acidic & has more caffeine, plus sweeter & bolder flavors. Enjoy extensive health benefits due to the reduced acidity. 
Cold Brew Coffee & Tea Anywhere: This brewer is awesome for craft coffee brewing at home, work, vacation, roadtrips, camping, etc. 
Need to leave for work early, but your cold brew isn't ready yet? Don't let your need for coffee slow you down! Grab your brewer and continue brewing on your commute.  
Enjoy mess-free, prep free mornings: Leave the filter & grounds installed while serving/drinking. This comes in handy for those days when you're in a rush. 
Want hot coffee & tea? Just substitute near-boiling hot water & remove the grounds after 2.5 minutes of steeping.
Dual-Filtration is so much better: Enjoy super clean-tasting coffee with the dutch-weave mesh & perforated shell. Our unique design provides double the surface area, which prevents your filter from clogging too!
No measuring required: We have fill lines to make concentrate or for a balanced brew using the golden ratio. Because life doesn't always let you carry your kitchen scale and measuring tools.

Magnetic Slider Lid: It's SO convenient and fun to use!
Our MagSeal Lid fits your current tumblers: Our lid fits easily on the YETI & Ozark Trail tumblers. 
Easy to Clean: The MagSeal lid has no nooks or crannies, and the brewer is dishwasher friendly.
Drop it without worry: Thicker Steel with 304SS on the inside AND outside – plus it's splash proof! Our competitors use cheaper 202 steel on the outside, reducing durability. Read more on 202 steel HERE 
Drinks stay ice cold for 24 hrs with the Vacuum Insulation.
It comes with a lifetime guarantee.
This brewer is a game changer for your morning, and it's a solution that lasts!  We're standing behind our words with a Lifetime Warranty on the brewer – so if anything ever breaks, we've got you covered.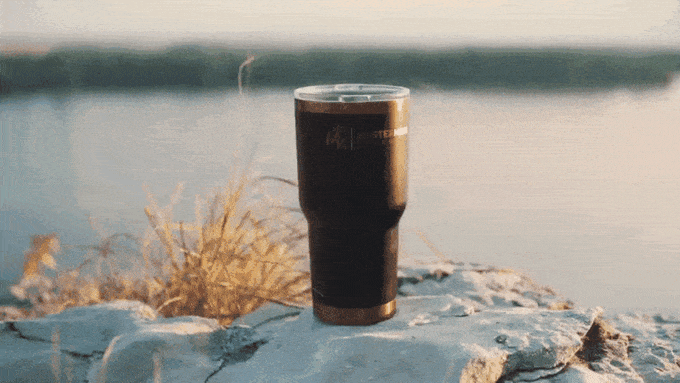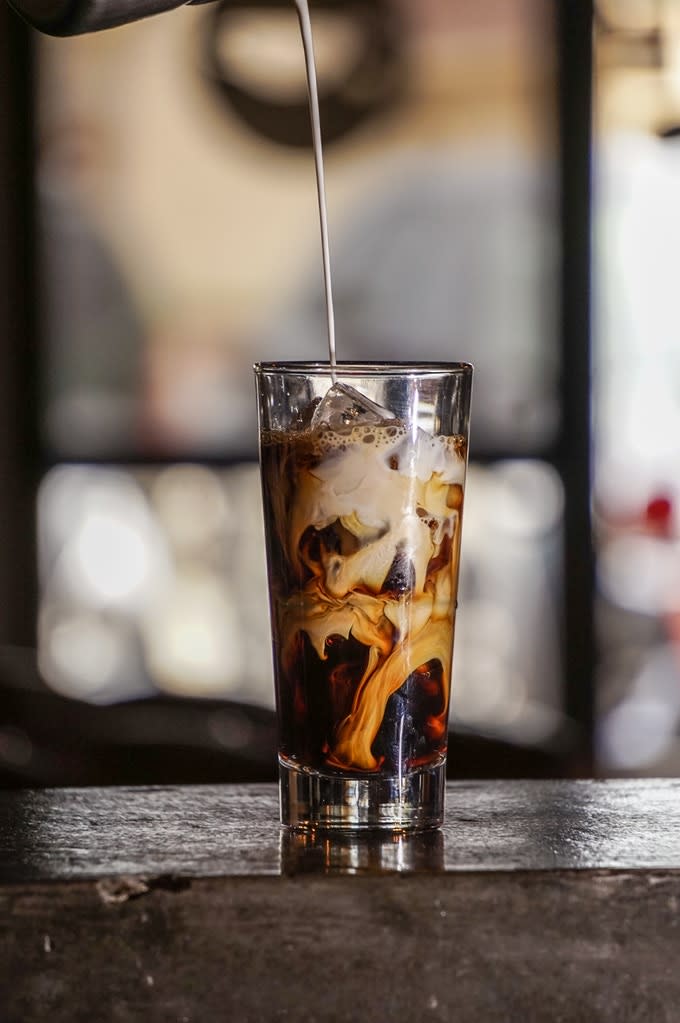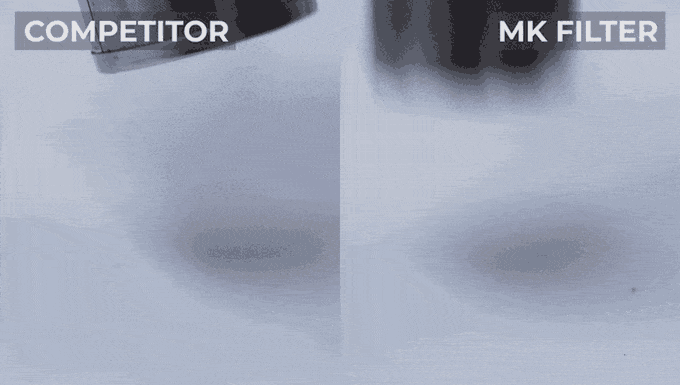 Most cold brewing systems only have a single-layered filter, but we took a scientific approach & used iterative design to create the perfect dual-layered filter. Keep your grounds where they belong – in the filter! For more details, read our section on the filter design.

Skip your morning stops at coffee shop with this brewer. It's the quickest morning solution ever.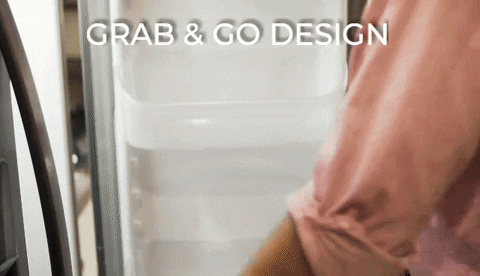 Keep a cold brewer at work! Make brews in your cupholder on a roadtrip. Make it at the hotel while on vacation. 

If you already cold brew, our system gives you tons of flexibility in how you handle the prep and cleanup process. Our design allows the filter to remain installed while you drink your coffee on the go. Other designs require you to disassemble the brewer and cleanup your used grounds before you can enjoy.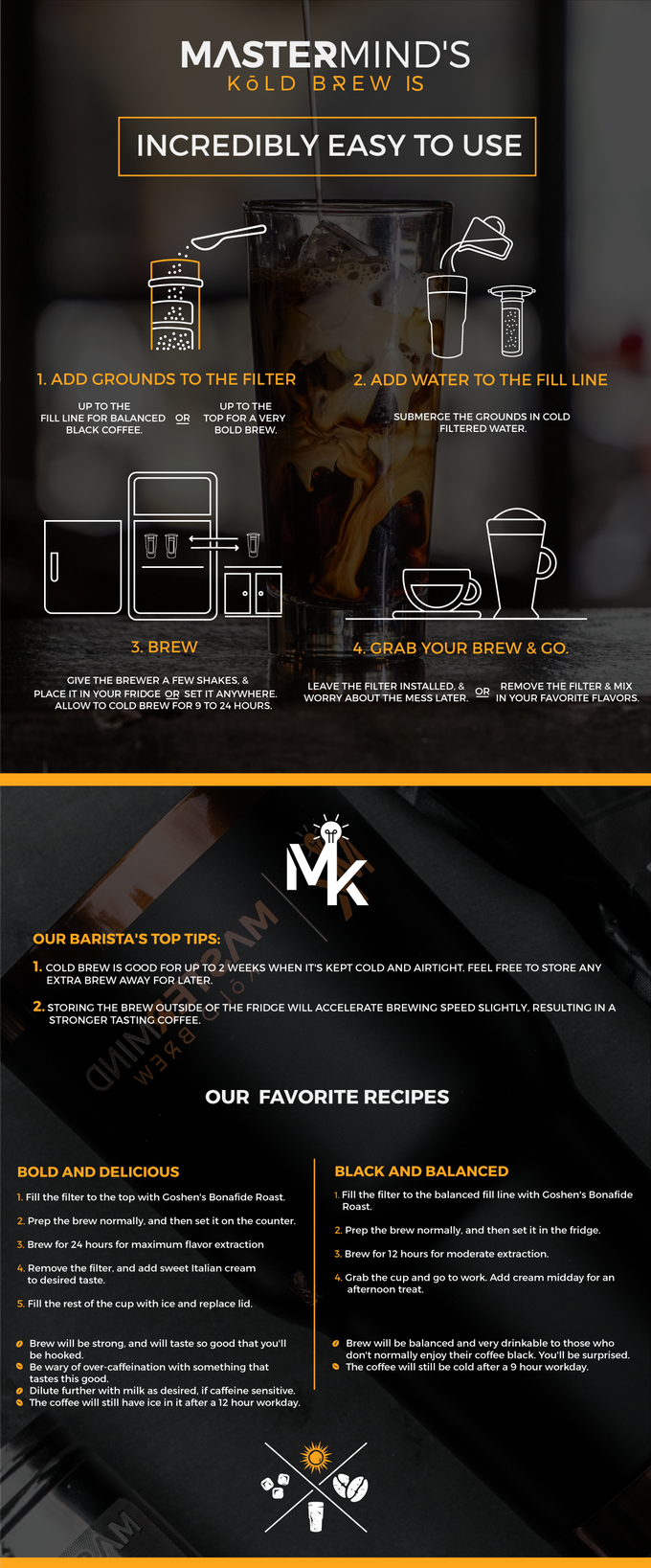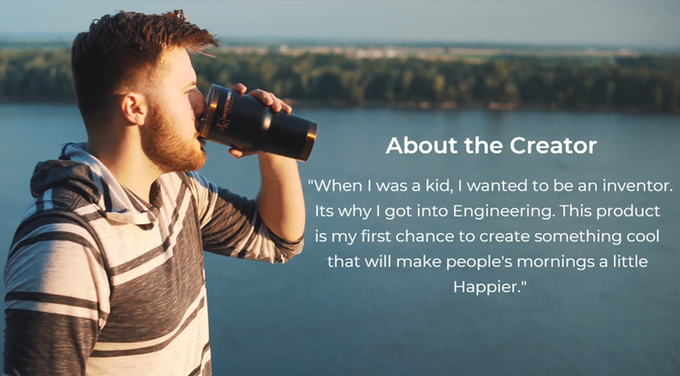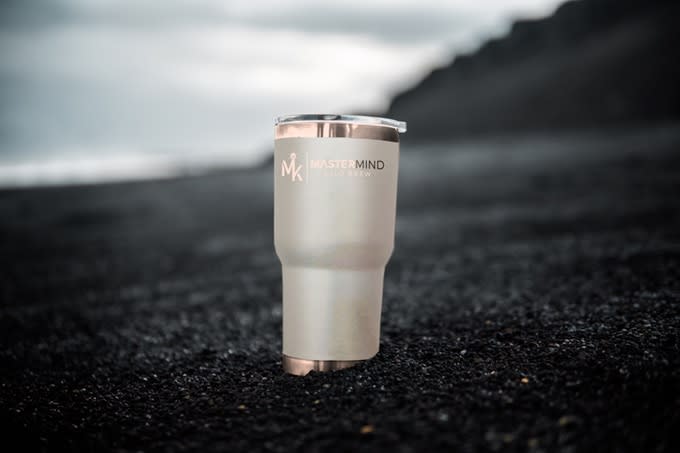 Choose between 2 finishes: 'Onyx'; or 'Pearl' shown above.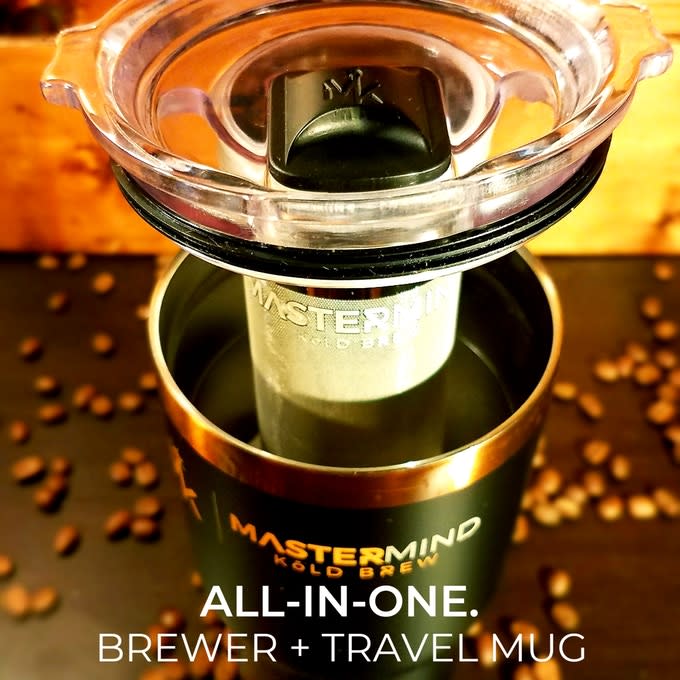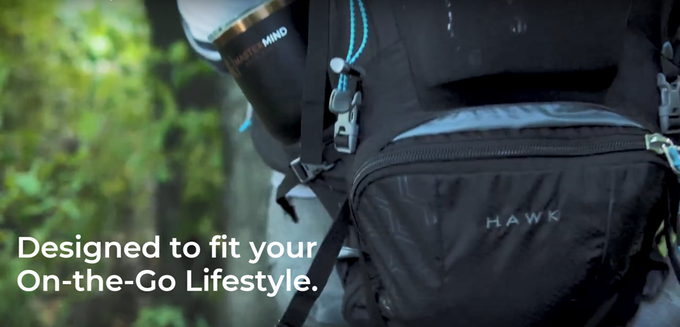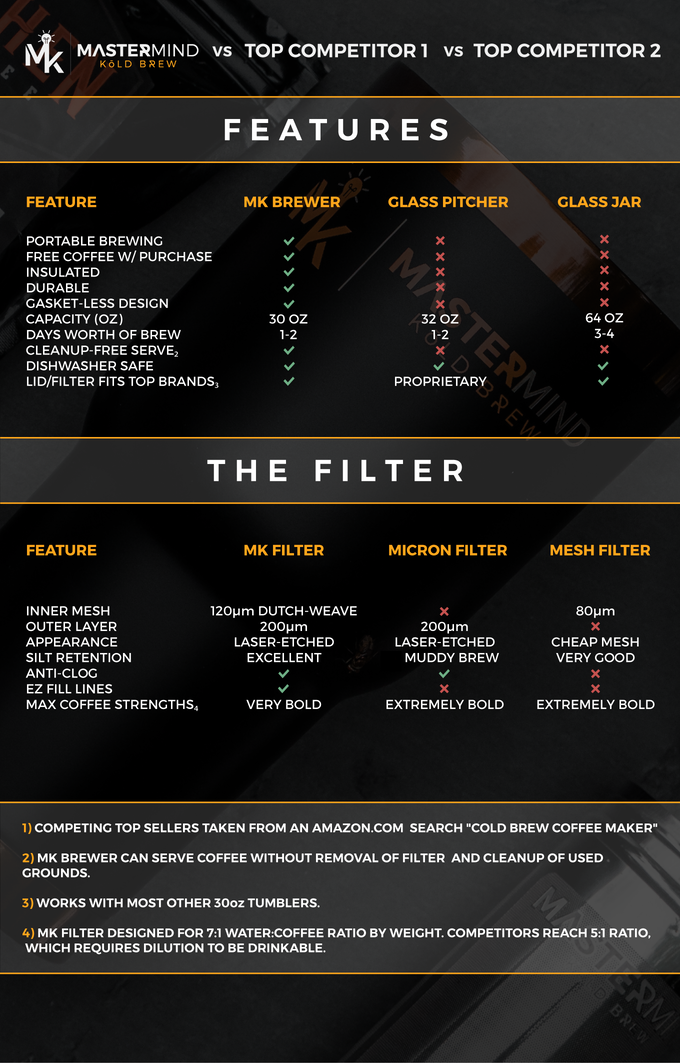 Let's say you already have the best coffee setup in the world. Can you take it with you when you're away from home? What's your morning flavor on the road? Odds are, it's either a pricey drink from the nearest Starbucks, or it's gross gas station coffee. With our brewer, you can enjoy the bold flavor of cold brew affordably – no matter where life takes you!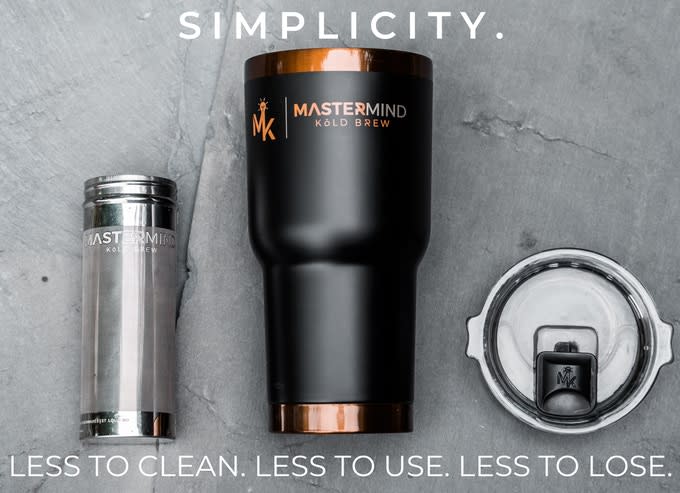 We have a saying in the mechanical engineering industry: "Simpler is Always Better". We think this applies to everyday products as well. For a product to be great, it must also be simple. We have competitors out there that actually have removable flimsy gaskets. Some of them (we won't name names) have 8 individual pieces that must be assembled before you can brew! We lost our gasket to that 8-piece unit after 2 weeks, rendering it useless.  
The Mastermind Kōld Brewer has only 3 pieces to take apart: a filter, lid, & a tumbler. We love the simplicity that this brewer has brought to our daily lives.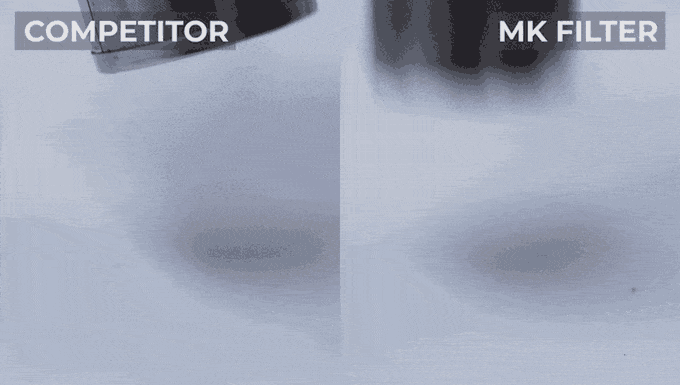 We can't understate the quality of this filter – we thought you should see the GIF above twice. Read on for a deep dive. 
Most cold brewing systems only have a single-layered filter, consisting of a stainless steel perforated shell with 200 micron holes. We got tired of making muddy cold brews (with that filter shown above & on the left), so we bought a finer 80 micron mesh filter. That 80 micron filter clogged up really easily, & the coarse mesh was difficult to clean. We knew something had to change for the better.
We tested 8 different prototype filters before achieving perfection. The Dual-Layered MK filter uses a 200 micron perforated shell wrapped around a delicate dutch-weaved 120 micron mesh. Having dual-filtration enables us to get the same filtration as the 80 micron unit, but without the clogging issues that plague it. The thin dutch-weave makes the mesh really easy to clean, plus the surgical grade 304ss really doesn't hold onto coffee grounds anyways. Call it innovation.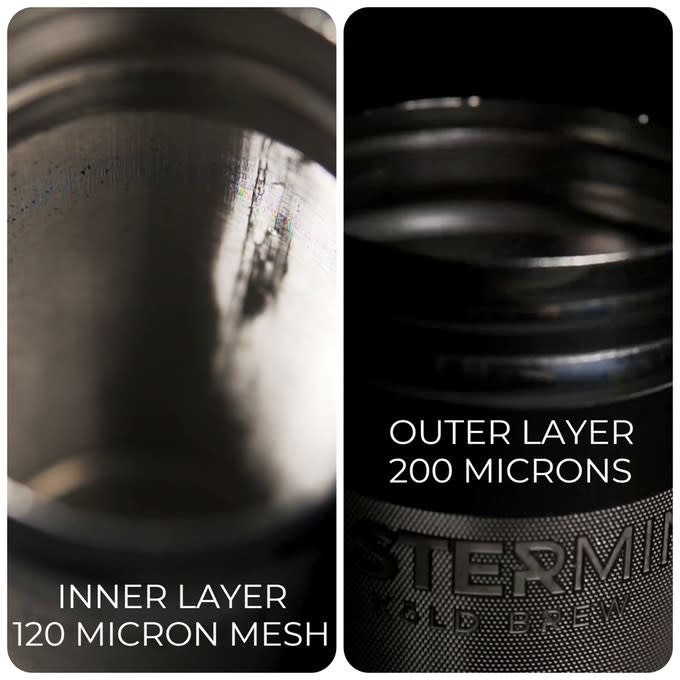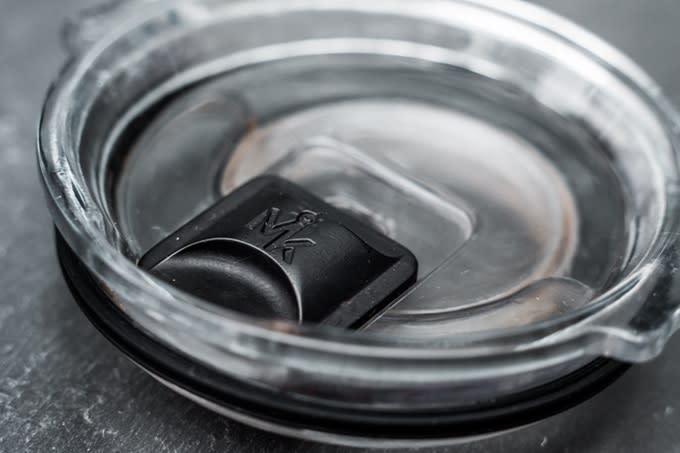 The MagSeal Lid uses magnets to slide open and closed with a satisfying, addicting snap. It doesn't have any nooks or crannies, so it's really easy to clean. It has two ergonomic handles, so that you can remove the lid easier. It's made of BPA-free Tritan material, a unique polymer that's super clear, and strong. It looks like glass until you drop it! The filter twists into the lid without needing a flimsy gasket, so you have one less thing to lose as well.
Our Magseal Lid fits All 30oz YETI & Ozark trail tumblers.
Our lid does not fit: RTIC or BUILT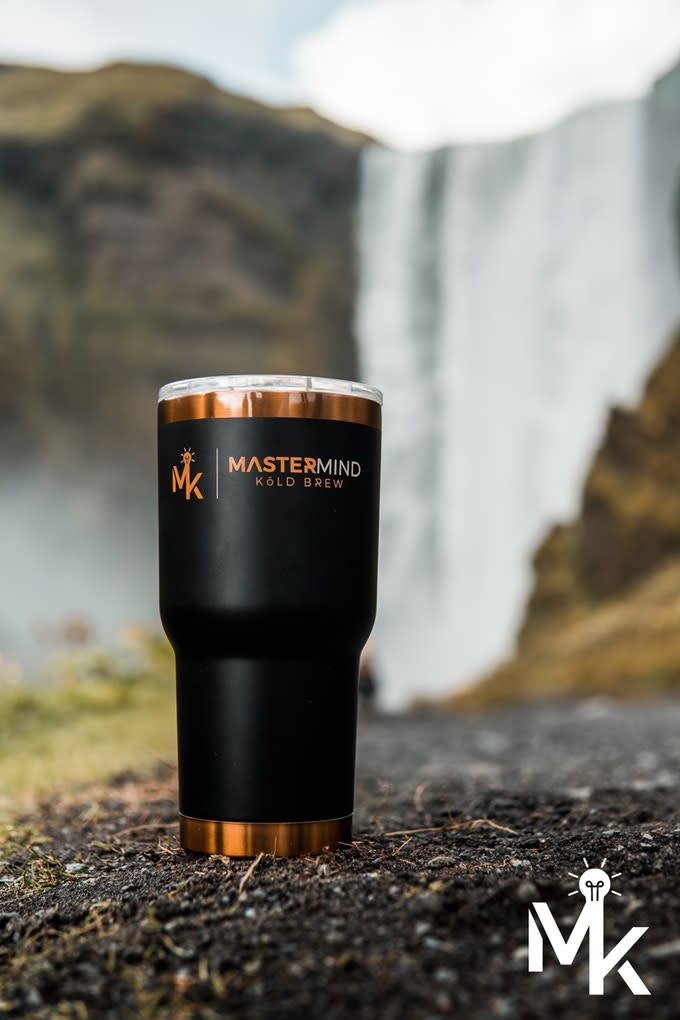 We traveled across the world with our travel mug. This picture was taken in Iceland, no joke!
We added measures like thicker steel and copper lining to ensure that the brewer can keep itself cold the entire work day without any ice, after spending the night in the fridge. This brewer will also stay cold for up to 24 hours if you add ice and keep the lid closed, which is great for things like traveling & camping.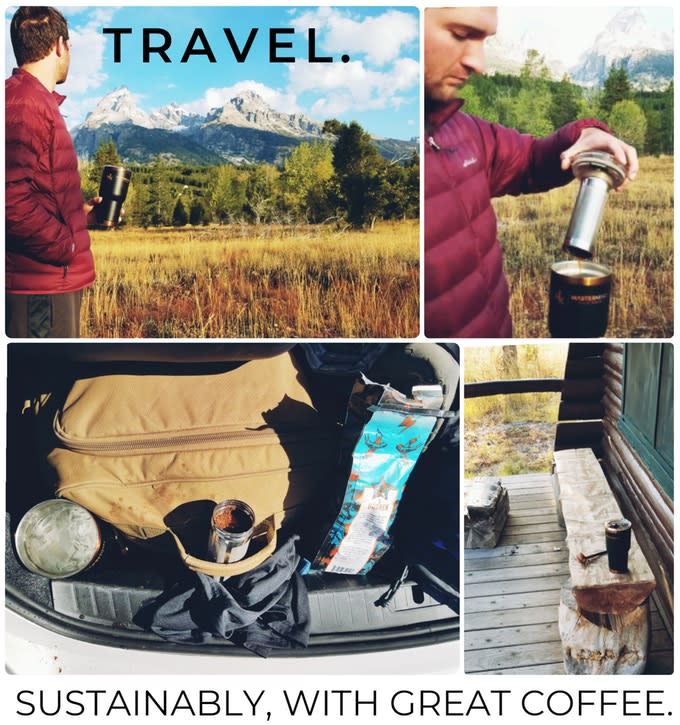 We tested our brewer for a week backpacking in the wilderness of Yellowstone National Park – it was the ultimate lifestyle test. It's sleek and small, so you can stick it in your backpack or keep it in the work fridge. It creates over 20 ounces of concentrated cold brew before milk, cream or water is added, (or 24 oz of brew if you set up a a balanced brew). This is more than enough brew for the entire day, or you can share it with your friends.

Traveling without making an ecological dent is HARD. As we said already, stopping by a Starbucks is easy when you're away from home. But you also contribute to landfills with your disposable cup and straw. Backpackers believe in not leaving a trace, so while roadtripping in Wyoming, we brewed coffee in the cupholders and skipped the coffee stops (Other than Cowboy Coffee in Jackson!). Reduce your plastic footprint and drink great coffee! It's a win-win situation.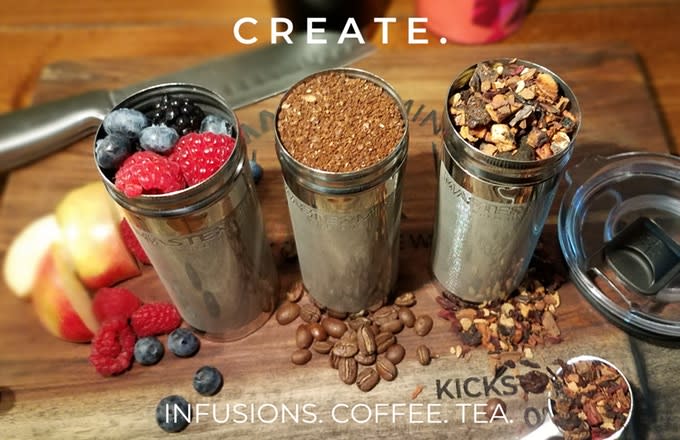 Even if you're not in the mood for coffee, this brewer is great for making fruit infused water and tea, hot or cold. 

It's coffee that is brewed slowly by soaking coffee grounds in cold water rather than hot. Cold brew has a longer extraction process which gives it several advantages over your typical cup of coffee. The taste is much smoother. The bitterness of traditional brewed coffee is caused by the extraction of fatty acids, which doesn't happen during the cold brewing process.  Additionally, the acids in regular coffee actually trigger your stomach to pump out gastric acid, which leads to the butterflies in your stomach and leads to heartburn. This means it's not only easier on your taste buds but on your stomach as well. Cold brew is also bolder than hot coffee. You can easily control the strength by just adding more coffee grounds or letting it extract for longer periods. For those who hate making iced coffee with their normal drippers because it always tastes watered down, cold brew is the perfect fix. Say goodbye to those coffee shop visits for the strong stuff.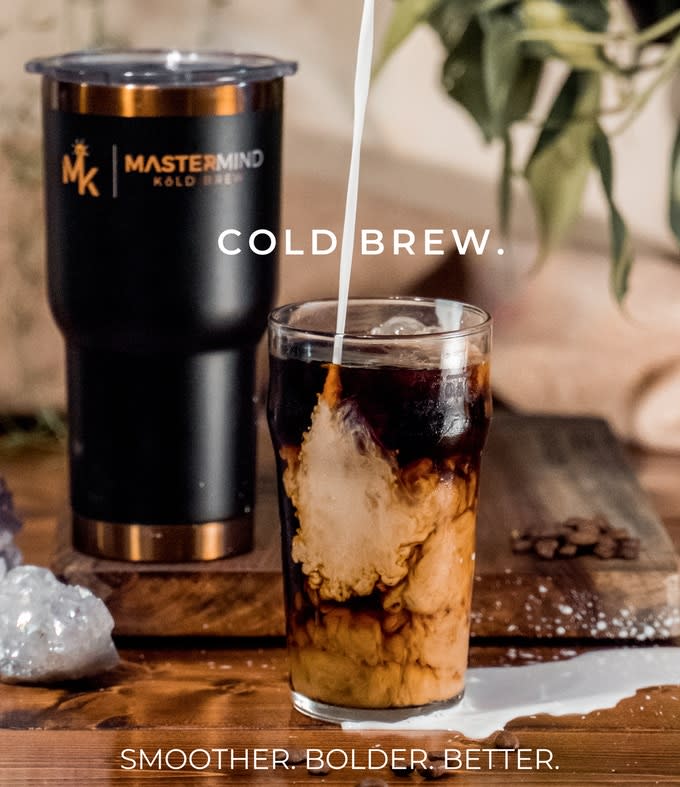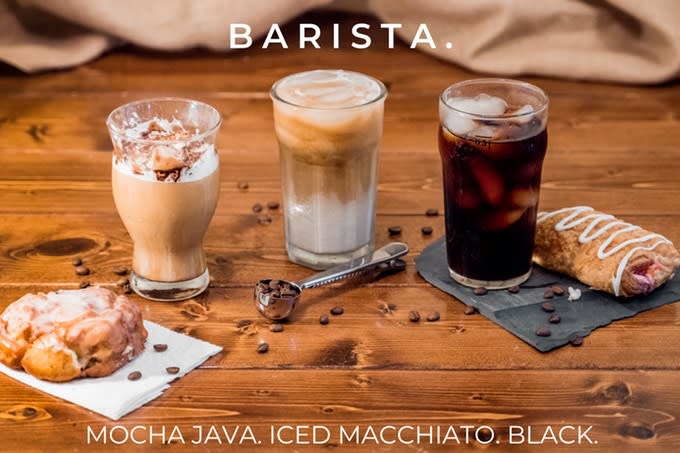 With the Kōld Brewer, you can become your own barista, easily making delicious and bold drinks yourself. You can finally make Good iced coffee at home, avoiding all the melted ice that plagues hot-brewed iced coffee.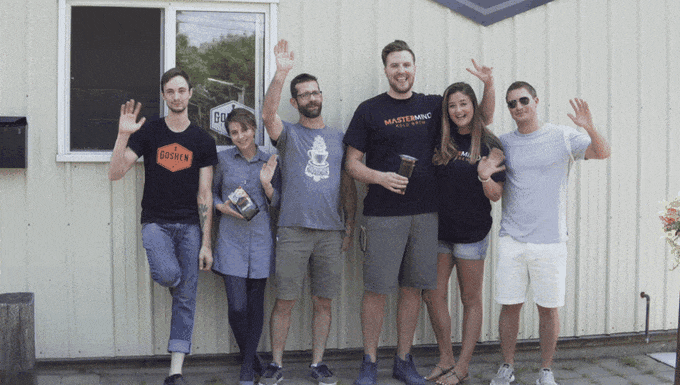 In the video, we talked about how we partnered up with Goshen Coffee Company to provide Complimentary coffee beans as a Kickstarter exclusive. What we didn't tell you was that we tried dozens of coffee beans from all over the St. Louis area to find the best ones for cold brew, before we finally bought Goshen Coffee Company's Delicious Bonafide Roast. Doing a blind taste test, Bonafide was head and shoulders SO MUCH BETTER than the competition. We were so blown away that we immediately knew we HAD to partner up.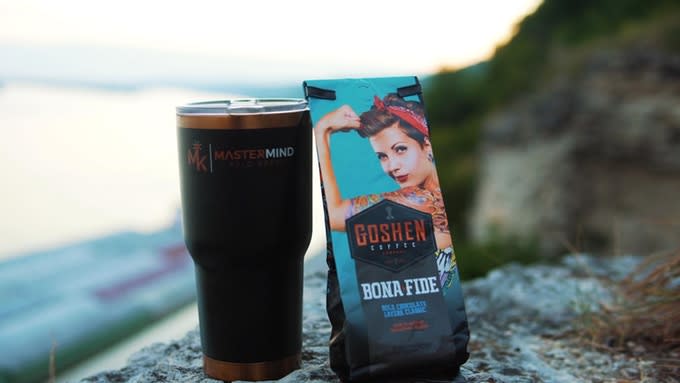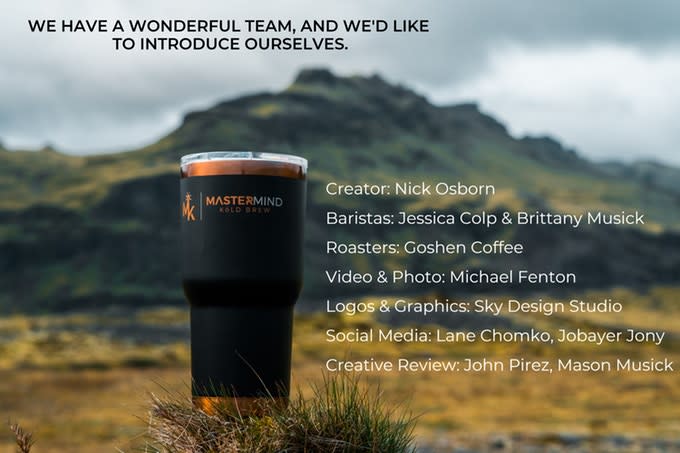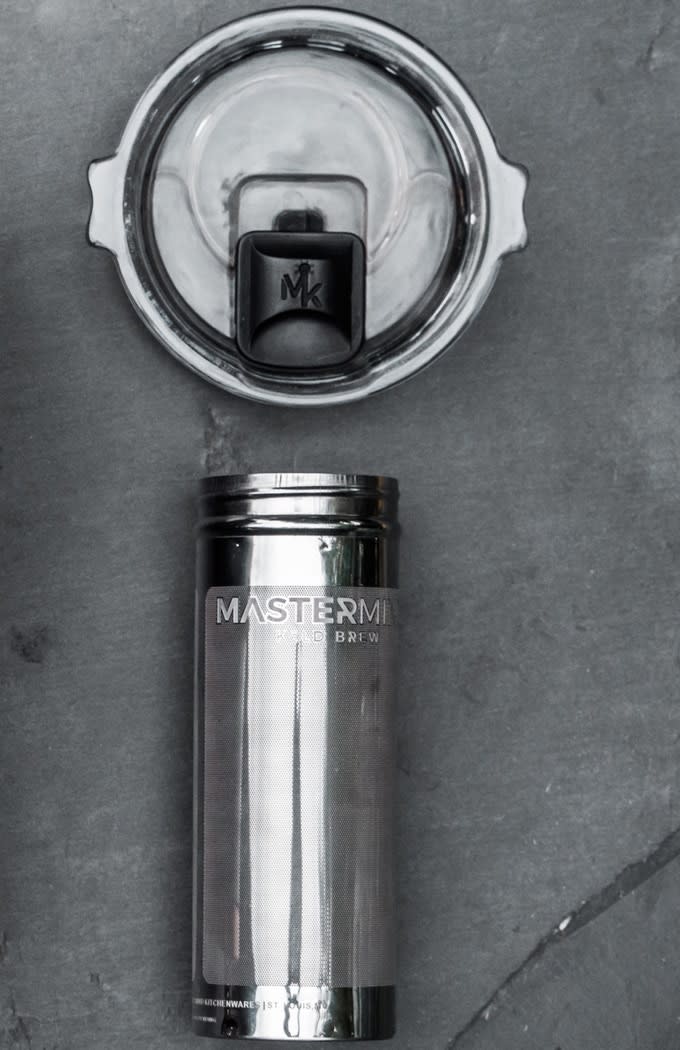 The Lite Brewer comes with only our filter and lid. Refer back to the 'MAGSEAL LID' Section to learn which tumblers this will fit.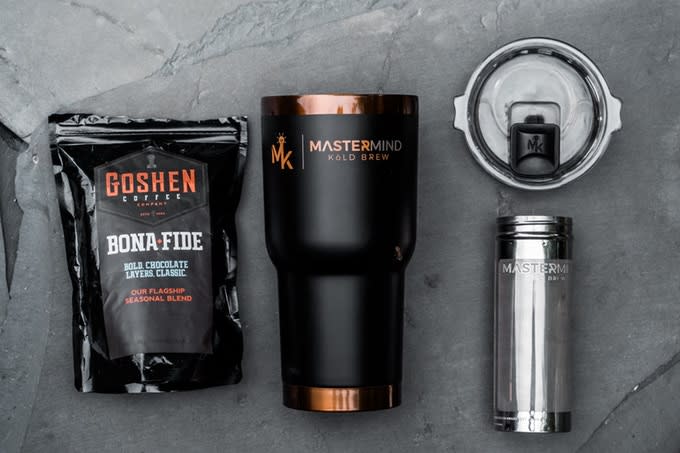 This is the main package. Everything but the Lite Brewer is based on multiples of this package.


We are in talks with major retailers already (out of Germany if you can believe it), to get products in front of tens of thousands of customers worldwide. 
We're signing with Amazon Prime immediately once the production run is complete.
Eventually, we would love to talk with Bed Bath and Beyond, REI, Dicks, and other sporting goods stores, because our brewing system and future brand line is definitely a great fit there.
We are also looking into developing our own special line of coffee roasts this summer, dedicated to cold brewing.