Mama Buci: Honey that makes a Difference | Every jar of Mama Buci honey educates children and provides income for local communities in Zambia

"Delicious, raw and ethical.  Benefitting thousands of lives.  So proud of our Mama Buci honey."
Bear Grylls

Hello! My name is Martin Zuch, founder of Mama Buci, a social enterprise. I want to share with you our exciting journey of how we have improved the quality of life of over 10,000 families by building over 150 bee hives a day, training beekeepers and harvesting tastebud tantalising ethical, cold pressed HONEY.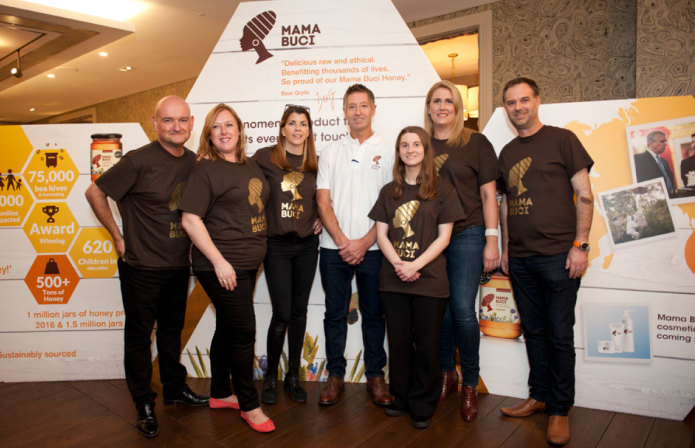 Before Mama Buci I was a Hedge Fund Manager but one day while I was enjoying the trappings of my success I realised that there had to be more to life than just making money.  I wanted to do more to help others in a philanthropic way and decided to focus my newfound commitment on the poorest communities in Africa . So I jacked in the day job and started my search for the best way to do this.
As with anything in life I tried and failed but I got back on my horse as I was determined not to give up on my mission.  It was essential to continue sustaining the school we had built as part the initial projects I had already started in the community.
It was then that my dear friend, John Enright, mentioned the potential of commercial bee keeping.  I threw myself at this new idea and created Mama Buci.  After a lot of time and investment we have finally been able to have a positive impact, helping over 10,000 families in Zambia!  But there is more to be done which is why I am here asking for your help!
Mama Buci has built over 105,000 beehives which provide a secure income for over 10,000 families.  But our ambition is much bigger than this.  By 2022 we want to have over 500,000 hives across the Zambian forest.  This would provide secure income for 50,000 families and provide education for over 100,000 children!  In fact, every single jar of delicious Mama Buci honey sold provides education and a meal for a child. 
I invite you to join me on the Mama Buci journey…and to play a part in the effort that will make a difference to the lives of thousands of people across Zambia!


Mama Buci honey is lovingly hand-harvested by over 10,000 trusted families in the virgin Miombo forests of Central Zambia. The amber, polyfloral, raw honey is produced from hive to bottle with no additives, preservatives, economic adulterants or other nasties.
We can't take all the credit for its delicious taste though, as it's the millions of bees that do most of the hard work. The African bees take their nectar and pollen from a rich variety of wildflowers in the Miombo forest that change from season to season. This is why we have two different types of honey, our summer and winter harvest.
The Summer Harvest has a light amber, floral taste with tantalising hints of aniseed and fennel. It's earthy flavours make it a great accompaniment to cheese or other savoury foods.
The Winter Harvest has a rich, sweet, dark amber flavour with comforting hints of black treacle (molasses). It tastes scrumptious spread over toast, drizzled over yogurt or stirred in your favourite brew.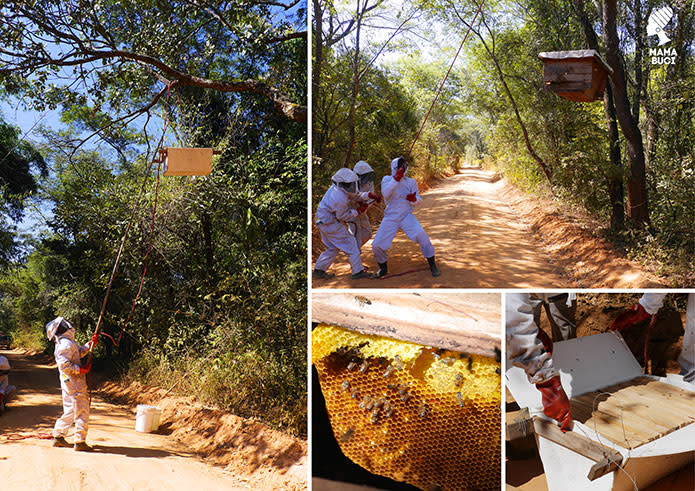 Beekeeping has been a popular income-generating activity in Zambia for centuries. However, most of the honey produced is kept in traditional bark hives, which involves a harvesting process that strips the bark from the tree ultimately leading to its death. This not only has a negative impact on the environment but also to the beekeepers income as the bees need to feed off the trees to produce honey.
This all changed however with the introduction of the top bar beehive which is where our delicious honey is created.  The top bar hive yields twice the amount of honey than the traditional bark hive and causes absolutely no damage to the trees and surrounding forest. 
After 2 years of struggling with technical problems involved with the beehives themselves my partner came up with the new design of the tree top bar hive. To our delight, the bees started to flourish, producing over 12kg of honey on average per hive in a structure that, if maintained properly, could last a lifetime. That's when we knew we had found something with the potential to really make a difference.
Now we are building over 150 beehives a day, 5 days a week, in our local Zambian workshop. We have provided over 105,000 beehives which will produce over 400 tonnes of delicious raw honey this year alone.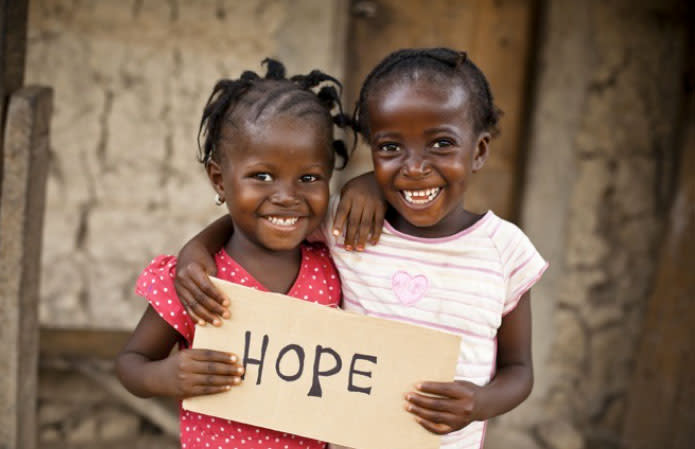 Our focus starts with educating the beekeepers and families on how to work with their land to help maintain a healthy eco-system.  Mama Buci supports over 10,000 families in Zambia by providing them with beehives and beekeeper training needed to produce delicious raw honey that has a positive impact on the environment. In order to rebuild and invigorate impoverished communities, education is key, and that's what is at the heart of the Mama Buci story.  Over the years we have watched communities, individuals and forests flourish.


In 2006 we set up the Luyando school in Kamafwesa which is now enjoyed by over 420 children and provides work for 11 local teachers. The school has made such a difference to the prospects of this community and our goal is to continue to support more schools as Mama Buci grows. As part of our vision to support education, we also set up the charity Give Hope International which manages and expands Mama Buci's educational aspirations which it is now doing in Zambia, Malawi and Ethiopa.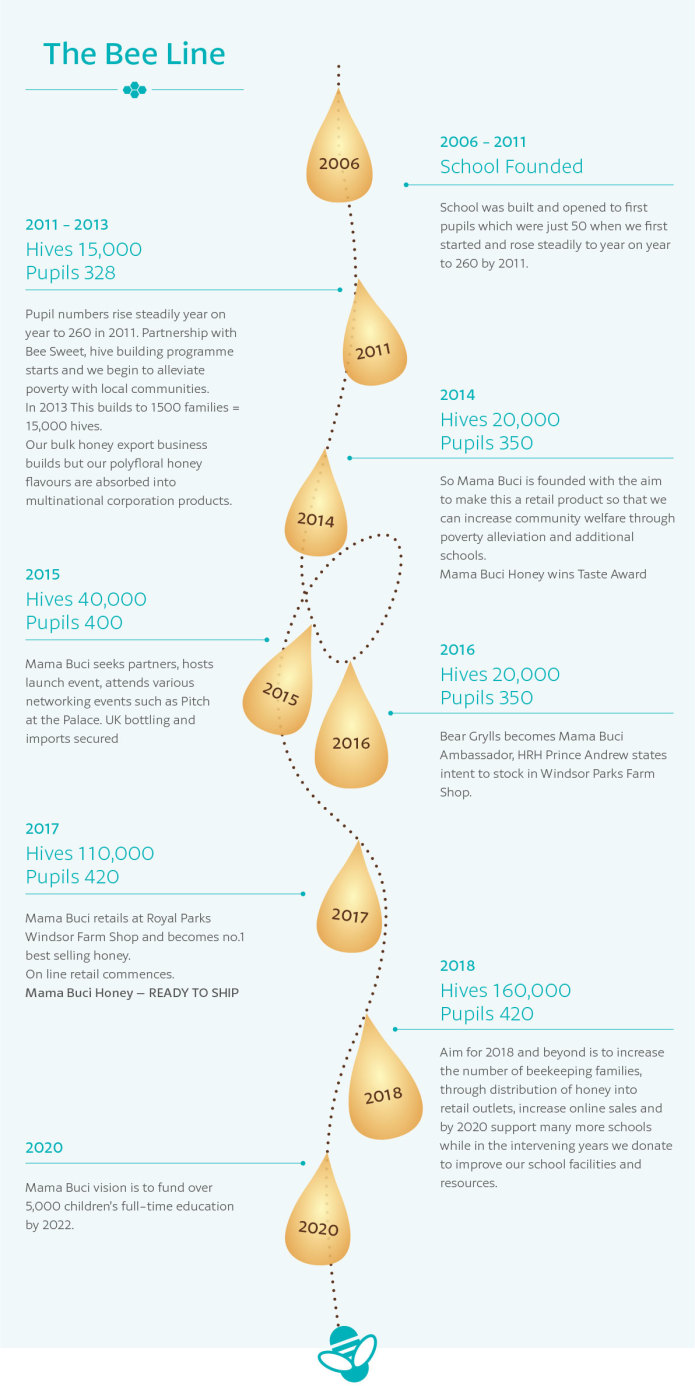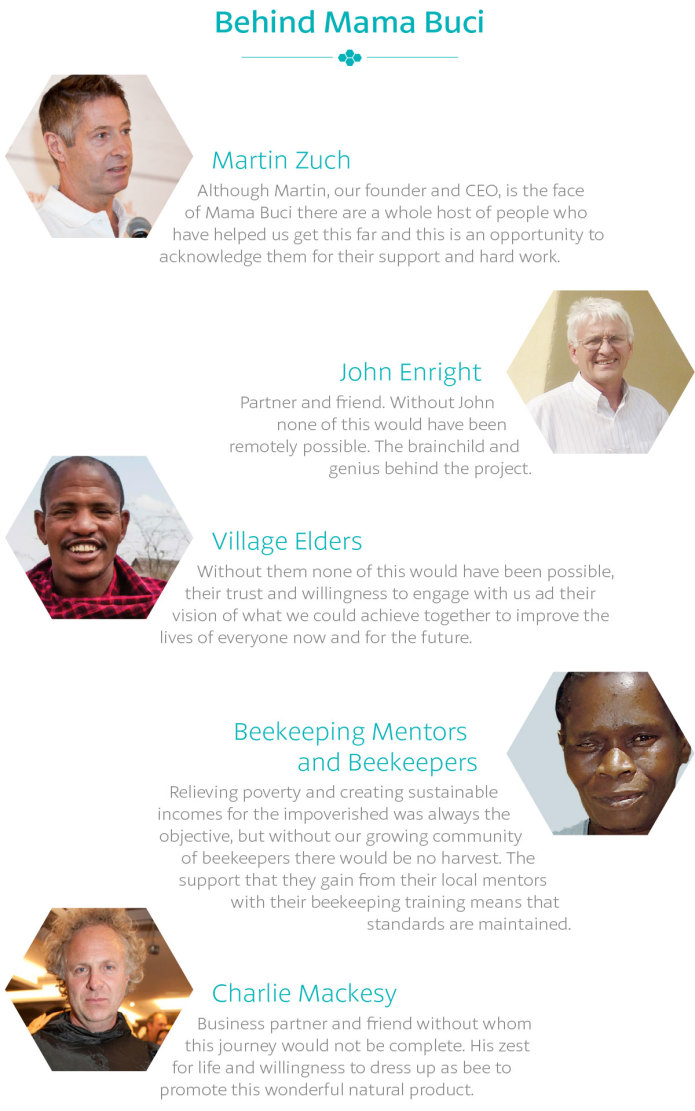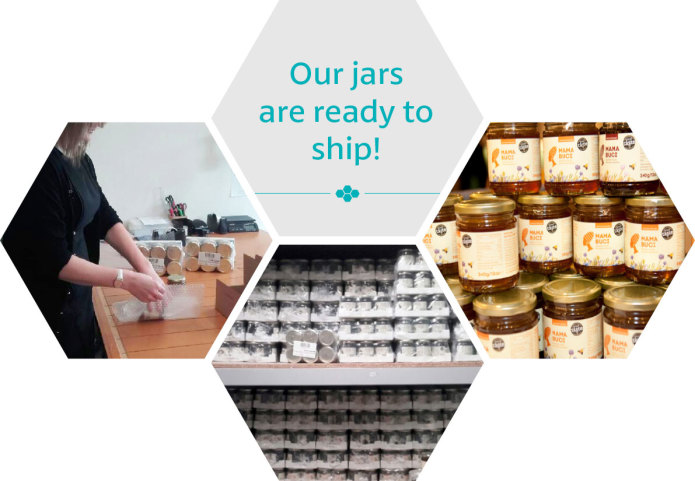 All Indiegogo supporters will be provided with an E-newsletter update.  Supporters will be listed on our website (unless otherwise stated) as 'Friends of Mama Buci' for a minimum of 1 year.  Those who have taken a Teacher or School Support package will be recognised on Give Hope International's website.


Through the help of dear friends, honey lovers worldwide and our passionate ambassadors, Charlie Mackesy and Bear Grylls, in addition to HRH Duke of York, we are spreading the message of our venture far and wide so we can continue to help more families, build more schools, and provide you all with a delicious, healthy and soulful alternative to mainstream honey products. By purchasing a pot of our honey you are becoming part of the growing Mama Buci story and directly affecting change in communities that really need our help.
By achieving our Indiegogo goal we will be able to:
With your help we will be able to develop the marketing and sales resources to enter the retail environment and get Mama Buci into a shop near you
Train more beekeepers, thereby helping more families and communities out of poverty
Provide more educational resources and free school places
Make a difference today; invest in a Perk, enjoy our honey and make the Mama Buci honey available near you!

Tell all your friends about us!  Click on the Facebook icon at the top of this page and share with everyone and join the Mama Buci dream! 
Please email us directly at the contact details below!
[email protected] or [email protected] 
Visit our LinkedIn page: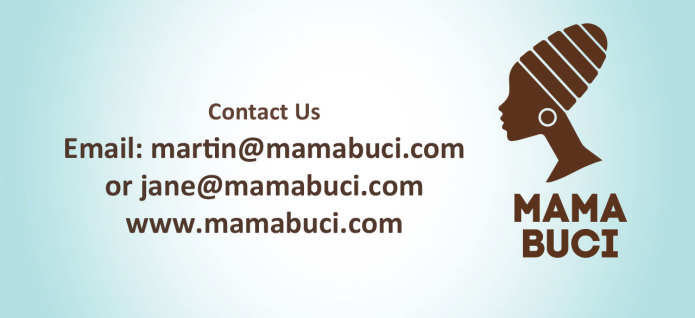 What does Mama Buci mean?
Mother Honey in Bemba, the local language
Where does Mama Buci honey come from?
Our honey is from the virgin Miombo forests in Zambia
How much money does Mama Buci give to the Luyando school?
For every jar sold Mama Buci donates a minimum of 50p which is the equivalent to a meal a day for children attending.
Does Mama Buci run the school?
No, the school is run by the teachers, but was founded by Mama Buci CEO Martin Zuch. The school is funded by Good Hope International, a registered charity.
How many children attend the school?
At the moment, there are 420 children attending, across all age groups from different villages. As incomes improve, families will be able to afford to send their children to school as education in Zambia is not free.  The school we support is for those who are unable to afford to educate their children.
Why is the Winter honey so dark and the Summer so light?
The colour of the honey is determined by the nectar that is collected from the local flora and what is in flower when. This affects the colour and honey flavour. As have 2 harvests this reflected in the colour and flavour variations of the 2 seasons
How have lives been transformed through the Mama Buci beekeeping program?
Beekeeping can take people out of poverty and because we pay a fair price for the honey harvested there is positive impact on not just the beekeepers' families but also within the village. For example, where they were living in poor accommodation, they are now able to live in brick houses with steel roofs protecting them from the elements.  Please visit our site to learn more:  http://mamabuci.com/meetthebeekeepers/
Can I cook with Mama Buci Honey?
Yes, you can use Mama Buci honey in your recipes where honey is an ingredient or as a sugar substitute.
When will my Christmas Gift PERK be despatched?
We aim to despatch your perk within 14 days of you signing up, so that it arrives to you in plenty of time for gifting. We will contact you to tell you its on its way.
Will my Perk be tracked?
Yes where possible your parcel will be tracked and you will be provided with tracking information at the time of despatch.
How long will it take for my Perk to arrive?
Depending on your Perk and country, it should arrive within 5-7 days of despatch.
How many beekeepers are producing honey for Mama Buci?
Our beekeeper numbers are increasing all the time but there are currently 11,000 Beekeepers with whom we are working.
Do the beekeepers have to pay for the hives that you supply?
No, we provide all the beekeepers with between and 5 and 10 hives free, as well as protective clothing.
How do the beekeepers get paid?
Each beekeeper is paid cash on the day of honey harvesting, by weight.
How does Mama Buci choose the beekeepers?
We work closely with the village elders in the first instance and either the Elder, the equivalent of a Chief/Leader, nominates an individual(s) or the village will nominate the person(s) that they think should be the beekeeper.
Are there any women beekeepers?
Yes, beekeeping is not a single gender activity. There are women supporting their families through beekeeping with Mama Buci. You can read our beekeeper stories on our website http://mamabuci.com/meetthebeekeepers/
How many hives do you have in the forest?
At the moment, we have over 105,000 hives in the Miombo forest.
How many beekeepers and hives will you have in 5 years time?
We hope to be working with and helping 50,000 beekeepers, by 2022 which would mean that there would be 500,000 hives in the forest.  If Mama Buci can reach this target, we will be making it possible for 100,000 children to attend school on a daily basis (based on the average of 2 children per family attending).
Why does Mama Buci not use Bark Hives?
We use top bar hives which are made from timber offcuts and manufacturing timber waste. This enables us to help preserve the forest and not damage the trees on which the wildlife, climate and villages depend upon for food & shelter.  Unfortunately, bark hives destroy the trees and can leave the honey tainted.
Who makes the hives?
Local carpenters are employed to build the hives that we give to beekeepers
Do the children have to wear a uniform?
It is preferable for the children to wear a uniform, which we provide, as clothing can be expensive and is often hand me down so it helps them to feel that they belong 
What language are the children taught in?
English is deemed the national language, so we teach in English and the local language of Bemba.
How many teachers are there at the school?
We currently have 12 teachers.
What subjects are taught at school?
English, Maths, Geography, Reading & Writing, 
Will Mama Buci help support more schools?
As part of our objectives we hope to be able contribute funds to Good Hope International so that they may build more schools within Zambia and bordering countries, to secure more opportunities in their future.
When the honey is harvested are the bees killed?
No, we train our beekeepers on the importance of leaving the brood (Queen, Worker bees, Drones, eggs and larvae in tact) We only take the surplus honey and leave the bees within the hive.
Will the honey crystallise and if it does what should I do?
All raw honey will crystallise over time. The crystallisation process is natural and does not mean that it is spoiled. Pure, raw and unheated honey has a natural tendency to crystallize over time with no effect on the honey other than colour and texture. If your honey should crystallise then stand the jar in warm water, in the airing cupboard or somewhere warm with an indirect heat and it will slowly return to a liquid. Don't keep you honey in the fridge as this will accelerate the crystallisation process.
What is cold pressed filtered honey?
The honey combe is pressed and then naturally filtered through sieves to separate the wax, any pollen or hive debris from the honey which runs through the sieve.
Is the honey Organic?
Mama Buci honey is harvested from Virgin forests which has no pesticide use within it or on the land neighbouring the forest. Our honey has been certified organic in Zambia, it does not hold a Soil Association organic certificate at this time.
Has Mama Buci honey won any awards?
Yes in 2014 it won a Great Taste Award. Great Taste, organised by the Guild of Fine Food, is the acknowledged benchmark for fine food and drink. It has been described as the 'Oscars' of the food world and the 'epicurean equivalent of the Booker prize'.