Marcel Proust's legendary Coffee and Cafetière | Relive Proust's COFFEE RITUAL : a cup of CORCELLET coffee, slowly brewed with a CORCELLET cafetière.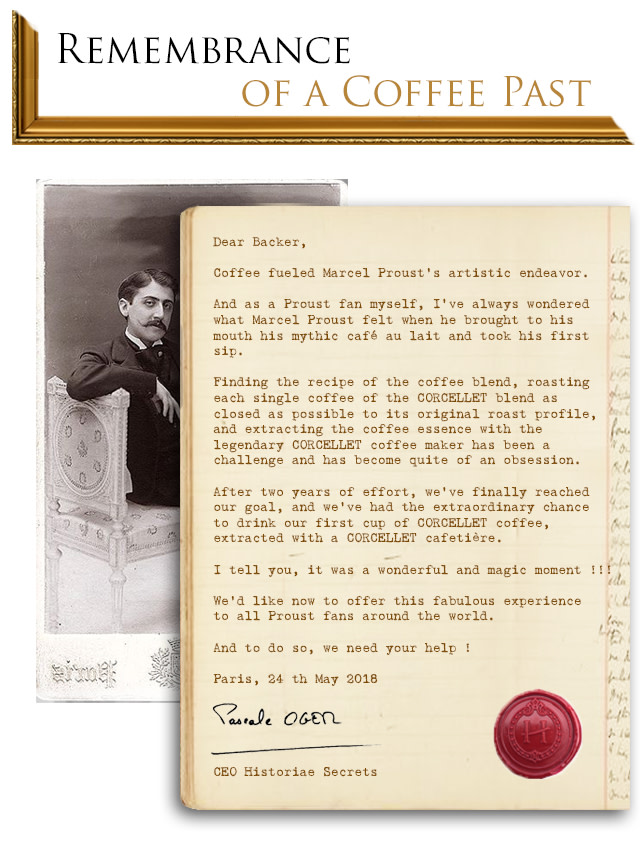 Proust's Coffee Ritual : Corcellet … nothing else !
The coffee making was a delicate art in the Proust household. In her memoir, Céleste Albaret, Marcel Proust's trusted housekeeper, explained how she was initiated to the intricate coffee ritual.
Proust's coffee had to be ready the moment he rang for it. It had to be brought to him in bed, while he read the paper and before he began his work, together with a pot of hot milk and one croissant. Any delay in its delivery was a very high offense.
Marcel Proust would not drink any other kind of coffee than CORCELLET.
Corcellet for sure,  but the best one :
Mélange Opéra
During 200 years, from its very early days in 1760 until its very last ones in 1968,  CORCELLET  was the most prominent name in coffee in Paris.
Until 1895, when it moved to the fashionable Avenue de l'Opéra, CORCELLET sold only one coffee blend. To celebrate its relocation, it gave to its historic coffee blend the name Mélange Opéra, while extending its assortment to quite a wide range of coffee blends and single origins.
The Mélange Opéra blend was created in 1760 and is the oldest FRENCH COFFEE blend !
And with no exception, Marcel Proust was drinking the original Mélange Opéra.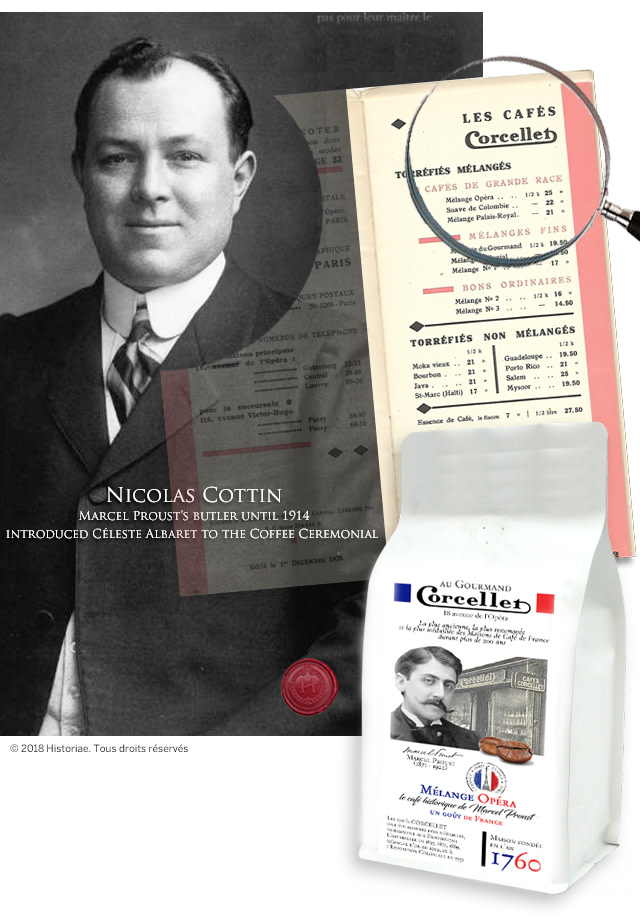 Marcel PROUST's liked his coffee very strong, very bold and very intense.
In order to get the strongest and thickest coffee essence as possible, it had to be brewed very slowly, drop by drop.
To achieve the required coffee extraction, Proust requested the specific use of a CORCELLET coffee maker, that had a special coffee filter, wide and high enough to be stuffed with a large amount of ground coffee.

Corcellet, the French Art & Tradition of Coffeeware
CORCELLET was not only the most celebrated coffee house in France, but also the most famous delicatessen store of its time.  
Just as tableware was part of the French Culinary Art, CORCELLET considered coffeeware as an important part of the French Coffee Art and Tradition. CORCELLET's reputation went well beyond its exquisite coffees; CORCELLET coffee makers and coffee accessories equipped most of the French High Society households.
Over the years, CORCELLET filed several patents for coffee makers, but the most acclaimed of all was a proprietary adaptation of a very popular french coffee maker called "LA SARREGUEMINE".
 
The "SARREGUEMINE" coffee maker, by CORCELLET
The CORCELLET cafetière was produced by a historical and well reputed pottery manufacture, La Faïencerie de Sarreguemines, established in 1790 in Sarreguemines, an industrial town in the Alsace-Lorraine region of northeastern France. That's why it was called "LA SARREGUEMINE".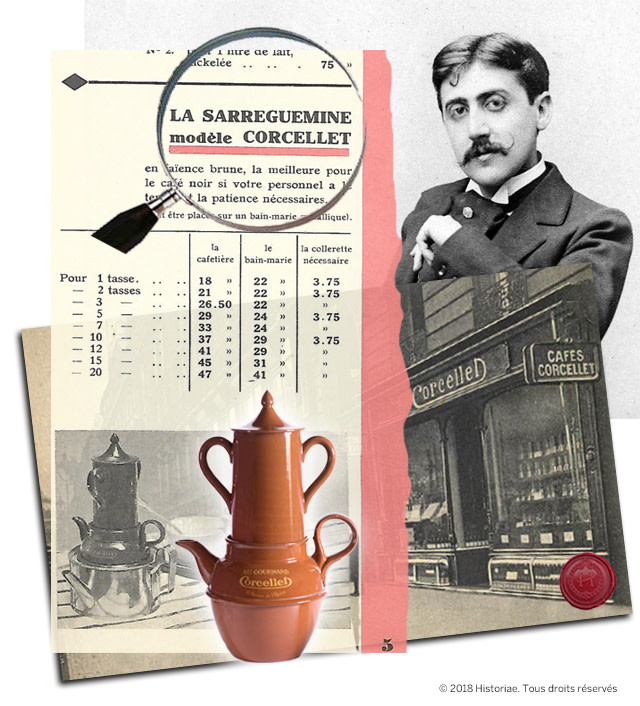 The Sarreguemines manufacture was known for producing very sturdy tableware and dishware thanks to a special red clay, called "Terre rouge de Sarreguemines". This very particular clay had very specific properties that increased both the solidity and heat retention of the pottery, especially when used use in a bain-marie, like Céleste Albaret did when she prepared Proust's coffee.
The secrets of the CORCELLET cafetière
The CORCELLET coffee maker shields many manufacturing secrets. One of them is its specific design. In the commercial brochure of the manufacture, the CORCELLET coffee maker appears under the name F° Harel, which means "shape" Harel.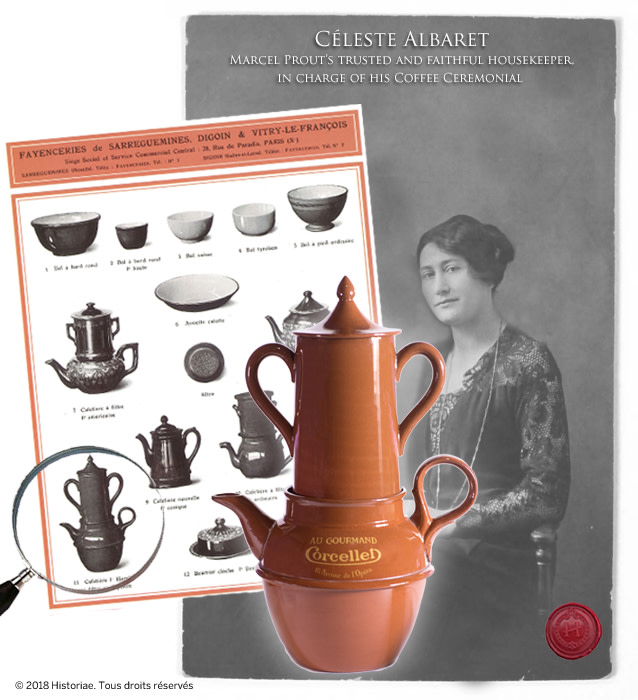 Until the early 19th century, coffee was consumed in France as an infusion, such as tea.
In 1802 appeared a new tin-plated coffee maker, called "Du Belloy", which allowed to prepare coffee by percolation, that is to say by passing boiling water on a container filled with coffee and pierced with holes to let the liquid pass.
This percolation technique developed rapidly, and many versions of "Du Belloy" coffee makers were created (more than 13 patents filed from 1802 to 1831, and several hundred in the next 50 years).
In 1822, to avoid the tin taste of the tin-plated "Du Belloy" coffee makers, Charles Harel, well known for his inventions of culinary appliances, got the idea of manufacturing "Du Belloy" coffee makers with a red clay of Sarreguemines. He also substituted the tin coffee tamper used to press the coffee by a wooden tamper. The coffee was brewed with cold water and the coffee essence was heated in a bain-marie.

The CORCELLET coffee maker was sold in 9 different sizes, ranging from 1 cup to 20 cups.
We decided to faithfully reproduce the coffee maker in the format used by Céleste Albaret to prepare Proust's coffee : a 2 cup coffee maker. She detailed in her memoir that the coffee maker contained just enough coffee for 2 cups.
The 2 cup cafetière is a tiny coffee maker that will find its place in the smallest kitchens : H 22.5 cm (8.86 in) x  W 15.2 cm (5.9)  x D 15.2 cm (5.9)
It can hold 37.5 cl (12,6 oz) of coffee.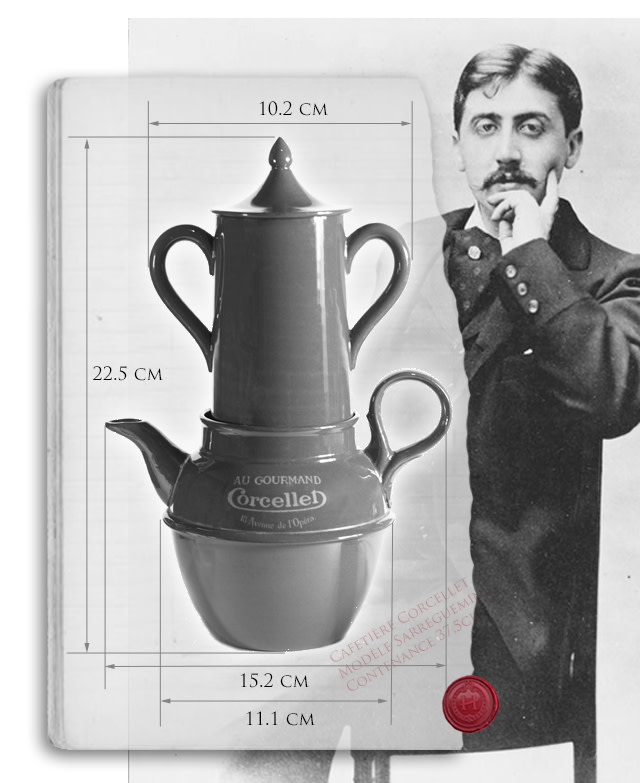 We have produced the 5 master moulds of the CORCELLET coffee maker (the coffee maker is composed of five seperate pieces),  that will be used to make the production moulds. 
A production mould can be used approximatively 40 times, i.e. that one production mould can be used to produce 40 coffee makers.
To manufacture the first 300 coffee makers, we need 40 production moulds.
The 7 500 € we're looking for will entirely be used to finance the production moulds, last step before we can start production.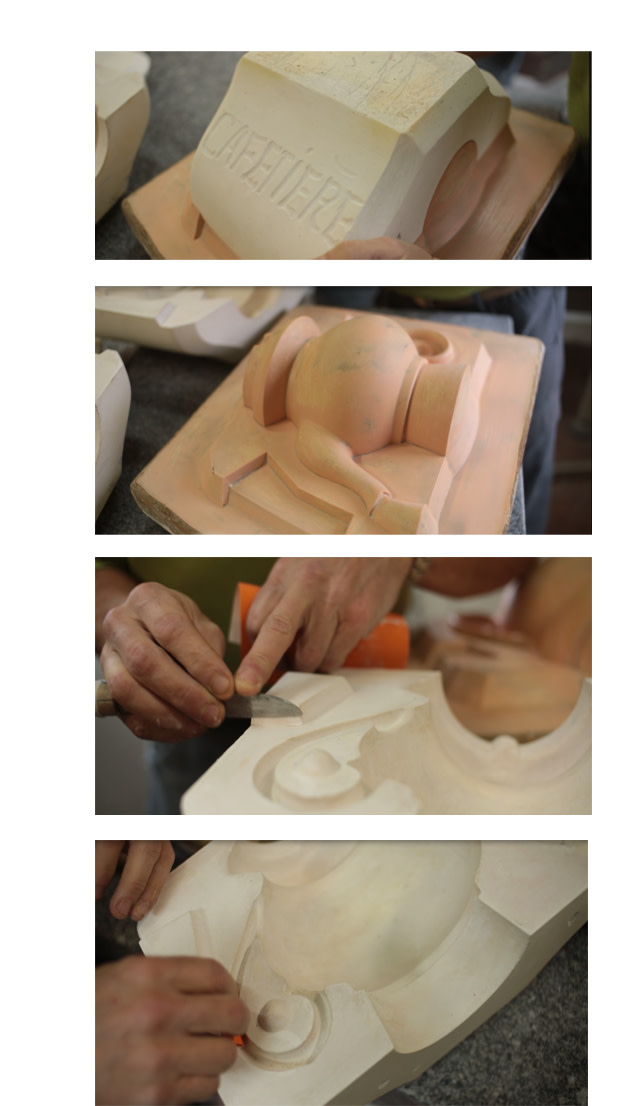 Become one of the very few owners of a very rare Proustian Object of History…
and get access to 4 extra-ordinary experiences !!!
 

when he drank his CORCELLET coffee; a coffee that changed the course of French Literature !
For Proust, coffee was a lot more than just a drink or a caffeine shot.
His coffee ritual was a daily gateway to inspiration and to the sensory world.
CORCELLET's Mélange Opéra is a true Proustian delight loaded with history.
Have you ever wondered what would In search of a Lost Time  become without his CORCELLET coffee ?

A taste of History : 200 years of history, percolated in your cup !
No other coffee has gone through so many historical periods, revolutions, wars and transformations of French society …
No other coffee has been drunk by so many kings, queens, emperors, empresses, presidents and artists …
No other coffee has been so much praised by the greatest gourmets and chefs of French cuisine
Over 200 years, in France, Coffee had only one name: Corcellet

The most French of all French coffees !
CORCELLET was not only a coffee, it was also the cornerstone of a unique craft and artisan know-how in the world related to coffee blends and coffee roasting.
In 1789, France was the world's leading producer and exporter of coffee. CORCELLET played an important part in this epic.
CORCELLET is also the first coffee house to have created a roasting workshop, with steam engines, quickly becoming a successful factory.
CORCELLET is finally the first coffee house to develop roasting profiles based on the origins of coffee and their properties.
CORCELLET coffee is two hundred years of French Coffee Heritage !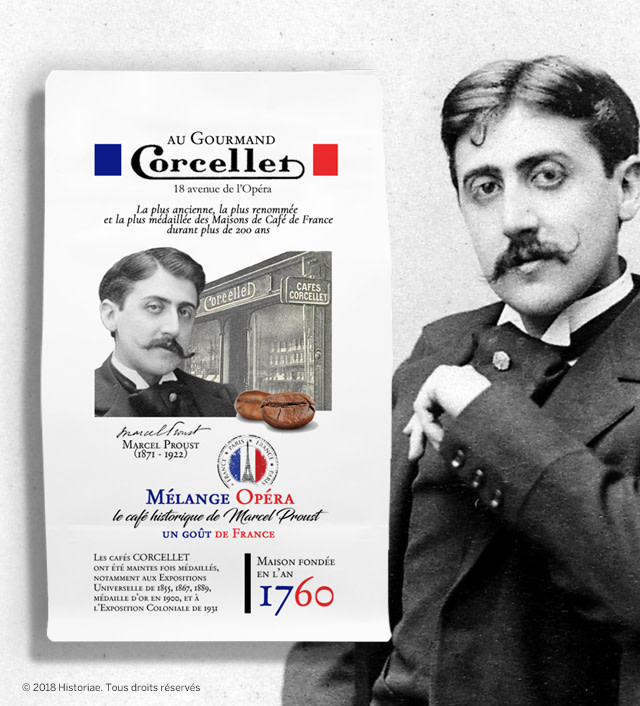 The reconstitution of the CORCELLET cafetière is a historic moment for all Proust fans, but also for all lovers of coffee and French history.
To celebrate this event, HISTORIAE will publish the first book ever dedicated to the history of Corcellet. The author, Jean-François Nebel, is an authority in the field of Coffee History, founder and chairman of the « Institut Français de Caféologie », author of several books about coffee and the passionate owner of Les Caféeries de Paris, the second oldest artisan Coffee Roastery in Paris that was created in 1899.
A special and limited edition of the book (300 copies) including the names of the first 300 backers (who opt for it), will be published in October 2018.
By backing the project, you will earn your name in  history.
Each backer will get one printed copy, numbered and signed by the author.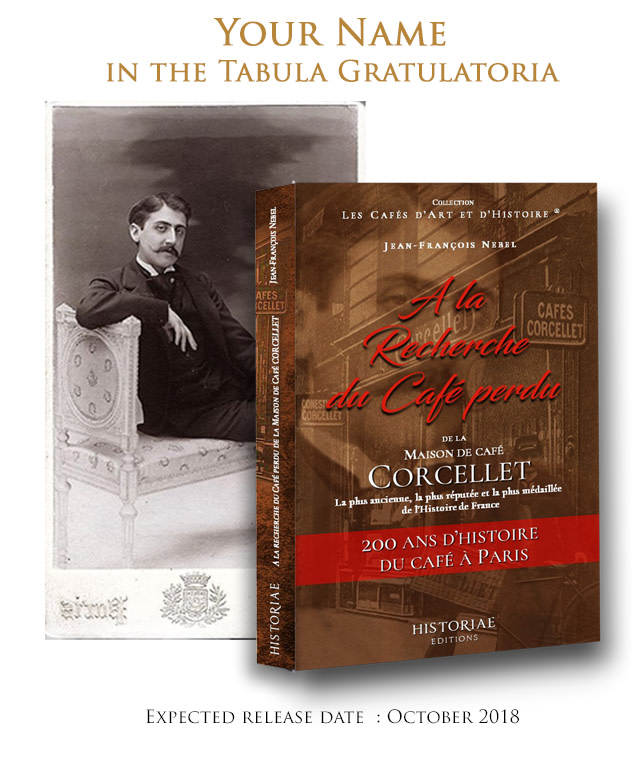 Proust's CORCELLET cafetière is not a simple artefact, it is the anchor of a Proustian moment, a journey of memory, that holds so much emotion, so much beauty and so much nostalgia about Proust and his time.
To preserve the Proustian magic around the lost but now revived coffee maker, the first edition will be produced in a limited and numbered series of 300 pieces, making each single cafetière an object of inestimable value.
Each coffee maker comes with a serial numbered Certificate of Authenticity.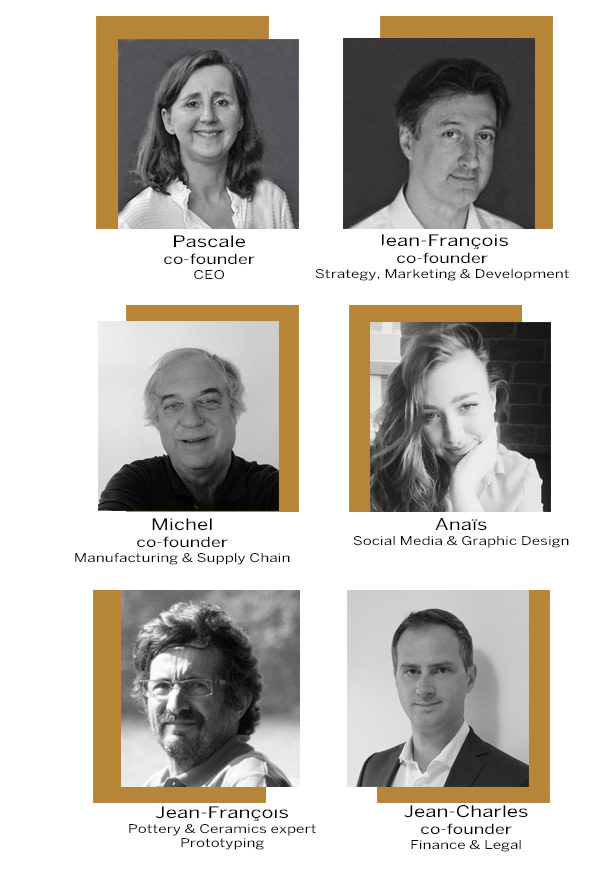 We warmly thank all of you who have actively contributed to make this project a reality.


Are there any other products related to Marcel Proust planned in the near future?
YES ! If you want to be informed, please send us an email :
[email protected]
Where can I buy the Corcellet coffee after the campaign ?
From october 2018, you can buy CORCELLET Coffee on our website :
www.historiae-secrets.com
How do you handle returns?
Just send it back to our address and we will give you a full refund, within 30 days of receiving your product!
I'm a journalist and have questions, who do I contact?
You can reach us at :
[email protected]
What size options are there for the coffee maker ?
Just one size for now, 35 cl, but other sizes may be available in the future.
What stage of production are you at?
We have produced the master moulds. We will produce the production moulds as soon as the campaign ends.
Where can I get help if there is a problem with the product?
You can email us at :
[email protected]
Who should I contact if I have other questions?
[email protected]
Why should I purchase the CORCELLET cafetière on Indiegogo now instead of later?
Low pricing that we'll never offer again !
How much will it retail for?
We currently offer 20% – 44% on the perks.
When these items hit the shelves, the full prices will be charged.
If I back now, is the money taken out of my account today?
Yes, it's a payment, but we don't get the money until the end of the campaign when we are about to deliver.
What is your refund policy?
Indiegogo directly allows you to get a full refund.
Do you ship worldwide?
We ship to most countries worldwide. If you don't see your country, just drop us a note and we'll make sure to give you a special link.
What are the shipping costs?
It depends on where we are shipping the item and which perk you've selected.
When will I receive my Proust Coffee Ritual Pack ?
We will start shipping in October 2018, and you'll receive your perk by late october, depending on the country.