Master the World: Blind Tasting Wine Experience | Monthly shipments of 6 wines with an expertly-guided evaluation experience to improve tasting skills


Wine Tasting Kits That Hone Your Palate

WHY YOU NEED THIS – You love wine. It is your passion. You just wish you could go further and learn about new regions, new grape varieties… Or maybe it gets deeper than that… you need to pass a wine certification exam to get ahead in your career, or you want to impress your wine-loving boss. Master the World presents a fun, effective way for you to hone your palate. Six 187ml bottles sent to you in a 100% recyclable kit on a monthly basis with an online site/app that takes you through how to evaluate wine, understand what you're drinking and articulate what you like and what you know. 
WHAT YOU GET – Each kit is a curated selection of six bottles of wine, with a tasting mat and instructions on how to use our site/app to evaluate these wines. Each bottle is 187 ml, which is about 6.3 fluid ounces. You can expect wines that are benchmark wines picked by our panel of Master Sommeliers (Please see FAQ if you want to dig deeper) that we have re-bottled into these 187ml bottles through an anaerobic (oxygen-free) process to maintain the quality of the wine. These are branded wines, not bulk wines and once you submit your deductions, you will see the full identities of the labels so it will be an open, honest process. To see how the online evaluation tool works, please check out the detailed video below. 
TESTIMONIALS – We don't just have an idea that we are raising funds for…We have actually gone into production to test out the quality of our re-bottling process and also shipped the first run to some heavy-weights in the industry and some wine-loving friends not in the industry. Check out what they have to say: 
"I think you have a winning idea here. As I have said many times, there needs to be a easier, more affordable, and more specific way to learn to taste wines. You hit the nail on the head."
– Tristan Kindy-Dyer, Wine Director at Vino Volo, Master of Wine Candidate
"The descriptions and rationale are concise, which is helpful. Often times wine writers and educators can try and fit too much information and overwhelm the consumer, the length of this tasting portion is well thought out and not too intense"
– Chris Dooley, Sommelier at Eleven Madison Park, NYC, Studying with Court of Master Sommeliers
"It's great to be able to hone your palate on quality, representative wines, curated by a Master! We often pick wines based on what we know we love.  Trying wines through Master The World introduces us to new wines we might not usually spring for and introduces us to a broader base of wine"
– Erik Corcoran, Wine Enthusiast
THE BACK STORY – "Master the World" is an idea that hatched when Master Sommelier Evan Goldstein took a group of U.S. sommeliers to Brazil's wine country. Every morning, he watched a New York City sommelier, studying for the tasting section of a prestigious wine certification exam, ritualistically open a set of six crudely-packed mini wine bottles of wine to blind taste in an effort to train her palate. The wine bottles were packed by a friend back home to help her study. When she finished tasting, she would email home and ask for the wines' identities to check her deductions. It got him thinking; those mini bottles were poured from 750 ml regular-size bottles: How much wine was wasted? How well did the wines hold up in those mini bottles without an industrial-built screw capper to close the samples anaerobically? Did her friend buy "fair" wines that were true benchmarks of what master sommeliers would use when testing? Evan has taught about wine to professionals and consumers for decades, written wine books, and reaffirmed that blind tasting is a critical way to learn about wine. But how do we bring that education to life with a well-preserved, well-chosen set of wines?  After a few diligent years, we have figured out a high-quality production process, subjected it to sensory and lab analyses, jumped through regulatory hoops, created branding and packaging, and developed a wine evaluation tool online that has morphed into a unique and effective wine education experience: Master the World.
INDUSTRY VETERANS YOU CAN INVEST IN – After running Full Circle Wine Solutions, a successful wine education and events company, for the last ten years, we are launching our new baby, Master the World. 
Master Sommelier Evan Goldstein (who passed his Court of Master Sommeliers' certification in 1987 – long before "Somm" was a movie or Miles dissed Merlot in "Sideways") has been in the restaurant and wine industry for 35 years. He has also written numerous books, including Perfect Pairings, Daring Pairings and Wines of South America, published by the University of California Press. With Evan's expertise, we have developed a scoring algorithm for the evaluation tool and created the product's content offerings. In addition to leading the wine selection panels, Evan will record educational videos showcasing different tasting techniques and pro-tips to enhance your wine tasting experience.    
CEO Limeng Stroh is a seasoned wine marketer with an MBA from Harvard Business School. Having been in the wine industry for close to 20 years, she has managed brands large and small from all over the globe from California to New Zealand. As the CEO of Full Circle Wine Solutions, she has also worked with wine associations such as Sonoma County Vintners, Wine Australia, Wines of Chile, Wines of Portugal, Soave, Wines of Argentina, and many others. For the last four years, Full Circle Wine Solutions has also conducted the Full Circle Beverage Conference, a prestigious annual conference for industry influencers. 
A HIGH QUALITY PRODUCTION PROCESS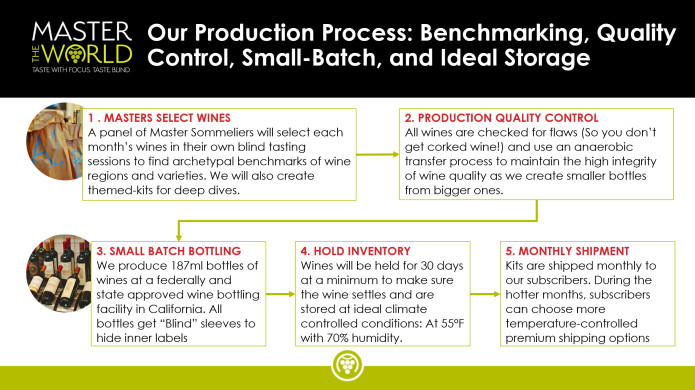 THE PERKS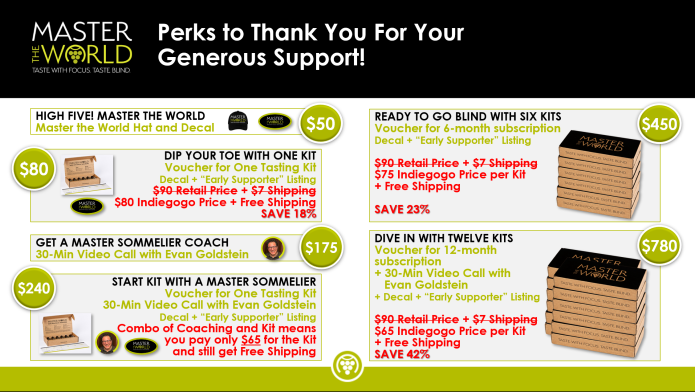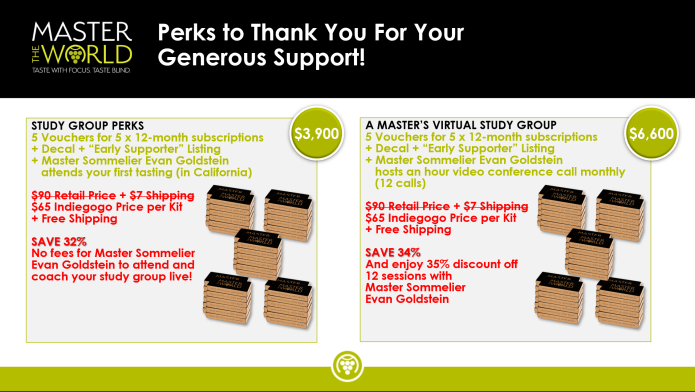 QUESTIONS YOU MAY HAVE
Is this for me?
A: Yes!! If you are a wine professional, think of this as "navy seal training": Our goal is to help you improve your tasting skills by providing curated wine kits that you can test yourself against, and receive immediate feedback on how you fared versus the findings of a panel of Masters. If you're a passionate enthusiast, you will find that these kits help you explore a range of "classic wines and grapes" and take out the guesswork about benchmark examples for reference – that's what we do in our selection process. And whether you taste alone or with friend(s), tasting the wine under the guidance of the scoring methodology provided will undoubtedly better your skills and enjoyment. Whether team-building, having dinner party fun, or prepping yourself professionally, Master the World is for you.
How do you select the wines?
A: Our panel, led by Master Sommelier Evan Goldstein, meets and tastes regularly to determine the best examples of wines by grape(s), countries and regions. We evaluate many more samples than you might believe to curate and purchase "benchmark" selections to share with you. Rest assured that your experience is our #1 priority and we scrutinize and choose the wines based on their being signature examples of what they are.
What if I am not a fast taster?
A: This is not a timed exercise, unless you want it to be. We do not expect you to knock out each wine in four to five minutes and are not asking you to do that. Take as much time as you would like or use a timer if you want. It's our experience that the first wine or two will be slower, but as you become accustomed to the scoring grid, your inputting will speed up. Most people tell us somewhere around 15 minutes per wine is where they start. And know that you can always change your mind until you hit "submit". 
How do you score the wines?
A: During our selection process, once a wine has been tasted, and approved, we "map" the wine against the same scoring grid that you will use, inputting our observations and findings. When ready, your deductions are scored against our findings. Note that while several elements are absolute (the dryness or sweetness of a wine, its color, or the elements of structure – tannins, acid, alcohol, etc.), others are more open. The three descriptors you may choose for aromas/flavor may come from a slightly larger matrix of terms we have approved. After all, one person's peach may be another's nectarine!
How do you come up with the descriptive terms for smell and taste?
A: The drop-down lists of fruit, floral, oak, spice and other such descriptors were assembled, by category, as an accepted matrix of the most frequently referenced/used terms for each. While inevitably not 100% exhaustive, they are comprehensive, and we trust that you should have no trouble identifying terms to select. If you believe that there are any terms missing from our lists, please let us know. We'll evaluate and possibly add it to ours. 
RISKS AND CHALLENGES
WHAT'S THE MONEY FOR? Inventory. Because our cost of goods is high (high quality wines!) we would like to secure subscriptions before going into bottling. We already have a bottler, glass and closure manufacturer lined up in Northern California.
WHY WILL IT TAKE SO LONG TO SHIP? We are giving ourselves time to get the shipping legalities right. We have the right permits to ship to 13 key states (CA, OR, DC, WY, NV, ID, NM, ND, NE, MO, LA, WV, and VA) and feel confident that we can ship by February 2019. We plan to have fulfillment set up nationally by June 2019 – Our priority states include FL, NY, IL and CO where we are well-connected with retailers and distributors based on our years in the industry. We can also ship internationally, in which case additional shipping charges will apply. The vouchers you get from the PERKS will be redeemable for up to 12 months on our website from the date of issue (Feb 2019 / June 2019). Please note that on Indiegogo, we are offering only vouchers that are redeemable at our store. You have to be 21 years or older to receive the kits and deliveries will require a signature from an adult who is 21 years or older.
We are also building our app (in addition to our working site) and that is scheduled for completion by November 2018 (2-3 months).
HERE ARE SOME ADDITIONAL PICTURES OF OUR KITS
There are 6 x 187ml bottles in each kit.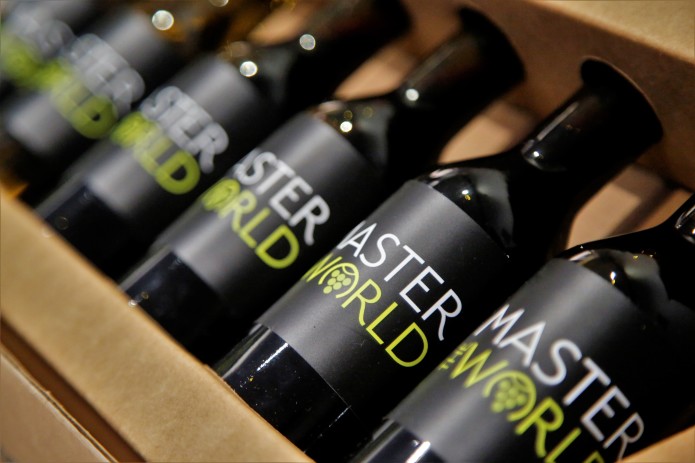 The bottles are screw capped for freshness and convenience – no corkscrews needed. And no, screw caps do not have any bearing on the quality of the wine. These wines are high quality fine wines re-bottled from 750 ml bottles through an anaerobic transfer process. Each wine is selected by our panel of Master Sommeliers to be benchmarks of the regions and varietals they represent.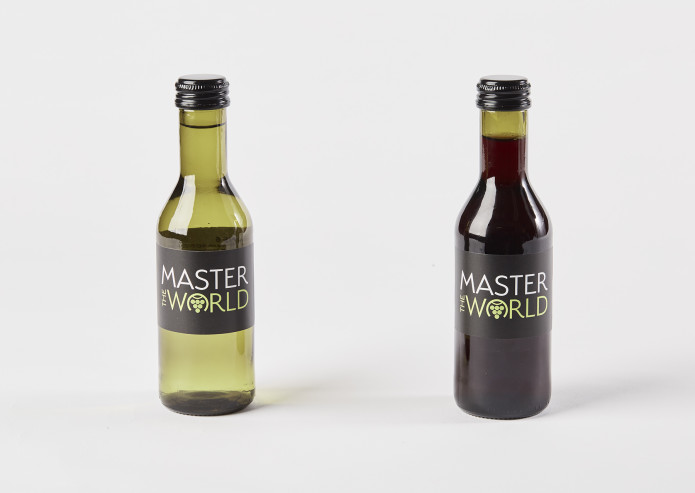 On our evaluation website, you will be able to find out the identity of each wine once you submit your deductions. However, you can also remove the "blind tasting" sleeve on a bottle by pulling on the perforated tab.