Menacing Fog – A Hard Cider: Naturally Crafted | Goal to launch & develop San Francisco based hard cider brand crafted naturally using local apples.
Welcome!
Menacing Fog Cider believes that hard cider drinkers deserve an enhanced tasting experience. We hope to take the lead in providing this experience to hard cider drinkers for years to come!
Menacing Fog Cider makes flavorful and aromatic hard cider brimming with vitality using time proven fermentation methods. We produce a high quality hard cider by fully extracting flavors inherent to pressed apples. Our blend of apples is Aztec Fuji, Granny Smith, and Pink Lady. The cider making process has already begun! In April 2017, we started fermenting 300 gallons of hard cider. We hope to have our 1st run of hard cider ready by the fall.
Our Hard Cider's Highlights
Organic & Local: we use premium organic apple juice from Bay Area grown apples to make our hard cider.
Naturally fermented: during the fermentation process, we are able to use the yeast that is already in the apple juice since it is raw, unpasteurized.
No sulphites: rarely seen in hard cider making, our methods allow us to make hard cider without the use of sulphur additions, avoiding related allergies and sensitivities. 
Our Cider Making Methods
Through our fermentation methods we are able to extract the dynamic qualities from raw apple juice. The key components of our method are sur lie, which is extended lees contact, and bâtonnage, which involves stirring the lees. These methods together, add and distribute desirable compounds found in yeasts in their twilight and release them into the hard cider. These compounds can lead to a rounded mouthfeel, full bodiness, pleasant aroma, and perceptible sweetness.
Team & Experience 
Owner and cidermaker at Menacing Fog Cider, Khalid El, began making hard cider innocently in his S.F. apartment in 2013. Since then his skills and methods have been shaped primarily by curiosity and love of process, and have been bolstered by experiences such coursework and training in hard cider making at Peter Mitchell's Cider and Perry Making Academy in Washington, experience making delicious coffee for 3 years as a barista at Blue Bottle Coffee, and working wine harvests in 2013 with Knez Wines in California and in 2014 with Love & Squalor Wines in Oregon.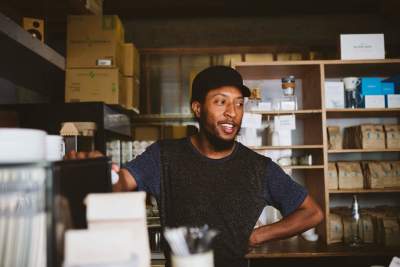 Why We Need Your Help & Funding Goals
We could use your help to inspire our vision of getting the experience of drinking naturally crafted hard cider to more people and change the way that hard cider is made and thought of. Our hope is to raise upwards of $5000 to move us towards our annual goal of producing and selling 1500 gallons of hard cider. This amount will be used to purchase more apple juice ($1500) and fermentation containers/kegs ($1900), secure appropriate operational licenses ($900), and create our website ($700). Whatever we raise beyond $5K will be put to good use, as well! We will use the additional contributions to boost our brand awareness by participating in hard cider and craft beverage festivals, solicit sound business advising to promote our growth and aspire towards our own cidery, attend advanced hard cider making courses to ensure that every batch of hard cider reaches our ever evolving high standards, and expand the scope of our website to include an exciting subscription-based offering.
About Our Perks
We have some wonderful perks that will give you an opportunity to taste our delicious and unique hard cider and that will set you up with hard cider drinking accessories. Check them out!
Note: Hard cider and tasting vouchers redeemable for physical​ ​delivery or in-cidery​ ​pick-up ONLY (in and ​around the San Francisco/Bay Area, California). Contact us at [email protected] with any delivery questions or comments. 
Risks and Challenges
Producing a distinct, high quality hard cider without manipulations, i.e., adding sulphites and other additives, while avoiding or resolving the plethora of potential issues that may arise from wild yeast and bacteria (which we embrace) is no easy feat; however, we believe our mentioned experiences will allow us to meet the challenges and reap the rewards of making cider, albeit the hard way!
P.S. All funds regardless of outcome will be used to achieve Menacing Fog Cider business goals.
Thank you!
Khalid El 
Menacing Fog Cider