MENKA – Reclaim the Magic of Fire in Your Life | A no fuss, compact, live fire lamp with a tall dancing flame. PORTABLE | SMOKELESS | SAFE | STUNNING

Create instant ambience anywhere with MENKA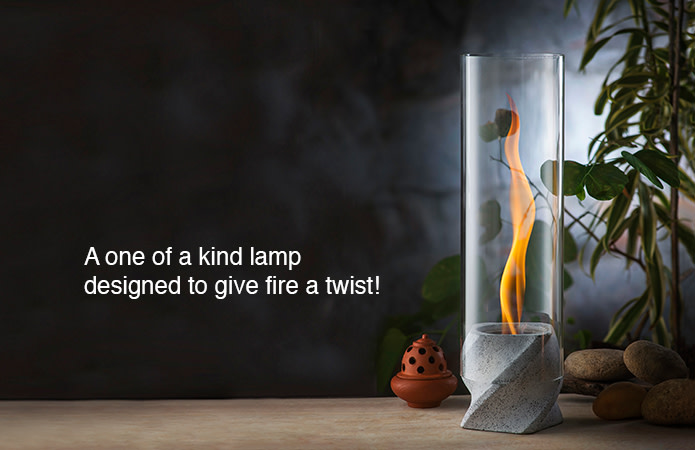 What is Menka?
A compact live fire lamp with a tall dancing flame in a sleek glass tube.
It uses a thoughtful design, bio-ethanol and physics to give fire a magical twist. Its stunning to the eye and soothing to the soul.
Its portable, smokeless, safe and stunning, easy to use, and guess what? It's zero maintenance.
Menka does its magic wherever and whenever you light it
Menka is meant for all occassions. A family dinner in the yard, beer with friends on a balcony, or a camping trip with your special person, light Menka and turn things magical! 
Lets talk about the features
No strings attached! Take Menka Anywehre.
Even though Menka's flame is tall, meant to be noticed and it stands strong, it's Super easy to move around and pack away. Take it to a party, a park, beach, or pack it in your car for a camping trip! 
Meant for a safe and smokeless indoor experience.
Bio-ethanol mean a smokeless flame.
A High quality heat and cold-shock resistant borosilicate glass tube contains the fire, while a concrete base provides weight and stability.
City dwellers with no yards, no worries. Let Menka transform your condos or balconies into soothing retreats.
Offers two burn modes
Normal Mode: When the fuel can is used with the lid it results in a narrow and sleek flame that burns for a longer duration (2.5 – 3 hours). It is safe to use MENKA in this mode in all settings, indoor or outdoors.
Burst Mode: When the fuel can is used without the lid it results in vigorous flames. Fuel will burn out faster (1 – 1.5 HRs) and produce a lot of heat. Use MENKA in this mode only outdoors.
Scratch proof and heat insulated bottom

To make it even more suitable for indoor use a rubberized padding is added to the bottom of the base to prevent furniture or floor from overheating and getting scratched. The padding also works as an anti skid layer, giving Menka extra stability on smooth surfaces.
The thoughtful package includes an easy to use lid to kill the flame instantly.
HOW DOES MENKA WORK?
It took thoughtful designing, 3D modeling and several modifications to perfect it, but the way Menka works is actually pretty straight forward:
Heat from burning fuel forces air to escape from the top of the glass tube while sucking air from bottom. The spiral design of base rotates the entering air, this rotating air catches the flame and makes it tall and twisty, seeming as if fire is dancing. 
Using Menka is as easy as it gets!
Pour fuel into the fuel can and a click of a lighter.
Place the glass tube on top and watch an ordinary flame turn into a mini fire-tornado. 
There are no motors, cables, pipes or buttons, and no maintenance,
But, where to get the Fuel?
Its equally uncomplicated. it runs on easily available alcohol fuel, but we recommend Bio-ethanol, which is CLEAN, CHEAP and EASY TO FIND!
Menka can go up to 2.5-3 hours on a single refill, That's super efficient and the running cost stays low! Based on the cost of Bio-ethanol in the US, the running cost comes to less than $2 an hour.
What's in the Box?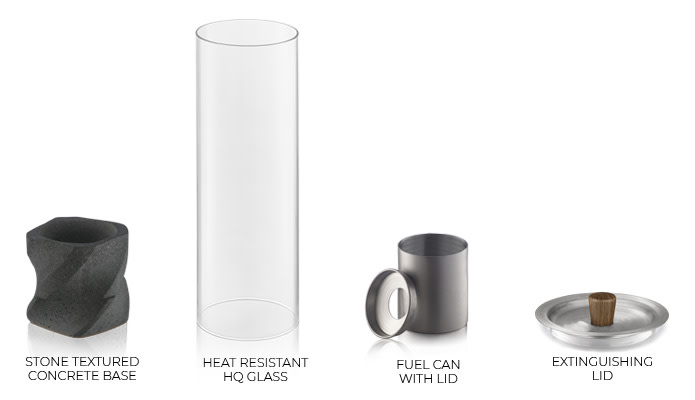 Material & Technical Specs


Menka comes in two color options:

R&D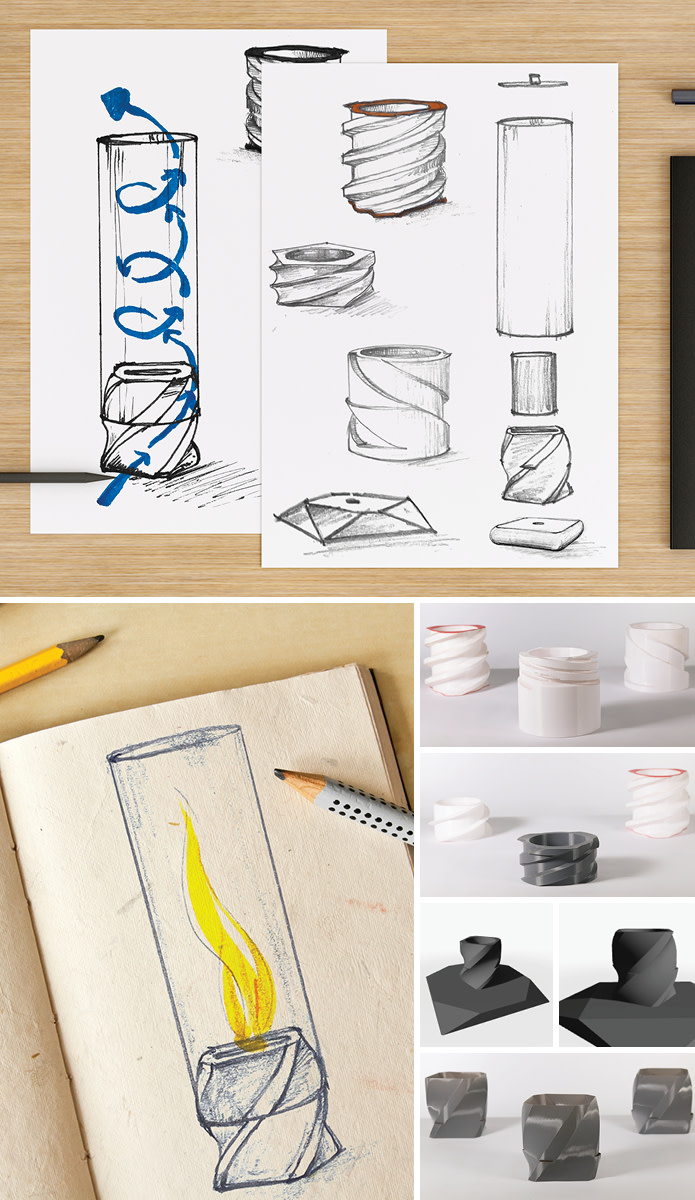 Thoughtful design went into the making of Menka, We kept minute details in mind while prototyping and testing it. While our main goal was to make an impressive show of fire we also put our focus equally on simplicity, ease of use along with ergonomy, environmental footprint and most importantly safety. Menka took over a year of several design iterations, feedback, and improvements to reach perfection!
Environmental friendliness was a primary focus from the beginning
All things from the material, to fuel and the design focus on increasing the longevity and impact of the flame but reducing the environmental impact. Read FAQs to know about how Menka is eco friendly. 
Menka arrives before the holiday season!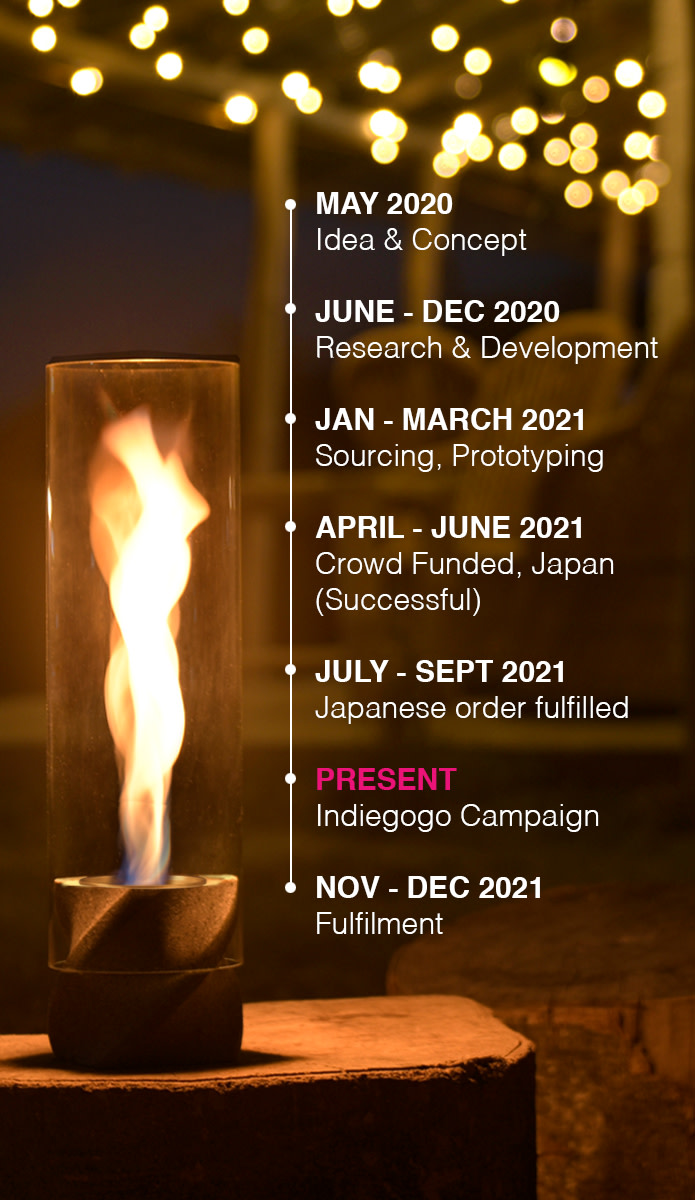 Our guarantee is backed by our successful crowdfunding campaign and fulfilment in Japan!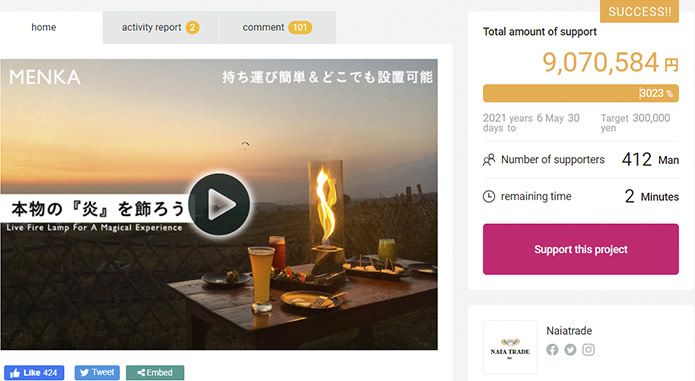 A final word..
Humans share an ancient bond with fire since time millions of years ago. Natural live fire is used less and less now with urbanization and modernization. Menka brings the soothing experience of sitting by a fire back into our lives, all in a safe, convenient and portable package. 
A lot of passion, hard work and finesse went into the making and perfecting of Menka. A successful Indiegogo campaign and your support will enable us to stay motivated and continue to turn many more crazy design ideas into a reality. 
About the name Menka: Menka is the name of a beautiful mythical celestial dancer. And our 'dancing' flame is nothing less. 
We are always around to answer all your questions about Menka. Contact us at [email protected]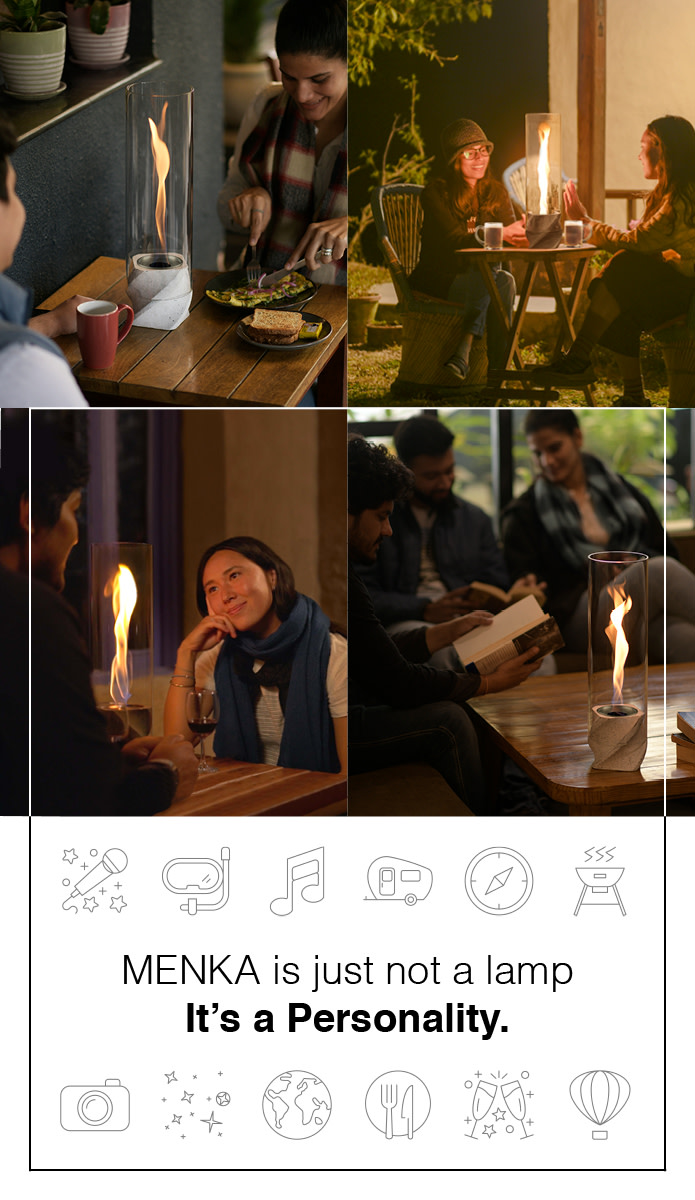 Thank you 🙂