MeoMitt : The Magic Ergonomic Oven MITT | MeoMitt is the world's first magnetic, ergonomic & multifunctional oven mitt.
MeoMitt is an ultimate revolutionary oven mitt.
MeoMitt will make you forget all the potholders or oven mitts that you have at home.
According to Consumer Reports, cooking related fires and burns top the list of kitchen injuries each year. Fires involving cooking equipment account for two of every five home fires reported. MeoMitt was created to stop those injuries and allow you to protect yourself instantly.
The idea of MeoMitt is to protect yourself easily and instantly from hot dishes or hot devices in your Kitchen. When you take MeoMitt, you feel like you have nothing in your fingers but that you have that power you can't burn yourself when you take something hot.
It's like magic !
MeoMitt is the first Magnetic Ergonomic Oven MITT in the world, available instantly when you need it and not when it's too late !
With its magnetic power, MeoMitt can be placed to the majority of metal surfaces such as fridges, hoods, toasters, ovens, microwaves, credence, etc … You can also hang it on a simple hook if necessary. With its ergonomic shape, you catch it instantly because the overflowing water or the burning bread do not wait. No need to flip or snap MeoMitt to grab it, you can catch it up instantly wherever you need it !
Get the magnetic power now !
We all know this situation in which the water of our pan starts to overflow and that we do not have time to catch or find the potholder to remove it from the fire. Aren't we ?
That's why Meomitt was designed ! To put an end to this situation and even more !
With the magnetic power, you can even stick the MeoMitts under the pan. Very convenient :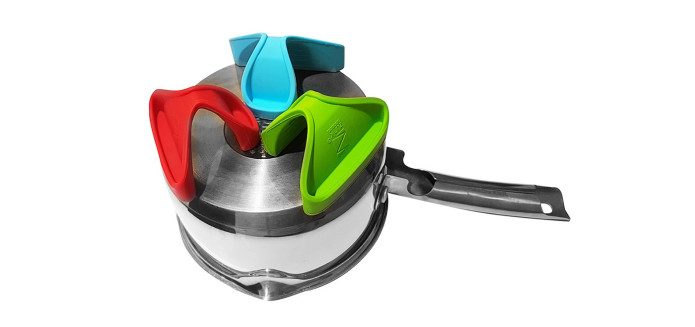 Zunik was created by French designer Yannick HESCH. This brand was created to invent and create new simple products to simplify our daily lives. Our team intends to propose many other fun and practical objects in the future. Zunik works primarily for the development of innovative everyday objects for the kitchen and  home. We want our products to be both lovely and creative.
Yannick HESCH was born in France. He studied at the European  Design Institute of France and obtained a Master of Industrial Design at the University of Salford in England. He has worked for more than 15 years as an industrial designer and graphic designer. He works between Lyon and Paris and has already advised more than 300 companies. He is passionate about everyday objects because he thinks that one lives better when one is surrounded by beautiful and good objects. He loves cooking and that why he has invented the Oriboard and the MeoMitt 😉 He has already won many awards for his work, including a medal at the Lépine International  Competition.
For the Meomitt, this time, he will lead this project !
I made hundreds of drawings and dozens of prototypes to finalize the most pratical, ergonomic and nice shape.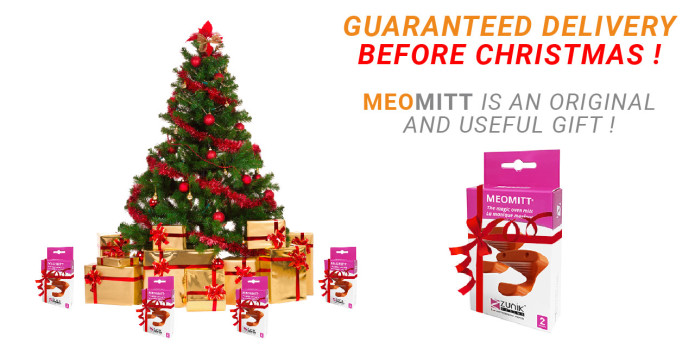 Below are the objectives and budgets necessary to carry out the MeoMitt.
If you like the Meomitt please contribute or share the page as much as possible.
If you contribute, you will be among the first in the world to receive this wonderful product that will forever simplify your life in your kitchen. 
Help us bring this product to life, to have the Black color and suprises ! 
Join our community to follow the story of this fantastic new product !
Thank you for your confidence and your support for this project !
We mainly need you to invest in tools and prototypes. Thank you for your help!