Methven Rua: Power Shower using less water | Cut your water usage without compromising on the shower experience
US DELIVERY IN 2-5 BUSINESS DAYS
LIFETIME WARRANTY. 30 DAYS MONEY BACK
Methven's Design is renowned internationally.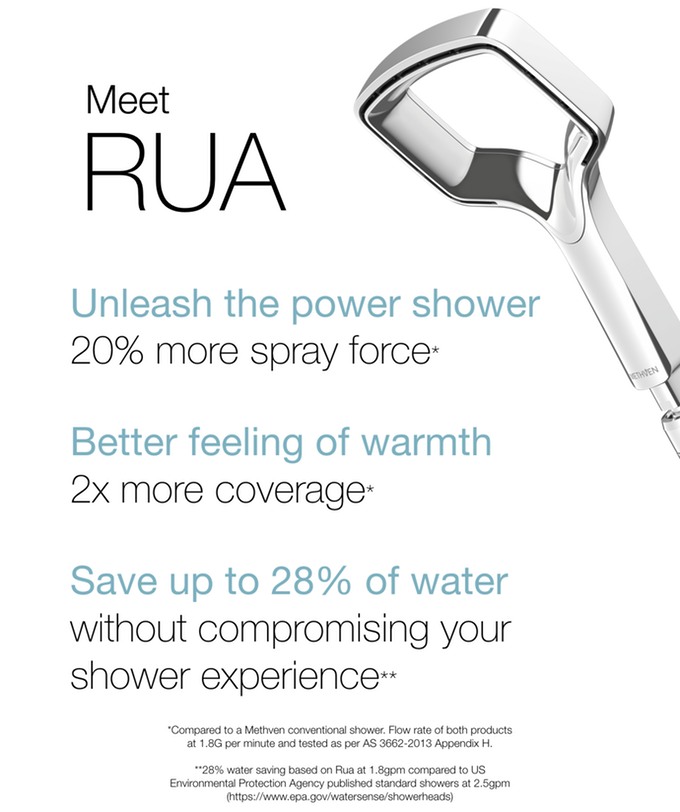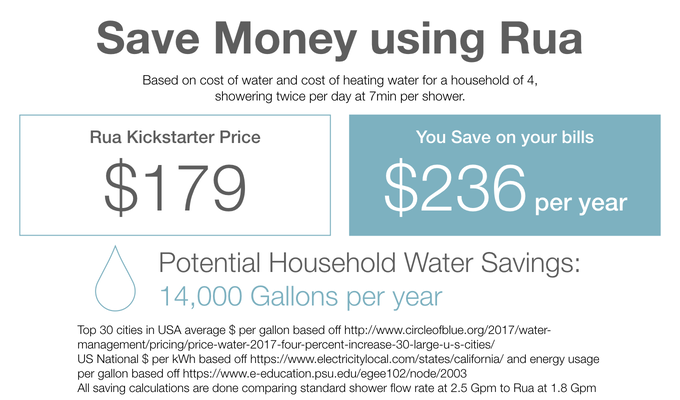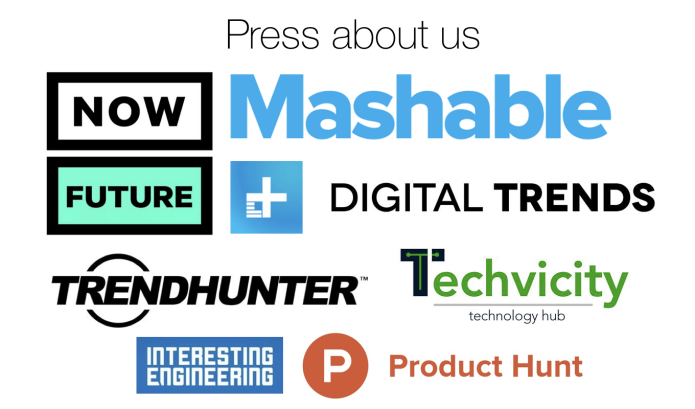 Rua generates bigger water droplets which create up to 20% more of the total spray force than conventional showers*. 

Rua's innovative spray system provides better stimulation of the nerve endings, particularly the areas where nerve endings have a higher density (e.g. face). This gives you better efficiency in cleansing and rinsing and more even pressure on the skin.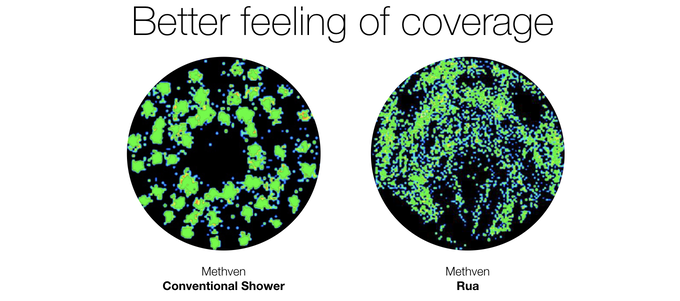 Rua has twice more coverage than a conventional shower*. That means twice the amount of surface area of water at the contact with the skin at any given time. It provides you with a better feeling of warmth, better feeling of coverage, and better evenness of spray pressure on the skin.  


We are from New Zealand, an island surrounded by the ocean. As an island nation, we think that taking care of our most precious resource – water – is extremely important. Water shortage is real in many regions around the world and it won't get better unless we do something. Spending less water on your daily shower is a great starting point. But for many, it's hard to sacrifice a great shower experience. That's why we've created Rua – a shower system, that provides exceptional power-shower experience and helps you to use less water. 
Save water with no compromise on the shower experience.
Beauty aside, Rua is super water efficient – it uses only 1.8 Gallons of water per minute (meets California 2018 water usage regulations). The water flow rate is optimised to be water efficient without compromising the spray's power and coverage. 1.8 Gpm (gallons of water per minute) is 28% less than 2.5 Gpm. (2.5 Gpm what US standard showerheads use, according to US Environmental Protection Agency)
Rua retains more warmth than mist-type showers
Using less water doesn't help the environment much if you have to use more warm water to keep your shower experience great. More warm water for your shower – more energy to heat it up. 
Water in the "mist/cloud" – type showers and traditional water-saving showerheads tend to get cool quickly after it is sprayed from the shower head. Rua retains more warmth than mist-type showers.

Rua is very simple to install – you can do it just in a few minutes.
You can choose one of the two options that work best for you. No need to call a plumber.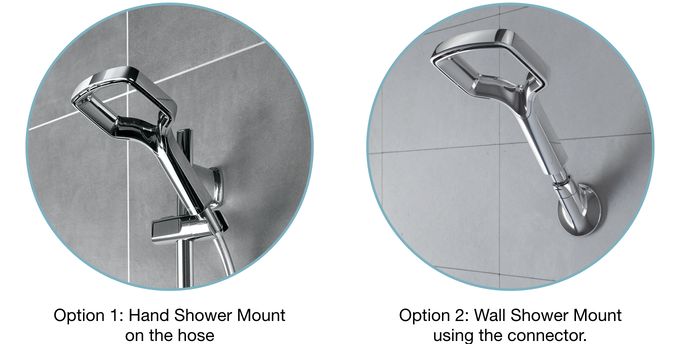 The first option is to replace your existing hand shower – just connect Rua to your existing hose or use the one we provide.
The second option is to use Rua as a wall shower and install it using the connector. Wall mount and connector come with your order – you don't need to buy them separately.
Please note: We include all the accessories needed for the installation: hose, adjustable arm holder or the wall mount. 
Scroll down to see the installation videos.  

No matter where you are in the world, if you have a Rua shower, you are connected to New Zealand. 
There are 115 employees who work on-site at Methven's manufacturing facility in Auckland and 14 members of the company's design and innovation team who are responsible for the look and feel of the products. It sounds a lot but in fact, we are still a small team, a family. Many of our employees have worked with us for over 25 years.
A significant number of our employees live locally so we invest a lot of effort in maintaining water quality and protect wildlife around the area. Now we want to bring our values globally. 
Take a look at our factory and meet real people who helped to create Rua.
All Rua shower handsets will be manufactured at our factory in Auckland, New Zealand, which means we have full control and understanding of the Rua handset manufacturing process. And to all our backers we offer a lifetime warranty on Rua.

A Lifetime Replacement Warranty applies for the lifetime of the original purchaser for domestic/residential usage. If you plan to use Rua for your business please learn more about our commercial warranty here.

We have learned that coverage, flow, and warmth is what makes a great shower. Our research has shown us there are 2 key dimensions to spray coverage: (1) Total spray area covered and (2) Distribution of the spray within the total spray area (More uniform distribution = better coverage). 

Recap… 
Better coverage = more WARMTH 
Better coverage = better SENSATION
Rua uses the available water in a fundamentally better way to deliver WARMTH and SENSATION to the user also means:
To deliver a great user experience with less water than a conventional shower*
Here is a brief story of the Shower Technology evolution.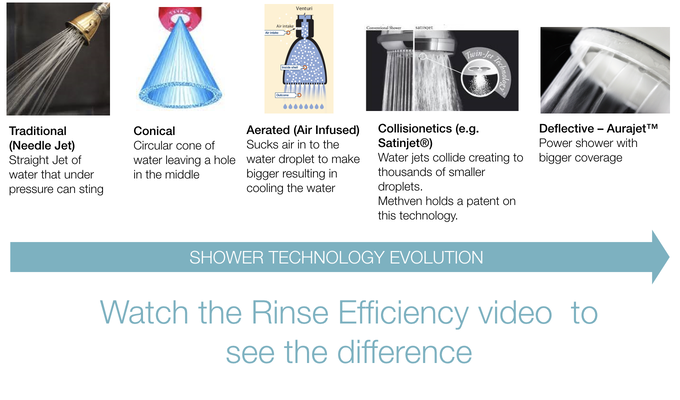 This Rinse Efficiency video shows how the Aurajet spray pattern creates more coverage than conventional showering*.
Aurajet technology helps Rua to generate up to 20% more total spray force*. It has twice the amount of a surface area of water in contact with the skin*:
Better feeling of COVERAGE 
Better feeling of WARMTH
Better stimulation of nerve endings 
Better evenness of spray pressure on skin 
Better overall experience
Rua utilizes hidden nozzles which generate individual jets of water that collide against precisely angled surfaces within the elegant contours of the showerhead. At that moment of collision, the water travels across the surface edge and launches out from the channel, creating stunning fans of water.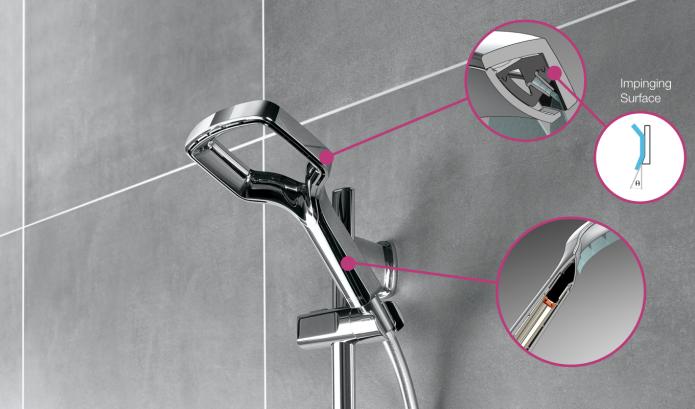 13 evenly spaced "Invisible" holes (nozzles) made of silicone rubber, generate single jets of water 
These jets of water travel a short distance before hitting a precisely engineered hydrophobic "impinging surface" 
When the jets hit the impinging surface, it spreads out into a fan-shaped sheet of water 
These impinging surfaces are all set at different angles, creating an even spray with Fan are wide enough to fill the gaps yet leave a very defined and clean spray perimeter – limited spray "noise"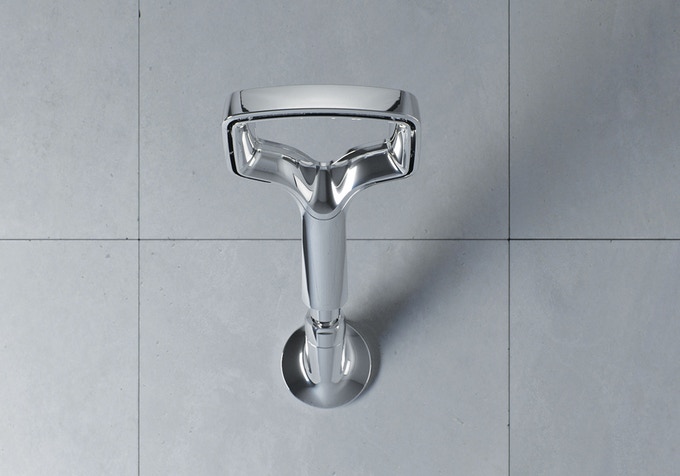 With water shortage being a global concern, water conservation and efficiency of water use were paramount when we were developing Rua. Rua is the culmination of years of research combined with the extensive knowledge and expertise of our engineering team.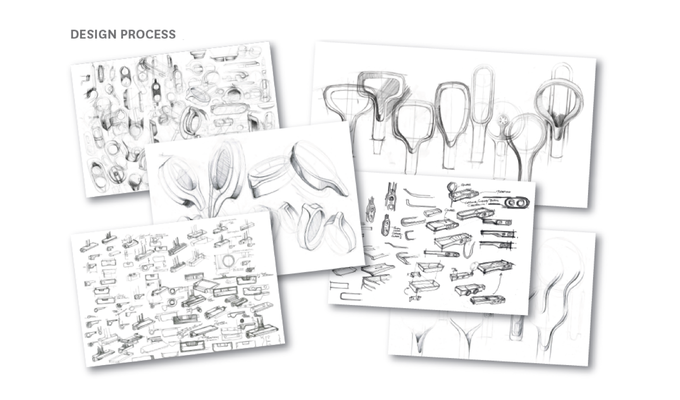 When we started to design Rua, we decided it should conform to the new California State Energy Commission's regulations and delivers a flow rate of 1.8 gallons per minute or less. And we did it – Rua is the first shower with Aurajet technology to use less than 1.8 Gpm.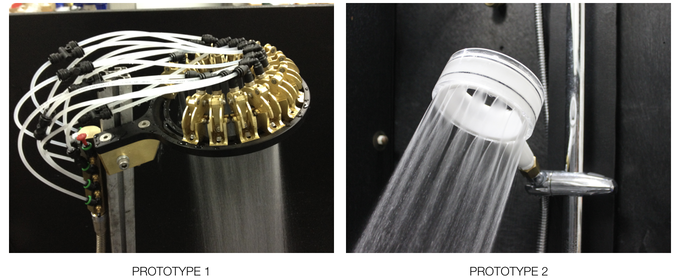 With Rua we all can take better care of water consumption just by taking a shower. And saving water no longer means a bad shower experience – we have made sure of that.

Today, with our increasingly hectic and constantly connected lives, the bathroom has become a room of considerable importance. It is the one room where we can retreat, shut the door, take time out and be ourselves. It is our sanctuary of personal wellbeing. It is important that we do what we can to enhance this very personal moment, and deliver the best shower experience possible.
RUA vs. CONVENTIONAL SHOWER
Conventional showers generally distribute water in sparse, uneven individual streams that result in inconsistent skin contact and localized force. 
In addition to that most of the standard showerheads in the US use 2.5 Gallons of water per minute (according to US Environmental Protection Agency). On the contrast, Rua uses 1.8 Gpm. This is 30% less than 2.5 Gpm.
RUA vs. NEBIA
Other existing shower technologies can save water but the experience is often compromised. Weak water mists and clouds can lose heat faster. This equates to less warmth and therefore a poorer overall showering experience.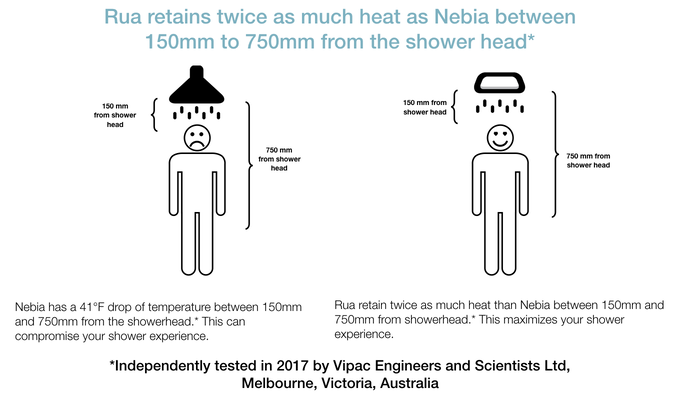 Rua is a water saving shower without compromise. The beauty is in the way we create unique fans of water to deliver a truly amazing showering experience, all without using any more water.
RUA vs. AIO SHOWER
Whilst we have had Aurajet® technology for a few years, our Rua design represents a significant advancement in water saving.
Rua revolutionary square design uses fewer nozzles than Aio, a more concentrated spray pattern, and only 1.8USGpm. Rua truly is the perfect balance of form and function.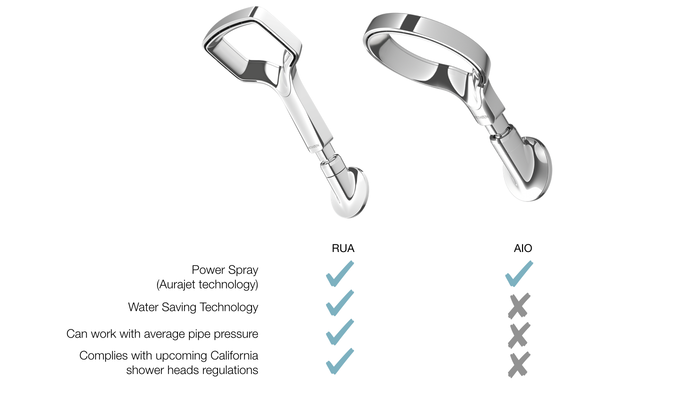 OPTION 1: USE IT AS A HAND SHOWER
To upgrade your bathroom with ease, simply unscrew your old handset and add Rua standalone handset for a truly stimulating shower experience.
As long as your current mixing valve meets the minimum operating pressure requirements, then there is no needs to replace your mixing valve. Minimum operating pressure is 1 bar/100 KPA/14.5 PSI. The handset needs a ½ inch BSP hose. This will be compatible with most existing fittings.
Please note: We include all the accessories needed for the installation: hose, adjustable arm holder or the wall mount.
OPTION 2: USE IT AS A WALL SHOWER
If you have a wall shower you will be able to install Rua using an inlet connector and the wall mount. You can adjust the angle of the shower for better performance. Both accessories are included in the packaging.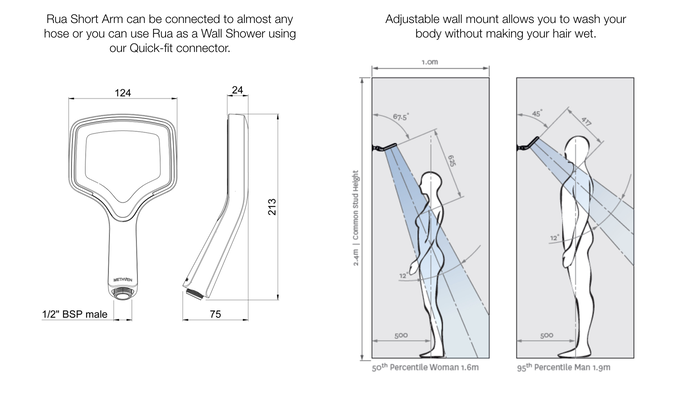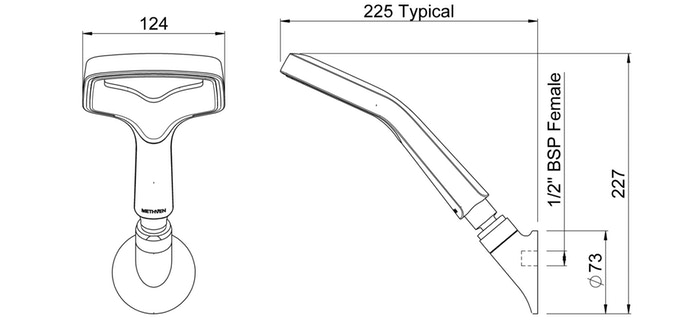 HERE IS WHAT COMES WITH YOUR ORDER: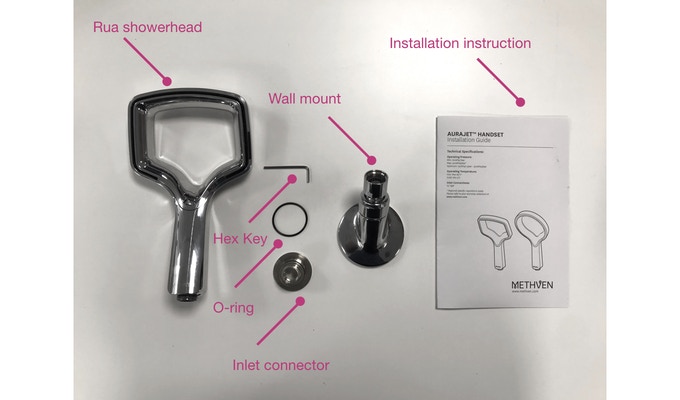 or 6 inches hose and an adjustable arm holder

Methven started as an iron and brass foundry in 1886 in Dunedin and was involved in manufacturing ammunition for the New Zealand Army during the war years from 1939-1945.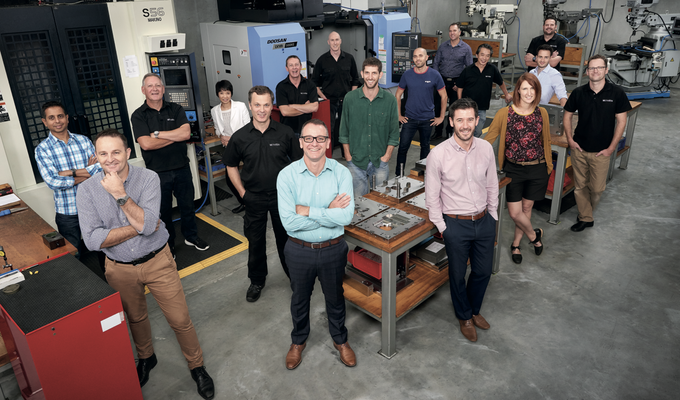 Methven is more than 130 years old but we still are one family. 
The employees in the New Zealand team has a combined service of 1306 years.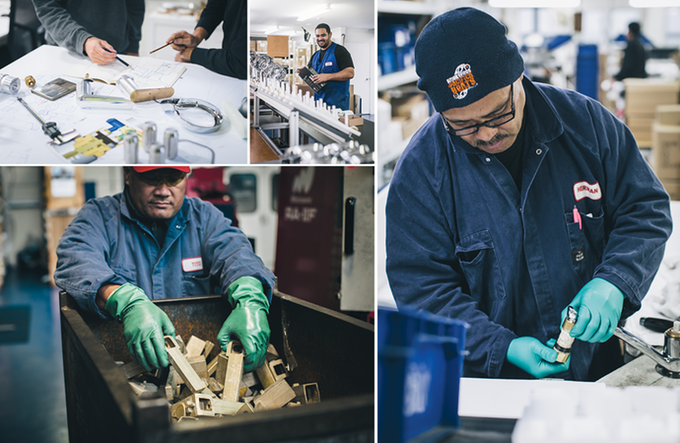 Methven has been around for a few years. Actually more than a 130. Although we are old and have our own manufacturing, we are still a small company from New Zealand. Bringing innovations to life and creating awareness is not that easy from here at the bottom of the world. That's why we need your help. 
Help us to crowdfund our project, scale the manufacturing and bring this project to life. 
A successful campaign will help us to make more people aware of the clean water shortage issue and technologies that help to solve it. It will also help us to scale the manufacturing and create more opportunities for the local community.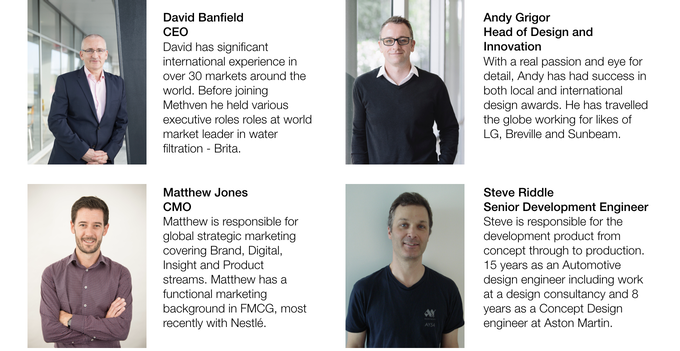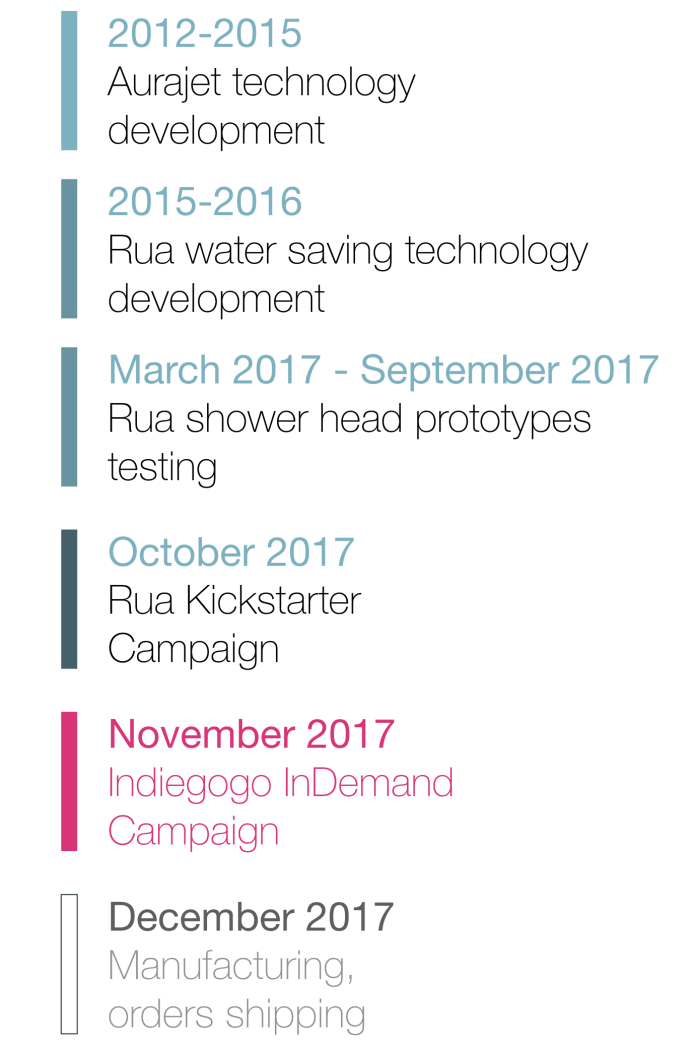 For any additional information or business inquiries please contact [email protected]