MetroM: Circuit Board Transit Diagrams | Illuminated transit diagrams printed with circuit boards, to show off your love for trains.
What is this?
It's a train map on a circuit board. It even comes with lights that will make you appear 100% cooler to your train enthusiast friends.
I started thinking about PCB train maps about a year ago. As I was laying down the copper traces on my Lifeclocc, I started thinking, "This kinda looks like a train diagram." and this project was born.
Design
There are 4 separate designs. From smallest to largest, they are:
Singapore 2027, Bay Area, Tokyo JR, and Singapore 2030.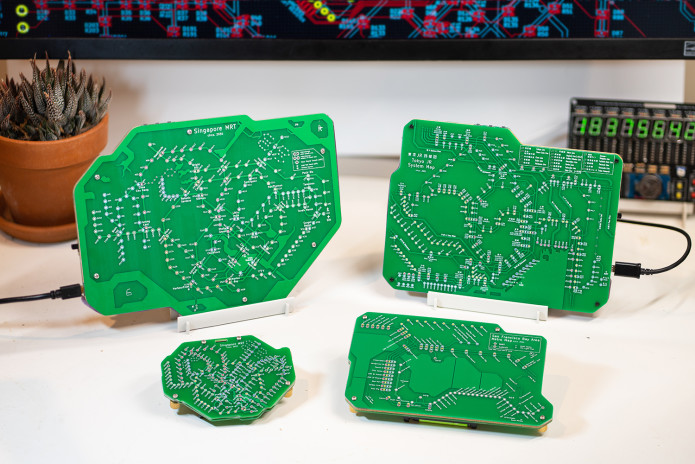 The design elements vary across each board, mostly depending on the size of the board.
You can click on the images for a high resolution render of the board.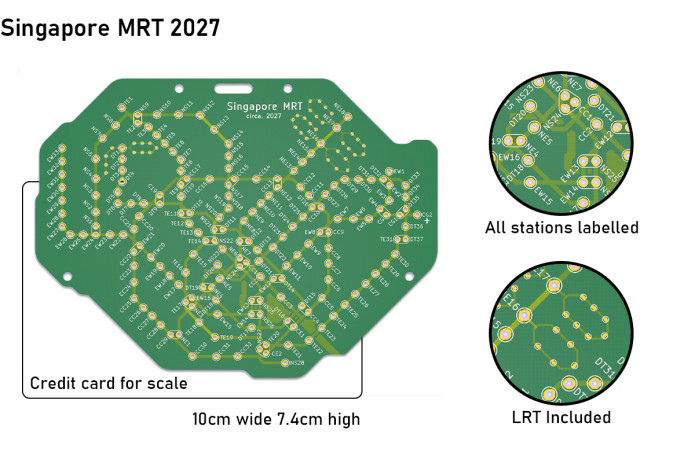 This is the first map I designed. I originally wanted to make a 2030 map, but I also wanted to make it exactly 10cm across, so I had to cut it down to 2027. It's small and cute and fits in the palm of your hand. Not in your wallet, unfortunately.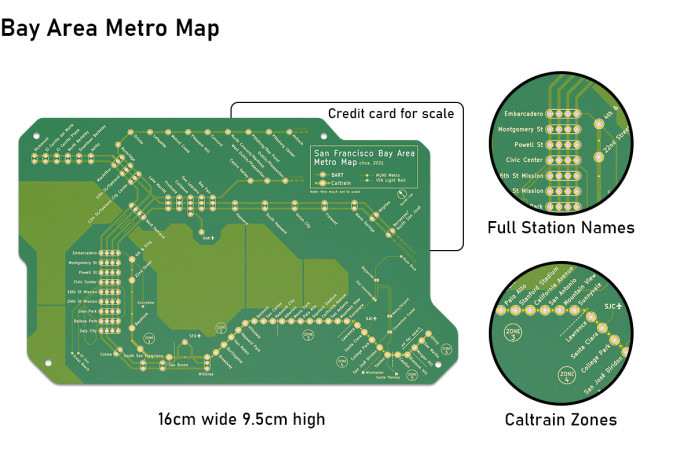 Since I live in the bay area, I felt like I should show the train system here some love. It has the BART, Caltrain, and even the Muni and VTA. Since the stations aren't numbered, all the names are spelt out in full.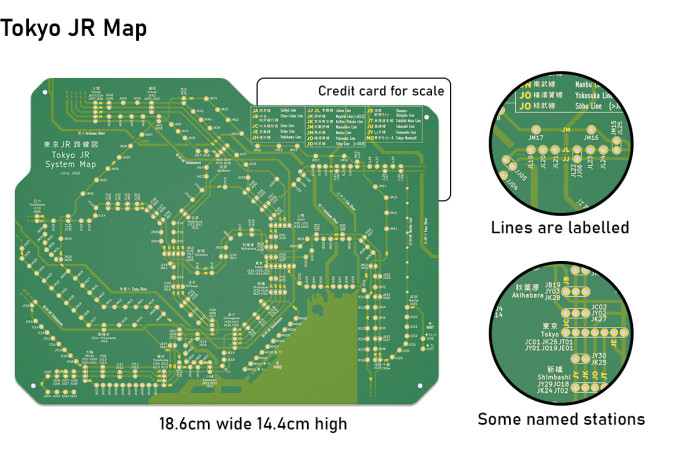 Tokyo is my favourite place to be, and their train system puts many others to shame. It is also the most satisfying map to look at (in my opinion). This only has the JR lines and the more prominent rivers.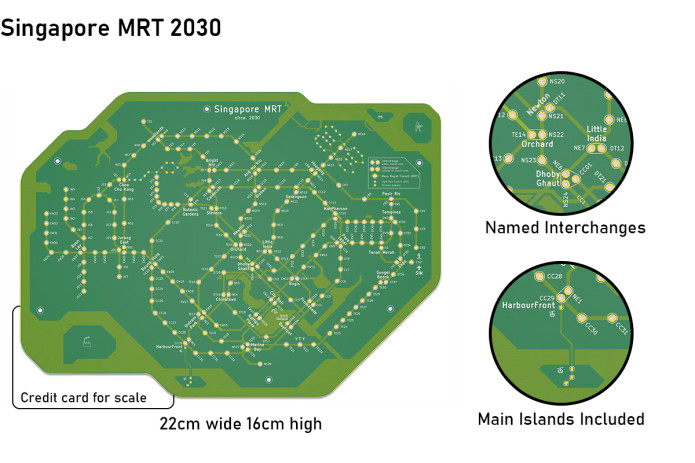 This was designed at the request of someone who wanted a Singapore map that could be framed on the wall. Since it's also much bigger, I could easily fit in the rest of the planned lines till 2030.
Other maps
There will be no other map designs for this Campaign, but I will be putting up a poll to vote on the next metro that I will be working on. If you want to be part of this poll, you can back the $2 tier and you'll get a say in what comes next.
Electronics
All 4 boards come with back-lit variants. The lighting is powered by a second layer under the first layer which provides the lights (plus 2 more layers). The whole assembly is held together by screws. The different lines are individually controllable and there are buttons on board to control the lighting patterns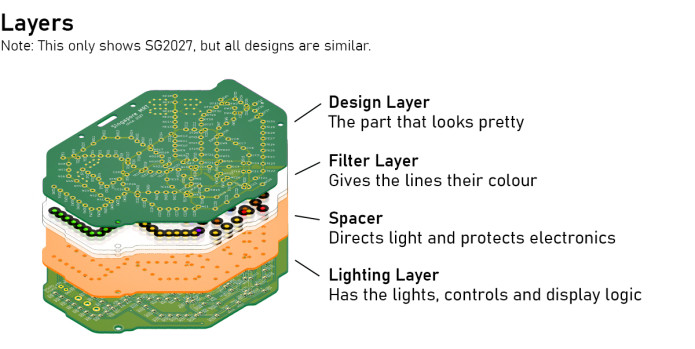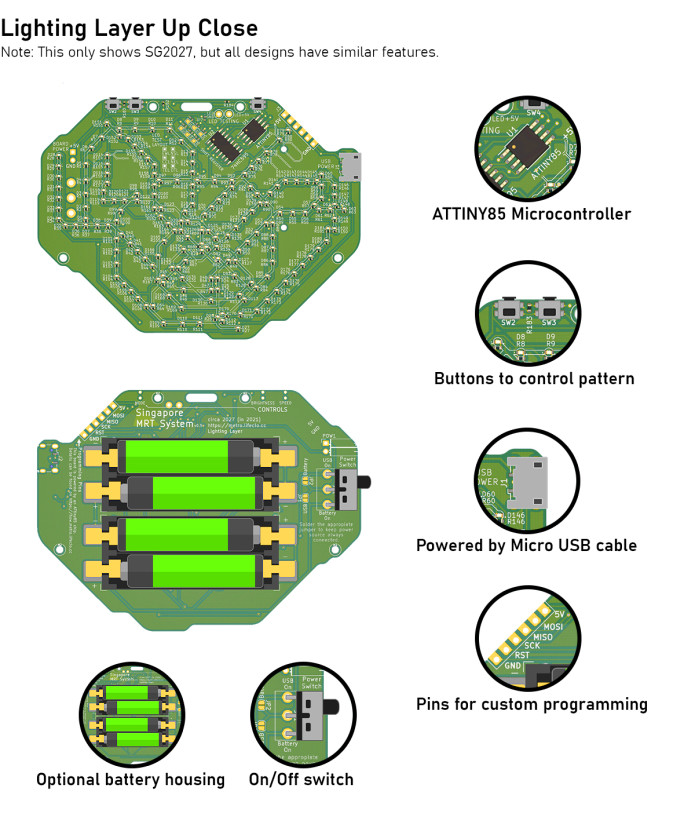 Lighting layer specifications
Micro USB powered
Battery Powered (optional addon)
On/Off switch
3 buttons for controls
ATTINY85/ATMEGA328 microcontroller for lighting logic
74HC595 Shift Register for individual line control
2N7002 MOSFET for power regulation
Here are examples of what it does:
Manufacturing, Assembly and Fulfilment
I have found a factory that will do small batches of PCB assembly, but there will still be some components that will need to be soldered. Fulfilment and final assembly will be handled by myself to reduce the additional overhead in dealing with the logistics of hiring a factory. I do not expect too many issues with the assembly and logistics since I'm expecting to fulfil roughly the same number of units as my previous campaign.
Rewards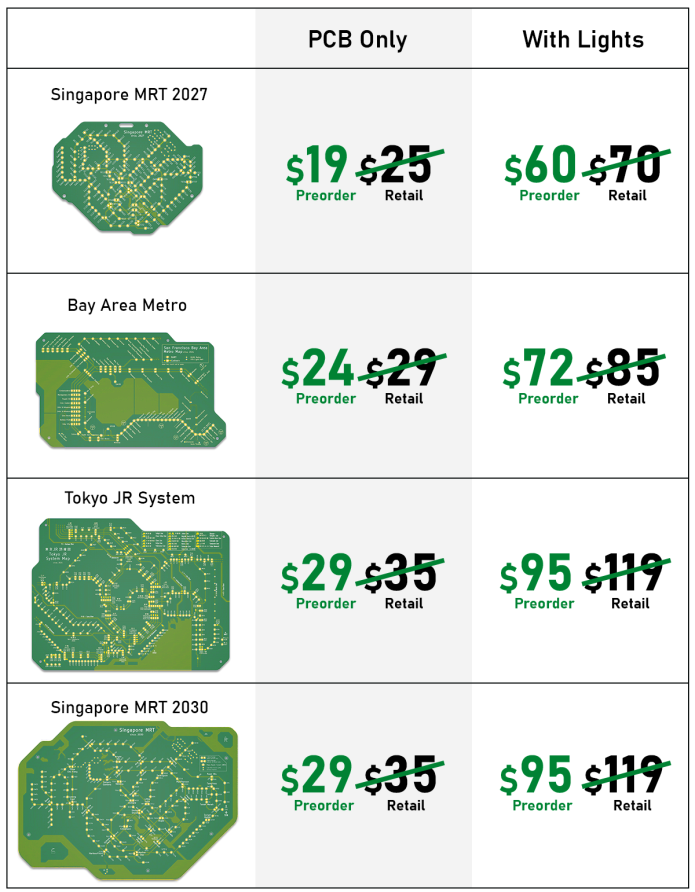 Backing PCB Only will only give you the Display Layer. Refer above for sizing.
Does not come with colours
Just the front layer with holes where the stations are.
Backing With Lighting will include the following:
All 4 layers: Display / Filter / Spacer / Lighting Layers
All components soldered and tested
Board fully programmed and functional
Minimal assembly required (screwdriver and scissors required)
Addons
Laser Cut Table Stand ($5)
The PCB doesn't stand by itself. You can lean it against the wall, or even use a tablet holder. This is a simple stand that will let you prop the PCB up.
Battery Holder ($6) (Only applicable for Lighting versions)
This adds a battery holder on the back for powering the board with 4x AAA batteries. The primary power source should be a USB cable because the batteries will only last a day or two, but this is useful if you are planning on bringing it around and showing it to people.
Fully Assembled ($9) (Only applicable for Lighting versions)
Without this, there is some basic assembly required. You will need a screwdriver and scissors to piece the different layers together. For an additional $9, it'll come ready to be used.
Micro USB cable (1m) ($3) (Only applicable for Lighting versions)
Most of us have a micro USB cable lying around at home. This is not included to reduce the overall price of the unit, but you can add this on if you want.
Ordering
Regular Orders
If you just want one of the boards listed above, simply choose the level you want and choose your shipping country. Kickstarter will automatically calculate the shipping costs and add them up for you.
At the end of the campaign, you will be sent a survey to fill in your address and any addons you might want.
Custom Orders
If you want more than one piece, you will have the option to purchase more as addons when the survey is sent out.
There are no additional shipping costs.
Timeline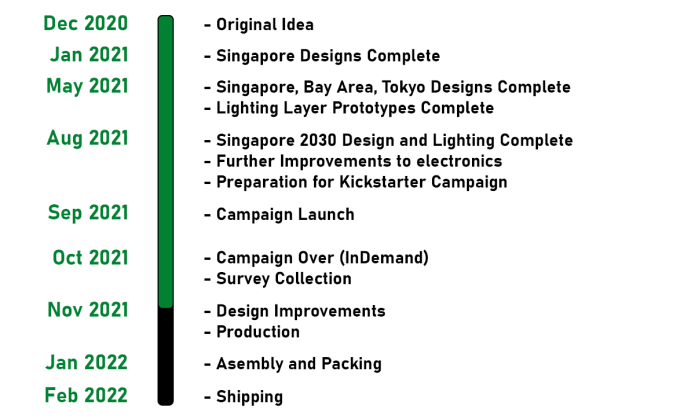 Development
This project has taken me the better part of this year to make. I've gone through at least 10 different prototypes to figure out the best way to get the lights to work. I will cover the process in more detail in a blog post.
Making the designs was also a tedious process. I've sunk hours Wikipedia hopping and staring at maps just to make these as accurate as possible. That being said, I am still human and can make mistakes. If you see any mistakes in the design, please let me know so I can fix them before I ship them out. You can find the high resolution renders of all my designs here.
It was also quite unfortunate that the software did not support writing Unicode characters, so creating the Japan map was a pretty painful process. 
Who am I
I am the creator of Lifeclocc, and this is my second Kickstarter Campaign. I've learnt a lot from running that campaign and I'm applying what I've learnt to this campaign as well. You can expect the same level of communication throughout the project as I did with the previous one.
I'm a Singaporean hobbyist based in the bay area. Designing PCBs was a passion I picked up a few years ago, and I've been throwing random ideas for my PCBs at the wall and seeing what sticks. This one was one of the better ones. (Lifeclocc is still my favourite)
I post the progress of my projects on Instagram if you're interested to also see updates on other things I'm working on. If not, you can be assured I will be updating this campaign frequently.
Open Source
I plan on releasing the source code for the lighting layer. If you want to reprogram the lights to do different things, you are free to do so. The boards will either be using an ATTINY85 or an Arduino Pro Mini. Both of these require an additional hardware programmer to program.
Instructions will be provided on how to program the microcontroller on the website once the campaign is over.
As seen on