Mommas' Microgreens | Let's rethink food. Presenting microgreens: organic, healthy, sustainable and locally sourced.
Who We Are
Mommas' Microgreens is a locally sourced microgreen growing start-up, founded by Peter Stalter and Shaqui Scott. They have been working together on a number of small entrepreneurial projects since 2016. 
Shaqui has an MBA with a focus in management. He has worked as a manager in non-profit settings for several years, has had several successful solo ventures, and has worked with restaurants and bars in Pittsburgh and Greensburg to promote social events.
Peter has a BA in Environmental Studies with focuses in aquaponics and energy. He worked for two years in Mexico facilitating environmental education programs, teaching about composting and organic garden management.
Vision of Mommas' Microgreens
Mommas' Microgreens seeks to provide individuals, restaurants and communities with organic, healthy and sustainable foods grown in the Greater Pittsburgh area. Microgreens are vegetable crops harvested in only 1-3 weeks, allowing us to produce quality food in shorter periods of time. They can include anything from spinach and arugula to pea shoots and radishes. The crops are more nutritionally packed and have lower water and carbon footprints than mature plants. Traditionally grown plants use pesticides, herbicides and chemical fertilizers and are shipped dozens, if not hundreds, of miles to arrive at the supermarket. Mommas' Microgreens cuts out the middleperson and ships it right to you.
The Impact
Microgreens have not yet made their big debut in the greater Pittsburgh region, and we hope that through our business we can diversify the available options for healthy food. The crops are grown by Pittsburgh natives for all people of Pittsburgh and aim to create a new, fun and natural way for a healthier lifestyle.
What We're Asking
Your contribution allows us to become self-sustaining and to start the growing process. Our funding goal permits us to grow microgreens for one year at full production, yielding up to 1008 pounds of food. We seek to raise $3,917.58 to start growing microgreens, marketing the product, and begin distributing samples.
We will need $1889.74 to cover all equipment costs, $1283 for marketing, and $744.84 for product related expenses. The tables and charts below break down specific expenses we plan to cover with the funds from this fundraising campaign.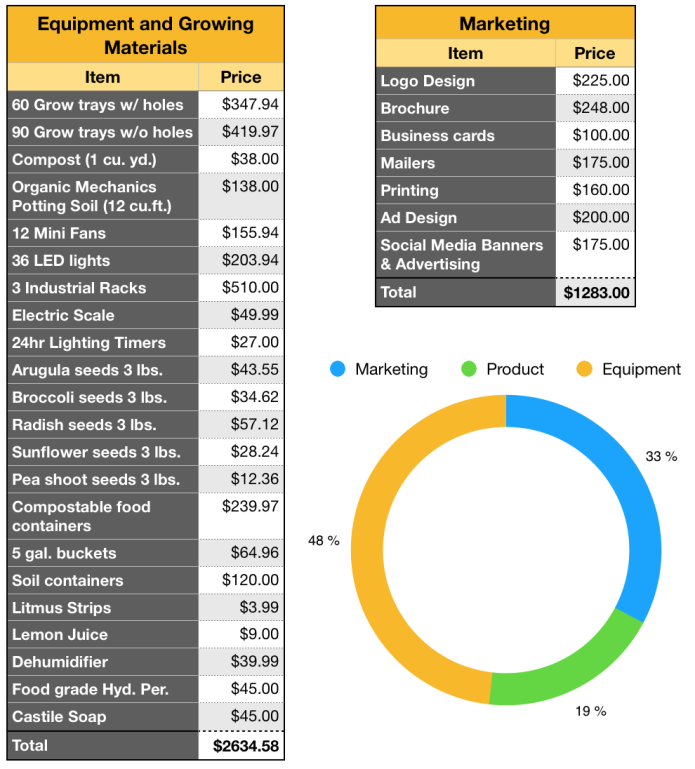 The Specifics
The crops:
Four trays will sit on each shelf, growing one of the five following crops: black oil sunflowers, green pea shoots, hong vit radish, waltham 29 broccoli, or slow bolt arugula. Each shelf is lined with 3 LED T5 22W lights and have fans constantly blowing. A dehumidifier takes care of the remaining moisture in the air to prevent mold (these plants grow densely!). 
The soil:
There are many ways of growing plants indoors: hydroponically, aquaponically, medium-based; we chose to go with two types of locally sourced soils: leaf compost for its fluffy and water retentive nature, and Organic Mechanics, made from worm castings and compost, for its nutrition (no environmentally damaging peat moss!). 
The water:
Water will be pH balanced, using lemon juice to bring it down to a comfortable 6.0. Before use, water will be left uncovered in order to degas any chlorine from municipality processing. Also, no lead here! Water is sourced from the North Hills, free from any lead piping found in other Pittsburgh regions.
Food safety:
Our trays will be held in food safe plastics, from beginning to end. Organic castile soap will be used to clean all containers and equipment that come in contact with the final product, preventing any chemical residue from cheap soaps. Don't forget to compost our corn-based food containers!
Here are a few examples of what we expect the final product to look like: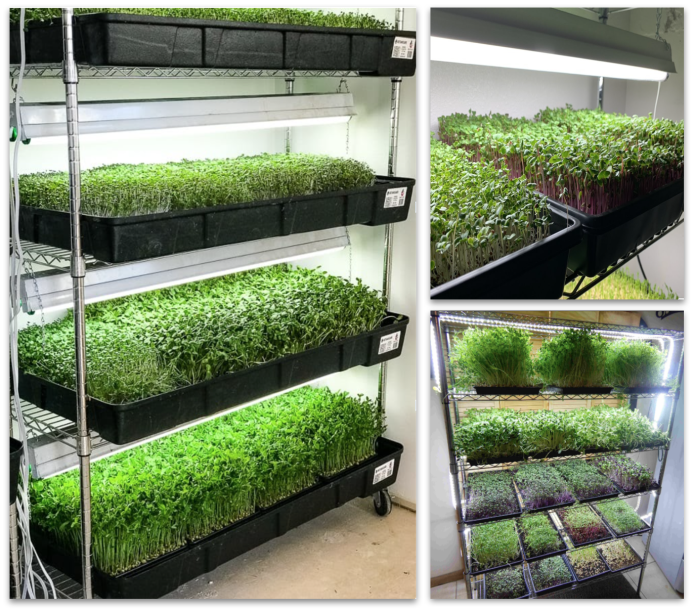 Still Not Hungry?
Here are some great ways you can use our microgreens…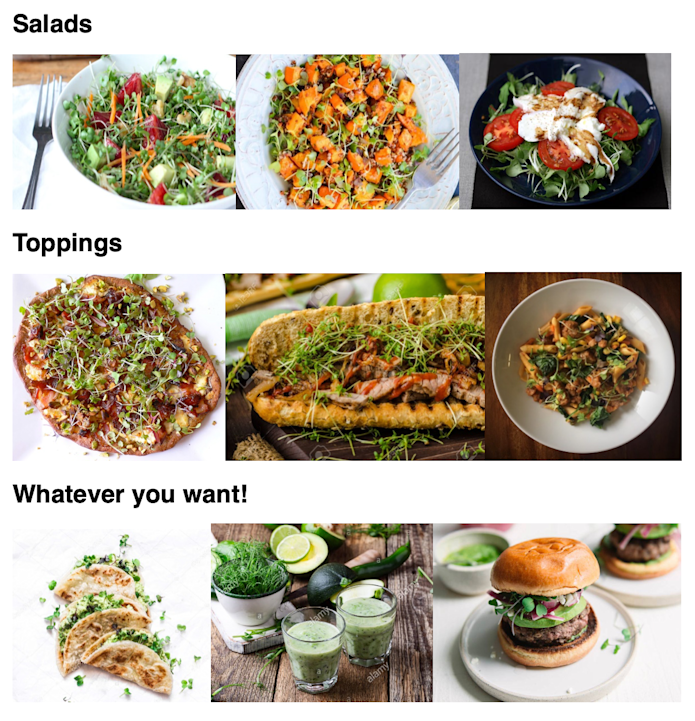 Other Ways You Can Help
We appreciate any contributions that you are able to make. Even if you can't donate any money to the cause, we would love any support in the form of communicating our project and campaign with others, or even a simple message of encouragement to keep us going!!