Moona – Improve your sleep with temperature | Bedside device that cools the pillow to reduce time to fall asleep and increase sleep quality

Ever wonder why you flip your pillow to the cool side when you cannot sleep? Because temperature is key to good sleep!
Moona is a patent-pending smart sleep system that induces and deepens sleep, by smartly adjusting your head and neck temperature throughout the night. It will also help you wake up naturally, and be ready for the day! A clinical study is ongoing at Nantes Hospital, France.
Our body needs different temperatures at different moments in the night. Moona understands your sleeping pattern and regulates the temperature of your head and neck to help you get the best sleep.
Doctors have shown that temperature is a key parameter of sleep (Wall Street Journal).
To fall asleep, our body temperature needs to cool down: we need to lose approximately 1°C (1.8ºF). And cooler temperatures help get deeper sleep. At the end of the night, it is opposite: our body needs to warm up to wake up gently and be productive quickly.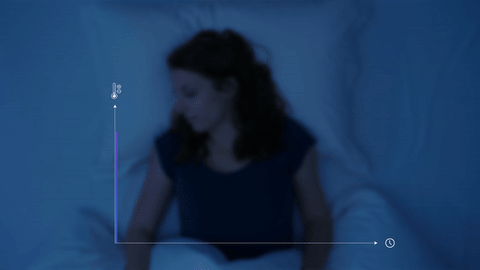 Evolution of body temperature throughout the night
Moona is a water-based system which brings cooling and heating to your head in a smooth and natural way, guaranteeing the best sleep experience. The product is composed of 4 key elements. (There are no electronics under the head : just a thin membrane with water and memory foam.)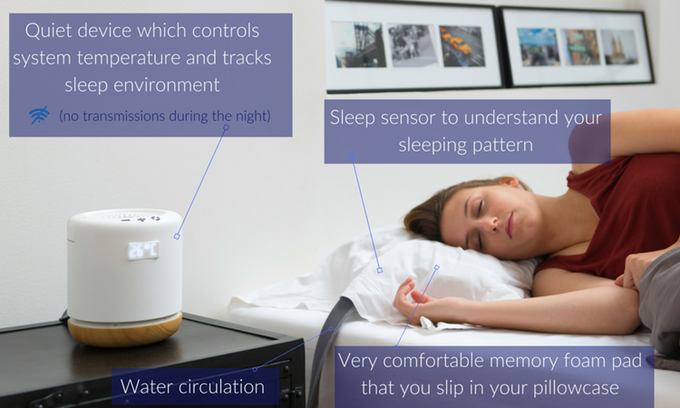 Getting good sleep is very important to making the most out of your day. With Moona, you will improve your mood and energy. Getting quality sleep is also key to your health. This why, from the very beginning of the project, we have worked with sleep doctors. In collaboration with the University Hospital Center of Nantes, we are conducting a clinical study to demonstrate Moona's efficacy.
Our world is in the middle of a sleep crisis but not everyone is aware of it. Lack of good quality sleep has profound consequences on our daily lives. It affects our health, our job performance, our relationships and our happiness.
Poor sleep may put you at risk of several health issues, such as: 
Obesity, 
Diabetes, 
Cardiovascular diseases and hypertension, 
Immune function disorders… 
As best-selling author Arianna Huffington puts it: "Only by renewing our relationship with sleep can we take back control of our lives." That's why we created Moona, with the ambition to help you sleep better and, more importantly, live better. Sleep with Moona and enjoy the best your life has to offer.
With a patent-pending technology, the Moona smart sleep system will learn over time to adapt your temperature profile throughout the night and the year. 
Before your first night with Moona, you will fill out a sleep questionnaire to determine your sleeper's profile. Then, Moona will guide you through optimizing it during a 10-day period. After that, Moona will adapt the temperature profile (ºC/ºF) to optimize your sleep, using data from: 
the integrated sleep tracker,
ambient temperature and humidity sensors,
temperature changes made during the night,
feedback provided in the app.
Our system is based on the latest sleep research literature and we are training it with sleep data from our beta testers. The more users we will have, the smarter the system will get. It will then be able to learn and adapt to each user more efficiently.
Your bedroom is a cocoon. We have worked very hard to create a product that blends into your bedroom and an experience that seamlessly helps you sleep, without struggle.
Moona is quick and easy to set up.
Even at 3am, it is very easy to change the temperature on the product if need be, and of course you do not have to open the app for that. We have done more than 200 user tests to get a great experience – even in the middle of the night.
Keep your favorite pillow:
Moona goes on top of any standard pillow, no matter the shape or material. Our beta-testers tried with synthetic, memory foam, orthopedic pillows and with all kind of shapes and sizes. We've iterated on more than 30 material combinations to guarantee optimal thermal efficiency and comfort. The pillow pad is an obsessively engineered combination of memory foam and thin water channels.
We know how comfort is key to our sleep so we created a product that not only enhances your sleep quality but also adds extra comfort to your sleep experience.
Don't you love putting your head on a cool pillow when you go to bed? How about if you could have that great feeling over and over again during the night?
The pad is flexible so it follows your move during the night
The cover is made of cotton. It is removable and machine washable
The bedside device is very silent (<25db, less than a whisper)
Throughout our journey developing Moona, more than 200 beta-testers have given us precious feedback on our product. That is over 350 nights of sleep … a year of sleep data ! Here is what some of them said:
To develop Moona, we are working with doctors. A medical thesis on Moona's system is ongoing at the Hospital of Nantes. And here are some of the research papers we used:
Kazue Okamoto-Mizuno, Kazuyo Tsuzuki, Koh Mizuno. "Effects of head cooling on human sleep stages and body temperature." International Journal of Biometeorology (December 2003)
Leon C. Lack, Michael Gradisar, Eus J. W. Van Someren, Helen R. Wright, Kurt Lushington. "The relationship between insomnia and body temperatures." Sleep Medicine Reviews (August 2008)
Nico Romeijn, Roy J. E. M. Raymann, Els Møst, Bart Te Lindert, Wisse P. Van Der Meijden, Rolf Fronczek, German Gomez­Herrero, Eus J. W. Van Someren. "Sleep, vigilance and thermosensitivity." Pflügers Archiv (January 2012)

Roy J.E.M. Raymann, Dick F. Swaab, Eus J.W. Van Someren. "Skin temperature and sleep-onset latency: Changes with age and insomnia." Physiology & Behavior (February 2007)

Saul S. Gilbert, Cameron J. van den Heuvel, Sally A. Ferguson, Drew Dawson. "Thermoregulation as a sleep signalling system." Sleep Medicine Reviews (April 2004)
Demo of Moona as of September 2017:
We want Moona to be a night and life-changing product. 
That's why we're doing everything that is in our power to design the perfect sleep product. But we need your help – your feedback, suggestions, and above all, excitement – to help us build Moona up to the potential it can be.
The funds we raise will go directly to help us deliver a high-quality product, that is rigorously tested and manufactured. It will help us invest in tooling for production, testing and quality assurance.
Back our project, share our page, and let's make this happen! We're counting on you!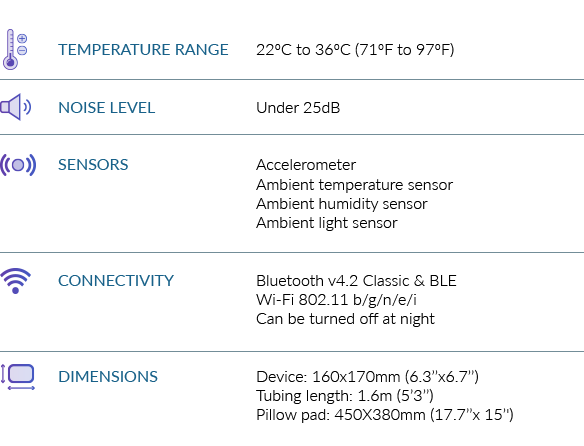 We would like to thank all of you who have contributed to bringing this project to life, through creative, technical, medical and financial support, and more importantly by testing, giving us precious feedback and insights to develop our product. This includes our friends and families, testers, mentors and advisors, HAX, Centrale Paris Incubator, Agoranov, Zagatub, the University Hospital Center of Nantes, La French Tech, Business France, BPI. Thanks to Sidekick Creatives for making our Kickstarter video.
Here are pictures of some of the tests we have done. Thanks to all our beta-testers for their feedbacks and ideas!
 Some of the designs we worked on 
And here are some of our prototypes:
 Press kit | Facebook | Twitter | LinkedIn
———————————————————————————————————————–
French
Vous êtes-vous déjà demandé pourquoi vous retourniez votre oreiller du côté frais quand vous n'arrivez pas à dormir ? Parce que la température est un facteur clé du sommeil !
Moona est un système breveté intelligent qui permet de s'endormir plus rapidement et d'avoir plus de sommeil profond, en ajustant intelligemment la température de la tête et du cou tout au long de la nuit. Moona vous aidera aussi à vous réveiller naturellement et à bien commencer la journée !
Notre corps a besoin de différentes températures à différents moments de la nuit. Moona comprend votre rythme de sommeil et régule la température de votre tête et de votre cou pour vous aider à avoir un meilleur sommeil. Moona est un système à base d'eau qui apporte de la fraîcheur et de la chaleur à votre tête de manière douce et naturelle, en garantissant la meilleure expérience de sommeil. Le produit se compose de 4 éléments. (Pas d'électronique sous la tête, c'est une membrane en mousse, traversée d'eau).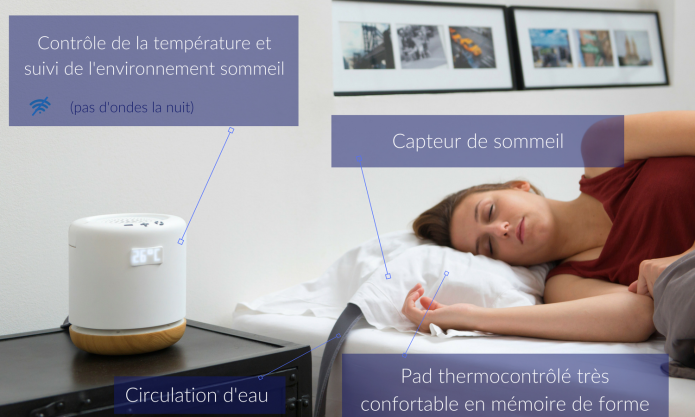 DORMEZ MIEUX QUE JAMAIS 
Des médecins et chercheurs ont montré que, pour s'endormir, la température de notre corps doit diminuer (nous devons perdre environ 1°C). Pendant la nuit, des températures fraîches vous aident à mieux dormir. Au réveil, c'est le contraire : notre corps doit se réchauffer pour se réveiller en douceur et nous permettre d'être productif plus rapidement. Et notre tête joue un rôle majeur dans la régulation de notre température corporelle.
Une étude clinique est en cours sur Moona au CHU de Nantes.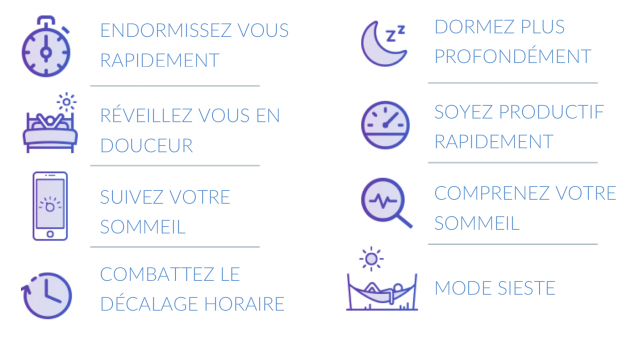 CAPTEURS & FONCTIONNALITÉS CLÉS
Moona est associé à une application. Voici ces fonctionnalités principales :
Réveil naturel : Vous détestez votre réveil bruyant ? Des températures chaudes déclencheront un réveil plus naturel et vous prépareront à être productif plus rapidement. Si vous préférez (par exemple pendant les mois d'été plus chauds) vous pourrez aussi utiliser la fonction "réveil frais".
Profil de température : Visualisez comment la température de Moona évoluera au cours de la nuit et réglez-la manuellement si vous le souhaitez (ºC ou ºF).
Analyse du sommeil : En fonction de vos mouvements pendant la nuit, Moona suit votre sommeil. L'application vous donnera des renseignements précieux sur la qualité de votre sommeil.
Analyse de l'environnement de la chambre : Grâce à des capteurs de température, d'humidité et de luminosité ambiantes, Moona analyse aussi votre environnement de sommeil, et étudie la corrélation entre la qualité de votre sommeil et votre environnement.
Conseils sommeil personnalisés : Moona utilise les données récoltées par les capteurs et vos retours dans l'appli, pour vous proposer des améliorations, des habitudes et des conseils pour améliorer votre sommeil.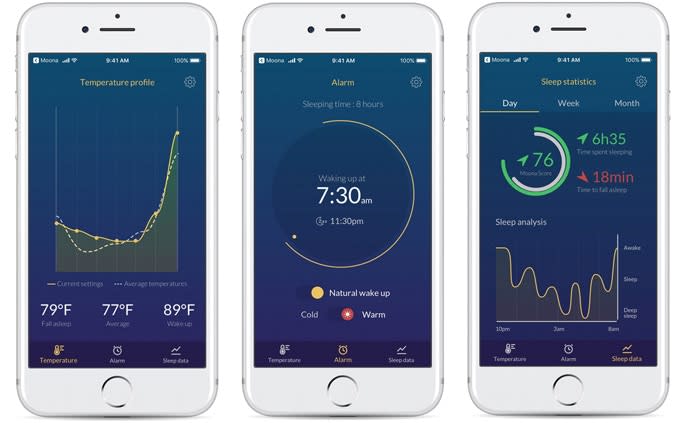 ALGORITHMES DE MACHINE LEARNING
Avec sa technologie brevetée, Moona apprendra au cours du temps à optimiser votre profil de température au cours de la nuit et des saisons.
Avant votre première nuit avec Moona, vous remplirez un questionnaire pour déterminer votre profil de dormeur. Ensuite, Moona vous guidera pendant 10 jours pour optimiser votre sommeil. Après, Moona continuera à adapter le profil de température (ºC/ºF) pour optimiser votre sommeil, en utilisant des données provenant :
du capteur de sommeil intégré
des capteurs de température et d'humidité ambiantes
des changements de températures effectués pendant la nuit
des vos retours fournis dans l'application
Notre système se fonde sur les dernières avancées dans la recherche sur le sommeil et nous entraînons le système avec les données fournies par nos beta-testeurs. Plus nous aurons d'utilisateurs, plus le système deviendra intelligent. Il sera ensuite capable d'apprendre et de s'adapter à chaque utilisateur plus efficacement.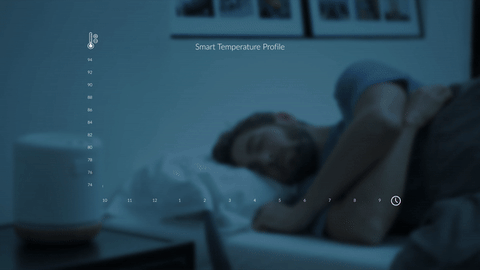 DESIGN PRODUIT 
Votre chambre à coucher est votre cocon. Nous avons beaucoup travaillé pour créer un produit qui s'intègre dans votre chambre et qui vous permet de mieux dormir sans effort.
Moona est facile et rapide à mettre en place.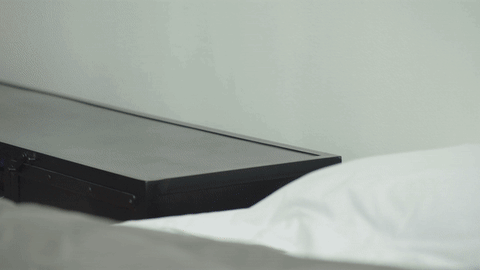 Même à 3 heures du matin, il est très facile de changer la température sur le boîtier si besoin.  Evidemment, pas besoin d'utiliser l'application au milieu de la nuit. Nous avons effectué plus de 200 tests utilisateurs pour assurer la meilleure expérience utilisateur, même au milieu de la nuit.
Conservez votre oreiller préféré :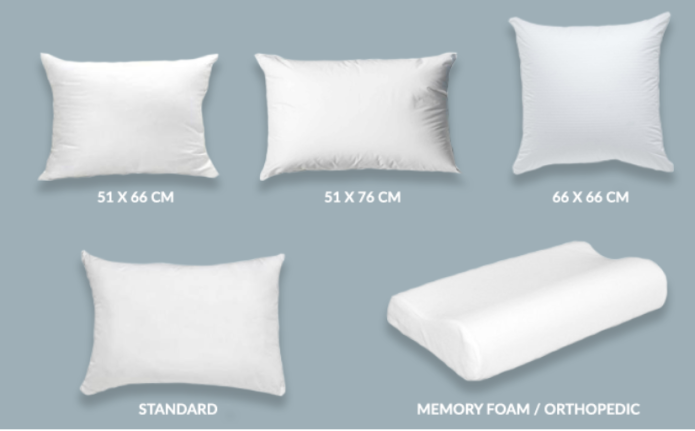 Moona s'adapte à n'importe quel oreiller, peu importe la taille ou le matériau. Nos beta testeurs ont essayé Moona avec des oreillers synthétiques, à mémoire de forme, orthopédiques… Bref, de toutes sortes. Le sur-oreiller est une combinaison de mousse à mémoire de forme et des fins canaux d'eau.
CONFORT ET MATÉRIAUX
Nous savons que le confort est clef pour notre sommeil donc nous avons créé un produit qui non seulement améliore la qualité de votre sommeil mais rajoute aussi du confort.
"La fraicheur de l'oreiller est relaxante et très efficace pour s'endormir rapidement!" – Jake, 27 ans 
"Moona est très confortable!" – Luke, 30 ans 
"La mise en place est très simple. J'ai hâte chaque soir d'allumer mon Moona." – Sandrine, 47 ans 
Quoi de mieux que la sensation de fraicheur de l'oreiller frais en allant se coucher ? Et si vous pouviez avoir cette sensation toute la nuit ?
La membrane est flexible donc elle suit vos mouvements pendant la nuit
La membrane est recouverte de coton. Elle est déhoussable et lavable en machine
Le boîtier est très silencieux (<25dB)
ILS ONT TESTÉ MOONA… ET ILS ONT ADORÉ
Au cours de notre aventure, plus de 200 beta-testeurs nous ont donné leur avis sur notre produit. C'est plus de 350 nuits de sommeil… une année de données sur le sommeil !
L'IMPORTANCE DU SOMMEIL DANS NOS VIES
Même si nous n'en sommes pas tous conscient, notre monde est au milieu d'une crise du sommeil. Le manque de sommeil  a des conséquences profondes sur notre vie quotidienne. Cela affecte notre santé, nos performances professionnelles, nos relations et notre bien-être.
Un mauvais sommeil peut vous mettre à risque de plusieurs problèmes de santé, tels que:
Obésité
Diabète
Maladies cardiovasculaires et hypertension artérielle
Troubles de la fonction immunitaire
Comme le dit Arianna Huffington : "Ce n'est qu'en renouvelant notre relation avec le sommeil que nous pouvons reprendre le contrôle de nos vies". C'est pourquoi nous avons créé Moona, avec l'ambition de vous aider à mieux dormir et, plus important encore, vivre mieux.
LA RECHERCHE SCIENTIFIQUE 
Pour s'endormir, notre température corporelle doit refroidir: nous devons perdre environ 1°C. Et les températures fraîches permettent un sommeil plus profond: notre sommeil est le plus réparateur au minimum de la température corporelle. Au contraire, nous devons nous réchauffer pour nous réveiller et nous sommes les plus productifs lorsque la température de notre corps augmente. La tête et le cou jouent un rôle central dans la régulation de la température corporelle.
Pour développer Moona, nous travaillons avec des médecins, une étude clinique est en cours au CHU de Nantes. Voici quelques-unes des publications scientifiques que nous avons utilisées :
Kazue Okamoto-Mizuno, Kazuyo Tsuzuki, Koh Mizuno. "Effects of head cooling on human sleep stages and body temperature." International Journal of Biometeorology (December 2003)
Leon C. Lack, Michael Gradisar, Eus J. W. Van Someren, Helen R. Wright, Kurt Lushington. "The relationship between insomnia and body temperatures." Sleep Medicine Reviews (August 2008)
Nico Romeijn, Roy J. E. M. Raymann, Els Møst, Bart Te Lindert, Wisse P. Van Der Meijden, Rolf Fronczek, German Gomez­Herrero, Eus J. W. Van Someren. "Sleep, vigilance and thermosensitivity." Pflügers Archiv (January 2012)

Roy J.E.M. Raymann, Dick F. Swaab, Eus J.W. Van Someren. "Skin temperature and sleep-onset latency: Changes with age and insomnia." Physiology & Behavior (February 2007)

Saul S. Gilbert, Cameron J. van den Heuvel, Sally A. Ferguson, Drew Dawson. "Thermoregulation as a sleep signalling system." Sleep Medicine Reviews (April 2004)