Mr.Watt: The buddy that brightens your day | Mr.Watt is a dimmable and adjustable desk lamp with a playful customisable humanoid appearance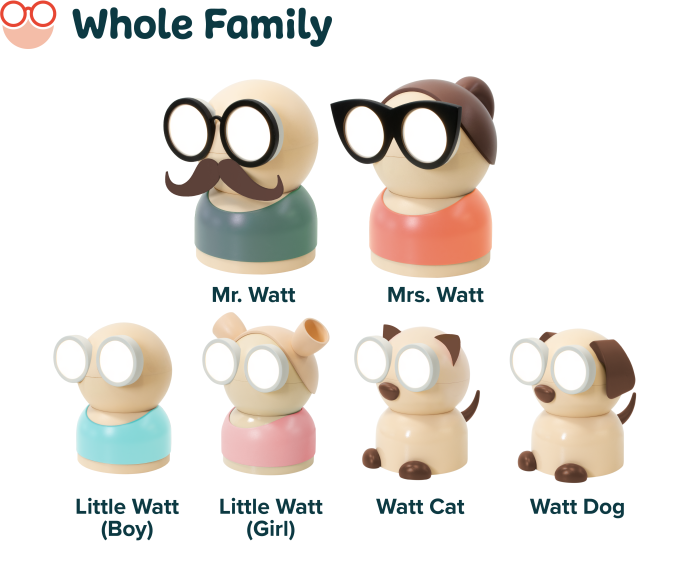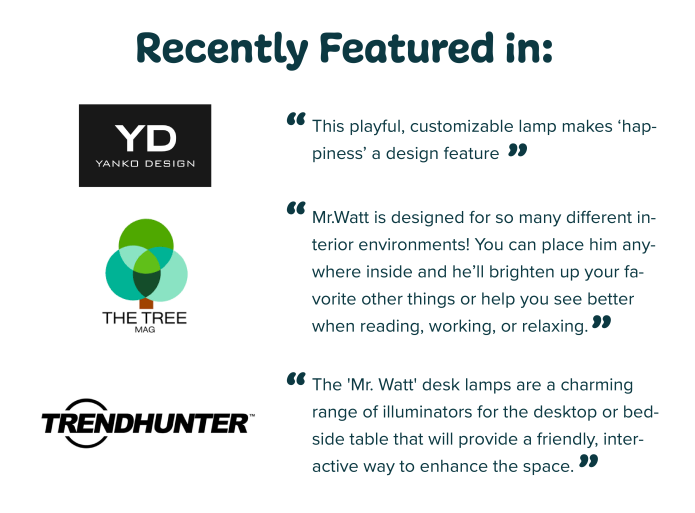 Hi people, I'm Mr.Watt, a humanoid desk lamp with fun personality. You might have seen me on Kickstarter before, now I'm here on Indiegogo InDemand. For those who missed me on Kickstarter, here is your second chance! Let me walk you through my main features: 
FEATURES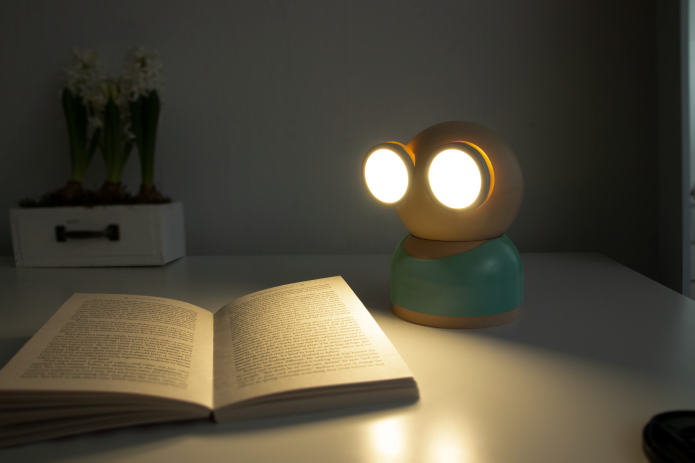 My eyes are the light source, made with 2 high performance LED puck lights of 180 lumens, good enough as a reading lamp or bedside night light. 

The capacitive sensor in my head recognizes your touch. That means you only have to tap my head to switch on/off.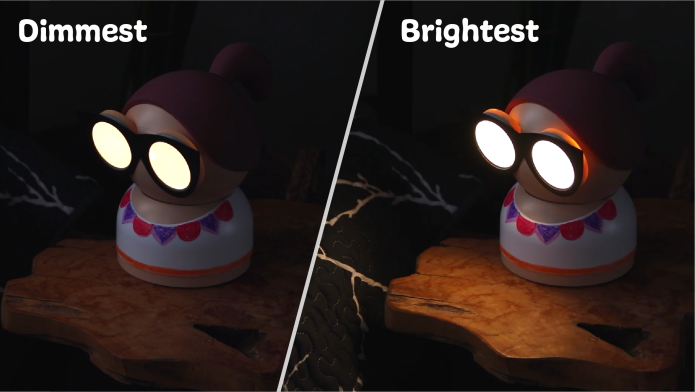 Try resting your hand on my head and I will either dim or brighten the lights. I also have a very good memory. When you turn me off and back on, I will remember your previous light setting.
My head is able to rotate 360° horizontally and 60° vertically. You can smoothly rotate my head to your preferred position, pointing light where it's needed. This also allows me to express my emotions: happy, sad, curious, or even shy, based on the direction I look. 

If you watched the video above, you know the best part is that I'm customizable! You can style or change me into different characters with magnetic accessories (sold separately). 

Most of my accessories are magnetic so you can easily attach/detach them on/from my body to change my look. Accessories like hair, ears and paws are made of silicone.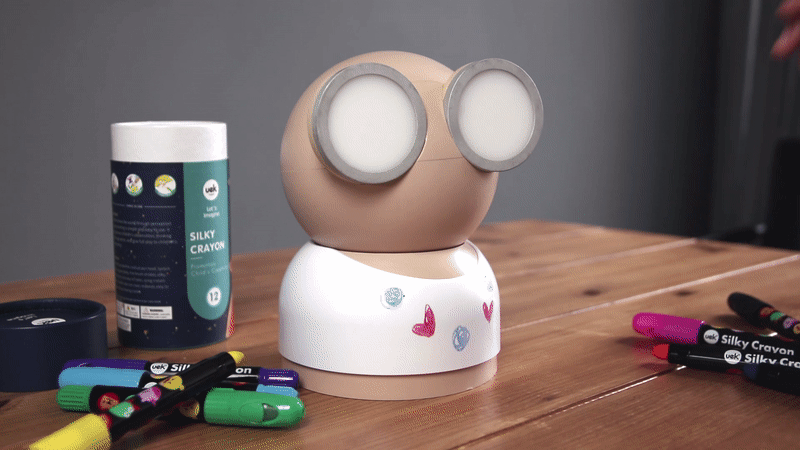 I like a fresh look every now and then. Since I have blank white clothes by default, you could just pick up an erasable crayon/marker pen and be creative!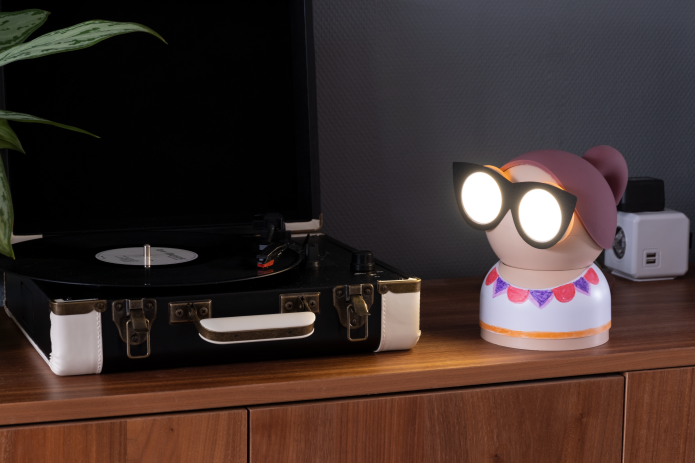 Look at my shiny round head, big eyes and sleek cylindrical body.  Handsome huh? Given my minimalistic look, I would fit in really well in just any home interiors.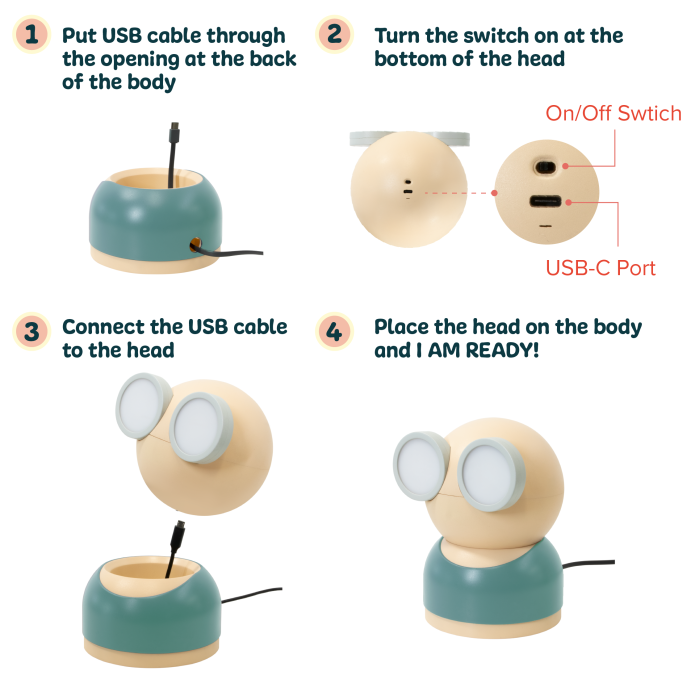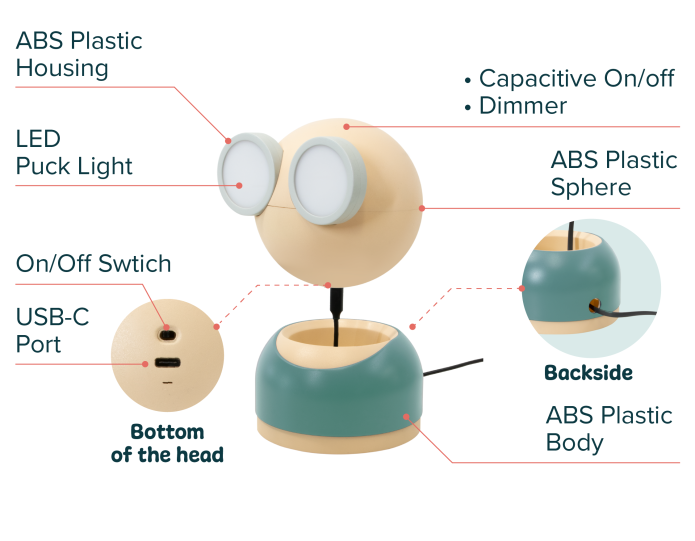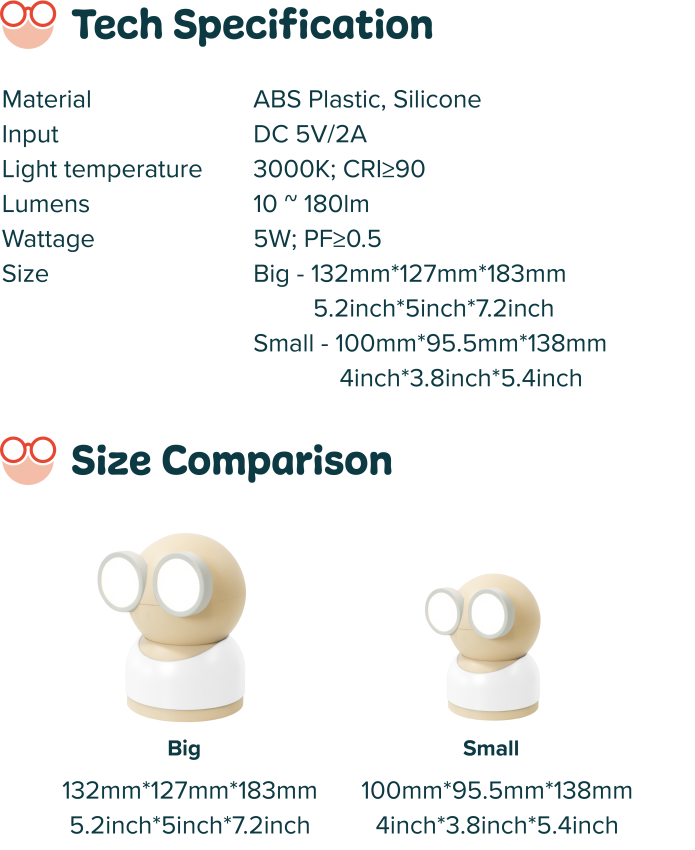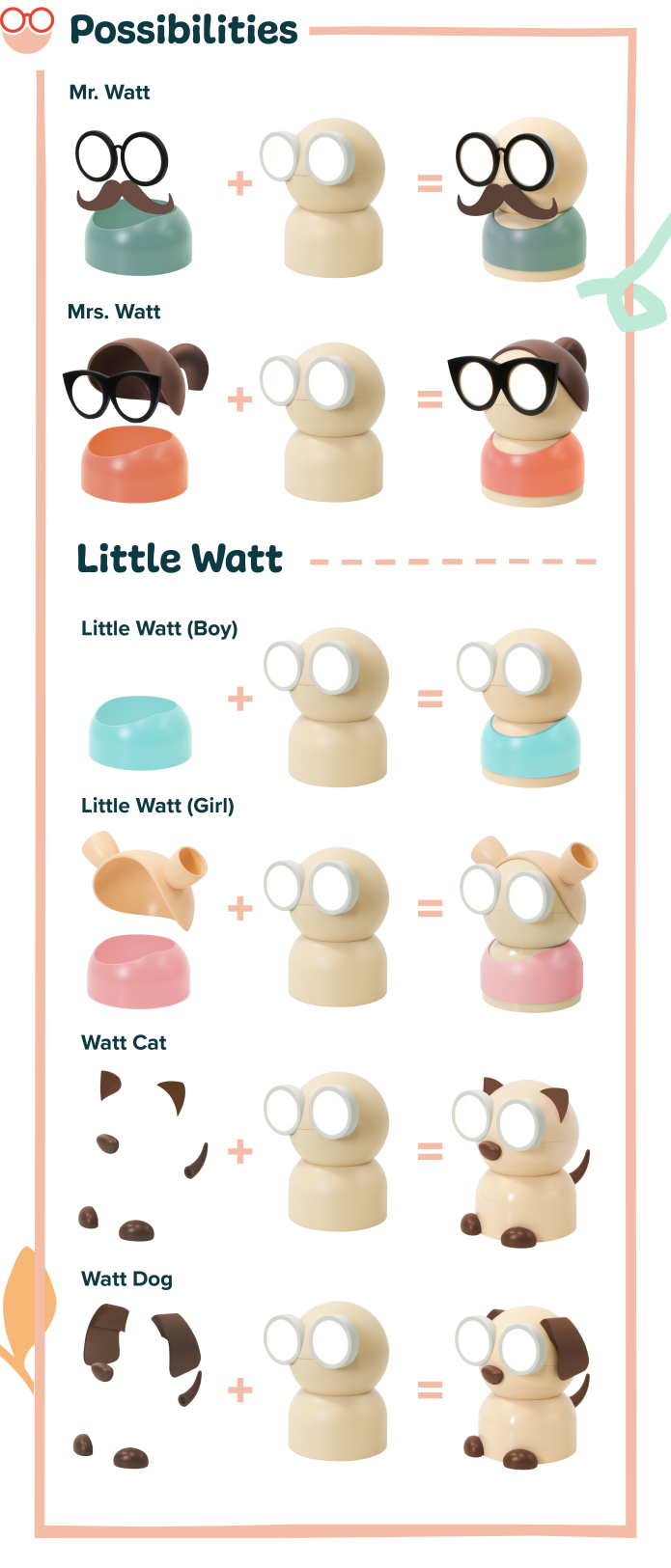 Like me already? Here is a summary of the perks and add-ons available. 


Creator – Norbert Schlotter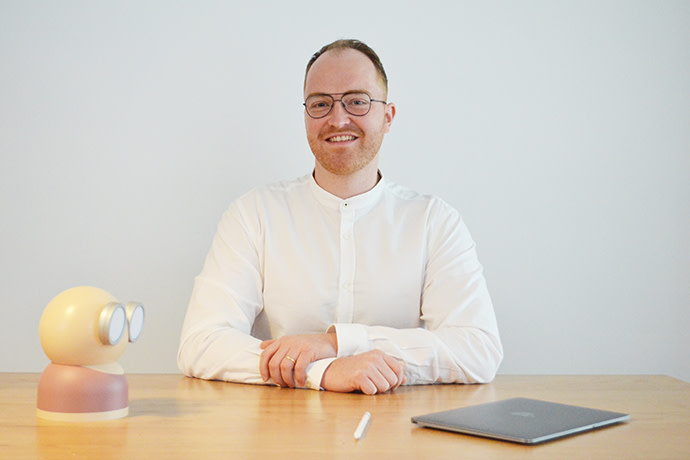 Norbert is a designer and architect who worked for some of the most significant architecture firms in the world, such as Skidmore Owings and Merrill in New York and Chicago, as well as HENN in Munich. He studied architecture in Munich and the United States and earned a master's degree from the Technical University of Munich. His architectural projects include the new museum for Los Angeles County Museum of Arts, Porsche and BMW Research Centers in Stuttgart and Munich, as well as various high-rises in Florida and New York and the new building for the United Arab Emirates Mission to the United Nations. In 2018, Norbert founded his own studio called nominomis. Today, nominomis, is based in Chicago and focuses on the intersection of product design and architecture. The studio's work spans from various architectural project to product designs such as the lamp series Mr.Watt. Norbert perceives design and architecture as one strongly intertwined field with the human scale and interaction at its core. His work is often linked to the concept of anthropomorphism, which establishes associations between human characteristics and manmade objects.
DesignNest

Since 2019, nominomis is collaborating with Dutch company DesignNest (www.designnest.com) for prototype improvement and eventually the final production of Mr.Watt. After extensive discussion and careful planning, we decided to change material from wood to plastic for various reasons: cost reduction for better affordability, longer lasting, more fun possibilities (customisation). We turned to crowdfunding sites like Kickstarter and Indiegogo once again – not only does it allow us to reach out to all of you who love innovative designs, but it also allows us to study market's reaction towards Mr.Watt and us to produce these little guys in bigger quantity. By pledging to pre-order your very own Mr.Watt before production, we can use your contributions to place the orders for all required components. These parts have a minimum order quantity required by manufacturers to get the right prices, so it's key that we reach the numbers needed.
Hyperstarter

Hyperstarter is a UK based crowdfunding marketing and analytics platform that helps us promote our campaign and reach more potential backers who love the quirkiness of Mr.Watt.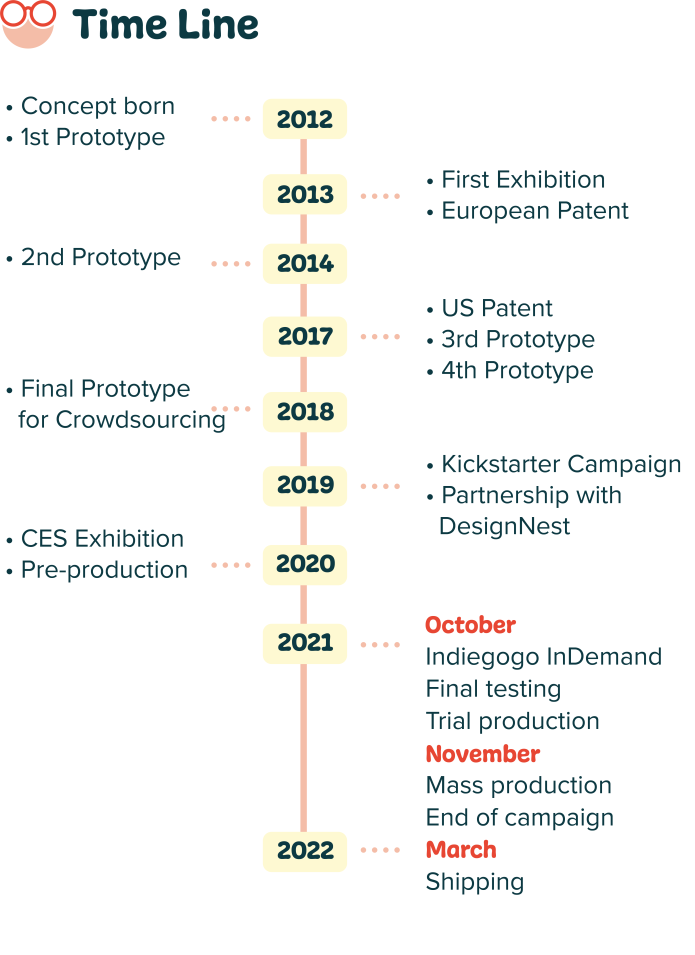 If you like what we're doing but can't buy Mr.Watt, you can also show your support and help us by sharing our page with your friends and family. The more people who hear about us and our project, the better! Follow us on social media for some sneak peeks of the progress. If you want to write about Mr.Watt, please feel free to download the media kit below.