MyFarm Harta | MyFarm Harta is your sustainable community founded market garden.
[ENGLISH below]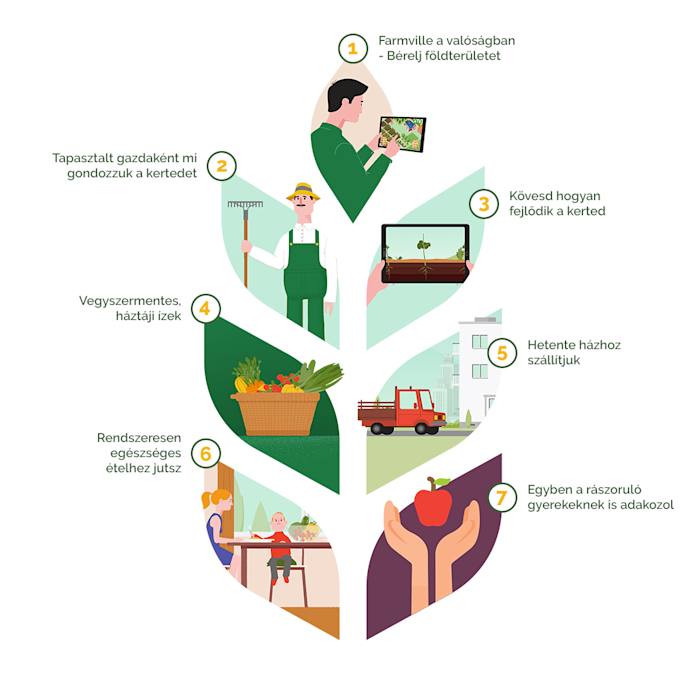 Történetünk
A tudatos étkezés egyre nagyobb hangsúlyt kap napjainkban. Annak ellenére, hogy egyre többen odafigyelnek erre, a nagyvárosokban nem egyszerű beszerezni az ellenőrzött forrásból származó, vegyszermentes alapanyagokat.
A növényközpontú, kevesebb hús fogyasztását támogató, főként zöldségen és gyümölcsön alapuló táplálkozás földünk megóvásában is kulcsszerepet játszik.
Ezekre az igényekre a mi ötletünk is megoldást nyújt: bérelj tőlünk egy földterületet, amin mi egészséges és zamatos zöldségeket és gyümölcsöket termesztünk és házhoz szállítjuk neked. Különböző méretű földterületek bérlete közül választhatsz, ezekhez különböző méretű és más rendszerességgel kiszállított kosarak tartoznak. Közösségi kertet tervezünk létrehozni, amelynek lényege, hogy a termést a bérlők között osztjuk szét a bérelt terület aránya szerint, majd eljuttatjuk nekik. A projekt mögött egy lelkes fiatalokból álló csapat és egy mezőgazdasággal és kertészettel több, mint 30 éve foglalkozó család áll. Ez garancia arra, hogy a termelés teljes folyamatát, a vetéstől a betakarításig hozzáértő kezek felügyelik.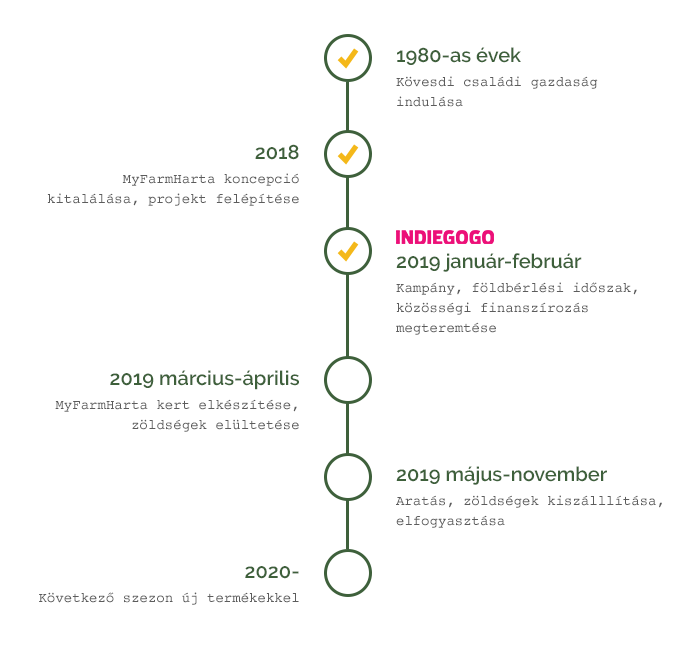 Mire van szükségünk és mit adunk cserébe
Ahhoz, hogy elindulhasson a projekt, 18 000 Euró befektetésre van szükségünk. Ebből megvalósítható, hogy egy 500 m2-es földterület felszereljünk mindennel, ami a termeléshez szükséges (kerítéssel, öntöző- és biztonsági rendszerrel, 360°-os kamerákkal) és megkezdjük a termesztést.
Az ötletünket legkönnyebben a Farmville játékhoz tudjuk hasonlítani a való életben. Ha bérelsz tőlünk egy területet, mindent nyomon tudsz majd követni kamerákon keresztül és létrehozunk egy zárt Facebook csoportot is. A célunk, hogy közösséget is építsünk, ahol megoszthatjuk a híreket és újdonságokat, ami a földeken történik, sőt a bérlőket részben bevonjuk a termelést érintő kérdésekbe, még szavazásokat is tervezünk, például arról, hogy milyen növénykultúrákat ültessünk.
Az első évben a termények házhozszállítása csak Budapesten lesz elérhető, de aki távolabbról szeretné támogatni a kezdeményezésünket, annak is van lehetősége. A jótékonysági kosár kiválasztásával egy gyermekotthon kapja a teljes csomagot.
Imádjuk a közösségi kert koncepcióját! Ennek ellenére, ha idén nem sikerül a megfelelő összegű támogatást megkapnunk, nem adjuk fel. A befolyt összeget természetesen visszaadjuk a támogatóinknak és tovább dolgozunk az ötletünkön és jövőre újrakezdjük.
A projekt hatása
Hiszünk abban, hogy egy olyan közösség fog létrejönni, ami csupa egészség iránt elkötelezett emberből áll, akiket az is érdekel, hogy hogyan kerül a megkapott zöldség és gyümölcs az asztalra.
Úgy gondoljuk, hogy hozzájárulunk a megrendelőink életminőségének javuláshoz azzal, ha tápanyagban gazdag és finom zöldségeket és gyümölcsöket termelünk. Hosszú távon szeretnénk felhívni a figyelmet arra, hogy mennyivel jobb hazai, ellenőrzött helyről érkező ételt fogyasztani. Egyre világosabban látszik, hogy akkor tesszük a legjobbat magunknak és a bolygónak is, amin élünk, ha minél kevesebb feldolgozott élelmiszert és húst fogyasztunk, és növényi táplálékkal helyettesítjük egy részét. A tömeges termelés és a vegyszerek káros hatásától mentesen, a lehető legtermészetesebb módon gondoskodhatunk így magunkról és családunkról is.
A támogatóink segítségével szeretnénk olyanoknak is segíteni, akiknek igazán szükségük van rá. Minden kiszállított csomag után egy adag zöldséget és gyümölcsöt eljuttatunk a Zirzen Janka Gyermekotthon lakói részére. Azért választottuk őket, mert az intézmény korlátozott lehetőségei mellett nagyon nehéz megoldani, hogy megfelelően táplálják az ott lakó gyerekeket. Naponta 750 Ft áll rendelkezésükre, amiből 1 gyermek napi háromszori étkezését kell biztosítani. Ebből és a hátterükből kifolyólag nagyon sok gyermek nem is ismer egy-egy zöldséget vagy gyümölcsöt.
Őszintén hisszük, hogy együtt, közösen ezekkel a kis lépésekkel is segíthetünk, hogy a gyermekek mindennapjai egy picivel jobbak legyenek.
Kihívások
Egyértelmű, hogy a kertészet sikeressége több tényezőtől is függ. Az időjárás, a kártevők és betegségek könnyen évek munkáját tehetik tönkre.
A családunk azonban a hosszú évek tapasztalatát felhasználva már sok mindent látott, felkészültünk. Bízunk benne, hogy szakértelmünk elég lesz ahhoz, hogy sikerrel járjunk.
Egyéb lehetőségek, amivel segíthetsz
Ha nem tudod támogatni a projektünket kosárvásárlással, akkor is sokat tehetsz értünk! Oszd meg barátaiddal az ötletünket, segíts, hogy elérjenek minket!
Weboldalunk: https://www.myfarmharta.com/
Facebook oldalunk: https://www.facebook.com/MyFarm-Harta-998445700363910/?ref=br_rs
[ENGLISH]: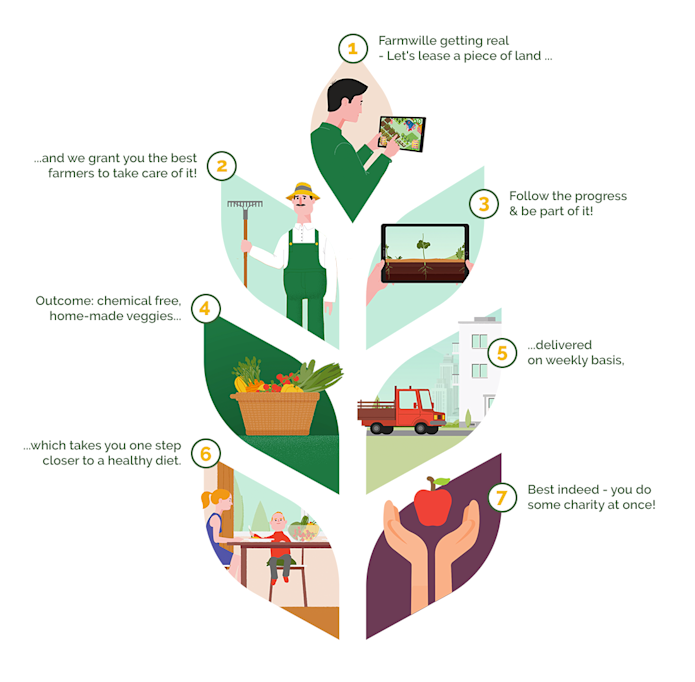 Short summary
In the 21st Century more and more people aim to eat consciously and have healthy, chemical-free food. However, living in a big city makes that hard for most of the people.
Consuming more vegetables and fruits and less meat is also the key to help saving our planet.
Our solution is the opportunity to rent a small field from us, where we grow the healthy and delicious veggies and fruits and deliver it to the owner's kitchen. The harvest will be distributed every week between the "owners" by the rate of their ownership and delivered to them directly.
Behind the project there is a couple of enthusiastic young people and a family that works in agriculture and horticulture for more than 30 years. They take care of the garden from the very beginning, from the seeding to the harvesting.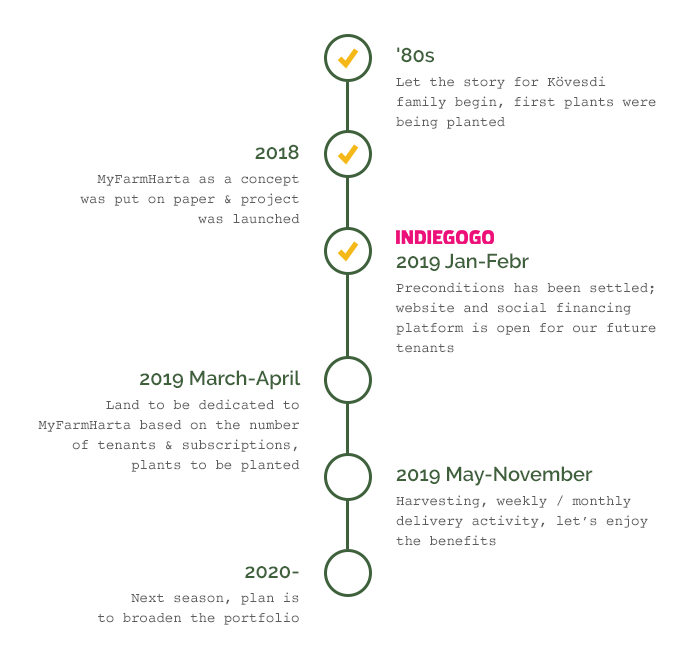 What We Need & What You Get
To start the project we need 18 000 EUR investment, this is the cost of establishing a 500 m2 field with fence, irrigation system, security system, 360° camera and plant everything, raise them and at the end, deliver them.
The easiest way to understand our idea is to imagine the Farmville game in real life. The whole raising process can be followed online thru the 360° cameras and we will create a closed Facebook group. Our goal is to build a community, to share the news and even have votings about certain decisions, for example the species of the planted vegetables and fruits.
We love the idea of community funding! However, if we do not succeed with the funding this year, we will not give up. We will give back the money that came in, work harder on our idea and try again next year.
In the first year the home delivery will only be available in Budapest, Hungary.  But you can fund the project from abroad as well! In this case, your package will be sent to children's homes.
The Impact
We believe that we can create a group of people who are committed to healthy eating and want to be a part of the whole raising process.
We think that we can improve the quality of people's life by growing nutritious veggies and fruits. In the long run, we hope to raise awareness about the benefits of home-grown goods. It is getting clear that both for our body and the planet we live on the best choice is to replace most of the processed food and meat with plants. Without the disadvantages of chemicals and mass production you can nurture your body in the most natural way.
With the help of our funders we also want to help those who need it. After every package we send a portion of veggies and fruits to the children in the Zirzen Janka children's home. The opportunities of the institute are limited, they have less than 3$ per day to feed one child. Many of them do not even know the different types of vegetables and fruits.
We really believe that with these small contributions we, together with our funders can help these children and make their lives a little bit better.
Risks & Challenges
The success of the production depends on many factors. The weather, pest management and diseases can ruin years of hard work if we are not careful enough.
But our family has been working in horticulture for decades, so we really have seen it all, we are prepared. We believe in our competence that it'll be enough to achieve our goal.
Other Ways You Can Help
If you can not help our idea with funding, please do share the story of MyFarmHarta on every platform you can and help other people reach us.
Our website: https://www.myfarmharta.com/
Our Facebook page: https://www.facebook.com/MyFarm-Harta-998445700363910/?ref=br_rs