NASA Inspired Kitchen Knives by Habitat Housewares | NASA & Caltech's patented metal alloy reinvents kitchen knives as we know it.

Habitat 2.0: After the successful launch of our Habitat Chef Knife last year, we are Introducing our new Santoku and Paring Knives
Blade edge is extra-sharp and stays sharp 5 times longer than other knives
Edge is made with patented alloy, developed by Caltech and tested by NASA
Alloy is twice as strong as titanium
We've licensed this patented alloy to use on the Habitat Kitchen Knives
Our patent-pending process bonds the alloy to a stainless steel knife body
Each knife priced under $100, yet better than most professional knives costing hundreds of dollars
Professional chef tested and recommended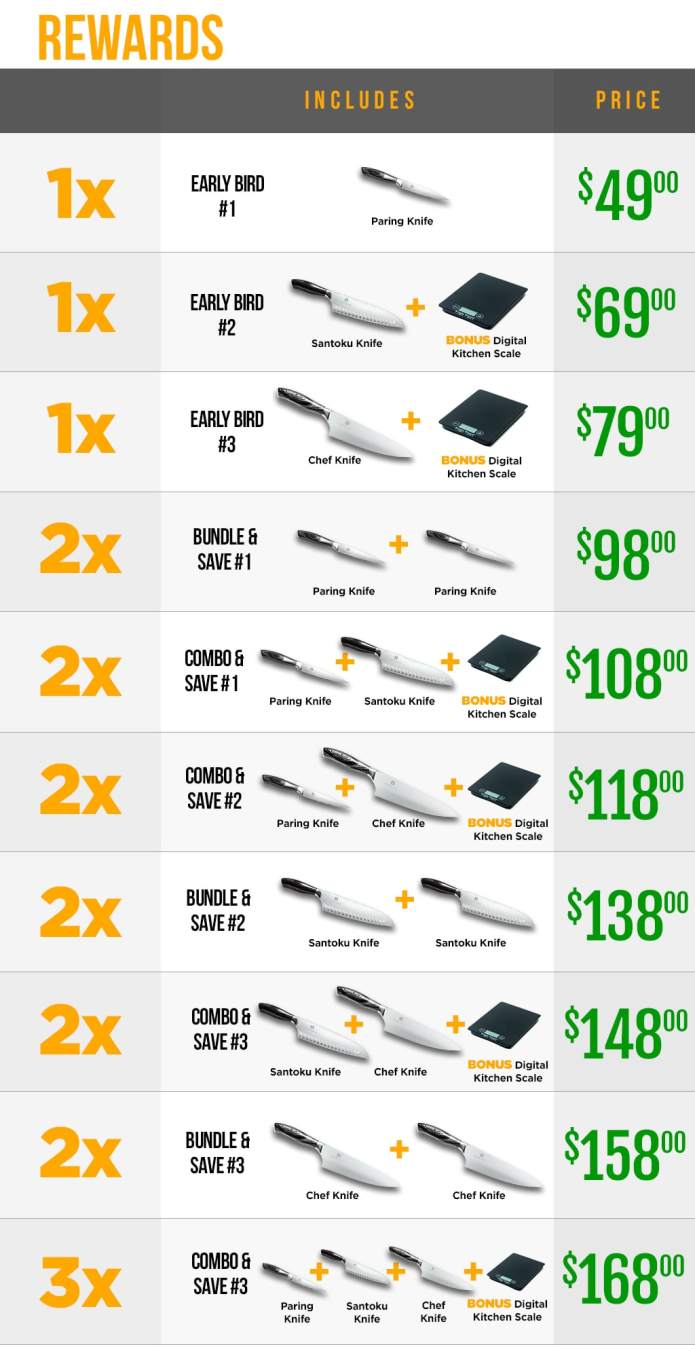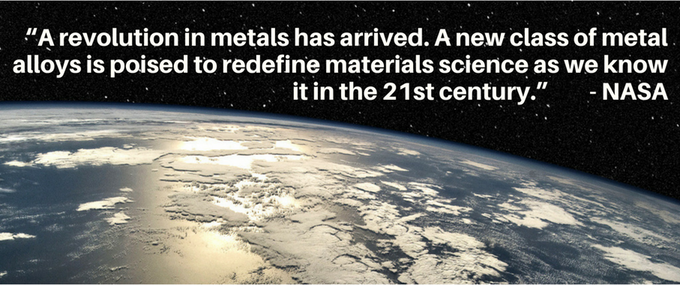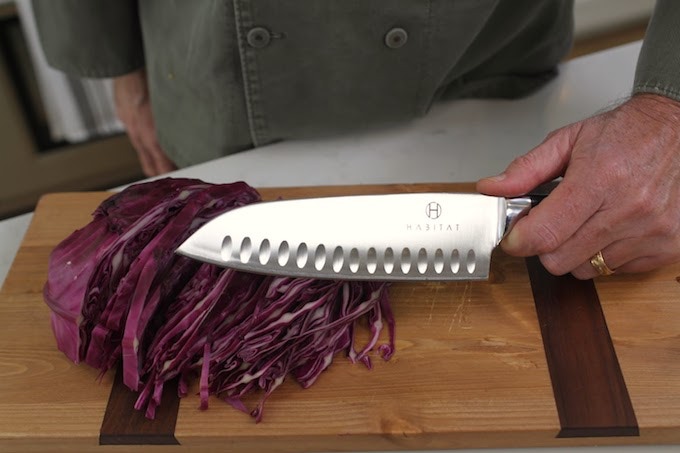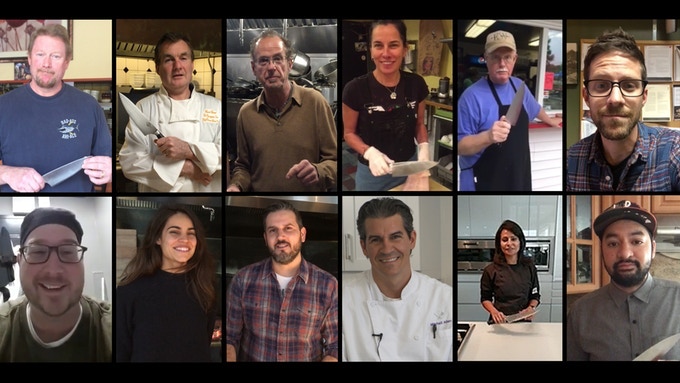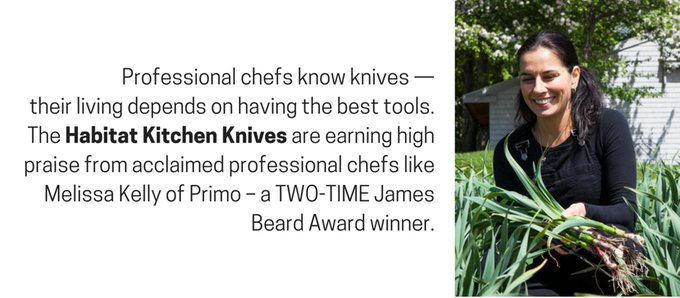 Last year my team and I ran a very successful crowdfunding campaign for the Habitat Chef Knife. The response was overwhelming! Home cooks and professional chefs alike just love the knife's sharpness and durability, and positive reviews poured in. But we had many people asking if we would be introducing other knives as well, so this year we are launching our new Santoku and Paring Knives!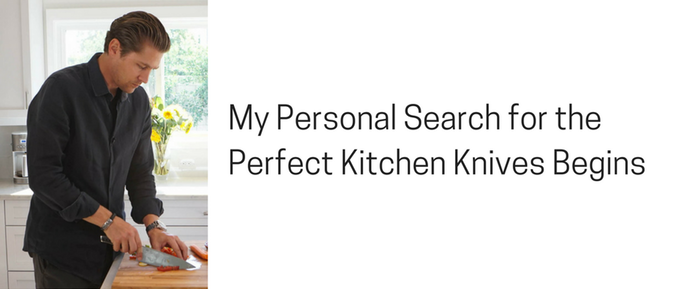 Knife manufacturers have tried to address the same problems for centuries. The steel may be too soft, the knives get dull quickly, they need lots of maintenance, and they may react with food. Ceramic knives have problems, too. They can be brittle and break easily.
I felt certain there must be a way to move knife-making into the 21st century. My search led me to a remarkable metal alloy initially developed by Caltech and tested by NASA – and later patented. I acquired the rights to use this metal alloy and set about determining how best to use it in making a game-changing chef knife that would reinvent the industry and become the new standard.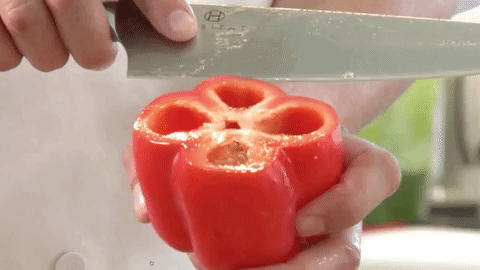 The hardness of a metal alloy is measured utilizing the Rockwell (HRC) testing standard. VERY expensive knives, costing hundreds of dollars, are made from higher carbon steel that is brittle and can rust. High carbon steel hardness can reach the low 60s on the Rockwell scale. (And it is interesting to note that two other popular and successful crowdfunded knives only have Rockwell hardness in the higher 50s.) The Habitat Kitchen Knives blow away the competition with a 70+ reading on the Rockwell scale!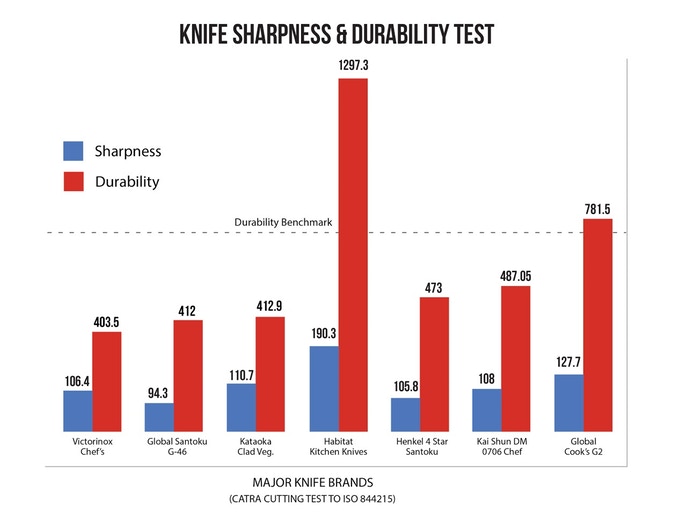 Most importantly, the Habitat Kitchen Knives surpass anything else on the market. They hold their edge better and longer due to the hardness of the metal alloy. And they aren't brittle because the blade is steel but the edge is the patented metal alloy. The combination of hardness, high elasticity, and corrosion resistance makes the metal alloy edge wear resistant.
This superior alloy also allows us to sustain an aggressive angle for our edge of just 12.5 degrees on each side for a total of 25 degrees. (Most knives are manufactured with a combined angle of 30 degrees.) What does this mean? The sharper the angle, the easier and more precise the cut.
The Habitat Kitchen Knives are ultra-sharp and last 5 times longer than ordinary knives.


The patented metal alloy edge possesses a natural nano-serration at the molecular level. This serration is like microscopic, ultra-hard "teeth" that are what make the effortless and breathtaking cutting power of the Habitat Kitchen Knives possible.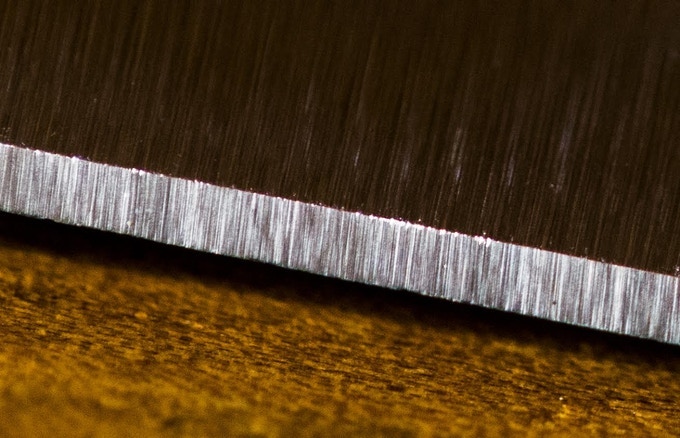 Another benefit of this nano-serration is the self-sharpening aspect of the microscopic teeth. As the knife is used, these tiny teeth are exposed and essentially sharpen themselves – and this is part of what allows the Habitat Kitchen Knives to retain their ultimate edge far longer than other knives.

It wasn't enough to just acquire the use of the NASA-tested metal alloy. We needed to develop a process for bonding this metal alloy to the high-quality stainless steel knife blanks that would comprise the Habitat Kitchen Knives. This required the time and effort to perfect the process shown in this video clip.
The patent-pending edge bonding process is what sets the
Habitat Kitchen Knives
apart as the new standard of excellence. We believe this patented process will revolutionize the knife-making industry.

While my Habitat Chef Knife reinvented the category with its revolutionary edge, there are still proven knife features that matter – and I made certain they are included in the design of all the Habitat Kitchen Knives.
Here are a few:
The tip is thin and sharp for precise detail cutting.
Perfect weight so the knives feels like a balanced extension of your hand.
A gorgeous, distinctive handle that is ergonomically designed and made from beautiful pakka wood.

The Habitat Chef Knife is hands down the most important knife in your collection. At 14.1 inches in total length and 8 inches in blade length, the Habitat Chef Knife has a wider blade than most and is also a bit longer. 
The reason why this is an advantage to the user is because the wider blade allows for more cutting area, making the knife more efficient and easier to use. The longer blade allows for more precise cuts, and it's safer compared to smaller chef knives.
Another unique attribute of the Habitat Chef Knife is that for its size it is extremely lightweight and easy to maneuver. Unlike with heavier chef knives, you will be able to use the Habitat Chef Knife for long periods of time without feeling fatigue or cramping in your hand.

The Habitat Santoku Knife measures 11.7 inches in total length and 7 inches in blade length. I consider this knife to be the workhorse of the group. Combining the features of a cleaver and a chef's knife, this multipurpose knife minces, dices and slices. I love my chef knife, but I find myself using my Santoku knife just as much around the kitchen simply because it's so fun to cut with. Having said that, we designed our Santoku knife to be as stylish as it is practical.
We have included a Granton edge — those are the dimples you see on the sides of the blade that keep things from sticking to the knife. This helps when cutting items that retain water, such as tomatoes. Our Santoku knife is lightweight and extremely durable, and, along with our chef and paring knives, it really is a must have.

The Habitat Paring Knife is just the right size. At 6.33 inches in total length and 3.27 inches in blade length, this indispensable knife is basically a smaller version of the chef knife. It's best utilized for slicing and mincing items that are too small for the chef knife. The paring knife is perfect for cuts that require precision and attention to detail, such as peeling, trimming and slicing small fruits and vegetables such as strawberries, shallots and garlic, to name a few.
The Habitat Paring Knife takes all of our key design attributes into consideration and focuses on delivering the shape and size needed to make every type of cut.
This video clip shares some of our design process with you:
Other knife-makers talk endlessly about the minor differences between their knives and others. They show pictures and diagrams and go on and on. Yes, these features matter, and I've paid close attention to them, too, as you have seen.
But these others don't have anything more important and different to talk about. I do!
The sharpness and durability of my superior knife edge will become the GOLD STANDARD for knives.
See for Yourself! 
Below is a chart that shows FIVE important attributes desirable in a quality kitchen knife – sharpness, durability, food safety, food taste, and being corrosion free. See for yourself how the Habitat Kitchen Knives compare to the competition. We aren't afraid to name names.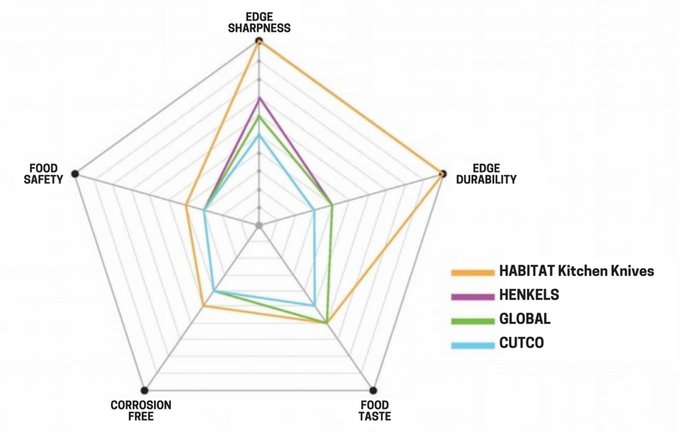 Another important comparison is price – and we all know price is driven by value. Yes, there are knives that cost less, and there are knives that cost more. In fact, there are kitchen knives costing hundreds of dollars more. But if their cutting edge is not harder (and NONE have a harder edge), then they can't match the performance of our knife. That means the value of the Habitat Kitchen Knives simply can't be beat!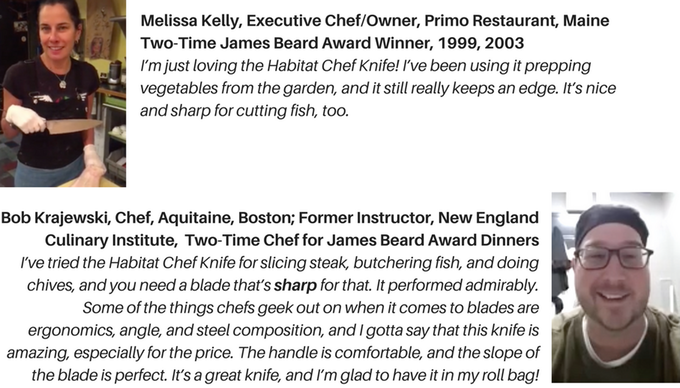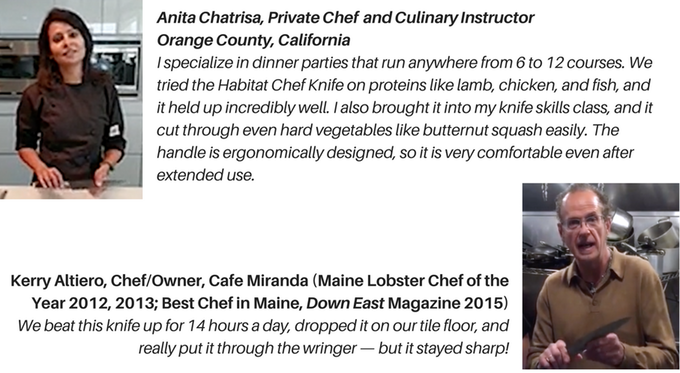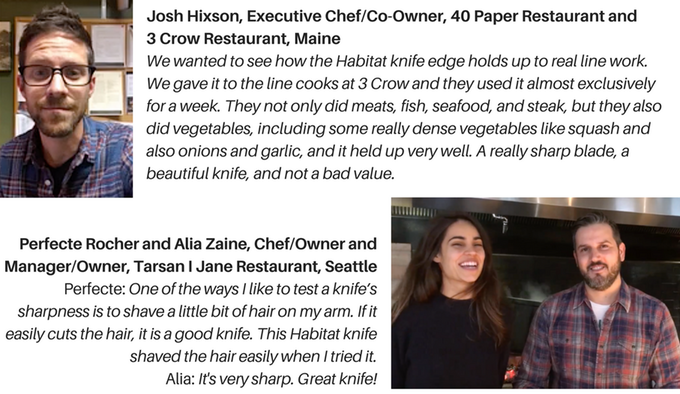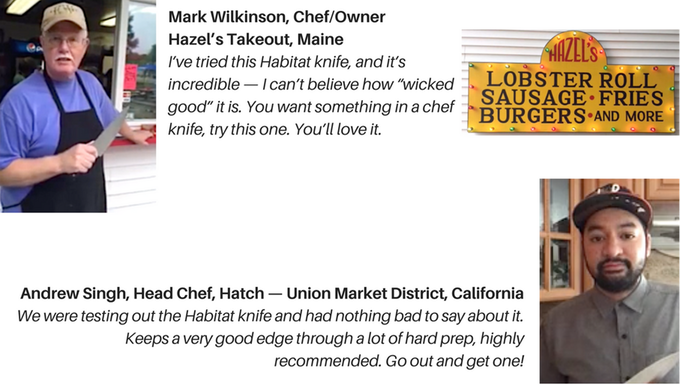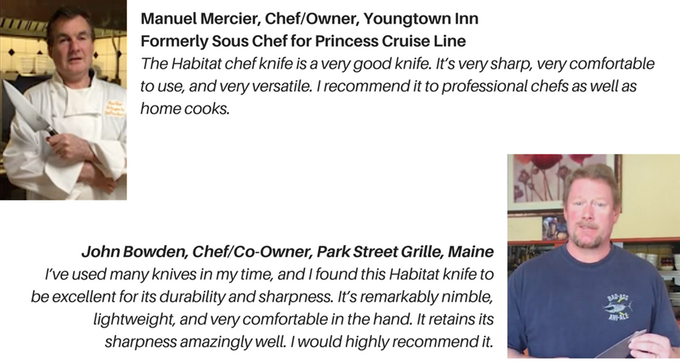 And it's not just professional chefs who are raving about our Habitat Kitchen Knives, either. Home cooks love them as well! Many have never had the pleasure before of owning a professional-grade knife at a fraction of the cost, but now they can — and so can you!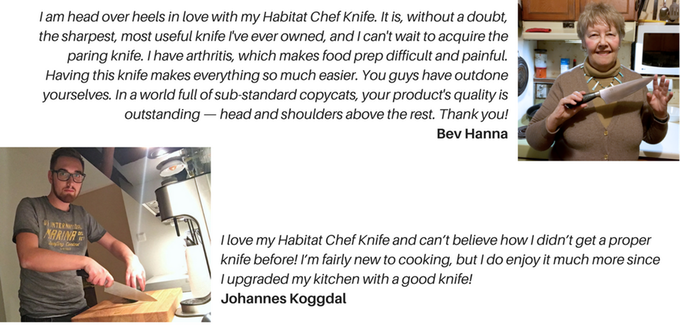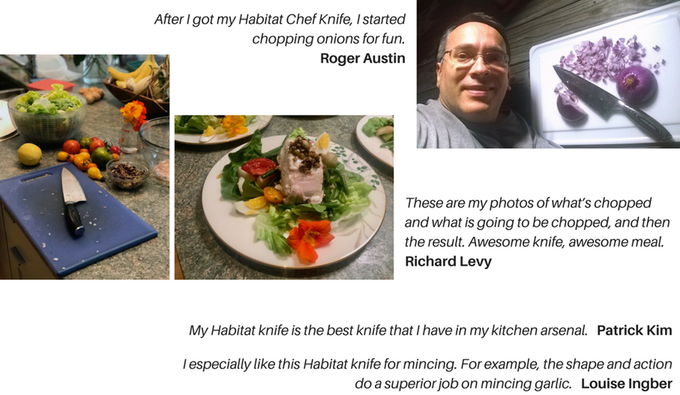 Frankly, I can talk about the great performance of the Habitat Kitchen Knives all day long. But my opinion will never be as persuasive as those of these professional chefs and home cooks. They have all rigorously tested our superior kitchen knives in their restaurants and home kitchens and have shared their honest and candid opinions.

There are more than a few "war stories" about Kickstarter projects that have failed to deliver their rewards in even close to a timely manner. I am not proud to admit it, but we did run into some challenges during our previous campaign. 
We had a terrible experience working with our fulfillment center. This caused some issues, as well as backers changing addresses at the last minute or not replying to the surveys and then sending emails asking us why they hadn't received their knives…..lol….live and learn. 
Now, having one successful campaign under our belts, we know exactly what to expect and are extremely prepared to deliver what we say when we say we will.  
Not only do I want to reward you for backing my project, but I also want to be certain you receive your reward when promised.
We are so confident that we're going to deliver your knives on time and as promised that if we don't, we'll refund 100% of your initial pledge. Such guarantees are rare in crowdfunding, but I am doing it to make your decision to pledge that much easier.
IMPORTANT NOTE: This guarantee applies only to the regular scheduled delivery of Habitat Kitchen Knives in April 2018, not to the Holiday Delivery specials.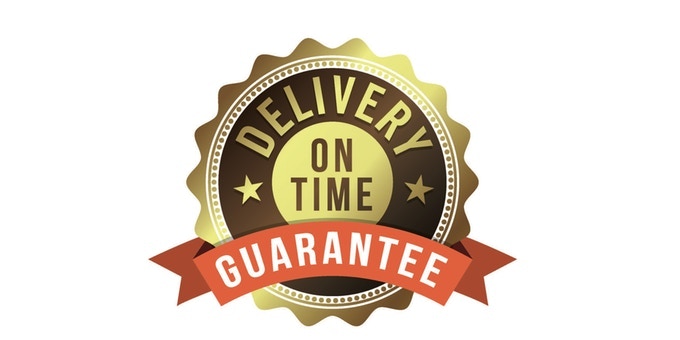 Be sure to check out our Earlybird reward tiers over to the right. You'll be able to get a special bonus gift — my Habitat Weight Wizard Digital Scale (more about this in a minute) — by pledging early. These early pledges help us to get the campaign off to a good start, and we are happy to reward you by giving you this delightful digital food scale with our compliments!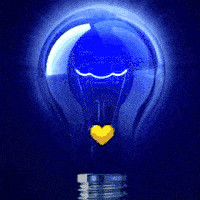 Our Blue Light Specials in our last campaign were so successful that by popular demand, we are bringing them back! You can pledge to receive one each of our three Habitat Kitchen Knives (Chef, Santoku, and Paring) and get the FREE Bonus of one Habitat Weight Wizard Digital Kitchen Scale.
The Weight Wizard Digital Kitchen Scale is one of my Habitat products and normally sells for $27 — but it is your BONUS with this reward, at no extra charge, for your support. Look for this reward to the right — called the Blue Light Special. Don't miss out — pledge now!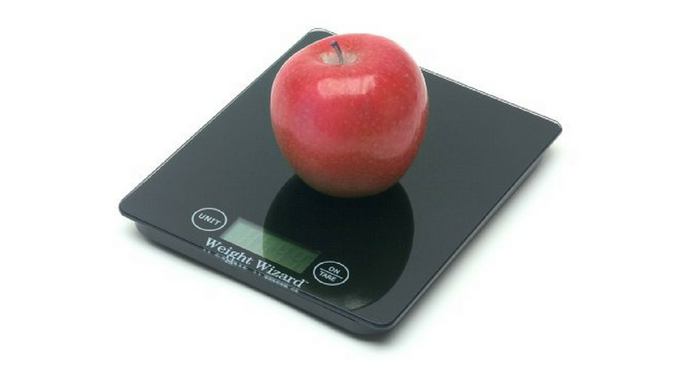 Starting a business and creating a new product is no easy task. And it requires capital! Thanks to the amazing support from this community, I've been able to go into production with our Habitat Chef Knife and bring it to market. Now it is time to raise money to take the next step and launch our Santoku and Paring Knives — so here we are on Kickstarter again.
The money we raise this time around will be used to continue to expand our product line, help fund additional custom tooling, purchase more equipment, stock more raw materials, and hire more skilled labor. Your support can help make this possible!
We're so excited to get these new knives into your hands and your kitchens. And with your support, I know we can do it!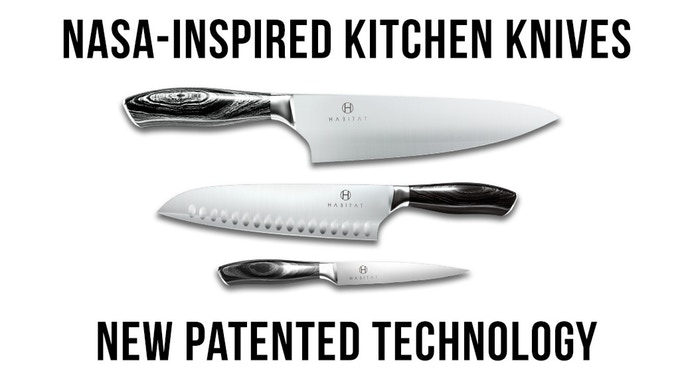 If you're a cooking enthusiast and you've read this far, it is almost certain you have some kind of cooking knives in your kitchen. Maybe they are depressingly ordinary — or maybe you thought you were getting something special but it didn't turn out that way. Or, maybe you spent a lot of money on what you have.
No matter what knives you have or how you got them, your knives are only variations on what has been available for over 200 years!
Now you will have the chance to be among the very first to have one or more kitchen knives that will be the game-changers that redefine the category because they reinvent the category!
Our use of the Caltech developed and NASA tested metal alloy (subsequently patented) — plus our patent-pending process of bonding this alloy to stainless steel — is what makes all this possible.
You can have a kitchen knife that is ultra-sharp (CATRA proven) and lasts 5 times longer. This is what is truly different about our Habitat Kitchen Knives – and is what makes them better than Damascus steel knives or anything else you have owned or used. After all, getting something new and better is what crowdfunding is all about!

Compare the proven metal hardness and sharpness of my Habitat Kitchen Knives – and their superior knife edge angle – to all other kitchen knives. You will see why I call these the new gold standard of kitchen knives.
Look through the rewards to the right of this page and pick the one that's right for you. Help support us here on Kickstarter and be the first among your cooking enthusiast and foodie friends to have these game-changing Habitat Kitchen Knives.
Pledge now, and get THE best kitchen knives you will ever own!