NeerSol Eco-Cleaning Tabs- Just Add Water | Revolutionary plastic-free cleaning. Tiny tab to clean your home for a month!!
Problems
Do any of these sound like a problem to you?
⧫Very few convenient ways available to lower your individual carbon footprint?
⧫ Frequent exposure to toxic chemicals and synthetic fragrances from surface cleaners?
⧫ Single-use plastic waste from your home ending up in a landfill or ocean?
⧫ Eco-cleaners not affordable?
Our Solution

All-purpose cleaning | Bathroom cleaning | Glass cleaning refills that work!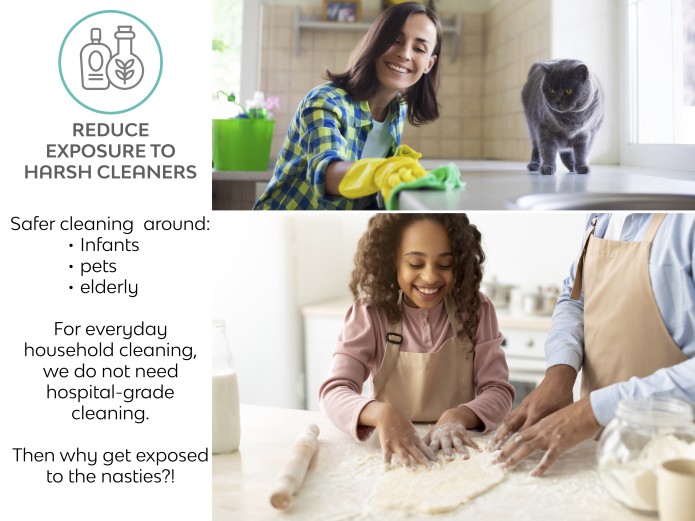 Turn your tap water into a cleaning spray.
Just add warm water and REUSE your spray bottle. 
Each tab makes 350 ml of solution and dissolves in lukewarm water (34-38°C).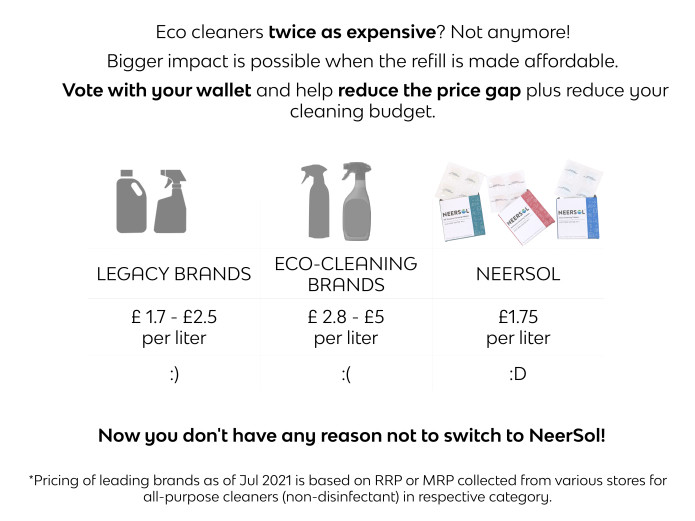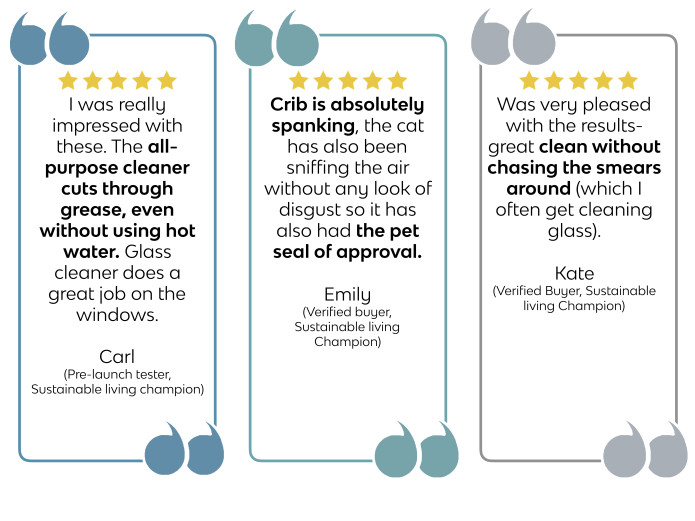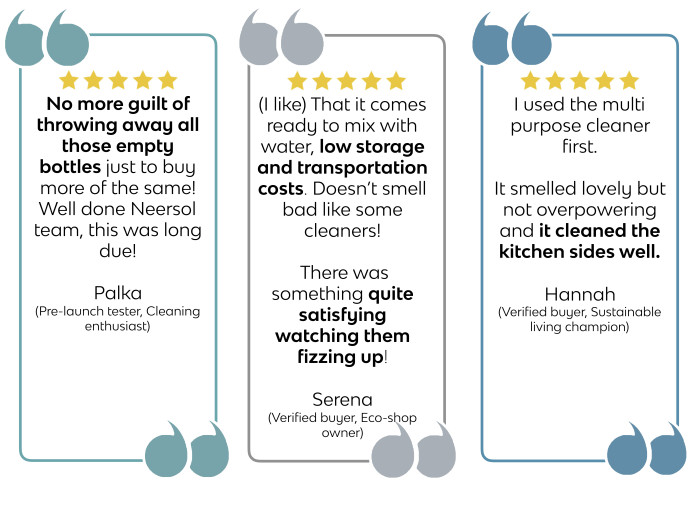 Refills
Our cleaning refills contain 4 components- surfactant, chelating agent, preservative, fragrance. What is missing? A SOLVENT (a.k.a. WATER). Use your tap water, simple! For a detailed ingredient list, please refer FAQ.

Add-on: Mist Spray Bottles
Cleaning made quick and easy! NO GLASS FOR THE BUTTERFINGERS, NO DENTING on the metal. Just a forever stylish reusable bottle with hi-tech spray technology. Fine mist spray for even coverage on the surface. 360° spray for the underside of your glass table.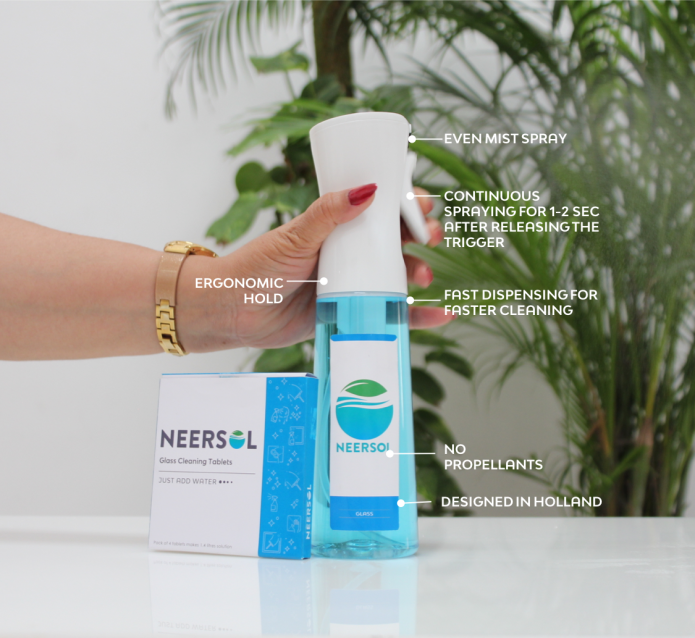 Shipping will be charged extra. We are doing our best to cover duties and taxes for all countries we ship to, however, there might be some regions where this is not possible. The regions we are covering and will fulfill regionally as of now are UK, EU, Hong Kong, India, Maldives, Sri Lanka, Nepal, and Bhutan . 
Shipping fees will be collected after the campaign ends, on the pledge management platform we'll be using. We'll keep you posted through our campaign updates.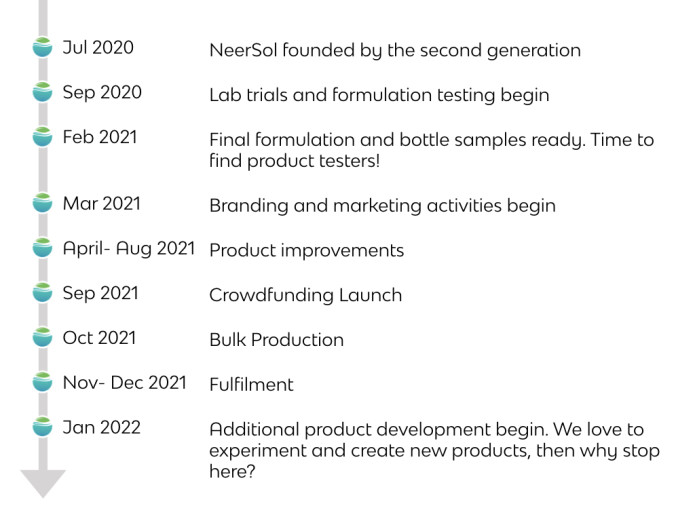 New to Indiegogo? Follow these steps to get your eco refills and kits.
Create an Indiegogo account or log in
Navigate to the NeerSol page
Click the "Back this project" option
Select your reward
Complete your payment
Your kit will be delivered in the month indicated when you select your reward.

Our project is launched by NeerSol Limited, a UK-based company committed to bringing sustainable products in new forms and packaging at a great value.
NeerSol was founded by Anu (Mom, Entrepreneur, Architect, Eco-wannabe) during the COVID-19 lockdown as a solution to the problem of not being able to find a truly sustainable and affordable cleaning product in the market. This project has been a labour of love, born out of the founder's obsession for eco-cleaning, failing at DIY cleaning, and trying to keep her home safe for her toddler, and the environment clean for the future.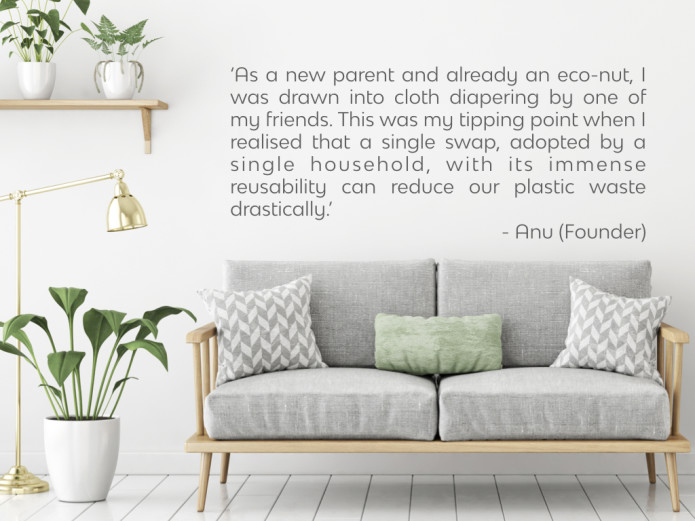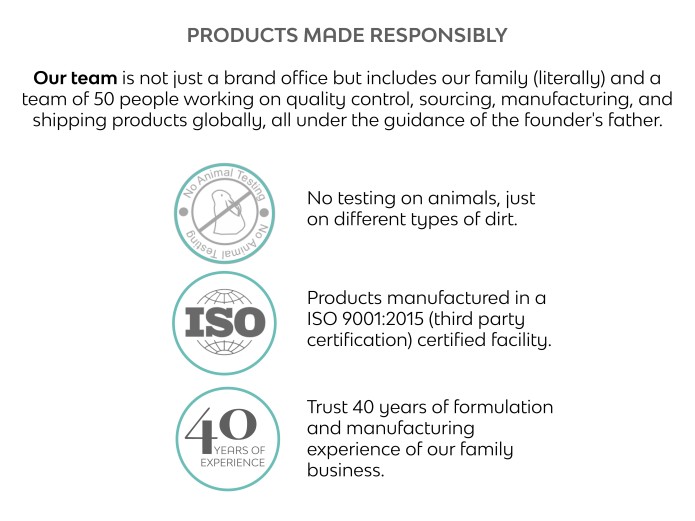 Advisors, mentors, actors, early backers, and constant companions: Thanks to our wonderful support network who have helped us bring this project to life– Aayush, Akanksha, Meetu, Jaime, Kelly, Ishani, Sneha, Apoorv, Mukta, Peter, Debbie, Nisha, Shaurya, and the founder's 2.5-year-old son who is the motivation behind this project.
Professional Partners: LAUNCHBOOM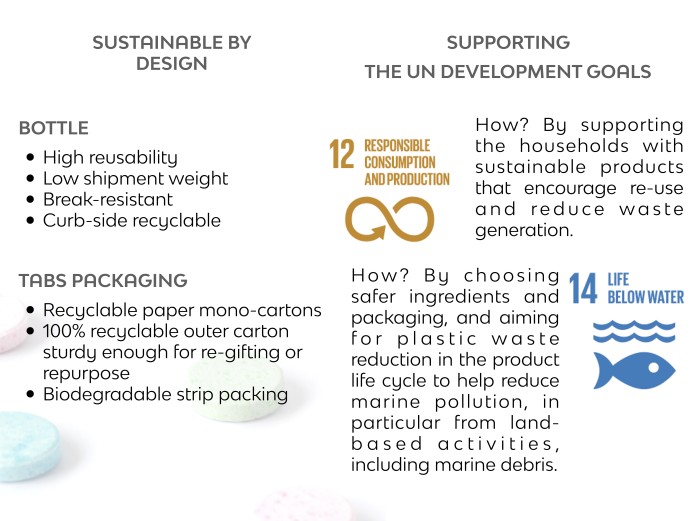 Vote with your wallet for products that promise quality without the green premium charged by leading brands. This way we remove a key barrier for a vast majority of households to have a bigger impact on plastic-waste reduction. This will only work if you help spread the word. Share it with everyone you know!





We have worked extremely hard to ready this product for Indiegogo, but here are what we see as the risks and our plan to assess them:
Fulfillment-  Sometimes things get a bit crazy and stuff happens that can't be planned for: a supplier misses a deadline, customs clearance, or a shipment gets lost. Those things could cause a delay. We are using an experienced logistics team to get our products to you. We'll keep open and honest communication with you through our process so you know where your product is and when it's going to get to you.
New entrants in the market- Since we remain the manufacturers and not just the traders or a brand office, we have a unique strength to keep on innovating with our in-house production and widen our portfolio.
No matter what, we stay excited and keep improving!!