NEOZOON – This Lamp Sucks! | One Lamp – Endless Possibilities! Attachable in Seconds almost Anywhere thanks to its Suction Cup!

Meet Neozoon®
Thanks to its big suction cup, Neozoon can be attached to almost any surface within a matter of seconds! It's a multi purpose lamp that offers you unlimited potential & freedom!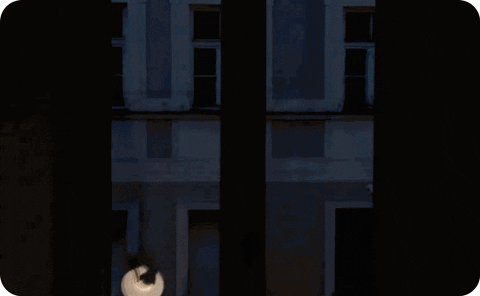 Neozoon is a suction cup lamp! Attachable to almost any surface in seconds and removable totally residue free! One lamp with countless possibilities! 
What makes Neozoon unique:
 Innovative and Versatile – Neozoon boldly rethinks contemporary lighting and gives you unlimited freedom! Create bright moments, wherever you are!
 Playful Atmosphere – Neozoon turns your home into a more engaging, interactive and fun place to live.
 Robust and Portable – Neozoon is super lightweight and extremely robust, perfect for adventures and everyday life!
 Superior Illumination – Neozoon's LEDs are steplessly dimmable. Even on the brightest level, Neozoon's rechargeable battery lasts 6-12hrs (depending on dimming level)! 
 Attachable almost anywhere – No drills, no glue! Neozoon can be attached to almost any surface, will stay there for weeks and can be removed without leaving any residue. Perfect for places where you can't have conventional lighting.
 Premium Design – Neozoon combines a timeless, minimalistic aesthetic with premium materials such as aerospace grade aluminum. Guaranteed to be an eye-catcher, wherever you are!
 Sustainably Manufactured – Neozoon is produced locally in Germany, it's almost 100% out of recyclable materials.
Supported by:

Seen In:

You would like to write about us, too? Then have a look at our press kit right here.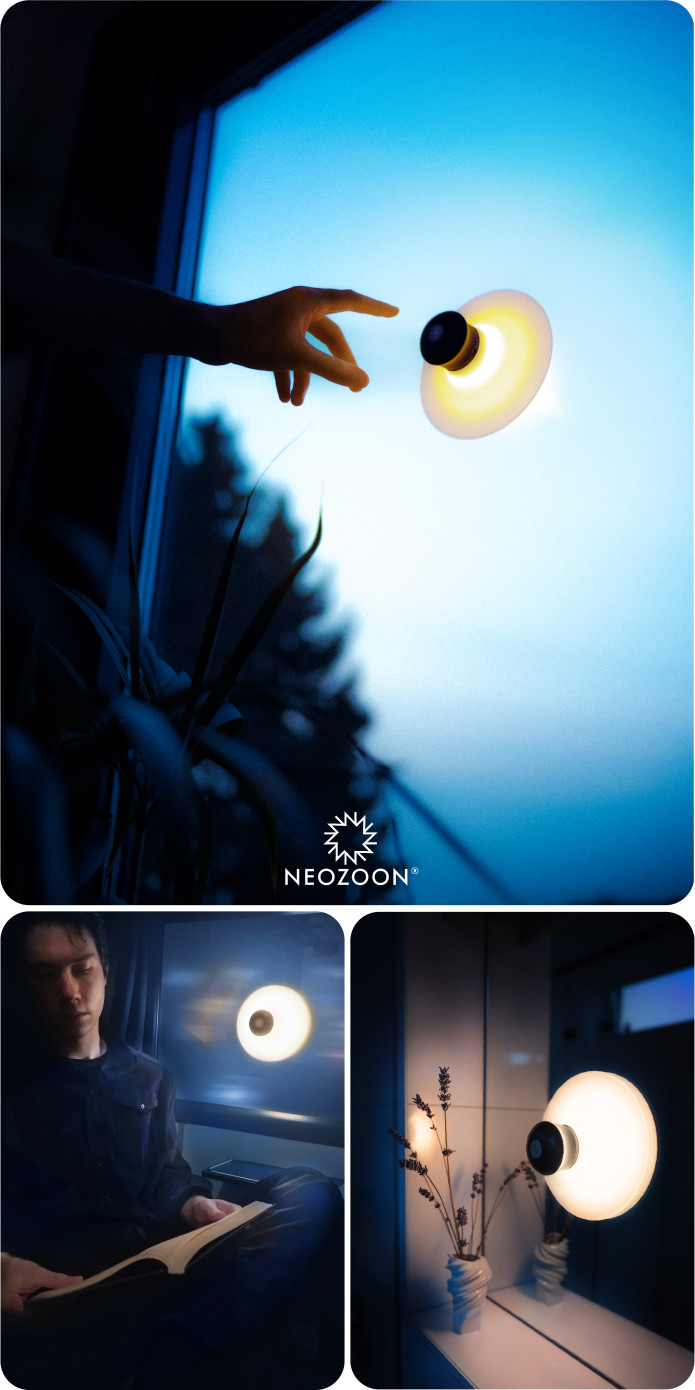 NEOZOON® – One Lamp, endless possibilities! Perfect for Adventure & Everyday Life!
One Lamp, Endless Possibilities
Life is full of unexpected moments. 
Whether you're throwing a spontaneous backyard party or reading a bedtime story to your kids, Neozoon is there to create the perfect atmosphere.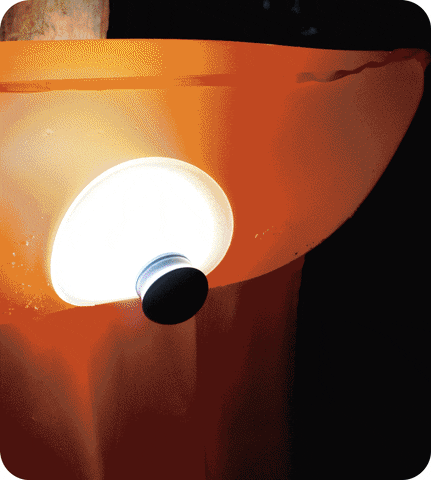 Discover your Living Space
Connect with your surroundings, get creative and discover endless possibilities within your living space. 
It's up to you! 
We  have been illuminating our homes with Neozoon prototypes  for almost a year now, and we are still discovering new and fun places to use it every day.
We are looking forward to see what you will do with your Neozoon 🙂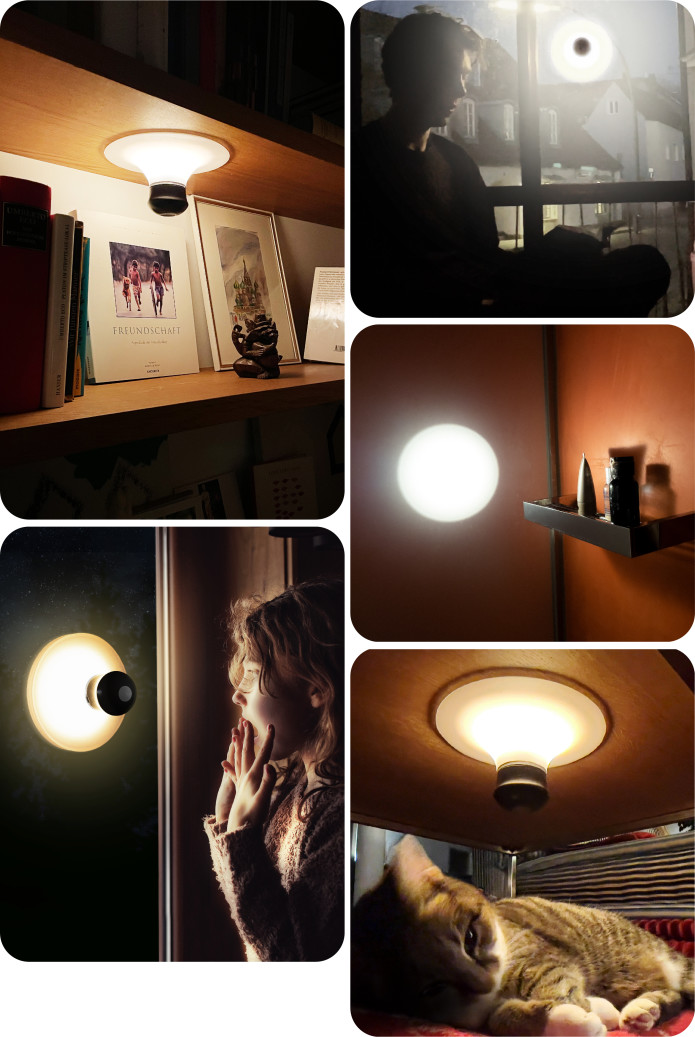 Perfect for Adventures
Neozoon is lightweight, robust and mobile, a perfect companion for your adventures! Take Neozoon with you on long train rides, let it illuminate your camper or light your way on an evening stroll.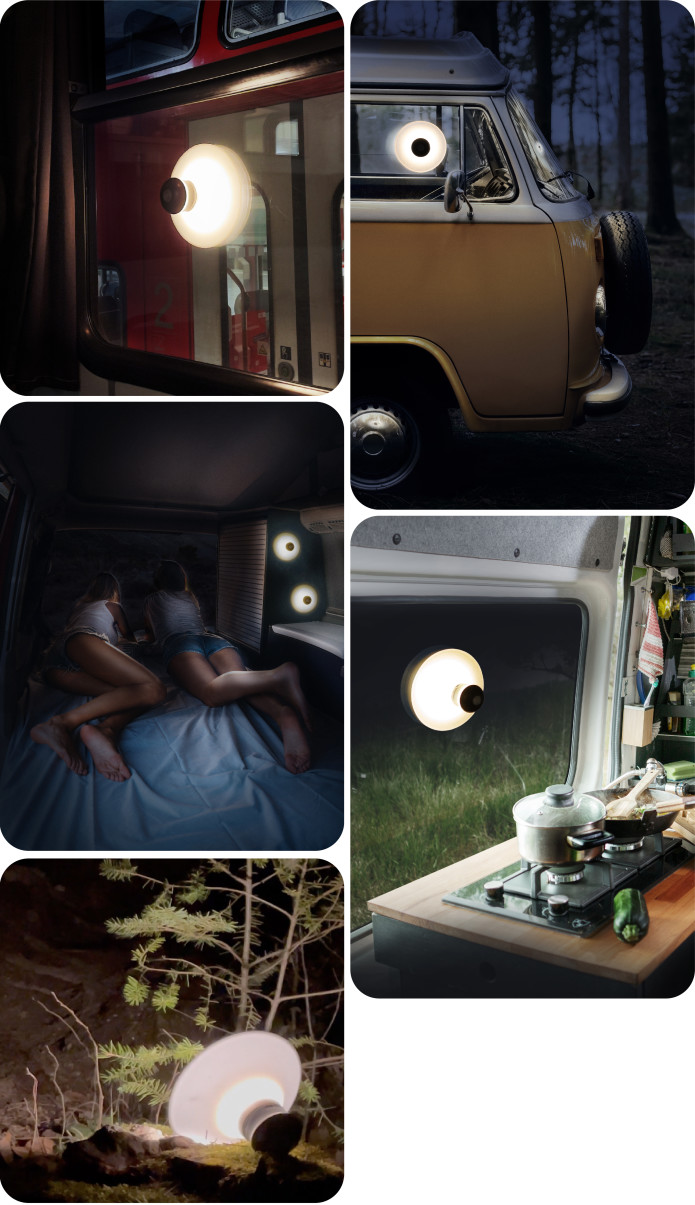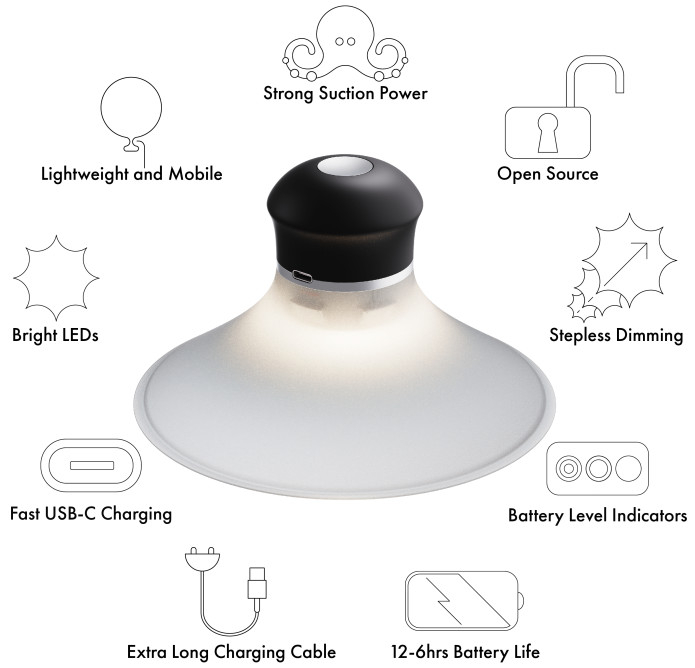 Mountable in Seconds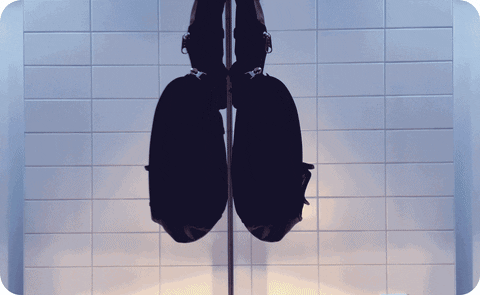 Neozoon can be mounted on almost any surface within seconds. No glueing, no drilling, no magnets! No air 😉
Holds on for Several Weeks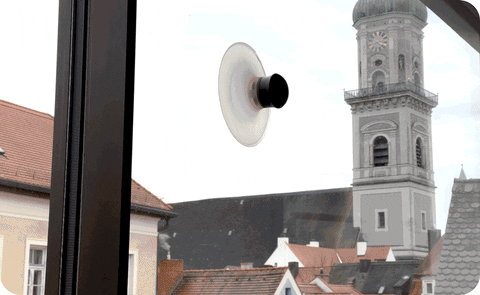 Size matters ;D Especially when you are talking suction cups. One fact that makes our suction cup so super strong is its sheer size! It basically creates a bigger surface for the outer air (which wants to get in) to press against.
Easy to Remove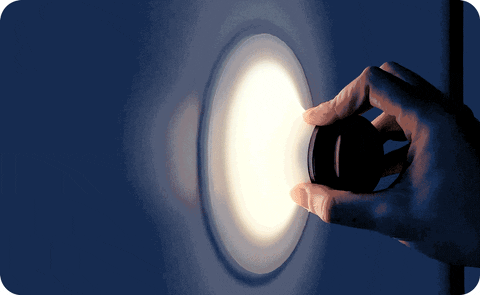 Neozoon special designed suction cup allows you to remove Neozoon fast and easy by simply lifting the rim a little bit. Neozoon is removed totally residue free and won't harm the surface it's attached to.
Steplessly Dimmable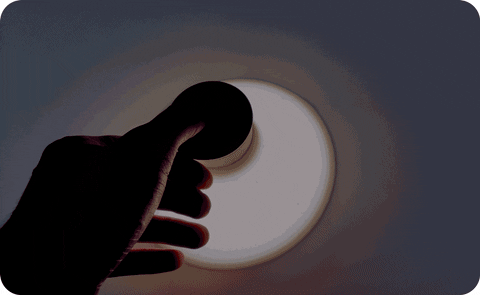 Just keep your finger placed on the On/Off button and Neozoon will continually grow brighter and dimmer. Remove your finger and Neozoon will stay at the current brightness level.
Super Bright LEDs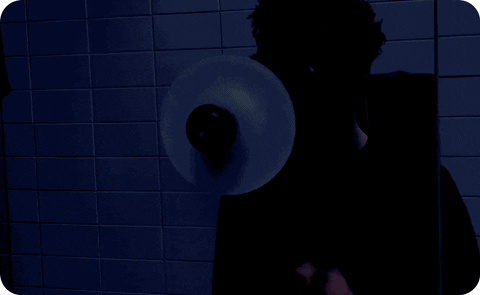 Neozoon brings light into the darkness. Its high power LED panel has a light output of about 180 lumen on the highest dimming level. The lights color is golden warm, approximately 2500K.
Long Lasting Battery + Fast Recharging
At least six hours of light at the highest dimming level! 10-12hrs if you dimm it down a little bit. Neozoon's rechargeable, build in LiPo battery has 2400mAh.
Lighting fast USB-C charging. It only takes 3h to fully charge Neozoon. You can even use Neozoon while charging it at the same time and with the included extra long charging cable you don't need to remove it, too. (to safe e-waste, we don't include a power adapter. One of your old phone chargers will do the job.)
Made in Germany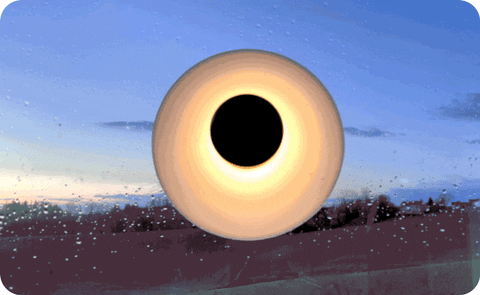 To guarantee high quality as well as socially and environmentally responsible manufacturing conditions we're producing locally in our home country.
Premium Materials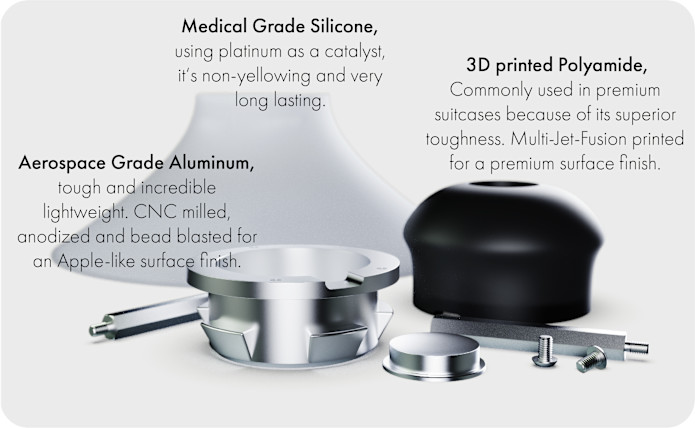 please note that in some pictures and sequences of the video the aluminium parts are silvery plastic. This is due to the fact that we don't have the money to have every one of our design steps CNC milled. We promise you that in the product you'll receive in the end every aluminum part will be aluminium!
Commitment to Sustainability
Manufacture locally in Germany
Designed for recyclability (Cradle-to-Cradle)
Use of only easily recyclable materials
Engineer for repairability (we'll offer spare parts and instructions)
Long lasting materials
No glue, paint or 2C materials
Eco-friendly, plastic free packaging 
Carbon neutral shipping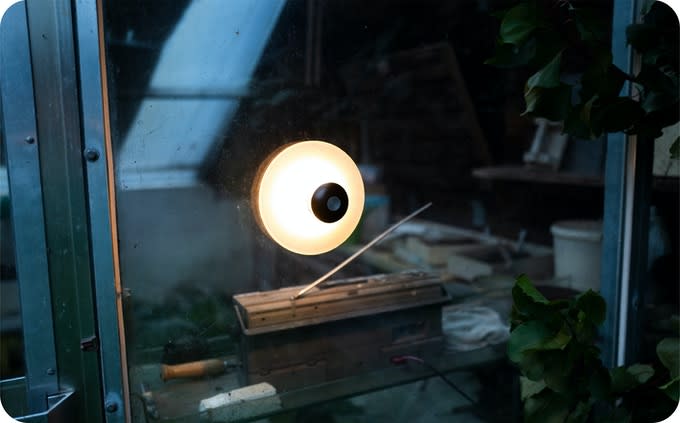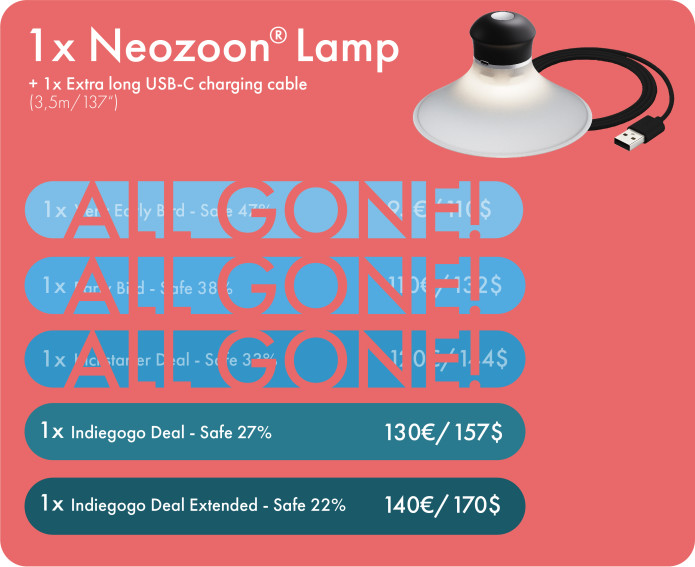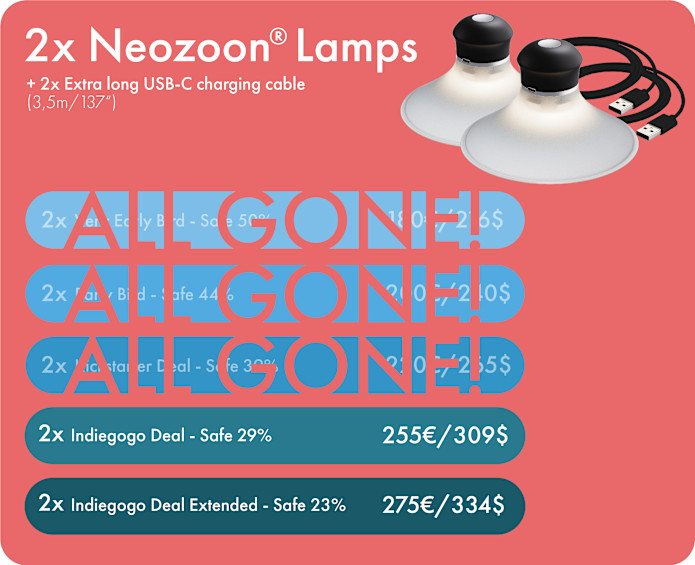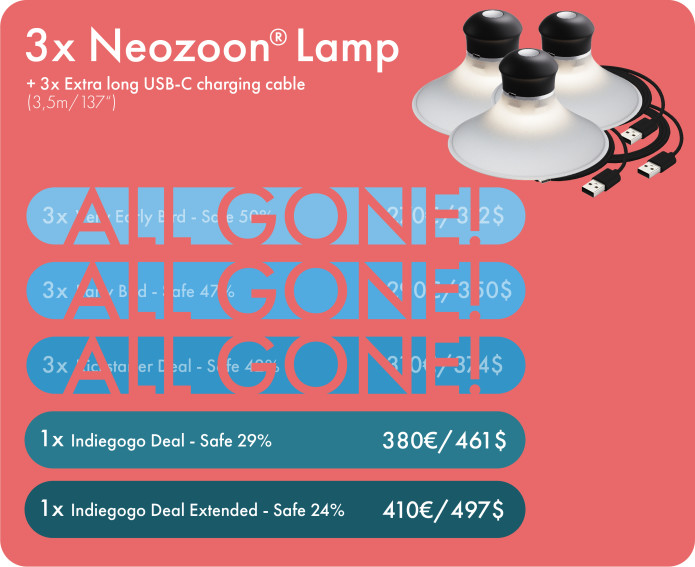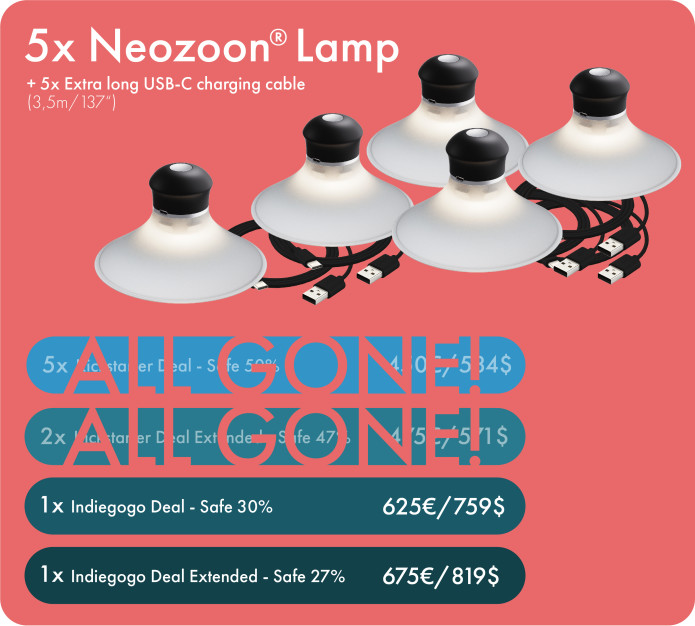 Please note that all non-euro currencies in this chart are just estimates due to daily changing exchange rates. You'll see the actual price after when clicking on a reward.
One Neozoon is cool, but two or more are awesome! 
Bigger packages not only offer a better deal, but also have considerably cheaper shipping rates⛵️. So it really pays off to team up with a friend!


Left: Cable Management Clip – Middle/Left: Light Travel Bag – Middle/Right: Power Adapter – Right: Cord Sling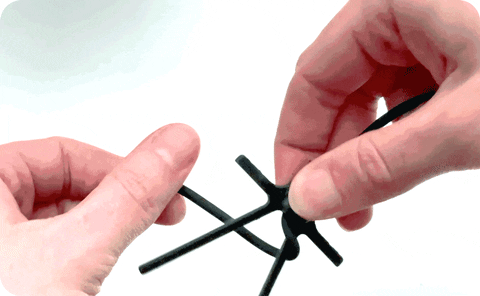 3D printed (MJF) polyamide. Just clip it onto any cable and wrap it around to your preferred length.
When backing for a Neozoon Lamp, you'll have the chance to grab an add-on for a very special price, too!
We offer you 2 different versions of each add-on (except the power adapter), depending on how fast you are + a bundle of all three add-ons.
Add-ons don't add to your shipping cost.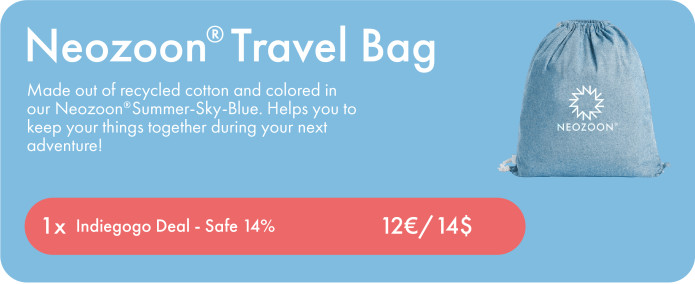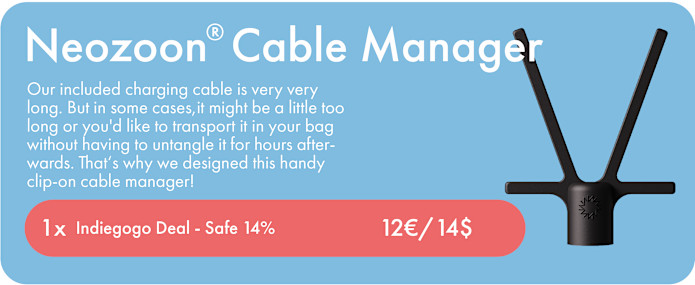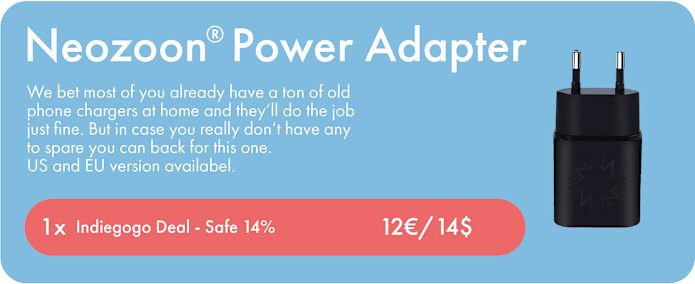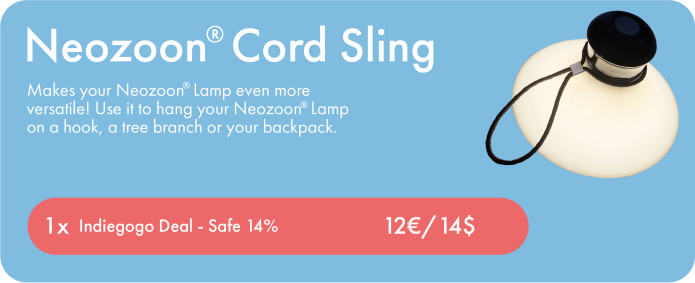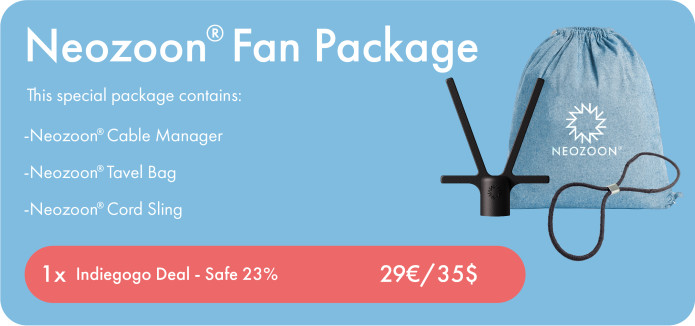 We are shipping carbon neutral! ⛵️
We'll start shipping in September and you should receive your Neozoon within the month or in early October. Depending on your location, shipping will take 2-10 working days from our warehouse in Germany to your doorstep. Please notice that international backers will be responsible for possible applicable tariffs, local taxes and customs fees.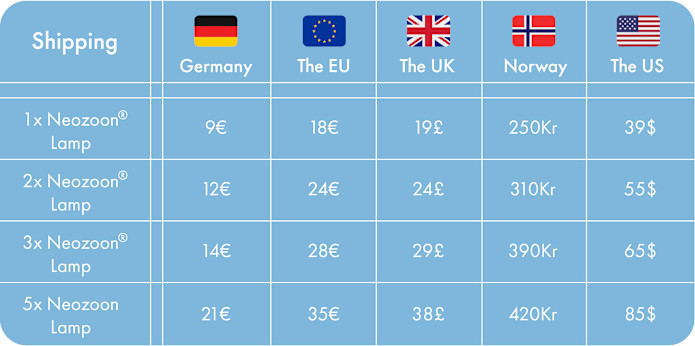 Please note that all non-Euro currencies in this chart are just estimates due to daily changing exchange rates. You'll see the actual shipping cost after choosing a reward.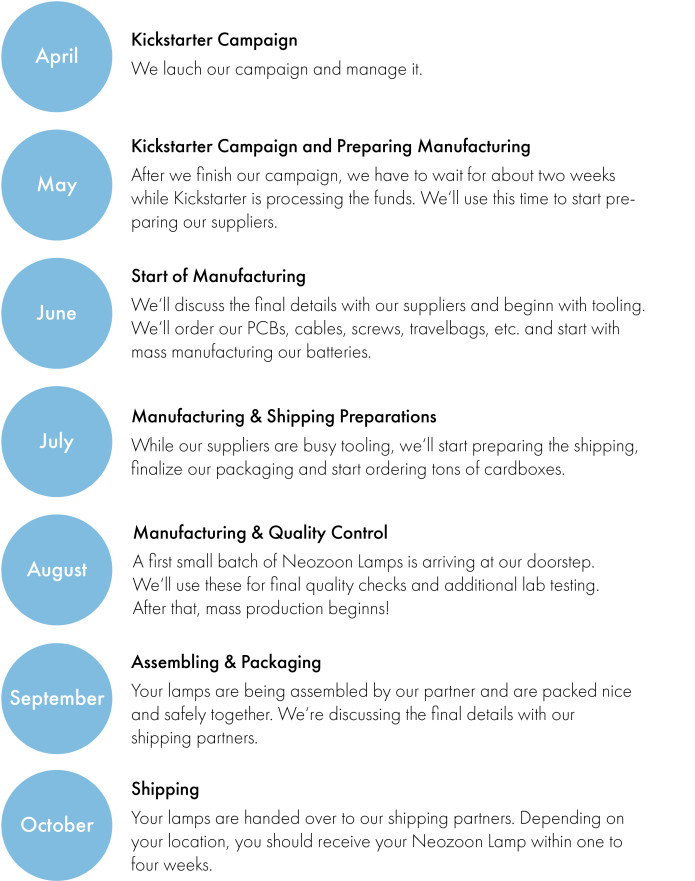 (Note that this is our initial Timeline from Kickstarter, orders from Indiegogo may be shipped in November depending on the amount of preorders we receive.)

Being regular crowdfunding customers, we always wanted to create our own campaign. We already knew each other before this project and about one and a half years ago, we teamed up to create Neozoon!
We have experience in product development and manufacturing management for other startups and companies plus we get a helping hand from the Munich University of Applied Sciences and the Strascheg Center for Entrepreneurship. So we are confident in managing this campaign!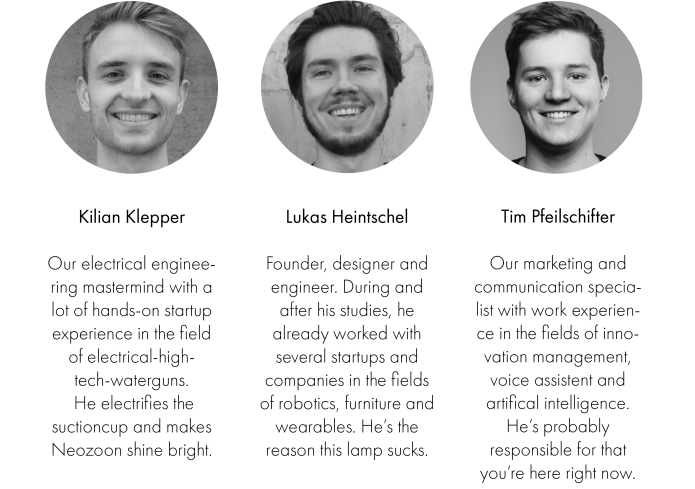 Supported by:

Seen in:

You would like to write about us, too? Then have a look at our press kit right here. 
Feel free to write us an email, too.
Use our hashtag #neozoon to talk about us on the internet and we'll try to feature you!
Plans for the Future
We're launching this campaign to help us get started. But it's just the beginning! We want to build a brand for Lifestyle Objects and Modern Living, and plan to launch several more products designed to make our spaces more playful and fun to live in. All of course with a strong focus on design, quality and sustainability.
So by supporting this campaign, you're not only preordering a product, you're in fact helping a future brand to get started. 
Thanks for your support❣️
Our Inspiration
Portable lamps are quite cool, but they don't really make your space much more fun and interactive and you can only put them on the floor or your desk. 
Very boring. We had the feeling that there was some unlocked potential here…so we started thinking about features to make mobile lamps more mobile, like hooks or magnets, but all of them had a downside and we got a little stuck.
So we looked into nature for inspiration and voila! We built our very first suction cup and were immediately fixed on the idea! 
We fine tuned the design over the next month, perfected the shape of the suction cup and are now presenting Neozoon on Kickstarter to you!
Here you can watch Lukas getting interview about Neozoon during the Isola Design Festival (Interview starts at 3:17).?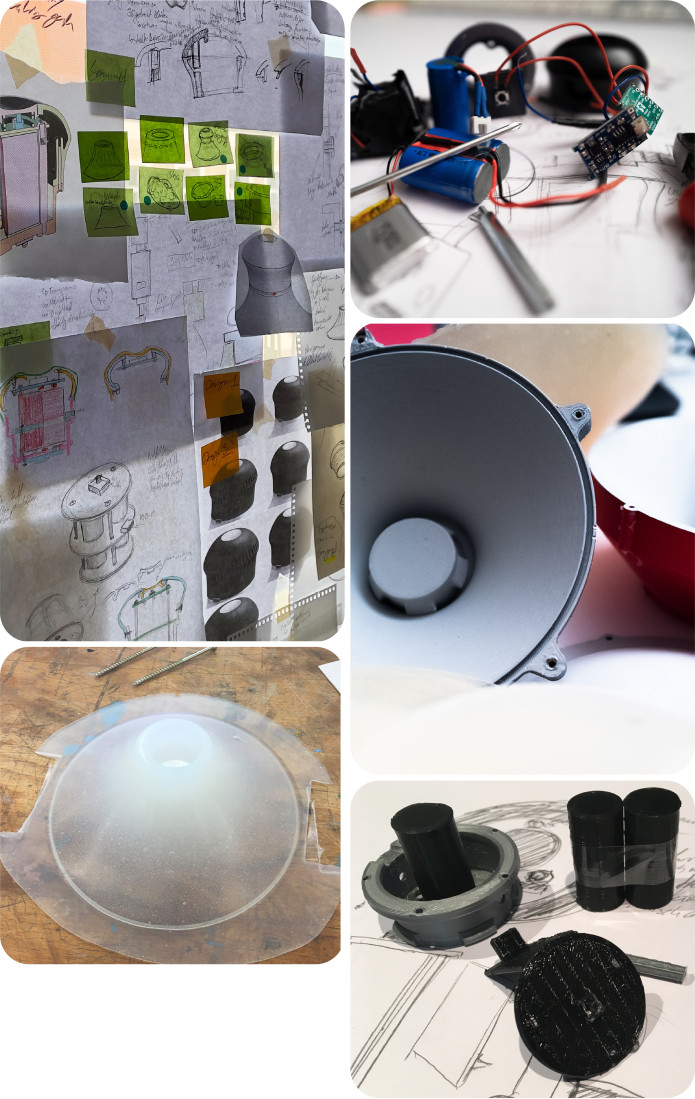 Our first Suction Cup, some early Electronic Prototypes, some 3D printed molds and a lot of Sketches.


Contact:
If you have any questions regarding us, Neozoon or would like to offer some feedback, please don't hesitate to contact us. If your question regards our campaign or product please check our FAQ, too. We're looking forward to hearing from you!
You can simply write a comment or send us an email at: 
hello (at) neozoon (dot) xyz
Product Specifications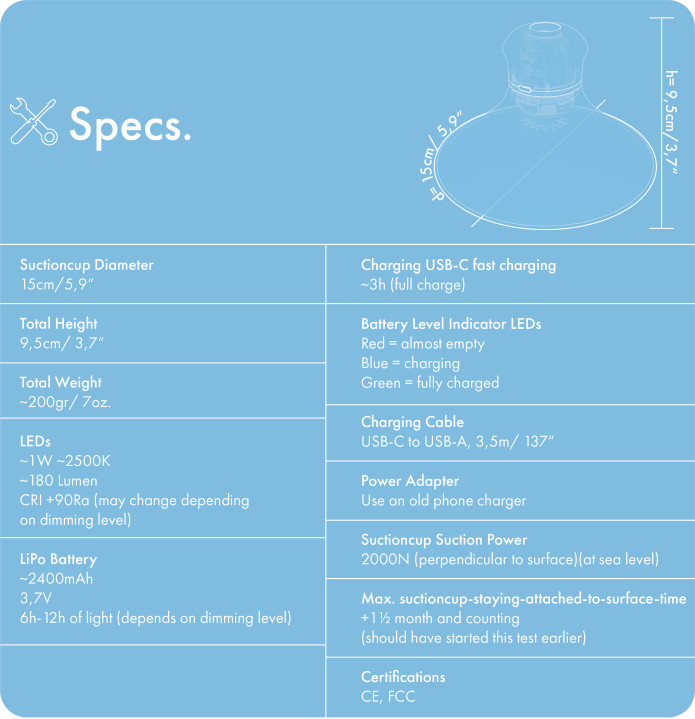 Please note that some of these specifications may change slightly. That's because still trying to increase the performance even more and due to possible design changes for easier manufacturing. However these changes will be minimal and you'll probably won't even notice them. We thought it important to tell you nevertheless.
Let's Create some Bright Moments Together!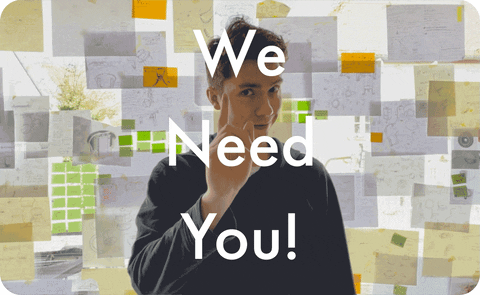 Use our hashtag #neozoon to talk about us on the internet and we'll try to feature you!
Back now for a reward and let's create some bright moments together! 
We need you!

Special Thanks to All of You!
This project could only be realized thanks to the voluntary help of many awesome people. 
We'd like to thank all of you for helping us get here!
Jonas Heintschel | Ben Wirth | Moritz Hanelt | Lucas Eggelseder | Caro Kunert | Marie Ruddeck | Michael Heintschel | Lydia Loderbauer-Heintschel | Prof. Marion Kießling | Max Ender | Andreas Lösel | Stefan Roglmeier | Hans Feckl | The Strascheg Center for Entrepreneurship | The Munich University of Applied Sciences | All our lovely friends who shared our initial Kickstarter Campaign | All our Kickstarter Backers