New Gel-Infused Wine Chillers with Totes-Wine Bag | Chill a bottle of wine in 30 minutes for up to 6 hours. Iceless chiller products.
CAMPAIGN OVERVIEW
Are you tired of your favorite wine turning warm too quickly? Do you leave your wine at home because you do not have an easy way of carrying it?
Introducing CaraVino and Tote duo Vino wine totes by ChillnJoy. These portable cooling solutions will chill your wine in just 30 minutes and keep it chilled up to six hours. 
The products can also be used with various bottle sizes including champagne, sparkling wine, water, and alcohol.
                                                                                   OUR STORY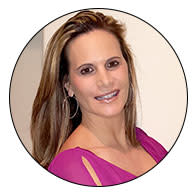 I'm Joy, President of ChillnJoy.  I've always had the entrepreneurial spirit in me, just like my father did, who came to the U.S. from Italy. The idea of these products is to cool beverages quickly, and keep them cool for a long period of time without the need for refrigeration.  The quality and craftsmanship are top of the line. I take the totes to places I really enjoy such as picnics, parties, restaurants, beaches, friend's houses, and even when I'm at home.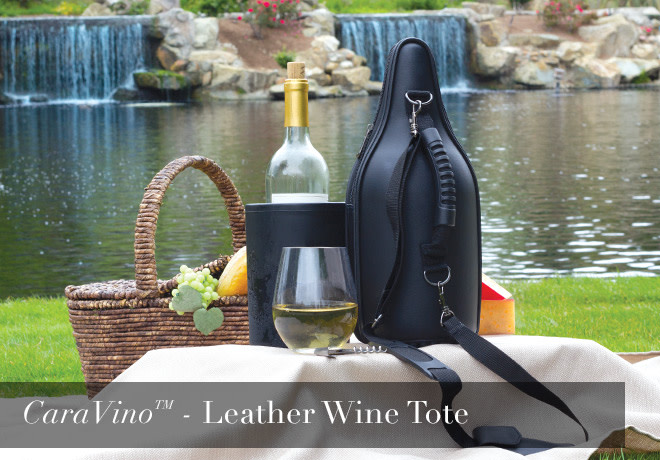 Make your wine portable with the elegant CaraVino iceless chiller and leather wine tote by ChillnJoy. It couldn't be easier.  Simply place the iceless chiller in a freezer for at least 4 hours. When ready for use, remove it from the freezer and place a bottle of your favorite wine directly into the chiller.  Put the chiller and bottle in the elegant, soft-sided leather tote, zip it up, and you're off! The technology will chill a bottle of wine in 30 minutes, and keep its cool for up to 6 hours.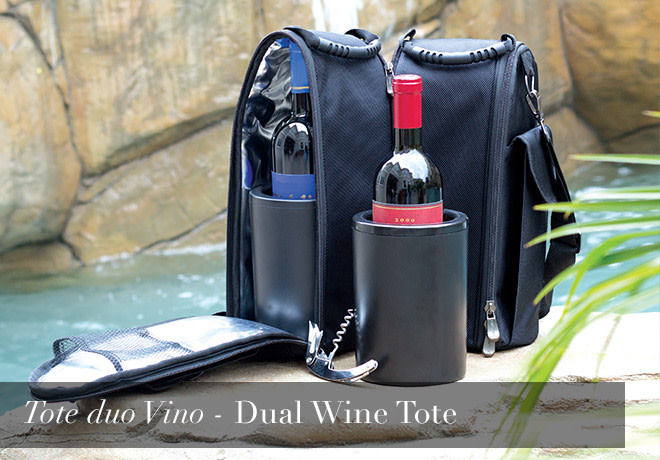 A bag with a dual personality. Chill your wine on both sides.  It comes with 2 black chillers, multi-functional corkscrew bottle opener and foil cutter, an adjustable shoulder strap, and large pockets on either side to conveniently fit wine glasses or other accessories. It can even safely hold up to 4 bottles simply by removing the chillers, and is machine washable.
The bag zips apart to become 2 individual bags – each with a carrying handle.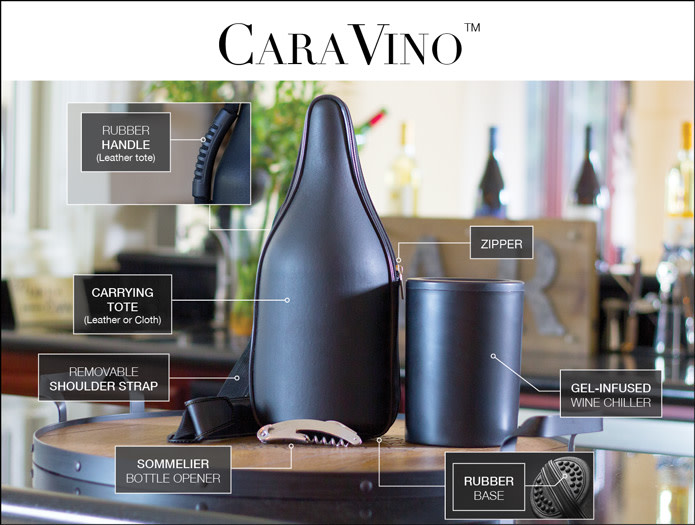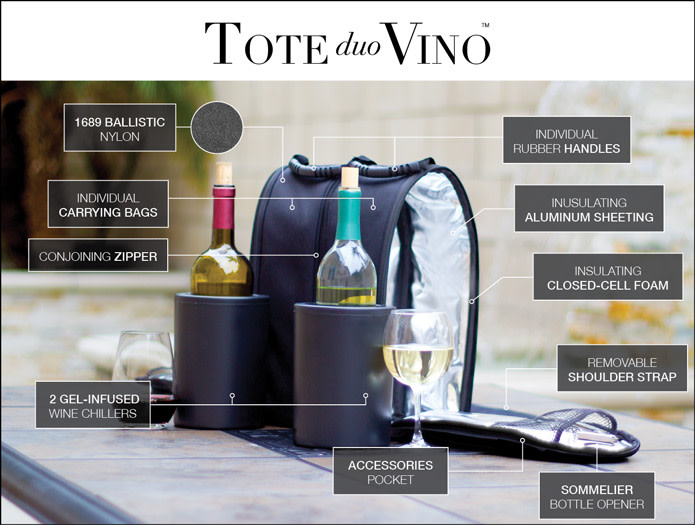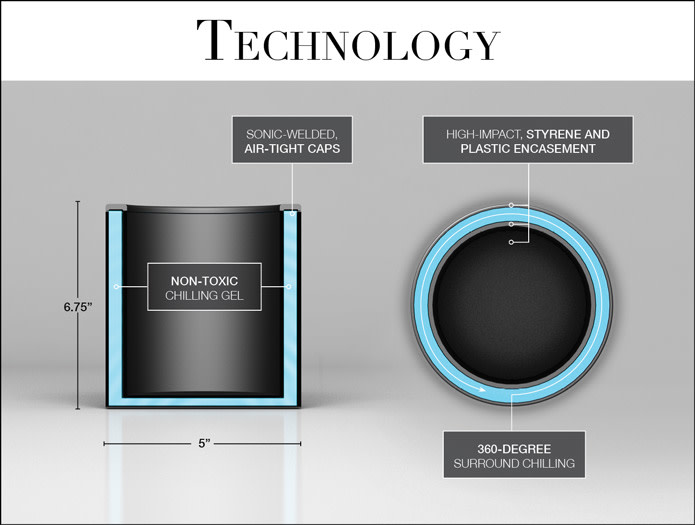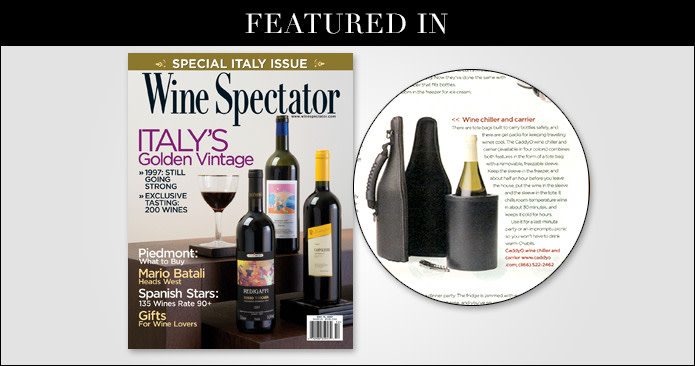 "I bought this as a gift for a co-worker who loves wine, traveling (car trips) and bring your own wine restaurants. He already receives so many bottles of wine for the holidays and other special occasions, that I thought this would be a thoughtful companion gift for all the other wine gifts he receives. Of course, I also included a nice bottle of wine inside! He uses it a lot and loves it"
– Averose
"This is a great product for taking wine on the go. The core chilled nicely in the freeze and kept our wine chilled a long time. We frequently take wine to BYOB restaurants or over to parties and get compliments wherever we go! One of our chiller cores did eventually crack and had to be replaced, but that was after at least six years of owning it. The attached accessories are very helpful as well."
– Lanette
"I love the look and feel of the product. It is the perfect added touch for our VIP guests as they enter their hotel rooms. They are selling very quickly in the gift shop"
– Amy V., Hyatt Regency
"I love, love, love this thing! Being a wine connoisseur, I take it with me to restaurants often so I can have my favorite wine. I know the temperature will be ideal when I get there."
– Marcio P.
"Perfect carry-all for any wine lover. One awesome part of the tote is the chiller. It is great to be able to carry your wine and keep it chilled. It is durable and sturdy, and looks magnificent when traveling. The genuine leather adds to the style. I just luv the black. It's very stylish!"
– Appaloosa
"This is a great product and I am pleased to receive such a prompt and positive response to my questions. Your company will be a prosperous enterprise for many years. You have given me a great story to tell my friends as they inquire about my product."
– Tim P.
"I received this wine tote for a gift a few years ago. I use it often and love it. Just purchased another one for a friend who always admires my tote. Great quality. Great Gift! Perfect to take to B.Y.O.B dinners."
– Bzus
"I have one for myself and I love the fact that you can keep wine chilled. Red or White wines – this is perfect!!!! Gave this as gifts and received rave reviews. If you need a gift for anyone that drinks wine – order this."
– Andid
"I bought this as a Christmas gift for a friend who's a wine lover. It's very well made, has nice accessories, and has a cooler insert that you can put in the freezer to keep the wine cold when it's in transit. I think he'll like it a lot. And it's made of leather, so it's a much better gift for a man than some of the wine totes I've looked at that are to feminine, although it is a great gift for any wine lover."
– SunDawg
"We LOVE this wine holder. We take it with us whenever we need to transport wine, for dinner, to a BYOB, on picnics or when visiting friends. The insert keeps chilled wine cold too. It never fails that when we have it, someone stops us to admire our bag. We have given this exact bag to many friends. It makes a great gift for the wine enthusiast. Love it!"
– ShoeGal
"This wine tote has sturdy construction and is practical when transporting room temperature or chilled wine. The two separate compartments can be zipped together to carry two bottles or, if you need only a single tote you can unzip them and take only one."
– QSurfer
"I received my leather wine tote yesterday. My husband and I were so pleased with the design and quality, we immediately got online to order another for an additional gift for a friend."
– Janey S.
"My mother gave this to my husband and I as a gift at Christmas and we LOVE it! We have had no problems with it so far, and have received rave reviews from our friends at all of the events we have brought it to. Since it keeps the wine chilled for about 8 hours, and looks super stylish we often bring it to after work and weekend parties. This is well worth the money and is sure bet for wine lovers."
– Tellicus
"It is really good quality and sturdy. Very pleased with it!"
– Ross6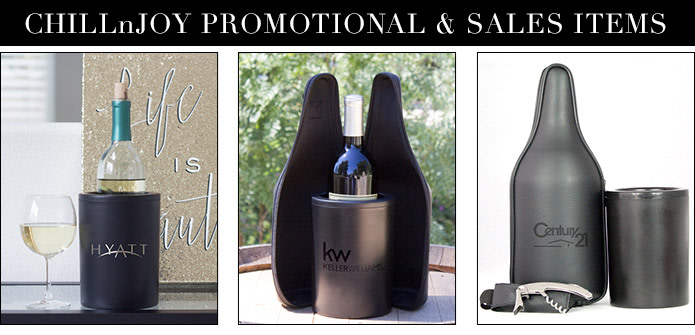 FAQ's
Q: How do I use the iceless chiller?
1. Remove the chiller from the wine carrying tote.
2. Place into a freezer for at least 4 hours.
3. When ready to use, remove the chiller from the freezer.
4. Place your favorite bottle of wine into the chiller.
5. Place both bottle and chiller into the carrying tote. Bottles of wine will become chilled in 30 minutes and remain chilled for up to 6 hours inside the carrying tote.
Q: What is the chiller made of?
A: The chiller encasement is made of high-impact styrene and plastic. This mixture allows for expansion and contraction during the freezing process without cracking. The cap is made of the same material, and sonic welded to create an air-tight seal.
Q: What is inside the chiller?
A: The chiller is infused with a non-toxic compound that consists of acrylic acid, polymers, and sodium salt.
Q: What material is the Tote duo Vino made of?
A: The Tote duo Vino is made of three layers to ensure maximum insulation of interior temperatures, while protecting from exterior temperatures:
– Outer layer: 1689 Ballistic nylon (same material used in bullet-proof vests)
– Middle layer: Closed-cell foam
– Inner layer: Flexible aluminum sheeting
Q: How do I clean the CaraVino?
A: Both the leather and cloth CaraVino can be cleaned using a wet towel.
Q: How do I clean the Tote duo Vino?
A: The Tote duo Vino can simply be placed into a washing machine.
Q: How long does the chiller need to be in the freezer before using?
A: The black chiller needs to be in the freezer for at least 4 hours in order to be fully effective for the longest amount of time. If possible you should always keep your chiller in the freezer so it will be ready to go when you are.
Q: How long will the chiller keep my drink cold?
A: After freezing for at least 4 hours, the chiller will keep you beverage cold for up to 6 hours.
Q: What else can I put into the chillers?
A: The chillers are not only for wine.  Any beverage can be cooled, including champagne, water bottles, baby milk, soda, juices, thirst quenchers, etc.
Q: What are the size dimensions of the CaraVino?
A: Both the leather and cloth CaraVino dimensions are 15.5″h x 5.5″w x 5.5″d.
Q: What are the size dimensions of the Tote duo Vino?
A: The Tote duo Vino dimensions are: 14.5″h x 13″w x 5.75″d.
Q: What temperature will the chiller get to?
A: The chiller has been specifically engineered to chill wine from the mid 40's to high 50's degrees.
Q: Where can I take the CaraVino and Tote duo Vino?
A: Take the CaraVino and Tote duo Vino anywhere you would like.  Some of our biggest fans love taking them to the beach, picnics, family dinners, and even concerts.
Q: What is the wine opener made of?
A: The wine opener is made of heavy-duty stainless steel.
Q: What does the Tote duo Vino come with?
A: The Tote duo Vino is made of 2 individual totes, which can be zipped together and carried as 1 large tote. It comes with 2 chillers, a wine opener, a carrying strap, a net compartment on the inside, and a Velcro pouch on the outside.
Q: When zipped up, does the Tote duo Vino protect the wine from outside temperature?
A: Yup!  Its triple-layer material prevents the inside temperature from escaping, and the outside temperature from entering.