Njori Tempo – A smart cooker for adventurous chefs | Get complete control over your cooking. Measure, monitor and regulate temperature constantly.
Njori was founded over a love of great food and great design. As product designers and keen cooks we faced a common problem when experimenting with new recipes and techniques – lack of accuracy, and too many single use kitchen gadgets taking up space in our kitchens. 
This dilemma got our design and development brains thinking: why isn't there a single product that offers complete control with endless possibilities to experiment, yet comes in a streamlined design that takes up a fraction of cupboard space?
The idea of the Njori Tempo was born!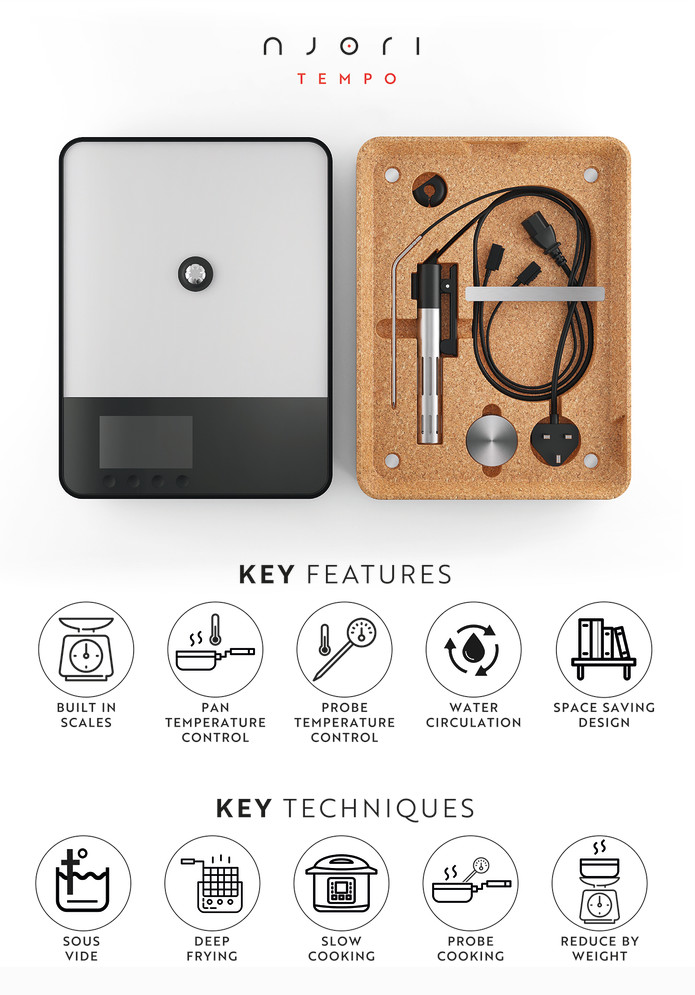 PRECISE PAN TEMPERATURE CONTROL
Cooking by exact temperature is the next stage in cooking evolution.
The sprung, direct contact temperature sensor continually monitors the pan temperature as you cook.  The Tempo then regulates the power to maintain your desired temperature. This ensures you get consistent results and helps you to refine your recipes.
The Tempo is designed to compliment your everyday cooktop, rather than replace it, giving you additional precise temperature control over your cooking.
SOUS-VIDE, SLOW COOK AND DEEP FRYING MODES
Preset modes pair with temperature probes to perfect the most adventurous recipes possible. 
Sous-vide was once the preserve of professional kitchens, but thanks to the Tempo's ability to set and maintain specific temperatures using a feedback loop, it's easy to create melt-in-the-mouth Asian pork belly, Korean beef short ribs and tender teriyaki salmon at home.  The water circulator and probe simply combine to turn your pan into a water bath, perfect for gentle cooking.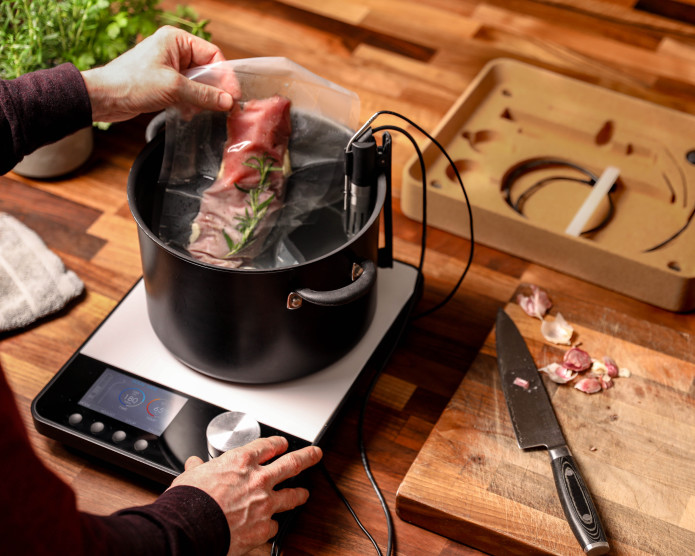 Deep frying also uses the probe accessory, attaching easily to the side of your pan. The probe automatically corrects the temperature as you place cold ingredients into the pan making it a breeze to rustle up crunchy fried chicken, light and crispy tempura prawns or delicious doughnuts with confidence. 
Nothing beats the flavour slow cooking imparts – but heavy slow cookers take up valuable cupboard space. You can serve succulent stews or casseroles using your pan of choice with the Njori Tempo in slow cook mode. 
You can even place the probe into a piece of meat and set the ideal temperature to ensure it's cooked to perfection!
BUILT IN SCALES
Integrated scales also allow you to weigh ingredients before and during cooking and equally portion up the final creation.
The scales also allow you to use the reduce by weight function, ideal for bringing new consistency to sauces and reductions.
INSTANT CONTROL
Straight out of the box, the magnetic dial gives the user instant control over pan temperature, via the direct contact temperature sensor in the center of the glass. This means you're safe in the knowledge that whatever you put in the pan, the cooker has you covered. 
Our patent pending dial has been configured to give you effortless and instant control. With a built in button it makes selecting your mode of choice even easier.
COMPACT DESIGN
The Njori Tempo has an extremely sleek and compact design.  This makes the Tempo easy to store or transport. Accessories and cables tidy away neatly in the cork base, which is held closed by powerful magnets.
This was a high priority when first designing the product. When in use it won't take up valuable space on your worktop and when not in use, it can be stored on a bookshelf alongside your favourite cookbooks.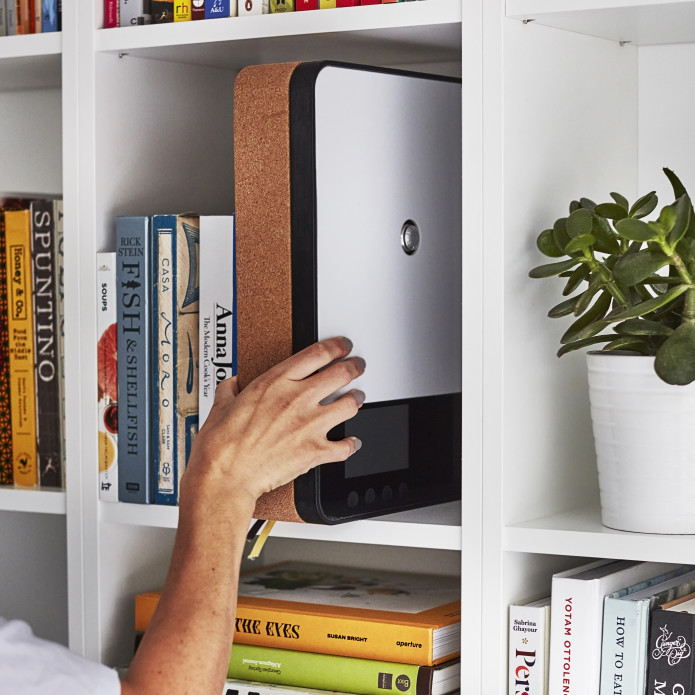 FEATURES
The Njori Tempo comes complete with all the accessories you need to cook like a pro.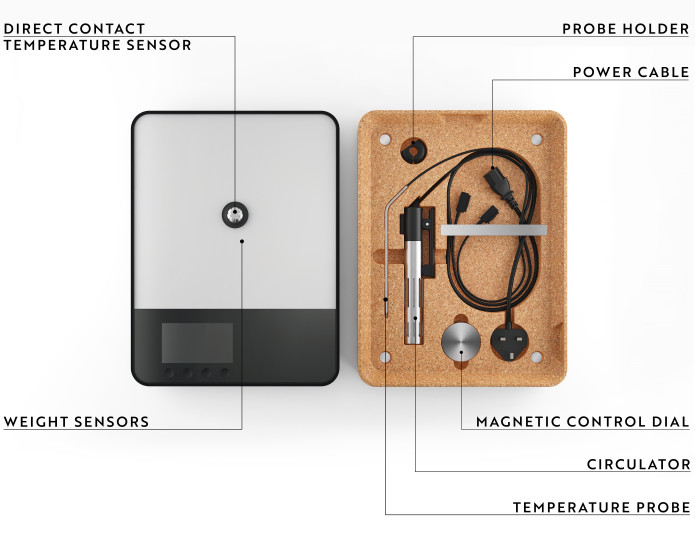 TECH SPECS


DESIGN & DEVELOPMENT
We have worked tirelessly for 3 years developing the Njori Tempo, using all our previous experience and design expertise.
The mechanical design has been done in house and we've been working with experienced electronics engineers in developing both the power and control electronics in parallel.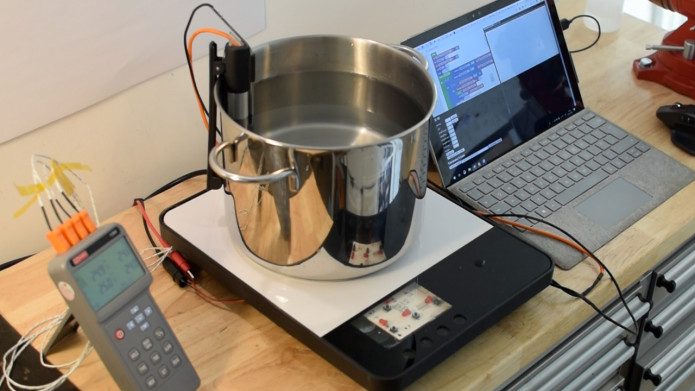 Early testing of the electronics control system
In developing the temperature feedback (PID) loop, we also developed our own software called 'Njori Labs'. The video below shows how we used Njori labs to test and refine the different cooking methods before the full user interface and magnetic control dial were added. 
Every aspect of the user experience has been considered when designing the Tempo, from the design of the on screen interface, to the feel of the magnetic dial and buttons. We have tried to ensure the product is a joy to use from start to finish so you can discover your potential and fine tune the recipes you're most passionate about. 
TIMELINE

TEAM

At Njori, our mission is to help people take their cooking to the next level.
Njori was founded by Design Engineers, Jack Raison and Nick Orme. We have worked together for several years in the tech development industry, designing and developing products for a variety of companies.  After discovering a shared love for cooking, we decided to use our expertise to develop and manufacture our own product.
Thanks for your support!
We wanted to say a special thank you to all our supporters, investors, friends and family who've helped us get to this stage. We couldn't have done it without you!
We're excited to see the Njori community grow so please share with any fellow cooking enthusiasts and feel free to reach out if you have any questions!
Risks and challenges
We have been working on the Tempo for around three years and during that time we've done everything we can to reduce risk by ensuring all elements are properly developed and tested. We also have a track record of developing products for manufacture for other companies and brands and so following best practice.
Production
We have a shortlist of our final suppliers lined up and have back up options for all individual components should we have any issue with delays of specific parts. We are waiting for Covid restrictions to lift to visit our suppliers in person before making the final decision.
We have used our previous experiences to ensure DFM (design for manufacture) stages are complete and all parts and components have been considered for mass manufacture and assembly. We have also checked capacities and are confident all suppliers can cope with production at scale should we surpass our goals.
We have confidence in our projected timelines but as with all hardware development projects, delays can happen due to unforseen circumstances so we have added buffer where possible.
Supply Chain Risk
We identified a shortage in microchips (an issue worldwide due to Covid) a few months ago and placed an order for more than one years worth of the chips we need. We are expecting the long lead times here to be reduced, as has been the case with other microchips but we are keeping in regular contact with our suppliers and will monitor the situation carefully. We have managed to procure a smaller supply of chips, meaning all regular testing and our pilot run up until final production will still be possible.
We also have a wider procurement team and expert advisors on hand to discuss strategy should we have any unexpected shortages. If this happens, we'll be sure to keep you informed and work to quickly solve the problem.
Quality Control and Testing
We plan to do extensive testing with our beta units. This will involve initially using a 3rd party test house to ensure all electronics and mechanical components are pushed to their limits. Once certification is complete and the product has passed regulatory testing we will be offering our community the chance to become beta testers.
If there are any changes to our projected timeline, we'll be sure to let you know as soon as we can.
Environmental commitments
Long-lasting design
We will be doing accelerated lifecycle testing to ensure the product will be long lasting. We have also designed our product to have a built in USB stick and port for software updates and diagnostics. This means we can push out updates and upgrades to ensure our product software stands the test of time.