No more mess, pain or wasted time! | Feed your pets fast and easy with HealthyPet Dispenser(TM) – Your pet's new best friend!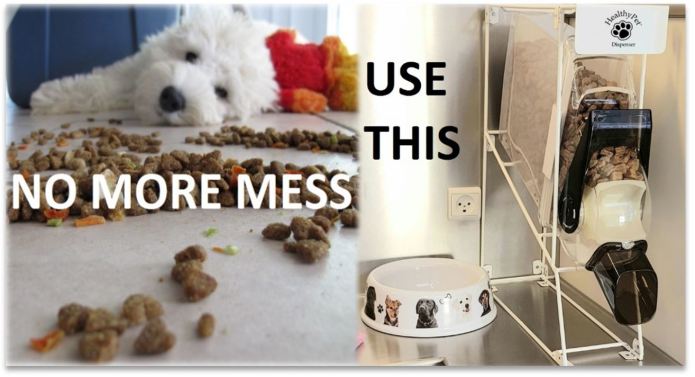 Benefits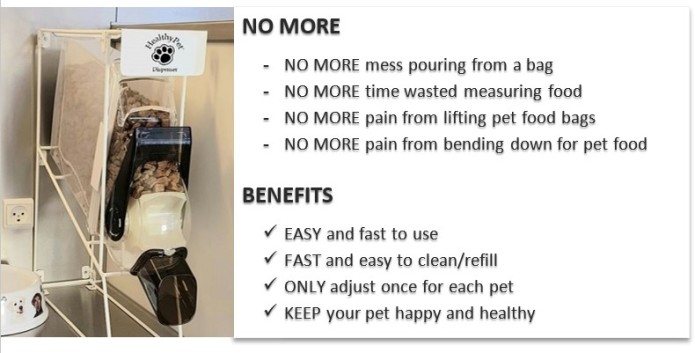 Just pull the handle and the correct amount is served!
It is so easy and fast to use and saves you time, mess and pain every day.
How to use the HealthyPet Dispenser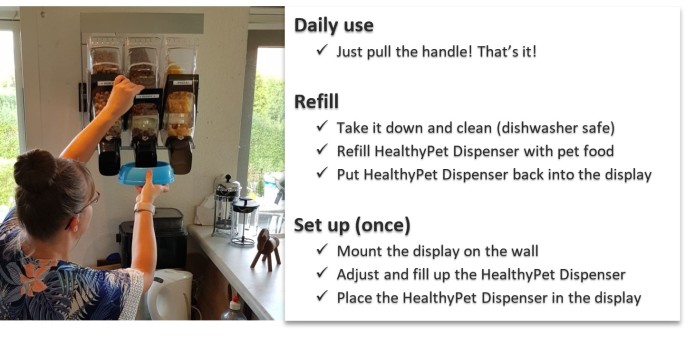 Previous display design in photo above
Other HealthyPet DispenserTM benefits

Apart from making it easier and faster to feed your pet without the pain and the mess, the HealthyPet Dispenser can also save you worries and vet bills.
The correct portion size will make your pet healthier and happier and less prone to overweight and diseases. HealthyPet DispenserTM is also BPA-free, hygienic and sustainable.  
Different types
Saving you time, pain and worries, HealthyPet Dispenser will be available in 3 types: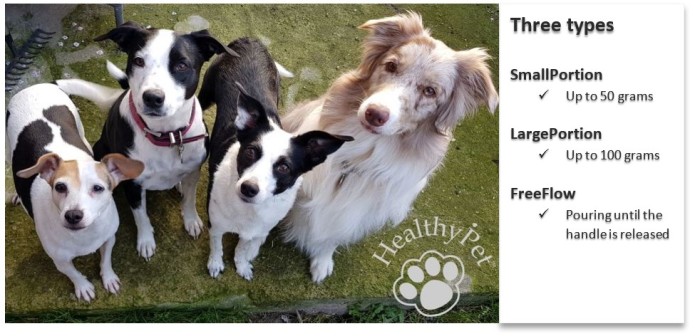 The creation of HealthyPet DispenserTM 

We are a Danish company, focusing on design, optimization and excellent consumer experience. At the moment, we are producing dispensers for bulk food on the B2B market. We have a great team in Denmark and many supporters around the world.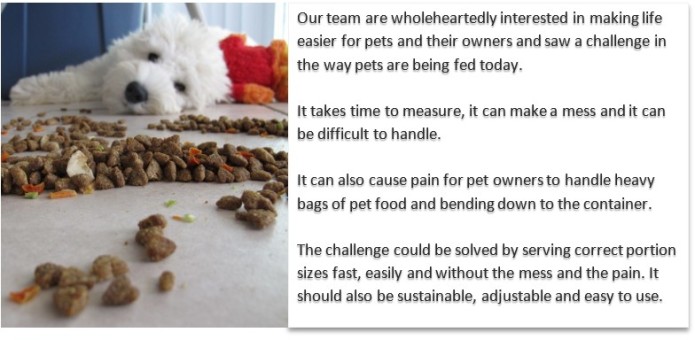 Therefore, the idea of the HealthyPet Dispenser was born.
We conducted a market research and the interest was huge.
We have made prototypes and are still developing the display for the dispenser, allowing it to be placed on any flat surface and mounted on the wall with simple design.
Not only does it help pet owners; it also helps the pets! Feeding them correct portions can improve their health and minimize the risk of diseases.
It is our goal to optimize daily life and make it a bit easier for pet parents around the world.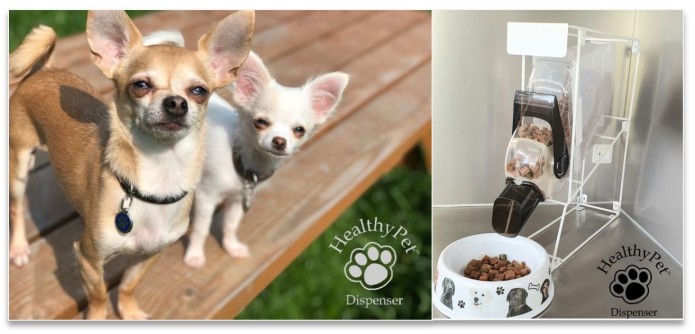 It would mean the world to us if you would share the word about HealthyPet Dispenser – Please also share the link to this IndieGoGo Campaign:
HTTPS://IGG.ME/AT/HEALTHY-PET-DISPENSER 
What We Need & What You Get
Our goal is 75.000 USD
The funding will go directly to finish the design, marketing and production of the HealthyPet Dispenser.
You can choose to donate any amount (even the smallest donation counts) or donate a fixed amount and receive a perk, as described on the top right of this page.
When you choose to receive a perk, you get your very own HealthyPet Dispenser to make your everyday life a little easier and less messy!
Donation perks
When backing us, you can choose between these three perks, which we will send to backers in December. Each perk contains minimum one HealthyPet Dispenser, container and adjustment package.* 

*See top right of this page for more info about our exciting perks. 
Specifications
The specifications of each perk unpacked:
=~ is approximately equal to
*Design may be subject to change
The Impact
Through backing HealthyPet Dispenser, we can all make the day less difficult and messy and make pets a bit healthier – more support means more impact.
We have conducted an initial market research through Social Media, where more than 500.000 pet owners saw our post and product. Pet owners from more than 19 countries showed interest and we received amazing response. Our website received the number of visitors we usually receive in a year, in just 14 days.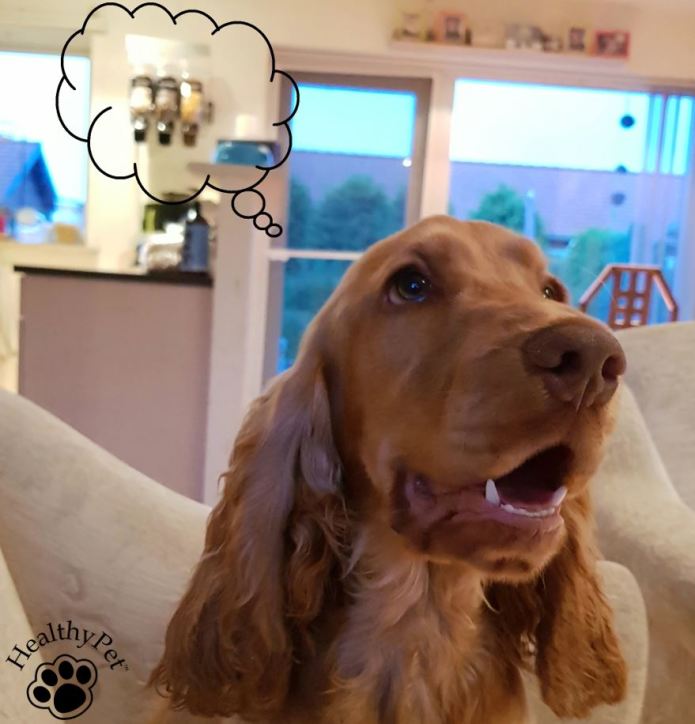 Timeline
We are currently finished with the initial working prototype and are now seeking backers from IndieGoGo. There might be smaller changes to the design of the display.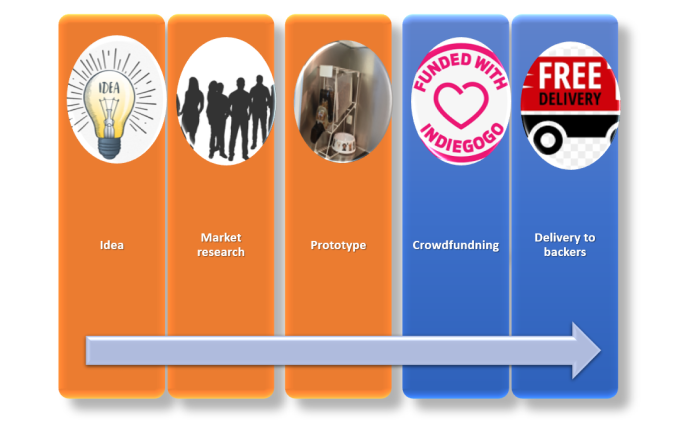 Risks & Challenges
We know from experience that markets are different and therefore feedback is important to us in order to design and produce the best possible product for the pets of the world.
If we don't reach substantial funding, we cannot ease the day for pet owners and increase the health and happiness of our beloved pets.
We will most definitely do our part to make every day easier and less difficult and messy – We hope you will be a part of it too.
Other Ways You Can Help
If you can't back us financially, don't worry!
You can help a lot by sharing our campaign and sharing the word about our product to friends and family: HTTPS://IGG.ME/AT/HEALTHY-PET-DISPENSER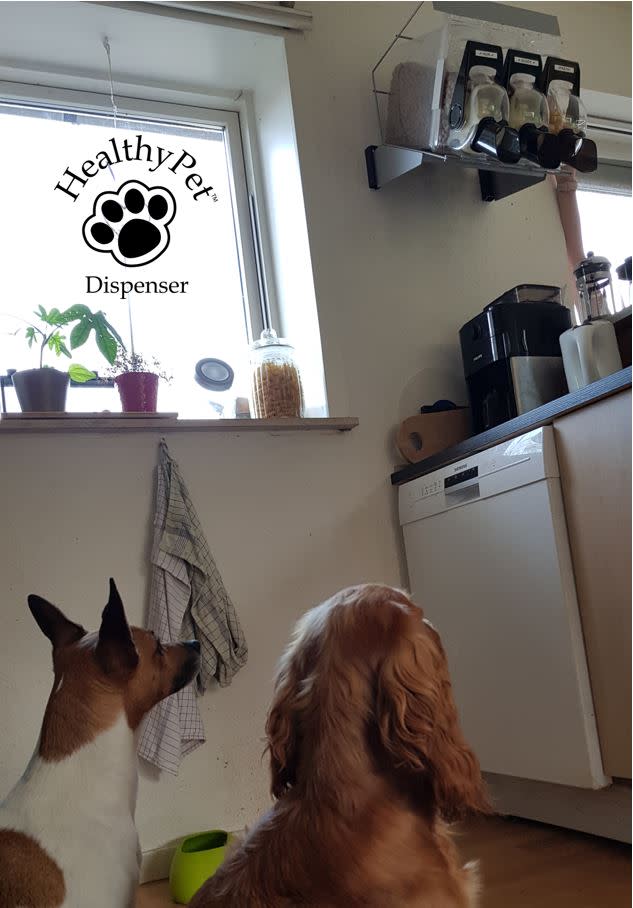 Connect with us

HTTPS://IGG.ME/AT/HEALTHY-PET-DISPENSER

www.facebook.com/healthypetdispenser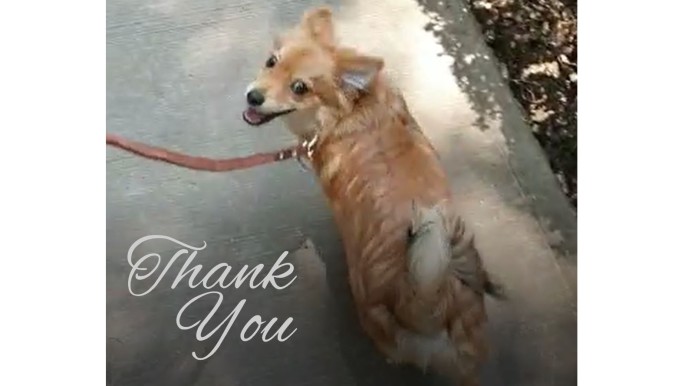 *Design may be subject to change